Away x Minions luggage: kawaii cute suitcases! Alex Streeter Gothic earrings, LaForet mall Harajuku.
Bello! Banana? In this post, I'll go over some of my current favorites… and then we'll talk about Japanese fashion at LaForet department store in Harajuku!
First up, let me introduce you to the cutest luggage collaboration ever: Away x Minions. I'm excited to have these adorable travel buddies with me, on my next trips around the globe. 
Bee-do-bee-do… As you most likely know, the Minions are the short, eager, bumbling servants of evil masters throughout time (as seen in the Despicable Me movie series).
I love how Away distilled the essence of a Minion in this cheerful, minimal design. When you see the bright yellow case and eye-goggle tag, you can instantly picture a one-eyed Minion tottering behind me!
Away sent me a large-sized suitcase and a carry-on. Both are made from polycarbonate shell, which is lightweight and bends under pressure, but never breaks. (Quite like the resilient Minions from the movies.)
The new Away x Minions collection comes in four sizes. You can also purchase the accessories separately: they have stickers featuring the characters, and a leather tag shaped like their signature eye goggles.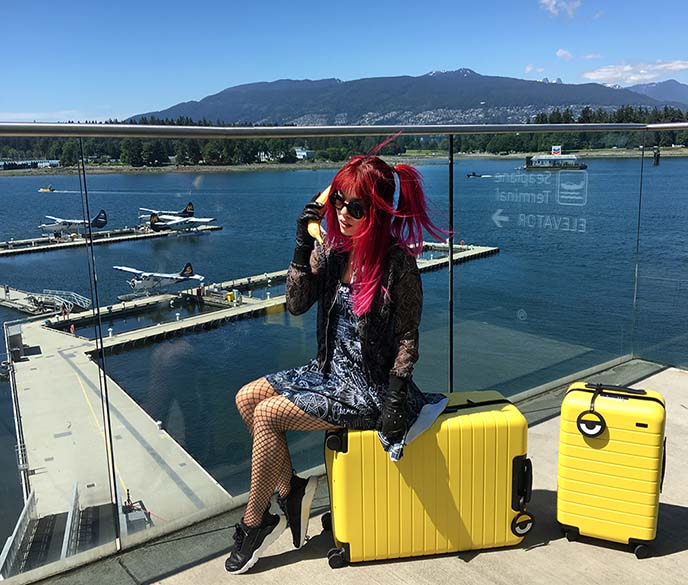 "You used to call me on my banana-phone… Poopaye!"
The Minions roll easily alongside you, with a retractable handle and Hinomoto wheels that rotate 360°.
Inside, there's plenty of room to store bananas. All of Away's suitcases feature an interior compression system, secure zippered compartments, and a removable laundry bag.
I'm always on the lookout for fun, beautiful luggage that can withstand my constant travels. Away has been on my radar for some time: they produce first-class designer luggage, direct to consumer, meaning that they can keep prices on the economy side.
The larger carry-on is made to fit the regulations of US airlines. And there's a tech element: a built-in battery that can charge any USB device, and zippers that fit into a TSA-approved combination lock.
Ready to take over the world with these Minions? Away's Despicable Me 3 collab is only out for a short time, and I have a feeling they'll be snatched up fast.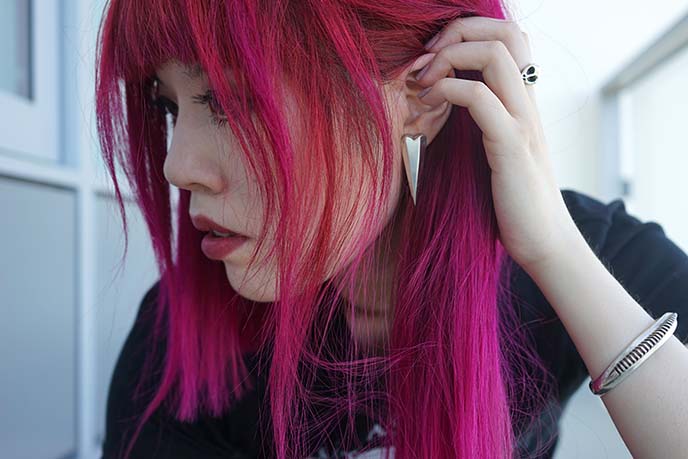 As you know from my outfits throughout the years, I like to change up my styling. I had my ears pierced during elementary school, but stopped wearing anything in them around college. However, the piercing hole remains intact — so I decided to play around with earrings again.
Of course, I clicked straight to my favorite jewelry designer: Alex Streeter! (Above, I'm wearing his radiator silver cuff from the Space collection, Ouroboros ring from the Creatures set, and these silver elongated spike heart earrings that suit me perfectly).
Based in NYC and renown as the creator of the Angel Heart Ring, Alex's designs are favored by rock stars worldwide (including Marilyn Manson and J-rock legends). He started out in the 1960s in San Francisco, carving jewellery from redwood bark and selling it on the streets. In 1971, he set up shop as a silversmith in downtown NYC.
Today, Alex Streeter is an icon — and the go-to designer for those who love Gothic, sci-fi and edgy high-end accessories. Above, I'm wearing his UFO spaceship studs.
Alex and his daughter Lily (who works with him) are inspirations: they dress in rock-Goth fashion, and travel to Japan every year (he has a rabid fan following there).
Perhaps you've seen his famous pentagram ring on the fingers of celebrities. Alex's jewelry is all made to order, beautifully crafted in sterling silver (he also works with bronze, brass, pewter and gold). You can also contact him through his site to request a unique, customized design. 
A serpent slithering down my earlobe, with a pentagram in his mouth… I think it's clear why Alex Streeter jewellery is my absolute favorite! He is a master, and I'll be treasuring these signature pieces. Stay tuned to see more photos soon — there are more serpentine designs by Alex that I'm excited to show you.
(PS: my hair color and cut are by Stephanie Hoy at Sugar Skull Salon in Gastown, Vancouver.)
Now, let's teleport to Japan — and take a walk inside Laforet in Harajuku. I've been doing dispatches from this mall since 2008 — see past posts in my Tokyo Gothic Lolita shopping guide.
Although I've been less impressed with the selection recently (more on that below), La Foret remains one of the top Tokyo destinations to find young, alternative fashion. You'll always see chattering groups of teenage girls at the entrance, much like the anime schoolgirls in "seifuku" sailor uniforms on the poster.
Laforet has multiple levels, each with a variety of clothing and brands. The experimental street style tends to be in the basement floors. I'm also quite fond of the first floor, which hosts rotating pop-ups. Japanese up-coming designers tend to be featured, such as these colorful Erico earring and accessories.
There's been a lot of talk about Harajuku changing for the worse. I'd say there is truth to this, as more and more big box stores have set up shop (H&M, Forever 21, etc).
Nonetheless, you can still find underground and club-influenced designs in this neighborhood.
Case in point: Abilletage has established a new location inside Laforet department store. This antique / Gothic / Steampunk brand is run independently, and produces gorgeous custom-tailored corsets. (Remember I visited Abilletage during my NHK Kawaii TV shoot?)
Abilletage is an example of a local designer that keeps the Harajuku spirit going. Everyone there is closely connected to the subculture, and the original designs are handmade or produced in small batches (such as these corset-lace and floral motif tights).
I hope you'll look for this boutique when you visit Harajuku. Also check out the Abilletage Shinjuku location, which has an elegant Victorian tea salon.
Laforet's B1 and B2 levels are filled with stores that fall on the spectrum of Goth, Lolita, Punk or Street style. The mannequins in the center of the stairwell are always dressed up to the nines, in EGL fashion.
These days, I'm drawn more to minimalist scary-kawaii fashion, such as this Frapbois oversize top.
At first glance, the clothes look similar to Western "Nu Goth." However, they tend to have a Japanese cute twist to them: notice how the skull is made up of cute teddy bears in black and white.
Cute meets psycho at Lurem, a shop with a deranged bunny mascot. I always enjoy discovering Japanese indie brands in Laforet.
As you can see, the youth / street styles can vary widely. These satiny oversized tops are screaming with Bunnicula and anime pumpkin lady prints.
Contrast this with the flowing, gauzy, romantic dolly dresses next door. Perfect for a shironuri look (all-white face paint, makeup and clothing).
J-Rock and Visual Kei bands still lurk in the basement of Laforet. There are often meet-and-greets, signings and other events here, with long line-ups of fans waiting to meet their music idols.
At AnkoRock, influences from punk, rock, and dark subcultures come together in a refreshing way.
I can't say the same for the Gothic and Lolita dresses I saw, which felt like they hadn't evolved over the past years, unfortunately. (More about this below).
Five years ago, I wrote about Lolita styles being in decline, and brands putting out the same old thing. A lot of readers disagreed with me back then — but now, it's hard to deny that many of the brands are struggling. H.Naoto closed all his physical stores, and other favorites shut down completely (Peace Now, Sex Pot Revenge, Sexy Dynamite London, Banana Fish, to name a few).
Earlier this year, it was announced that the magazines dedicated to this styling — Kera, Gothic & Lolita Bible and Fruits — were ceasing publication. These magazines were formative in introducing Harajuku and its style tribes to the world, and many are mourning the end of this era.
Personally, I still find some of the Lolita fashion intriguing. Angelic Pretty's recent Magic Amulet collection had some unusual star and Ouija board printed JSKs. These seem to take some inspiration from the Killstar occult styling that is popular these days.
But for the most part, the garments are exactly like they were before. Same types of patterns, cuts, accessories. Is anyone else feeling bored with this type of fashion?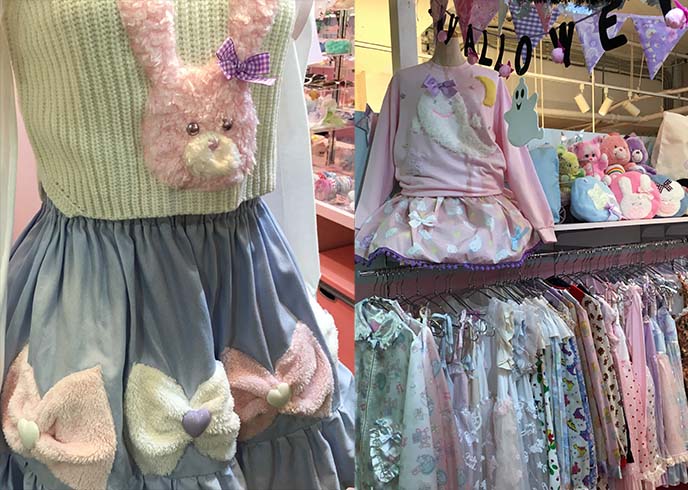 Perhaps part of it is out-growing certain styles over time. Something like this seems far too childish for me now. (Fairy kei? Cult party? Pop kei? Magical girl? Can't keep up with the sub-groups).
Many of the sections, such as the shoe area, have reduced the number of displays for underground designers such as Yosuke.
It's too bad that Alice Auaa h. Naoto closed their physical boutiques, as the interiors were always dramatically designed. Naoto's various lines (Mint Neko, Frill, h.Anarchy) are still found in the Kera Arena section of Laforet. (But will Kera Shop close too, now that the magazine is shuttered?)
I did find some items I liked inside Kera Shop (although I didn't buy anything — I never do, any more). I love how Japanese designers put effort into intricate detailing, such as this spider cobweb corset and skirt print.
On Facebook, I saw that I'm not alone in feeling less excited about Japanese underground fashion. Today, a lot of the most intriguing local designs are only sold online, rather than in malls.
I still enjoy walking around Laforet, but it isn't the jaw-dropping experience that it was in the past.
In fact, I'm now selling a lot of my Lolita and Japanese brand fashion here. I have a similar leopard print skirt to the one above available, and a number of JSKs and dresses, if you're interested in anything from my closet. Feel free to browse at the link above, and email me (gothiccarmina at gmail dotcom) if you'd like me to send you anything (no need to use the app).
After Laforet, I made my rounds of the "kawaii" cute stores in Harajuku. Can't believe that Line Friends only launched in 2011. Cony, Moon and the gang seem to have been around forever.
I saw a display of MrMaria's Brown bear lamps, in small and large (I have one in my apartment). Check out more info and photos from the Harajuku Line store here.
I also stopped by an old favorite: Kiddyland Harajuku. This multi-level shop is cute overload; you'll find character goods featuring Totoro, Snoopy, Disney, San-X, Sanrio, you name it. They even have a few shelves of my favorite: Miffy the rabbit!
I've picked up ankle socks here for myself, and as souvenirs for friends. (If you get 3, there's a discount). How many characters can you name, from the rack above?
Tamagotchi is back, with a new pastel design and "Dad or Mom" look.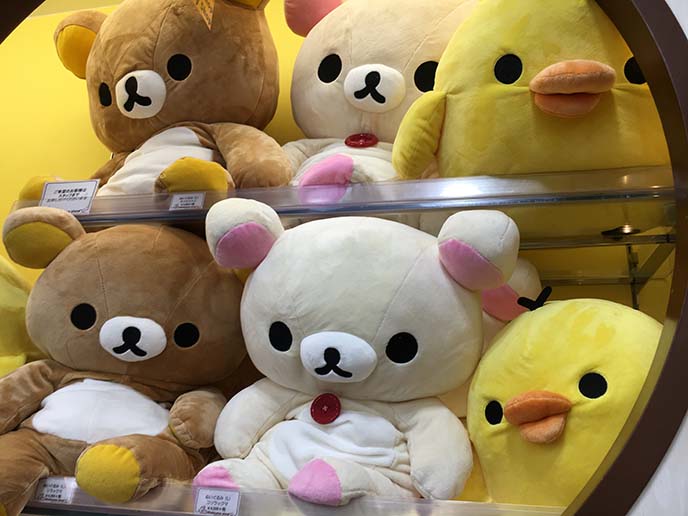 One section is lorded over by Rilakkuma plush toys. In addition to stuffies, you can find stationery, accessories, home goods, you get the picture.
The queen of Japan lives on top: Hello Kitty and her friends. I've been going to Kiddyland since I was a… kid, and it's a store I'll never tire of visiting.
I leave you with a Pokemon poster in the Harajuku subway. Will Lolita fashion evolve, and catch the attention of new generations — much like Pokemon Go? Or will it fade like other style tribes (such as Ganguro, which now only exists in the tiniest pockets such as the Ganguro Cafe)?
We'll just have to wait and see. Despite the changes, Harajuku remains a colorful corner of the city that is full of inspiration. (Hi, Anpanman!)
Thanks to JRailPass for making this Tokyo trip possible; check out their unlimited train passes if you're planning to see multiple cities in Japan.
For more about these boutiques, here's my Tokyo Gothloli Punk shop guide. And don't forget to browse my wardrobe sale — I'm selling my Japanese alternative clothes at discounted rates.