Temples of the Holy City of Varanasi! Shiva & Kali worship, Buddha sermon at Sarnath, Respro® Ultralight mask review.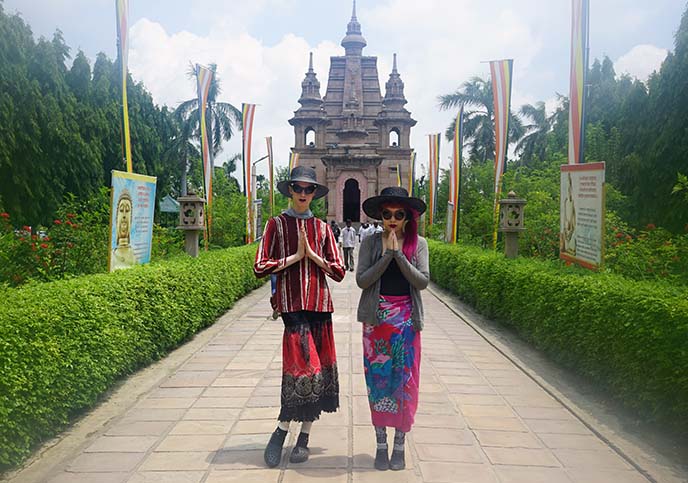 Namaste from the holy city of Varanasi!
India is large and diverse, with terrain ranging from snowy mountains to southern backwaters. Yukiro and I only got to see a fraction of it on our trip through Rajasthan and the Golden Triangle.
However, we absolutely had to make a detour to Varanasi, also known as Kashi or Benares — the famous spiritual destination on the River Ganges.
India was stress-free for us, since we were travelling with Janu Private Tours, one of the most trusted tour companies. Janu and his team can arrange customized itineraries for any part of the country, tailored to your specific interests. They connected us with their outstanding partner, Experience Varanasi Tours, for this portion of our journey.
Even for experienced travellers like ourselves, Varanasi is an intense destination. Picture tuk-tuks weaving through bumpy roads with horns blaring, inches from the beggars and holy cows in the streets. There's dirt, noise, difficult sights — and it's incredible, what a city of adventure! 
I was "all in" and wanted to experience the more challenging aspects of India. However, I was concerned I'd feel nauseous from the various smells and pollutants: dung, rotting fruits, garbage, fumes from the traffic…
Anyone who travels with me knows I'm very sensitive to smoke, pollen and other air debris. I didn't want to wind up ill and unable to see the colorful city life (such as random monkeys!).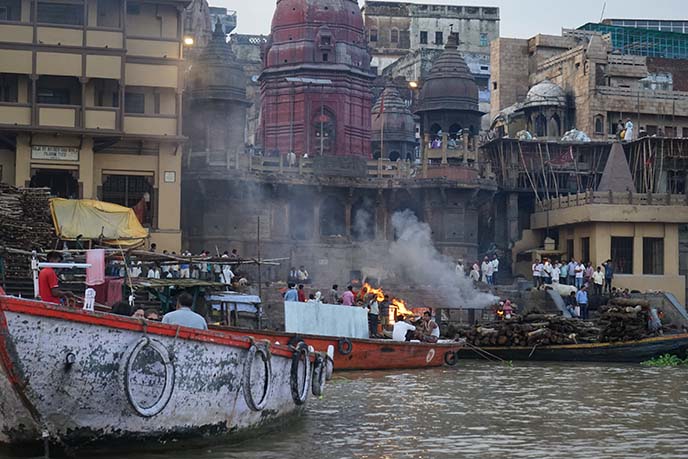 For example, I was keen to see the cremation pyres on the banks of the Ganga (which I'll show you in the next post). However, the image shows how thick the smoke can be.
To make sure we were prepared for anything, Yukiro and I got original Respro® masks! Made in the United Kingdom, these masks are equipped with professional-grade technology to filter out pollution. (Plus, they have a cyber-Goth-Industrial look!)
Respro® offers many types of pollution masks, geared to specific needs such as allergies, urban cycling, industrial filtration. Their FAQ section has info on the differences and how to choose the right size (you can also email them, as their customer service is terrific).
The team suggested The Ultralight™ Mask for our India travels. This mask is made from lightweight, air-permeable mesh material and has two POWA™ elite exhalation valves: ideal for facial ventilation in hot, humid climates.
Plus, the design is fashion-fab: Mad Max meets The Walking Dead apocalyptic chic! It's an essential item for desert festivals such as Burning Man and Wasteland Weekend, for both the look and the functionality.
The Respro® mask attaches in the back with Velcro, and has a changeable Hepa-Type™ PM2.5 filter (the white portion inside). These Cinqro™ Urban filters have activated charcoal cloth plus a particle filter layer to protect you from exhaust pollution.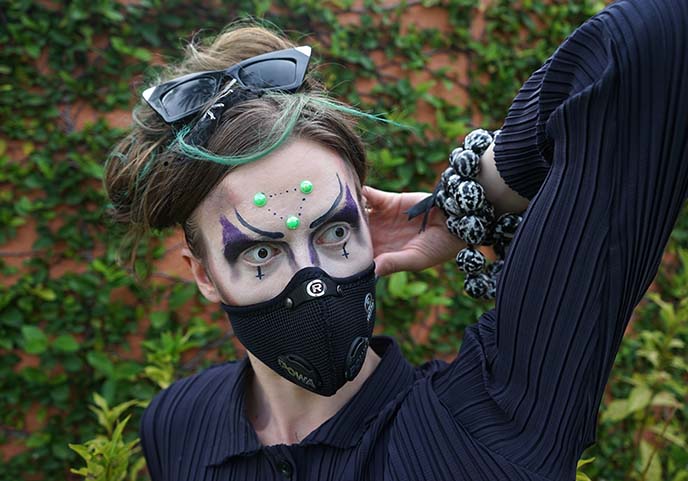 Here's a close-up of The Ultralight™ Mask. The black shell, made of of breathable 4-way stretch fabric, is easy to wash. It has a malleable nylon nose clip for a secure fit around the bridge.
But what if the mask doesn't match your outfit of the day? Respro® has dozens of skins in various colors and patterns, letting you refresh your look!
I always change around my hair color and clothes, and this Petal Mixed Neoprene outer-shell was a perfect match.
Cube Pattern 1 was a stylish choice for this green monster. It's easy to switch over the skins over the filter and valve.
I'm very glad I got a Respro® mask for my travels. If you're in a high-particulate area, run or cycle in urban areas, or have medical condition such as asthma or allergies… these pro masks are a lifesaver. (And the ninja warrior style is A+!)
Now, we're fully equipped to explore Varanasi. As you can see, I'm covered up from the sun and mosquitoes, and I wore old clothes and shoes that I later threw away. 
Janu Private Tours linked us to our local guide, Kunal Rakshit of Experience Varanasi Tours. He's a thoughtful and intelligent guide, born and raised in this city. Kunal listened to our goals for the trip (to learn about the spiritual culture), and delivered exactly what we were looking for.
We were interested in Hinduism, so he took us to the new Kashi Vishwanath temple, dedicated to Lord Shiva. The large structure is located inside the green acres of Banaras Hindu University, where Kunal studied. We weren't allowed to take photos inside, so imagine priests and worshippers performing "puja": praying, offering fruits and flowers, and pouring milk over statues as a rite.
Varanasi is a sprawling city, and the traffic can get congested. We were grateful to have our driver Ravi, who knew exactly how to navigate these tricky streets. He drove us to another part of the city to see a Hindu temple dedicated to the goddess Durga. 
The temple was bizarrely located next to a small amusement park. Hmm, not sure why Yukiro wanted to take a photo in front of the Gaylord local ice cream stand…
The rickety rides were decorated with garlands of flowers. Love seeing these unexpected pockets of local life.
Once again, we weren't allowed to take photos inside Durga Kund Mandir — but here's a shot of the outside. You have to take off your shoes before entering all of these temples; since the floors can be wet from the offerings, we brought a change of socks and shower caps from the hotel, which we wore as foot-covers!
Also known as the Monkey Temple, this 18th century temple to Durga is painted entirely in red. It sits next to a pond, which was earlier connected to the river Ganges. We enjoyed seeing the statues of Hindu goddesses, and watching locals make offerings. 
Why is there a lion at the entrance? Durga, also known as the goddess Devi or Shakti, is depicted as a fearless warrior riding a lion or tiger. The goddesses of the Hindu pantheon tend to be fierce fighters; Durga is a mother figure, yet combats demonic forces and carries weapons in her multiple arms.
O Kali, you are the patron deity of the Goths! Kunal took us to see a shrine for the goddess Kali, who is depicted with black skin and her tongue sticking out. She conveys death, destruction and that which is "forbidden" — living on the cremation grounds, and destroying evil forces.
Notice the skulls on either side of Kali: human and probably monkey.
If you look closely at the photo of Kali, you'll see that the metal goblets in front of her are decorated with swastikas. We also saw this "swastika rangoli" (with four dots in the arms) in this colored sand mandala at Varanasi Airport. In Hinduism, the swastika represents goodness and auspiciousness; I discuss the symbol in more depth in this post. 
Outside, we were perplexed to see this orange-faced figure in a cage. Kunal explained this is Hanuman, the monkey faced God who is a worshiper of Lord Rama. On the tile above, there is a picture of Rama and the words 'Jai Shree Ram.'
Kunal also took us to Kashi Vishwanath Temple, which very few tourists get to see. This is one of the most famous Hindu temples dedicated to Lord Shiva, and stands on the western bank of the holy river Ganges. You'll have to bring your passport with you to enter, as security is tight. Once again, no photos: you'll have to come here for yourself, to see the two domes covered in gold and rituals of this sacred temple. 
Varanasi is not only important to Hindus — it's also a sacred place for Buddhists. Ravi drove us to Sarnath, in the north-east part of the city. This is where Gautama Buddha first taught the Dharma after his enlightenment.
I'm standing in front of Mulagandhakuti Vihara, the Sri Lankan Buddhist temple at Sarnath. The Buddha spent his first rainy season meditating here.
(I had to take off my shoes again, but all the Buddhist temple floors are clean and dry. My pink backpack by Print All Over Me, designed by Stella Rose.)
Sarnath is a holy spot of Buddhism, as the Buddha gave his First Discourse here after attaining nirvana at Bodhgaya. In the Buddhist texts, this event is known as the dharmachakra-pravarttana, or "Turning the Wheel of Law."  At Sarnath, Buddha also laid the foundation for the order of monks and nuns, or "sangha."
The Mulagandha Kuti Vihar is a temple and monastery built in the 1930s by the Sri Lankan Mahabodhi Society. The golden altar is lovingly maintained, with leaves and flowers in a minimal, symmetrical arrangement.
All around, the walls are covered in pastel frescoes by Japan's famous painter, Kosetsu Nosu. His images depict the life of the Buddha: his birth, journey to enlightenment, teachings, and death.
This panel shows the story of Angulimala, the evil bandit who killed people and hung their fingers around his neck in a garland. Through compassion, the Buddha helped Angulimala see the error of his ways and become a follower of the Dharma.
In Sarnath, there are also Tibetan and Japanese Buddhist temples. A sleeping sandalwood Buddha rests inside Nichigai Suzan Horinji Temple, with a traditional design that made us feel as if we were in Kyoto.
Next to it, there's a new Lord Buddha temple. The gates are topped with the wheels of the dharma. The circle represents the one-ness of the teachings, and the 31 spokes represent the realms of existence from ancient Buddhist cosmology.
Look, another lion! In Buddhism, they are guardians and symbols of the bodhisattvas.
Under the blue skies, the temple had a futuristic feeling.
The temple is flanked by wet fields of grass, where water buffalo make their home.
Did you know the Buddha loved to disco dance? Just kidding — this statue shows him after his birth, when he took seven steps and then raised his arm towards the sky, with the other pointing at the Earth.
(My black sun hat by Lack of Color.)
We're standing in the spot where Lord Buddha gave the first sermon to his five disciples. At Deer Park, he taught the Four Noble Truths by addressing the nature of suffering, its cause and its end.
Before his enlightenment, the Buddha practiced asceticism. He gave his first talk to five of his former spiritual comrades, as he knew they would be able to understand the Dharma quickly.
These statues represent this event, which led to the founding of the sangha community. Buddhism spread quickly from then on, especially since Sarnath was a center for the arts, and many influential kings and merchants lived in Varanasi.
We did some yogic poses amidst the archaeological ruins. Behind us is the cylindrical Dhamek Stupa, which is almost 45 meters high and marks the spot of the sermon. It was built in stone and brick, in the 3rd century.
We saw the bases of other structures and stupa (where ascetics were buried, before Buddhism). The Deer Park where Buddha gave his lecture still is filled with these friendly creatures, as you can see.
Many thanks to Janu Private Tours and Kunal of Experience Varanasi for the outstanding journey! We were glad for their expert knowledge, and passion for showing travelers the real India. If there's one destination that warrants a guide/driver, it's India. We wouldn't have seen and learned nearly as much, without their guidance.
There's still more to come from Varanasi… we'll visit the ghats and cremation grounds on the River Ganges (where our Respro® mask came into great use).
Do you share our interest in Hindu and Buddhist philosophy? Would you visit this holy city one day?