Jaipur, India: private culture tours with Janu, Rajasthan tour expert! Meeting Hijra, the Indian third gender.
"Jai ho!" Do that Bollywood shake… because Yukiro and I made it to Jaipur, India! 
We were traveling with the ultimate Rajasthan tour expert, Janu Private Tours. Owner Mr. Janu is from Jaipur, and he knows his hometown like the palm of his hand.
With his signature enthusiasm, Mr. Janu took us through India's "pink city" filled with artistic marvels such as a peacock doorway, and a floating water palace.
Jaipur is part of the "Golden Triangle" route that many travelers take, when they visit Northern India. (New Delhi and Agra / Taj Mahal are the other points of the triangle.)
For those of you who love art, culture and palaces — Jaipur is a royal city that captures the imagination. Janu Private Tours took us on a day trip to the most famous attractions, such as the Hawa Mahal with its mysterious windows (above)…
… and even arranged for Yukiro and me to meet "hijra," the third recognized gender in India! These two non-cis beauties invited us into their home, and taught us the "tools of the trade" — including how to cup one's hands and make a loud clapping sound. Keep on reading to find out more about their fascinating way of life.
But first, an intro to Jaipur — nicknamed "The Pink City." With my rosy hair and matching Indian outfit, I felt right at home here.
To welcome the Prince of Wales (later King Edward VII) in 1876, Ram Singh II painted the entire city pink. This is traditionally an Indian color associated with hospitality, and also mimics red sandstone. To this day, the tradition has been preserved, and all structures inside the Old City are blush-colored.
While it's possible to travel alone in India, I highly recommend having a guide. India is a safe destination, but tourists can get scammed if they aren't careful. A local expert takes the stress out of the trip: they know how make the best arrangements for hotel / food / attractions, and figure out transportation within and between cities.
Our friend and guide Mr. Janu always had our backs. He and his drivers are fluent in English, and picked us up each day on time in a comfortable and well-stocked car. As the slogan on the rear window reads, "A good traveller is one who does not know where he is going, but has the trust it will be great."
His company, Janu Private Tours, provides travel experiences throughout the entire country. Guests can personalize a private tour, with an itinerary that suits their exact interests.
In our New Delhi intro post, I shared Janu's inspiring story of how he started out as a tuk-tuk driver who barely spoke English. With perseverance, he gradually built up his team to the success it is today. Janu Private Tours is now one of the leading local-run tour companies in the entire country, with a top TripAdvisor rating.
Janu is full of energy, and you can tell he genuinely loves welcoming travelers and offering them the best possible hospitality.
He took us to see his exciting new project: Janu has built a hotel, called "The Marigold Inn"! He worked on the local production of the hit movie, "Best Exotic Marigold Hotel," and it inspired him to create the real deal.
In one month, Jaipur's Marigold Inn will open its doors! You can soon stay in this pink hotel, which has every modern comfort, yet a community feeling. Congratulations to Mr. Janu on the grand opening, and I'd love to come stay here soon too.
Janu never fails to fulfill his guests' requests, no matter how offbeat they may be. Yukiro and I were curious about "hijra," the recognized third gender in India — and within a few hours, he had arranged for us to meet two of them in their home!
There isn't an entirely accurate English translation of the word… but for the most part, hijira are born intersex and/or don't identify as male or female. 
Perhaps you may be surprised to hear that Indian government has declared freedom of sexual orientation as a fundamental right, and gives residents the option to choose "third gender" on passports and official documents.
It's fascinating that Indian society is overall quite conservative, yet recognizes "hijra." The term dates back to the days of antiquity, and was mentioned in the Kama Sutra. Janu explained that Indians realized long ago that hijra were "born this way" — so instead of disparaging them for something they did not choose, they created a space in society where they could thrive. 
We had a chat with these two Jaipur ladies (hijra generally present as women), who welcomed us warmly and told us about their lives via translation. We learned that for the most part, hijra are identified at birth. They can choose to either grow up at home with their families, or in a community with others like them.
When they reach adulthood, hijra typically decide to live together in a community. In this case, the ladies share a house with the children and pets that they adopted.
Hijra are considered to be lucky, so they make a living by offering blessings. We learned that they lead auspicious ceremonies for newborns, and dance at weddings and other special occasions. I couldn't help but smile when our new friend gave us a blessing by wiggling her fingers near her temples, and wagging her head side-to-side!
Yukiro and I formed an instant connection with our new friends, who are cheeky, spirited and kind individuals. You can see us interacting in this video; they showed us how to clap!
They generously gave us two saris as a gift, which we wore to the Taj Mahal (that post is coming out soon). We're grateful to Janu for introducing us to hijra — I can assure you that no other tour guide would have been able to make this visit possible.
Now, let's see more of Jaipur's most fabulous attractions. This is Janu's hometown, so he knows all the little secrets of the city.
We struck a pose at the entrance gate to the pink city, with three magnificent arches.
I loved looking out the car window in India, and taking in sights that were strange to my eyes. Tuk-tuks zig-zagging everywhere, Sanskrit writing, Hindu shrines in the middle of roads…
… and how about a haircut, right on the sidewalk? There was a whole row of barbers who set up grooming stations, on a street in Jaipur!
Janu was excited to take us to Lassiwala, as they make the best lassi in Jaipur. Yukiro and I are fans of this Indian probiotic drink that can be served plain, or blended with salt, spices, or fresh fruit.
At Lassiwala, the drink is tangy and creamy, and served in a disposable clay jar. I would have to agree: this is next-level lassi.
We drank it in the alleyway, and took in more bizarre sights (a nest of electrical wires, a poster with Hindu swastikas and what looked like a Halloween pumpkin).
Onward to the Palace of Winds, Hawa Mahal — a magnificent arrangement of screened windows, set in sandstone. This facade was built so that the women of the royal family could watch festivals from the windows, while remaining hidden from the public eye.
What an imaginative work of architecture! The 5-story exterior looks a bit like a honeycomb, and features 953 small windows decorated with elegant latticework. In true "form follows function," the design also lets cool air in while keeping the ladies hidden.
Now to City Palace, built in the mid-18th century by Sawai Jai Singh II. This was the seat of the maharajahs, who ruled Rajasthan from Jaipur.
The entrance arch is guarded by two white carved elephants. (You'll see elephant rides being offered around Jaipur, but these hurt the animals — instead, please support an ethical elephant sanctuary like we did at Elefantastic.)
Across the way stands Mahal Mubarak Mahal, meaning the Auspicious Palace. The architecture is inspired by Islamic, Rajput and European styles, hence the distinct "fusion" look. Toady, it's a museum that holds art and textiles.
That day, I wore a "salwar dress" or Punjabi dress that I got in an Indian store. It consists of long, billowing pants with a tapered leg and drawstring waist, a sleeveless dress with a long slit down the sides, and a matching silky scarf.
It so happened that the green from our outfits matched the imperial door of the palace.
We're in the courtyard of Chandra Mahal. Photography isn't allowed inside, but you can imagine majestic throne chairs, lush carpets, giant fans made of feathers,and portraits of the royal rulers of Jaipur throughout the ages.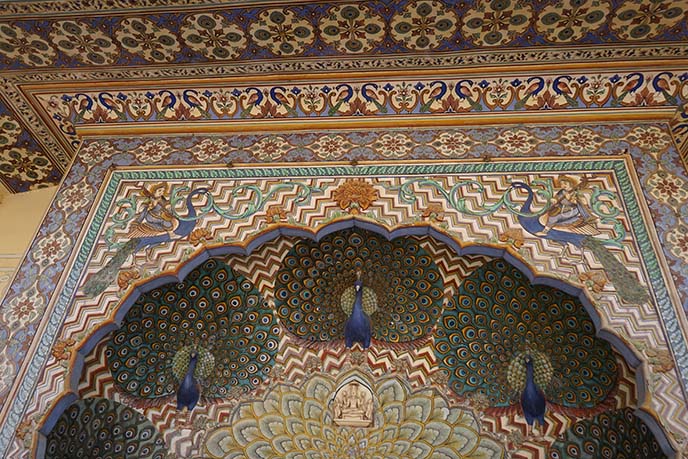 We were speechless when we saw the peacock gate at the entry of Jaipur's Chandra Mahal. There are four gates in total, each dedicated to a Hindu god or goddess and intricately decorated.
The four doorways represent the seasons as well. Yukiro is vogueing in front of the Lotus Gate, which has a vibrant flower petal motif to indicate summer, and is dedicated to Lord Shiva-Parvati.
We strolled through the Diwan-i Khas, or Hall of Public Audience, featuring a marbled floor and chandeliers. On one side stood two gigantic silver vessels, measuring 1.6 meters. Our guide explained that when Maharaja Singh II traveled to England for Edward VII's coronation, he insisted on only drinking Ganges water — so he brought it with him in the giant urns!
Time to visit another royal stronghold. Janu drove us to Amer Fort, located high up on a hill. This ancient settlement was revamped and developed by Jai Singh I.
Amer Fort is divided into four main sections, each with an entrance gate and courtyard. We went through the Sun Gate to Jalebi Chowk, the first main courtyard where the armies would have victory parades after coming home from battle.
Amer Fort is designed in a Hindu architectural style: lots of curving pillars and arches that resemble the lotus flower.
We visited each of the four levels and courtyards, each different and filled with opulent details. Just look at the decorative tiles captured in this mirror shot.
The fort overlooks Maota Lake and green hills. The visibility from all directions helped the armies spot invaders.
(A lot of tourists asked to take our photo… "No Thank You"! It was fun to point to my pink backpack with this font, by Stella Rose in collaboration with Print All Over Me.)
It's easy to feel like a royal queen of Rajasthan, when you're surrounded by such splendor!
There's so much to see in Jaipur, and we were able to make the most of it thanks to Janu. He knew I am fascinated by Indian astronomy instruments (remember my visit to Delhi's Jantar Mantar?)
Jaipur has an even more impressive collection of nineteen astronomical instruments, built by king Sawai Jai Singh II, and completed in 1734.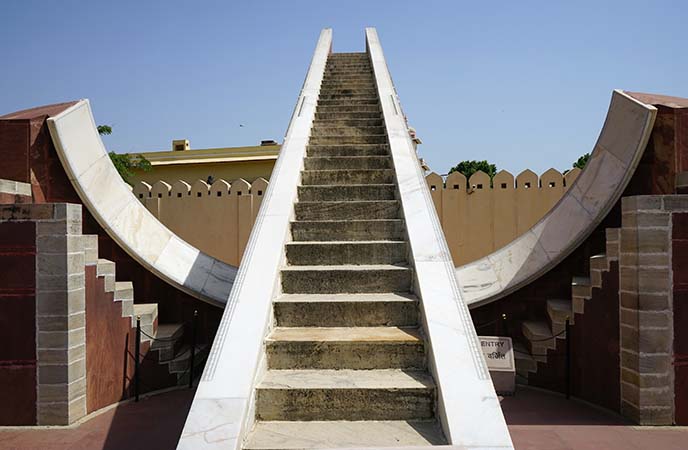 These strange looking structures appear to be built by aliens! In fact, they are designed to observe and measure astronomical positions.
Jantar Mantar Jaipur is an UNESCO heritage site. It contains the most advanced and best preserved instruments for measuring the stars, from this era. One of these is the world's largest stone sundial. 
Yukiro's rainbow umbrella lined up with the radiating lines of the sun dial. (In his car, Janu provides his guests with cold bottles of water, hand sanitizer, parasols, snacks, WiFi, phone chargers… everything you might need to survive!)
The function of each instrument is rather complex, and very advanced for its time. We learned that Jai Prakash Yantra is a sundial with marked marble, with shadows that can measure altitudes, azimuths, hours and declinations.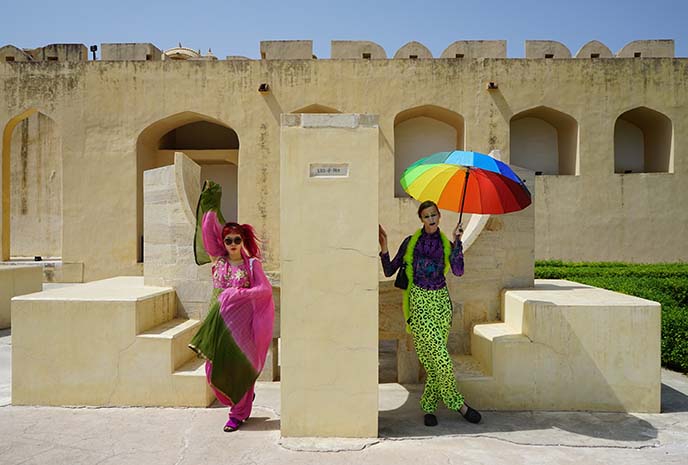 One section consisted of Rasivalaya instruments, which corresponded to signs of the zodiac. The mysterious curves and staircases are quite the sight to behold.
Yukiro and I are both Leos, and found this illustration under the arch of our instrument. The lion is the fiercest zodiac sign, that's for certain!
Is it a slide? A skate ramp? A stairway to heaven? None of the above: this is Vrihat Samrat Yantra, the world's largest "gnomon sundial," which has markings along the sides, and measures time with the shadow cast from the sun.
Jaipur truly is a city of imagination. We couldn't believe our eyes when we saw the Water Palace, Jal Mahal. This summer palace is only reachable by boat and appears to float on the surface of Man Sagar Lake.
This isn't Photoshop… Jal Mahal is real, and it's spectacular. The floating water palace was built in the 18th century by Maharaja Jai Singh II, as a royal summer retreat and party island. The building actually has five levels — four are submerged beneath the waters.
India's Floating Palace was abandoned when it began to leak, and remained neglected for 200 years. However, it's recently undergone some restoration, and visitors can travel by boat to see it once more.
It's amazing how much we did that day. We even stopped by Heritage Textiles to get custom-tailored clothing (you can choose a fabric, and have anything designed and sewn to fit you perfectly, within a few hours). The owner gave us a demo of hand-block printing, the traditional process of pressing designs on fabrics with rich natural colors that don't fade.
Finally, time to unwind at our palatial hotel Shahpura House. The staff treats everyone like royalty: when we arrived, this man in uniform held open the door, and the concierge hung orange floral garlands around our necks.
Janu always puts his guests in this regal manor, which hearkens back to the days of the Raj.
We enjoyed exploring this quirky nook, an outdoor pool, and a large breakfast hall (with Indian dishes prepared fresh to order, as well as an international buffet).
Shahpura House offers activities such as spa treatments and yoga lessons. At night, the rooftop bar has free musical / cultural performances for guests.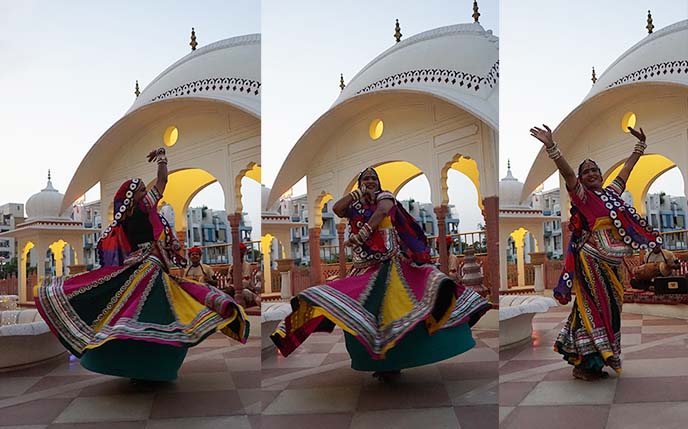 This dancer performed "bhavai," a folk dance popular in Rajasthan where the performer balances large numbers of earthen pots on her head.
Namaste Janu Private Tours for this eye-opening tour of Jaipur! This is a day that we will never forget — I feel like I'm still processing everything that I encountered, from the hijra subculture to the peacock feather gates.
Janu offers customized tours like this all throughout India, and will soon be opening his Marigold Inn in Jaipur. If you're looking for a travel experience as incredible as ours, reach out to Janu here — you'll be in the best possible hands with him.
Coming up next: the River Ganges of Varanasi, and the Taj Mahal at sunrise. India… what a country, right?