Celebrating 10 years of blogging! Perturbator concert review: synthwave outrun retro wave music, Akade 80s fashion.
Back to the future, baby!
I'm currently obsessed with synthwave / outrun / retrowave — the music genre that pays tribute to the synthesizers, video games and night driving soundtracks of the 1980s. If you're in the same boat (or Testarossa), then I'm sure you'll enjoy this story about Perturbator's concert and Akade fashion.
This is a flashback post for another major reason… Believe it or not, I've reached my 10 year anniversary of blogging! That's correct: I began this La Carmina blog a decade ago, on Sept 14, 2007.
We'll celebrate this ten year milestone with a ride down memory lane, through Neo Tokyo and the Future 80s.
Let's start with the present: I'm currently in love with all things shiny and chrome. Since I was on my way to a futuresynth concert, I wanted to wear something along the lines of this aesthetic (imagine electric neon cityscapes and Miami's midnight highways, circa 1983).
Unfamiliar with synthwave music? Here's a dark gaming mix to get you in the mood. Think John Carpenter soundtracks x eighties nostalgia against pulsing, dark, spacey dance beats.
Some of my favorite synth artists are Carpenter Brut, Gost, Lazerhawk, Dan Terminus, Dance with the Dead… and Perturbator, who I was about to see live.
I was "dressed to kill" in Akade Wear, an indie clothing line inspired by the retrowave revival. I'm wearing Akade's New Retro Wave tshirt, which is unisex (I got size XS and tied the end in a bundle, as I did in the early 90s.)
I paired it with this Iron Fist silver skeleton skirt (available here), and a Spiral UK bum bag (which comes in holographic and glitter versions too). Fanny packs rule — why on earth did they go out of style?
I finished the look with a silver hair ribbon in my high sideways ponytail, silver heels, and a bomber jacket by Disturbia. It has a spider on the back, similar to the scorpion jacket in the movie Drive.
The Akade Wear fashion line is a branch of New Retro Wave, the online hub for all things outrun. They're passionate about the musical genre and associated culture, and bring fans together with articles, streams, events, and now clothing. As they put it, "the sound, drive and sheer passion of the 80's-90's is one of the most refreshing sounds to hit the music scene, and has been long overdue."
Closeup on my NRW t-shirt logo, Dark Tropics leggings, and chrome nail art. The print of palm trees and toucan birds has a rainbow sheen, matching the holographic reflections of my Iron Fist skirt.
I'm having fun "living the 80s dream" in streetwear from Akade! They have a large selection of nostalgic, high-saturation designs for both men and women, and ship worldwide.
(If you're looking for synthwave streams, check out these YouTube channels by Gelbar and NewRetroWave. I listen to them nonstop.)
Synthwave has gained ground in recent years, and the leading artists are now touring worldwide. Interestingly, a lot of my Goth friends have independently discovered and fallen in love with the genre. Many metalheads and geek-types are also drawn to the retrofuturistic sound, bringing together a fanbase from various subcultures. 
Those with a Gothic disposition tend to be fond of France's Perturbator, who creates futuresynth with a dark edge. The pentagram posters are spot on: "Satan is a computer." "If machines could feel the way we do, would they believe in a god?"
I was excited to see Perturbator live, at the Rickshaw Theater in Vancouver (he's currently touring North America, with tour dates in major US and Canadian cities). The concert was close to sold out; I spotted lots of guys in long hair, girls in platform boots, and pentagrams on everyone.
"The Legend Says He's Half Human, Half Synthesizer"  — yes! James Kent (Perturbator) helmed a spaceship pod surrounded by vertical lights, which strobed and flashed blinding colors.
From the moment Perturbator took the stage, the audience never stopped moving. He delivered relentless darkwave, heavy and sinister yet uplifting: one of the best performances I've seen in a long time.
You can see video clips from the Vancouver show above and here on my Instagram. He played many of his faster, more aggro tracks like "Satanic Rites," "Neo Tokyo," "Humans are Such Easy Prey."
I was riveted by the strobe and color effects behind him, simple yet powerful. Perturbator kept his hood on and never spoke to the crowd, but bobbed his head to the driving basslines and gestured with his hands during the climaxes.
I haven't been out to as many concerts recently, but synth-wave is changing this up. Perturbator's live was enormously engaging, and he's an act that you need to see in person.
You can hear more on his future-80s sound on the Perturbator bandcamp page, and check for upcoming tour dates on his Facebook.
During the concert, my friend turned to me and asked, "How long have you been blogging for?" My expression was like above… for I realized we had reached Year Ten!
My "La Carmina blog" launched on September 14th, 2007 — a time when blogging and social media were in their infancy. To put it mildly, a lot has happened since then.
As we reach my blog's 10th birthday, it makes sense to do a trip down memory lane. I considered recapping the top events, but you can already find my Year in Review summaries here, and all my travel destination stories in one place.
Instead, I've recently been in nostalgic mode — and thought you might have fun revisiting these memories as well.
The early days of this blog (2007-2012 approximately) were very different from the current incarnation. Long-time readers will recall that I focused almost exclusively on Japanese subcultures, particularly Gothic Lolita fashion and Tokyo nightlife. 
This was a particularly exciting era in Tokyo, especially for the Goth clubbing scene, weird pop culture, and experimental style. You'll find a lot of exciting subcultures in Japan still, but they aren't the same as they were in the mid to late 2000s. 
Looking back, I'm glad I captured this transformative time. In 2008, I spent part of the year in Tokyo, and met many of the "creatures of the night" that remain my closest friends to this day.
The Gothic nightlife was wonderfully inclusive, bringing together an electrifying group of locals and expats. In particular, Mistress Maya's club night Midnight Mess and DJ Sisen's parties formed the heart of the dark subculture (above is the infamous night when Covenant played).
There was the feeling of anything-goes: the freedom to experiment with fashion (even if it resulted in some fails), dive into the dark arts, and dance til morning to cybergoth electro.
I always felt inspired by the clubgoers at Midnight Mess, as well as the stage shows. You might see Akira Death perform robotic metal, the Dark Marchen prance around in Rococo gowns, and Mistress Maya tie up and dominate a Sweet Lolita dolly. 
Many Japanese creatives were regulars at these events, always showing up in death-disco ghoul fashion. Above is Goth designer Kenzo A, and nAo12xu of the band †13th Moon†.
The queens of darkness were of course DJ Sisen and Selia, who mesmerized us with her dark operetta vocals. Absinthe, corsets, feathered eyelashes, cyberlox and chains — yes please.
Our personal style has all changed quite a bit since these days… but oh, we had fun!
I went down the rabbit hole, and realized I'd forgotten about many of the events I'd written about in the early days.
For example, do you remember D's Valentine? He was the master behind Alamode Market and Gothic Bar Heaven, and club nights at venues like Tamachi Cube — I haven't thought of these places in years.
At the time, Japan's extreme body modifications were not widely known about. Snake tongue and bagelheads, oh my!
I laughed at the caption I had written under this photo. "Unzipped pants and nipple tape… what more do you need in a boy?"
Department H, the hentai / drag / fetish party, has always been a funhouse and remains this way today.
Some of the people I partied with have disappeared, while others remain in my life… albeit with different hair, makeup and clothing choices.
The old school Tokyo Goth crew, on the way to Midnight Mess after dinner at Hibari sushi in Shinjuku. Ah… I'd love to teleport back for a night.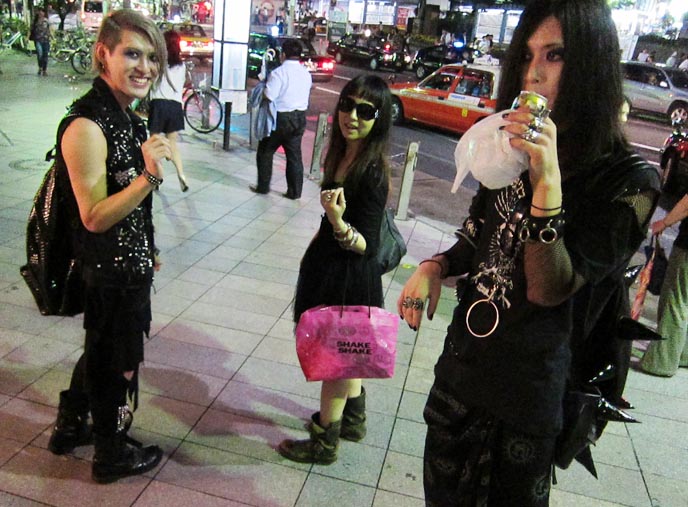 Two things that always guarantee a good time: the twins Atsushi and Takashi, and a can of Strong Zero convenience store alcohol!
In the beginning of the blog, I was very Japan-focused. Yukiro and I did a memorable trip to Osaka, where we raged with hard rocker Fu-Ki at occult club night Black Veil. Somehow, I was inspired to do KISS makeup that night…
Harajuku fashion remains exciting now, but it was certainly weirder and rave-ier in those days. I remember that people were infatuated with Takuya Angel's designs, and yearned to take part in his fashion walk.
Gothic Lolita fashion was thriving. My friends and I loved to gawk at the frilled fashion in Laforet, and hunt for secondhand bargains at Closet Child.
Many of the brands have now closed or downsized, and Lolita style no longer feels fresh to me — but at the time, it was a joy to wear.
I took this snap on Harajuku bridge. Youths still dressed up and hung out here; this is a rarity today.
I was also a huge fan of Visual Kei / J-Rock music at the time (now, I never listen to it — I gravitate to Italo Disco and retrowave). I saw many of my favorite Japanese bands perform, including Versailles and Moi dix Mois (above are Mana cosplays and tributes at the concert).
I forgot that I saw Deluhi live. VK hair and styling though… still so good.
How can anyone resist a host boy with bleach-blonde sky-high hair, and velvet joggers with a leopard print top?
I remember that readers were fascinated by the Japanese pop culture oddities I reported on, such as maid cafes. Today, these are common knowledge, and you can find theme cafes (such as cat ones) worldwide. Times have changed…
While you can't go back to the past, you can certainly revisit it… 10 years is a long time! I know some of you have been reading this blog since MySpace days, and I am enormously grateful. Thanks for growing with me through some bad point-and-shoot photography, dubious style choices, and epic adventures with friends.
I hope you had fun reading this "old school La Carmina blog" retrospective. Do you have any favorite "member-berries" from Tokyo, or thoughts on how things have changed? 
PS: you can find old blog posts in the right-hand sidebar of this blog, under Archives (there's a drop-down menu that filters by month and year). You can also see all my Tokyo, Japan stories here, from 2007 to today.
PPS: What's coming up in the future? Only time will tell… fasten your seatbelts, and stay tuned for more wild rides!