Dance with the Dead: synthwave band tour review! Auxiliary Magazine cover model, Switzerland Chillon castle.
Now that I'm back from Europe, it's time for one of those "catch up" posts… featuring a magazine cover, winter outfit ideas, and a synthwave show! 
First, I'm honored to be on the cover of Auxiliary Magazine. Thank you to the brilliant team that made this "pink hair and panning for gold" look come to life. It's fun to play around with dramatic styles for magazine modeling. (Photography by Patrick Parenteau, makeup by Jennifer Little, hair by Stephanie Hoy.)
Auxiliary Magazine's Fall 2017 issue is available here now, in both print and digital publications. There's a full editorial and interview with me inside, as well as plenty of alternative music, fashion and lifestyle stories that I think you'll find inspiring.
Now, let's chat about what to wear in winter. I have a few new cold-weather clothes that I'm excited about.
Knee-high leather boots are perfect for the season, as they give any outfit a bit of edge. I'm going to live in my new lace-up boots by Sorel Footwear (this style comes in both redwood and black.)
Sorel's After Hours No-Tongue tall boots are made from supple yet waterproof leather. There's a cute wedge heel that is comfortable for walking, and the sole has a strong tread.
(My silver geometric barrettes are Hair DesignAccess by Sylvain Le Hen, designer of luxury and avantgarde hair accessories.)
I'm wearing these dark red boots from Sorel Footwear's latest collection. They have "no tongue" down the middle for a peek-a-boo effect; I like to emphasize the cut-outs with fishnets or patterned / colored stockings.
Sorel's shoes are stylish and modern, yet made to withstand winter conditions. I'm a fan of the romantic lacing all the way up the front, for a ballerina or corset effect. (There's also a zipper on the side, so you can easily slip the boots on or off without unlacing them.)
The designer also makes an After Hours ankle boot, and a tall black boots style. Click below for more styles:

I'm a fan of Sorel, as they deliver both form and function — I walked through rainy streets and danced all night in these shoes! My After Hours tall boots come in both redwood and black here.
I paired them with a Joy Division skirt, black fishnets, and a sweatshirt by Akade Wear (many more photos further down).
I wore this outfit to see Dance with the Dead, one of my favorite retrowave / synthwave artists. They're currently on tour in North American with GosT (another fav, who sadly didn't make it to the Vancouver concert).
The show at The Venue began with two impressive opening acts. My friends and I found ourselves moving to the synthy melodies of Oceanside85, and DJ Black Ultra / Amduscia. 
Headliners Dance with the Dead (DWTD) are known for incorporating spooky visuals in their shows. The background lit up with a slightly creepy clip of four women singing Mr Sandman (The Chordettes, from 1958).
Then, Justin Pointer and Tony Kim strutted on-stage and launched into deadly guitar riffs — accompanied by projections of ghouls with flickering eyes!
Dance with the Dead is synth-wave with a retro-horror bent. Think head-banging metal meets dance melodies, wrapped in the electronics of the 1980s… If you're a fan of Stranger Things, then you'll instantly recognize the sound of "outrun."
The band performs with high energy, switching between guitars and synthesizers. The audience jumped around with DWTD, and even formed a moshpit in the front-center.
Dance with the Dead thrilled us with upbeat tracks from their albums, "Near Dark" and "The Shape." The set list included remixed versions of "Andromeda" and "Invader," and a cover of Metallica's "Master of Puppets."
I put together a few video clips from the show, so you can see and hear the group for yourself.
Between songs, DWTD broadcast clips from old movies that influenced their sound and vision. I spotted Bride of Frankenstein, Psycho, Legend, and 1980s sci-fi and horror films.
As I mentioned in my Perturbator show review, synthwave has gotten me excited about concerts again. The "future-80s" sound is fresh, and the acts are spectacular live. Can't wait to see more of these bands soon.
Here's a second version of this "winter outfit of the day," which I wore in Switzerland. This time, I paired my rocket-ship sweatshirt with leggings (both are by Akade Wear, a label inspired by synthwave — hence the pink-blue 80s vibe.) My black Goth beanie / skullcap is by Long Clothing.
I'm all about metallics right now, and love the look of a silver puffer jacket. I got mine in Romania (it's by Cato, and not available outside the country) — but you can shop similar puffers below.

After my press trip with Experience Bucharest, photographer Joey Wong and I took a weekend jaunt to Switzerland. We flew to Geneva, then traveled by train on a First Class Swiss Travel Pass from Switzerland Tourism.
These passes let you take unlimited trains, buses and boats throughout the country, so we were keen to see as much as we could. We traveled about 1.5 hours to the fairy-tale Château de Chillon, located on an island in Lake Geneva between Montreux and Villeneuve.
I need to wear sunglasses (by Balenciaga) to look at my bag… because it lights up with LED rainbow patterns! 
This rave-tastic backpack is by Cyberdog, the futuristic clubwear brand that I recently visited in London.
Cyberdog's mini backpack features several light-up modes (you can display various colors and patterns at the click of a button inside). This little satchel is perfect for clubbing and festivals, and charges up with a USB cable. The backpack comes in three semi-sheer colors; I have the iridescent holographic one. 
I posted an Instagram video of my Cyberdog backpack, and it went viral with over 550,000 views… talk about the future of fashion!
The backpack was ideal for a day-trip to Chillon Castle. We took the train from Geneva to Montreux, and then hopped on a bus for a quick ride to the chateau.
From the pier, you can take in the beauty of the Alps, the mountain range that crosses through Switzerland.
Europe is famous for its fairytale castles, and Chateau de Chillon is one of the most lovely. With our Swiss Travel Passes, we had access to hundreds of museums and historical sites — meaning we could walk straight in and explore.
So shiny, so chrome. I love the space-age look of a metallic puffer jacket! I've rounded up my favorite silver coats below; click the thumbnails to learn more.

Chateau de Chillon is an ancient fortress, with the first written record dating back to the year 1005. In the 16th century, the Savoy rulers used the castle to house prisoners. The dungeon inspired Lord Byron to write his famous poem, "The Prisoner of Chillon."
Chillon Castle consists of 25 buildings and three courtyards, protected by two circular walls. If you're a history buff, it's well worth coming here for a day (and also enjoying Montreux, the nearby resort town.)
Mary Shelley was inspired to write "Frankenstein" during her stay at Chillon castle — so there's a Goth horror side to it too!
Can't get enough of the Swiss mountain landscapes, and Lake Geneva's clear waters.
Close-up on my 1980s-style spaceship Horizon top by Akade Wear, and my silver winter jacket.
What do you think of my synthwave / retrowave inspired winter clothing? I hope these outfits give you some ideas for ways to stay warm while rocking a retro-future aesthetic.

Back to Geneva, and time to chill out at Hotel N'vY. Part of the Manotel group, N'vY is in a convenient central location (a quick walk from Geneva Station, which is only a seven min ride from the airport).
I always gravitate towards art / design boutique hotels, as they are local-run and have a quirky personality. You won't find an inspiring room like this one in a standard chain brand.
Hotel N'vY hosted us in a special suite on the top floor, which required a private elevator with a key-card to access. We had a huge balcony with a view of the rooftops, and could even see the top triangle of the Jet D'Eau (Geneva's high-spouting fountain).
The hotel staff spoiled us with gifts of Swiss chocolates and Sephora spa products. I made myself at home, cozying up with my laptop and fiddling with the Philips Hue color wheel (which changes the mood lighting).
The rooftop terrace gave us a chance to play around with long-exposure photography. I created a heart shape using my light-up Cyberdog backpack! 
Hotel N'vY's name is a play on "envy," since your friends will be jealous once they see photos of this hip hotel. The lobby's decor is a tribute to music with portraits of Jimi Hendrix and The Doors, and a wall of electric guitars.
Walking around, you feel as if you're in a pop-art exhibition. The sculptures add to the trendy, bold design of the bar and lounge area.
Ouch, that cactus-chair looks like it hurts! Hotel N'vY is a great fit for millennial and design-loving travelers.
My futuristic outfit matched David Cintract's "Pop Libre" mannequins: women in helmets and heavy makeup, holding glowing synth-sticks.
Time for dinner at the hotel's Restaurant Trilby, named after the fedora hat worn by many artists. I began with the limited-edition fall cocktail, a bowl of warm spices like cinnamon and cloves.
To start, we ate up every bite of the salmon tartar with mango, and scallops and leeks ravioli. The European fine-dining menu included steaks and sole meuniere, paired with outstanding French wines. We finished up with chocolate fondant and pear chocolate tart, two superbly made desserts.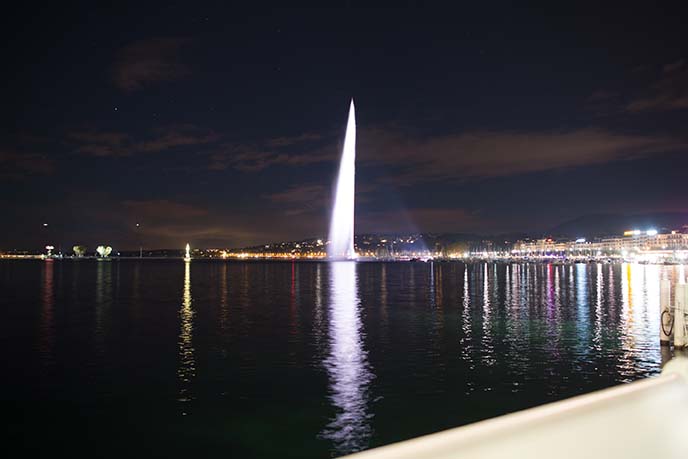 We walked off the meal with a stroll around Lake Geneva. It's impossible to miss the Jet d'Eau. First installed in 1886, the fountain launches 500 liters of water per second, to the height of 140 meters (460 feet).
Geneva is filled with stately fountains and classic architecture. We enjoyed strolling through this park on the way to St Pierre Cathedral.
I leave you with a final glowing shot of my Cyberdog backpack. Merci Hotel N'vY for the arty, cozy, trendy stay in the heart of Genève.
How about you; what do you have in your winter wardrobe? Don't forget to take a minute to watch my footage from the Dance with the Dead concert, and the Cyberdog video that went viral.