Fashion blogging Year in Review! Looking back at 2017: best style blogger outfits, travel recap.
Here we are again… looking over our sunglasses at the year that was!
Can't believe it is time again for the annual blogging Year in Review. In the past 12 months,  I made it to some of my dream destinations and landmarks. These include India (Taj Mahal), Romania (Dracula's Castle), Switzerland (HR Giger museum and bar) … and we mustn't forget our pilgrimage to the Amsterdam Miffy store!
Enjoy this 2017 flashback, which includes previously unreleased outfit photos. (Above, I'm wearing Iron Fist in Athens, Greece. Click to shop more from this brand here, and below.)

But before the retrospective… let's look ahead to my upcoming travels in January 2018. Can't wait to escape the winter by heading to three new countries: Cuba, Panama, and Dominican Republic!
I'll be spitting time between relaxing on Caribbean beaches, and investigating the local culture. Get ready for stories about Havana vintage cars and Santeria rituals. As always, if you have travel tips for me (Havana, Punta Cana, Santo Domingo, Panama City), please leave me a comment or message.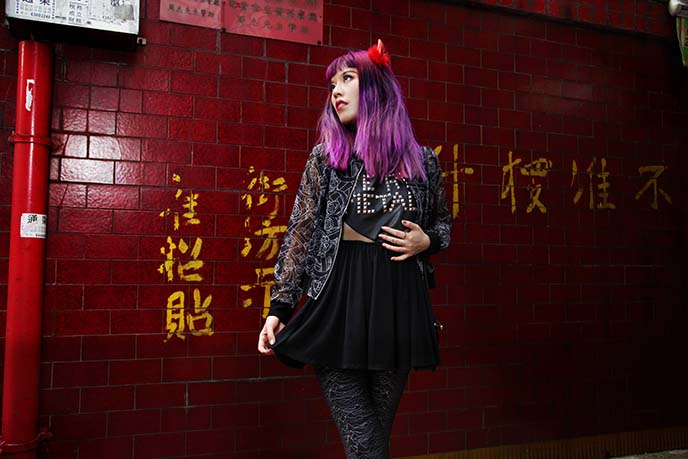 2017 was a meaningful year, as it was my 10th anniversary of blogging! I can't believe I've been at this for a decade now.
We've come a long way since the site's original focus on Japan and Gothic Lolita. In fact, I didn't step foot in Tokyo at all this year. Although I adore Japan and still get inspired by every visit, the subculture scene isn't what it used to be.
But there's a whole world out there to discover. This past year, I continued to partner with travel companies and tourism boards, which let me visit new destinations worldwide (including off-the-beaten-path places like Romania, above).
Crazy enough, I've been to over 60 countries by now. Still pinching myself that blogs and the Internet have let me live this life.
Other milestones include being interviewed for the BBC's radio documentary about Goths, and winning the Best Blogger of the Year award from Auxiliary (as well as being on their magazine cover). Once again, a huge thank you to all of you who voted for me, and for your continuous support. Every comment, share and like makes a difference to me.
At the start of 2017, my friends and I were saddened to say farewell to Rose, who had long been fighting gastroparesis and complications brought on by undiagnosed Lyme disease. Many of you got to know Rose through our early adventures on this blog, and her spirit made an impact on everyone she met.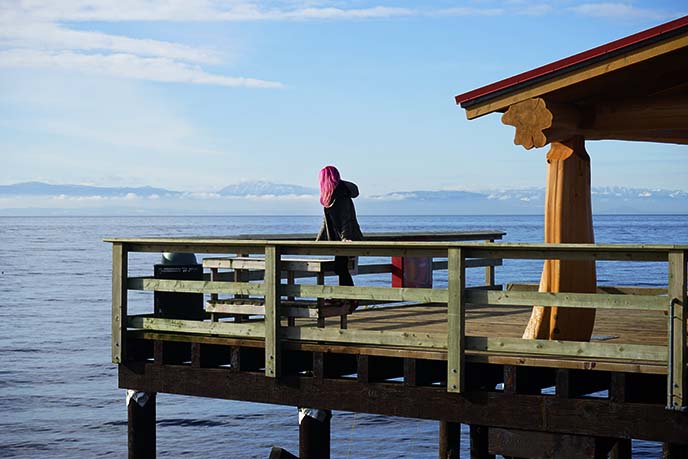 There's a tribute to Rose here, which includes our boat trip to Sechelt, BC for her last hurrah.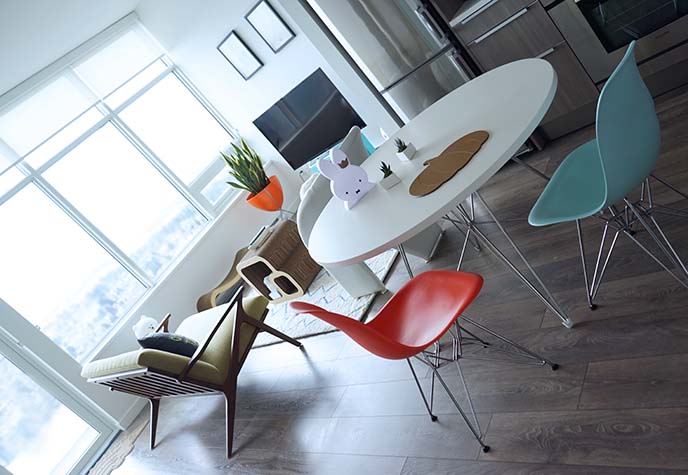 I finally hunkered down and completed my apartment decor project, which I unveiled in my house tour. I was happy to hear your kind feedback on my interior design, which is inspired by Zen minimalism, mid-century modern and kawaii. (And yes, it's always this clean and sparse… death to clutter!)
Since I'm a Miffy fan, I included a lot of the minimal Dutch bunny in my apartment. It was fitting that my next was to her home country…
The Netherlands! It was great to return to Amsterdam after many years, thanks to an invitation from the tourism bureau. I had come here over 10 years ago, but when I was a less experienced traveler, I stuck to the tourist landmarks.
This time around, I sought out the artistic, off-the-beaten-path districts including Noord (above, the EBM music A'Dam tower) and De Pijp. I also made it to the Miffy / Nijntje store, and Mr. Maria's lamp studio. If you missed these Holland blog posts, find them here.
And then… Acropolis Now. I partnered with Visit Greece to showcase both the ancient and modern sides of Athens. This photo by Joey Wong is one of my favorites from this trip, since it captures the "Athena the Greek goddess" feeling of being here.
After, it was time for some sunshine in Santorini, Greece. There's nothing like staying in a classic white villa, with a private swimming pool and patio.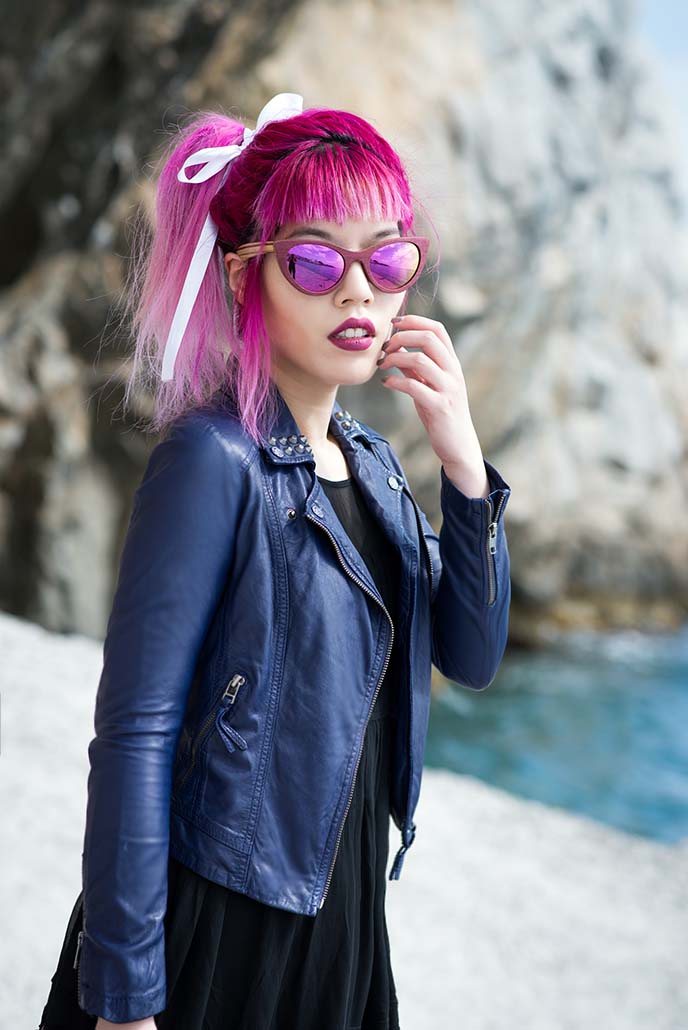 We went sailing around the islands, and witnessed the magnificent sunset in Oia. I wore blue to match the waves at Perissa Beach in Santorini.
(Catch up on all my Greece travel articles here.)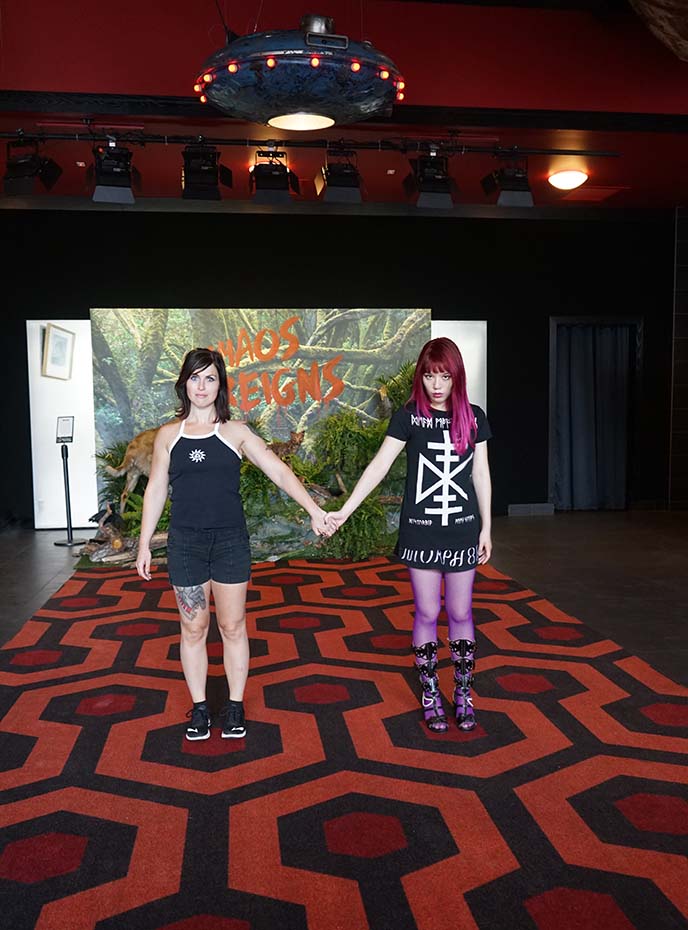 This year, I had the good fortune of meeting up with friends from over the years, in various places. I made it to Austin, Texas for the first time — I was keen to check out the alternative sights in Texas' most liberal city.  "Weird Austin" did not disappoint, with gems like Satanic karaoke and floppy disk bars.
Yukiro and I had long dreamed of making a "Passage to India." This summer, we toured Delhi and Rajasthan in style (would you expect anything less from us?)  Seeing the Taj Mahal was one of my favorite memories of the past year.
India is an onslaught for the senses, and we adored it. We got to meet hijira (the third recognized gender in India), dress in saris for the first time, see cremations on the banks of the Ganges, and take care of elephants at an ethical sanctuary in Jaipur.
All these stories can be found here, under the India category.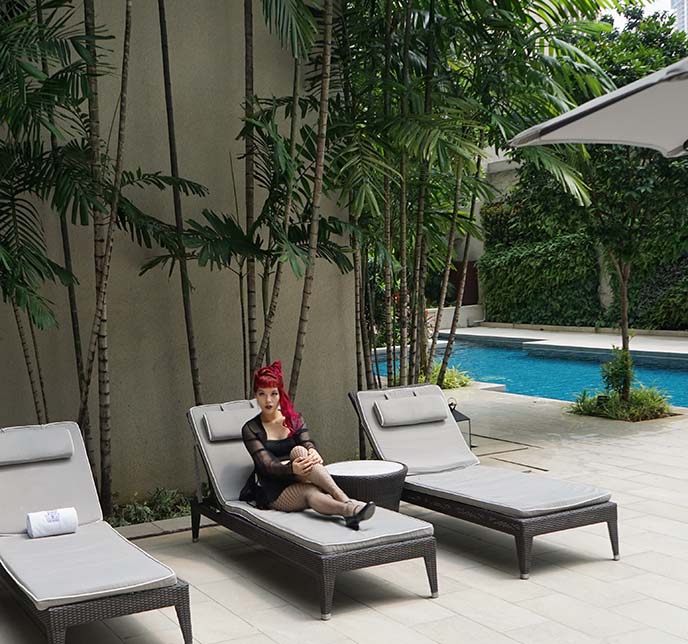 Yukiro and I also journeyed to Kuala Lumpur, Malaysia (crazy that I've been to most countries in Asia by now). Can't complain about the pool and spa at the Ritz-Carlton KL.
We also enjoyed sipping dragonfruit cocktails and drawing pentagrams in the sand, in Langkawi Malaysia. All our adventures in Malaysia are compiled here.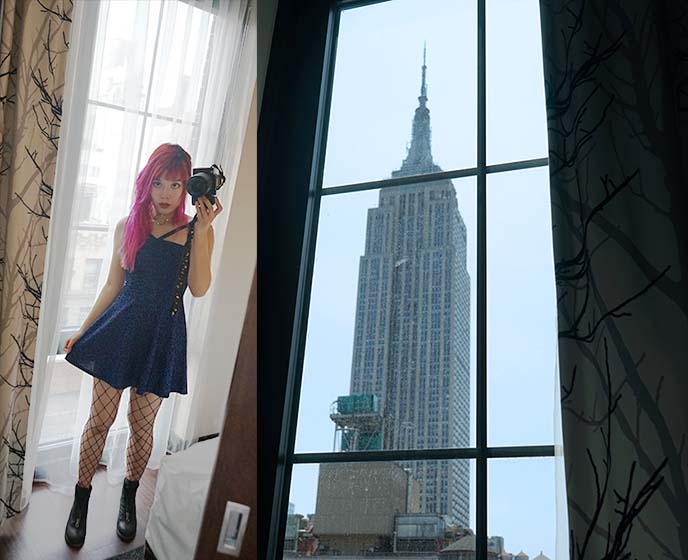 I ended up spending more time in the US this year. It's always fun to return to NYC… 
… and see the Magic Gardens and Mutter Museum in Philadelphia, Pennsylvania.
Right before Halloween, I was invited to Experience Bucharest, Romania (click for all stories). The land of Dracula and vampire lore was on my bucket list — and it was as dark and delicious as I hoped! (Above, I'm wearing Moitie and Peace Now inside Bellu Cemetery).
It was an honor to speak at the event for travel bloggers, influencers and media / tourism.
2017 was one hell of a year for Halloween. I reunited with friends in London, England; we haunted Highgate, saw The Exorcist play at the West End, and made an obligatory pit-stop at Cyberdog in Camden Market (above).
As an Alien fan, I couldn't resist making a side-trip to Switzerland… to see the H.R. Giger bar and museum in Gruyeres! I haven't released these photos yet, but above is a synthwave space-jacket outfit from Montreux.
I leave you with some bonus Xmas /  holiday snaps from last year in Hong Kong. I bit into Frosty and Rudolph at Yum Cha, the cute dim sum restaurant.
At Yum Cha cafe in Hong Kong, you can order smiley-faced animal buns and other adorable "kawaii" decorated food.
And how cute are these Chinese Hello Kitty plush dolls, which look like daruma? These round, lucky figures are objects for goal-setting — a great way to prime yourself for the New Year.
Here's to a soaring, successful 2018! Let's all dream big, and make it happen in 2018.
As for me, I'm getting ready to fly to Havana Cuba, Panama and Dominican Republic! Let me know if you have travel tips for these places. I've also updated my Travel Destinations page (everything is listed by region and country). You can easily find all my travel guides / stories about each place I visited, such as Japan, Korea, Morocco, Iceland, Vietnam.
Leaving you with a bonus holiday outfit remix. The top is Morph8ne, skirt Long Clothing, and shoes Swear London (you can customize every aspect of their footwear).
More by Morph8ne Clothing below, or click here to shop.

What were your favorite moments of 2017? Despite what my Long Clothing sweatshirt says… let's make it a happy New Year!