Twin Peaks themed bar & restaurant, The Black Lodge Vancouver! Strathberry East/West crossbody handbag.
Twin Peaks fans, this one's for you. Did you know there's a restaurant and bar in Vancouver… inspired by David Lynch's cult TV series?
It's called The Black Lodge, and as you'll see, it deserves a whole lot of thumbs up.
Read on for photos of inside the Twin Peaks theme restaurant including a Red Room, cocktails named after show characters, and of course — damn fine coffee with cherry pie. 
Since many of you loved my Instagram preview, I'll also unveil my new East/West crossbody beauty from Strathberry. They're my favorite handbag designer for obvious reasons: clean, minimal, handcrafted perfection! More about these purses below:

The Black Lodge has been a hidden gem in my hometown (Vancouver) for some time. After the success of their first location, the owners set up a second, larger restaurant on Broadway near Main Street, which I visited on David Lynch's birthday.
My friends and I are fans of Twin Peaks, the 1990-1991 mystery TV series that returned for a season last year. It's a favorite among Goth / horror fans, and one of director Lynch's most celebrated works. The plot opens with the murder of homecoming queen Laura Palmer, and spirals into an addictive web of camp, surrealism, drama and the supernatural.
Broadway Black Lodge address: 317 East Broadway, Vancouver, BC, Canada. The old location is also open, at 630 Kingsway.
In the story, special agent Dale Cooper learns that the Ghostwood Forest holds the entrance to two extra-dimensional realms: The Black Lodge (a place of evil) and White Lodge (a place of goodness). Rob and I love how the restaurant is named after the dark, Gothic dimension.
The TV show's lodges are connected by a room with zigzag black and white floors, red curtains, and bright spotlights. As you can see, the restaurant's bathroom and hallway look just like the Twin Peaks Red Room!
The Black Lodge's owners, Brad MacKinnon and Claire Wyrostok, are independent business owners who truly put their passion into their restaurants. Brad and Claire adore Twin Peaks, and when they got city approval for the restaurant's name, the theme took on a life of its own.
Today, Peakers (hardcore fans) even make Lynchian pilgrimages up from California, to see the show's Pacific Northwest shooting locations and visit this bar.
Outside the new location, you can see The Black Lodge sign beckoning mysteriously.
The atmosphere recalls the words of Deputy Hawk: "There is a legend of a place called the Black Lodge… every spirit must pass through there on the way to perfection. There, you will meet your own shadow self… But it is said, if you confront the Black Lodge with imperfect courage, it will utterly annihilate your soul."
Rob was amply prepared to cross the dark threshold, with his custom ring and tattoos featuring the Twin Peaks sigil! He's also wearing a t-shirt based on the series, which you can see in the image below.
The Black Lodge has an extensive food and drinks menu. We eyed the list of over a dozen special cocktails, all named after Twin Peaks references. 
Above, Rob is holding a "Blue Rose" mixed with Beefeater gin, curacao and Aquafava. On the left is Ben's "Double R" — coffee infused genever and sherry. Indeed, it was a "damn good coffee," "black as midnight on a moonless night!"
I prefer drinks on the smokier, not-sweet, "old man" side. My personal favorites were the "Fire in the Mill" (rosemary gin, scotch, ginger, lemon, bitters), "Wally Brando" (brandy, chartreuse and grenadine), and "Ghostwood Forest" (infused gin and tonic with muddled rosemary).
For something on the sweeter side, try the outstanding Lynch-burg Lemonade on the left (triple sec, Jack Daniel's and mint).
The Black Lodge serves hearty comfort food, all of it vegan or vegetarian. I tried the B.A.L.T sandwich, and it was melt-in-your-mouth delicious. The "bacon" is house-made with coconut, and I couldn't tell it from the real deal. Paired with avocado, sprouts, tomato, cheddar, dijon and garlic aioli… it was creamy crunchy heaven.
There are many indulgent dishes that you can share, including curry poutine, nachos, vegan drumsticks.
In Twin Peaks, inhabitants of the Lodge feasted on garmonbozia — which looks like creamed corn, but is made up of pain and sorrow. While this isn't on the menu, a similar-looking "Tot-Chos" is available (above): spuds smothered in corn, beans, salsa, jalapenos, sour cream and cheddar. We ate it up like it was the nectar of the undead!
If you're in Vancouver, Canada, there's no better place to spend a spooky night with friends than The Black Lodge. (All photos by Ben and La Carmina.)
My black cut-away top is by Michi; more from this avantgarde activewear label below:

That night, we made a toast in memory of our friend Rose (June 26 1988- January 11 2017). Can't believe it has almost been a year since we went to her memorial in Sechelt.
Rob introduced Rose to the original Twin Peaks, and she devoured each episode. She always had a blast dressing up and going to underground, off-the-beaten path places with us. Rose would have adored The Black Lodge (I even had old photos of her in what look like a Red Room), and it certainly felt like she was there with us. 
We'll try to keep the tradition going and meet up every year around this time, to celebrate her life.
The Black Lodge fills up fast on weekends, so I encourage you to come early and nab one of the peaked booths. Weekdays are no problem.
Even if you know nothing about Twin Peaks, the restaurant / bar has a warm, easygoing, Canadian cabin feeling that anyone can enjoy.
As detective Dale Cooper would say, "If you ever get up this way, that cherry pie is worth a stop." The Black Lodge's "Damn Fine Cherry Pie" is a fresh-baked slice filled with tart fruit, served warm and with a scoop of vanilla ice cream. Two thumbs up!
The bar has a large selection of spirits, and various beers on tap. Go for the Black Lodge Lager, an amber-style Baltic brew. (Note that the restaurant's font and logo are reminiscent of the one on the Twin Peaks map.)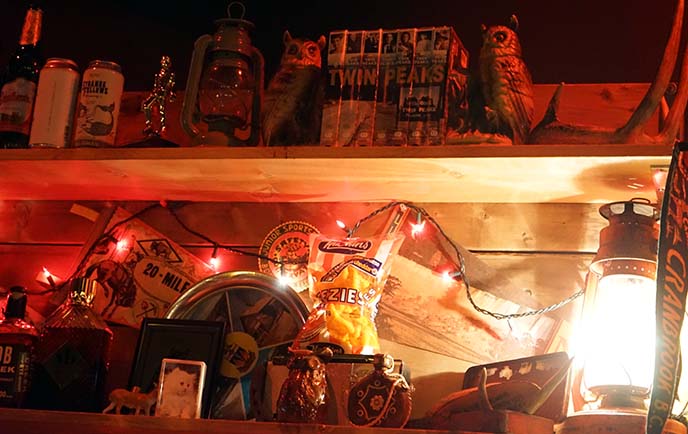 The owners Claire and Brad are lovely, and put genuine care into the service and decor. I smiled when I saw a VHS Twin Peaks collection, guarded by owls. Below, there's as tribute to Canadiana kitsch; those "Cheezies" are our national version of Cheetos.
The Black Lodge restaurant gets an earnest thumbs up from all of us! If you're in Vancouver, Canada, do check out their newly established Broadway location.
My outfit details: Spiked boots by Tripp NYC, Wolford hold-up socks from UK Tights, purse by Strathberry.
"The Owls are not what they seem…" But "Where we're from, the birds sing a pretty song, and there's always music in the air." (Twin Peaks quotes)
For more info, check out the The Black Lodge website that includes opening hours, menus, addresses etc.
I dressed a bit like Audrey Horne for our Twin Peaks dinner. Played by Sherilyn Fenn, she's the daughter of a wealthy businessman and enamored with FBI Special Agent Cooper. I wore red lipstick, a plaid skirt and deadly heels in her honor.
OOTD: Thigh high socks from UK Tights; they're these Wolford Velvet De Luxe Holdups. My top is by Michi and I'm wearing a plaid skirt similar to this. Boots by Tripp NYC.
I completed the outfit with my new Strathberry purse. They just released this East/West – Black with Edge bag… isn't it a beauty? It arrived in a beautiful black box with gold font, and matching dust bag.
The 2018 East/West has the brand's signature structured silhouette, branded hardware, and bar closure.
Strathberry's East / West dual-length strap is an ingenious design. You can extend one end and wear it cross-body… or double it up, and sling it over your shoulder! The gold chain is beautiful quality and easy to adjust, yet the bag is lightweight.
All of their handbags are made in Spain with the finest calf leather, and lined with a suede-like microfiber. The flap has an easy yet secure closure: you slip it under the horizontal bar, and it secures magnetically.
I also have the Strathberry midi tote, from their original collection. You can find this style below:

I'm quite choosy about handbags, and the popular luxury labels don't appeal to me (no monograms please!).
On the other hand, Strathberry is an independent, artisan company based in Edinburgh. Their purses have clean lines and exquisite luxury detailing, which appeal to my love of minimalism, and increasing focus on "slow fashion" over mass production.
Here's a peek inside my East/West White Edge purse. There are two compartments with one interior pocket, and the accordion-style sides can expand. It's the perfect size for me: compact, yet spacious enough to hold all my necessities.
Strathberry just released multiple new designs for 2018, and I couldn't be happier with their East/West crossbody meets shoulder bag! The purse comes in various colors and combinations, and there's a mini size as well.
Are you loving Strathberry as much as I am? I hope you enjoyed these photos, and the tour of the Twin Peaks themed diner.
(PS: see below for more about this sweet bag.)