Visiting Dracula's Bran Castle: Vampire tour of Transylvania! Vlad the Impaler, Romania Goth Halloween.
"My friend. Welcome to the Carpathians. I am anxiously expecting you." – Count Dracula's invitation to Jonathan Harker, in the Bram Stoker novel.
Last Halloween, I got to live out my vampire dreams (or nightmares)… at Dracula's castle in Transylvania!
With the support of Experience Romania, I got to come and learn about the real Vlad Dracul, a ruler whose history is wrapped up in horror mythology.
For years, I had the "Goth goal" of visiting Bran Castle in Brasov, Romania. This dark fortress is associated with the bloody tales of Vlad the Impaler. 
I wore my Moi-meme-Moitie dress; the silhouette and design are straight out of Nosferatu. This is an Japanese Elegant Gothic Lolita design by Mana, who you may know from the Visual Kei bands Moi-dix-mois and Malice Mizer.
Keep reading for an exclusive look inside Bran Castle, including photography in areas that tourists aren't able to access. We'll wind up in a torture garden, and get to know the Romanian vampire. (All photos by Joey Wong.)
As you may remember, I was invited to Experience Bucharest around Halloween 2017. On one of our free days, photographer Joey Wong and I met up with our local Romanian friends, Alex and Beatrice. They kindly drove us from Bucharest to Bran Castle in the early morning.
(To get to Dracula's castle, it's also possible to take the train, but there are limited departure/arrival times. You can also rent a car, or hire a private driver for the trip).
When you see the dawn breaking over the misty landscape, it's easy to understand why Romania is the land of vampire tales. 
The drive from Bucharest to Brasov is a beautiful one, especially in fall when the leaves have Halloween hues. If you're based in Bucharest, this is a perfect day trip to Transylvania. (You can also stay overnight in Brasov, if you want to spend more time in the region).
The journey to Bran Castle takes about 3-4 hours by car, depending on traffic (it's a good idea to leave early, in case you get stuck). On the way back in the afternoon, the ride took longer.
As we got closer, the roads became windy, and the Carpathian mountains loomed over us.
The Carpathians are a mountainous range through Central and Eastern Europe, with the largest portion in Romania. These dramatic hills are home to brown bears, wolves, lynx… and maybe some blood-sucking bats?
Transylvania is the central region of Romania, located north of Bucharest. Its high-contrast clouds and craggy mountains looked straight out of a horror movie. When we saw these horses under an ominous sign… we knew we must be getting closer.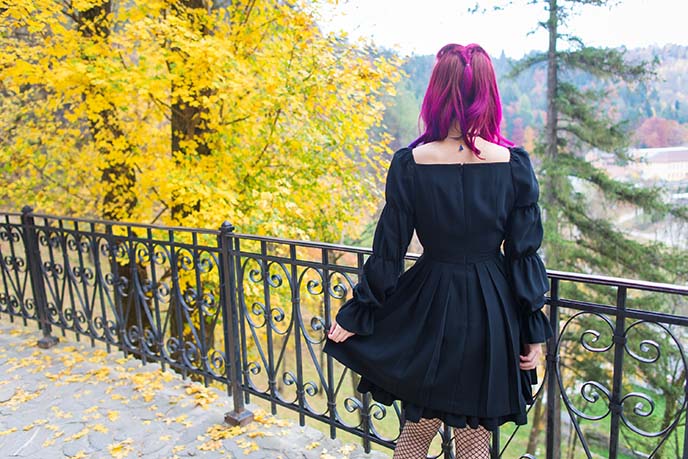 At last, we made it to Bran Castle! On their website, you can find access, admission and visitor info. When we arrived, there was a line up for tickets, which cost about 7 euro (there are senior and student discounts). Bran Castle kindly welcomed us as press, giving us permission to photograph usually-restricted areas.
Dracula Castle address: Strada General Traian Moșoiu 24, Bran 507025, Romania
Visitors have to first walk up a steep path to the castle, lined by dark gravestones like this one. Do Dracula's remains lie beneath the soil?
Not quite. In fact, Bran Castle is only loosely connected to the historic Vlad the Impaler, who may have never even stepped foot here. Keep in mind that ever since the publication of Bram Stoker's "Dracula" novel, the man and myth have blurred in the public imagination. This castle is located in Transylvania (where the fictional Count lived), and has an appropriately imposing, Medieval look… what better setting to dive deep into the bloody legends? 
Inside, you'll find portraits and historical information about Vlad III, also known as Vlad Tepes or Vlad Dracula. In real life, he was the second son of Vlad Dracul, the 15th century prince of Wallachia, Romania. Records show that he signed two of his letters "Dragulya" or "Drakulya" — which means "the son of Dracul."
Vlad actually lived in Wallachia, the area south of Transylvania. In the late 14th century, a group of German colonists built Bran Castle in Brasov (where I'm standing). Their descendants may have wound up as Vlad's victims, during his reign.
Although Bran castle wasn't the primary home of Vlad, it has the "Dracula" feeling conjured by the novel and other vampire works (films, comics, you name it).
Author Bram Stoker never even went to Romania before writing his book. He based Count Dracula's castle on Whitby Abbey in England, which I also visited.
Vlad was called "The Impaler" by the Ottomans, and was also known as the Butcher or Demon. What's the deal with the nickname?
As the castle banners indicate, impalement was Vlad's favorite method of execution — spearing bodies on a stake, and leaving them to die. He executed thousands in this manner, and even created a "Forest of the Impaled" with 20,000 pierced bodies. Some say Vlad enjoyed dining with his palace associates, surrounded by a circle of impaled victims.
Vlad is usually depicted as a villain, but there's another side to the story. Many Romanians consider him a hero, and one of the country's greatest rulers.
It's important to understand the context of Vlad's actions. As a youth, he was imprisoned by the Ottomans, and severely abused. When he took reign, his harsh punishments were a way to strengthen the central government from dissenters. Some historians interpret his cruelty as rational acts to secure the independence of Romania, as the land was surrounded by the much stronger Turks.
During his reign, Vlad actually lived in Poenari Castle, a cliff-side citadel in Wallachia. You have to climb 1,480 concrete stairs to reach the top. Poenari castle is located quite a bit further from Bucharest, so I'll have to wait until next time to visit.
Vlad the Impaler was possibly imprisoned inside Bran Castle for a few months; he was exiled and jailed multiple times during his three reigning periods. Regardless, the Transylvanian castle is sensational, and makes you feel as if you're a character in the Dracula story.
What dark secrets hide within these walls? Perhaps a crypt lined with coffins?
Bran Castle does have a system of secret tunnels, which weren't discovered until later. These narrow, steep passages were built as escape routes. On regular tours, you aren't able to go inside… but this vampire got special permission.
In 1920, Bran Castle came into the possession of Queen Maria, the last queen of Romania. In 2009, it became open to the public as a museum and attraction. Inside the castle, you can see relics of her royal residence, including art and furniture from her personal collection.
No wonder Queen Maria made this her special residence. The castle architecture is captivating, with winding staircases and picture windows.
On the upper levels, you can learn about Vlad and the folk tales that inspired vampire legends. My Romanian friend Alex found his ancestor on the family tree… proof of his vampire bloodline!
I read about "strigoi," the evil souls of the dead that kill victims by sucking their blood, and have the ability to transform into animals (forming the inspiration for modern vampire tales). If pregnant women drink cursed water or go outside without covering their heads, then Satan puts a red bonnet on them and their newborns. Unless it's removed, the babies will transform into "strigoi" — the undead that live among us.
The sunlight… it burns, it burns!
Standing inside Dracula's Castle, I realized how much the legend has inspired fashion, art and pop culture — from Lost Souls, to Interview with the Vampire, to Buffy.
Through this arched window, I looked out at Transylvania. Bram Stoker's 1897 novel turned the region into a household name associated with vampires. With a landscape like this, no wonder this is perceived as a magical, mysterious and dramatic land.
Similarly, we've all heard of the word "Nosferatu," which refers to The Devil in modern Romanian. Photographer Joey Wong captures the spirit in this image.
Can you see my reflection in the mirror? I didn't stumble across any coffins in Bran Castle, but the entire castle had a haunted feeling (creepy nooks, squeaky staircases, four-poster beds straight out of Dracula movies).
When night falls… it's not difficult to imagine "strigoi" flying out from these woods!
Bran Castle also hosts rotating exhibitions. When we visited, there was a collection of torture devices used in the Middle Ages.
I felt genuinely scared, standing inside this iron maiden lined with deadly spikes. The lady's evil smile makes matters more frightening.
I'm pointing at Vlad the Impaler's favorite instrument. Sometimes, the stake was sharp and killed victims quickly. Other times, it was dulled and oiled, and went through the body in a way that didn't pierce the heart — prolonging the pain and duration.
I shudder to think of what it was like, living in the time of these torture devices.
What a treat to visit Castle Bran and immerse myself in the world of Vlad the Impaler. Even though it's technically not "his castle," I loved the sinister experience and Transylvanian setting.
I leave you with some Romanian vampire souvenirs. I took these photos at Bucharest's Henri Coandă airport; you'll find a huge selection of Dracula-themed red wines in the shopping area before departures. I wish I could have bought them all… but I had no room in my suitcase.
In addition, there's a selection of vampiric liqueurs. Who needs tequila when you can drink Draquila?
I was intrigued by Potion of Dracula, a plum brandy or "palinka" that hails from Transylvania. The 40% proof liqueur is packaged in what looks like a magic flask, with an antique lock and keey.
Don't you think the 555 should be 666? I didn't have the opportunity to try any of these Count Dracula wines, but I did enjoy the Romanian red that I had at an Experience Bucharest networking event.
I was tempted to pick up these cute magnets and keychains, which I found at a rest-stop during our roadtrip from Bucharest to Dracula's Castle.
How do Romanians feel about being associated with vampires? It's a mixed bag, but many of them embrace the Vlad Draculea "bloodline" and its impact on pop culture.
Most of the airport's souvenirs had a vampire theme, including stuffed toys and "Vladut's Story" plums in chocolate cream. There was even a plush of Tim Curry's character in The Rocky Horror Picture Show, who hails from"Transsexual Transylvania!"
I guess he's Count Chocola for a reason… quite a few of the Dracula gifts were chocolates. Love the coffin figure as well.
A million thank yous to Experience Romania for the best Halloween ever. I loved exploring the country, and am dying to come back and see more.
Whether he's a folk hero or fanged horror villian, Dracula has captured the imagination of millions worldwide. At Bran Castle, you get to become part of the legend.
So I leave you with a quote by Bram Stoker's Count: "Once again…welcome to my house. Come freely. Go safely; and leave something of the happiness you bring."
(And if you're hungry for more bloody tales, here are all my travel posts about Bucharest and Romania!)