Synthwave San Francisco! Turbo Drive retrowave club, design Hotel Clift by Philippe Starck, Alexander's Steakhouse.
Fire and brimstone… Talk about a warm welcome back to San Francisco!
I recently took a weekend trip to see some of my favorite ghouls. Since I'm currently all about retrowave music, this was also the perfect excuse to check out SF's synthwave party scene. 
(I put together a "Kung Fury" outfit with this Dragon midi skirt from Print All Over Me, designed by gentlethrills. This dramatic fireplace is in the lobby of Clift Hotel, where I stayed.)
San Francisco has long been a hub for subcultures: from the Beatniks to the hippies and onward. Right now, it's the site of the longest-running and best synthwave party on the planet, Turbo Drive.
Keep reading for a firsthand report of the outrun fun, featuring a performance by French artist Danger (above!)
First, let me introduce you to my favorite new necklace — this minimal choker from Aurum by Guðbjörg. They're an Icelandic jewelry designer, handcrafting every piece from silver from their workshop in Reykjavík.
My necklace is from the Aurum Asterias collection, which is inspired by the country's unique, dark ocean waves. I love this design because it brings back fond memories of when I visited the black sand beaches of Iceland.
As you know, I'm all about supporting independent designers that produce exquisite pieces. Aurum melds traditional craftsmanship with modern design, and prioritizes sustainability with fair-trade materials and environmentally friendly packaging.
For a special piece, I encourage you to view their collections that include rings, bracelets, earrings and other accessories.
See more from Aurum below:
I had fun staying at San Francisco's Clift Hotel, which was designed by Philippe Starck (one of my favorite modern furniture/interiors designers) and Ian Schrager (co-founder of the legendary NY nightclub Studio 54). 
Monkeying around is encouraged, in this hip hotel. Guests can sit on Starck's Big Arm Chair and take photos… that is, if they can manage to clamor up there! (Images by Lauren Levitt).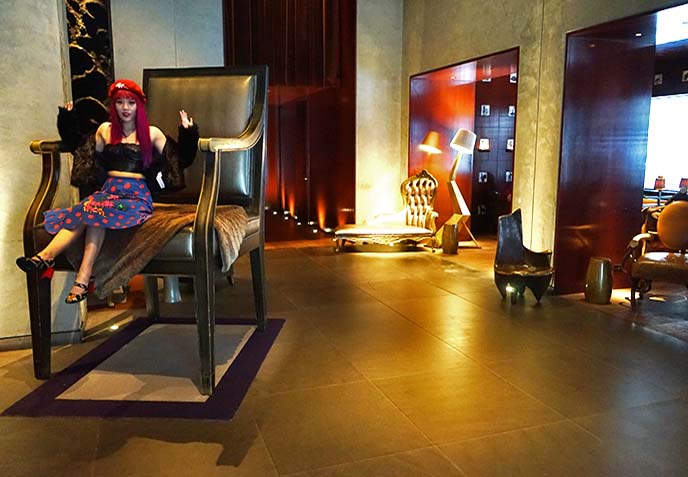 Clift Hotel San Francisco has a mind-bending lobby, featuring a collection of avantgarde chairs. There are seats designed by Ray and Charles Eames, a coffee table by Salvador Dali, and a surreal stool by Roberto Matta who was inspired by René Magritte. (Remember when I went to his surrealist museum in Belgium?).
Clift San Francisco is part of Morgans Hotel Group, hence the eclectic, boutique luxury vibe of the space.
We had cocktails in Clift's historic Redwood Room; legend says it was carved from the wood of a single redwood tree. The bar has been restored by Starck, with an enormous etched glass bar and plasma TV screens that broadcast digital art.
(I'll show you more from the hotel further down… but now, it's time to party.)
Many of my friends and I are currently loving the neo-80s sounds of synthwave: think Stranger Things and John Carpenter. I've long wanted to attend Turbo Drive, the first and only San Francisco dance club dedicated to retrowave / outrun.
As the party describes it: "This is the soundtrack for carefree drives along the beach, Day-Glo legwarmer aerobics, sunsets over laser grids, outrunning the cops in a cyberpunk dystopia, falling in love with your first robot crush, and occasionally summoning the unholy forces from the depths with a keytar."
Turbo Drive takes place regularly in the space about DNA Lounge. I'm hanging with Meikee Magnetic in the DJ booth; he runs the party with Danny Delorean and Devon Dossett. (They also do other events around the city, including Bootie SF and Neon Black).
The club's playlist is space-synth perfection. The DJs spin Carpenter Brut, Perturbator, Dance with the Dead, Com Truise, Gost, Robert Parker… the soundtrack of night-driving in space.
Then, Danger took the stage! The French musician electrified the crowd with his glowing eyes, behind a mask reminiscent of Daft Punk or Aural Vampire's Raveman.
Danger had tremendous energy throughout his set, never letting up on the pounding hyperdrive. He drew in a packed room, and by the end, everyone was headbanging hard to the retro-futuristic sounds of the 80s.
Thanks to Meikee for inviting me to Turbo Drive. It was great to catch up with friends, and experience this intergalactic club scene. If you come to San Fran, hopefully you too can check one of their synthwave events. 
Here's another look at my "Kung Fury" outfit of the day. I'm constantly wearing this 90s-style red beret by Mary Wyatt London.
My Dragon midi skirt is from Print All Over Me, which lets you print custom designs on 200 high-quality templates. You can also order designs by top artists; my skirt is by gentlethrills.
I paired it with shoes by Le Babe, a leather crop top by Erbert Chong, and faux fur jacket by Iron Fist.
San Francisco's Hotel Clift is made for photo-shooting. Lauren and I got access to one of the mod suites, with high ceilings and a dining room with furniture designed by Philippe Starck.
Mirrors, mirrors everywhere. (As you can see, PAOM skirt is double-sided!)
The suite at Clift San Francisco is a study in sumptuous textures. Silk, leather, velvet, chrome and Venetian Murano glass.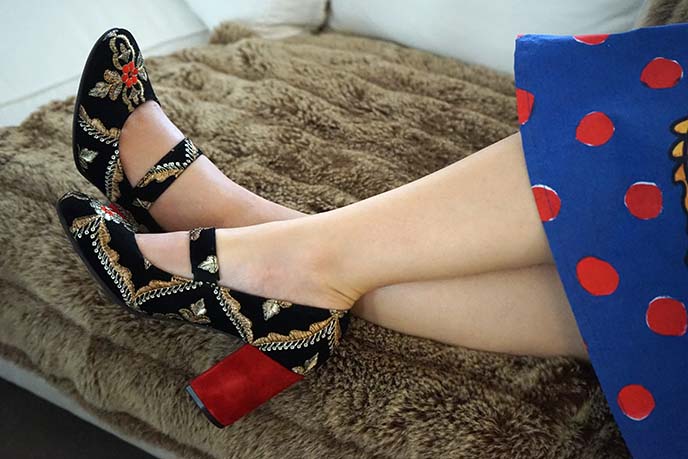 The relaxed opulence fit with my embroidered high heel shoes by Le Babe. (More of their designs featured below:)
One of my friends rented a Clift suite for a birthday party. This would also be a fabulous spot to ring in the New Year, as it's centrally located in downtown San Fran.
Lauren's black latex dress and cat mask matched the playful energy of the hotel. (On each level, you'll find a big circular mirror and these reflective chairs).
Don't miss out on the 16th floor, featuring this lavender spiral staircase and glass lights.
At an art hotel like The Clift, adventure awaits… Shout-out to the staff for welcoming us here, and their kind comments on our various outfits!
On our first night, I enjoyed a brilliant meal at Alexander's Steakhouse with Dr John Skutlin, who was in town to speak at a University of San Francisco conference about tattoo culture in Asia. He says, "Alexander's elegant and sophisticated interior and warm ambient lighting set the mood for an evening of gastronomic delights guided by their expert staff." 
The restaurant is a traditional steak house, yet they innovate with fusion dishes and creative cocktails. My gin curry cocktail above is a perfect example; decorated with edible flowers, this Indian inspired drink is wonderfully refreshing.
(John and I are wearing rings by Alex Streeter, our favorite jewelry designer. The legendary silversmith created the Angel Heart Ring, which was memorialized in the movie starring Robert De Niro as Lucifer. This pentagram design comes in several variations; John's ring has two silver devils on the side. I'm wearing Alex Streeter's Ouroboros and Bone Claw rings.")
John continues, "Of course, steak is the name of the game, but before our massive cuts of beef we were treated to hon Hamachi "shots" – a line of shotglasses each filled with avocado, serrano, cilantro, and of course raw yellowtail, all topped off with a splash of yuzu soy sauce for a refreshing aperitif."
The server quipped that we could throw back a dozen of these and still want more… as you can see from my expression, he was correct! Other restaurants have copied this dish, but Alexander's hamachi shots are the original ones.
"Might I say that I'm Old Fashioned?" Our server brought us an extensive wine and cocktail list to peruse.
John says, "The libations were almost too numerous to choose from, but the double rye Manhattan was perfectly balanced between the vermouth and the heavy dose of rye. Everyone knows about aging wine and whiskey, but cocktails can be mixed and then aged as well, allowing the ingredients to fuse together in subtle and surprising ways, as I found with the aged Rob Roy cocktail Alexander's served up."
Alexander's Steakhouse has a meticulously curated beef program, highlighting small farms from the US, Australia, and Japan. They are also one of the only restaurants in the US certified to serve authentic Kobe beef. 
In John's words, "The star of the show was the steak. Wagyu Japanese beef has become a household name in the US, but here we found a menu with rare and intriguing selections, including Hokkaido privately farmed beef from cattle raised in below freezing temperatures, and extremely limited olive-fed beef from Shodoshima Island in Kagawa, Japan."
Our server recommended the aged T-bone, which John is cutting into. The meat was tender and juicy, and at a perfect medium rare: total umami. We accompanied it with sides of wild mushrooms and mashed potatoes, all beautifully prepared and not too heavy.
At the bottom, you can see the Hidagyu from Gifu Prefecture that we sampled. John raves, "It was richly marbled, a hallmark of Wagyu beef, and practically melted in our mouths. The beef was served with what can only be described as a "flight" of twelve different salts from around the world, some smoky, some almost sweet. Each brought out a new dimension of flavor from the meat."
The staff impressed us with their knowledge, and treated us with little extras such as a splash of red wine to pair with the steaks. They also created special cocktails for us based on our favorite tastes — mine had yuzu in it, and was spot on!
(Closeup on my Alex Streeter ring and Bulgari Serpenti metallic bracelet.)
We ended with a warm, gooey souffle and lemon poppy cake. Fresh out of the oven and not overly sweet; exactly how I like my desserts.
Alexander's Steakhouse was a five-star experience, all around. The dishes, drinks, atmosphere and especially the service deserve the highest rating. For a special night out or celebration in San Francisco, I'd book a table at Alexander's without hesitation.
More to come from San Francisco — including shopping at occult shops, and the Death Guild Goth party!
It was such a treat to reunite with friends that I met in Tokyo, over 10 years ago! I'm sure you recognize them from this blog over the years. Have you ever had a reunion like ours?