San Francisco Gothic culture! Death Guild club, metaphysical shops, Hutch Oakland & Herlen Place restaurants.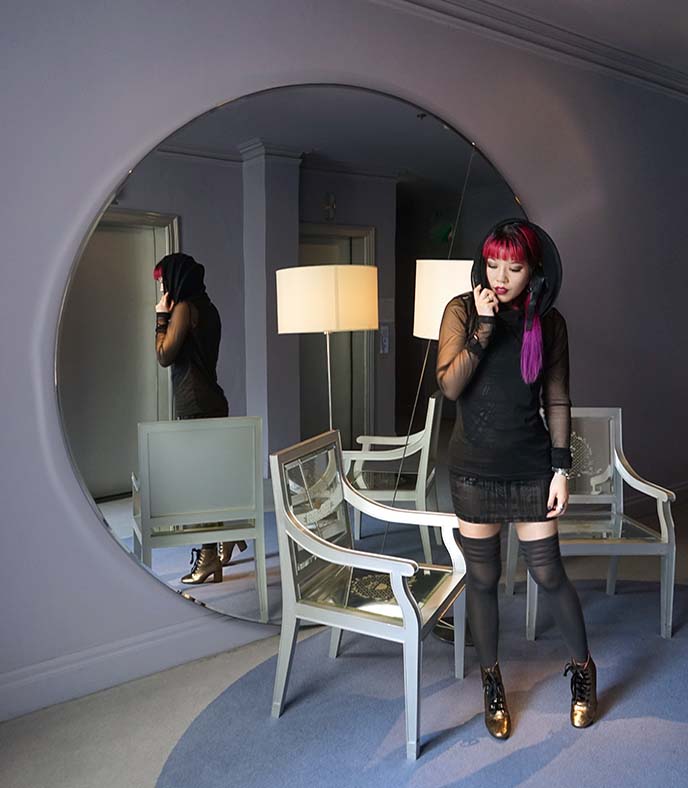 Let's continue my adventures in San Francisco — with a look at the Gothic and occult subculture!
I'll take you inside Herlen Place cafe and Hutch Bar & Kitchen, and out to the Goth club Death Guild. I even got to shoot exclusive photos inside "Loved to Death" boutique (of Oddities fame), as you'll see.
My friends and I had a mini-reunion in San Francisco. You might recognize Caroline, Trevor, John, and Lauren from Tokyo club nights way back in the blog. None of us live in Japan any more, but we've stayed in close touch and continue to meet up regularly around the world.
(Everyone's stayed in sync over the years… as you can see from the unplanned red and black color scheme! Talk about #squadghouls.)
The "ghoul gang" met up at Clift Hotel before a night out on the town. (If you missed our fun hotel photoshoot, see it here.)
OOTD: My dress and mesh hooded top are by Cyberdog, and my Wolford three-quarter length hold-up tights are from UK Tights. (Photo by Lauren Levitt, who you can spy in the mirror!)
Xiomara Entropy always shows up with spooky and sweet treats, made by hand. This time, she brought us delicious skull-shaped chocolate with green absinthe filling. When you crack the head open, it looks like zombie brain matter!
Clift Hotel is filled with funky designer chairs. I took advantage of this mirrored one, for a closeup on my sparkly gold ankle boots by Le Babe.
(More of Le Babe's shoe designs are below:)
The lobby of Clift Hotel is made for taking photos. My ghouls clamored onto Philippe Starck's "Big Chair." (Look underneath the seat, and you'll see a child sticking his tongue out!)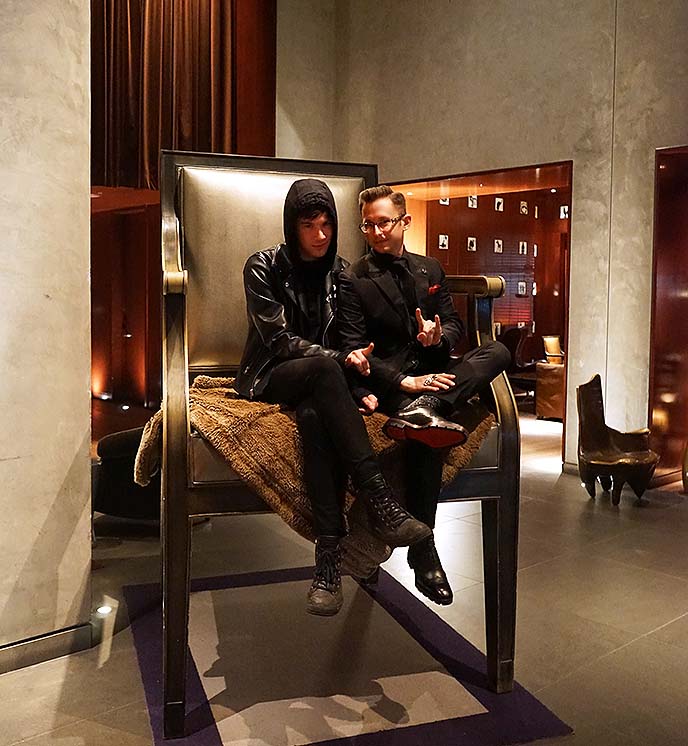 Starck's giant chair actually serves a function (other than providing seating for giants). He designed it to balance the negative space in the two-story high lobby.
Clift Hotel's fabulous furniture collection includes Michel Haillard's Horn Sofa (above), made with ostrich leather, dark wood, bronze, and horns. The devilish sofa is the perfect seating for a quartet of Goths. (For more of my stay at Hotel Clift, see this post.)
We went to Oakland to dine at Hutch Bar & Kitchen, a relatively young restaurant dedicated to Southern cooking and cocktails. The staff treated us to warm American South hospitality from the moment we sat down at this long table, lit by an iron chandelier and Edison bulbs.
Chef/owner David King named the restaurant after his family patriarch, Byron Monroe Hutchison ("Hutch"). The vibe pays tribute to Hutch's zeal for life, and love of good food, drinks and fellowship.
We were intrigued by Hutch's bar selection, which included dozens of American ryes, bourbons, and other spirits. If you're a whiskey connoisseur, try the 3-drink flight that lets you try varieties from different US regions.
The cocktails put a tasty twist on American South classics. You can't go wrong with the Good Ol' Fashioned, or the Two Jacks Sazerac with High West double rye, Peychaud's, and St George Absinthe.
One of my favorite cocktails was the Hutch Sour with 4 Roses bourbon, egg white, lemon, lime, and angostura bitters. All the drinks were beautifully crafted, as you can see from the presentation and foam.
For starters on the lighter side, we dove into a mixed winter greens salad and bourbon-cured trout. The perfect, clean first courses… before the comfort food rolled out of the kitchen!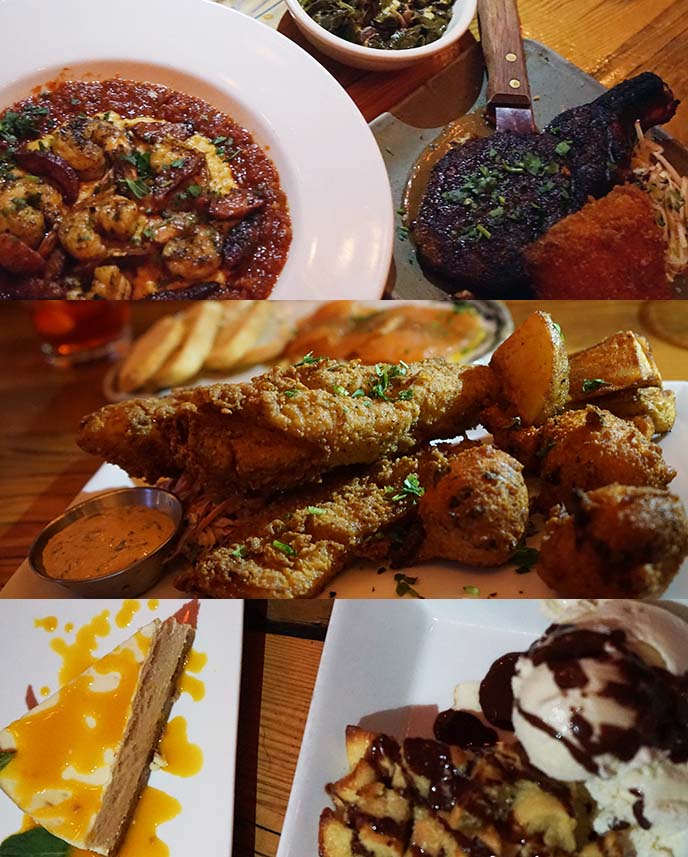 My friends and I were impressed by the spread of Southern classic dishes, prepared with finesse. We especially loved the shrimp and grits with spicy Creole sauce, seasoned pork chop, and catfish with hush puppies, coleslaw and remoulade. David King's recipes are chock full of tenderness and flavor, yet not overly heavy.
It's difficult to choose from the selection of side dishes, but Hutch's creamy, golden cheese grits are among the best I've had (and you'll recall I ate my away around New Orleans!) We also passed around the delicious collard greens, mac and cheese, roasted butternut squash and black eyed peas.
Leave room for dessert, as the passionfruit cheesecake and bourbon bread pudding (with chocolate sauce and ice cream) were stand-outs. I would come back in a heartbeat, especially with a group of friends, for Hutch's outstanding Southern cooking.
Time to dance at Death Guild, the longest running weekly Goth Industrial club night in the country (and second oldest in the world, at the ripe age of 25!) The Gothic party usually takes place at San Francisco's DNA Lounge, but that Saturday, it was at Uptown Oakland.
Alas, Yukiro couldn't be with us… but we had his lovely cousin Pontus, who rocked a darkwave style.
As you know, I love checking out Goth culture worldwide; each city has a unique expression of the dark subculture.
Death Guild Uptown has two rooms that play a mix of Gothic, Industrial, synthpop and other dark music. At the bar, we watched the Japanese monster-fighting CGI film Gantz:O, while sipping on speciality cocktails and grooving to 80s music. In the dance area, the DJs got us moving to Kate Bush, Garbage, old-school Goth tracks, and more.
Upstairs, Death Guild has a "Dark Market" where vendors sell hand-made spooky items. We browsed a fine selection of jewelry, homewares, custom art, and crochet creatures of the night.
(For more Goth party info, check out my previous San Francisco Goth clubbing guide — it includes reports of Wicked Grounds, Cat Club and T-Shack.)
A Gothic cultural trip to San Francisco isn't complete without a visit to Loved to Death in the Haight district. John and I wanted to get everything in this store, which you may recognize from the Oddities SF television show.
The window display hints at the darkness within… Antiques, taxidermy, Victorian memento mori, skeletons and other delights fit for a cabinet of curiosities.
(Loved to Death address: 1681 Haight St, San Francisco, CA 94117, USA)
It was a pleasure to see owner Audra Kunkle again, who remembered me from my last stop-in. As always, Loved to Death has a riveting selection of odd and perhaps disturbing objects from around the world.
We especially loved the skull with Cthulhu tentacles, and Baphomet the Sabbatic Goat statues (John got one). He brought me a Miffy grey plush bunny from Hong Kong, and she fit right in with these Satanic icons. Hail Miffy!
Wouldn't you like a two-headed baby skeleton in your home? An antique bicorn hat? Or how about a poisonous spider in a glass jar?
Creep over to the Oddities San Francisco shop in Haight-Ashbury, and see these critters for yourself. (For more photos inside the store, check out my blog post about Loved to Death from 2014.)
Trevor grew up in SF, and suggested that we visit The Sword and Rose, a hidden metaphysical shop. (From the street, all you see is a narrow walkway… which opens up into this spectacular garden). At The Sword & Rose, seekers come for tarot card readings, and mystical supplies like incense, gemstones, crystals and candles.
Address: 85 Carl St, San Francisco, CA 94117, USA
San Francisco is one of the world's biggest hubs of new age / metaphysical / spiritual culture. Some of the shops veer on the tourist side, but not The Sword and Rose: as soon as you step into the little hut, you can feel a special energy. The staff welcomes people from all walks of life and spiritualities.
The mystical shop is small, and contains several altars that celebrate Egyptian gods and other spirits. The Sword & Rose has many regular visitors; some came with their dogs, who added to the joy of the space.
In the back shelf, you can see over 90 oils and incenses, all ritually made by hand. The staff helps you choose a fitting one according to astrological aspects, ceremonial purpose, intention, or deity.
John got this blue "El" powdered incense, as well as a small burner.
Since 1985, San Franciscans have come here for warm and attentive tarot readings. This is a wonderful space with a sense of community, and we're glad we wandered in.
We ended the San Francisco getaway with a final brunch at Herlen Place. This smiling owl welcomed us into the modern, chic cafe / wine bar, located right by Chinatown's Dragon gate. A relaxing, Zen-like spot to enjoy a leisurely meal.
Herlen Place serves up a healthy and fresh menu, highlighting organic produce, seasonal herbs and vegetables, and bio-dynamic wines.
The photos speak for themselves… this is brunch heaven! I wish I could order Herlen Place's Eggs Avocado every day, accompanied by sundried tomato pesto and baby arugula. Be sure to order one of the delicious espresso drinks, and a chocolate croissant. The Eggs Benedict and Farn Fresh Eggs on the other tables also looked delicious.
We dove into the lunch menu: a crisp tuna salad and hearty cauliflower soup, paired with a sparkling mimosa. Cheers to Herlen Place for its healthy, sustainable, vegetable-centric menu that is quintessential San Francisco.
Namaste to the city by the bay, until I come again (I'm here at least every two years or so).
For more San Francisco alternative culture guides, click here. This is my collection of stories over the years, including a stay at the SF Zen Center, drag queen shows, and cat cafes! I hope you find these travel tips helpful for planning a trip here.