Park Hotel Tokyo: Japanese artist rooms & design hotel! Synthwave Japan parties, Office Goth meeting.
Meet me in my fishbowl… So happy to be back in the uplifting Japanese art hotel, Park Hotel Tokyo!
As you'll see in this photo diary, Park Hotel is full of inspiration. In addition to galleries, an entire level of consists of "Artist Rooms" decorated from floor to ceiling in breathtaking designs.
(I'm wearing this Nellie dress by The Reformation. Click the images below for more from the eco-designer:)
Plus, we brought back the "Corporate Goth Boardroom Meeting"! Read on for Tokyo Gothic shenanigans involving body modifications, scandalous Sailor Moon tattoos, and copious amounts of absinthe with yuzu.
You may remember that I stayed with Park Hotel Tokyo in 2016. I fell in love with this view, and was keen to return on my recent trip to Japan (where the Pirates were working on a German travel TV show, with me as host).
Park Hotel is well-located in Shiodome, not far from Ginza and Tokyo Tower. In 2013, the hotel underwent a revamp that put the focus on Japanese beauty and design.
The team runs an "Artist in Hotel" residency, which invites Japanese artists to stay in a room and turn it into a work of art. They paint directly on the walls and fixtures; the space becomes a 3D canvas for expression. Although the artist rooms each have very different styles, they are linked by a Japanese sense of aesthetics, with themes like "Sumo" and "Zen".
Guests can request to stay in a specific artist room as long as its available (see the different interiors on Park Hotel's website). This time, I wanted to be One with the puffy-cheeked fish in Aki Narita's "Geisha Goldfish" queen room! 
While she was staying in this room, the artist felt as if she were in an aquarium. Over the course of seven months, Aki Narita covered the wallpaper and ceilings with vermilion goldfish, and traditionally dressed geishas. Lying on the bed and gazing at the art, I felt as if I were floating in water with them.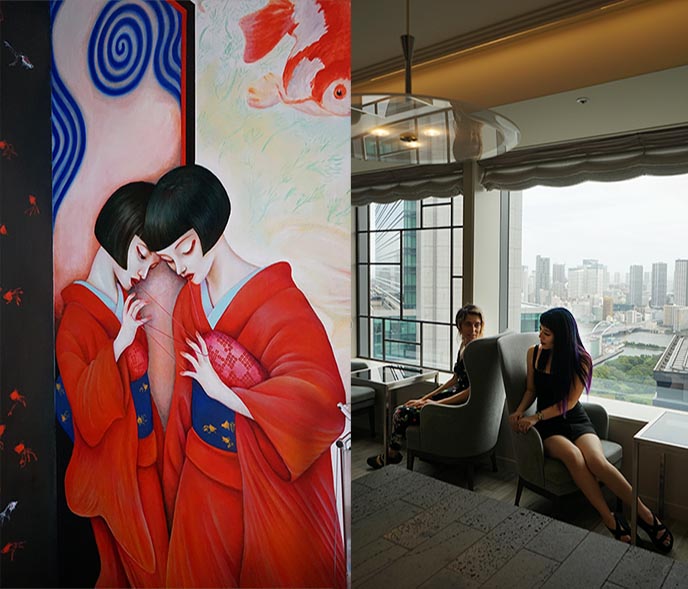 Dreaming of goldfish was considered lucky in ancient Japan — and I certainly had happy, lucid dreams while staying in Park Hotel.
All of the Artist Rooms are on the 31th floor, along with this Gallery Lounge. Guests can sit by the big windows and enjoy pastries and drinks, while flipping through the wide selection of art books.
We got to peek inside some of the other Artist in Hotel creations. It was astonishing to see the wide range of styles and works: there were rooms themed around nature, yokai (Japanese ghosts and monsters), cats, castles, and more.
Above is a detail from the Mount Fuji room by Shiki Taira. The entrance is fashioned like a red Shinto torii gate, with gods flying around the sky above the famous mountain. On the other wall, seven lucky gods relax on a treasure ship. The theme is linked to the panoramic view out the window; on a clear day, you can see the peak of Fuji-san in the distance.
The works at Park Hotel are never static. One evening, I was delighted to see an artist painting Japanese women in Edo-style kimono, right outside the my door! This is Aki Narita, who also designed my Geisha Goldfish room.
She and Yoko Naito had a joint exhibition at the hotel, called "At the Bottom of a Well." The two artists transformed the 25th-floor atrium into a well in the sky. (Park Hotel holds four art exhibitions a year, to complement the seasons.)
As we walked around Park Hotel, we felt as if we were in a modern art museum. Sculptures fill the airy lobby, as well as the 31st floor and 34th top floor gallery.
An Art Concierge helps guests learn about local exhibitions and the current displays at the hotel. (Cats in space – love it.)
Park Hotel Tokyo is designed by French architect Frederic Thomas. The building has a contemporary Zen feel, with plenty of greenery. In his words, the interiors aim to create "harmony between the culture and nature of the surroundings."
Every morning, we devoured a Japanese buffet breakfast (grilled salmon, gobo, hijiki, chawanmushi) in this peaceful lounge, featuring dark woods and gold accents.
The lobby is located on the 25th floor. A glass atrium soars high above it, bringing in natural light and allowing guests to experience the passage of time.
I enjoyed browsing the cases filled with dolls, purses, handicrafts, sculptures and other works (available for sale) by the resident artists.
If you love Japanese aesthetics and culture, Park Hotel is the place to be. With five-star hospitality and inspiring art throughout, there's no hotel as special as this in Tokyo.
Now, down to serious business…. Your evil bosses held an Office Goth "team meeting" in the boardroom of Park Hotel! 
(My dress is Killstar, and my shoes are these platform sandals by Rocket Dog.)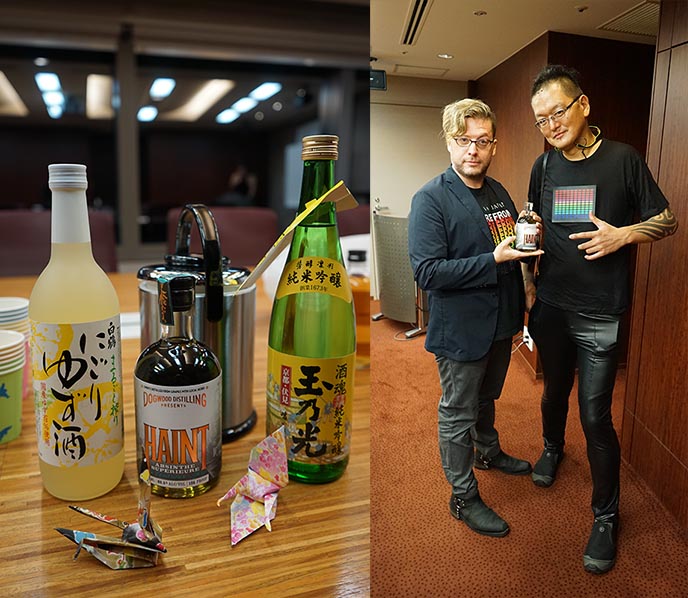 Park Hotel has a takeover-worthy board room, measuring 450 square feet. The space features a large table with chairs, soaring view, projector and screen (which we used to broadcast synthwave music and outrun projections!)
The hotel can provide refreshments, but we brought our own… Can you spot the yuzu citrus liqueur, and absinthe from Oregon? 
You may recall that we've hosted a few gatherings in meeting rooms, including our "corporate gothic" Shinjuku party.
In Tokyo, it's expensive to rent out a restaurant or event space. However, business culture is big here, so there are a lot of boardrooms… Why not use one for a few hours, to discuss important Gothic matters?
The "Office Goth" meeting started off with role call, and individual presentations. Atsushi displayed his new ouroboros snake tattoos. Yukiro held up his flyer for his regular Majyo (Witch) party with DJ Sisen, and Lauren told us about her upcoming performances with her band Rough Antique.
Keroppy Maeda (who you may remember from our Bagelheads adventures) demonstrated his latest body modifications. He now has a magnet implanted in his hand, which lets him dangle a spoon from his palm, and move magnetic objects around like a Jedi master.
Yukiro and I reviewed our quarterly projections. Miffy and a pentagram soon appeared on the whiteboard (this is an Office Goth meeting, after all).
Becky and Naomi then staged a takeover, demonstrating their superior drawing skills.
The discussion got heated at times… Good thing we had refreshments and darksynth music to keep us going strong.
Love this view of Tokyo at night, from our perch high above the city. (My dark moon crescent sticker is by Capumon).
Everyone joined the moon cult, and put these temporary tattoos on their foreheads. (Some forgot to wash the crescent off, and went to work the next day with it still attached!)
Certain team members found… more scandalous places to affix their Capumon black moon tattoos! They used ice to apply them for added pain and pleasure.
"Dark Moon crystal power, make up." I think we've achieved Goth Sailor Moon squad goals.
Thumbs up or down for the tattoo placement? I think the reaction is mixed!
Very happy to see old friends again, whenever I'm in Tokyo. Everyone is so creative — werking drag shows, performing in bands, illustrating web comics, writing books.
I spy Joy Division, fetish collars, undercuts and pentagrams. Don't stare into the eyes of the Medusa for too long…
Let's just say that things got pretty crazy by the end of the night… Our Office Goth boardroom parties are simply the best!
When the meeting adjourned, the Park Hotel staff let us survey a few more Artist Rooms. Somehow, everyone fit on the bed in Daisuke Kagawa's Jomon room.
We were awed by his paintings, which reflect the Japanese earthenware and people of this prehistoric period.
Time for a thoughtful pose in the Wabi-Sabi room by Conami Hara. She combined landscapes with sulfur-reacted silver foil, resulting in these shimmering rainbow colors on all the walls.
How many Goths can you fit on a bed? As we demonstrate, the hotel rooms are quite spacious by Japanese standards.
No matter how many times you return to Park Hotel Tokyo, your stay feels unique thanks to these stunning Artist Rooms. You can see more photos from inside these decorated rooms, in my review post from 2016.
A massive thank you to Park Hotel Tokyo, for welcoming us back to your sublime accommodations. I'll certainly be booking a room here again — can't get enough of this view of Tokyo Tower.
Have you stayed in an art hotel before? Isn't the range of Japanese designs here inspiring?
Til our next Office Goth meeting, or slumber party… Tokyo spooks, see you again soon!