Vancouver Goth Halloween events! Van Dusen Glow, Playland Fright Nights, Aesthetic Perfection, pumpkin patch.
Gourd heavens… your Pumpkin Queen is back!
Halloween season lasts only a short time, and I'm keen to celebrate it to the fullest. In October, Vancouver unveils several Goth-friendly events for All Hallow's Eve — including haunted houses and glowing gardens.
Read on for my run-down of the spookiest Halloween activities in Vancouver, Canada. Plus, a happy reunion with Daniel Graves of Aesthetic Perfection, during his Into the Black concert tour!
No basic pumpkin spice lattes for this Goth… I pick my cucurbits from the source.
Fall Outfit: I wore a candy corn sweater by Chaser Brand to visit the pumpkin patch. I paired it with a black bowler hat, tights, a short skirt and platform boots.
Shop my style below:

Vancouver's Lower Mainland has several pumpkin patches that you can visit in the autumn. I went to Richmond Country Farms as it is closer to the city and has plenty to do, including a farmer's market and wine tasting.
To access Richmond's fields of pumpkins, you must take a short "hay ride" (on a wagon-car with live music). On the way, we passed kitschy farm characters and displays. The "Transylvania" house was spooky… but if you ask me, the huge 1990s cell phone was scarier!
I'm in my element, surrounded by cheery orange pumpkins. Anyone who visits this pumpkin patch can choose one to take home, as part of the admission.
These fresh pumpkins are perfect for making pie. (Ours turned out amazing, with plenty of spices the way I like it).
The farm also has a corn maze… just watch out for Jack!
I'm pleased with this pretty pumpkin… as well as my new Apple iPhone 11, which took all the photos in this post. The battery life and camera are a major upgrade: love the Portrait Mode setting for photographs like this.
Wearing a bowler hat and Chaser Brand Halloween sweater. Fall fashion is by far my favorite.
Now, let's enter the Carn-Evil…
Every October, Vancouver's PNE / Playland theme park transforms into Fright Nights. Their Halloween attractions include multiple haunted houses, and horror-filled spectacles.
(Speaking of… why is Rob's leg dissipating into the ether?)
Love the frightful feeling of an amusement park after dark, with the rides lit up in neon and bathed by fog.
"I always feel like somebody's watching me…" This photo is deja-vu of our Stanley Park Ghost Train escapade last year.
Krusty the clown has taken over the tent and turned into a neon rave…
(Can't believe how good iPhone 11 photos look, with the low light setting!)
Stranger Things feels. Are you a fan of scary rides? Or do you prefer to ride the merry-go-round?
Be sure to catch the three nightly shows by Monsters of Schlock. The Great Orbax and Sweet Pepper Klopek perform painful stunts in the name of comedy — including stapling items to the face, and swinging a sledgehammer into a block covering the nether regions (above left!).
I was especially enthralled by Orbax and Pepper's second show, which puts the spotlight on science. Pepper sat on the custom-built electric chair, and high voltage coursed through his body. The duo showed how he could turn lightbulbs on by grasping them, and use his tongue to light a flame!
Of course, we went to several of Playland's haunted houses, each with a different theme or spin.
It was my first time doing a "3D haunted house," where you put on glasses that distort your vision. This made it hard to tell whether a crazed inmate was a flat picture, a mannequin, or a live person… until she reaches out and tries to grab you!
The Fright Nights ticket also gives you access to the theme park rides. All aboard the rickety roller coaster, Music Express, swinging Pirate Ship, and Hell's Gate (hail!)
One of the haunted houses was themed around phobias. The rooms represented various fears, such as giant spiders and snakes that lurch toward you.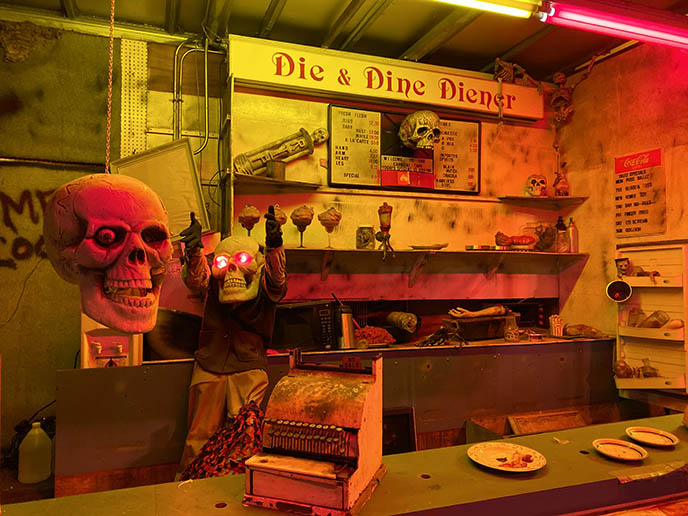 As you'd guess, I was most freaked out by the germophobia room, which simulated a dirty toilet and sink! (Outside, this Die & Dine Diner display looks like a recipe for E. coli…)
Won't you join our mad tea party, with a spinning teacup of poison?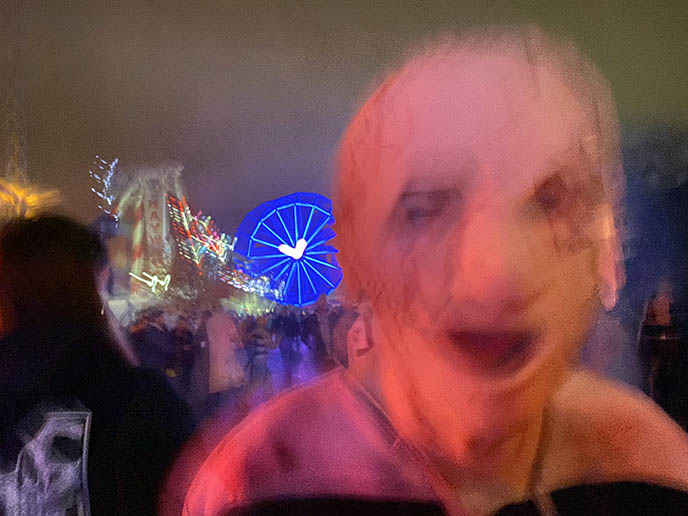 And this is the last photo I took before I died.
Like at Universal Studios Osaka Japan, the staff dresses up in frightening masks and runs around scaring guests!
PNE  / Playland Fright Nights was a blast. You can join the fun at the theme park "Where Screams Come True" until October 31st.
I also had a hoot at VanDusen Glow in the Garden, where I strolled through mesmerizing Halloween displays and colorful lights.
I'm wearing a festive sweater by Chaser; click for more below:

The VanDusen Gardens transform into a Halloween wonderland every October. This year, the theme is centered on owls, who cast a "hootenanny" spell on the grounds and made them glow.
As you wander through the outdoor paths, you'll encounter glowing creatures of the night (such as a giant glowing blue spider).
An illuminated scarecrow looks over the dark pond. (This image is more proof of the powers of the Apple iPhone 11 camera…)
The trail leads to intricately carved and glowing pumpkins, which look like owls and other forest animals. (Did you carve a Jack-o-Lantern this year?)
Cinderella vibes, in front of the enormous pumpkin lit by orange and green lights.
An evening at Van Dusen Glow in the Garden will surely get you into a Halloween mood.  This seasonal event at Vancouver's botanical gardens ends October 27.
October has been good to me. I got to reunite with my friend Daniel Graves of Aesthetic Perfection, and watch his energetic show with openers Empathy Test.
(You might recall that we met up at Montreal Kinetik festival years ago, as well as Leipzig's Wave Gotik Treffen!)
Aesthetic Perfection took over Vancouver's Pub 340, as the fifth to last stop on their North American tour. 
Aesthetic Perfection is a joy to see live. Daniel Graves is one of most engaging performers I've seen, and the venue let the crowd get right up to the stage to sing and jump along.
The band played songs from the new album, Into the Black: a gritty industrial yet melodic powerhouse, featuring musical collaborators like Richard Z. Kruspe of Rammstein.
Aesthetic Perfection also tore up the room with older favorites like the electro-synth bop of "Antibody." Daniel conveyed the impressive range of his voice and songwriting throughout the night, coming back for an encore with the melancholic "All Beauty Destroyed."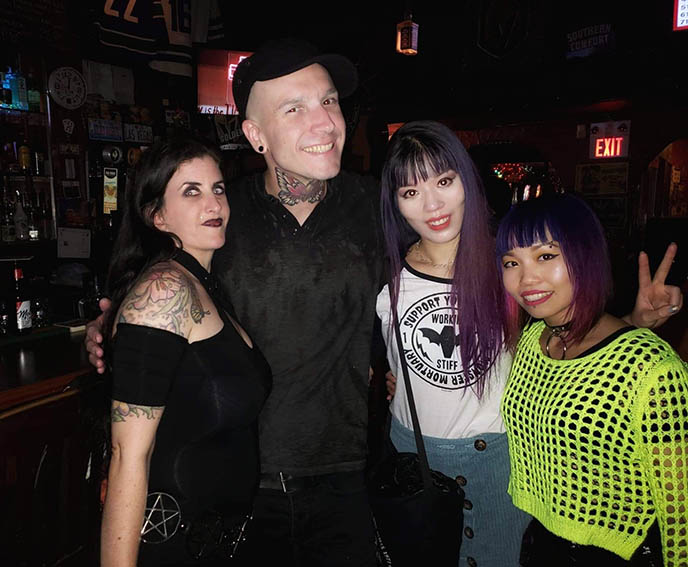 The room was buzzing after Aesthetic Perfection's live: my friends agreed this was one of the best performances we've seen in ages. (For a glimpse of what we experienced at the front of the stage, enjoy these video clips in my Instagram post.)
Daniel is famously lovely to fans, and came out to the bar to hang out and give hugs.
Daniel Graves is bringing his spiffy moves and superhuman voice to Germany next. Take my word: this is a Goth concert you can't miss!
You can find Aesthetic Perfection's upcoming tour dates on their Facebook and Instagram. Give their new album Into the Black a listen, and may you get to experience the magic in person.
Let's end with some snaps of the Halloween-themed food I've been indulging in this season.
Vancouver's La Glace parlor released a pumpkin pie ice cream, while Mon Paris Patisserie offers a pumpkin caramel chocolate on a stick. I tried Psypah psycho red wine, and pumpkin ravioli too.
Plus, there's all the freshly baked pumpkin pie I've been eating. With all these seasonal treats, I might turn into a pumpkin soon!
Now, it's time to pack for Mexico, where I'll be spending Day of the Dead. (Read about my upcoming Dia de los Muertos trip here.)
There's no better way to get in the mood than by wearing sugar skulls. These creepy-cute accessories are from Cufflinks.com. Love how their lapel pin and silver cuff links add Gothic flair to an outfit.
(Cufflinks.com has accessories with every theme imaginable, and you can also customize items. See more skull styles from them below).

Psyched to be in the Yucatan (Merida and Campeche) and Mexico City, watching graveyard ceremonies and taking part in Day of the Dead parades…
Keep an eye to my social media @lacarmina to preview these Gothic travel adventures.
I leave you with some limited edition Halloween fashion: tis the season to get spooky. These designs are only available right now, so take a second to check them out below. Happy Samhain!