2019 Travel & Culture blog year in review! Best of moments, looking back at favorite destinations & what's ahead.
Can't believe it is already time to say farewell to 2019!
I didn't get to try space travel or meet aliens this year… but still, a lot of good things have come about (My hair grew like a weed too…)
Let's kiss the year goodbye, with a look back at some of this year's best blogging moments and travel destinations.
Did you miss out on some of my stories, such as from New Orleans, Salem, and Cairo? If so, they're all here — along with a selection of favorite outfits of 2019.
Here's a holiday party coordinate to wrap up the end of the year. I'm wearing a bat sweater by Jawbreaker Clothing, barrette by Sylvain Le Hen Hairdesignaccess, skirt by Erbert Chong, necklaces Stephen Einhorn. And I'm carrying my new favorite bag…
I was too naughty for Santa this year… but Satan's got my back! I've drooled over Alexander McQueen's Goth couture for decades, but never owned one of his skull purses until now.
This new season Alexander McQueen mini-bag is space goth perfection — feel so lucky to be blessed by Satan/Santa! Love the silver crocodile leather, silver crossbody chain, and skull clasp with glimmering crystal eyes.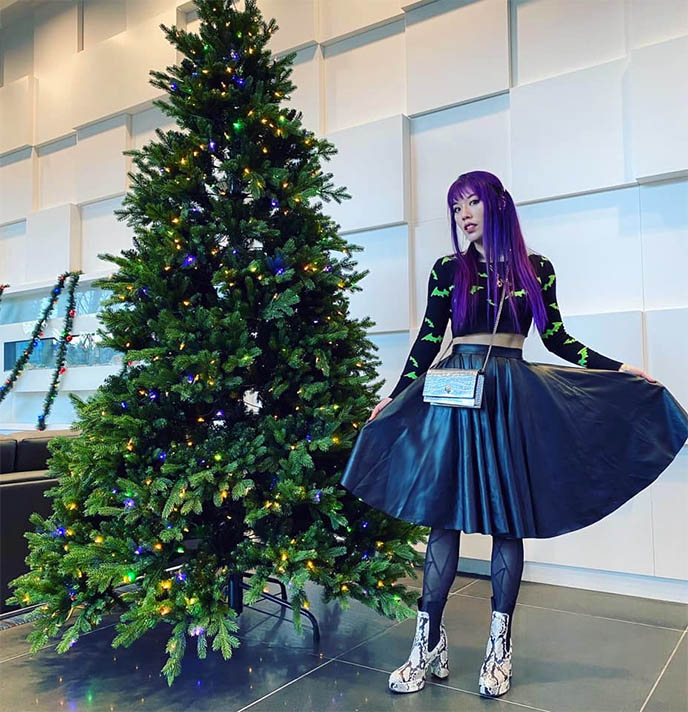 Here's a look at the full Xmas party outfit. Goth-ing around the Christmas tree… (Snakeskin platform high heel ankle boots by Acne Studios).
Details of the silver croc leather and skulls design, and fold-over flap with magnetic closure. The small rectangular shoulder bag is compact, yet large enough to hold essentials.
Peep at this Gothic designer purse below, along with more Alexander McQueen creations.
My friends Melissa and Eric also got me a holographic alien backpack –– it's my favorite emoji, along with the purple devil. Perfect for carrying around my blaster gun.
My leather polka-dot mini skirt is by Jeremy Scott. It happens to match my head scarf from Lola Ramona.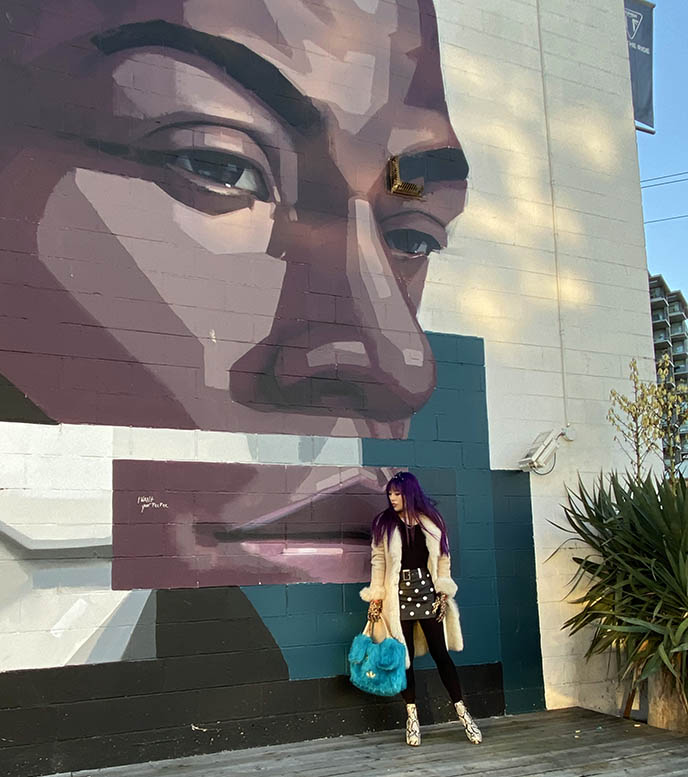 Alright. Time to reflect on the year gone by. As a travel writer, I'm not a "country counter" — meaning that I don't go out of my way to visit as many countries as possible, for the sake of numbers.
However, I came across an online checklist and was curious about how many places I've visited… To my surprise, I've hit 70 countries on 6 continents! (Haven't made it to Antarctica yet.)
This year, I went to places old and new, with a focus on culture — both ancient and modern. (Click the city names to see all my stories from each destination.)
I made it back to Paris, France at the start of the year, and covered the spookiest, most Gothic attractions in the city. The Catacombs filled with skulls, classic absinthe bar Cantada II, and Pere Lachaise cemetery lit up my dark heart.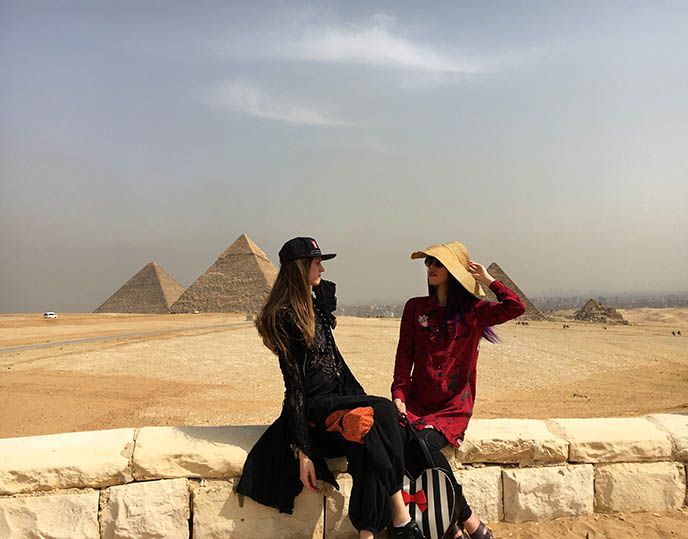 I returned to Africa for the third time — for glorious Egypt, land of Cleopatra and mummies! Who better to explore the pyramids with than Yukiro?
Travel Talk Tours took us all around Egypt, including to Cairo, Giza (the Sphinx!), Luxor, Aswan, Dahab, and on the River Nile. We floated up above the desert in a hot air balloon, and sailed on the waters in a felucca.
As travelers who adore mysterious ancient cultures, Egypt was everything and more. The art and culture are out of this world, and it was a privilege to be standing on the sand where human civilization began.
We also hopped over to Beirut, Lebanon  — and you can tell we had a blast in this creative, party city. Yukiro and I were enthralled by the hip art studios, Lebanese restaurants, and inclusive LGBT+ clubs and hangouts. I want to go back soon to see more.
I did some traveling in Canada as well. Mermaid vibes at Grotto Spa in Parksville on Vancouver Island, where I had a much-needed beach and wellness getaway.
In the spring / summer, I said bonjour to Quebec City— one of my favorite eating destinations of 2019. Still thinking about those fresh French cheeses, scones and more at the Chez Muffy buffet…
I also ate like a queen in Montreal, and dived into the city's progressive art and nightlife. These adventures included a rave in a pyramid, and virtual reality exhibition.
A few new and unexpected opportunities arose in 2019. Blumhouse Productions and USA Network sent me to New Orleans to report on The Purge TV show — and appear in the horror series' finale! I had a bit too much fun being a "scream queen" and trying on the crazy Purge masks.
Then, I teleported to Boston where I stayed in a robot hotel, and hung out with skull gravestones and Edgar Allan Poe. My Goth guide to Boston, MA is live if you missed it.
Witch biaattccch! How could I resist going to Salem, Massachusetts right before Halloween? My Goth guide to the town's witch trials history and haunted happenings was one of the most popular blogs I wrote this year.
Quite a different atmosphere from the winter wonderland of Banff, Alberta — where I stayed in the haunted Fairmont Hotel.
In October, it was a dark dream come true to be in Mexico for Day of the Dead, with Morbid Anatomy /  Borderline Projects. I wore sugar skull makeup and posed in front of the "devil house" in Merida, MX.
Dazzled by the Dia de los Muertos rituals I witnessed during my cultural journey in the Yucatan. I still have so much to share from this trip, so you can look forward to wild stories in the new year.
I also visited Mexico City for the first time. So. Many. Skulls! Can't wait to show you more from CDMX, a metropolis full of alternative culture (including a witch market).
So, what's next for 2020? In the first week of January, I'm escaping somewhere warm… Palm Springs and Los Angeles, California!
Excited to see my long-time friends, and visit Joshua Tree and Palm Springs for the first time. If you have Cali tips for me, I'm all ears.
I'm heading to NYC in February, and then I have an extremely exciting journey in spring 2020… it's once again in partnership with Travel Talk Tours, who sent me to Egypt. Details to come — let's just say the photos will be fab.
In addition to these travel blog projects, I did a fair bit of journalism and project managing in 2019. I've been writing for various publications, such as Home in Canada (above – national print magazine). I also was a project manager for Google's Touring Bird, where I managed hundreds of travel writers, and wrote over 666 insider travel tips. Looking forward to more of this in 2020.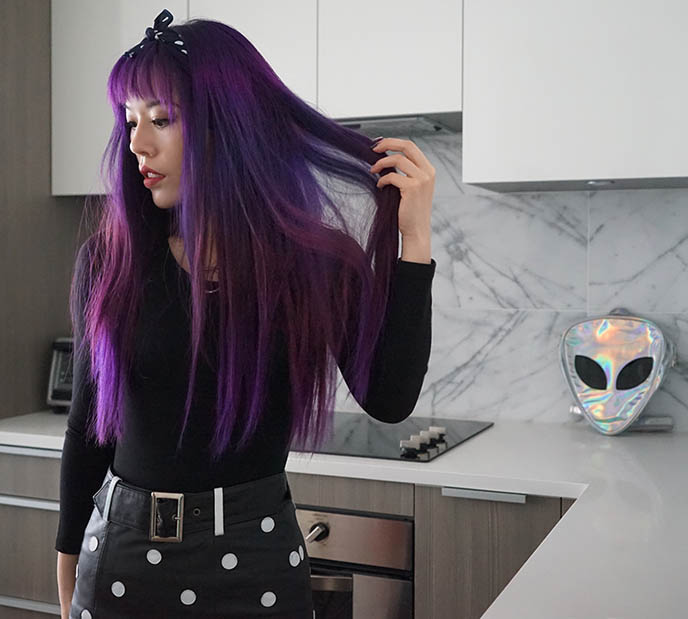 And that's all she wrote for 2019. See you in the future… perhaps the aliens will finally come to take me away…
How was your past year in travel and growth? (Hair or otherwise!)