Gothic Victoria, British Columbia! Goth clothing shops, Chinatown Fan Tan Alley, Instagrammable photo locations.
I can't gallivant around the world to my heart's content these days… But I can happily partake in local travels. I'm currently in Vancouver, which is gorgeous in the summer — and there's a lot to explore nearby. 
It felt nice to stretch my wings again, by taking a short and safe getaway to Victoria, British Columbia. In my first article, I showed you my royal stay with the Fairmont Empress Hotel, which included purple cocktails and afternoon tea.
Now, I'll show you some of Victoria's Goth-est places –– including a Chinese cemetery, and several Gothic and alternative clothing stores!
Read on for a guide to the spooky side of B.C.'s capital city. I'll also show you the many ways that travel has changed in the pandemic era — such as social distancing signs, QR code menus, and face shield boutiques.
Canada's westernmost province, British Columbia, has flattened the Covid curve… thanks to the leadership of Provincial Health Officer, Dr Bonnie Henry. (Victoria honored Doctor Bonnie with this mural; she did so well with responding to the crisis that she was even profiled in the NY Times.)
BC residents are now in Phase 3 of the "re-start," which means careful local travel is permitted. I studied the guidelines carefully, as I didn't want my trip to potentially cause a burden on the community, or raise risk of transmission.
Outfit info: Black and white sun hat by Tenth Street Hats, yellow and black plaid midi skirt by Sourpuss Clothing, off the shoulder stretch top by Black Milk Clothing.
For those of you who aren't familiar: Victoria is the capital city of the province of British Columbia. It's located on Vancouver Island, off the Pacific Coast.
To get from Vancouver to Victoria, you can fly or take the ferry. I recommend taking the 1.5 ferry ride from Tsawwassen to Swartz Bay, and reserving tickets through the BC Ferries website well in advance. When you dock, you can drive south about 40 minutes to arrive in downtown Victoria.
Phase 3 suggests that local travellers "bring groceries and essential supplies, if possible." I took their advice, and stocked up on Paleo, Keto and collagen-filled treats. This way, I didn't have to stop for snacks along the way.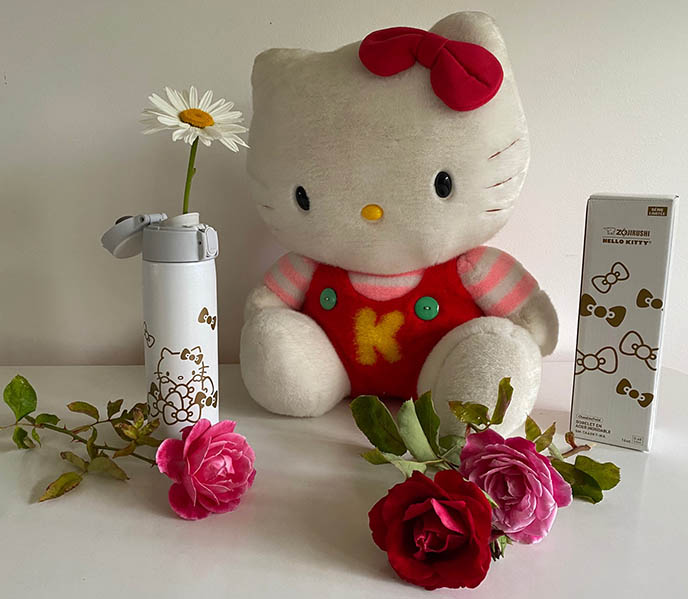 I'm all about hydration, so I take a reusable drink container with me at all times. This trip was the perfect opportunity to test out my new Zojirushi x Hello Kitty stainless steel mug!
The tumbler is well-insulated, yet lightweight, and can hold either hot or cold drinks. I've been a Hello Kitty / Sanrio fan since childhood, so I adore the cute cat and bows design. (It comes in white or black, with gold. They also produced a collaboration rice cooker.)
The tight-fitting lid flips open with a safety lock, and the well-designed stopper and spout prevent spillage. Made with Japanese tech and kawaii, this Zojirushi x Hello Kitty collaboration is a winner.
(The Hello Kitty stuffed plush is from Japan in the 1990s. They don't make them like they used to.)
Nowadays, you're allowed to stay in your car during the entire BC Ferries ride. (This wasn't allowed until Covid hit.)
I prefer this new ferry policy. Finally, I can recline and take a nap inside my parked car. (The photo shows how you can now enjoy the ocean breeze from inside the garage… but the yellow Porsche does not belong to me!)
Everyone is now required to bring a face mask aboard the ferry — a policy I agree with. All passengers must show their masks before boarding, or they may be denied passage.  
I put on my cloth face covering, and went to the outside deck for these spectacular views.
I stayed for four nights at the fabulous Fairmont Empress Victoria, which has implemented many new protocols to keep guests safe. (See my full hotel review here.)
The city began as a British settlement in 1843, and was named after the powerful Queen Victoria. The Empress Hotel dates back to 1908, and sits in the perfect location; it's easy to walk to all of Victoria's main sights from here.
In these Covid-times, it's best to spend time outdoors if you're traveling. Fortunately, Victoria is a terrific city for strolling — there are plentiful parks, beaches, and cultural neighborhoods. 
My favorite area was Victoria's Chinatown. Established in the mid 1800s, this is the second oldest Chinese neighborhood in North America after San Francisco.
I did a curtsy to the lion statues guarding the Gate of Harmonious Interest. This ornate red arch marks the entrance to Chinatown, on Fisgard Street.
You'll be charmed by the Chinese architecture, such as century-old brick buildings and bright red doors. 
What I wore: Hat by Tenth Street Hats, skirt by Sourpuss Clothing, top by Black Milk Clothing.
Victoria's Chinatown was originally the makeshift home of Chinese immigrants, who came here to pan for gold or work on the Canadian Pacific Railway. Back the, some of these gritty alleys led to opium dens and gambling joints.
Today, Chinatown is a lively collective of restaurants and hip boutiques, lit up by cheery red lanterns. 
Look for Chinatown's hidden Fan Tan Alley, and you'll come a cross a highly Instagrammable alleyway. This is one of Victoria's best destinations for local-made clothing and accessories, vinyl records, handcrafted homewares, and other alternative goods. 
I'm standing in front of Heart's Content, Victoria's ultimate Goth punk and alternative shop. The boutique is owned by a friendly local couple. They've been sourcing edgy items (like this Japanese The Clash t-shirt) for over three decades. 
I spotted Doc Martens boots, The Misfits tees, Mary Quant tights, Ben Sherman shirts, boned corsets, and other Goth fashion. The front cases were filled with spiked chokers and belts, and skull accessories.
If you like to dress on the dark side, then Heart's Content is the place to shop.
Fan Tan Alley is one of the the narrowest streets in Canada. Squeeze through and take a photo (it's one of the most popular Instagram spots in Victoria).
If you're more of a retro pin-up fashionista, check out Hussy Boutique (also located in this historic neighborhood).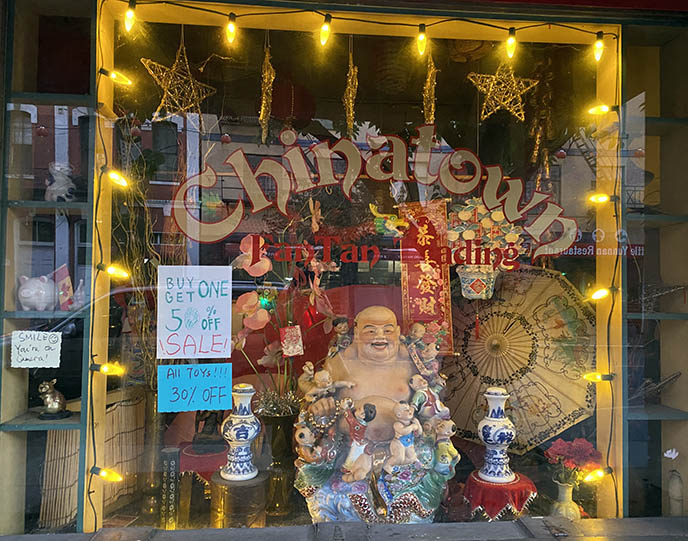 You'll encounter magic and mystery in Victoria's Chinatown. I came across this glowing Buddha in a shop window, not far from the Dart Coon Club Cheekungtong (an association of Chinese Freemasons — didn't realize they existed). 
Quite appropriately, an ally put up a Black Lives Matter poster by the Gate of Harmonious Interest.
While walking around downtown Victoria, I came across a colorful mural supporting BLM as well. There were also messages about staying safe and flattening the coronavirus curve. 2020… we live in interesting times.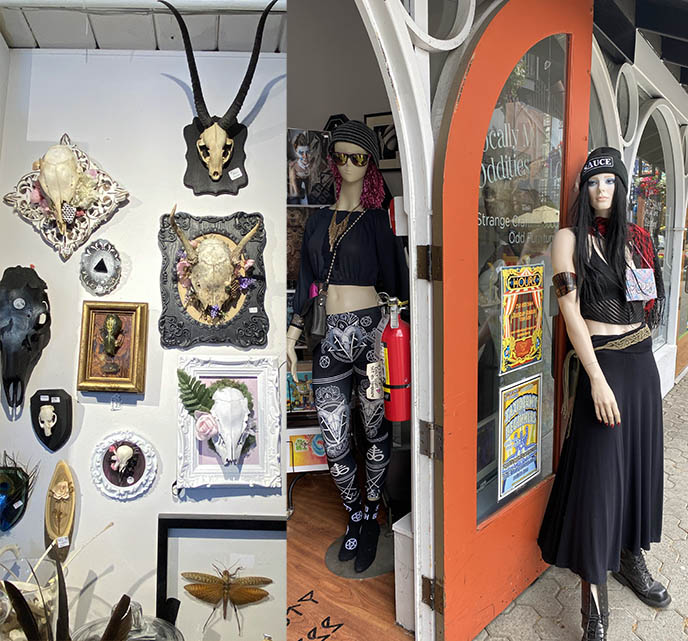 What other Goth and alt shops can you visit in Victoria? Little Shop of Strange, a quirky emporium for taxidermy and spooky oddities. Note the animal skulls with horns, and Baphomet pentagram leggings worn by the mannequin. 
The black coffin bookcase is home decor goals. Little Shop of Strange is an eccentric and morbid spot to get local art, jewelry, clothing, and occult items.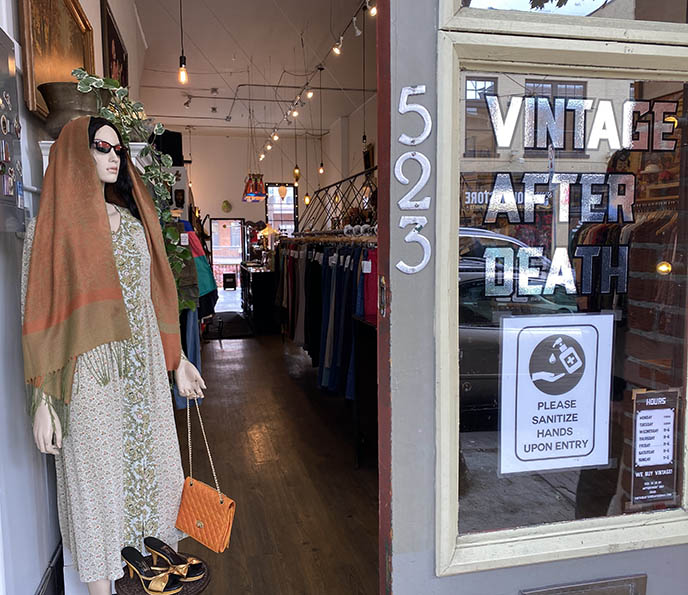 Victoria has a great selection of secondhand stores as well. The ghoulishly-named Vintage After Death was one of my favorites. 
I spy a skull above a rack of colorful clothing from the 1970s, 80s and 90s. 
Use your imagination to mix and match accessories, and put together a standout outfit.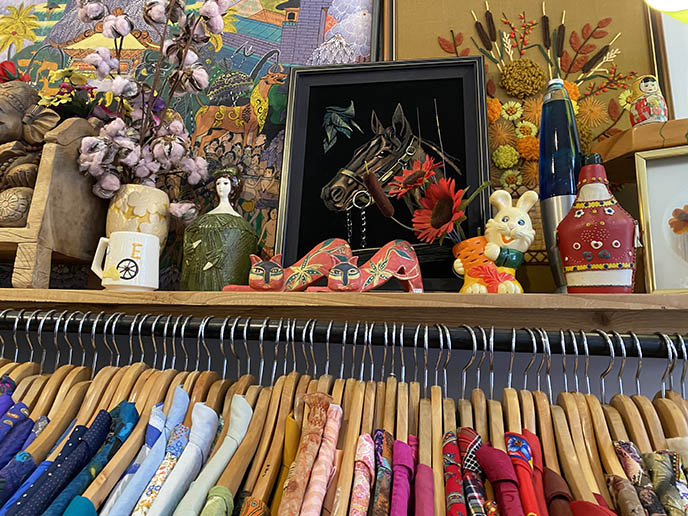 Vintage After Death sells bizarre knick-knacks too: goofy bunny statues, Raggedy Ann horror dolls, sequined Indian tapestries, etc.
Face masks are currently à la mode… Quite a few clothing shops featured them in the display windows. 
Who could have predicted that face shields would be the 2020 must-have accessory?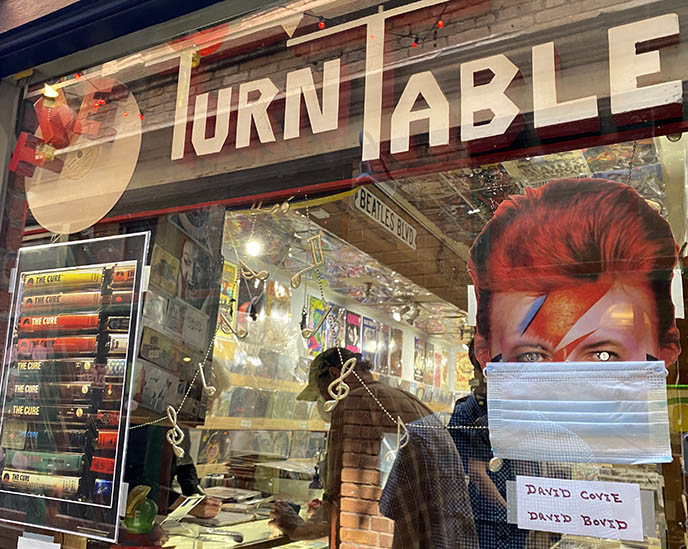 The music store Turn Table even put David Bowie as Aladdin Sane in a medical mask. (I suppose his current stage name would be David Cowie or David Bovid.)
Even this stuffed bunny wears a fabric facemask… and so should you!
As our BC health leader Dr Bonnie says, "Be Calm, Be Kind, Be Safe." Victoria's businesses have put up Plexiglass at checkout counters, and set up outdoor seating with social distancing signs. 
Dining outside is encouraged, so head to the local favorite Red Fish Blue Fish. (The fish 'n' chips shack usually has a long line-up, but now there is barely a wait, as there are no foreign tourists.) Order the BC halibut, and enjoy this view of the Inner Harbour waterfront.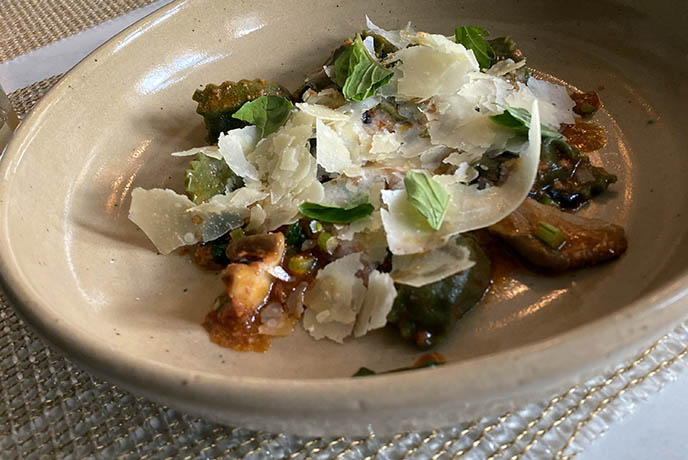 Victoria has many excellent restaurants with patios. A few friends suggested 10 Acres, but I wasn't able to visit this farm-to-table bistro this time.
However, I had a spectacular dinner at The Courtney Room. Still thinking about the above stuffed handmade pasta with confit mushrooms, basil, chili, parmesan, and bolognese. 
And don't miss out on the Fairmont Hotel Empress' afternoon tea and award-wining cocktail bar. (I reviewed them in depth, in this post.)
Victoria BC is an ideal destination for those who love nature and spending time outside. Hit up Willows Beach, and find a quiet spot for swimming and relaxing in the sand. 
I'm not an outdoors type, but enjoyed a socially distanced hangout with local friends at Willows. Here's my Goth on the Beach look (I wore a hat, parasol and four layers of sunscreen!)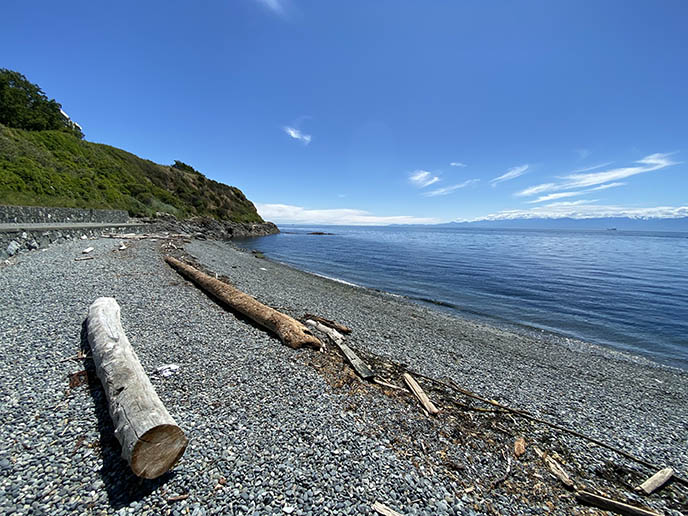 There are many other beaches and scenic spots around Victoria. You can also drive a short distance to provincial parks such as Goldstream, or to see nearby lakes and waterfalls.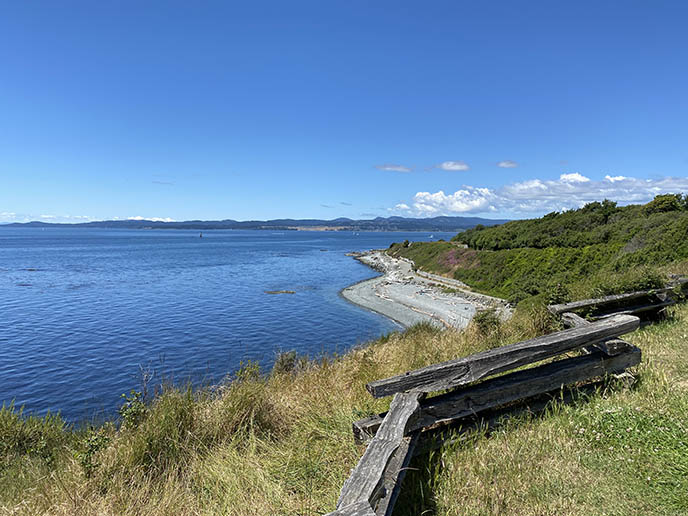 I opted to stay in Victoria, so I did the classic walk on Dallas Road, from Clover Point to Ogden Point. These views…
I also had fun exploring Beacon Hill Park, which was blooming with flowers. Look for the fabulous resident peacocks, who make quite a funny chirping noise! 
The Chinese Cemetery is also worth a visit. Established in 1903, this burial ground was designed around feng shui principles. The wind and water elements are strong here — and the graveyard is an important spot for Victoria's Chinese community.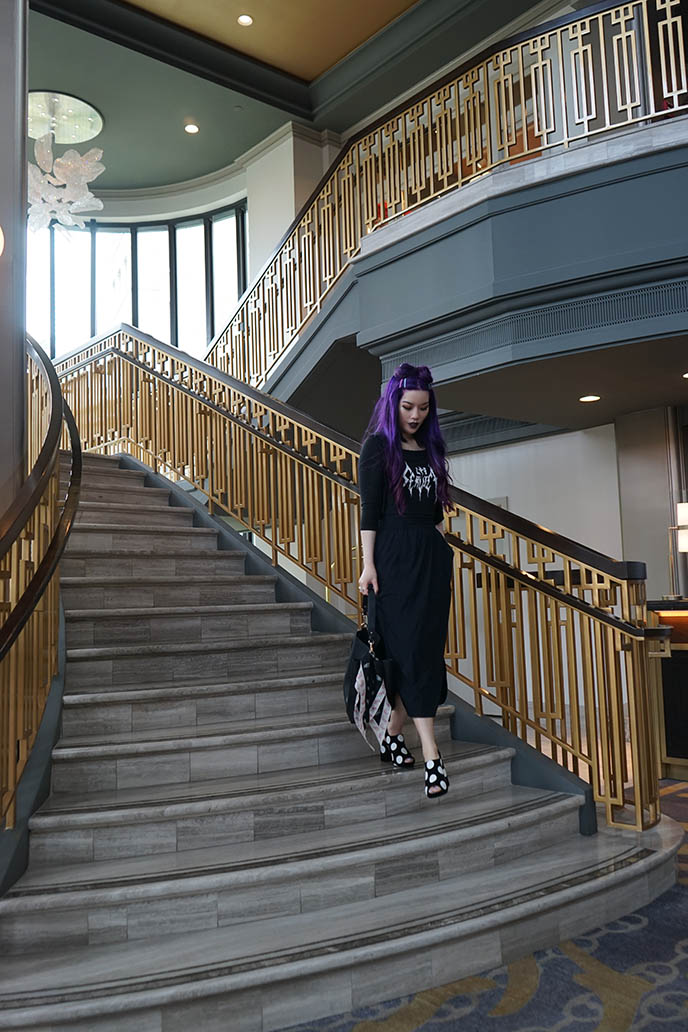 Never forget that Queen Victoria dressed in all-black and mourned her dead husband for 40 years… No wonder the city named after her has lots for Goths to enjoy! 
Cheers to the Fairmont Empress Victoria hotel for a relaxing five-star stay. See my full hotel review, including how they're handling safety and sanitation, here.
Victoria, British Columbia is a royal gem. Have you heard of this Vancouver Island destination, or been here? Did I miss any of the major Goth spots?