Vancouver Halloween Pumpkin Patch Photos! Maan Farms haunted corn maze, pumpkins house, goat petting zoo.
If the Great Pumpkin is our overlord… Then take me to church!
Yes, this pumpkins house is real, and it's spectacular. It's located near Vancouver — at Maan Farms in Abbotsford, British Columbia. If you're a local, then this pumpkin patch is a must-visit for Halloween season.
Read on for our "Fall at the Farm" escapades that involved goat horns, wine tastings, a haunted corn maze, and more jack-o-lanterns than you could ever count!
Fall is obviously my favorite time of the year. Now that the heat and West Coast toxic smoke have dissipated, I'm keen to spend time outdoors under the gloomy skies.
Pumpkin picking outfit: My cute pumpkin knit shirt is from Michelles's House of the Strange and Unusual, and my faux leather leggings are from UK Tights. Highly recommend that you wear rain boots because of the mud — mine are Jeffrey Campbell.
Maan Farms is located about an hour's drive from Vancouver, BC (it's within the Metro Vancouver / Lower Mainland area). The farm has attractions year-round that flow with the seasons, such as a sunflower festival in the summer.
Right now, the farm is teeming with gourds and squashes. Hail to the Great Pumpkin!
Follow the Maan Commandments, to keep safe from COVID. The farm recommends masks and social distancing, and keeping the visiting group to 6 or fewer people.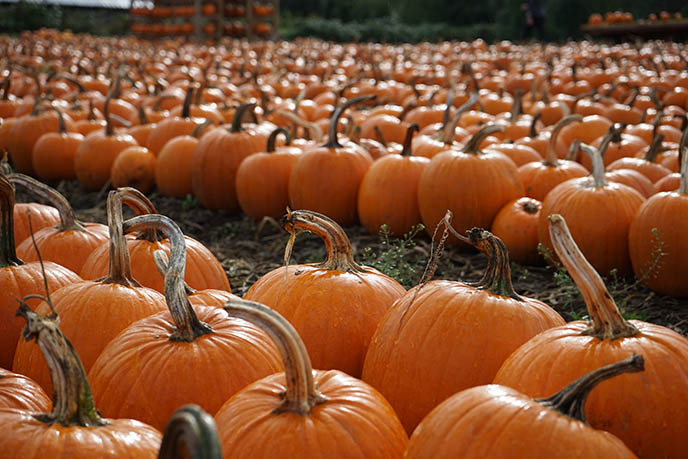 I'll add that you should bring your DSLR, so you can get shots like these! (Shot with this Sony A7 mirrorless camera.)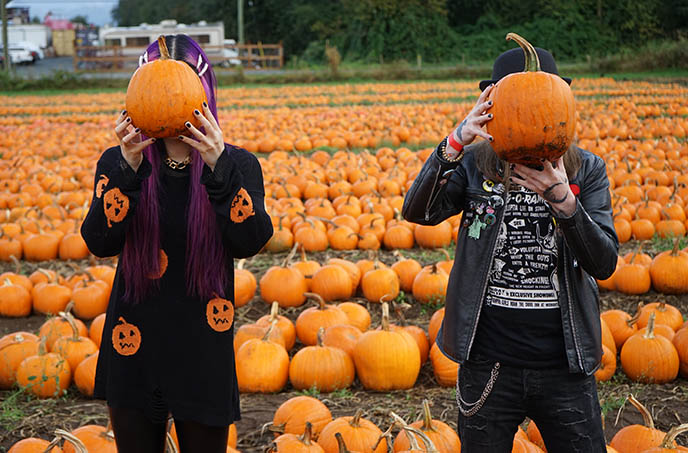 The pumpkin patch will be busy on weekends and sunny days. Aim for weekdays and Halloween weather, for unobstructed photos.
My friend Rob and I took mandatory photo with pumpkins over our faces (photography by Ben). My spooky sweater is from indie Goth shop, Michelles's House of the Strange and Unusual.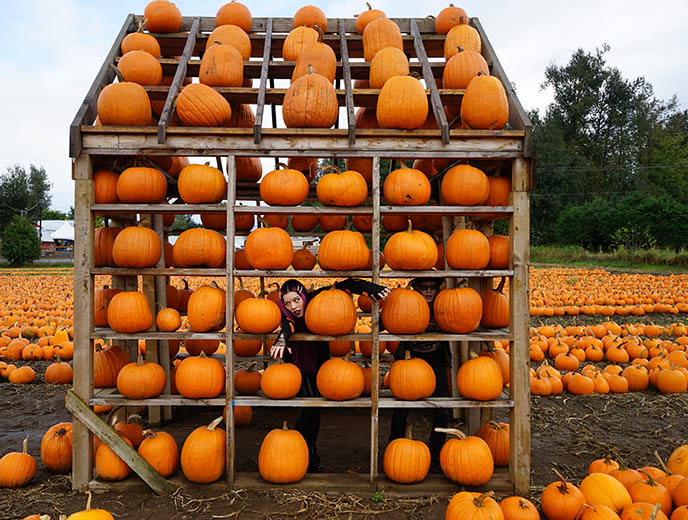 Doing my best impression of a zombie. In addition to Instagram-worthy photography spots, Maan Farm has activities geared to all ages, from a kid's jumping pillow to wine tastings (see what we drank further down).
Loving these luxe black leggings from UK Tights. Made by Commando, they're skin-tight faux leather, and have zippers at the hem.
Do you prefer Cinderella (orange) or Snow White pumpkins? You know I love my minimalism… Now, they just need to breed Gothic black pumpkins!
The title song from Nightmare Before Christmas rang through my mind… In this pandemic era where travel is impossible, I'm enjoying my local adventures.
"This is Halloween, this is Halloween, Halloween, Halloween, Halloween, Halloween / In this town we call home / Everyone hail to the pumpkin song / In this town, don't we love it now!"
Maan Farms is also home to what is known as the Scariest Corn Maze in Canada. After night falls, dare to wander through the tall stalks… where you might encounter terrifying creatures like ourselves!
Maan's haunted corn maze has reduced capacity this year because of COVID-19, so it will sell out. Be sure to grab tickets in advance here.
Time to check out the Barnyard Adventure petting zoo. It's inhabited by a variety of cute and devilish critters….
…including chickens, peacocks, and goats with curved horns. This one could be a cousin of Black Phillip from "The Witch" horror movie.
Hail! These goats were eager to be part of the devil-horns photo. (Maan Farms offers goat yoga with them as well).
Why are goats associated with witchcraft, the occult and Satanists? In the 11th century, the Knights Templar were tortured during the Inquisition, and confessed to worshipping a heathen deity called Baphomet. Later on, this name became associated with occult and mystic traditions.
The iconic image of Baphomet the Sabbatic Goat comes from the 1856 drawing by Eliphas Levi. Today, the goat-headed one is a symbol of both the Satanic Temple and Church of Satan. 
The goats were in fact friendly and gentle… But an aggressive duck quacked fiercely at us, and chased us out of the petting zoo area!
We found black bunnies around the barn area, as well as a white Miffy-like one. The antlers above the doorway called out for a snapshot.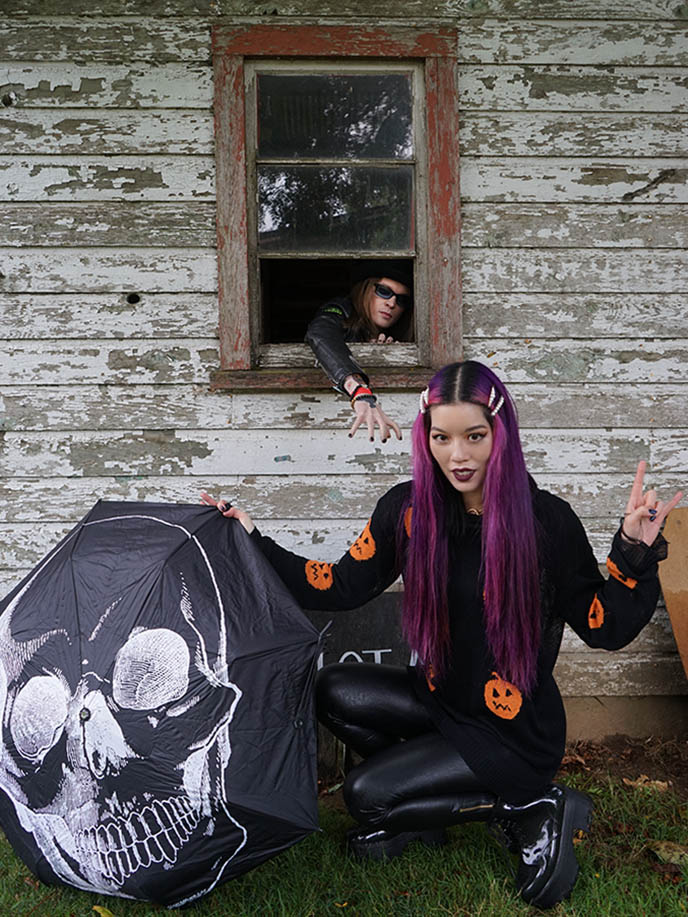 How many frightful creatures can you find in this photo? Ah, I love Halloween! (I brought my skull umbrella for the brief drizzles of rain that day.)
For some reason, Rob is strangling himself, while I'm doing the Elaine devil-horns pose from Seinfeld.
As she said: "I'm going to hell! The worst place in the world! With devils and those caves and the ragged clothing! And the heat! My god, the heat!"
At the other side of the road, Maan Farms has a shop, cafe, and winery. We were welcomed by the 12-foot Home Depot skeleton that's going viral this year.
Outside, there were bins filled with pumpkins of all shapes and sizes. Rob says "booo" to the white pumpkins, but I'm into their aesthetic.
Have you eaten pumpkin pie yet, this year? We sure have.
Maan does a fantastic job at making the farm look festive for fall, with pumpkins in pleasing arrangements.
Close-up on my trailing knit and print. This Halloween sweater is from Michelles's House of the Strange and Unusual — the grumpy-faced pumpkin design is to die for.
Michelle's Gothic shop takes its name from Lydia Deetz's quote in Beetlejuice: "I myself am, strange and unusual." Browse her web store to find all sorts of dark oddities, including clothing and home goods. Think "sci fi mixed with skulls and zombies with cats."
I'm embracing "pandemic hair" these days… super long length, with extensive roots. I'm taking this downtime to grow out my bangs, clipping them to the side with pearl barrettes. 
Go inside Maan's store to find local preserves and hot sauces, and handmade goods including skull bath products. At the cafe, you can dine on pumpkin scones, cheesecake, and pumpkin spice ice cream served inside a real mini pumpkin!
Don't leave without a wine tasting. Maan Farms' Estate Winery produces everything in-house. Above is the outstanding raspberry dessert wine — there's about 2 lbs of berries used per bottle, with no added sugar. I tried four wines, and took home a bottle of the Pinot Noir Rose.
We didn't get a chance to try out the horror haunted corn maze, but here's a sense of the vibe. Maan's corn maze runs only until Nov 1, and be sure to reserve tickets.
Maan Farms is family-run, and you can tell the the kind team is passionate about what they do. While there are other pumpkin patches in the Metro Vancouver area / Lower Mainland, this is the most photogenic one — and the only one with a pumpkin hut!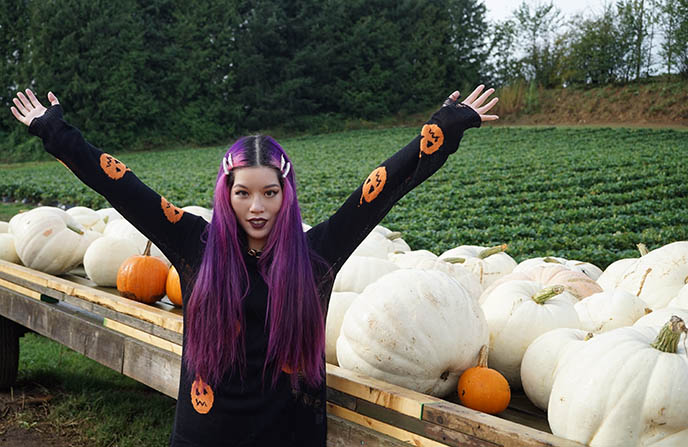 You may recall that last year, I visited the pumpkin patch in Richmond, BC (see photos). Last time I wore a candy corn sweater. This time, it's pumpkins galore.
Halloween is different in 2020, due to the global pandemic. Many events, like haunted houses and horror movie releases, were cancelled. But we can still go outside and enjoy spooky season.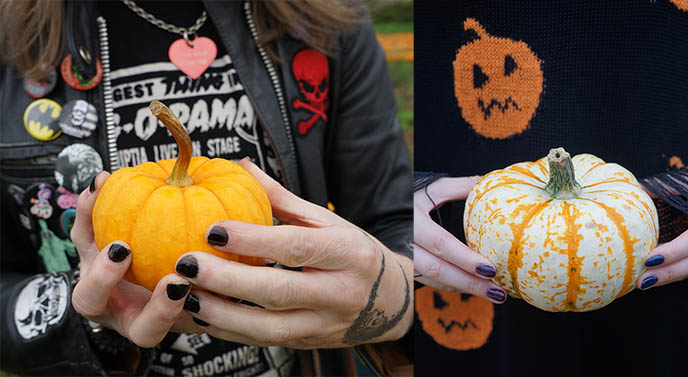 Will you visit a pumpkin patch this year? Are you decorating your place?
Perhaps this post inspires you dress up, get outside, and support a family farm in your area!
OOTD: Rain boots, Jeffrey Campbell. Halloween sweater, Michelles's House of the Strange and Unusual. Leather look leggings, UK Tights.
Before we sign off, I wanted to share some of my latest writing work. I've been pivoting to freelance travel writing, which lets me look back fondly at past trips around the world.
I wrote about Metairie Cemetery in New Orleans, for Roadtrippers Magazine (read it here). With pyramid tombs and weeping Goth angels, this is one of my favorites.
I'm also now a contributor to travel site Tripsavvy. I wrote about 10 minimalist buildings around the world, including the Museum of Tomorrow in Rio de Janeiro. Grateful I got to visit it with Elizabeth Wurtzel (see our Brazil journey here).
For Tripsavvy, I also wrote about 10 worldwide destinations for horror fans. Have you visited any of these places that inspired horror novels and films? I've been to the HR Giger museum and bar, the NOLA Lafayette cemetery, Whitby Abbey (Dracula inspiration), and Bran Castle in Romania.
A last look at the pumpkin paradise that is Maan Farms in Abbotsford, BC (outside Vancouver). Mmm, now I'm hungry for pumpkin ice cream and pie…
This is just the start of my Halloween coverage... I have a lot more up my sleeve! Stay tuned to my site and social media @lacarmina to see what scares I have in store for you.