Goth Hanami: Japanese cherry blossoms picnic! Imagine Van Gogh Vancouver review, Ministry of Wings hat, Latokyo.
Hail Persephone, goddess of spring — and queen of the underworld!
It's cherry blossom season again, and Vancouver is currently permitting a 10-person bubble to safely gather outdoors (I've been following local health guidelines since March 2020). I enjoyed the baby-pink blossoms in my signature way — by attending a Goth girl picnic. 
Anyone else have wild, extra-long lockdown hair going on? Read on for our sakura flower-viewing photos, along with my Gothic grunge meets e-girl  / pastel kei outfit.
OOTD — Black wool hat with crosses on the brim by Ministry of Wings (give them a follow on Instagram). Long sleeved crop top Latokyo. Purple Goth tartan skirt Ninja Cosmico.  Sunglasses are Chloe Rosie Heart; get them here.
And read on for my review of Imagine Van Gogh, the immersive art and music show that is currently in Vancouver. (I attended the media preview; the exhibition has timed limited tickets, mask requirements and other safe practices.)
I've been rather isolated in the past months, so it's been a treat to see a few trustworthy local friends in recent weeks. The pink and white Japanese cherry blossoms never last for long, so VesperSephony and I went to enjoy the flowers and shoot portraits.
Travelers from over 150 countries are currently prohibited from visiting Japan as tourists, including Canadians. I miss being in Japan, but at least Vancouver has many parks with cherry bloom trees that remind me of Tokyo.
The pink canopy matches my hair color and pink Skandinavik coat (made from Mongolian sheared lamb fur — no animals were harmed).
We contrasted the pastel cherry blossoms with Gothic fashion edge! I'm wearing Japanese-style socks, which can be scrunched down Harajuku schoolgirl-style, by Sock Dreams. I'm a long-time fan of their inclusive sizing and wide variety of alternative styles / patterns / colors.
My leather platform heels are these exact Mexique ankle boots by Jeffrey Campbell. Hat by Ministry of Wings, top by Latokyo, skirt Ninja Cosmico. Shop my look with a click below:

This badass umbrella and turtleneck crop top from Latokyo add to the feeling that I'm back in Japan. Latokyo is an indie fashion label that blends Eastern culture with Western apparel, with a dark yet minimal aesthetic.
I am holding their Dead Sky Umbrella, which is a powerhouse: 41 inches, with a sturdy metal frame that will never turn inside-out. The exterior is black, while the interior has an eye-catching red sky print and the LA東京 logo. The parasol comes with a slip bag with a sling, so you can carry it over your shoulder and wield it like a katana!
I am also wearing Latokyo's long sleeve crop top, which has the signature stripe logo on the turtleneck, and a cute red label detail at the hem. Love how it pairs well with a variety of wardrobe pieces, including high waisted skirts.
(Pair photos by Joyce Cheung of Ondine Photography. Individual photos of me by VesperSephony.)
Latokyo's umbrella arrived just in time for our Goth spring picnic – it shielded me from the sun and showering petals. I try to do hanami (花見, "flower viewing") every year; it's the ancient Japanese tradition of appreciating the sakura blossoms before they quickly fade and fall. We spread out blankets, and enjoyed onigiri (rice balls) and matcha lattes under the pink trees.
In this bizarre timeline of restrictions and variants, the age-old Japanese concept of "mono no aware"—a wistful recognition of impermanence, as represented by the falling blossoms—hits especially close to home.
Cherry blossom trees are found worldwide, especially in Japanese gardens. Check your local blossom forecast (桜前線, sakura-zensen) to see the "cherry blossom front," or blooming predictions. This way, you can see the sakura flowers when they are at their finest.

My friends managed to have the picnic at the peak time for this species of sakura (there are various cherry blossom types, with colors ranging from deep pink to white). The sun also came out, after months of rain.
We shot some fashion-walk videos under the trees — see the best cut below and on @lacarmina TikTok. But if you want a laugh, see the "throwing shade" funny outtake here!
Outfit roll call: Chloe Rosie Heart sunglasses, black witchy hat Ministry of Wings, long sleevee top LATokyo, purple black plaid skirt Ninja Cosmico, scrunchable knee socks Sock Dreams. and pink furry coat Skandinavik Fur.
Have you ever done hanami, or cherry blossom celebrations? Now is the time to see these gorgeous pink flowers before they disappear.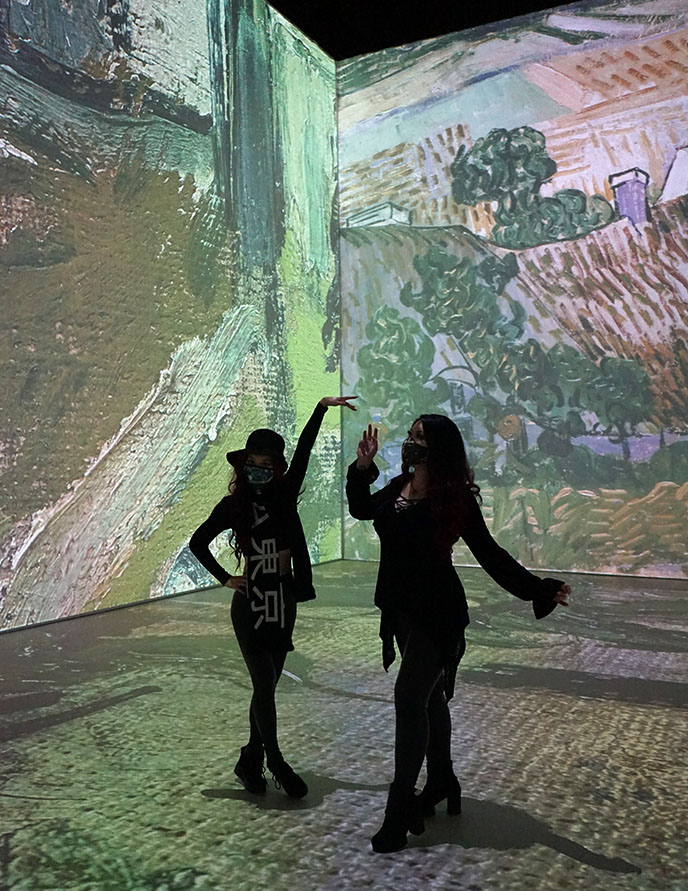 Vesper and I were fortunate to be able to attend another fantastic local event, Imagine Van Gogh. As you know, I adore seeing art — and this was my first opportunity to walk through an exhibition in over a year.
Imagine Van Goth is an immersive art experience, which is currently in Vancouver until August 29th. The grandiose show pays tribute to the life and work of master painter, Vincent Van Gogh (1853-1890).
Here's a sense of the scale — Van Gogh's distinctive paintings are blown up and projected on multiple towering screens, which fill up a gigantic room at the Vancouver Conference Centre. (Here's a close-up on one of his self portraits.)
Up close with his thick brushstrokes and bright colors, I felt as if I were part of his expressive works.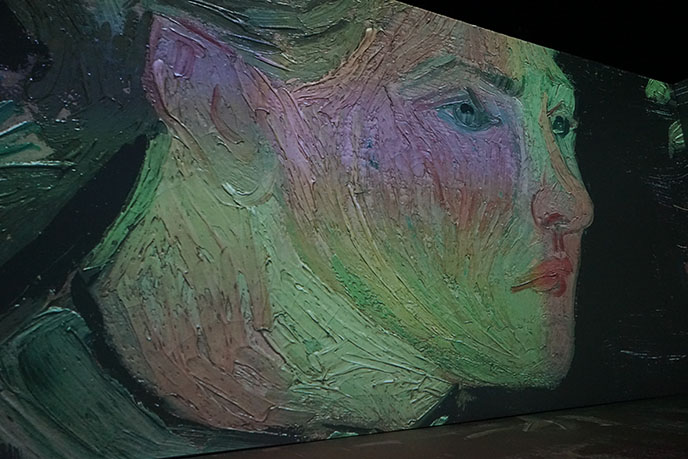 The projections were constantly shifting, illuminating the room with different colors and movements. Classical music accompanied Van Gogh's imagery, inspiring me to create this video below: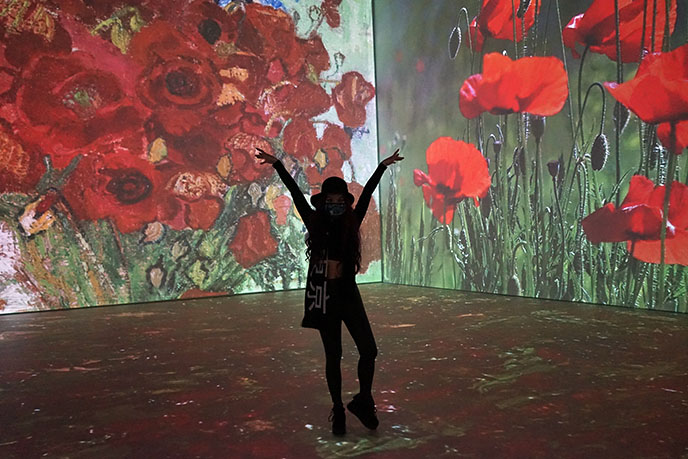 The Dutch post-Impressionist is best known for his paintings of sunflowers and starry nights. (And for cutting off his own ear!). At Imagine Van Gogh, we also got to see his lesser-known landscapes and still-lifes, and black-and-white photographs of where he grew up.
Imagine Van Gogh is also an experience for your ears (or ear, if you only have one like Vincent). The art projections flowed to the sounds of Saint-Saëns, Mozart, Bach, Delibes and Satie.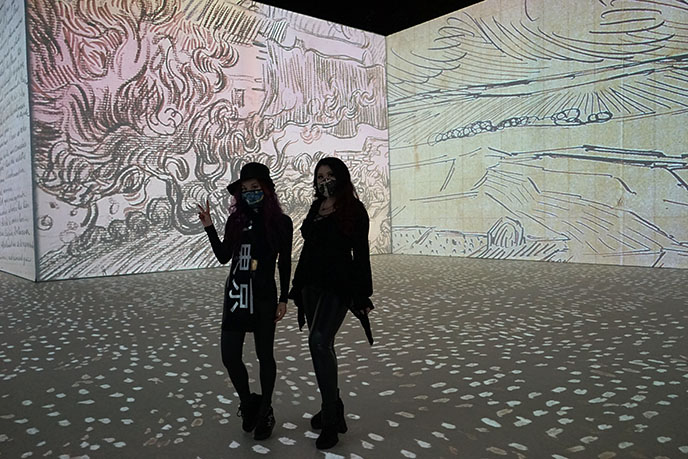 A black-and-white moment that matched our Gothic outfits. (My shirt and scarf are by Latokyo.)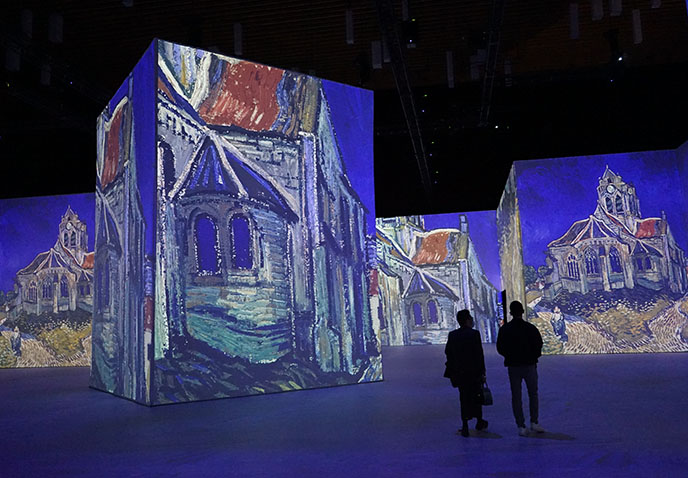 The show reminded me of Tokyo's Teamlab Borderless and Planets exhibit, which I saw in 2018. (See my story and photos about visiting Teamlab in Japan.) Imagine Van Gogh is touring, and will later be in Edmonton, Tacoma Washington, and Boston MA.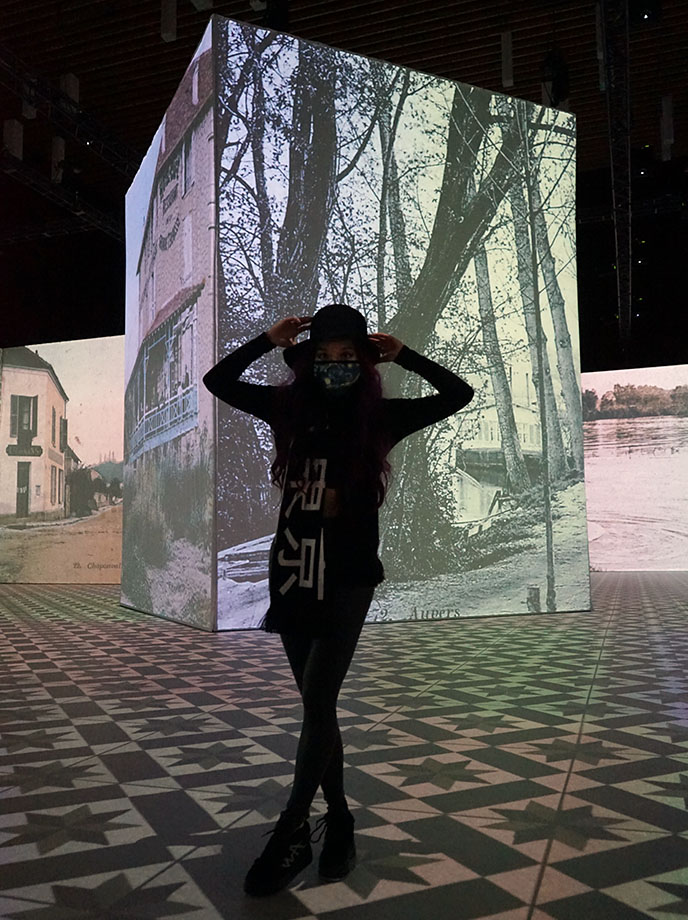 My LATokyo scarf and top were fitting for the show, as Vincent Van Gogh was rather inspired by Japanese art. He fervently collected Japanese art prints, and his "Japonisme" works are influenced by the colors, perspectives, and motifs of these Eastern engravings.
I hope you'll get a chance to dance through Imagine Van Gogh while it's in Vancouver (through August 29). The multi-projections and immersive audio added depth to his imagery, and gave me a new appreciation of his vision.
Bonus photo from outside the Vancouver Convention Centre in Vancouver, British Columbia. I'm posing with "Digital Orca," a 2009 sculpture of a killer whale by Douglas Coupland. My 東京 scarf and shirt are LA Tokyo.
And here's a close-up of my comfortable platform sneakers by Anthony Wang Shoes, and hat by Tenth Street Hats.
This spring, you won't see me without my new Baphomet jacket, designed by my friends at Long Clothing. With a circular red patch of the Satanic icon on the back, this Baphomet MA1 Patch Jacket is one unholy bomber.
Here's a closer look at my stunning hat by startup Australian label, Ministry of Wings. This design is called the Arrow of Time — it's a classic dipped crown oval boater, with a wide brim to protect from the sun's rays. Ministry of Wings crafts their luxurious hats from 100% Australian wool, with silk lining inside. The black velvet ribbon and polished gold plated crosses on the outside are one-of-a-kind!
I encourage you to add Ministry of Wings on Instagram to see their other stunning, alternative hat designs.
If you ask me, the crosses spin in the left direction, which makes them upside down!
Wearing a Latokyo t-shirt featuring their Octopus Girl print. As someone who's lived in Los Angeles and Tokyo, and still visits often (well, in a regular year), their designs are my cup of sake.
Let's wrap up with a few of my recent articles and press features. I chatted with Lucien Greaves of The Satanic Temple about his first musical project, Satanic Planet!
In this exclusive interview for Riot Fest, find out what his new Satanic band sounds like (members include drummer Dave Lombardo of Slayer), and learn about the upcoming music videos and album drop on May 28. Lucien Greaves also gives in-depth updates on The Satanic Temple's activism, including erecting the Baphomet monument, and pursuing lawsuits such as a Texas reproductive rights TRO.
By now, I'm sure we have all seen the Lil Nas X "Montero" music video where he pole dances down to hell and gives Satan a lap dance. I was interviewed by Unilad about Satanic Panic, and how it's more urgent than ever to fight conspiracy theories about ritual Satanic abuse. We also discuss The Satanic Temple's Grey Faction initiative to combat pseudoscience, and their World Congress on Moral Panics conference.
Speaking of the devil, Dr John Skutlin and I chatted with Satanic Study Hall podcast about our 10+ years of researching and writing about Satanism worldwide, particularly in Japan. We also preview our upcoming web TV show, "Satanic Show + Tell," premiering soon on The Satanic Temple TV… stay tuned for more!
I'm keeping busy with freelance journalism. I had fun writing about my favorite Japanese gardens for Lonely Planet's Budget Travel. From a Zen sand garden in Portland, to an Edo-style strolling path in Seattle, here is a guide to the USA's most beautiful Japanese gardens.
I also did interviews about my work in fashion / travel for Nylon Magazine and The Boston Globe, coming out soon. And I will have travel and design articles published in Time Magazine, Architectural Digest, and House Beautiful. 
One of my work highlights of 2021 was joining the Sleep.com team. I wrote about how I still travel in my lucid dreams, almost every night! Enjoy my personal essay, and reflections of Tibetan yoga nidra or dream yoga. (Above: my cult-y Osho Zen Tarot cards, and book "The Tibetan Yogas of Dream and Sleep" by Tenzin Wangyal Rinpoche.)
As I quote: "Travel in hell, in the devil's realm. It is just an idea, you will not actually be participating there. But you will be loosening the constrictions that bind your mind." (Above, I really was on Easter Island, but the rest is Photoshop.)
See all my Sleep.com articles here, and join me every Sunday on Clubhouse for a chat about sleep and travel! You can ask doctors and experts questions about topics related to getting a good night's rest. Add me @lacarmina on Clubhouse here so that you won't miss out. (The "Sunday Scaries" chats happen every Sunday at 7pm PT.)
You can keep up with my latest writings and events on @LaCarmina Twitter, which is now blue-check verified (as is my @lacarmina Instagram and Facebook page.) I'll do my best to be responsive — thank you for staying in touch.