Our TV show Satanic Show + Tell premieres Aug 1, on The Satanic Temple TV! First guest: Evan Michelson of Oddities.
As summer 2021 heats up, I have a fiery announcement… I have a web television show coming out August 1, on The Satanic Temple TV!
"Satanic Show + Tell" was created by me and my co-host Dr. John Skutlin, and produced by William Morrison (of Ogre / Skinny Puppy, and executive producer of TSTTV).
♥ If you're keen to see our show, please support by sharing this article — we really appreciate it! ♥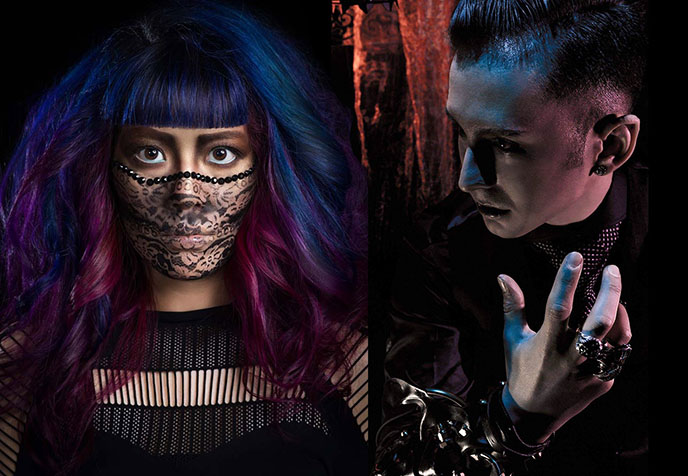 In each episode of "Satanic Show + Tell," John and I interview notable guests about their rare Satanic objects. We hold in-depth discussions about their most delightfully devilish possessions, from Devilman guitars to pentagram jewelry.
We're thrilled to the bones to share our first SS+T episode with you…. starring Evan Michelson, who you may know from the Discovery / Science Channel TV program, "Oddities!"
For a sneak peek, see our Satanic Show + Tell intro teaser here. (Music by GPK Gothique Prince Ken.) Episode 1 comes out August 1, 2021.
John, William and I have been having a hell of a time filming "Satanic Show + Tell" remotely over the past months, via Zoom. (I even created a kawaii Satan hand-puppet for Evan's episode!)
We though the format of the program was particularly apt for these times, as it lets us connect with likeminded friends worldwide, and get an inside peek at their darkest collections.
Here's a screencap from our premiere episode with Evan Michelson (@evanobscura Instagram).
She gives us a tour of her home's cabinet of curiosities, and tells the fascinating tales behind her Satanic collectibles — such as this scowling antique puppet. We also hear about her new oddities store, Obscura West in Lambertsville, NJ, which I can't wait to visit.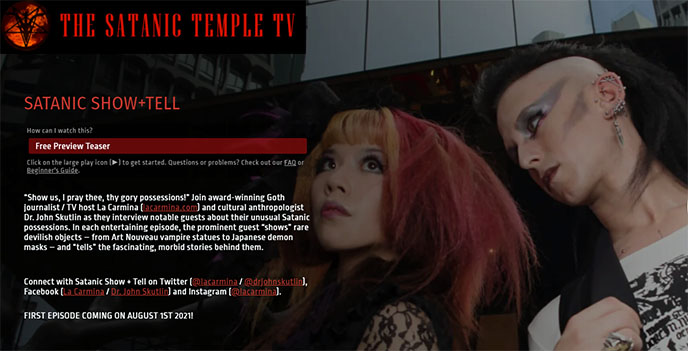 Please take a moment to see the trailer of Satanic Show + Tell (on The Satanic Temple TV), and mark your calendars for the August 1 drop!
So far, we've shot 6 episodes and our show guests include:
– Keroppy Maeda, Japanese body modifications expert (bagelheads)
– Family of Kirk Hammett of Metallica – Trevor White gives a tour of his classic horror/sci fi collections
– Evan Michelson and Ryan Matthew Cohn of Oddities, TV show on Discovery Channel
– Alex Streeter, pentagram Angel Heart ring designer
– Rhys Dawney, designer of Long Clothing / Boy London
The secret is out… "Get ready to pour yourself a libation of choice and settle down with some truly interesting individuals and their insights into all things dark and Satanic. Our first episode with Evan Michelson of Oddities airs on The Satanic Temple TV on Lughnasadh (August 1)!"
Click above and here to see the trailer for Satanic Show + Tell — the new television series on The Satanic Temple TV, created and hosted by La Carmina and Dr John Skutlin, and produced by William Morrison.
Description: "Show us, I pray thee, thy gory possessions!" Join award-winning Goth journalist / TV host La Carmina (@lacarmina) and cultural anthropologist Dr. John Skutlin (@drjohnskutlin) as they interview notable guests about their unusual Satanic possessions. In each entertaining episode, the prominent guest "shows" rare devilish objects – from Art Nouveau vampire statues to Japanese demon masks – and "tells" the fascinating, morbid stories behind them.
WATCH our new show on The Satanic Temple TV!
Hail to everyone who made Satanic Show + Tell possible, and for your kind support in getting the word out!
To celebrate the big news, I thought I'd release some bonus photos taken during my Millie Magazine shoot.
We had fun shooting in Chinatown Vancouver. I'm wearing a pink Mongolian wool coat by Skandinavik Fur (the sheep are only sheared and not harmed), and pumpkin-faced stockings by UK Tights.
Ready to be admitted to the Chinese Seniors Center… I'm wearing these exact black platform boots: Jeffrey Campbell Mexique shoes, click link for details.
My makeup for the shoot was by my longtime collaborator, Artist Jennifer Little — we've worked together on several magazine covers! Much of my makeup, including the mascara, brow pomade and liquid lipstick, is by Anastasia Beverly Hills.
My Harajuku-Goth hair is by Chad Mitchell Evans of BlameChad, who is brilliant with color and alternative styling.
If I can't be in Asia anytime soon, I can at least hang out with the lion guardians of Vancouver, BC's Chinatown. These two white stone lion statues flank either side of the Millennium Gate.
There's a large Asian population in Vancouver, so you'll find plenty of kawaii pop culture around the city, including this colorful wall art.
Wearing a vintage coat, Jeremy Scott leather mini skirt, and Forest Ink cutaway top.
I got this shearling coat in London years ago. It reminds me of the Almost Famous jacket.
Pink furry coat by Skandinavik, Halloween stockings by UK Tights, boots are Jeffrey Campbell Mexique (click to get).
One day, I will turn into my final form: Miffy the bunny.
Founded in the 1880s, Vancouver's Chinatown is now the largest in Canada, and one of the biggest in the world. Stroll around to see vibrant storefronts, architecture, food shops and more.
Had to capture this makeup by Artist Jennifer Little, and hair by BlameChad.
If I could teleport anywhere, I'd go to Japan and Hong Kong…
Hail Miffy, the original kawaii character.
Close-up on my black leather ankle boots: they're Jeffrey Campbell Mexique, found here.
May the stone lion protectors keep us safe in this unstable world…
Closeup on my pearl hoop earrings by Stephen Einhorn; Aphrodite skull and Sailor Moon rings by Sapphire Studios.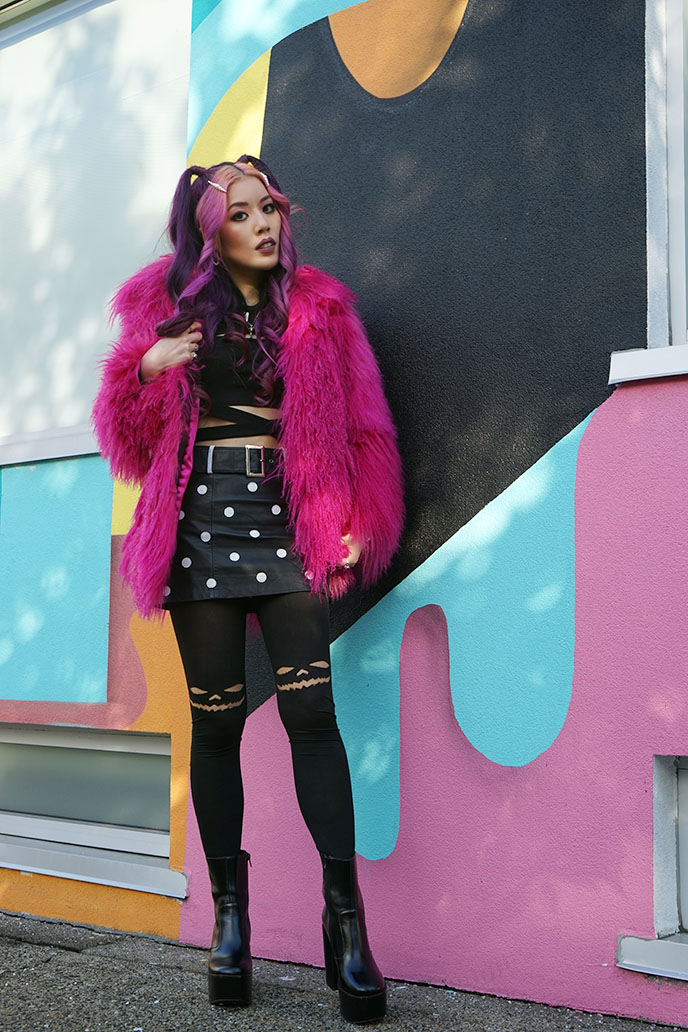 I hope you enjoyed this fashion series! I was just in NYC, and shot many new outfits there… I'll share the images with you soon, and you can see previews on @lacarmina Instagram.
And please mark down August 1 — we'll be releasing Ep 1 of our Satanic Show + Tell TV series, with guest Evan Michelson! (For now, check out the trailer on TST TV.)
In each episode, we interview guests from a variety of expert backgrounds (fashion, music, history) about their dark and devilish possessions. John and I also show and tell a belonging of our own, such as a sugar skull that I picked up in Mexico City.
Honored to have Evan Michelson be our very first guest! You may remember that I appeared on an Oddities episode with her, and we were in Mexico together on a Day of the Dead trip — where I found these Mexican demon and skull masks above.
In journalism news: I'm delighted to share that I have a byline in Time Magazine… I wrote a travel article about Osaka, Japan, highlighting the new Universal Studios Nintendo World!
You can read my Time Mag article here, and get it in print on newsstands now. (It is the TIME World's Greatest Places 2021 issue.)
♥ If you're keen to see our new TV show, please support by sharing this article and Satanic Show + Tell trailer.— we really appreciate it! It debuts August 1st on The Satanic Temple TV. Thank you!