Alternative Las Vegas: Immersive art & Instagrammable spots! Nirvana Hotel, Fantasy Lab, RuPaul's Drag Race Live review.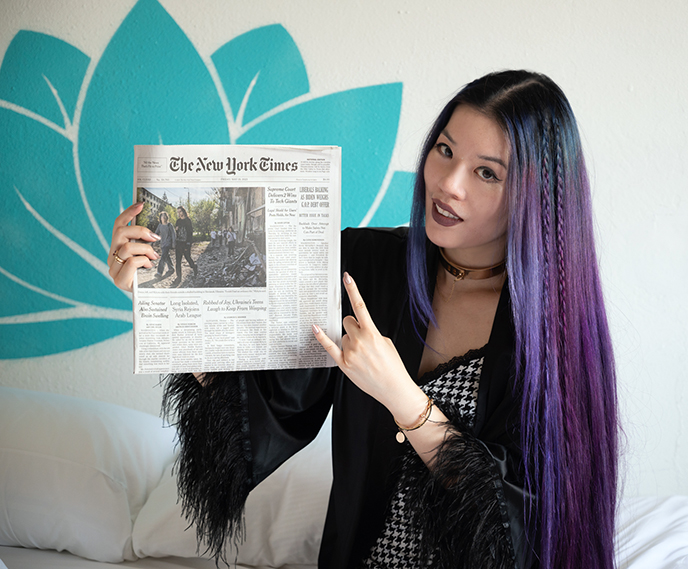 Thanks for the love for my writing debut in The New York Times! I found out I was published in the NY Times while staying at the peaceful Nirvana Hotel in Las Vegas (hence the lotus flower in the back).
In this post, let me take you on an alternative journey through Las Vegas — which skips the typical tourist spots and focuses on wellness hotels, innovative art, and drag queen shows! 
Photographer Joey and I wanted a quieter and more personalized experience in Vegas, so we stayed at the Nirvana Hotel. The family-run bed and breakfast has a wonderful location (it's on the LV Strip, across from Mandalay Bay) — but without the chaos of casinos and crowds.
(Wearing these DMY by DMY Billy sunglasses, under the Nirvana sign. See links below:)

And instead of seeing the typical tourist shows, we got immersed in digital art at Fantasy Lab, and cheered on the queens at RuPaul's Drag Race Live! Read on for reviews, which I hope get you inspired to make an alt, offbeat trip to Sin City.
When in Vegas… why not wear flamboyant feathers and platforms? My houndstooth mini dress is by Sourpuss Clothing, and the black platform sandals are by Anthony Wang Shoes.
My DMY by DMY Billy thin rectangular sunglasses have a minimalist 1990s look. Find them below:

Nirvana Hotel is a family-run property that opened up earlier this year. True to their name, everything is designed to ensure you have a rejuvenating stay (it's an oasis in wild Vegas). Guests can relax in the courtyard areas, which have artistic, spiritual decorative touches that add to the feeling of peace.
The rooms are spacious and quiet (there are no clubs, casinos, or crowds of people around, unlike in other hotels).
Every morning, we received a charming breakfast basket that included bottles of water, orange juice, and freshly made meals like breakfast burritos with eggs. The bed and breakfast has a "tranquility room" with unlimited tea and coffee for guests.
Another plus of staying with Nirvana: free parking in an easily accessible lot — we were able to park our rental car right outside our door. (The big hotels charge an arm and leg, and the valet / ticketing / lots are complicated.)
Nirvana Hotel also employs all-night security, so guests can feel safe at all hours. A kind guard came to greet us and help us get settled, and he was present all night long.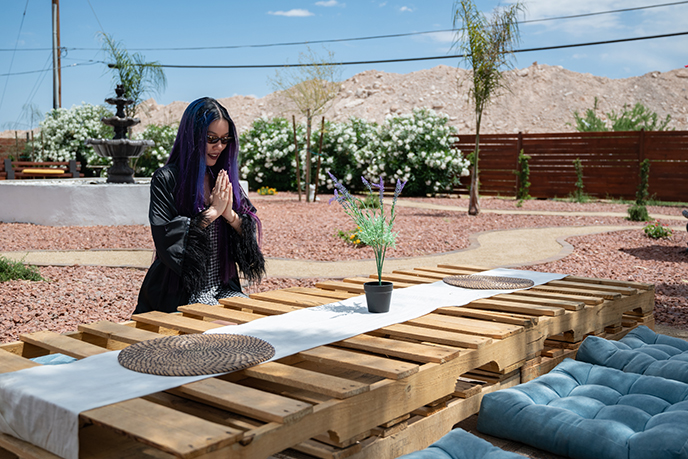 The back area has a Zen Garden with meditation cushions and art along a winding path.
The owners puts their hearts into welcoming guests, and personally ensuring they have everything they need for a restful stay at Nirvana Hotel.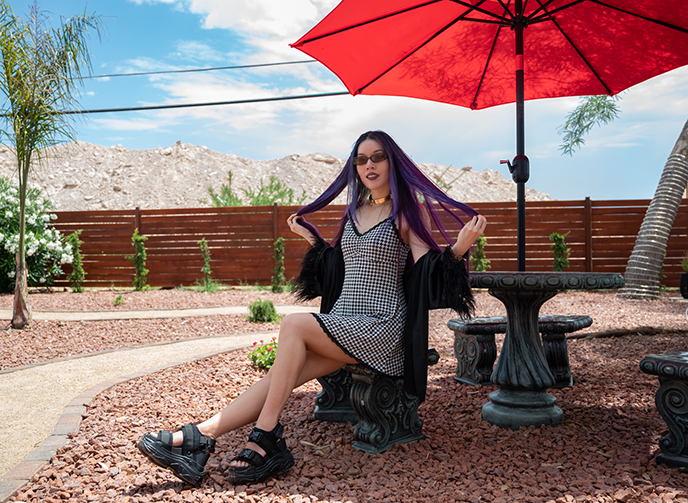 The community atmosphere stood out: I saw guests hanging out in the Zen courtyard and playing games.
Each room is decorated with lotus flowers in different chakra colors (mine was turquoise).
Happy memories of kicking back in the large, cozy bed and reading The New York Times. (See my writing in NY for Tiny Love Stories, Modern Love here.)
Nirvana Hotel is pet friendly, and each room comes with small touches such as bathrobes.
A place to experience peace, while being on the Las Vegas strip.
Nirvana Hotel offers free wellness experiences for guests as well, such as morning yoga classes.
Gratitude to Nirvana Hotel for the zen-like stay in Las Vegas, Nevada!
Not many travelers realize that Las Vegas is home to fabulous immersive art. We were impressed by Fantasy Lab, a multi-sensory interactive experience that encourages you to awaken your imagination and dream big.
Located in Vegas' Fashion Show mall, Fantasy Lab's timed tickets take you into seven immersive rooms, filled with ever-changing visuals and sounds.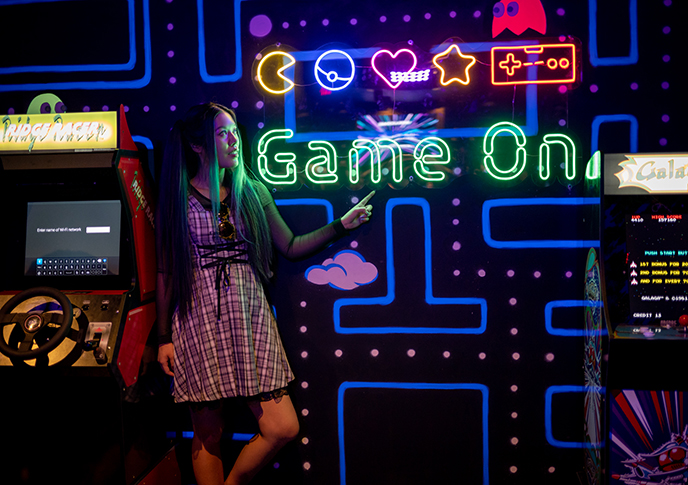 You can also enjoy fantastical food and cocktails, and play in the 80s-style arcade that has a synthwave feel. (My dress is Ank Rouge, a jirai kei Japanese label.)
A "dreamer" or guide takes you around to the seven rooms, and you get up to 10 minutes to explore each. The mesmerising decor includes elements on the ceiling, and changing colors and projections.
Artists collaborated on Fantasy Lab's immersive rooms, which include these devilish creatures.
Guests are encouraged to move around, interact with the pieces, and take photos as the elements transform. (Here's a video of Fantasy Lab to give you a sense of what it's like.)
Loved the vibe of this room. These are etched glass panels, arranged in a maze with messages in all languages.
Fantasy Lab is a playground for photographers — you can take fun shots like this against the mirrored walls.
The rainbow lights pulse to the sounds of synthwave.
Fantasy Lab's multimedia is well-executed, and reminds me of Tokyo's Teamlabs.
This room made me feel as if I were going on a journey though outer space.
Check out my Instagram video of Fantasy Lab to see how the visuals shift.
After, you can visit the restaurant / bar for magic cocktails — like a peaberry flower tincture that changes color as you stir it with rock candy. The glitter is edible dust that gives off as tingling feeling.
As the Lian Ross Italo disco song goes: "Welcome to my world of fantasy / Come into my world of mystery!" If you're the type of traveler that prefers culture to casinos, come to Fantasy Lab to be transported into dream-worlds of immersive art.
As they say… What happens in Vegas… SLAYS in Vegas! I got to see famous drag queens "sissy that walk" at RuPaul's Drag Race Live, at The Flamingo Hotel Showroom.
Did you know that RuPaul's queens had a live show in Las Vegas? A cast of your favorite competitors struts the stage and performs fab musical numbers — while host Asia O'Hara serves up wicked banter with the audience.
True to the vibe of Vegas, RuPaul's Drag Race Live is a glamorous production that goes big with makeup, costumes and choreography.
Derrick Barry, the world's most famous Britney Spears drag impersonator, slayed.
Daya Betty dominated the show with her punk meets fetish fierceness.
Jaida Essence Hall's Egyptian showgirl lewk was to die for.
Lawrence Chaney from Drag Race UK always made the audience belly-laugh. Check out my video of the show for clips of the action! Here's where you can get tickets for RuPaul's Drag Race Live at the Flamingo Vegas.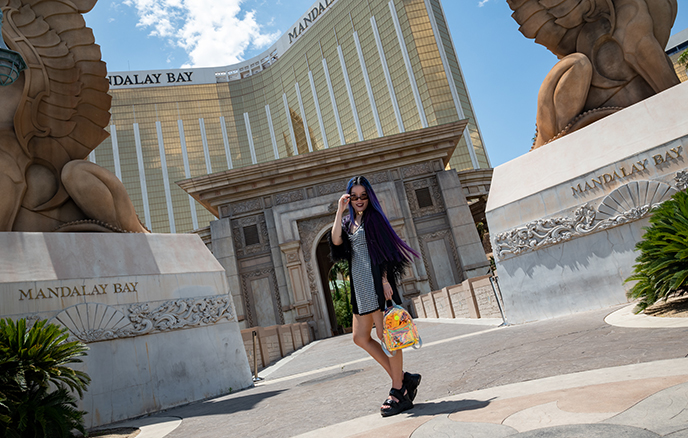 Let's wrap up with snaps from some of Las Vegas' most Instagrammable spots. Mandalay Bay was right across Nirvana Hotel, so it was easy to walk over to take photos.
I first went to Las Vegas in the 90s, when it was known for these classic theme hotels. So much fun to see the kitschy grandeur and take photos.
If you're looking for Instagram photo locations in Las Vegas, you can't beat the exterior of Luxor (the Egyptian hotel).
It's funny to see the Vegas version of ancient Egypt, after going to the actual Avenue of Sphinxes and posing with the real statues.
Yukiro and I also saw the real Great Sphinx in Giza… The Luxor version still has his nose and color.
A 90s outfit vibe with baby braids and Matrix sunglasses. My houndstooth black and white dress is by Sourpuss Clothing, and the platform sandals are Anthony Wang.
The interior of Luxor has just as many photo ops.
The slanted pyramid walls, neon lights and hieroglyph etchings are cheesy fun.
Casinos have changed a lot since the 90s… the slot machines are digital now, and there is no handle to pull down. (I lost $10 total, oh well.)
Do you have a favorite Las Vegas theme hotel?
The elevators go up at an angle because of the triangular sides!
Walk like an Egyptian. From Nirvana Hotel, you can walk to other classic Vegas hotels…
…like Excalibur (King Arthur Medieval castle themed), and New York, New York. I couldn't resist riding the red roller coaster.
Viva YASSS Vegas, can I get an amen? More to come from my Sin City adventures, including restaurants and a road trip to Valley of Fire! For videos of the action, find me @LaCarmina on Instagram.