Fabulous Las Vegas sign! Escape It: Jason Egan horror escape room review, Cemetery Pulp oddities Goth shop, Transfix art.
Welcome to the Fabulous Las Vegas, Nevada! Couldn't resist mugging for a photo at the classic sign, which was erected in 1959.
Photographer Joey Wong and I were here to report on how Sin City has become a wonderland of interactive and immersive art…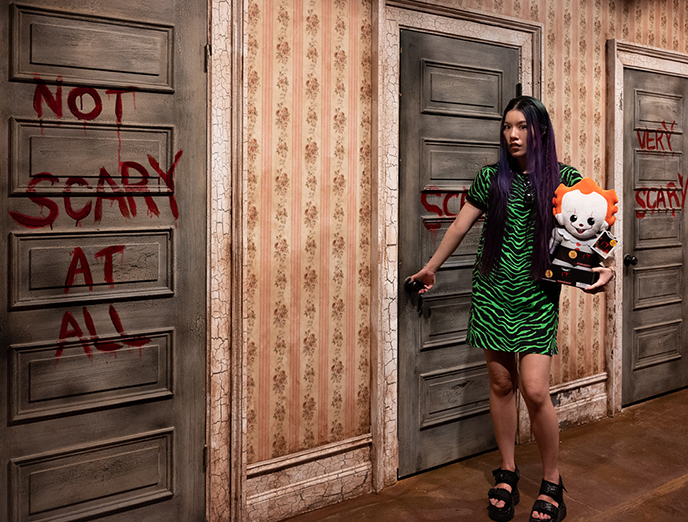 … which includes experiences like Escape It, a next-level escape room that makes you feel as if you're a character in the clown horror movie and novel!
I wrote about Vegas' grandiose multisensory art attractions for the new issue of TravelAge West magazine, out now in print and online here with photos by Joey Wong. Read on for a more in-depth, personal look at our interactive adventures in Sin City.
Jason Egan's Las Vegas escape rooms have been elevating the genre by dropping you into fully immersive worlds of horror. His latest big-budget production, Escape It, is possibly the world's largest with 16 rooms spread over 31,000 square feet. (The gigantic space also exhibits props from the Warner Bros hit movie, including Pennywise's costume!)
The exit game is based on It, the diabolical horror novel by Stephen King and its 2017 film adaptation. As a fan, I was impressed by the level of care and detail that went into the design starting from the moment you arrive. Escape It takes place in what looks like a plaza in the town of Derry (where the clown ran rampage), complete with the movie theater, Paul Bunyan sign, and Public Works building.
Outfit deets: Dress is by Sourpuss Clothing, backpack by Cyberdog, platform Goth sandals Anthony Wang, sunglasses DMY by DMY Billy.
Even the check-in process is immersive: we felt as if we were sewer-search volunteers getting oriented, and the staff never broke the fourth wall. They even claimed to not see a red balloon behind the counter, much like the experience of the children in It (only they could see the blood and horrors).
(The venue displayed official memorabilia from the WB movie, including the paper boat that little Georgie floated to the sewers, leading to his death.)
As I write in my new TravelAge West magazine piece: "Jason Egan started his career in his teens as a Nebraska haunted house creator. When he moved to Las Vegas, he combined his flair for the macabre with the escape room format." 
"His team built detailed, multi-sensory sets based on Stephen King's It, including foggy sewers and a soil path that winds through foliage to a decrepit house."
(He kindly let us take some photos inside as media — as you can see, the Neibolt house design and lighting are chilling.)
Beware of the clowns, as you solve puzzles that unlock new clues and doors! Joey and I are escape room veterans, and we were dazzled by the creativity of the puzzle designs. Escape It pulls out all the stops when it comes to cinematic effects, and uses terrific actors to guide or scare you throughout.
Players will get goosebumps from the innovative frights: a slaughterhouse gives off a meaty scent, and a panel bursts open to reveal the killer clown Pennywise!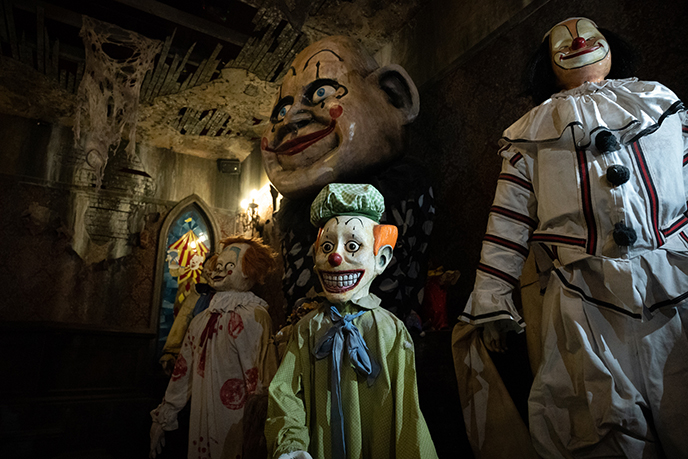 If you survive to the end, you can continue the journey with Jason Egan's other Las Vegas horror escape rooms themed after The Blair Witch Project, Saw, and It Chapter Two.
After surviving the clown attacks, we played arcade games and posed with movie memorabilia — including these original doors marked Not Scary At All, Scary, Very Scary! You can also pick up merch like a kawaii Pennywise plush.
Escape It was a frightful delight, and I mean it when I say it's the the best escape room / horror experience I've had to date. I can't wait to come back to Vegas to descend into Jason Egan's other worlds of horror (make sure you reserve tickets in advance, as spots sell out fast).
Sin City has plenty of other attractions for those with a Gothic disposition. We stopped by Cemetery Pulp, an oddities store that brings "all that is weird, nerdy and off the wall to the people of Las Vegas."
We were greeted warmly by the owner, who is always delighted to tell the stories behind the vast collections of dark / Goth homewares, craft items, books, and other spooky 'tings.
Cemetery Pulp is a Goth's dream shop (or nightmare?). There's even a Dracula coffin for photo ops!
You'll find many devilish handcrafted treasures, like this wood inverted cross coffin container.
How about a passport to Satanistan? It features the goat head in a pentagram logo (you can read about the origins of the symbol in my new The Little Book of Satanism!)
Las Vegas has become home to leading alternative conventions like the Body Art Expo for tattoos, extreme body mods, and suspension. The city also hosts leading music festivals like Sick New World (nu metal, alt-rock) and Cruel World (classic Goth, New Wave and punk).
Vegas' kitschy-weird vibe makes it a fab destination for travelers like me.
Cemetery Pulp has shelves of animal taxidermy, skulls, and wet specimens in jars. That's a pig stump with a tattoo on it!
This oddity shop truly puts the cult in culture. Shop til you drop at Cemetery Pulp, and say hi to the team for me.
After dark, you can experience yet another massive, fully immersive attraction — Transfix at Resorts World. The touring exhibition lights up the city with 50 gargantuan "participatory works" spread over 200,000 square feet. 
You're encouraged to engage with large-scale kinetic, sound, and light installations that respond to your body — like these helixes that glow as you move.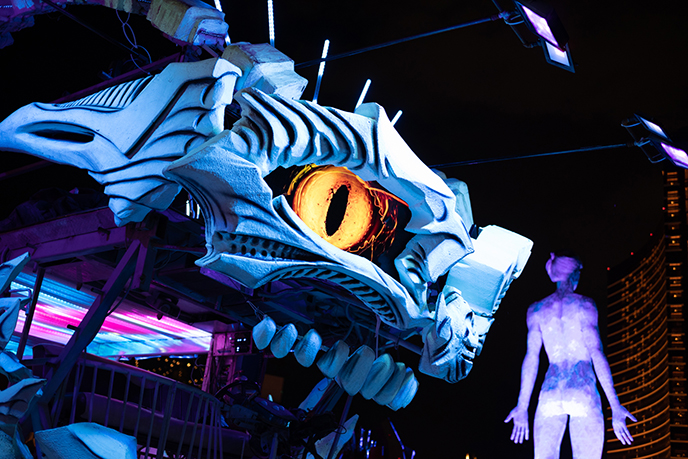 Many of the installations have an alien meets Burning Man vibe, and hit all the senses (this dragon-bus emitted neon lights and thumping EDM music). 
Great balls of fire! At Transfix, many of the works morph as you play with them, like a digital wall that creates unique patterns based on your dancing.
Love how everything is bigger in Las Vegas.
Transfix is a dazzling playground of immersive art — check it out at Resorts World hotel.
Finally, let's have a nightcap at an immersive bar: The Cabinet of Curiosities. Located at Horseshoe Vegas, it feels like a Victorian adventurer's lair with hundreds of bizarre curios from around the world.
Try a mezcal and chartreuse craft cocktail at The Cabinet, and then see if you can unlock the entrance to a second hidden speakeasy called The Lock. (You might have to crack the code to a safe, and do some crawling!)
Did you know that you could find Gothic / horror / interactive experiences like these in Las Vegas?
For more tips, see my travel writing for TravelAge West online here and in the print magazine. And thank you for reading my newest book with Simon & Schuster, The Little Book of Satanism!