Guide to visiting Super Nintendo World: Universal Studios Hollywood! The Broad LA, Keith Haring LGBTQ art exhibit.
It's-ah-me, Princess Peach! During my brief trip to Los Angeles, I took the warp tube into the new Super Nintendo World at Universal Studios Hollywood.
I've been a Mario fan since the 90s, when I played the original console with my cousins in Hong Kong… so visiting the Super Nintendo World theme park has been on my bucket list! Read on for tips for making the most of a Universal Studios LA visit (including tickets and early entry).
I'll also take you inside The Broad's Keith Haring exhibition, and The Getty museum.
Also, thank you for cheering me on as I took on my first game show – CTV's Battle of the Generations! Here's a 40-second compilation of my appearance on the TV gameshow, so you can see what I wore and get a sense of my Goth diva attitude.
Watch La Carmina on Episode 7 of Battle of the Generations on @LaCarmina YouTube.
The original Super Nintendo World opened at Universal Studios in Osaka, Japan (I wrote about the Japanese version for Time Magazine). Now, you can run/jump into the world of the beloved Japanese video game at Los Angeles' Universal Studios.
To get to the new Nintendo park, take the escalators to Universal Studios Hollywood's Lower Lot (at the north end), and go through the green warp pipe. (Cue the "tut-tut-tut" sound effect!)
Super Nintendo World does a stellar job at making you feel as if you're inside the video game. The big green entrance pipe has light effects and sounds straight from the games, and deposits you into Princess Peach's castle.
Ticketing info: Get tickets well in advance for Universal Studios Hollywood here. The price depends on the date and adult / child; I recommend going on a less busy weekday, and splurging on Express Passes so that you're guaranteed entry to Mario's universe. If not, make a Virtual Line reservation in the Universal Studios Hollywood app as soon as you arrive onsite. You can also get Early Access tickets to get inside Nintendo World before everyone else (7-8am).
Look out for the Little Goombas!
I dressed in the style of Princess Peach. I'm wearing a puff-sleeved long dress from a Shibuya 109 boutique. Wear good walking shoes, as Universal's amusement park areas are spread out.
As a super-fan, I was delighted by Super Nintendo World's design, which re-creates the game's platforms! Yoshi, the Goombas and Thwomp move around the landscape — you must see the video of the characters in action in my @LaCarmina Instagram reel.
Here's the reality of the setting — there are lots of people around, as this is a popular new attraction. Be sure to wear lots of sun protection (I had a hat and sunglasses, but took them off for photos).
Universal Hollywood currently only has a Mario Kart ride that uses special goggles, and the lineup can be well over an hour (you can't use your Express Pass to skip the queue). If you're keen to race against Bowser on Rainbow Road, I recommend that you arrive early and get in line straight away.
Also, if you want to eat cute food at Toadstool Cafe, head there as soon as you can to make a reservation. The spaces fill up fast for the dishes decorated to look like power-up mushrooms and other characters.
Visitors can also buy a Power-Up Band (worn like a wristwatch) to play games, such as hitting question blocks to collect digital coins and stamps.
I was happy just to take in the vibe, and feel nostalgic for the 8-bit days of Mario and Luigi. Melissa, Eric and I also shot a fun video of the Super Nintendo World experience here.
If you aren't able to eat at Toadstool Cafe, you can still power up at the Character Drinks and Popcorn stand, which serves themed snacks.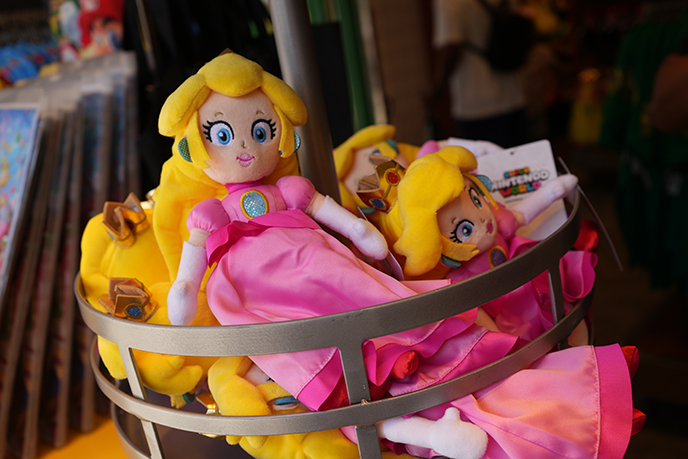 Here is my doppleganger, at the Universal Nintendo merch store. There are several shops within the theme park that sell character goods, including at Universal Studios CityWalk (so you can shop for items without purchasing passes and going inside the theme park).
Pick up a Super Star box, Mario t-shirts and much more.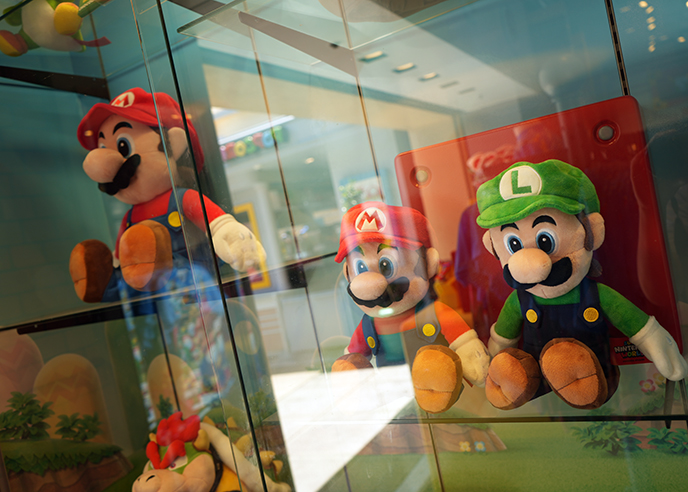 Universal LA's Nintendo stores have stuffed toys featuring the most popular mascots: Mario, Luigi, Peach, Yoshi, Toad…
… and this spooky cutie, Boo the shy ghost — a favorite of Japanese Goths!
I was pleased to see Boo items with "Teresa" in katakana テレサ. This is the ghoul's name in Japanese; it's derived from "tereru" 照れる, which means "to be shy."
Super Nintendo World has many colorful spots for taking photos. Don't miss my video on @LaCarmina Instagram to see me go through the pipes, and take you around!
Princess Peach had the time of her life at Super Nintendo World — thank you Universal Studios Hollywood for the express passes. Here's the info for buying tickets to Universal LA / Nintendo World. I recommend getting express or early access tickets, and hitting up the Toadstool Cafe and Mario Kart rides first to make the most of your visit.
My California adventure continued at the J Paul Getty Museum — a glorious center high up in the hills for experiencing art, architecture, and gardens.
The Getty Center has free entry (with online timed-entry reservations). Ever since opening in 1997, the grounds have been one of my favorite places in LA to hang out and see art.
I took my Boo to the Getty… how could I resist getting this Super Nintendo World t-shirt, featuring the Japanese ghost in black and purple! My plaid skirt is from a Tokyo vintage store, and my bag is Maison de Fleur.
The Getty Center is located in Brentwood. After parking, visitors must ride a free tram up the hills to reach the museum (it broadcasts a cheery tune, and has stunning views from up high). When you arrive, be sure to walk through the outdoor sculpture area and labyrinth pond.
The J Paul Getty Museum was designed by architect Richard Meier — here's the fountain in the courtyard. The modern curves, stone and glass create a feeling of solidity, while harmonizing with the building's natural surroundings.
The Getty Center has a variety of galleries, featuring artists from centuries past to today. I especially enjoyed the Tim Walker: Wonderful Things exhibition, which brings you into the fashion photographer's fantastical visions.
Avantgarde alien fairytales, yes please. Tim Walker's vivid photography (mostly from the 90s) is inspired by celebs and fashion muses, with LGBTQ themes.
The J. Paul Getty Museum has a generous trust for preserving art and supporting creatives. I'm glad that spaces like this are available for the public to access, free of charge.
Next time I'm in LA, I'll have to explore the Getty Villa in Pacific Palisades too.
Bring a camera to the Getty Museum, as there are many spots for taking pictures. The central garden is particularly photogenic, with a maze laden with hundreds of species of plants and flowers.
I also went back to The Broad art museum in downtown LA. The space-y white exterior was designed by Diller Scofidio + Renfro. Architecture-lovers can also admire Frank Gehry's silver panes at his Disney Music Hall across the road (remember when I did a shoot here?)
Until October 8th, you can catch a special exhibit at The Broad — Keith Haring: Art is for Everybody. The show features 120 works by the contemporary American artist, known for his dancing figures and energetic squiggles.
Here's a portrait of Keith Haring in front of one of his signature murals. He studied at the School of Visual Arts in New York in the late 1970s, and was prolific until 1988 — two years before he died from AIDS-related illnesses.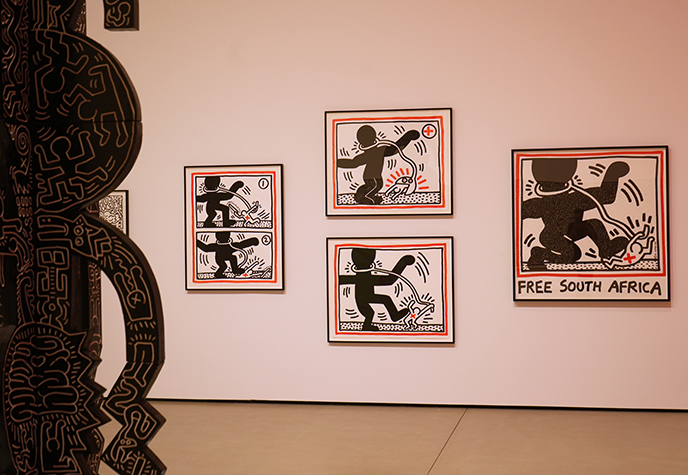 Haring's art often has a pop culture cartoon vibe, yet reflects on global / societal issues — apartheid in South Africa, capitalism, religion, technology, and the environment (he was well aware of The Collapse, even back in the 80s).
Many of Haring's paintings speak up for LGBTQ rights and AIDS awareness. (We shot an Instagram video about the exhibit — please watch it here!)
Keith Haring's vivid linework and colors draw in the eye, and never shy away from controversial themes.
Haring was known for his murals, and many of The Broad's pieces are gigantic, such as this nuclear commentary.
Barking dogs and dancing figures with movement lines recur in his works.
Down with the patriarchy! I see allusions to religion, money, and social chaos.
Outfit details: disco pants by AmyLynn Clothing, black crop top by UK Tights.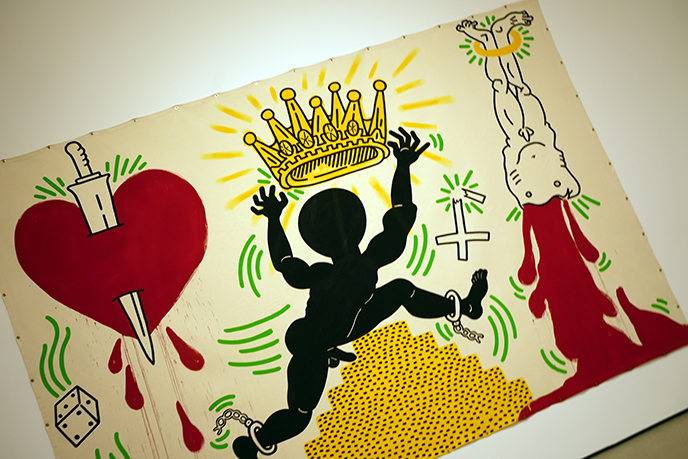 Are you familiar with Keith Haring's works? Leap at the chance to see his show at The Broad until Oct 8.
The Broad LA has free general admission (including the Yayoi Infinity Mirrored Room), but you must reserve timed tickets in advance. The Keith Haring show is an extra $22, but entry is free Thursdays from 5-8pm with a reservation.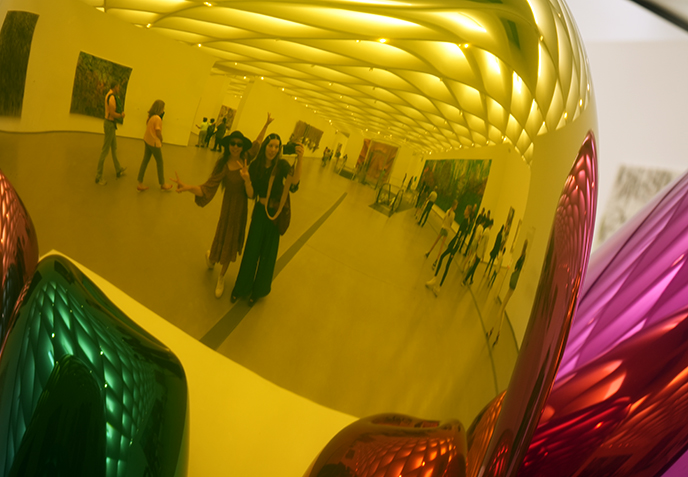 For more images from inside The Broad art museum, see my post here. Photos and videos by Eric Bergemann and Melissa Rundle — don't miss our reel of the Keith Haring exhibit.
I leave you with a Studio City palm trees pic… Disco pants by AmyLynn Clothing, crop top by UK Tights, sunglasses Sam Edelman.
Dreaming of being back in California soon… I will do my best to make it happen!