Las Vegas' hippest & most creative restaurants! Best Friend by Roy Choi, Block 16 food hall, Lago fountain view, Skyfall bar.
"Live life in full bloom" — yasss to this motto! During my time in Las Vegas, I got inspired by the fabulous art exhibits and restaurants at Park MGM hotels, which I'll show you in this post.
Read on to see how I "lived deliciously" at Sin City's most creative restaurants… such as by eating truffle pizza with a patio view of the Bellagio fountain and "Eiffel Tower!" (Photography by Joey Wong.)
I first visited the Bellagio in the 90s, and remember that it was "the" hotel of the time. 25 years after opening, the Bellagio remains one of the most artistic and luxe destinations on the Strip — thanks to its revamped amenities and intriguing works of art found throughout the hotel.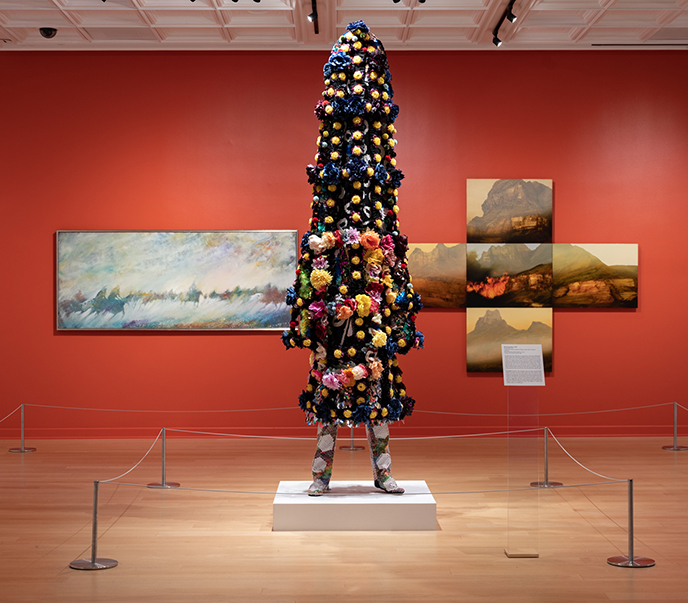 The Bellagio is known for its Conservatory, an elegant glass dome filled with plants and flowers. For a special occasion, you can rent the Garden Table and dine while surrounded by botanical art.
The Bellagio's Gallery of Fine Art also brings in works by BIPOC and international artists, curated around a theme. Above is Nick Cave's Soundsuit, a wearable sculpture that emit sounds when someone wears it and dances (the artist first made one in response to the 1991 beating of Rodney King).
Become part of the picture by gazing into Michelangelo Pistoletto's eight-panel Color and Light mirror painting. Wearing an eyeballs puff dress by Sourpuss Clothing.
The Park MGM hotel group has some of the most outstanding celebrity chef restaurants in Las Vegas — including Roy Choi's Best Friend. I had heard rave reviews of the LA chef's Korean-Mexican fusion menu.
From the moment I saw the vibrant design — neon lights, bright yellow accents — I knew I was in for a dinner to remember.
Roy Choi's Best Friend is a love letter to his childhood in LA. The restaurant looks like a funky convenience / liquor store, much like the ones run by his family when he was growing up.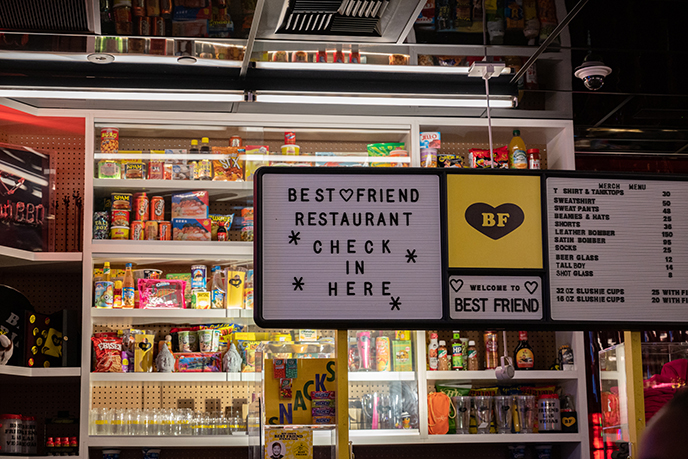 The staff wore street style, and the check in counter fit with the theme — a nice departure from the formality of most fine dining places.
We were seated at the special booth adjacent to the kitchen, so that we could watch the team at work. And look who came to say hi… Chef Roy Choi! (Perhaps you recognize him from his appearances on Anthony Bourdain's No Reservations show, something we have in common.)
Roy Choi first made waves with his Korean street food truck, Kogi. Best Friend serves these creations and other grilled delights, like bone-in kalbi or BBQ beef short ribs that come apart in your mouth.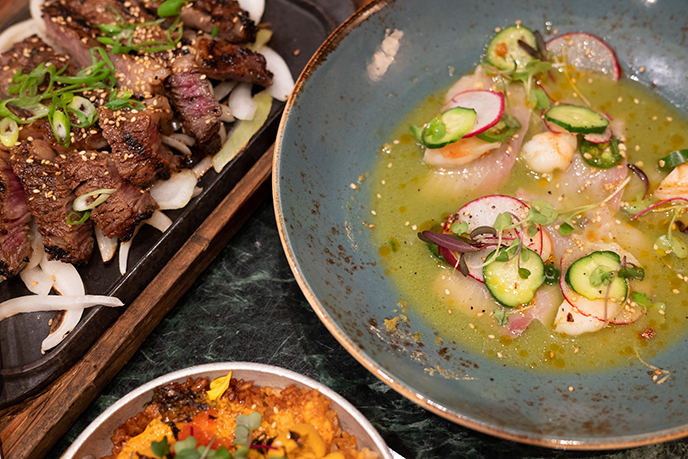 You can order Korean favorites for the table to share, like banchan (small dishes of vegetable appetizers) and house-made kimchi. The hamachi aguachile was a citrus delight.
The sunny menu is filled with snapshots of Roy Choi as a child, and with his high school friends. Try the slushies and "dranks" like this fresh watermelon cocktail with sesame-infused tequila.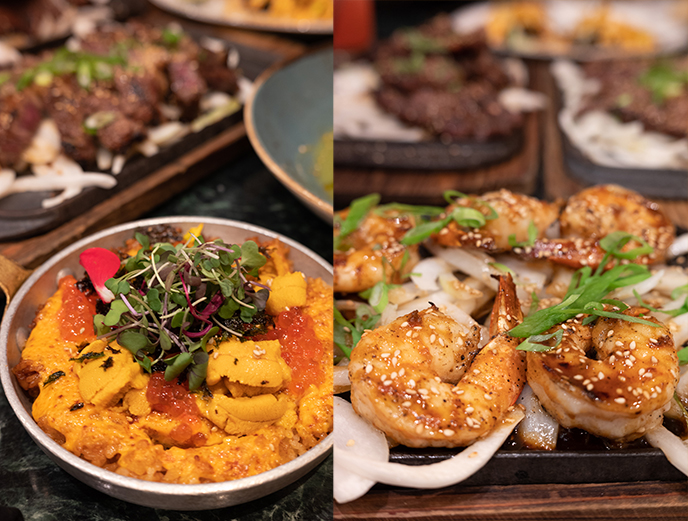 In addition to signature barbequed beef dishes — like bulgogi-marinated prime ribeye — Best Friend has "umami" seafood options like yuzu shrimp and uni dynamite rice (with salmon roe, sriracha, and yuzu. It was one of my favs).
If you splurge on only one restaurant in Las Vegas, make it this one from our new best friend, Roy Choi!
In the 90s, Las Vegas was all about kitschy themed hotels. Now, you can stay in a sleek, designer suite like ours at Vdara Hotel. The stylish rooms are enormous and come with a spa-like bathroom, living room with a work station, kitchen, and picture window views of the City Center.
Vdara is perfectly located by the Strip, and quick walk to the fashionable Cosmopolitan Hotel. Las Vegas' dining options can be on the pricy side, so I was eager to chow down at Cosmo's Block 16 Urban Food Hall. The elevated food court includes Bāng Bar by Momofuku, and Portland sandwich shop Lardo (I'm still salivating over their grilled cheese with beef rib burnt ends!)
Block 16 is home to local Japanese favorite Tekka Bar. Sit at the counter and sip on sake, while watching the chefs prepare hand rolls.
Tekka's hand rolls are stuffed with the freshest spicy tuna, blue crab, yellowtail, salmon, lobster, and more.
Don't leave Block 16 without ordering the freshly-baked cinnamon roll at District Donuts, a New Orleans institution. Joey and I still talk about the perfection of the warm, spiced interior and bruleed icing… I'd fly back to Vegas just for another bite!
For an "only in Vegas" experience, reserve a table on the patio for lunch at The Bellagio Hotel's Lago. The elegant Italian restaurant overlooks the Paris Hotel's Eiffel Tower and balloon, and Bellagio's dancing fountains show (the water spurts in patterns and moves to the sound of music).
Chef Julian Serrano offers a fresh, coastal Italian menu at Lago. The heirloom tomato and mozzarella salad was full of flavor, and this is one of the best salmon and hamachi crudos I've ever had (the citrus and seaweed crunch were on point).
When in Sin City, you might as well indulge in pizzetta with black truffle shavings!
Lago's desserts — like a classic olive oil cake with roasted grapes and rosemary gelato — are a sweet finish.
You know I love the 1980s and 1990s (the height of civilization before The Collapse)… so I felt right at home at Retro by Voltaggio, the newest restaurant at Mandalay Bay.
True to its name, Retro fills its enormous space with nostalgic toys and doo-dads from millennial childhoods. (I had the Lite Brite, and played Uno with my cousins!)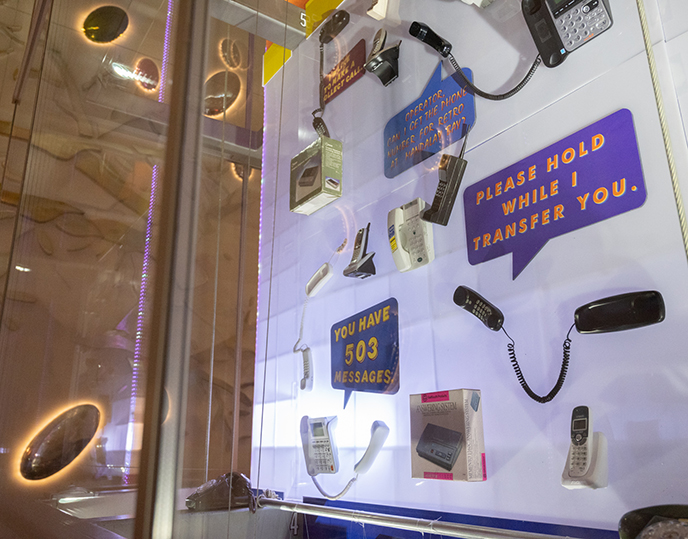 My mom's giant brick cellphone from the early 90s remains my favorite cellular device to date.
Retro is the vision of brothers Michael and Bryan Voltaggio. Both are celeb chefs, and Michael is the winner of Top Chef season 6.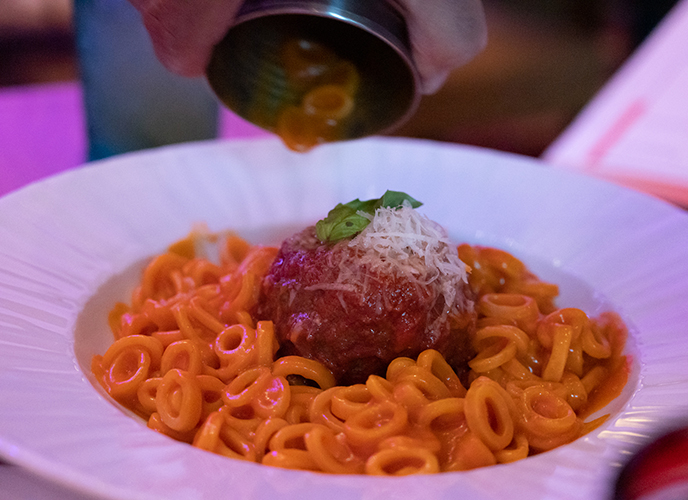 The Voltaggio brothers based their menu on the Americana fare they ate growing up. For example — SpaghettiOs get a glow-up, but still come out of a can!
The dishes include deconstructed versions of snack foods, and creative combos like this cheesecake and crème brûlée in one. (All photos by Joey Wong.)
For drinks with the best views over Vegas, drop in on Skyfall at the Delano. The 64th floor bar looks over the Luxor pyramid and other lit-up landmarks.
We were impressed with the Tour of the Sky craft cocktail flight, which incorporated unexpected ingredients like beer. Perfectly paired with French / Italian cuisine from celebrated chef Alain Ducasse (his restaurant Rivea is next door).
The creamy lobster risotto, tender steak and warm chocolate souffle at Skyfall were to die for.
Thank you to Vdara Hotel and the Park MGM team for the taste of your impressive art and dining experiences.
A few final snaps from Las Vegas… Akhob by James Turrell was closed for renos so we couldn't visit the art exhibit, but we were able to see his public light installation at The Shops at Crystals.
Kawaii fans, Vegas has a Hello Kitty Cafe…
And here's the Mantis sculpture outside the Downtown Container Park. For more Sin City alternative travel tips, check out all my Las Vegas posts here.
Did you realize Las Vegas had such fabulous art exhibitions and restaurants? Which of the dishes featured in this post would you most like to try?