Search Results for:
abu dhabi
Ready to ring in the New Year?
If you've been following my blog for some time, you'll know it's time for my annual Year in Review. This gives me a chance to reflect on the past 12 months, and share some bonus photos with you. So let's head straight (or gaily forward, as my friends would say) to the first half.
My site's focus and projects grew significantly in 2013. At this point, I'm traveling at least once a month to a far-off place, usually with my film team or a TV show. It's my passion to report first-hand on alternative cultures around the world.
Last January, I escaped the cold at Miami Art Deco Weekend. I caught up with friends and did this retro 1920s photoshoot with Mayleen G. Enjoy the Florida posts, including a Bettie Page runway show, in this category.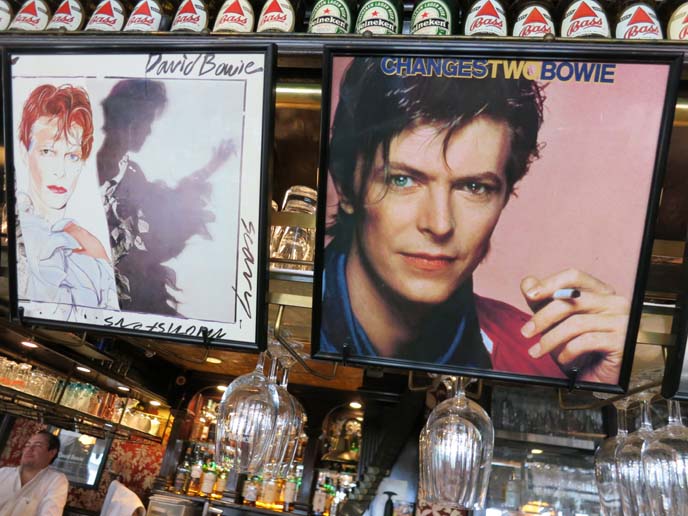 I'll never tire of going to Tokyo. I continue to be in Japan several times a year for television hosting and arranging jobs. Each time, there's something new to experience, like the David Bowie cafe, Alphonse Mucha exhibit…
… and King of the Pirates theme restaurant. Best of all, I get to have fun with my friends. (Interested in hiring us? Learn about our TV production and consulting services.)
Next, my filmmakers and I were invited to a very special place: the Maldives. We fell in love with eco-luxury resort Gili Lankanfushi, and I got to live out my Treasure Island fantasies. Here's our Maldives video and all the sunny photos.
We also landed in the Middle East for the first time. Dubai was a sci-fi wonderland, and I loved walking through the egg-like Grand Mosque of Abu Dhabi. Discover the Arabian peninsula's grandeur in these blog posts.
There's no need to jet to far-off places to have an adventure. I featured my home country – Canada – in a series about Montreal's Goth culture and Kinetik Festival. One of the highlights was bagel-tasting with Aesthetic Perfection's Daniel Graves.
It appears a lot of people read my site for the Hong Kong travel guides, which makes me happy. This city is full of energy and pop culture oddities, like cute food and giant floating ducks. (Intrigued? Then see my Hong Kong tips.)
I leave you with an image from Shinjuku's Hanazono Shrine. Shinto worshipers write wishes on these little wood plaques (called ema), and leave them for the kami to hopefully deliver.
On that note, do you have any New Years resolutions? What do you hope to achieve or improve in 2014?
I think we can all resolve to take care of ourselves, do meaningful work, and treat our furry companions like the kings they are! I'm shooting everything with DSLR now, so you can expect more images like the one above.
Coming up next: part II of my annual reflections.
Are you ready for my travel team's newest video? You're in luck: our Dubai and Abu Dhabi episode is published on Business Insider, one of the world's most-visited news sites!
In this 4-minute webisode, I visit the world's tallest tower (Burj Khalifa), largest shopping center (Dubai Mall), highest-rated hotel (Burl al Arab), and more. There's even a dressing room montage scene, featuring glittery dresses… you don't want to miss this!
Watch our video above and here on Business Insider.
We feel our story-telling is getting stronger each time, and want to thank you for supporting us over the years. Any share or comments on the article would be much appreciated.
Super happy with the cinematography in this episode. Major props to my LA-based filmmakers, Melissa Rundle and Eric Bergemann.
I'm glad to have them with me on my journeys to far-off places.
I hope our blog posts and videos give you a taste of wanderlust, and that you'll witness these Arabian marvels someday.
In the second half of the video, we visit the famous Sheikh Zayed Grand Mosque. The white minarets reminded me of hard-boiled eggs or scoops of ice cream!
Opened in 2007, the mosque is considered one of the most beautiful on the planet. Look at how the water reflects the graceful columns.
Let me warn you, there's a dress code… Clothing should be loose and fully cover the arms and legs. Women must wear a veil.
I thought I dressed according to the rules — until filmmaker Eric pointed out that my long lace skirt was see-through! No need to fret: women and men go into separate lines at the entrance, and receive a long, flowing garment (abaya) to put over their clothes.
The men wear white, and the women wear black robes with hoods.
Gold and flowers everywhere. The mosaic courtyard is the biggest in the world.
Indescribable, the way the light reflects the curves of the arches and minarets.
Inside, the hall of worship glitters with stained glass and crystals.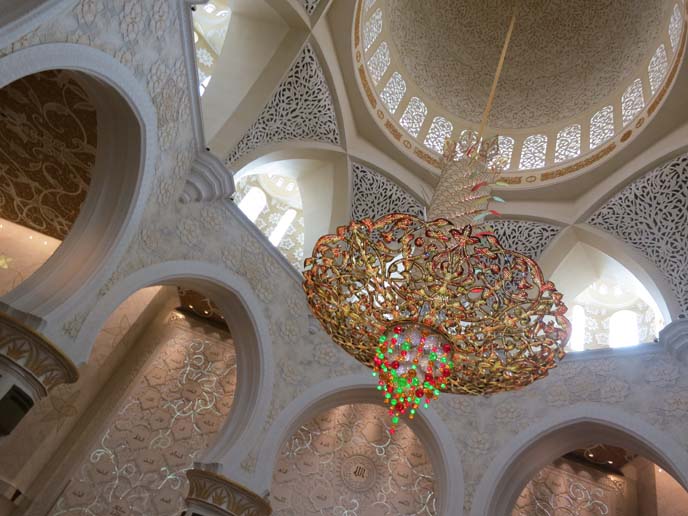 There are seven chandeliers, and the main one is one of the largest ever made. The prayer hall is air conditioned, so the space feels as airy as it looks.
The 99 names of Allah are written on the wall in Kufic calligraphy.
Everyone takes off their shoes outside before stepping on the world's largest carpet.
Thank you to my filmmakers, Melissa and Eric, for their hard work in bringing these travel videos to life!
We hope you enjoy the latest episode about the United Arab Emirates. Please take a minute to watch and share.
Are you awed by Abu Dhabi's Sheikh Zayed Mosque? What were your favorite moments in the video?
PS: the gorgeous hotels featured in the video are Fairmont Abu Dhabi and Fairmont Palm Jumeirah. We loved staying with them. Here are more photos of the interiors and me wearing a veil.