Search Results for:
casa de campo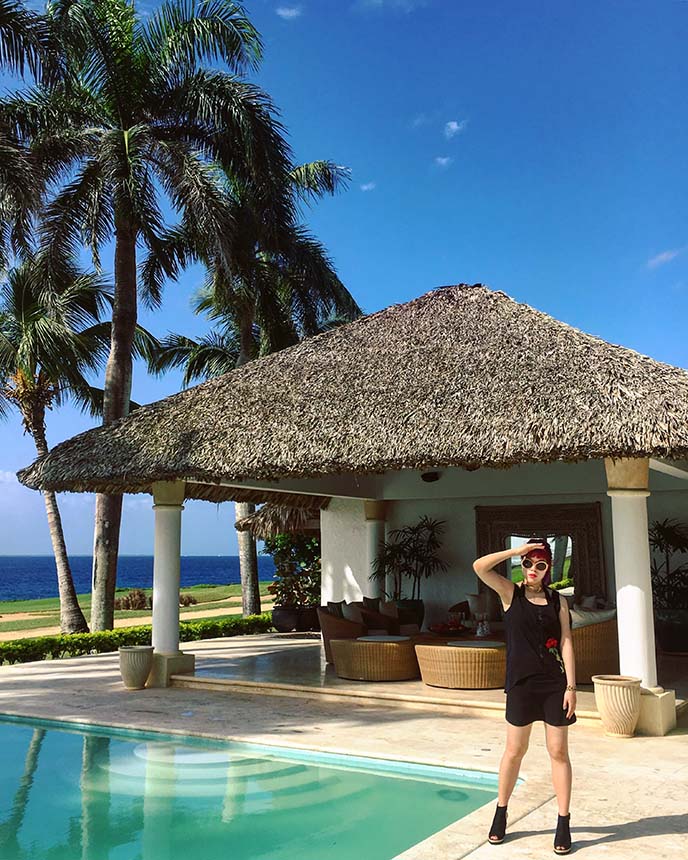 Coming at you… from my rock star villa in the Dominican Republic! I don't know about you, but I'm ready to move in.
In my first post, I introduced you to the elegant Casa de Campo resort. We'll kick things up yet another level: with a look at their tropical villas for rent, and activities including skeet shooting and horseback riding!
We'll also bask in the white sand and waves of Minitas Beach and Catalina Island, aka paradise on Earth.
Casa de Campo is in located in La Romana, which is considered the most exclusive and beautiful area in the country. Quite a few celebrities own mansions or vacation here regularly; perhaps you might recognize the names Drake, Beyonce, J-Lo, A-Rod, Jay-Z.
When you step into this backyard of dreams, overlooking the Caribbean Sea, it's obvious why this is an A-list destination.
Casa de Campo has multiple Oceanfront Villas available for rent. They each have bright bedrooms filled with modern decor, and a state-of-the-art kitchen.
The star of the show, however, is the long outdoor pool flanked by a luxurious gazebo. 
I could laze in this open-air lounge all day, reading a sci-fi novel. The space is airy thanks to the peaked roof and ceiling fans.
CDC's villas are decorated in muted Caribbean colors, which match the elegant natural surroundings. The wicker furniture is accentuated by local crafts and glasswork.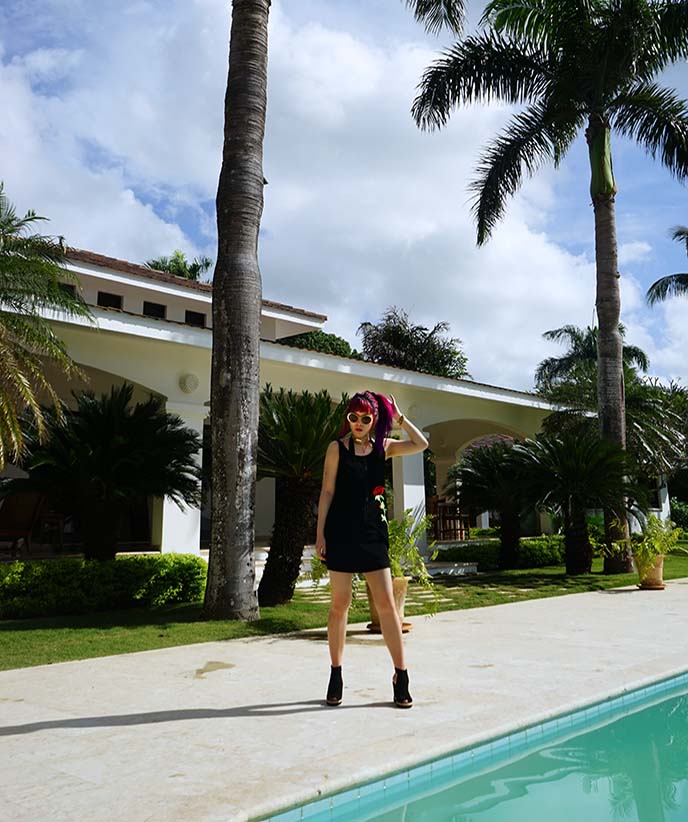 OOTD: I'm wearing a rose tank top by Jawbreaker London, sunglasses by House of Harlow, and black platform velvet sandals by Le Babe. (Shop more styles by Le Babe shoes with a click below:)

Photographer Molly Weingart and I daydreamed about living here in style.
As villa guests, we'd have access to maid and butler services, and a culinary staff that prepares daily breakfast in the kitchen.
The most difficult decision you'd have to make is whether to dip into the swimming pool, the Caribbean sea…
Or the pod-like hot tub next to the bedroom patio.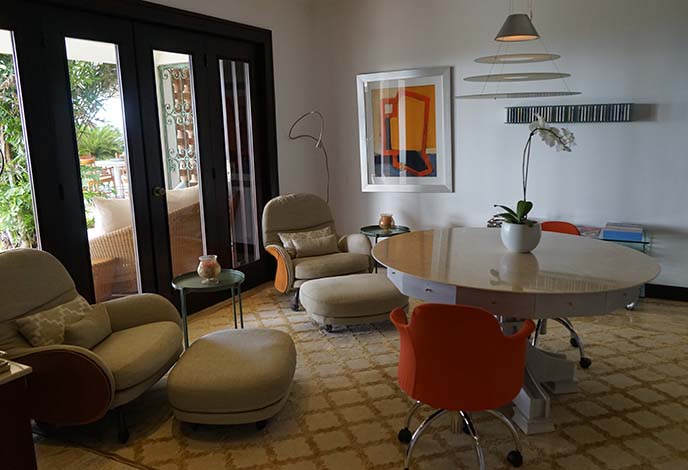 We'd never get bored indoors, with these pop-modern rooms. The villas are equipped with a sauna, full gym, and private cinema with theater seating.
"Scarface" vibes, in the central living room that is set up to entertain guests.
Molly and I loved the artistic details that make each villa unique. This handcrafted mahogany bench and rainbow canvas formed the perfect photo backdrop.
Casa de Campo makes the most of the Dominican Republic's tropical beauty. They also offer Garden Villas for rent, with lush natural surroundings as well as a swimming pool.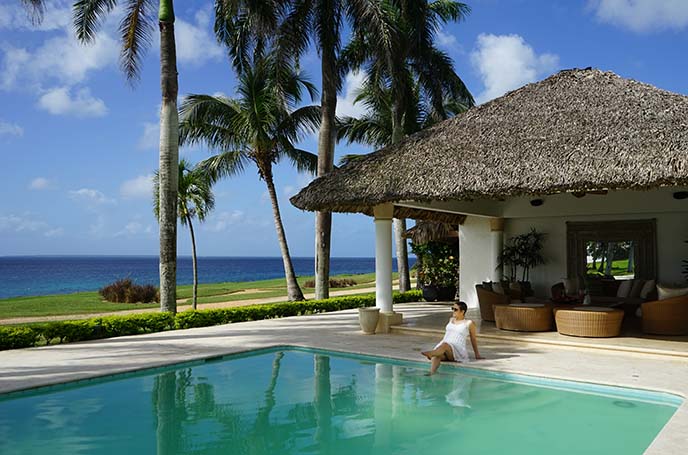 Although you'll feel like a millionaire, the villa rentals are actually quite affordable compared to others in the area (especially when split among a group of friends). Many guests rent a villa for Christmas and New Year's, hen getaways, or other occasions.
(If these photos make you keen to move in, there's more info on Casa de Campo's site.)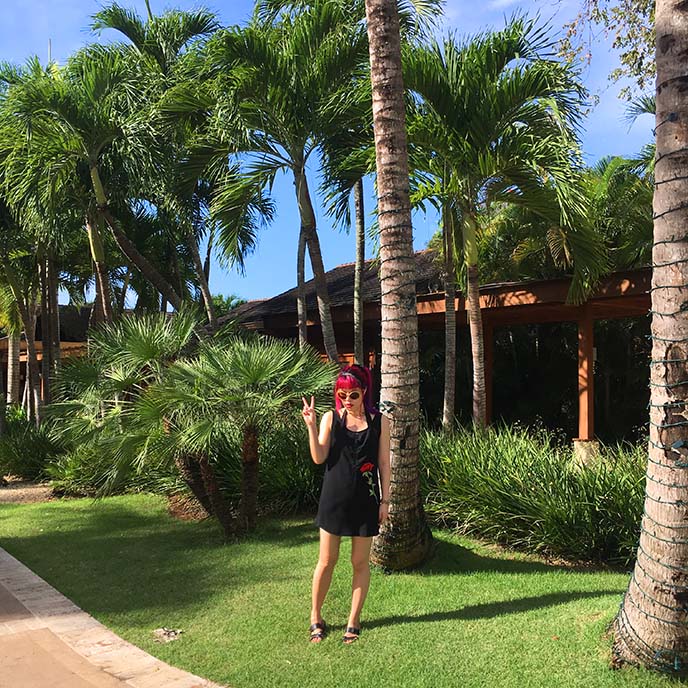 As guests of the resort, we had full access to "fun in the sun" activities — ranging from water sports to outdoor massages. Since Casa de Campo is a huge resort (at 7000 acres), we never ran out of options for activities, many of which are included in the package experience.
The Dominican Republic is known for its pristine beaches. One of the best is Playa Minitas, Casa de Campo's private beach. We drove here in our personal golf cart, and found ourselves on a quiet stretch of soft white sand.
At Minitas Beach, guests can try activities like snorkeling, kayaking, paddleboarding or windsurfing in these gentle waves.
Molly and I couldn't wait to wade into these clean, warm waters. This, right here, is my happy place.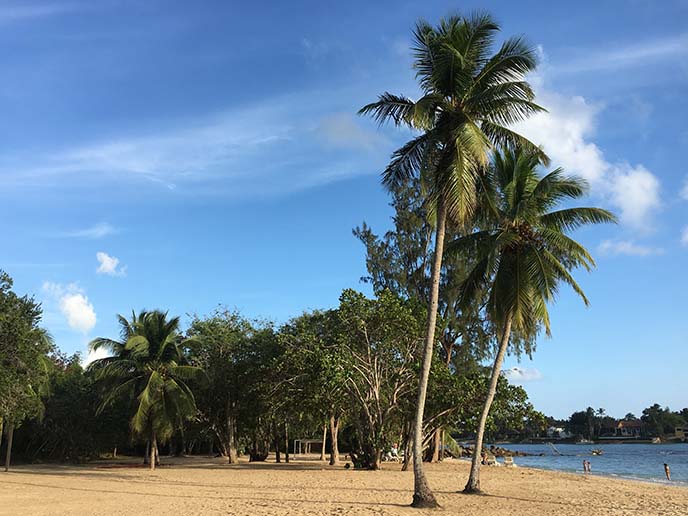 I've visited beautiful beaches worldwide (Maldives, Bali, Maui), and Minitas Beach ranks among the best I've ever experienced. Unlike other places in the Dominican Republic, this is an uncrowded and meticulously maintained spot.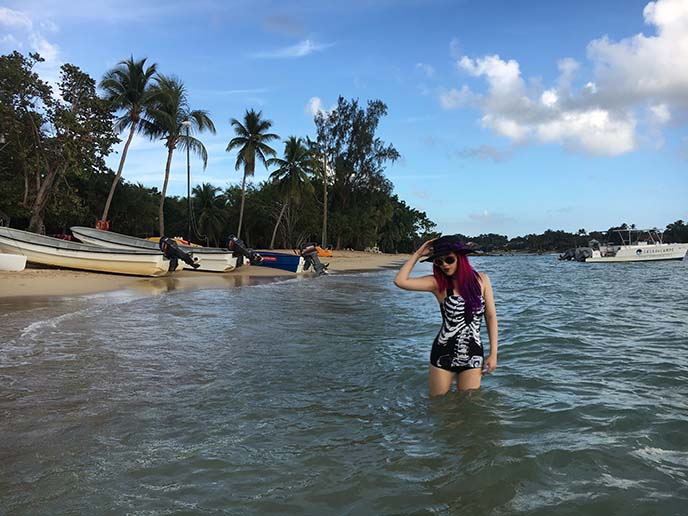 Casa de Campo offers free towel service at the entrance, and plenty of amenities including change rooms, several bars, and Minitas Beach Club restaurant (which we reviewed in this post).
(I'm wearing a skeleton swimsuit; similar one here).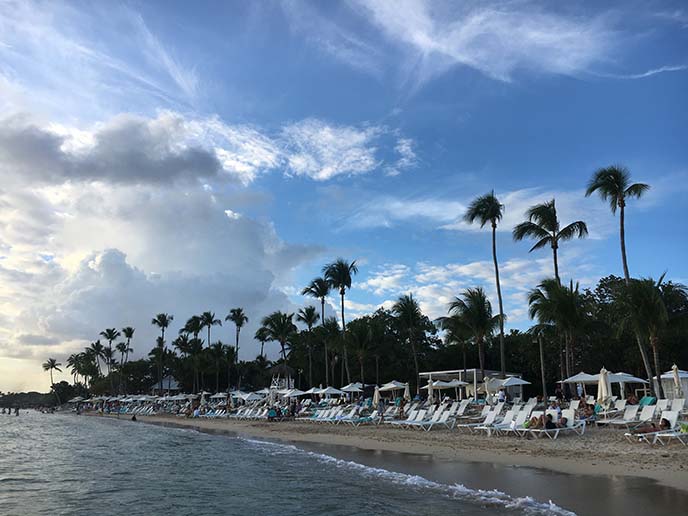 We alternated between dips in the crystal-clear waters, and lounging on the comfortable chaises under the shade of palm trees.
There weren't many tourists around, which let us feel as if were in our own Blue Lagoon.
If you stay until the sun sets, you'll get this spectacular light show over the horizon. 
We watched the sunset, while sipping their famous piña coladas served in a fresh, local pineapple…
I have to admit, I love being a "beach Goth" every so often!
Quite a few people recommended that we visit Catalina Island, and we were glad we took their advice. To get here, ask the Casa de Campo staff to help you make an advance booking for the catamaran ride. The boat departs from Minitas Beach and takes 25 minutes — and it's a fast and furious ride that made us smile.
We disembarked onto six square miles of beach paradise. No photo filters needed: the turquoise hues and perfectly clear waters are exactly what you get in real life.
Catalina Island is part of the Parque Nacional del Este, which preserves the diverse ecosystem that includes sand-dunes, mangroves, and reefs.
If you're a snorkeler, take a short swim from the pier, and you'll find calm waters teeming with sea life. 
Relaxing on Catalina Island turned out to be one of the best moments of our trip to the DR.
You may recall that we ate like queens at Casa de Campo, from sushi fusion to rustic Italian. To balance it out, we spent time in the fitness center, which has a large selection of weights and machines.
Guests can also book a private training session, or visit the physiotherapy center. Molly did a functional class with David, and says: "I went to the workout tired, but left feeling energized. David did a great job of assessing my strength. When he realized that I could do more than he had originally intended to give me in the workout, he adjusted it workout accordingly — all with a smile. I even got to learn how to say some of the exercises in Spanish!"
The resort also has regularly scheduled group fitness classes like Pilates, Zumba, Saco Box, Spinning, and aerobics. We woke up for the 8:30am Pilates class, and it was absolutely worth it. 
Molly's reaction: "Liliam was such a magical teacher. I felt like she saw my heart, and then just made my abs work hard! One of the things that I really enjoyed about her (and David, and fitness at Casa de Campo in general) was that there was a focus on wellness, so progressing an injury to advanced athletic performance could be done in one class. She exemplified this completely, as she took the extra time to show us those stretching machines that released the back."
The Spa was another place to rejuvenate both body and mind. Casa de Campo's spa uses traditional techniques and local, organic ingredients in their menu of treatments.
Molly booked the Signature Ayurvedic massage. She says, "Alexandra, the woman who took care of me, touched me with such kindness and knowledge that the 90 minutes drifted by. I've been suffering from a pretty serious injury and she did a great job of handling the tension around the muscles to release some of the pain."
I agree with her words that "The staff at Casa de Campo was spectacular. That's an understatement. They made you feel like you were at home with friends you just hadn't met yet. From checking in with Victor, to the bartenders who recommended we go to Catalina Island, and servers who pushed me to speak more Spanish… everyone just wanted to make us more comfortable and help us explore."
The all-inclusive package includes horseback riding. I was excited to get on a horse for the first time in over a decade.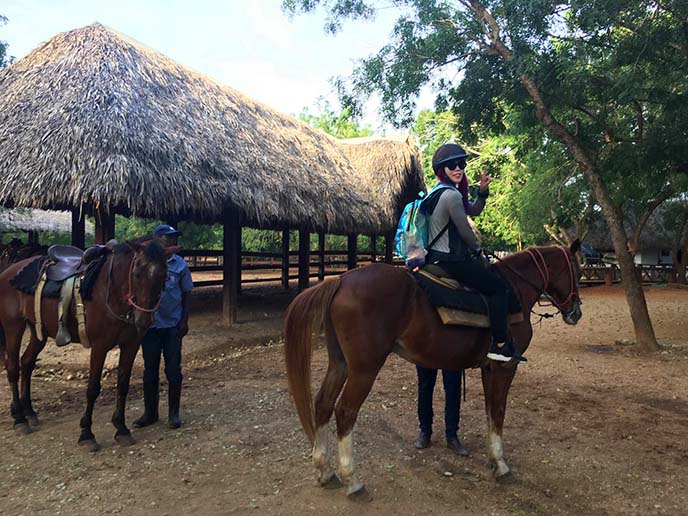 The horses are extremely well-trained, and will never dart off or disobey commands. We explored the ranch's lush pathways, by walk and trot.
I also got to try skeet shooting for the first time. The all-inclusive package includes 25 shots; it's nice how CDC encourages guests to experience new sports and activities that they wouldn't otherwise do on their own.
Our instructor was a kind, detail-oriented teacher who made us feel we were in safe hands. He patiently showed us how to use the two-barrel gun, which could hold two shots before requiring a re-load.
Skeet shooting means hitting clay targets that fly in the air. By pressing a button, he launched these disks from fixed stations, at a variety of angles and speeds.
I discovered that I'm surprisingly good at hitting clay pigeons. I credit this to my many hours of playing "Duck Hunt" on the original Nintendo console… the 1980s video game is remarkably good at mimicking the actual experience of skeet shooting!
Don't mess with travel bloggers. They learn skills on the job.
(Molly is wearing these Bulgari Serpenti sunglasses, and my sunglasses are for sale on my Depop.)
I've shot rifles in indoor gun ranges before, and didn't enjoy the experience much. However, an outdoor shooting center is a different story. Molly and I appreciated getting to know the history and skill of the sport, at one of the biggest centers in the Caribbean.
If you're a golf fan, then you might already know of Casa de Campo. The resort has three of the best golf courses in the Caribbean, if not the world: Teeth of the Dog, Dye Four, and The Links. We saw groups of golf buddies renting a villa together, and swinging their clubs in this postcard-perfect setting.
A big heart for Casa de Campo — Molly and I couldn't have had a better time in the Dominican Republic! Everything about the resort was as pristine as these waters, and the staff deserves a special mention for their kindness.
If these photos are convincing you to fly off to this beach, check out more info on CDC's website.
Winter… what's that? In early January, I escaped the cold by travelling to Casa de Campo Resort & Villas in the Dominican Republic!
With 7000 acres of palm trees, warm beaches, a marina, golf courses and activities — it's easy to see why Casa de Campo is one of the Leading Hotels of the World.
My photographer and long-time friend Molly Weingart accompanied me to the Dominican Republic. We wanted to be surprised, so we didn't do much research beforehand… and our jaws dropped when we saw this exquisite property. Casa de Campo isn't your typical all-inclusive; it's the most beautiful and luxurious resort on the island. 
(Outfit details: I'm wearing this exact Sunnydip black straw boater hat by Lack of Color. My skirt is h.NAOTO, and bra is Cyberdog.)
How to get here: Casa de Campo is a resort and community located in La Romana, on the southeast coast of the DR. Most international flights land at Punta Cana or Santo Domingo airport. From there, you can either take another short flight to La Romana airport, or have the hotel pick you up (the drive is about an hour long).
Casa de Campo address: Carretera La Romana – Higuey, La Romana 22000, Dominican Republic
Casa de Campo was established in 1974, but recent renovations have modernized the buildings with an airy, warm Caribbean feel.
From the moment we arrived, we were in love with the peaceful, authentic feeling of this five-star resort. There's nothing "touristy" or "Americanized" about the experience. Molly instantly bonded with the staff, who chatted with her in Spanish, and were always a step ahead of our needs.
Casa de Campo has a variety of rooms to choose from. Our home base was this spacious suite, with our own patio overlooking the tropical grounds.
(CDC has private villas for rent too. In the next post, we'll give you a glimpse of this rock-star living.)
As a "Mario Kart" fan, I was tickled to learn that every guest received a personal golf cart! Molly and I had our own little 4-passenger mini car, marked with our room number. This way, we could easily get from place to place (remember, the grounds span thousands of acres).
The carts also make sense because Casa de Campo is hands-down the best golf resort in the country, with three award-winning Pete Dye courses including "Teeth of the Dog."
It was quite the adventure to learn how to put the golf cart in reverse, turn on the lights, and avoid oncoming traffic. For the safety of everyone on the resort, I let Molly do the driving!
We went to the Dominican Republic in January, the pleasantly warm and dry season. The east coast storm brought brief rainshowers, but these let up quickly by the afternoons.
Even if it's raining, there's plenty to do indoors. Our comfortable room had fast wifi, a flat screen TV, and giant bathroom with a separate dressing room. I loved spending time soaking in the bathtub, which came with L'Occitane bath products including an effervescent cube.
There's also the option of going shopping. Casa de Campo's lobby opens up into a courtyard with several fashion boutiques. We loved the colorful selection of designer resort wear, and were tempted to get jelly spiked platform shoes by Carmen Sol. (She also makes the studded sandals below.)
Here's another look at my "tropical Goth" outfit, perfect for a relaxing getaway in the Caribbean.
I'm wearing this black straw sunhat by Lack of Color Australia. My long Japanese skirt is h.NAOTO, and bra is Cyberdog.
The sun is out — time to explore! Casa de Campo's all inclusive package is a stellar deal, especially if you're a foodie and enjoy trying new activities. 
With this package, guests get full unlimited access to the amenities including the swimming pools, fitness center, bars, and seven restaurants. You also get to experience horseback riding, skeet shooting, tennis and water sports (we'll show you the fun we had, in the next post!)
Can't go wrong with the main pool deck, featuring modern cabanas and an in-water bar. The resort's guests were very respectful (you won't encounter rowdy guys or noisy children), and you can always find a secluded spot to lounge.
Casa de Campo's common areas are also beautifully designed. High ceilings, rich mahogany and native stone create a relaxing tropical vibe.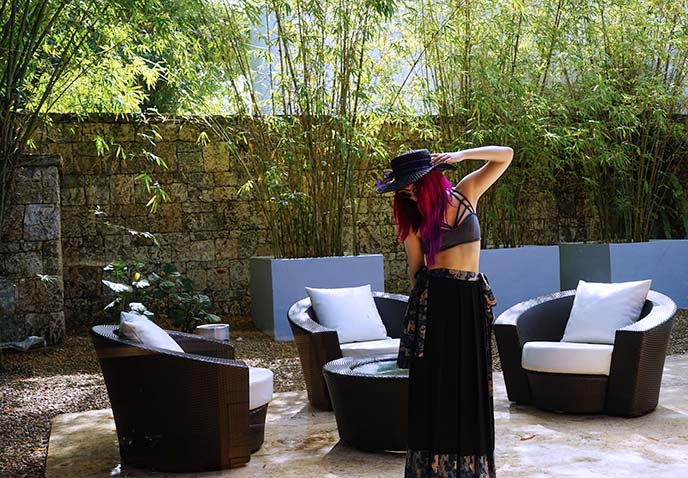 So many lounge areas to choose from! But first, a cocktail please.
The bar at La Caña is located in the main area of the resort, with both indoor and outdoor seating. The friendly bartenders quickly get to know you by name, and prepare your favorite drink with a generous pour.
La Cana bar is a popular gathering spot for guests, who come to watch the game on the big screen, dance to live music, or simply hang out on the L-shaped couches. Molly and I would often come here to grab a snack or drink, and chat with our favorite bartenders.
The Dominican Republic is known for its fruit and rum (Brugal, Barcelo, and Bermudez are local favorites). I combined these in the perfect tropical drink: freshly blended pineapple juice, with Ron Bermudez Aniversario dark rum! I also recommend their special "Coco Chanel" cocktail, a scrumptious mix of coconut puree, lime juice, white rum and black pepper.
On the right: the bartenders also brew up an addictive latte with perfect froth, served with home-baked cookies.
Unlike typical resorts, the dining at Casa de Campo is at a consistent high level. I got my "fish fix" at La Cana restaurant, and ordered Nicoise salad, grouper, and sea bass. All were prepared beautifully with Mediterranean flair.
I'm usually not a fan of buffets. However, once again, Casa de Campo reversed my expectations. Lago Restaurant served up probably the best lunch buffet I've ever had, with dozens of Dominican dishes to choose from.
You could have mahi mahi, chicken, and steak grilled up fresh — or choose from these bright Caribbean salads. Or try a bit of everything, as I did. The creamed pumpkin, sweet potato mash, coconut fish, and roast chicken… I'm still thinking of this meal today!
On the left, a snap of my pigeon beans and rice, chayote, avocado, and grill selections. We ended with tea and a selection of fruit and desserts; as you can see, I have a passion for passionfruit. 
Too stuffed to drive? Thankfully, the hotel bellmen can give you a lift any time. We discovered it's especially fun to ride on the backseat of a golf cart when you're a little tipsy!
We carted to the resort's newest addition, Minitas Beach Club. It's located right by the ocean, and features an open-air bar with minimal lines.
Molly and I immediately took off our shoes to wade in the 23 meter infinity pool. I love the modern, upscale design of the pool deck and lounge areas.
Minitas Beach Club also encompasses a casual oceanside restaurant. We sat down to panoramic views of the sand and waves, and sipped on rum with coconut cream. (Don't you feel relaxed, just looking at this?)
Minitas Beach Club Restaurant has a menu inspired by Mediterranean and Latin American cuisines. To match this casual beachfront, there's an extensive selection of fish served light, clean and bright — as well as a selection of vegan and gluten-free options.
We dined on arepas, fried plantains, ceviche, and burrata. A pleasure to listen to the sounds of the ocean, while dining on colorful salads and vegetable dishes.
As you can see, there are so many different areas to explore in Casa de Campo. The community also includes The Marina, where you'll find multi-million dollar yachts bobbing in the water. It's a charming area with art galleries, boutiques and restaurants amidst cobblestone paths.
After window-shopping at The Marina, we went to Pubbelly Sushi for what Molly calls the best sushi of her life. (She's planning to visit Miami, just so she can eat at their original location!) She says, "I thought they did a great job of respecting traditional dishes while playing with the creativity allowed in modern cuisine" — and I wholeheartedly agree.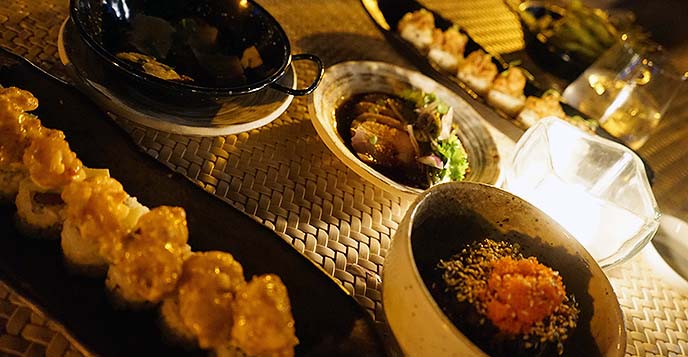 Our waiter, Cezar, suggested innovative dishes such as the Tuna Pizza (with crispy tortilla, garlic aioli, and truffle oil), short ribs gyoza, and Tigueraso sushi (shrimp tempura, spicy tuna, avocado). We were delighted by unexpected combinations like dates with chorizo, and brussel sprouts with miso.
Be sure to order the unique cocktails, made with Japanese spirits like umeshu, sake framboise and vodka-sake. And leave room for the berries and cream dessert of dreams.
We walked off the meal with a stroll in the Marina, and came across this metal statue. Molly's red dress made her the perfect dance partner for the bull.
On another evening, we revisited The Marina to dine at La Casita, a Spanish fine dining establishment. (As you'll recall, all these stunning restaurants are part of the Casa de Campo all-inclusive pack. The concierges are great at making reservations for all their guests.)
Casa de Campo is an elegant resort, and it inspired us to dress the part. We noticed that guests tend to be from European or Spanish-speaking countries, and are very stylish (I saw some beautiful jewelry, handbags and resort-wear!)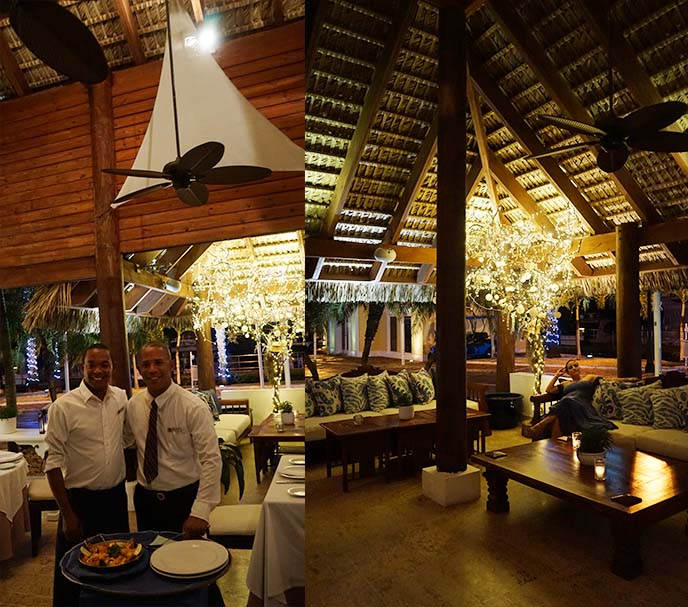 At La Casita, we ordered passionfruit rum cocktails, followed by sangria with fresh fruit. What a treat to sip these drinks under tall sail-like callings, while yachts pass by in background.
It was easy to choose our main course: seafood paella. The servers plated this beautiful mix of Spanish saffron rice and seafood at our table, and we finished up every last grain.
As we dined al-fresco, we got a visit from some furry friends. It looks like the cats want a piece of shrimp!
Finally, we rode our golf carts to Altos de Chavón, and found ourselves in a re-created 16th century Mediterranean village. This project as conceived by Dominican architect, Jose Antonio Caro, and Italian designer / cinematographer Roberto Coppa.
The quaint village includes a 5000-seat Grecian-style amphitheater that has held performances by Andrea Bocelli, Julio Iglesias, Sting and Carlos Santana.
Altos de Chavón is a cultural center that lets guests meet artists from all over the world. In the daytime, you can pop into studios dedicated to pottery, weaving, silk screening and other media. The village is also home to the Altos de Chavón School of Design, which is affiliated with Parsons in New York.
At night, St. Stanislaus Church glows next to sweeping views of Chavón River.
Since Altos de Chavón has a Mediterranean feel, it was fitting that we had dinner at this rustic Italian restaurant, La Piazzetta.
We entered what looked like a home in the Italian countryside, lit with candles. This sweet trio serenaded us with traditional songs, while we eyed the antipasti bar and handmade pastas.
Red wine, creamy black truffle risotto, and green pea ravioli with Parmesan… what else does one need in life? La Piazzetta's flavors are as lovely as anything I've had in Italy; in fact, this was the best pasta and risotto I've had in a while.
We continued with filet mignon and truffles, and melt-in-your-mouth tiramisu. Trust us, Casa de Campo's dining is outstanding and will satisfy even the most jaded foodie.
Back to La Cana bar for a nightcap, and some dancing! Every night, Casa de Campo brings in live music to the lounge. Singer Daniel Castro Arias showed us how to dance the bachata (a style of dance from the Dominican Republic).
The atmosphere got lively as more guests took to the dance floor. We watched them sing their hearts out to Toño Rosario – Dale Vieja Dale, while hopping back and forth — a memory that will always make us smile!
Casa de Campo was the perfect winter getaway to the Dominican Republic. The resort exceeded our expectations in every way, with world-class food and amenities in a picture-perfect setting. Now that I'm back in cold weather, I'm keen to return to the tropics as soon as I can.
PS: this is only Part 1 of our Caribbean adventures; stay tuned for the next story featuring the beaches and activities.