Search Results for:
dubai
Are you ready for my travel team's newest video? You're in luck: our Dubai and Abu Dhabi episode is published on Business Insider, one of the world's most-visited news sites!
In this 4-minute webisode, I visit the world's tallest tower (Burj Khalifa), largest shopping center (Dubai Mall), highest-rated hotel (Burl al Arab), and more. There's even a dressing room montage scene, featuring glittery dresses… you don't want to miss this!
Watch our video above and here on Business Insider.
We feel our story-telling is getting stronger each time, and want to thank you for supporting us over the years. Any share or comments on the article would be much appreciated.
Super happy with the cinematography in this episode. Major props to my LA-based filmmakers, Melissa Rundle and Eric Bergemann.
I'm glad to have them with me on my journeys to far-off places.
I hope our blog posts and videos give you a taste of wanderlust, and that you'll witness these Arabian marvels someday.
In the second half of the video, we visit the famous Sheikh Zayed Grand Mosque. The white minarets reminded me of hard-boiled eggs or scoops of ice cream!
Opened in 2007, the mosque is considered one of the most beautiful on the planet. Look at how the water reflects the graceful columns.
Let me warn you, there's a dress code… Clothing should be loose and fully cover the arms and legs. Women must wear a veil.
I thought I dressed according to the rules — until filmmaker Eric pointed out that my long lace skirt was see-through! No need to fret: women and men go into separate lines at the entrance, and receive a long, flowing garment (abaya) to put over their clothes.
The men wear white, and the women wear black robes with hoods.
Gold and flowers everywhere. The mosaic courtyard is the biggest in the world.
Indescribable, the way the light reflects the curves of the arches and minarets.
Inside, the hall of worship glitters with stained glass and crystals.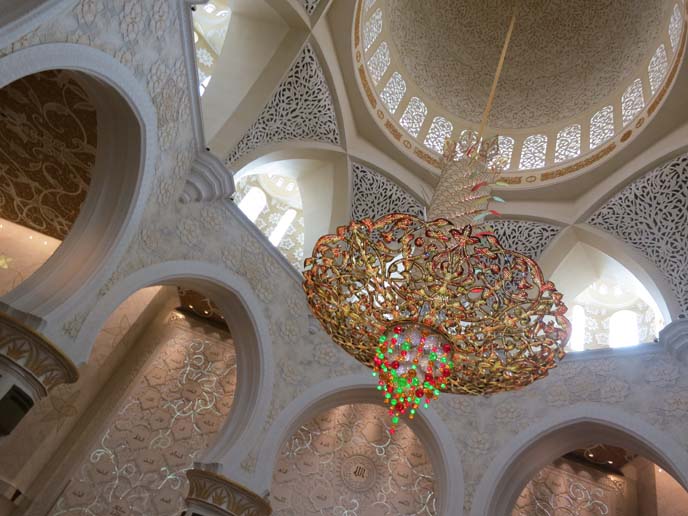 There are seven chandeliers, and the main one is one of the largest ever made. The prayer hall is air conditioned, so the space feels as airy as it looks.
The 99 names of Allah are written on the wall in Kufic calligraphy.
Everyone takes off their shoes outside before stepping on the world's largest carpet.
Thank you to my filmmakers, Melissa and Eric, for their hard work in bringing these travel videos to life!
We hope you enjoy the latest episode about the United Arab Emirates. Please take a minute to watch and share.
Are you awed by Abu Dhabi's Sheikh Zayed Mosque? What were your favorite moments in the video?
PS: the gorgeous hotels featured in the video are Fairmont Abu Dhabi and Fairmont Palm Jumeirah. We loved staying with them. Here are more photos of the interiors and me wearing a veil.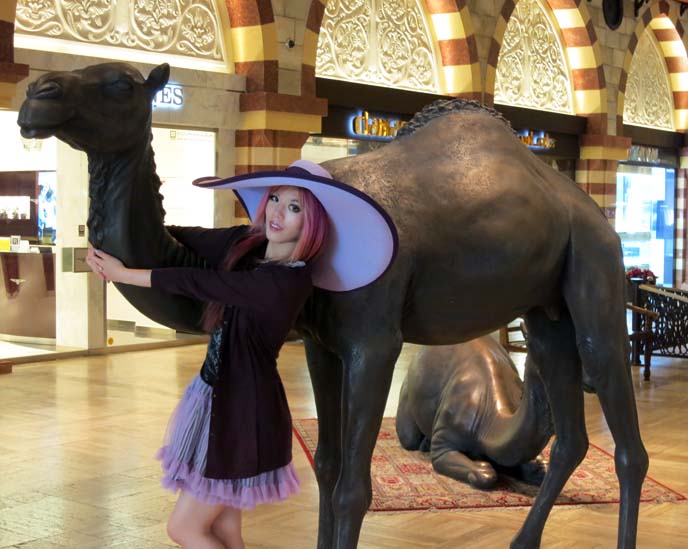 I tried hard to ride a camel in Dubai... Due to a series of fiascos (I won't go into detail, but it involved getting lost in the desert), this is the closest I got to one!
In this post, I'll share my visit to the world's tallest tower, largest aquarium, and glitziest mall.
Dubai Mall, at over 12 million sq ft, ranks among the largest shopping centers in the world. (The New South China mall is number one, but with 99% of stores vacant, I say it doesn't really count.)
In contrast, Dubai Mall holds every imaginable international clothing and fast food chain, even Sweden's Max Burger and the retro Rainforest Cafe.
The "souk" part of the mall has more traditional garments and Majlis, a cafe for camel milk confectioneries. The real souk, or Arabian marketplace, is in a different part of Dubai and covered in this post.
You could buy camel milk chocolates, shaped like the animal and wrapped in gold foil. To celebrate "hump day," my film crew and I tried a saffron camel milk milkshake (not so good) and ice cream (tasted like regular fro-yo).
The mall has a skating rink, and a waterfall fountain with diving men statues.
Plus the world's largest indoor aquarium and underwater zoo. Doesn't my hat look like a flounder? Ten seconds after Melissa took this photo, the security guard shooed me away.
Luxury brands are in this area of Dubai Mall.
Outside is the world's largest choreographed fountain and highest building, Burj Khalifa. Sensing a theme here?
The best and cheapest way to get to the top: reserve tickets in advance. We asked our Fairmont The Palm concierge to make the arrangements; tickets are around $35 US, and worth it for this circuit-city view.
Isn't Dubai an extraordinary city? The twisty-building is my favorite. Here are more photos of the crazy architecture, souk, and high fashion.
I leave you with my camel and outfit details. What do you think of this coordinate?
Extra large sun hat: San Diego Hat Company
Purple cardigan: Muji
Goth tank top: h.NAOTO, from Closet Child Harajuku
Striped lavender skirt: Peace Now, from Closet Child Ikebukuro
Summer sandals: Camper
PS: my travel team and I are putting the finishing touches on our United Arab Emirates travel video… keep your eyes peeled, as it'll be published shortly. (Photography by Melissa Rundle & Eric Bergemann.)
PPS: I invite you to add me on Google Plus, as I'll be posting bonus material here.