Search Results for:
gili lankanfushi
I'm pleased to present my travel team's latest video… about our Pirate adventures at Gili Lankanfushi in the Maldives!
We've come a long way with our filmmaking, and are very proud of this latest episode. Won't you please take a second to watch?
I wrote an article about our Maldives experience, which you can read on Business Insider. My filmmakers and I put enormous effort on this, and we would hugely appreciate your support via a Like or Share (click below).
In the jungle, the mighty jungle… La Carmina wore:
Oversized polka dot sunglasses: Marc by Marc Jacobs (a present from Seby)
Bat strapless dress: gifted by Sourpuss Clothing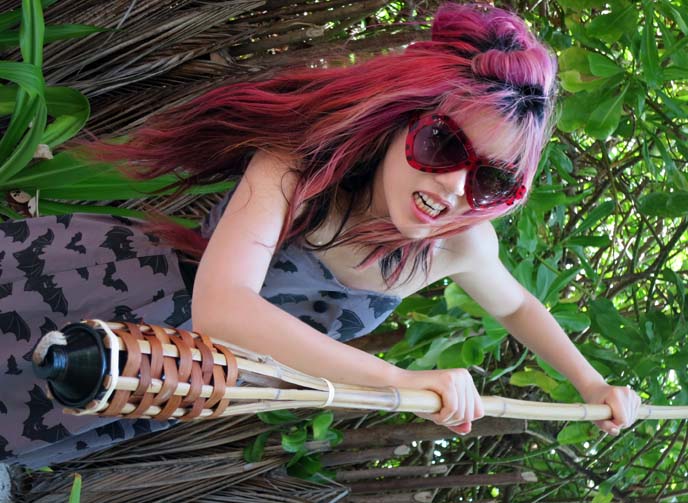 This award-winning resort keeps everything eco-friendly, including the torches that illuminate the paths at night. (Don't worry, there aren't any wild animals roaming about.)
The natural design of Gili Lankanfushi's wine cellar is astonishing.
In the center: a table made from a huge piece of driftwood that washed up during the 2004 Indonesian tsunami.
I raise my glass to the extensive wine selection.
The resort's sommelier walked us through a five-part chocolate tasting, paired with wine. The lemon truffle and Hungarian tokay were standouts.
What a dream, to be able to experience places like The Maldives and make travel videos with my friends! All these island photos and video are by the ultra-talented Melissa Rundle and Eric Bergemann.
Each day, we ate lunch at the Overwater Bar and Grill. Baby sharks circled the waters below the restaurant.
As you'll recall from my previous Maldives posts, the water jugs are for washing your feet of sand (since going around barefoot is encouraged).
Located in the Indian Ocean, the Maldives Islands are known for their seafood, especially hand-reeled skipjack tuna. The sashimi was out of this world.
You could have fresh-grilled job fish, prawns or calamari. Or how about all of the above?
Too many organic, fresh salad dressings to choose from.
My plate ended up looking like this. Nothing like tropical fruit, seafood and salad for the summer.
Thank you to the kind staff at Gili-Lankanfushi for having us. To learn more about this paradise on Earth, take a peek at their website.
What do you think of our latest professional travel video? Did you laugh at my tennis-playing failure?
The Pirate life's for me.
While at Gili Lankanfushi resort in the Maldives Islands, my crew and I had the opportunity to snorkel. Filmmaker Eric got in the water, and capture incredible underwater footage with his GoPro camera. (Melissa and I stayed on-board, for reasons we wish not to disclose… maybe you can guess?)
The Maldives is considered one of the best snorkeling sites in the world, and for good reason. Eric was mesmerized by the wildife he saw under the sea: angel fish, parrot fish, frog fish and other technicolor varieties.
Later, we went to a presentation about local underwater species, and how to preserve the fragile environment. The Ocean Paradise Dive Centre is doing all it can to keep the coral reefs alive, and tourists informed.
I didn't miss out on all the action: I waded in the waters near my villa, which are rich with coral. What a treat to see little, colorful fish darting through my feet. (More photos of my incredible residence in this post.)
Can't get over the natural beauty of my surroundings. The beaches and palm trees look like illustrations from an adventure novel.
We took a meditation lesson, and the instructor guided us: "Your body… is a tree. Your body… is a tree." (I suppose I took this to heart.)
Now here's an activity that's more my style… ordering Mr Friday to steer my Pirate ship, in search of treasure!
My vessel is actually a dhoni, the traditional fishing boat of the Maldives.
We sailed to One Palm Island, about five minutes from the resort's main isle. It's inhabited only by this tree and a commune of hermit crabs.
"Arr, there be no treasure here!"
My octopus-anchor dress is gifted by Sourpuss, and the magnificent eyepatch is made by Cat Morley of Cut Out And Keep, who previously put me on the cover of Snippets Magazine. It'll soon be featured in her Crafter to the Stars series.
Time to sail back to Treasure Island…
… and cool down with fresh coconuts, delivered by Mr Friday!
Gili Lankanfushi assigns each guest to a loyal companion (like in the novel Robinson Crusoe), who helps with arrangements, rides, travel tips, and anything else we might need. I loved this system: we made a new friend, who made our stay much more personal.
Speaking of fruit, we got to try regional specimens like mangosteen, rambutan, dragonfruit…
I don't mind waking up early if it means breakfast on the beach, and choosing from a selection of Ayurvedic elixirs, fresh juices, honeycomb, and "spa balanced" omelets.
Our agenda was pretty intense: Breakfast, Lunch, Dinner. In between, I put in some hammock time.
View of Over Water Bar and Grill, where we took our mid-day meal (photos in the upcoming post).
So excited to show you our travel video, shot professionally by my two filmmakers!
Until the editing's finished, you can whet your appetite with my other blog posts about the Maldives…
… and read more about all of the above on Gili Lankanfushi's homepage.
Have you gone snorkeling before? If so, where, and what was your experience like?
PS: Thank you to everyone who came to my Spooky Saturday party! The German TV show was ecstatic about your outfits and energy. Above poster by Naomiyaki — it was fun putting these up around Vancouver.
I wish I had more time to hang out, but TV shoots always run late and there are a million things going on at once… As soon as the episode airs, I'll put up the clip and photos, so be sure to bookmark this site. More casting and event announcements soon!