Search Results for:
jordan
It's interesting to see how this blog has evolved over the years. These days, it's travel-culture that really makes me tick. On this path, I feel I can make the most difference — especially by shining a positive light on subcultures, and encouraging people to explore the world with an open mind.
For these reasons, I can't wait to share my experience in the ancient Greco-Roman city of Jerash, in the Hashemite Kingdom of Jordan. Our expert hosts Ya'lla Tours — who also guided us through Petra — took us back in time, to a lost civilization.
Jordan is home to dozens of archaeological digs. The UNESCO heritage site Petra is the most famous, but Jerash is noted as one of the best preserved ruins in the Middle East.
Jerash (or Gerasa) is 30 miles north of the capital city, Amman. At the entrance, I saw display tables of scarves, stuffed camel toys and other souvenirs.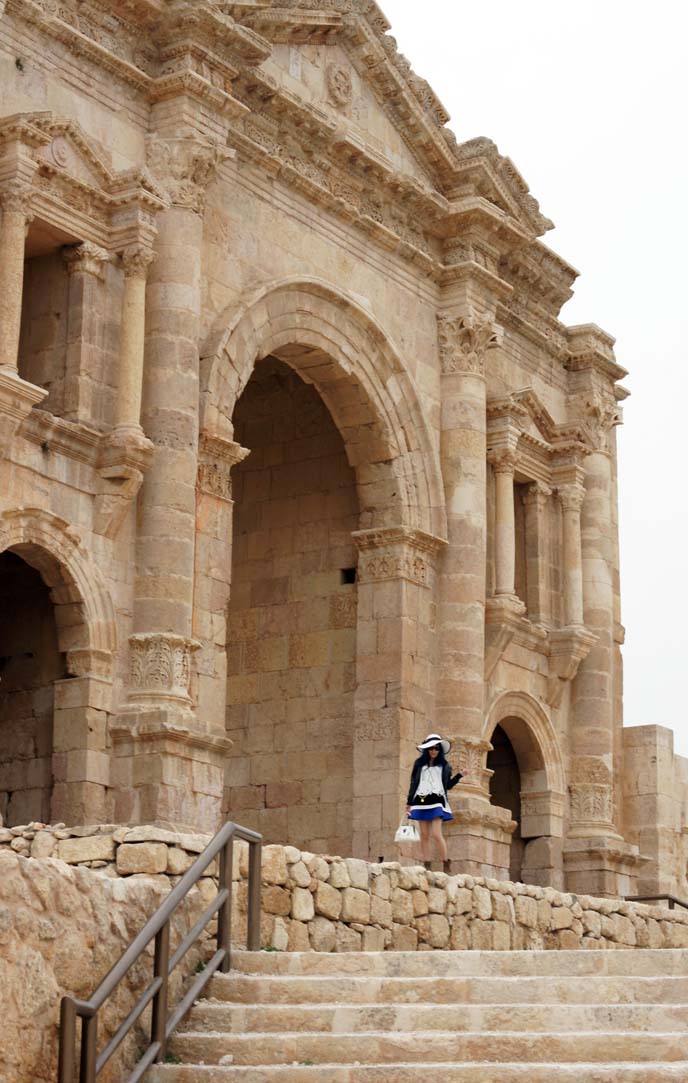 When you walk up the south stairway, you'll encounter the Arch of Hadrian — built to honor the Roman Emperor when he visited around 130 AD.
It felt like a dream, wandering through the three stone arches.
Outfit details: Cute bunny top from the Miffy store in Hong Kong, a Baby the Stars Shine Bright purse from Shinjuku Marui Tokyo, and a blue skater skirt from World Wide Love Tokyo.
Our Ya'lla Tours guide told us about Jerash's prosperous past, and how it was the hometown of the mathematician Nicomachus. He pointed out Greek words carved into fallen stones.
Jordan is a progressive country so there aren't any dress code restrictions. It is not a problem to have bare legs here, although you will want to wear sturdy shoes or boots for the unpaved ancient paths.
Amazing to see the Roman's advanced architecture and engineering, which has withstood major earthquakes.
Unlike Petra, Jerash didn't have too many tourists wandering about. Only a few vendors offered us a snack or a horse ride.
This added to the feeling that I was re-discovering an ancient world.
The path opened up to the Oval Plaza, surrounded by a colonnade. In the middle, I saw two altars and a fountain.
No wonder Jerash is nicknamed "the city of 1000 columns." If you're an art history buff like me, you'll recognize that these are in the Ionic style. (Other parts of the city have Corinthian columns.)
My filmmakers were shooting video the entire time. This photo is by our Ya'lla guide; the rest are by Melissa Rundle and me.
Wait… why are there bagpipes in Jordan? Our guide told us that a bagpipe-type instrument originated in the Middle East, possibly thousands of years before it appeared in Scotland. You learn something every day.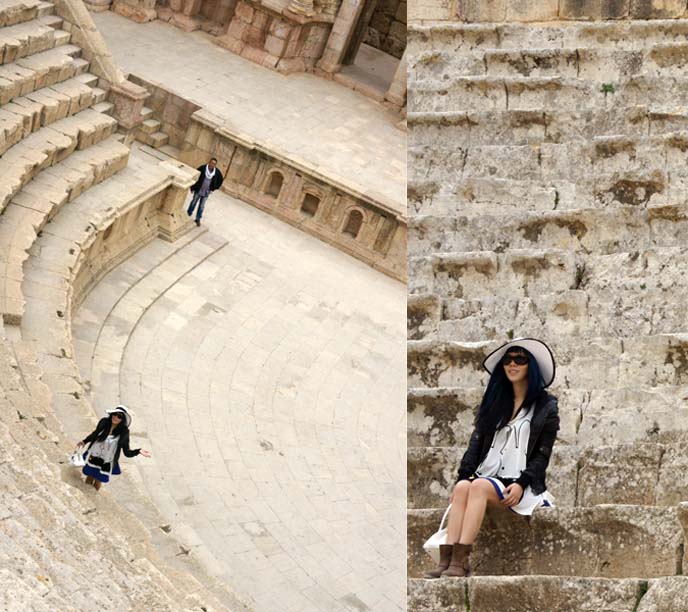 We perched in the South Theater, which held as many as 3000 spectators, and watched the performers. Funny enough, there was a seat reservation system back in ancient times. You could still see stones marked with Greek letters like alpha, delta, epsilon!
We climbed up to the top, and got this brilliant view of the sprawling ruins. However, descending proved to be a bit of a challenge… I ended up looking like a hunched grandma, as I crawled down the rows. (No, I'm not posting those photos!)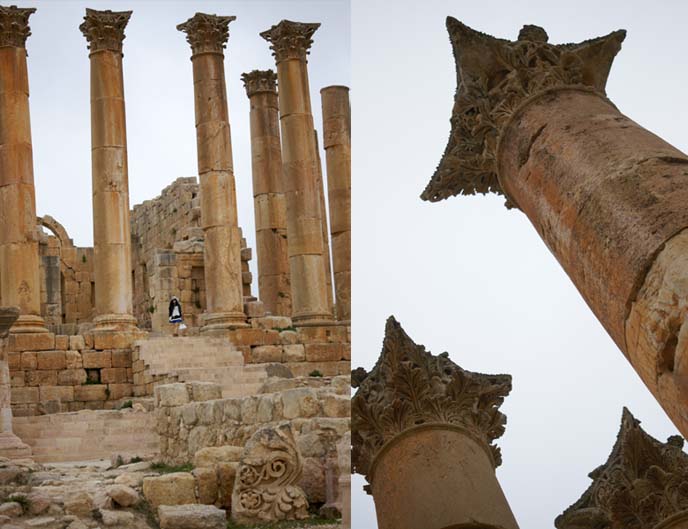 Perhaps my favorite monument was the Temple of Artemis. The daughter of Zeus was the protector goddess of Jerash, and they honored her with a grand processional entrance to this place of worship. Look up, and you'll see acanthus leaf carvings on the Corinthian columns.
I spotted a lion in the Macellum or marketplace.
Let's wrap up our journey with some Insta-snaps (follow my my Instagram for more). I'm standing on the "cardo" or long colonnaded street, which was the main route in Jerash. You can still see the marks of chariot wheels on the stones.
Filmmaker Melissa prayed for a hot beverage as we ascended the Artemis Temple. The goddess granted her wish: at the top, a young Jordanian man with a surprising British accent was selling cups of coffee and mint tea!
I leave you with the Hippodrome, or giant arena for chariot races and other sporting events.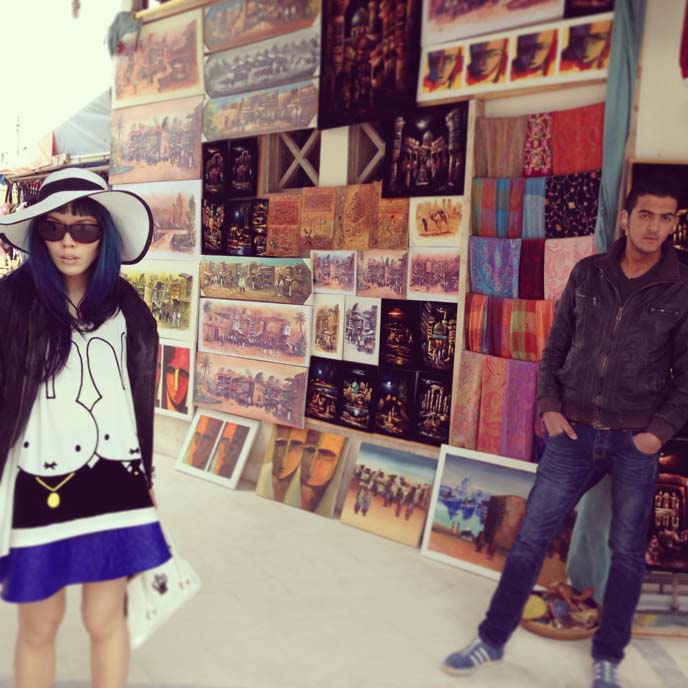 We learned so much about Jerash thanks to Ya'lla Tours. With a driver and expert guide, our trip to Jordan was stress-free. Ya'lla does custom, small group tours in many countries including Israel; I hope you'll keep them in mind for your travels.
Have you ever visited an archaeological site? What was your experience like? And do you like my Miffy outfit?
On a quest to find the Treasury of a fabled civilization, buried by sand…
If this sounds like a plot from Indiana Jones and the Last Crusade, then you've nailed it. I went to Petra, Jordan — a dream come true, thanks to Ya'lla Tours.
The story of this ancient city has fascinated me for years. In the 3rd century BC, Arabian nomads called the Nabataeans began settling here. Petra grew into a center for the spice trade, filled with marvelous temples, tombs and aqueducts.
The city passed into Roman and Byzantine rule, and then was lost… until a young explorer re-discovered it in the 19th century. Imagine coming across this glorious entryway, after years of scouring the desert!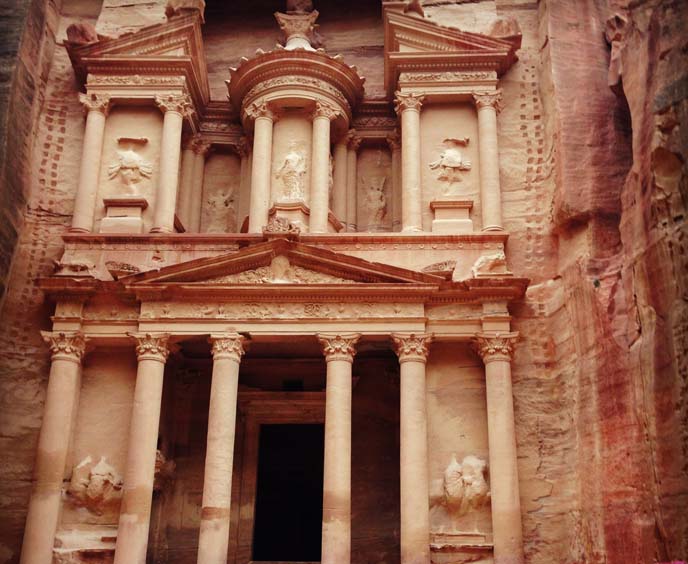 My film team and I were so grateful to have Ya'lla Tours guide our journey. While Jordan is a safe country, the archaeological sites are spread out (Petra is three hours from the capital, Amman) and I wouldn't know how to get from here to there. On our own, we'd probably end up wandering the sand dunes like Moses.
Ya'lla has personalized tours in various countries, including Jordan, and our guide's expertise was worth his weight in gold. He took care of border crossing and visa checkpoints, got us to locations, gave us the historical run-down… Our journey was far richer and more relaxed because of him.
Case in point: Ya'lla planned our journey so that we'd conveniently spend the night in Wadi Musa, where Petra lies. The next morning, our guide made sure we were suitably dressed for the trek (good shoes and a jacket are necessities), and whisked us through the entrance. They even helped us get falafel afterward.
Horse rides are included, but we preferred to walk. The terrain is not difficult, but prepared to be on your feet for five hours or more.
We meandered through the mile-long siq (or "the shaft"), a narrow, winding gorge formed by a natural geological fault. I can't think of a more epic prelude to an ancient city.
Along the way, our guide explained the aqueduct system and the meaning of carvings on the wall — things we wouldn't have known or even noticed if we weren't with him.
This photo gives you a sense of the Siq's scale and grandeur. I spun around, between stone walls as high as 600 feet. (Photography by Melissa Rundle, Eric Bergemann and La Carmina.)
My outfit is an exercise in function meets fashion. I wore sturdy boots, so I never stumbled or had sore feet. However, you might as well dress up for more memorable photos. Who knows if you'll ever be back?
Alice in Wonderland print skirt: by Lolita brand Baby the Stars Shine Bright, at Closet Child Shinjuku. Worn with a petticoat under, for poof.
Goth stockings: c/o UK Tights. I'm wearing the Tiffany Quinn Sheer Crosses Tights
Velvet Victorian jacket: Lip Service c/o
We saw remnants of carved deities from the religion of the Nabataeans and the traders that passed through. Our Ya'lla guide told is about standing stones, or baetyli, marking the presence of a god. He also showed us Greco-Roman style figures, and a man with camel.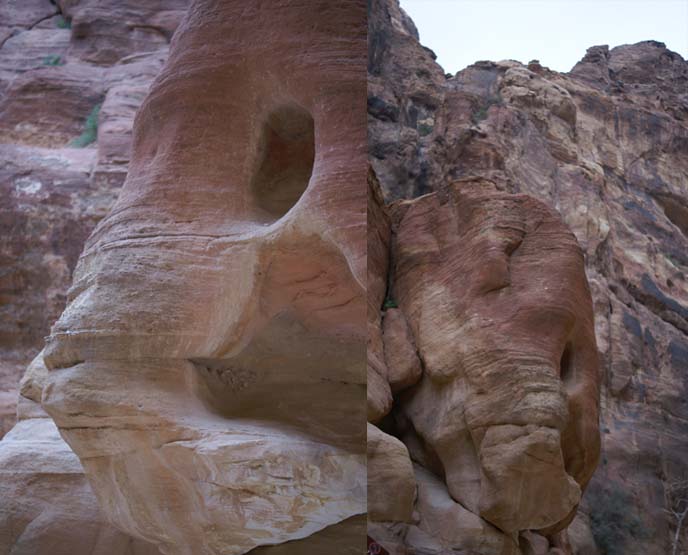 He asked us, "What do you see in this natural rock formation?" From the profile, it looks like a fish. Head-on, it's an elephant rock!
A stray cat ran down a steep staircase, as a group of Asian tourists shuffled by.
Someone in that tour group fed the cat a cracker. Don't do this. Instead, donate to reputable animal organizations that do humane population control and work for long-term solutions. Likewise with giving to child beggars. This is a whole can of worms so I won't go on, but if you want to discuss this, let's do so in the comments.
Finally, we saw it beckoning through the rocks… The famous Al Khazneh or Treasury, entirely carved out of sandstone.
We learned that Petra was abandoned and lost to history for centuries. In 1812, Swiss explorer Johann Ludwig Burckhardt rediscovered it during his search for the source of the River Niger. He's quite the "Indiana Johann," spending years learning Arabic and disguising himself as a Muslim, in order to gain access to forbidden paths.
The Treasury carvings reveal the mix of Hellenistic and Middle Eastern religions that thrived in Petra. The two eagles at the top represent the main Nabataen god. Below the urn is a symbol of Egypt's Isis. Underneath are Zeus' sons, Castor and Pollux.
The details have held up remarkably well over the years, despite damage from iconoclasts and bullets. Legend says that Bedouins shot at the urn, thinking there were gems inside.
Can you guess why there are square markings on the left? These probably served as footholds for the brave sculptors.
Petra is a huge city, and there's much more to see than just the Treasury. Every five minutes, someone offered us a camel ride or asked us to buy souvenirs. Politely ignore the vendors and walk on, if you're not interested, or else they'll keep dogging you.
While it may be tempting to ride the cute donkeys, camels or horses, I saw that some of them weren't very well treated… We even saw a boy whip a horse while a tourist sat on top.
Many of them stood around in the sun, dressed in Bedouin cloths and waiting.
If you get tired of exploring ruins, you can duck into the tents to see sand art demos. By precisely layering and mixing colored sand, this man made a camel sand-scape.
Bottles, bottles on the wall.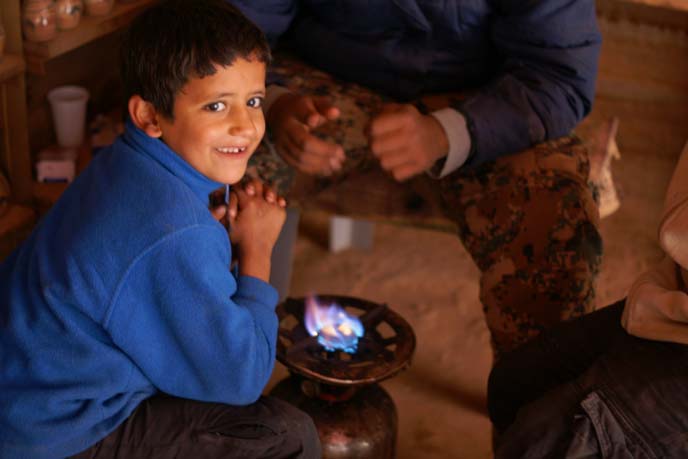 The Jordanian people are very kind, and we enjoyed meeting this little boy with a sweet smile. Inside another tent, we sat surrounded by red carpets and chatted with the Bedouin owner, who served us dark coffee.
Petra is filled with secret caves, hidden tombs, echo chambers, remains of colored tiles… the stuff of imagination.
Imagine the amphitheater, filled with crowds of Romans. On the right, a rainbow of sandstone stripes.
We climbed up a long flight of stairs to the Urn Tomb, a burial place of the royals built high on the mountain face. Tip: look out for donkey poop as you walk.
So many mysteries still remain about Petra. Just days ago, a study suggested the Nabataeans built some of the monuments so the sun would shine on them, on significant days of the year.
The vast view from Ad Deir, or the Monastery.
Filmmaker Eric and I "play house" in one of the many cut-out dwellings (most of these were tombs). I'm probably thinking about how to decorate.
This is a day I'll remember for ages to come. My travel film crew and I can't thank Ya'lla Tours enough for taking us on an adventure to Petra. They offer Israel tours as well, and can customize the itinerary to your interests and group size.
Our Ya'lla guide had answers to all our questions, and took care of logistics so we could simply learn and enjoy. You can start planning your own dream trip on their site and by adding their Facebook.
Is visiting "the rose-red city half as old as time" on your travel bucket-list? Do you remember Petra from the Indiana Jones movie?