Search Results for:
treffen
As much as I travel, I can't be everywhere at once. This year, I sadly wasn't able to make it to Wave Gotik Treffen in Leipzig (the biggest Gothic festival in the world).
Thankfully, my friend Jen was at WGT with her camera, and put together a special report for us! Read on for her German Goth stories, including images of the Victorian Village, flamboyant fashion, and industrial bands.
If I went to the festival, I would have worn these eye-catching steampunk shoes from Hades Footwear! Their Harajuku boots are my current favorites — such a striking design, with a metal heel and vintage-looking buckles. You can get these exact boots here.
– My dress is by Chaser the Brand. Here's the link to purchase this exact dress (which comes in a few colors) and a longer maxi version.
– The black wide-brim hat is from Lack of Color Aus.
Shop my outfit below:


I'm a huge fan of Hades Footwear, a California-based shoe company that specializes in alternative, Goth, Victorian and steampunk styles. They make unique designs like studded stilettos or thigh high boots — you won't find these in regular stores!
If you're a metal rocker type, you might like their Motorhead chain boots. Retro ladies would enjoy Hades' steampunk ankle boots
(Click the photos below to browse more Hades Footwear styles.)

Now, let's hand the keyboard over to my friend Jen (pictured above left, with her favorite corset maker Ludwig Lilienthal). Enjoy her diary of Wave Gotik Treffen 2015 with photos by Seventh Sin, the event photography company that she co-owns.
At the end, Jen invites you to submit photos and memories of Wave Gotik Treffen for a museum exhibition. I hope you'll consider taking part in this historical project.
Jen writes: We skipped the traditional Friday afternoon picnic at Clara Zetkin Park in favor of checking out a new Friday afternoon event, Viona's Victorian Village, held at the stunning Arena am Panometer. The Village features not only a grassy area to picnic, but also vendors, DJs and concerts.
Lolita style is no longer as prevalent in Germany as it was a few years back, but the girls who do it go all out.
We saw metal artist Pawel Athanasios Lickas working live at the Village.
There was a vague dress code to encourage to guests to participate rather than merely goth-stalking, but as you can see from the crowd photos, everyone who made an effort no matter what their personal style, was welcome.
This made for a lovely atmosphere where we were able to relax and find old friends among the crowd, and have conversations without being trampled by overzealous onlookers.
The left photo shows Courtney of Atropos Threads and a friend from Paris, in front of Courtney's stand at the Victorian Village.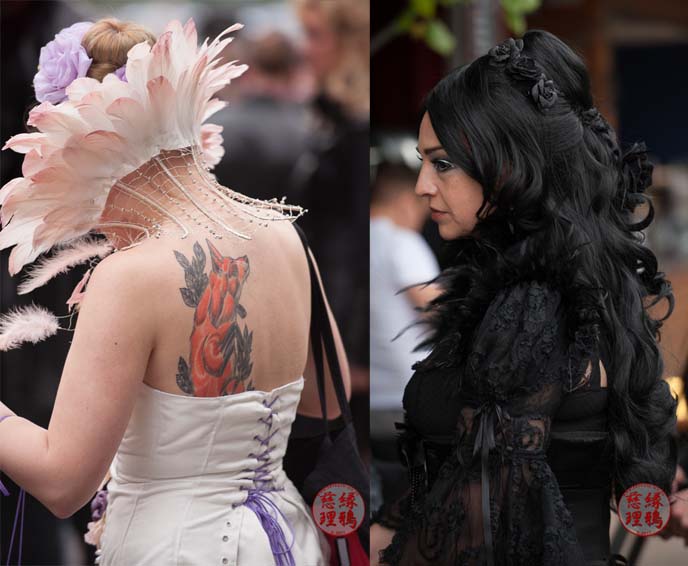 Diverse examples of the decadent personal style seen at Wave Gotik Treffen — from feathered collars to braided wigs.
The smiling participants and winners of the costume contest.
One of the best places to meet with friends and look around for new trends is the Agra, the main venue of WGT where the campground, market, and largest concerts are held. The "Black Market" is a huge hall where people can buy dark fashion and accessories.
Schnitt Muskel's macabre fetish and cyber inspired cuts and misappropriated materials seemed like a stark contrast to puderblonde's fashion and accessories in steampunk, gothic, shabby chic style. Nonetheless, the two small designers were working their booths together at the market.
I admired Benito Alesio's stunning work for The Original Atelier…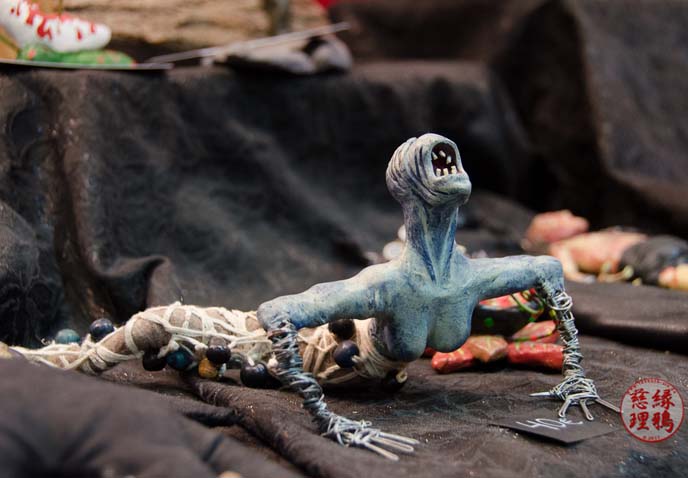 … and these spooky-hawaii figurines from Pandemonium Crafts.
Romantic jewelry and headdresses from Nox Aurum, decorated with antler horns and lace fans.
As much fun as these events were, the main draw of the weekend was the 224 concerts and many dance nights on the official program. Our cat Hugin did his best to hide the schedule and keep us home, but in the end, he decided that having so many guests to fuss over him and fluttery black clothing to play with was actually pretty awesome.
This year we focused on meeting up with friends and catching smaller, less known acts. We saw Dan and Olaf of Harmjoy make their WGT debut (above)…
…and the long lived, but still underrated industrial projects Gerechtigkeits Liga and Last Dominion Lost (above photo by Flamisol).
An atmospheric image of Evi Vine performing onstage, also by Flamisol.
Did you know that next year will be the 25th Wave-Gotik-Treffen in Leipzig? WGT has grown from its humble beginning with 6 bands and one venue, to an event that brings in over 20,000 visitors and offers events all over the city. WGT has had its growing pains, but remains true to its ideal as a meeting point for goth subculture.
(These "classic Goth" photos by Muetze were taken at the first Wave-Gotik-Treffen in 1992!)
I'm thrilled to be working with the City History Museum of Leipzig to present the story of WGT and the goth movement in Germany, in an exhibition that will open next spring. If you've been to WGT we would be very interested to hear your stories and see your photos and videos.
We're also looking for "objects" to display: such as clothing or shoes that you wore, signed albums or posters from bands you met at WGT, or handmade memorabilia. We're also looking for people willing to be interviewed about their WGT experiences and featured as part of the exhibit, so please drop me a line if you're interested.
(La Carmina's note: I hope you'll consider taking part in this Goth museum exhibit, and will do my best to see it next year!)
Last but certainly not least, I'm honored to reveal… I'm on the cover of FlyMe360° Travel & Lifestyle Magazine! 
This new magazine is the brainchild of three friends and frequent travellers, who felt they could improve on the current travel publications in the market. FlyMe360° emphasizes personal, genuine travel stories that connect with all types of readers. The inaugural issue is an entertaining mix of first-person accounts, gadget reviews, photography tips, finance and health articles, and more.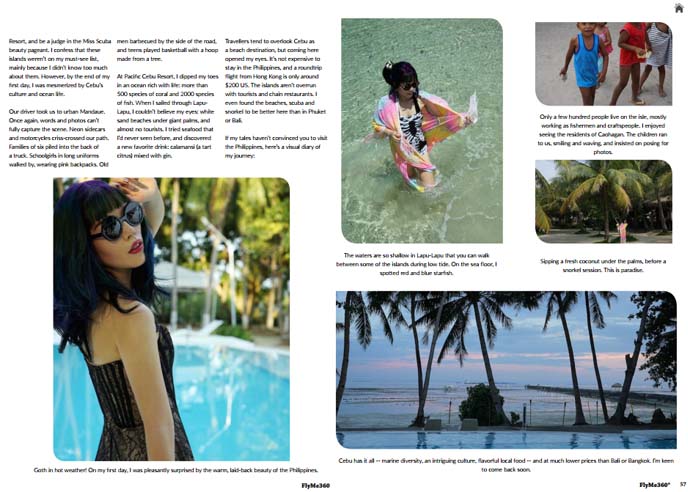 FlyMe360° puts a special focus on travels in Asia. I contributed a story about my experiences last year in Cebu, Philippines.  Above is a peek at the pages.
I encourage you to subscribe to FlyMe360 for free! You'll get access to all of the first twelve issues (including my article), and perks such as prizes. The magazine invites you to contribute your own travel stories too — you can find out more and contact them through their site 
(And if you're still thinking about my Hades steampunk boots — here's where you can find these shoes.)
One of the most frequent questions I get is: "Where are the Goth clubs and parties in Tokyo?" Over the years, I've covered events and compiled all the best ones in my Japan Gothic nightlife guide.
However, there are always new places popping up. Let me take you into the recently-opened DecabarZ in Kabukicho, a Suspiria-themed horror bar, and more!
My friend Jen also shares her recommendations for Wave Gotik Treffen 2015, at the end of this post. (Sadly I won't be there, but above is a memory from WGT a few years ago.)
Japan's alternative fashion crowd still gathers at Decadance Bar, which used to be located above Christon Cafe in Shinjuku. Now, owner Adrien le Danois has opened up his own place, not far away in the heart of Kabukicho.
How to get to the new DecabarZ? The address is 5F Shinko Building, 1-2-13 Kabukicho, Shinjuku-ku, Tokyo, Japan. Here's a link to the map.
To get to Decabar z, go out Shinjuku Station east exit, and walk straight until you hit the main road Yasukuni Doori. Turn and walk down the street with the Mr Donut on the corner. Stay on the right side (across from Shinjuku Ward). It's on the 5th floor of the Shinko Building.
You can't miss the entrance — there's a huge, neon-colored mural in the style of Dragonball-Z, which is where the new club takes its name from. All of the regular DJs and performers have their faces immortalized here: Chihiro, DJ Sisen, Maya, Selia.
On most weekends, DecabarZ has special themed events. We were there for the 1980s Visage tribute, hence Yukiro's retro-Goth look.
The new Decabar Z is more spacious, and illuminated in cyber colors. Some people dress casual, while others go all-out. Cosplay, Victorian, Ghostbusters… you'll see it all here.
The staff is always rocking underground fashion. This lady wears ganguro makeup, the tanned and white-highlighted look popular in Shibuya in the 90s.
I'm digging this bartender's bowler hat with a polka dot veil, and military jacket with shoulder pads. (More amazing Goth fashion below – click to shop!)

On the dance floor, a TV broadcast cartoon episodes of Jem and the Holograms. (Love the American Horror Story shirt.)
DJ Ray Trak and Zin-Francois Angelique spun the best synth-80s tracks. We went wild for Real Life "Send Me An Angel", Berlin "The Metro" and Europe "The Final Countdown."
There was also a mix of post-punk, rock and other underground sounds from the past decades. When the DJs played the Ghostbusters theme, this cosplayer stood on a ledge and waved around his proton pack! 
This bar is open most nights – so what are you waiting for? For upcoming DecabarZ theme nights, check out their Facebook event listings.
Now, for more horror and darkness. On the recommendation of John Skeleton, we visited Cambiare — a Shinjuku drinking hole inspired by the Dario Argento B-horror film, Suspiria! 
Address: 1-1-7 2F Kabukicho, Shinjuku. This is located in Golden Gai, the cluster of tiny bars that line several streets. It may be hard to find, so look up to see the Cambiare sign in spooky writing.
The interior is full of references to the 70s cult film, such as the stained glass window where the girl falls through (below), and the evil-eyed cat. Even the wallpaper mimics the one in the movie (which has one of the coolest sets of all time).
We drank the homemade sangria and watched the slasher movie on the TV screen. The bartender has seen it over 100 times, and we chatted about the bloodiest scenes.
If you're a fan of Dario Argento's works, then a visit to this Suspiria themed bar is a must. (More info on the Cambiare Facebook.)
Time to check out yet another Gothic hangout. Also in this same Kabukicho district is Mistress Maya's new snack bar, Tsudoi (now Dalkima). For a "nomihoudai" all-you-can drink price, she'll serve you sake and beer, and feed you her homestyle Japanese cooking.
Address: 3F Chipupura Plaza, 2-23-7 Kabukicho, Shinjuku
Tsudoi is the perfect place to get to know others in the Japanese underground scene. Maya speaks fluent English, and will introduce you to her colorful friends who are regulars at her bar. She'll spin Goth and EBM music (she takes requests), and play movies like David Bowie's Labyrinth in the back.
I love discovering alternative spots like these, and sharing them with you on my La Carmina blog. Can you believe I've been doing this since 2007?
While I was in Japan, I shared what I learned in a travel blogging / writing workshop with Odigo. My team and I taught about 30 students how to start and grow a blog, get your name out, interact on social media, apply SEO and much more.
I spoke for about three hours, and loved teaching students about every aspect of blogging. My site may only seem to be a collection of photos and words, but there's a lot more than meets the eye. I spoke about backend matters like CSS, loading speeds, cloudfront, hosting providers, design and image-tagging – to name a few. (My top is by Black Milk.)
Filmmakers Eric and Melissa, who travel with me on most of my projects, also spoke expertly about camera equipment, settings, video production and other technical aspects. We also talked about travel TV hosting and production. Again, there's a lot of work that goes into the videos and visuals you see here.
One of the students, Lori of the Spendy Pencil, wrote a review of our travel blog workshop that you can read here. She says "They were friendly, extremely organized, and direct about their experiences. I've been to a lot of different classes and this was the best presentation I've attended about blogging and social media."
Thanks to Odigo – a Japan travel planning site – for inviting us to teach this special class. We're so happy that our attendees found our course helpful, and want to keep offering it all around the world! Stay tuned for announcements, and how you can join our next travel blogging, video and photography lessons.
Time to celebrate a successful day, with dinner in Roppongi. Can you believe these kawaii mascots… are for the Tokyo Police Station? Truly, everything is cute in Japan.
We moseyed around the Roppongi Hills courtyard, inhabited by the giant "Mother" spider sculpture. I don't usually hang out in this district, but there are some cool spots like the Mori Museum gift shop (selling toys by Nara, Murikami and Kusama) and Moomin theme cafe.
There are some incredible dining options near Roppongi station. We can't stop raving about Hassan (八山 六本木), a shabu shabu and sushi restaurant. This fine-dining establishment first opened in 1979, but the interior was recently renovated with elegant Edo-meets-modern craftsmanship. 
(Address: B1F Denki Building, 6-1-20 Roppongi, Tokyo)
Hassan's ambiance was the perfect complement to its authentic, lovingly presented cuisine. Although you can order a la carte, most diners choose one of the all-you-can-eat menus, which include Wagyu or Kobe beef shabu shabu, tempura, sushi, drinks and dessert. We dipped the thin cuts into the boiling hot pot, and they melted in our mouths.
And what a treat: we had our own personal sushi chef, who set up station in our private dining room! He prepared sea bream, tuna, sea urchin, mackerel and other delicacies — paired with real wasabi and homemade sauces. I washed it down with the highest quality yuzu and umeshu (plum liquor with real pulp in it), and finished with green tea mochi and gelatin. 
I've eaten at a lot of phenomenal Japanese restaurants, but this ranks among the best experiences I've ever had. Hassan in Roppongi is a meal you'll never forget.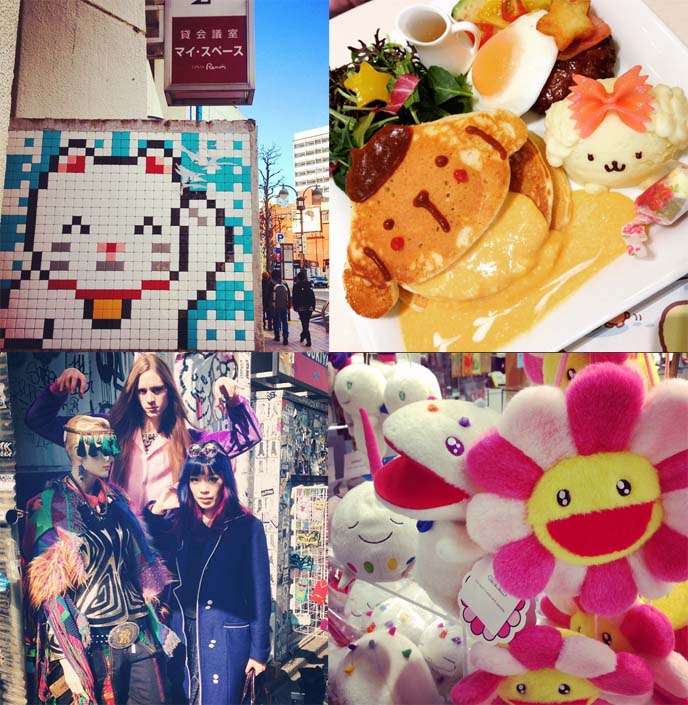 I've experienced so many marvels in Tokyo… it's impossible to blog them all. However, you can see my daily inspirations on @lacarmina Instagram — such as a lucky cat tile mural in Shibuya, Sanrio cafe pancakes, a rainbow dreamcoat in Harajuku, and smiling Murakami flowers.
And now, I'll turn it over to my friend Jen Hoffert. She goes to Wave Gotik Treffen (the world's biggest Goth festival) every year in Leipzig, Germany. (Remember when I went with Yukiro and our Japanese friends?) The events start this Friday, so if you're going, I hope you'll enjoy her top recommendations for WGT 2015.
Jen writes: It's nearly Wave-Gotik-Treffen time again. In less than a week, over 20,000 goths, rivet-heads, lolitas and other dark souls will arrive, turning the streets of Leipzig Germany into a shimmering sea of black.
With over 150 bands playing in 30 venues over 4 days, WGT is recognized as the largest international music festival for wave and gothic music. It's not just about the music. Treffen means "meeting" in German and that's a vital part of this festival. In addition to all of the concerts, parties and official cultural offerings at Leipzig's museums, opera and symphony hall, many visitors arrange their own meetings with friends in the city's parks, cafes, and nightclubs.
One of the largest of those events is the "Victorian Picnic", started in 2008 by Viona Ilgens. The first few years attracted a few hundred costumed visitors, but since 2010, the picnic has been held at a central city park and become an enormous event which draws in plenty of curious onlookers. Although the picnic is so well loved by so many, it will go on without Viona this year because she is organizing a Viona's Victorian Village including a Victorian Market,  "Thé Dansant" and exclusive concerts in a more secluded location. Our good friend Courtney of Atropos Threads, a talented seamstress and jewelry maker, will be vending her wares there.
For those who would rather continue the picnic tradition there are several options, the newly re-christened Neo-Romantic Picnic at Clara Zetkin Park on Friday, the Steampunk Picnic at the Palmengarten or the Blaue Stunde picnic at Parkschloesschen on Saturday. "Die Blaue Stunde" also hosts one of the most intimate and incredible farewell parties on the last evening of WGT, the traditional "Romantischen Tanznacht". Their site is only available in German, but the hosts and party-goers are an international mix and everyone is welcome.
Another offering of interest to visitors of the festival is the IMAGO Camera, a mobile large format camera currently located at the Spinnerei in Leipzig. Holger and I had a portrait made (see above left image). This is a unique opportunity to capture a one of kind image of your beautiful dark self. You can contact Susanne directly at s.kraus@imagocamera.com to book a session. (All other WGT photos in this post by Seventh Sin.)
WGT includes a broad range of music beyond "gothic" and "wave". (Above: Mera Luna photos of Front 242 and Combichrist.) The big names playing this year span from EBM (Front242, DAF, Combichrist) to classic dark rock (Fields of the Nephilim) to neo-classic (Deine Lakaien) and neo-folk (Sol Invictus, King Dude).
Some of lesser known, but promising acts include Harm Joy, an EBM/synth-pop band fronted by our friend Dan Von Hoyel, The Essence (Holland's answer to The Cure), Evi Vine (Post Rock, Ethereal), Orphx (cult Technoid-Industrial), Last Dominion Lost, a project from former members of the Industrial pioneers SPK, lauded as "guaranteed 101% glow stick free!" and a special ritual performance by Zeena Schreck.
PS – What to wear to a Goth festival? Here are some devilish picks to get you started, including this sigil jacket, Ancient Egypt dress, and studded vegan leather jacket. Below are links to more places to shop.

Are you coming to Leipzig this week? Got questions about Wave Gotik Treffen? Let us know in the comments, and Jen hopes to see you there!