Category Archive for
Alternative Canada
I've been blogging about subcultures since 2007, and it's fascinating to see how fashion / youth culture / aesthetic trends shift with the times. In 2021, it's no surprise that the fantastical, pastoral nostalgia of "Cottagecore" is having a moment. As the world keeps sliding into chaos, it's understandable that people are drawn to the visual idealization of rural countryside living,
I decided to do a take on this look at a glorious local lavender farm — Lavenderland in Richmond, BC (Vancouver area). As always, I did it my dark way: call it Gothic cottagecore, CottageGore, goblincore, or whatever you'd like. If you're a long-time reader, you'll know we aren't fond of labels around here!
(Read on for photos by Joyce Cheung of Ondine Photography, as well as Part 3 of my Kelowna wine travels.)
I'm not one for light florals and gingham peasant dresses, so I wore a breezy moon dress from Jawbreaker Clothing. However, I love the wide-brimmed straw garden hats typical of farmcore / countrycore.
I'm wearing the Elgans palm fiber safari hat from Tenth Street Hats. The five inch downturn brim shades my face from the sun, and the beaded band with tassels adds flair.
As I've been focusing on local explorations, I was excited to visit Lavenderland, a seven acre lavender farm in Richmond, British Columbia. (Address: 8460 Steveston Hwy.)
Lavenderland grows various species of the purple flower, using eco-friendly natural farming techniques. For those fed up with city life, this is the perfect little getaway: you can take your time to wander the peaceful fields, take photos, and enjoy time with family and friends.
There's no better place than a rustic floral field to shoot Goth cottagecore photos. Come around golden hour (before sunset) to capture lens flare over the rows of purple flowers. (Lavenderland images by Joyce Cheung of Ondine Photography.)
I wish this were a "scratch and sniff" photo, so that you could get a sense of the floral aromas in the garden!
Every weekend from 11am to 4pm, Lavenderland holds an Artisan Market that is free to attend. Grab a basket and pick up local handcrafted soaps, hair accessories, beauty products, art and crafts, and more. The market also features pop-up musical performers.
Lavenderland is much more than an Instagrammable flower farm. The staff is eager to share their knowledge with educational and interactive demos. I learned about the different types of lavender, and how they extract the essence to create naturally-scented products.
(Lavenderland grows English (Superblue and Melissa), Grosso, and French Lavender; each has a unique scent and appearance. Above is Lavandula angustifolia 'SuperBlue', known for its bright blue-violet petals. The deep fragrance makes it ideal for essential oils, teas and food.)
At Lavenderland's gift shop, you can take home a bundle of dried lavender (such as the ones in my basket), or pick up hand creams and washes, hydrasol, and oils made from the flowers in the fields. They also sell original lavender-flavored drinks from BlackBall, with ingredients like coconut milk and aloe vera (you can't find them anywhere else in Vancouver, Canada).
In addition to the signature fields, Lavenderland has a waterfall fountain, pagoda and gardens. Walk around, and snap dark / Goth cottage-core photos that capture the romanticized yearning for simpler times that never existed…
Lavenderland is in bloom all summer from June to August, as the fields contain multiple varieties of lavender that blossom at different times. Soon, they'll be transforming the space into a Halloween extravaganza… I can't wait.
What do you think of my take on Gothic cottage core? Love how the flowers matched my hair color.
Outfit details: sunhat with downturned brim by Tenth Street Hats. Moons dress by Jawbreaker Clothing. Photos by Joyce Cheung of Ondine Photography.
Escape from the collapse at Lavenderland in Richmond, BC — I had the best time prancing around these fragrant fields with friends. Don't forget to check out their weekend Artisan Market, and upcoming Halloween events.
Since we're talking about local travel, let's take a look back at my trip to BC wine country (Okanagan) last fall. In the first two stories, I shared my Kelowna, British Columbia winery tours with you. This time, we'll wander into the Naramata Bench region for more tastings.
Last fall, I did a local trip from Vancouver to Kelowna with Flair Airlines. This Canadian airline flies to destinations throughout Canada. I'm excited for Flair to start offering routes to the USA in October 2021 — including to Palm Springs, Phoenix, Vegas, and Florida.
During my stay, I hit up many vineyards in the region, thanks to Okanagan Executive Rentals & Concierge. The owner, Jeremy Giroux, knew the best spots — and was the best driver and guide one could wish for.
Okanagan Executive Rentals has a number of luxury and exotic cars that you can rent — or you can hire Jeremy to drive, as I did. This way, you can sit back and enjoy the scenery, and drink wine to your heart's content.
Drive south from Kelowna, and you'll pass through some of the best wine regions of British Columbia: Peachland, Summerland, Penticton, and up to the Naramata Bench. 
Jeremy stopped so I could take in this view of Okanagan Lake. In truth, I was looking for Ogopogo — the legendary lake monster with a long neck, who supposedly lives in these clear waters!
Interior British Columbia has recently been engulfed by wildfires, and the skies have been apocalyptic with smoke. Fortunately, last Oct, things were crystal clear at Okanagan Lake… even a rainbow appeared over the water.
First stop: Mt. Boucherie Estate Winery in West Kelowna. This vineyard is known for crafting wines that draw on low yields and patient aging processes.
Come for a tasting inside their modern West Coast building, which features wood beams and panes of glass.
You can also have a meal at their in-house restaurant, The Modest Butcher Kitchen + Market.
Mount Boucherie farms 200 acres in British Columbia. The grapes tend to have a shorter growing season due to the northern climate, which influences the distinctive taste of the wine.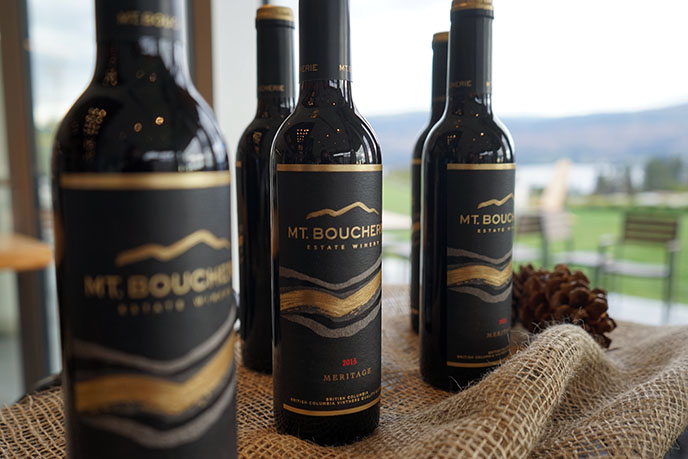 I tasted a number of unique wines, such as the Similkameen Valley Blaufrankisch (a lesser-known German grape, which yields dry cherry and pepper notes similar to Syrah). Mt Boucherie has a propriety Summit blend of 5 grapes, resulting in intense flavors of cassis and black / red fruits. They also make an indulgent Merlot ice wine in a thicker port-style.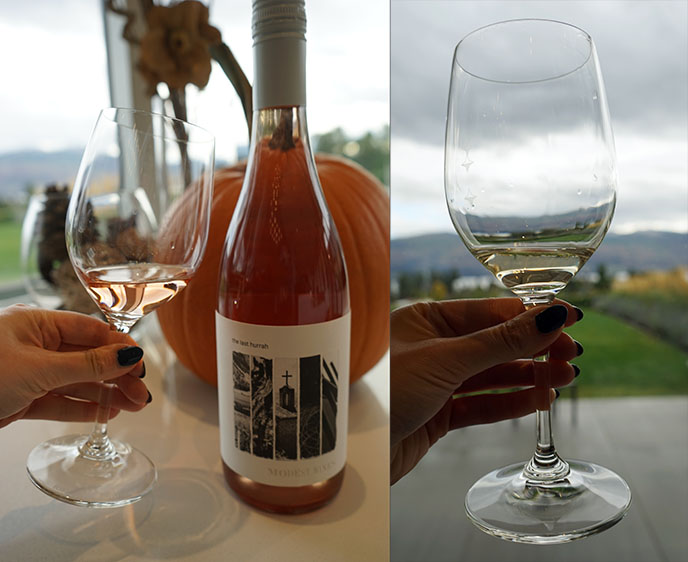 Mt Boucherie's tasting lets you get acquainted with a generous number of their wines. I was fond of the Syrah rose called "The Last Hurrah," and the off-dry Gewurztraminer.
Onward to the next vineyard, thanks to Jeremy Giroux. His Lincoln Navigator had spacious and luxe interiors, and I could cue up a disco mix to the sound system.
Onward to Penticton, a hilly BC region with an outstanding terroir (soil, climate, and other environment factors that affect wine production). No wonder you can see dozens of vineyards spread out over the landscape.
Poplar Grove is one of the most highly-rated wineries in this region. It also takes the award for most Instagrammable — check out these views from the entrance.
BC's Okanagan region has over 100 wineries, including small boutique ones where you can talk to the owners, and take home bottles that aren't sold anywhere else.
Some, like Poplar Grove, have outstanding restaurants as well. I'd come back for dinner and this view of Okanagan Lake.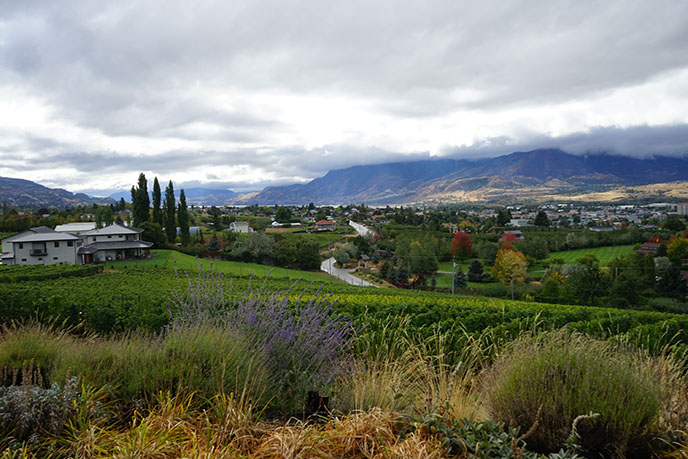 Poplar Grove is located on the slopes of Naramata Bench, the world-famous wine region that has racked up international awards. (And it's gorgeous as well — be sure to come with a camera.)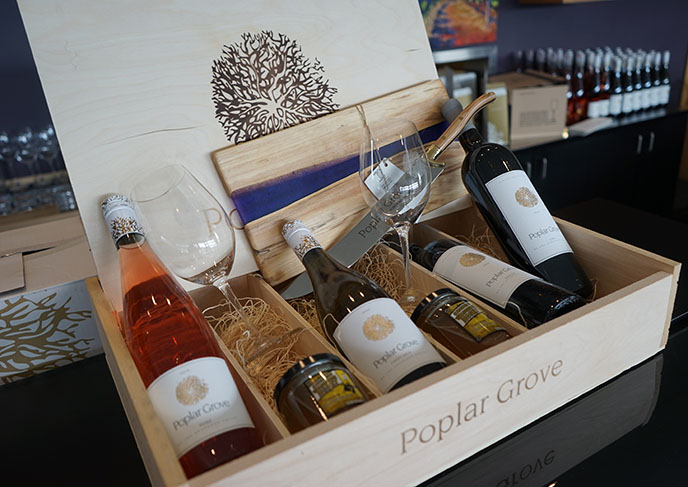 Poplar Grove is widely recognized for its Pinot Gris and Cabernet Franc, as well as other grapes and blends. Their Legacy flagship is an age-worth blend of red Bordeaux varietals. (Why not take home a sample box, for a little of each?)
Poplar Grove is sustainably, locally farmed and family-owned. You can see the vines right from the window of the Tasting Room.
Order a charcuterie board, and pair it with a glass of red. Poplar Grove has a terrific Malbec (cranberry flavors that would go well with a turkey dinner), Syrah (notes of steak, pepper, thyme, rosemary), and CSM (a medium-bodied blend of Cabernet, Syrah/Shiraz, Merlot).
The Pinot Gris has a crisp stone fruit flavor and signature minerality, which comes from being grown on the Naramata Bench.
The rose is a juicy blend (81% Malbec, 9% Cab, 5% Syrah, 5% Merlot). Dry and crisp, with aromas of melon and strawberry, the rose would pair well with a salad.
Visit Poplar Grove and see why their wines helped put the Okanagan Valley on the map.
A huge thank you to Jeremy Giroux for the concierge driving services, and for outfitting me with a sweet ride. His company's fleet of luxurious cars include a Range Rover, Porsches, and a Lincoln Navigator.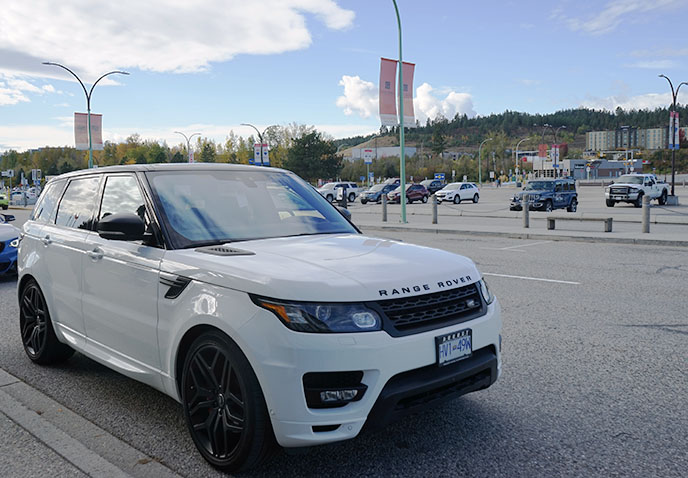 Okanagan Executive Rentals provides exotic car rentals and driving / chauffeur services, and delivers wonderful customer service. As a long-time local, Jeremy can tailor your trip to best fit your needs, such as recommending wineries or hotels.
Jeremy can accommodate wine tours year-round in the Okanagan area. In the fall/winter off-season, he provides luxury ski shuttle services to the nearby BC mountains (Big White, Revelstoke, Sun Peaks).
I'd love to come back soon to do more tastings on the Naramata Bench, in the Southern Okanagan. There are about 40 indie wineries within 14 km of winding lakefront scenery.
For more Kelowna tips, see my previous articles about Okanagan vineyard tours and a private helicopter ride that Jeremy arranged.
And a head's up: please check out my Depop shop @lacarmina. I've listed new items from my personal wardrobe and decor collection, including Gothic skull home goods.
Finally, in travel writing news, please check out my latest Fodor's Travel byline. I wrote about the weird, cute and unexpected spots I discovered in Waikiki, Honolulu — including a huge Miffy the bunny statue.
And I was interviewed by Insta Travel Style about travel blogging and content creation. I reveal how I fund my travels, monetize my work, negative experiences, bucket lists and more. Thank you for reading!
Life has been more colorful lately in Vancouver, BC. I've been emerging from my lockdown dungeon, and safely reuniting with close friends (while still wearing my mask).
Let's do a round-up of recent Vancouver Goth escapades, including snaps from this new Rainbow Sky Bridge (Amazing Brentwood Mall's Instagrammable spot). We'll also visit the adorable animals of the Greater Vancouver Zoo. I'll end with some recent writing / hosting work and podcasts — including a feature about The Satanic Chef!
I popped into Burnaby's Brentwood Mall, which has a new pedestrian Rainbow Skybridge. When the sunlight hits the colored panes, they glow and emanate onto the bridge's floor and ceiling. (The shopping center also has a new dining court and other renovated areas.)
It felt right to dress like a Goth alien to take some snaps. I'm wearing a women's fitted t-shirt from The Satanic Temple shop; it's a short sleeved "I am a Friend of Satan" tee designed by Lucien Greaves, in Royal Blue.
My mini backpack is Cyberdog, sunglasses Pugnale Eyewear, mask Lemonwood Luxury, maxi skirt is vintage from Burcu's Angels boutique in Vancouver BC.
The Amazing Brentwood Rainbow Skybridge is one of the six eye-catching "Aura" art installations in the shopping centre, designed by Canadian artist Elyse Dodge.
Closeup on my Satan-friendly shirt. The Satanic Temple store has Hail Pride clothing, homewares, books, and other memorabilia as well, with funds going to their campaigns.
I've been making furry new friends this summer… I took a special tour of the Greater Vancouver Zoo, which includes interactive experiences with the resident animals, like this kawaii red panda.
Anyone can book an interactive tour at the GVZoo, which is located about 45 minutes to an hour from Vancouver, in Langley BC. My friends and I also got to feed the hungry, hungry hippos…
… and hang with two types of fuzzy bears. (But not as closely as this, of course.)
OOTD: Black Inca Noir sun hat Lack of Color, sleeves Sleevey Wonders, Goth striped top Forest Ink, skirt Charli Cohen.
In addition to regular admission tickets, The Greater Vancouver Zoo offers private behind the scenes interactions with several animal species, which you can choose when you book in advance. My friends and I were delighted to come face-to-face with the red pandas!
Red pandas are native to Burma and China. This little guy chomped away on bamboo; that's what they mostly eat, as well as some protein sources.
As you can see, red pandas are polite and friendly… and adore eating sweet figs on a stick! What a treat to feed them by hand, and be right up close with their cute snouts.
I love how red pandas always look happy. (They're not actually related to panda bears, but belong to their own classification; they're an ancient species similar to skunks, raccoons and weasels.)
The Sanrio character Aggretsuko is based on a red panda. (Fortunately, this one didn't erupt into a heavy metal rage.)
Red pandas have curved, retractable claws and a thumb-like bone that help them get a good grip on snacks. Aren't they the sweetest?
We enjoyed speaking to the zoo staff, and learning about how they care for the animals and work on conservation projects. At this pond, we held up apple slices, and a hippopotamus slowly started to come out of the water.
Hippos spend most of their time submerged in water, but this one came up to us and opened his mouth, ready for a meal.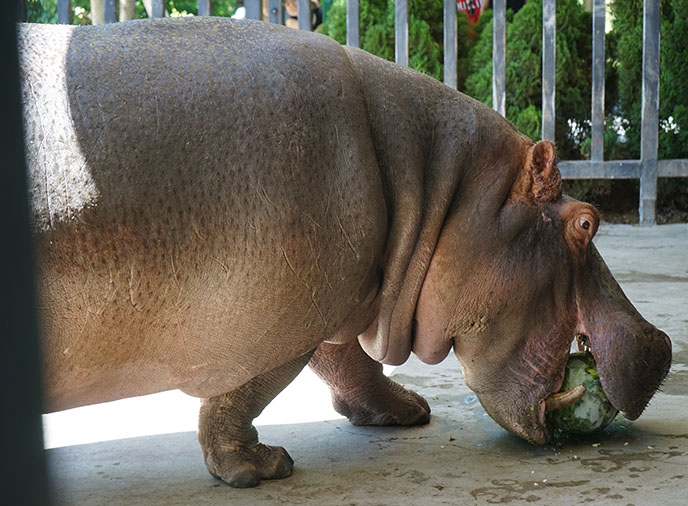 The other hippo got a frozen watermelon to help him cool down from the heat. He played with it, then chomped it between his strong jaws.
Ready, aim, and throw apples right into the hippo's gaping mouth!
The hippopotamus kept his jaw wide open, in a bid for more fruit. (These are the third largest land mammals, after elephants and rhinos.)
Onward to meet the grizzly bears, who are orphaned rescues. Like all the animals at the Greater Vancouver Zoo, they live in enormous natural environments.
We threw corn over the fence, and the bears stood up on their hind paws to try to catch them!
We also met three black bear siblings. These bears were rescued from Alaska after they lost their mother; they wouldn't have survived in the wild on their own.
It's true: like Winnie-the-Pooh, bears do love honey. We dipped a wooden stick into a jar of sticky honey, and let them lick it through the fence.
Don't overlook the smaller animals at Vancouver's Zoo. A zookeeper showed us a Madagascar hissing cockroach, and let it run over our hands (and Rob's P-cross / The Process tattoo).
"He's a cold-hearted snake / Look into his eyes, uh-oh." We petted the ball python, which was curled up tight to preserve heat.
There were too many animals at Vancouver's zoo to photograph for you — including giraffes, elk, tigers, cheetahs, ostriches… See the full list here.
We had never seen a Patagonian Mara before — it's the second largest species in the rodent family, and can run at high speeds. The northern lynx was a sweetheart; when we called her name, she came up to the fence with her ears twitching.
The Greater Vancouver Zoo also has a new dino park, with life-sized animatronic dinosaurs.
The T rex moves his head and jaws, making us feel as if were in Jurassic Park.
The Greater Vancouver Zoo is certified globally, and is dedicated to education and conservation — they're constantly improving the facilities for the animals, and have a safari-style park in the works. I'm looking forward to returning and seeing these new additions.
Outfit details: Black Inca Noir bucket hat Lack of Color, sleeves Sleevey Wonders, black and white striped top Forest Ink, skirt Charli Cohen.
Let's wrap up with some outfit features, which I've been sharing on Instagram (@lacarmina).
How fab are these Kubrick cat-themed tank top and leggings? They're by Close to Human Clothing, a fashion partnership between musician Daniel Graves of Aesthetic Perfection and designer Sam P.
The apparel line is a love letter to pop culture and cats. Close to Human offers shirts, stickers and more for men and women, in all sizes.
The tank top is a clever, catty take on Stanley Kubrick's "A Clockwork Orange" film poster (the movie is a personal favorite). Put your paws on "Stanley Mewbrick's Catwork Orange" and look real horrorshow! Find this and more on Close to Human.
Speaking of cats and other creatures… Here's a look at some of the cards from The Devil's Deck, a new Satanic ritual / oracle card deck by Shiva Honey!
Shiva also sells Satanic clothing, like this Pride crop top from the Queer Magick, on her Serpentinae website.
The Devil's Deck is a work of art. Gilded in gold, this 30 card ritual deck is a companion to Shiva Honey's The Devil's Tome. The beautiful quality cards are illustrated by Satanic Temple co-founder Lucien Greaves, artist Alexander Corey, and Shiva.
The Devil's Deck is a wonderful tool for contemplation. Each represents a Satanic ritual or act of introspection (such as Solo Ritual, Forgiveness, Justice), with an accompanying booklet to help interpret the meaning.
The Devil's Deck differs from the standard tarot: it has 17 Ceremony cards and 13 Illumination cards. (Here's a selection of the art by Lucien Greaves.)
The deck is designed to be used in conjunction with Shiva Honey's The Devil's Tome, which describes the full Satanic rituals for personal empowerment.
You can find Shiva's devilish deck, tome, clothing line and more on her Serpentinae website.
If you need some Satanic Summer Reading List suggestions, I've got your back. I was delighted to take part in a special episode of "Hexed Texts" for The Satanic Temple TV. On this show, TSTTV hosts (including yours truly) recommend their favorite devilish books. I'm at 15:00 hailing "Rosemary's Baby" by Ira Levin; the Mia Farrow film also rocks!
Watch our program here; it also features Dr John Skutlin, Lucien Greaves, Stu de Haan, Chalice Blythe, Citlati Soona, Stephen Bradford Long, Lilith Starr, Hadrian Flyte and more.
I leave you with some bonus outfit snaps — it's nice to be out and about again! This floral phone booth was part of downtown Vancouver's Fleurs de Villes public art installation. My emo romance top is by Forest Ink; it says "I'll find you again wherever we end up next." My choker is Frame Chain.
Bury me in a pyramid of flowers… Rainbow skirt by Cyberdog, sleeves by Sleevey Wonders.
A head's up: If you're in Los Angeles, you can find my photo on the wall of LA art gallery Leiminspace! Artist Rose Briccetti is having a solo exhibit there, and she included my cut-out from Millie Magazine in her wall collage.
I'm also delighted to share my profile of The Satanic Chef, Adam Ostrofsky – it's published on Fodor's Travel! Read my article about how a Bible-burning chef uses food events at The Satanic Temple to champion outsiders, and push back against Satanic Panic and injustice.
An excerpt of my writing: "He begins each episode (…) by burning The Holy Bible. Sometimes, he'll tear out pages and fling them into the flames of his wok. If he's feeling particularly devilish, the chef might dice up scorched verses with his TST membership card, and snort them up his nose."
And I was interviewed for the debut podcast episode of "Human Dreaming" by Britt Sheflin. She writes, "Join me as I discuss lucid dreaming, secular Buddhist dream practices, travel through dreams, and more with La Carmina." You can find this podcast interview here as well as on Apple, Spotify and more.
Somehow, I survived the insane Vancouver heatwave in mid-June…. and have more travels on the way. Here's to making the most of summer 2021!