Category Archive for
Arizona
Help! I'm locked in a cell with a Gothic Lolita… Where in the world am I?
To find out, watch my new video about alt, spooky travel in Arizona.
Can you tell I had fun on this trip? I'm especially happy with how this video turned out, thanks to the original soundtrack by Leon Lindon, and performed by the Lindon Automata.
** Please support our creative work by Sharing and Liking the article on HuffPost, or below. Thank you so much.
Eerie music plays as we explore Monsterland Bar & Grill, a theme restaurant in Mesa, Arizona (east of Phoenix).
I was already shaking as I entered the restaurant through a winding passage. Creatures of the night awaited me…
… some of which jumped out unexpectedly!
Inside, it was every horror scene come to life, from dungeons to dragons.
I got tied up in Frankenstein's lab.
Bunny shirt: Miffy store in Hong Kong
Scallop shorts: KiLaRa, from the Hong Kong Hello Kitty store
Bunny-eared headband: gifted by Soho Hearts
Monster gloves: gifted by Josie Loves J Valentine (remember the photoshoot we did in LA?)
Lolita shoes: Yosuke, from Marui One Shinjuku
Leon Lindon, in the Adventure of the Pharoah's Curse.
His visual musical band, Colosseum Thesis, braves the Grim Reaper's scepter.
"We did the Monsterland mash. It was a graveyard smash."
The VIP room was ruled by an alien (perhaps from our Sedona road trip?). Monsterland often has special events like video game nights, costume parties and "Scary-aoke."
The food matched the monstrous theme: beer tasters in a skull, "Children of the Corn" balls, bat wings.
The blue Swamp Water cocktail had a surprise at the bottom. You'll have to order one to discover what lies beneath.
Dare to be scared! Monsterland re-opens on August 24th (they were on temporary hiatus); check their Facebook for upcoming events.
Here's a bonus outfit photo, from dinner with Visit Mesa at Postino Wine Cafe in Gilbert, AZ.
Octopus print dress: gifted by Sourpuss Clothing; buy it here.
Black eyed bag: Hyoma, Izzue boutique Hong Kong (store photos soon)
Sunglasses: gifted by Lumete
I have fond memories of this meal. I tried a Macedonia Tikves Vranec wine, and stuffed myself with salads and bruschetta.
Gilbert, a town known for its water tower, has a nice food and arts scene.
I also ate very well at Liberty Market, across the street from Postino's.
We enjoyed fresh favorites like caprese salad, pizzas, burgers, and endless coffee refills.
I leave you with these photos of me in the Downtown Phoenix Westin hotel bathtub. You can see more photos of my Miffy bunny dress in this post.
Did you expect Arizona to have such spooky culture? Would you visit the monster restaurant?
I hope you enjoy the video and soundtrack. Tell us what you think of our Arizona adventure.
PS: Plane tickets booked for August! Can you guess where my travel team's going next?
What's the Gothic Alternative party scene like in Phoenix, AZ? I went to Sanctum club night to find out. Read on for the anatomy of a nightcrawl…
Geist, Leon and I fueled up at Blue Hound Kitchen, inside the downtown Hotel Palomar.
They are the singer/leader and bassist of Colosseum Thesis.
Guess what: Leon Lindon is scoring the soundtrack for my upcoming Phoenix travel video! You can find out more about his composition and production work on his website.
We loved the decor of Blue Hound Kitchen. The restaurant pairs seasonal, high-end comfort food with craft cocktails.
Leon demonstrates how a lounge should be used.
Casting a spell in the mirror. Love the shirt sleeve detail.
Keep your radar on their band, Colosseum Thesis, which uses a progressive blend of genres such as rock, visual, neoclassical, and jazz.
The act specializes in theatrical live shows, which immerse the audience in an original fantasy epic.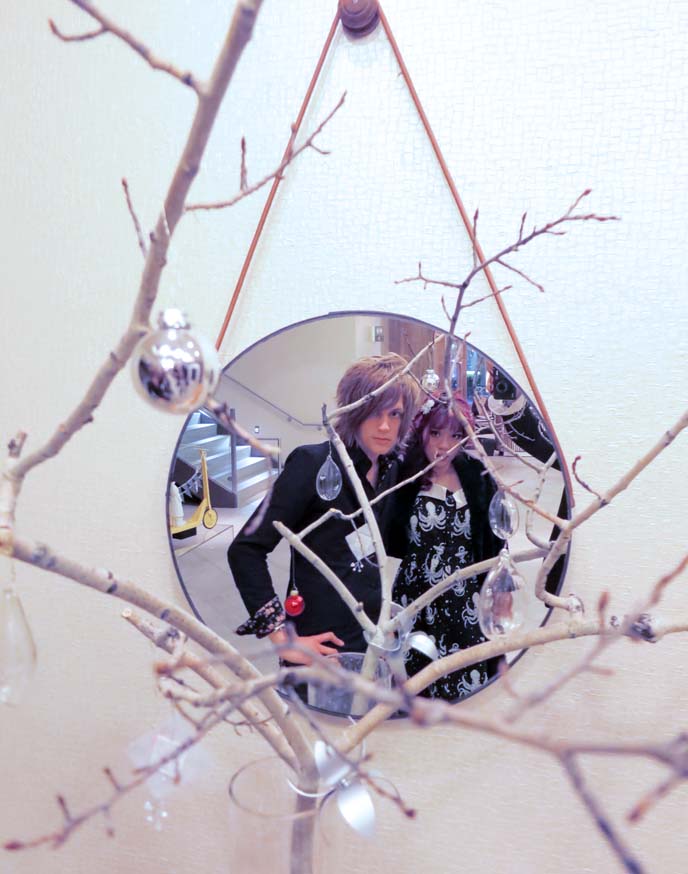 Their first demo is scheduled for 2013, as well as their debut performances. Excited!
Now, back to the food. The specialty cocktails were home runs; my "Chartreuse Fuzz" was straight out of Poppy Z Brite's Lost Souls. The flatbreads taste as good as they look, especially the one with pumpkin and goat cheese.
Blue Hound's comfort cuisine menu was the best of both worlds: macaroni and cheese, BBQ Kobe beef short ribs. The coffee-cured hamachi, flavored with candied jalapeno and pineapple, got the "Leon Award of Excellence."
A pirate always orders dessert. We had caramelized pineapple upside down cake, topped with madjool date ice cream, and salted caramel sauce. Bravo.
Time to Goth up. We retreated to my gigantic suite at the Westin Downtown Phoenix hotel (more photos here).
My octopus dress and anchor knee socks are gifts from Sourpuss. Same with the glitter octopus clips in my hair.
Serafina (remember her from the Art Museum post?) gets a streak of blue hair thanks to Hypercolor's temporary Dip Dye powders. (This product's perfect for a night out; I used the colors to give myself rainbow hair.)
A tableau inspired by Philip C. Curtis's creepy-surreal paintings.
Mark of the cross.
The Westin Hotel's lobby decor was made for photoshooting. We piled into a car, and headed to the party.
As soon as we stepped into Sanctum Goth club (4343 N 7th Ave), we knew we were in the right place. DJ Apollynon and Aleksandr Aeternum were spinning Covenant, And One, and 1980s darkwave.
DJ Apollynon (above) is passionate about making the night inclusive. He keeps connected with the audience through on-the-floor interaction and welcoming music requests.
The club has various nights: a monthly Industrial/ Aggrotech event, and dark/alt music every Saturday. I appreciated the welcoming atmosphere and relaxed space at Sanctum — I raise my glass of absinthe to this Phoenix Goth night! Thank you Elligons LaCroix (left) for helping me connect.
Have you explored Arizona's Gothic, alt and Industrial nightlife? What's the subculture scene like where you live? You never know — I may come and check it out!
PS: Thanks to About.com Multicultural Beauty for interviewing me about Asian cosmetics and bagelheads. And thanks to everyone who entered the Yummy You contest! The winner Yuuki M, chosen by random selection, has been contacted.