Category Archive for
Arizona
Did you know I used to take art history classes? Visiting galleries remains a favorite past-time. During my Arizona press trip, my friend and I went to the Phoenix Art Museum.
Serafina is a classically trained soprano (and she wears Gothic Lolita coordinates beautifully). She's currently working on Chiaroscuro, a "neo-classical pop project based upon the visual arts, from classical to the contemporary." And she sells handmade jewelry, mostly rosaries, in her Etsy shop Rosarium Obscurum.
We stopped by the rooftop garden of the Sheraton hotel in downtown Phoenix.
Purse friends! My fuzzy is Hyoma, from Izzue in Hong Kong. More photos of my Miffy outfit in this Roosevelt Row post.
We ate refreshing hummus, goat cheese and Thai-flavored salads at District , on the ground floor of the Sheraton Downtown. They made special mint juleps for us, using herbs straight from the roof garden!
The Art Museum has a spacious courtyard and Sculpture Garden. One of these runners is not like the other…
A cartoon-like man riding a masked horse. Serafina's expression says it all.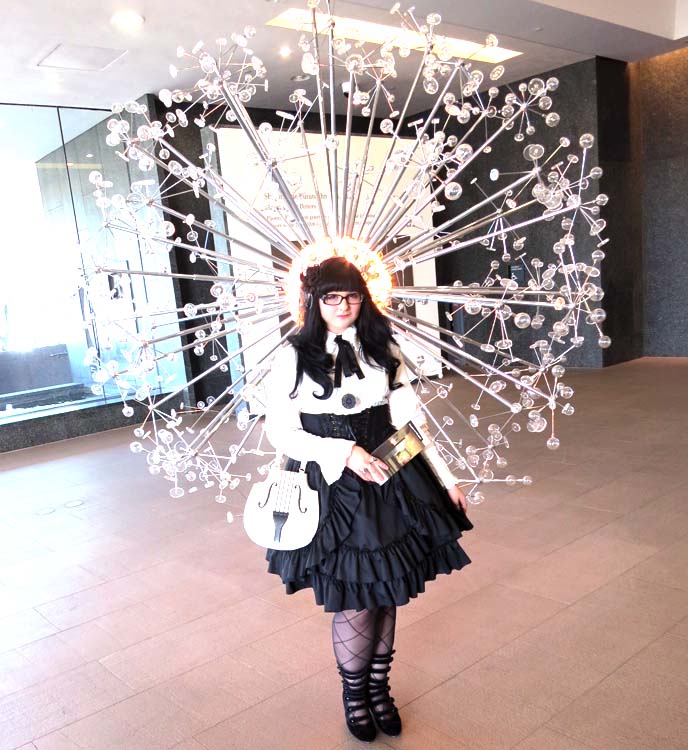 The museum lets you take photos inside, as long as you don't use flash. Talk about an invitation for a photoshoot.
The museum has multiple wings, with works spanning from ancient China to today. I personally loved the Philip C. Curtis exhibit. The American painter reminds me of Edward Gorey and the surrealists.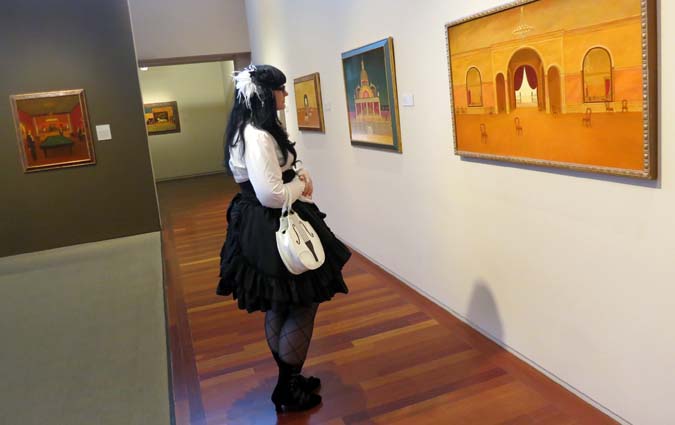 An empty ballroom with uncanny mirrors and chairs, carney circuses, strange Victorian guests. I'm still mulling over Curtis's paintings.
I could't wait to see the special exhibit: Art Deco fashion.
Fascinating to see Vogue and Harper's Bazaar magazine covers from the 1920s and 1930s. Who knew they were hand-drawn?
Velvet capes with embroidery. Want.
Quite a few of the Roaring Twenties flapper gowns were by Coco Chanel.
Can't go wrong with cloche hats and feathered fans.
Or silky lingerie.
Here's a quick video I took with my iPhone, to give you a sense of the space.
Can you tell I'm on a 1920s kick? Check out my Art Deco Weekend Miami coverage for more retro inspiration.
Phoenix Art Museum is very much worth a visit; the selection is well-explained and includes Monet, Frida Kahlo, and Alexander Calder. Be sure to visit Yayoi Kusama's "You Who Are Getting Obliterated in the Dancing Swarm of Fireflies" — a dark room with hanging LED lights.
Have you heard of Philip C. Curtis? Who are your favorite artists and eras? You can delve into my art and design category, and there's more Art Deco Weekend on the way!
Heavy metal adventure team… activate!
I'm in Sedona, Arizona with Leon and Geist of the band Colosseum Thesis. Can you mix Jrock and Aliens? Read on to have your eyes opened.
Sedona is a 2-3 hour scenic drive from Phoenix. The red rock's known as a haven of spirituality… and alien encounters.
Skull hair clips: gifted by Kreepsville 666
Art Nouveau sunglasses: gifted by Lumete
We blasted metal and Visual Kei on the drive north, which took us through cacti landscapes and rock corridors. Bassist Geist and I strike an alien pose.
It was right before Christmas, so the aliens were wearing Santa hats.
Our first pit stop: the fascinating Center for the New Age.
The store offers vortex tours, aura photography, psychics, palm readers, healing stones and crystals, and more.
A rich selection of books and Buddhas.
No matter what your spiritual leanings are, Sedona is special place. There's a feeling of re-charging here.
Sedona has a number of "vortexes", or sites charged healing and awareness.
Not everyone "feels the power." Nonetheless, Sedona's an unbeatable place to hike, relax, and take in nature.
We had outstanding French food at Rene in Tlaquepaque, across from the New Age Center.
I could have stayed in the Southwestern courtyard all day. My white dress is Japanese brand Liz Lisa, bought in Hong Kong. Here are photos of the Liz Lisa boutique.
Closeup on the boys' rings and gloves.
The spinach tofu salad and fresh crepes were out of this world.
Ravioli for my Arizona guide, Leon Lindon (singer, composer, musician, producer, and leader of Colosseum Thesis).
With stomachs satiated, we went on to another spiritual place.
The landscape makes an epic backdrop for photos.
My Liz Lisa ankle boots aren't really made for climbing.
We ascended the spiral walkway…
… to the Chapel Of The Holy Cross, an architectural marvel completed in 1956.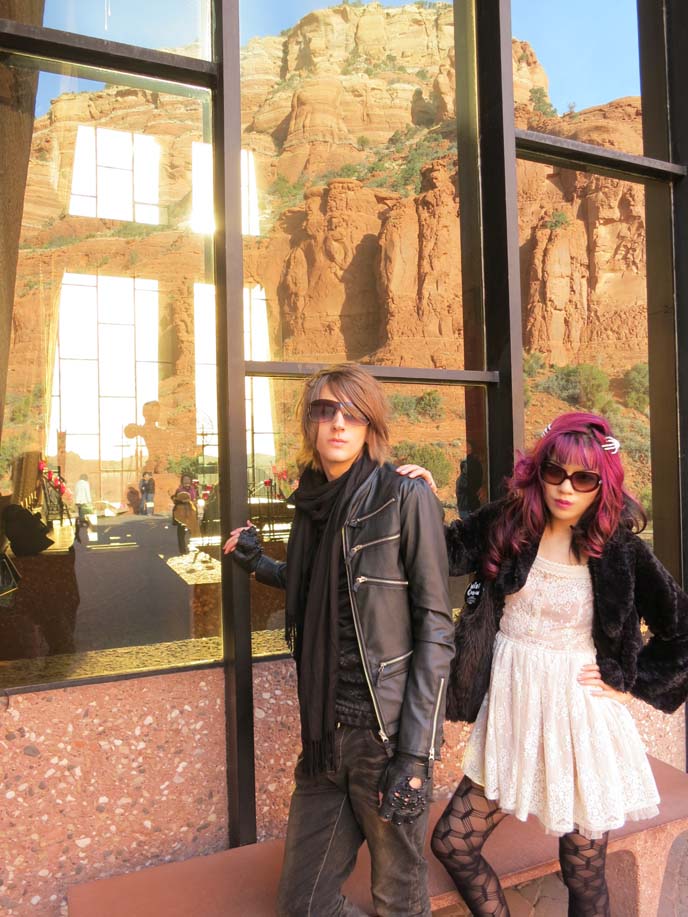 The Catholic chapel's windows reflect red rock, and the shape of a cross.
A powerful place for prayer.
Inside, we listened to soft chanting and basked in the light.
I've been to ornamented churches around the world, including Prague and Mexico — but none had the energy of this simple Chapel.
As Leon puts it, "Sedona is a place that encourages people to look upward."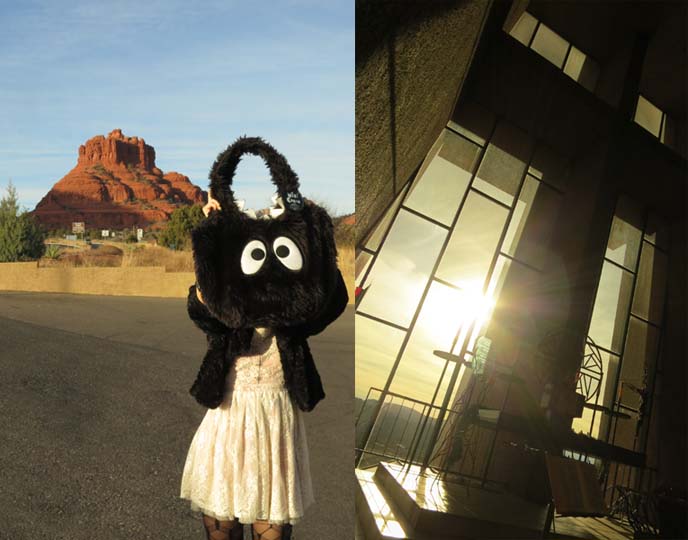 Photos can't convey the feeling of this place; I hope you'll come and experience it for yourself.
Thanks to Leon and Geist for the epic road trip. Their band, Colosseum Thesis, is a surprising new visual music act that uses a progressive blend of genres such as rock, neoclassical, and jazz, complete with grandiose theatrical performances. Can't wait for their debut performances and demo later this year.
Were you surprised by Sedona's spirituality? Where do you go to regain calm and re-charge?