Category Archive for
Art + Design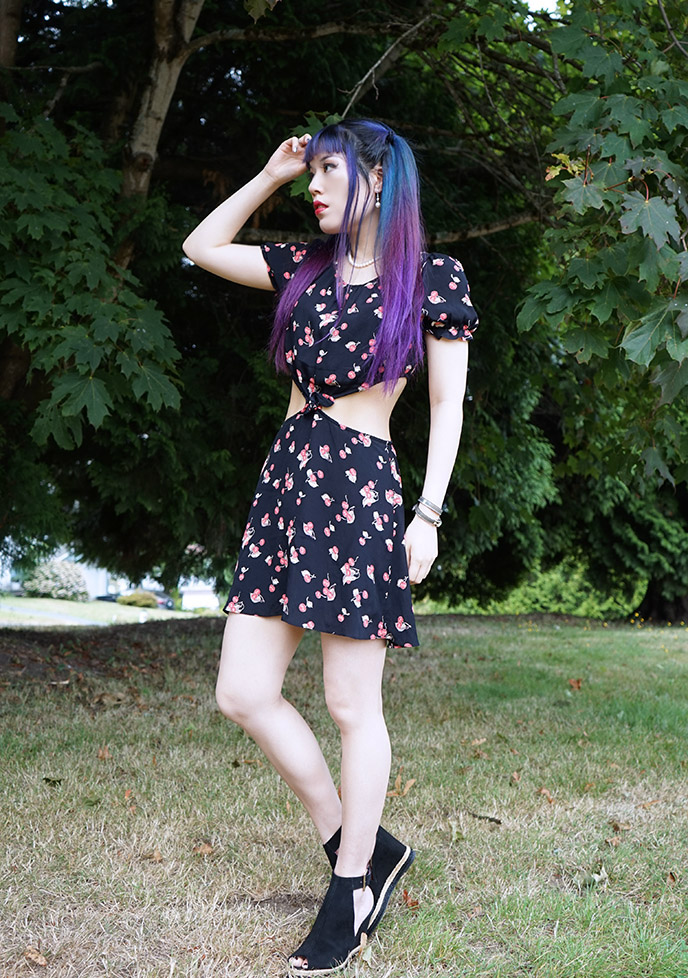 Before I take you inside the Tokyo teamLab museum — I wanted to thank you for the birthday wishes on my Facebook and Instagram! I took these quick outfit photos on August 17, before celebrating with friends. 
OOTD: I'm wearing a cherry print mini dress with a cut-out waist by For Love & Lemons, and black platform sandals from Le Babe by Ferca Italy.
If you haven't heard of For Love and Lemons, I think you'd love the dresses below (click the images to see):
I accessorized with a short pearl necklace from Japan, and here's the current hair situation. 
I had a lovely birthday, with plenty of surprises. Still can't believe I received this fantasy bracelet… a Hermès Collier de Chien. 
This is the silver CDC small model hinged cuff (Hermes has various versions with different hardware, leathers, and sizes). The studs and dog collar O-ring give it Gothic BDSM vibes — a perfect fit.
What I wore on my birthday, for a party. This short sleeved For Love & Lemons dress is as summery as I'll get. The cherry print sundress has a 1990s feel, with revealing cutaway sides and a tie front. 
Couldn't resist taking some closeups of my first Hermès Paris jewelry and the iconic orange gift box. Love the minimalism of this silver collier de chien design (it'll go with all types of outfits). The Medor pyramid studs and circular ring give the CDC bracelet a Goth punk S&M edginess.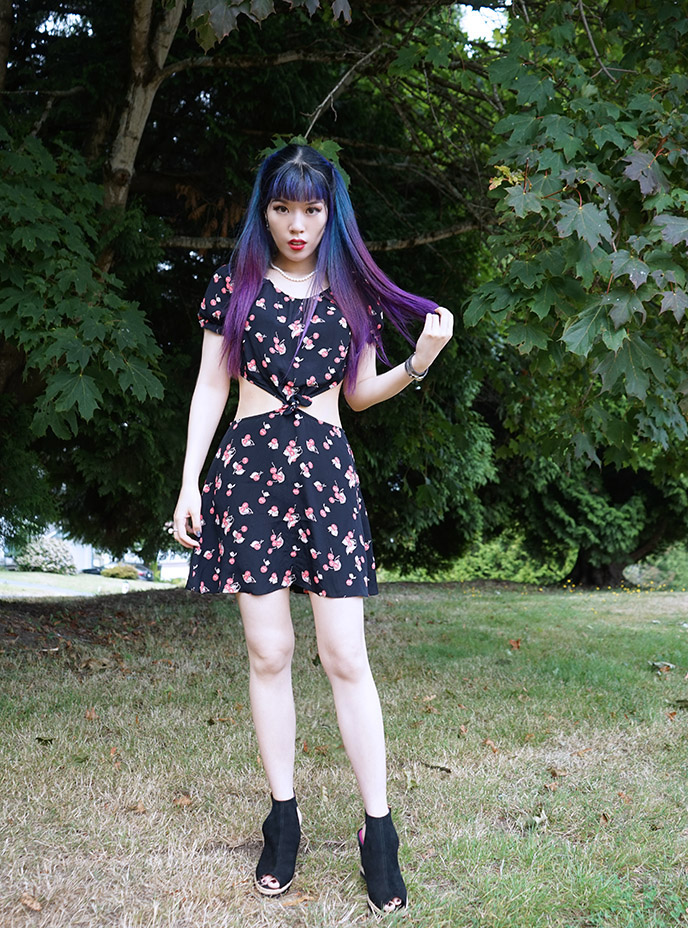 I matched my For Love and Lemons cherries dress with Le Babe peep-toe sandals. See more of my favorite black platform shoes below: 
Thank you again for the well-wishes, as another year goes by. Now, let's segue into my guide to visiting Teamlab, the hottest new museum in Japan. 
Every time I visit Tokyo, there's always something new and wild to discover. On my last visit, my friends and I received a private guided tour of the Digital Mori Museum, by one of its creators! 
I'm sure you have heard of (or seen scintillating photos) of Tokyo's recently-opened teamLab Borderless and Planets. These museums push the boundaries of futuristic technologies, and encourage you to interact with art in unexpected ways. 
Read on for a full guide to visiting teamLabs Planets and Borderless in Tokyo — including the difference between the two museums, how to get tickets, and more.
Japan's teamLab collective dreams up contemporary art exhibitions, with a focus on interactive media. In June 2018, they established a permanent location in Tokyo's Odaiba.
As you might guess, the Mori Building Digital Art Museum is extremely popular with both locals and travelers. Tickets sell out quickly, so be sure to book passes well in advance from their website.
I visited teamLab Borderless with Portland-based artists Becky Hawkins and Naomi Rubin. We were fortunate to have a personal tour with Takashi Kudo, a member of the Digital Arts Collective that created this exhibition.
Becky made this watercolor postcard that perfectly illustrates how mesmerized we were by this digital wonderland.
We walked into a series of rooms with no boundaries, spanning 10,000 square meters. The digital artwork is generally divided into five zones, each transitioning seamlessly into fantastical new worlds.
The digital works are in constant motion, and flow over the walls, floors, and ceilings. We were awed by how the art responds to your presence: for instance, the flowers changed pattern and color at my touch.
At traditional museums, the staff puts up barriers and yells "dah-meeee" if you get too close to the art. In contrast, teamLab Borderless invites you to experiment, touch, and play with everything you encounter. Naomi illustrates this by bounding through the balloons (which change color) in the "Weightless Forest of Resonating Life."
Photos and video don't do justice to teamLab Borderless. You'll have to come here yourself, to see how it feels to wander through the ever-morphing exhibits.
This room had rows of glass panels, each with a translucent human or animal figure wearing a Japanese festival outfit. When you stop in front of them, they'll perform different enka dance moves, and emit various sounds. The music and visuals are therefore constantly changing, depending on the number of people interacting with them. 
This lion covered in flowers strolled through Borderless World, a zone inspired by nature. Likewise, your presence and actions will affect the way the creatures emote.
One of the most Instagram-ed areas is the Athletics Forest. It's as mix of art and PE — you can't help but run around and explore the physical space. 
For more active types, there are even stations for bounding on a trampoline, and climbing through a maze of swings. 
Takashi Kudo, our teamLab guide, spoke about how Borderless explores new dimensions of learning. Today, children engage with computers and apps. In the future, how can we keep using technology to learn in new ways? 
In the "Crystal World," friends gather to take dynamic silhouettes poses in front of the curtains of sparkling lights.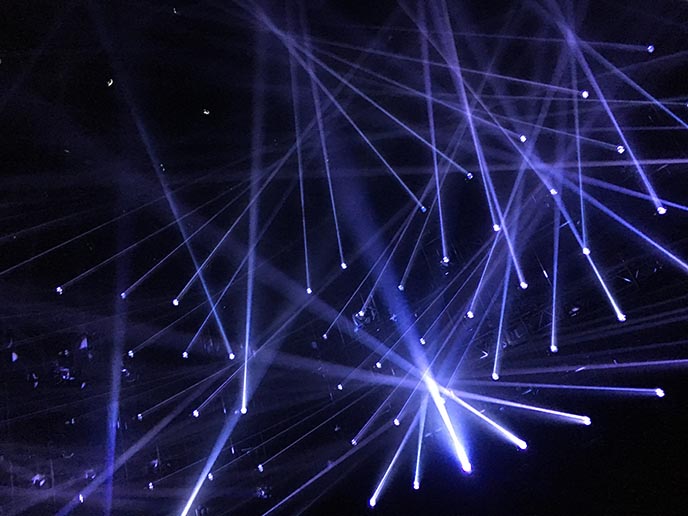 Another room featured dancing strobes of light set to sound, much like a sci-fi movie or EDM party. 
It's remarkable that these enormous, evocative displays — like this "waterfall" — are made with digital art and sound effects. 
Artist Becky Hawkins created a watercolor travel postcard that shows a scene from our tour. "Every few centuries, there's a revolution that brings about a new way of seeing. The internet is the latest such revolution.
How does our relationship to images change when they can be shared instantly, across the world? We don't know yet!"
"This room was inspired by Hokusai's "Great Wave," We celebrate Japan's past while we look to the future."
Takashi told us about Japanese monks who sat by the ocean for decades, meditating. This space encourages you to do the same, in front of the shifting digital waves. 
The Forest of Lamps allows only a limited number of people inside at one time, so there may be a line up for this popular exhibit. When you approach a lantern, it responds by emitting light that spreads to nearby lamps.  
Becky Hawkins bugs out at Naomi's insightful connection between the forest and ocean zones. 
"'The Wave' is a really good parallel, actually, because woodblock printing was another technology that enabled an image to be reproduced and shared on a previously unimaginable scale…"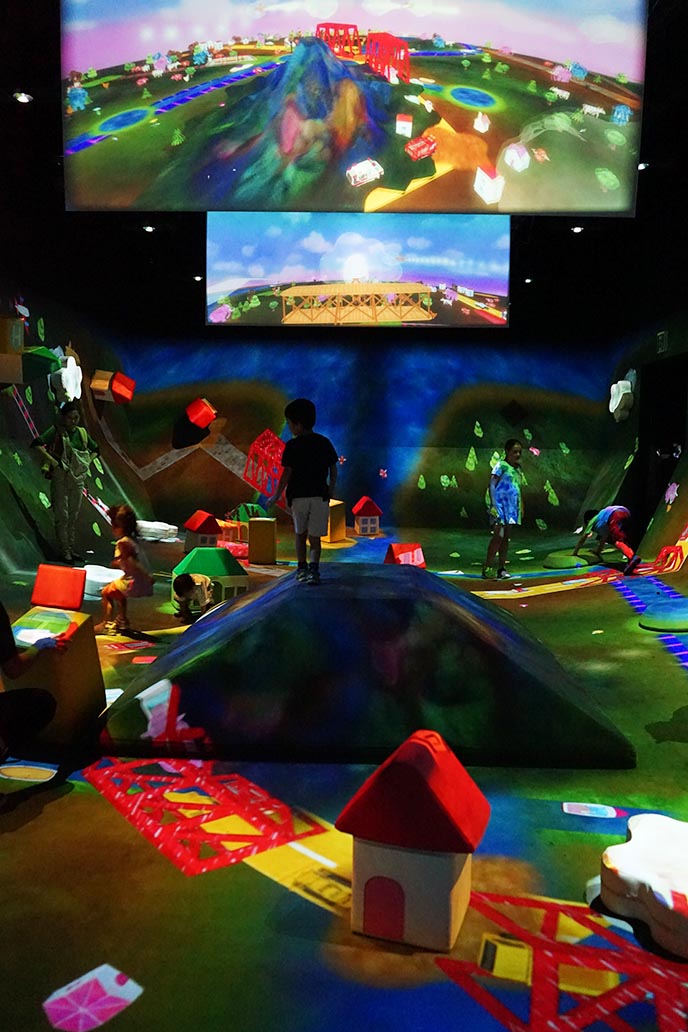 We peeked into this room designed for children. The screen shows a bird's eye view of a city, which mirrors the layout of the room.
Anyone can add bridges, homes, and other movable objects to the urban design — which immediately changes what you see on the screen!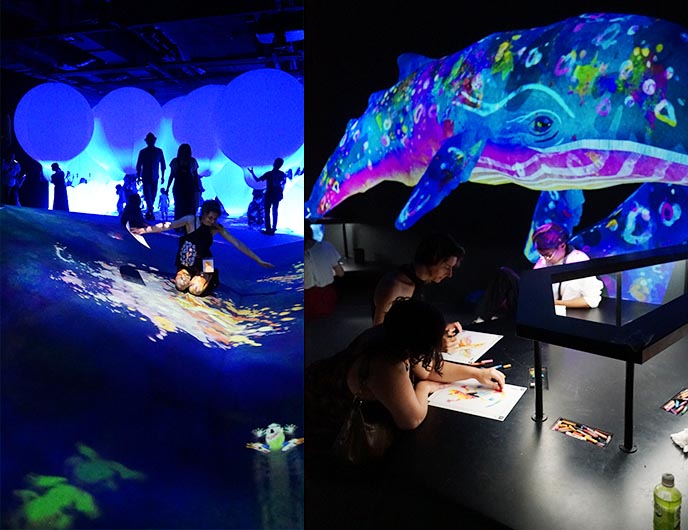 "Future Park" is another educational experience that merges art and technology.  The "Sketch Aquarium" lets you add color to outlines of ocean creatures. 
Then, you pass the page through a digital scanner. The creature comes to life as an animated digital image that moves through the exhibit.
Naomi colored in this phoenix, and once she scanned it, the bird flew over the mountains and valleys of the park.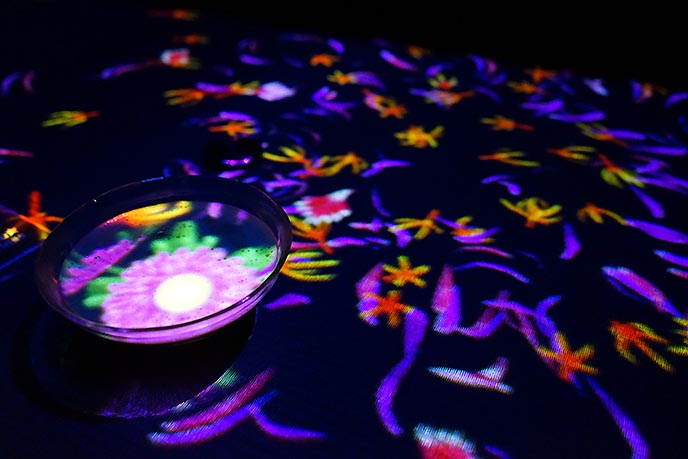 Don't leave before a cup of matcha (powdered green tea) at the museum's EN Tea House. In this unusual cafe, you sit on long benches in a dark tearoom.
When the server pours tea into your glass bowl, it lights up with floral patterns. When you sip the tea, neon flowers bloom and petals float out to the table and walls! 
Takashi Kudo then took us to visit teamLab Planets Tokyo — a temporary museum by the same collective, located next to Shin-Toyosu Station. (It requires a separate ticket, which you should also book well ahead of time.) These virtual installations are more intimate, and play with themes of new worlds.
When you enter, you must take off your shoes and walk up a ramp streaming with water! You'll explore the entire museum barefoot, including parts where you wade through a glowing pond of water. 
One of the "dimensions," called the Infinite Crystal Universe, was surrounded by mirrors on all floors and ceilings. Here, Takashi is showing how anyone can use a special app to change the light and sound patterns in this room.
When you look around, you see yourself mirrored to infinity — a trippy feeling, especially amidst these glistening strands of lights. 
I've never visited any art installation like this one, called "Drawing on the water surface created by the dance of koi and people – Infinity." You wander through a calf-high ocean that is filled with virtual fish and lights.
When you touch one of the goldfish, it bursts into flowers and floats through the water. The visuals are constantly in flux, as each interaction changes how the space looks. 
teamLab Planets ends on a beautiful note, with the "Falling universe of flowers." Lie down, and watch flowers drift throughout the room — blossoming, changing, and dying with the seasons. The floral free-fall evolves in real-time, depending on how you respond to the installation. 
teamLab Planets and Borderless (Mori Digitual Art Museum) are powerful, immersive spaces that merge the boundaries between the viewer and works. Above all — they encourage you to activate your imagination, and have fun with friends! If you are heading to Tokyo, book teamLab tickets as soon as you can, as you don't want to miss out.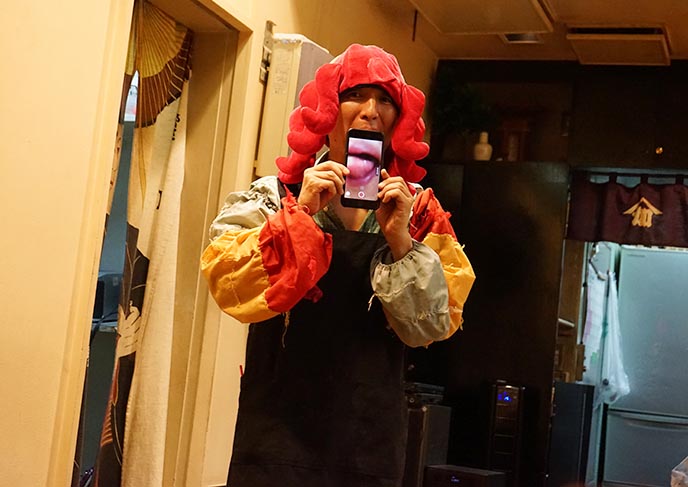 We ended our Tokyo trip with another type of interactive art… Kagaya, our favorite izakaya restaurant! Long-time readers of this blog will know that we always come back to see Mark and his zany performances. 
I've been to Kagaya at least 6 times now, and his surreal, head-scratching, hilarious antics never get old. Will the teddy bear manage to carry the heavy tray to Trevor, or will he buckle under the weight? We cheered, "You can do it, bear!"
Becky Hawkins made this illustration of our joyful group dinner. Kagaya serves wonderful traditional Japanese food, including mackerel, all types of tofu, kabocha (pumpkin), and sake. 
Whenever you order a drink, you get to choose the name of a country from a list on the menu. "Normal Mark" ducks into the closet …. and comes out as a wild character!
I don't want to ruin the surprise, but you have to trust us: Kagaya is a true gem, and the site of some of my fondest memories in Tokyo. You can reserve at table and find the map to Kagaya here.
There's no doubt I will be back in Asia soon, to bring more crazy tales to you! I want to visit the new permanent Sailor Moon cafe in Tokyo when it opens… I also have some comprehensive Japanese travel guides coming out on another website, so keep your eyes peeled.
PS – if you're hungry for more Tokyo tips, I have over 10 years (!!) of subculture coverage on La Carmina blog. You can find everything in my Japan travel section.
If you're an alternative or artistic type, then Montreal is a destination you'll adore!
Particularly in the summer months, the city has a full calendar of edgy events. I was excited to return to Montreal, and see more of the groundbreaking museums and Gothic stores. 
Read on for a guide to offbeat, hip travel in Montreal –– including close encounters with robots and aliens! 
My alternative travels began with a stay at the aptly-named Alt Hotel Montreal. These hip boutique accommodations have contemporary rooms, and art everywhere… I was pleased to find what looked like a pentagon Pokeball on my concrete wall!
(This black dress is by The Reformation, worn over a white baby tee like in the 90s. Sandals by Lola Ramona, and more dresses by Ref below…)

Alt Hotel is conveniently located in Griffintown, which is a short walk from Quartier des Spectacles, the Gay Village, and other downtown districts.
I had a room on the top floor, with tall windows and these cool views of Montreal. From one of the panes, I could even see the experimental Habitat 67 by Moshe Safdie (the community housing that looks like a stack of Legos).
The staff at Alt Hotel Montreal makes sweet efforts to give their guests a memorable stay. They knew I loved dark chocolate, berries, and local wine — so I found this welcome plate in my room, upon checking in.
I always prefer to stay in modern design hotels, and Alt checked all of my boxes. The bed was excellent quality (which is not often the case, in hotels), and the bathroom finishings were new.
Hotel Alt strikes a balance between luxury, design, and affordability, making it a nice choice for young travelers.
Be sure to head to the 7th floor, which is a covered terrace for guests. From the balcony, you can spot the Farine Five Roses sign (a local flour company, and Montreal landmark).
Once a poor industrial neighborhood, Griffintown has transformed into a hip Montreal hub. I was happy to discover that Alt Hotel was a block away from Adonis (a Lebanese grocery store / deli), and La bête à pain (a spectacular French bakery / cafe).
(I'm wearing a black mini dress by The Reformation, and red shoes by Lola Ramona.)
The lobby welcomes visitors with this cheery rainbow wall, which is made up of square photographs. Alt's interior design is made for Instagram, with "selfie stations" and guides to trendy restaurants.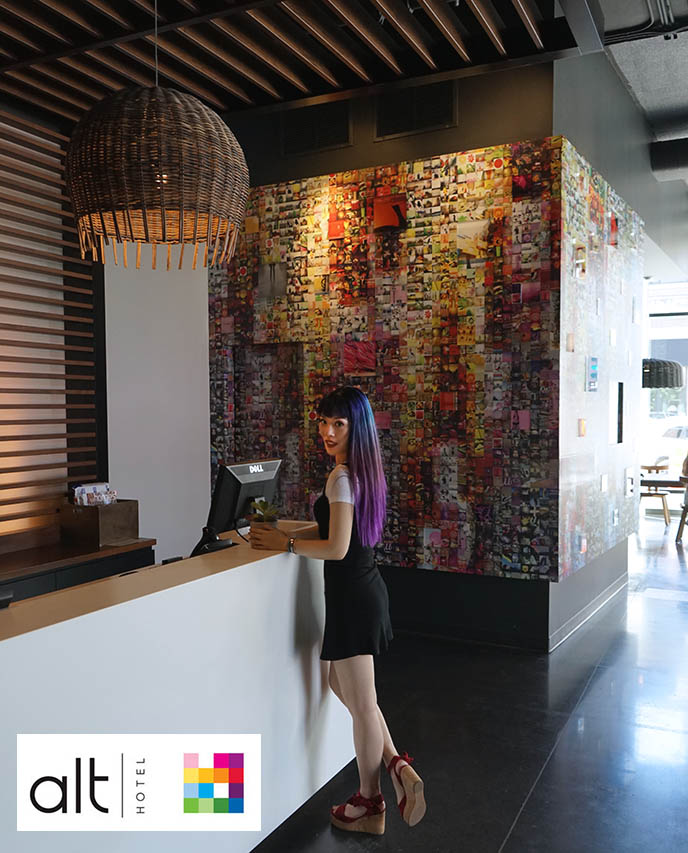 Salut Alt Hotel Montreal for the fabulous stay. I'm very happy that I made this cool boutique hotel my home-base.
Now, let's teleport into the future… I went to Hum(ai)n, a Montreal exhibition that lets you interact with AI, and discover new worlds through VR! 
The high-tech installation is inside Centre Phi, an art space for avantgarde, multidisciplinary works. 
I went to the Humain exhibit with friends both old and new. As you can tell, we adore Gothic and Japanese street fashion.
Many of the exhibits have an interactive element, such as Ophelia the robot lady. You can ask her questions in either English or French, and each conversation helps her learn what it means to be human.
At first, Ophelia's replies were simple and "robotic" — but now, after speaking to hundreds of visitors, she responds with remarkable depth and humor!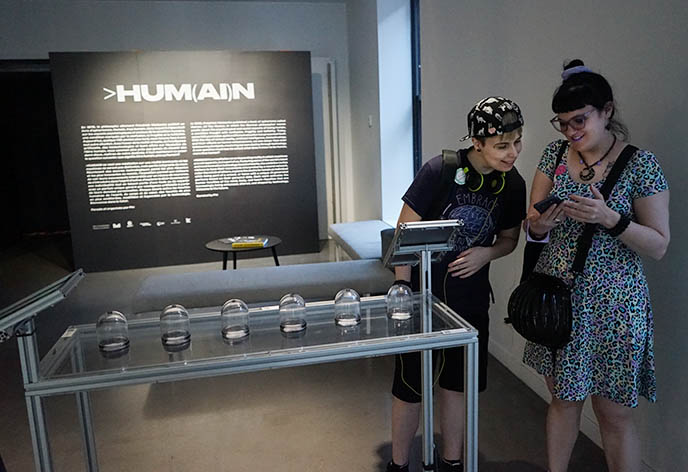 There were about a dozen stations to explore, each with a different take on virtual reality, artificial intelligence, or biotechnology. Is the "rise of the robots" something to worry about? Only time will tell…
My friends and I participated in "Algorithmic Perfumery," which creates a unique fragrance based on your answers to a series of questions. The data includes your preferences, personality, and response to multiple scents.
Then, the machine mixes the custom perfume. The results were hit and miss: some of us felt that the resulting fragrance wasn't to their liking.
The Phi Center is in a historic building, which was quite the contrast with the VR headset stations. This one is "Emergence" — when I look around, I see myself running in a crowd of thousands. Using the wireless controller, I can change my direction and try to race into vertical beams of light, which alters the pattern. 
Some of the immersive narratives were rather intense. "7 Lives" is a Japanese production that includes traumatic experiences (jumping off the Tokyo subway platform, and being berated by an angry Japanese mother).
When you put on the VR headset and headphones, you find yourself immersed in a new universe (you can look around in all directions, and react to sounds and visuals like in real life).
The "films" range from fantastical toys in a gymnasium, to psychedelic ayahuasca visions in the Amazon rainforest. As you can see from our reactions, they truly transport you to a different time and place!
What does it mean to be human? Are we creeping closer to the singularity? Montreal's Hum(ai)n exhibit lets you ponder these questions, and witness the latest developments in art and technology.
(PS: be sure to book tickets in advance from Centre Phi, as there are limited time slots.)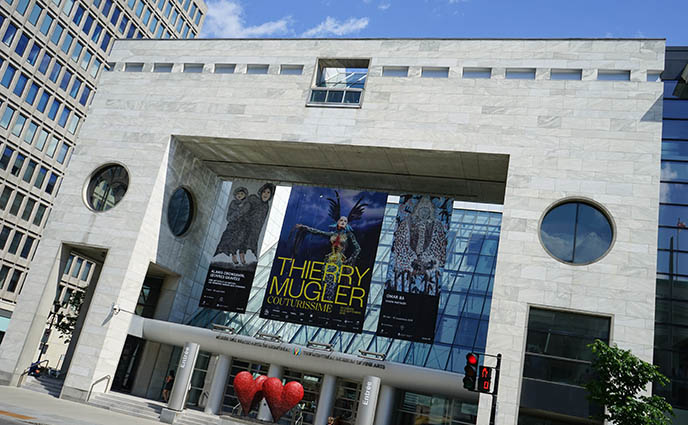 I got to see another futuristic exhibit at the Musée des beaux-arts de Montréal. The fine arts museum houses the world premiere of "Thierry Mugler: Couturissime" — a retrospective of the imaginative designer. 
The visionary French designer, photographer, and perfumer rose to fame in the 1980s and 1990s. At the time, Thierry Mugler's garments looked like they came off a runway on Mars: he became notorious for his flamboyant, sci-fi and fetish inspired couture. 
Montreal's "Couturissime" is set in several dramatically-lit rooms, which match with Mugler's pomp and glamour. The first room showcased his visionary stage costumes for Shakespeare's Macbeth, including oversized black ruffs and spiked codpieces.
Thierry Mugler made costumes for many musicians, including David Bowie, George Michael, and Lady Gaga. This skin-tight dress was worn by Bowie; the peaked shoulders are typical of his "power dressing" approach.
The screen shows music videos and concert footage from over the decades, with artists wearing his creations.
"Thierry Mugler: Couturissime" includes over 150 garments, over 100 photographs, sketches, and more. His gowns span a variety of styles; of course, I fawned over these Mugler Gothic dresses.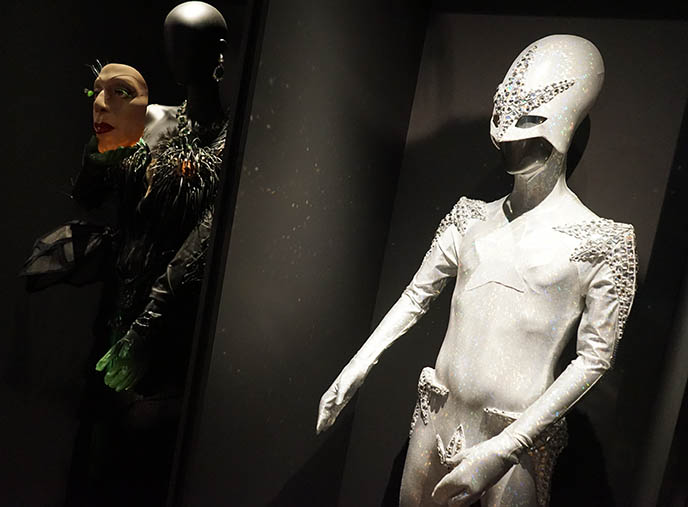 No wonder Mugler makes an Alien fragrance… he had quite the affinity for extraterrestrial space couture!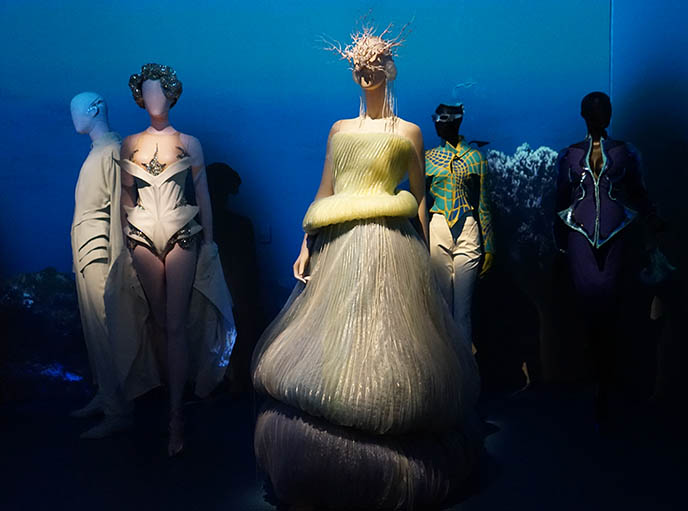 I loved seeing the decadent fabrics and details up close. Mugler liked to break conventions and had a sense of humor; one mannequin had a "beer can holster" attached to her thigh!
Wouldn't you like to wear a sequinned creation by Mugler? (Below are some of his designs for sale; click to see.)

As you can see, Mugler was inspired by fetish and S&M subcultures. He incorporated latex, leather, flogs, and other paraphernalia into his designs.
The exhibition also included a showcase of local fashion designers. How cool to see Matières Fécales (above) featured in the Montreal Museum of Fine Arts.
I hope these photos inspire you to see the Thierry Mugler exhibit for yourself.
Speaking of Montreal fashion…. if you're a "creature of the night," then you should stop by Boutique Creatures, a Goth store in the Mont Royal district.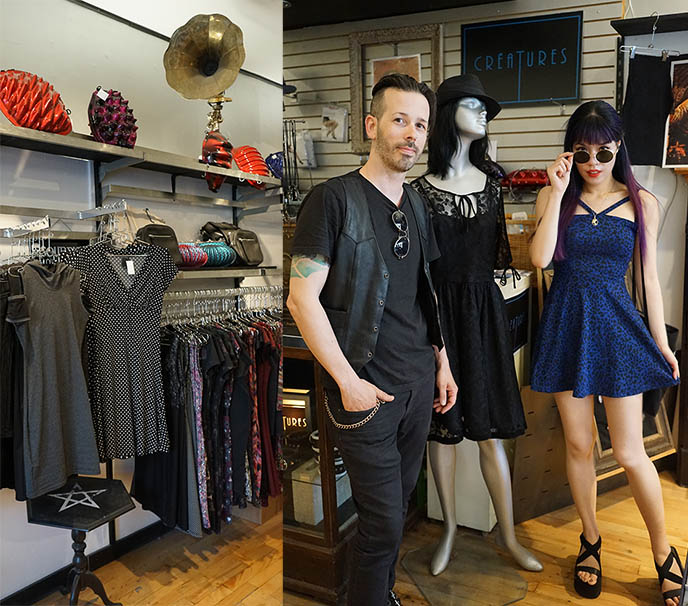 I met up with Joe McHarg, owner of Creatures. He also runs Cabaret Berlin, an alternative event space. The club has frequent Gothic and underground music nights, as well as a Tech Noir synthwave party (I'm so bummed I missed the date!)
Creatures stocks a variety of underground brands, inspired by Goth and punk subcultures. The boutique focuses on original, local designs — including their own Creatures fashion line.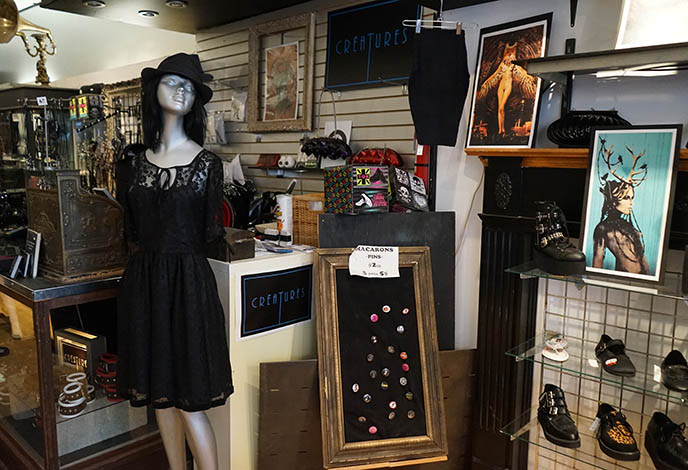 In addition to Victorian dresses and hard shell bags, Creatures sells art and prints by Quebec creators.
Creature's fashion line is one-of-a-kind: Joe picks out the fabrics by hand, and everything is stitched locally. I'm wearing one of his dark creations, a long sleeved top with mesh panels and scalloped edges.
From skull wallets to glitter backpacks, Creatures has something for anyone who loves alternative fashion.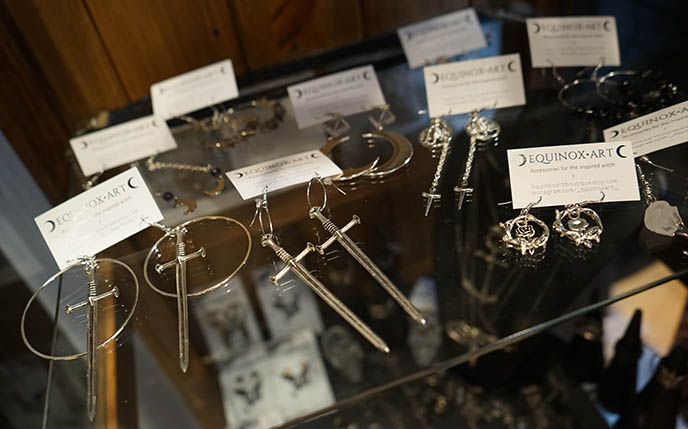 The jewelry case features deadly earrings by Quebec's Equinox Art.
The O-ring leather chokers are also made by hand. Love how Boutique Créatures focuses on quality items, and supports local Gothic artists.
Montreal has other terrific alternative fashion shops, particularly in the Mont-Royal area. Here's a peek at Kitsch n Swell, a vintage / pin-up / retro boutique. (I featured them on Touring Bird, the new Google travel project I've been working on — you can see all my TB.D Montreal tips here.)
Diabolik is another diabolical dark fashion shop. I spy Hell Bunny dresses in the window.
Montreal's fashion, art, and museums are out of this world! The city is also known for its food scene — and that's what I will show you in the next post.
I hope this story inspired you to book a flight to Quebec… before the robots become our overlords…
(Dress by The Reformation, with more below. The white top and other designs are for sale on my Depop.)