Category Archive for
Art + Design
Dot, dot, dot! I love the zany Japanese contemporary artist Yayoi Kusama. During my NY trip, I got to see her giant pumpkins, and be part of her flower power obliteration room.
She currently has many eccentric installations on view at her Yayoi Kusama: Cosmic Nature show, at New York Botanical Garden in the Bronx.
Yayoi Kusama's exhibitions are found both indoors and outdoors, harmonizing with NYBG's ponds and greenhouses. Strolling around, I felt like Alice in Wonderland as I encountered "Dancing Pumpkin" and her other incomparable works. (Kusama is known for her gourds, so it's fitting that Cosmic Nature is open until Halloween – Oct 31, 2021.)
OOTD: Wearing a cream puff pirate print dress by Sourpuss Clothing.
New York Botanical Garden was founded in 1891. The living space has over a million plant species in a variety of environments, such as wetland and waterfall.
To get to the NYBG: From Manhattan, the most convenient route is via the Metro-North Railroad. Take the Metro-North Harlem local line from Grand Central Terminal to Botanical Garden Station; the ride takes 20 minutes. Then, walk across the street to the Mosholu Entrance, and you're in.
Tickets to Yayoi Kusama's Cosmic Nature are available in advance via their site. I encourage you to pick up a map when you enter, as it shows where her exhibits are located throughout the gardens. (I felt like I was on a treasure hunt, as I went from place to place.)
Yayoi Kusama has been fascinated with the natural world ever since her childhood in Japan. Much of her art is inspired by the patterns, shapes and colors of plants and flowers, which she pushes to the point of obliteration / infinity. 
(All photos by Joey Wong.)
Yayoi Kusama has become a household name in the past decade. After her early years in Japan, she moved to New York City and created art that vibed with the swinging, happening subculture of the 1960s. (Mod tentacles, anyone?)
Later, the artist moved back to Japan to check into a mental hospital, where she continues to live and work… at age 92!
From the start of her career, Kusama's works have been dotty (figuratively and literally). She experienced hallucinations since childhood, which made the world look like it was made of dots — and inspired her artistic vision.
Her giant pumpkins, flowers, and other flora-based works get the polka-dot treatment. Love how they integrate with the natural surroundings at NYBG.
In "My Soul Blooms Forever" (left), her flowers stretch towards the glass dome of the Conservatory's Palms of the World Gallery. On the right. "I Want to Fly to the Universe" seems to be reacting in surprise to its reflection in the pool!
My favorite spot was Yayoi Kusama's first-ever obliteration greenhouse, "Flower Obsession." Before entering, visitors receive a colorful red and black gerbera flower sticker.
They must place the sticker somewhere in the interior — which lets them take part in an ever-changing Obliteration Room. (I didn't realize that it was "dah-mee" to put my decal on the exterior of the greenhouse, until afterwards… oops!)
Visitors came up with clever ways to add their stickers to the Flower Obsession. Some created long chains of flowers, which hung down from the glass panel roofs.
My sunglasses are these by Roberto Cavalli: RC 1047 Chianciano oversize frames, with gold snakes on the arms.
I suppose the NYBG caretakers will make a "Pikachu surprised face" much like this starfish-y sculpture, when they find my sticker here!
Yayoi's Flower Obsession edges further towards obliteration over time, as more people add stickers to the furniture and walls.
Be sure to visit Yayoi's "Narcissus Garden" at New York's botanical garden — a disruptive art piece that she introduced at Venice Biennale in 1966.
The shiny steel orbs float on the shallow pond of the Native Plant Garden. The wind changes the arrangement of the silver balls, and brings about a gentle melody as they clink together.
With a glittering orange skin, Yayoi's "Starry Pumpkin" looks like magic among the ferns.
Yayoi Kusama: Cosmic Nature had a few areas that prohibited photography — so you'll have to come for yourself to see these areas. They include collections of her early canvases, and an Infinity Mirrored Room. Walk into a dark space, and you'll find lit-up and dotted gourds reflected endlessly through mirrors ("Pumpkins Screaming About Love Beyond Infinity").
My tentacles dress by Sourpuss Clothing matches the phallic theme in many of her works.
Loved seeing Yayoi Kusama's vision in the context of a gorgeous garden. Here's another view of "Narcissus Garden" at the pond, and the back side of "I Want to Fly to the Universe."
Even a path through the trees gets the Yayoi treatment. The artist wrapped branches and trunks in red and white fabric, for "Ascension of Polka Dots on the Trees."
The gardens are able to hold her largest-scale works, such as "Dancing Pumpkin." (Why choose between tentacles and pumpkins, when you can have both?). So much fun walking around and through her giant yellow-and-black-dotted bronze sculpture.
Yayoi Kusama's works have added impact in the botanical landscape. Most of the art can also be experienced outdoors and without lineups, making Cosmic Nature a perfect outing for our time of social distancing.
This isn't my first encounter with the Japanese artist. I saw also saw Yayoi Kusama's show in Stockholm; see the review here (my hair was much shorter with an undercut at the time!). And I went to Naoshima Island in Japan, where I considered moving into one of her pumpkin houses.
I hope you'll get a chance to see Yayoi Kusama: Cosmic Nature at NY Botanical Garden… before we all turn into pumpkins on Halloween.
NYC always lets me scratch my itch for culture and architecture. On my recent trip, I also checked out the new Little Island at Pier 55. (Tickets are free, but you must make advance timed bookings.)
The Hudson River Park area continues to be revitalized, this time with three acres of green space floating on a bed of "tulip" stilts. On Little Island, you can enjoy views of mid-town Manhattan, and experience art and music by locals.
These 132 pot-shaped "tulips" suspend Little Island above the water, much like a floating leaf.
Little Island's park has a variety of topologies — go up the twisting wood stairs to discover gardens, performance spaces, food trucks, interactive op art, and more. I encourage you to visit if you're in New York City.
In writing news… I wanted to share my diabolical new article for Inkstick Media. I spoke with co-founder Lucien Greaves about The Satanic Temple's fight for reproductive rights.
"We believe we have a duty to protect the reproductive rights of our membership," Lucien Greaves tells La Carmina. "Their ability to make informed decisions about their own bodily autonomy is sacrosanct to us." Read more about how The Satanic Temple is hell-bent on fighting back here.
Speaking of the devil… Episode 2 of our "Satanic Show + Tell" TV show is live, on The Satanic Temple TV! Dr John Skutlin and La Carmina interview Trevor Alexander White about his devilish collections, including 666 butt tattoos and monster masks from his uncle – Kirk Hammett of Metallica. Above is the trailer, and enjoy the full episode here.
And a thank you to True Travel Podcast for interviewing me about alternative travel and fashion journalism, Japan, blogging / social media and more.
I also was a guest on We Travel There travel podcast. We discuss my favorite places in Osaka, Japan, including a 666 boutique.
Wishing you a happy Halloween, with an emo-hipster outfit snap. Special shout-out to everyone who's been reading this blog since the MySpace days… Thanks for being with me throughout all of life's changes!
O-hisashiburi, Baphomet-sama. It's nice to be back on your lap.
In Part 2 of my Salem, Massachusetts stories, we'll take an insider peek at The Satanic Temple's headquarters! (You may recall that I first visited TST Salem in 2019, and came back recently.)
TST / Salem Art Gallery has opened its doors again to visitors, with new art exhibitions and a goat-headed fortune telling machine. You can now stay in a suite at The Satanic Temple, and get married here by an ordained Minister of Satan… Read on for the Satanic scoop.
First, we'll run around Witch City with Thomas O'Brien Vallor, who runs the top-rated Satanic Salem Walking Tours. He developed the tour with The Satanic Temple; it's a 1.5 hour guided stroll covering Salem's history and connection to the devil, free from supernatural or superstitious elements.
A Salem resident since his teen years, Thomas is an experienced tour guide, and expert in occultism and witchcraft. He's a member of The Satanic Temple and previously worked at TST HQ. In addition to running his successful tour company, he gives regular lectures on history and other dark matters at The Satanic Estate / Virtual Headquarters.
Thomas offers Satanic Salem Walking Tours every day except Tuesdays, at 12 noon or 8pm (make a booking via his site).
Look for him at the Derby Square meeting place, by Salem Old Town Hall (above). Built 1816, it's the location of the Halloween party where the Sanderson Sisters performed "I put a spell on you" in the film Hocus Pocus.
Within minutes, you'll "get" why Thomas O'Brien Vallor has the #1 rated tour in Salem on TripAdvisor, with hundreds of 5-star reviews. He has an infectious energy and deep knowledge of Salem's history, which doesn't gloss over its darkest moments or wander into ghostly territory.
If you've seen the Hail Satan? documentary, which I recommend, then you'll have a sense of The Satanic Temple's origins and mission.
In line with TST's values (the pursuit of knowledge, and seeking justice for marginalized), Thomas debunks misconceptions about Salem's history and the witch trials — such as that Satan caused women to falsely accuse outsiders of witchcraft.
He spoke with compassion about the victims of the Salem Witch Trials, at their memorial at Charter Street Cemetery. Each stone honors one the nine who were hanged as witches. I stood over a plaque that read, "God knows I am wholly innocent of such wickedness."
Also known as the Old Burying Point, Charter Street Cemetery is the second oldest in the USA (founded 1637). The famous graves include that of Justice John Hathorne, who sentenced many innocents to be hung as witches. (The judge is the great-great-grandfather of Nathaniel Hawthorne, author of The Scarlet Letter and The House of the Seven Gables.)
Thomas pointed to the "hanging trees" in the Old Burying Point Cemetery. They're similar to the ones that some of the victims were hung from, during the 1692 Salem Witch Trials.
I wasn't surprised to see people with Gothic fashion and tattoos, on the Satanic Salem Walking Tour. However, this is an activity for everyone, and all ages are welcome. Thomas often gets families who book his tours on a whim (or because he's the number one rated guide), and end up being delighted by the experience.
Thomas does a terrific job of delivering historic facts in an entertaining and witty fashion. Here stands Roger Conant, the founder of Salem, outside the Salem Witch Museum. (It's a must-visit for first-timers; see my Witch Museum review here.)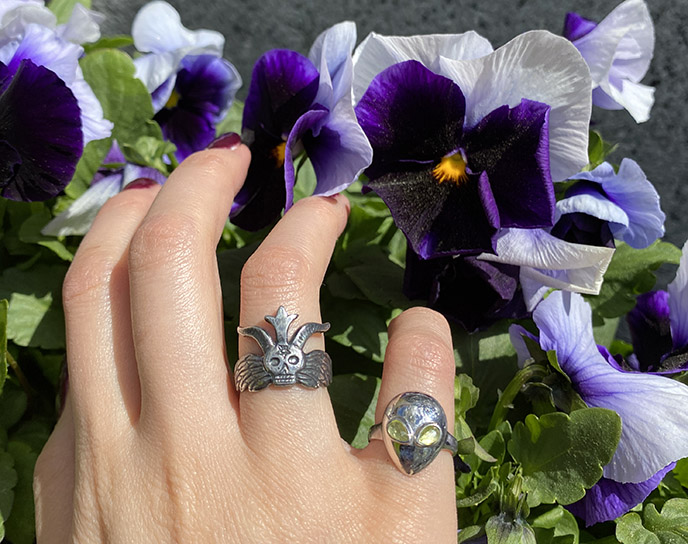 Don't forget to stop to… fondle the flowers. I'm wearing an official The Satanic Temple ring; it's the TST Winged Crowned Skull Logo Ring, created by Kate Hockstein of Arcana Obscura. My alien pinky peridot ring is Alina Abegg Jewels.
We walked by St Peter Episcopal Church at a time when the sunlight fell just-so on the winged skull headstones. These very Gothic "Death's Head" carvings show the deceased carried by wings, representing the soul going to heaven. (Or… hell?)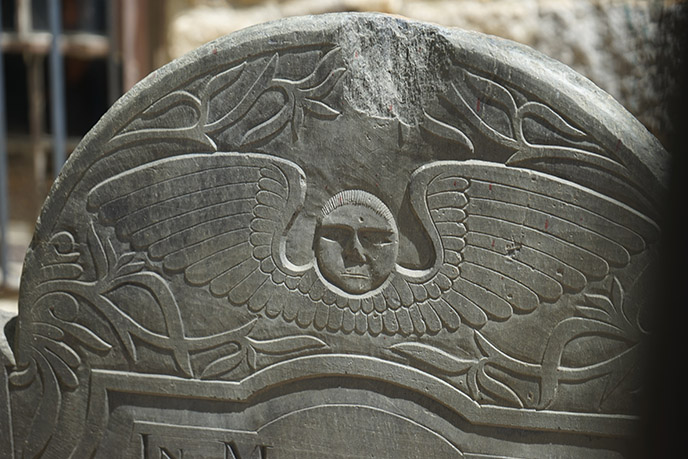 After the 1690s, the tombstone imagery included winged cherubs ("soul effigies"). If you ask me, these round faces with wings are creepier than the grinning skulls!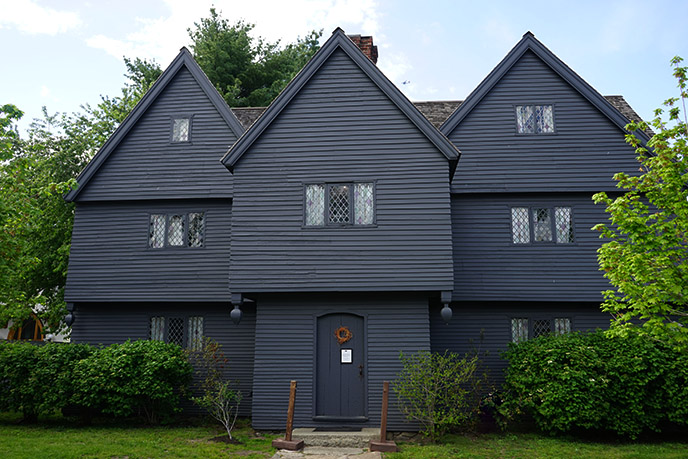 Salem is filled with centuries-old Gothic architecture (Thomas told us the historic pointy-roof houses are often painted black, to make them look extra spooky for visitors). Here is The Witch House, home of Judge Jonathan Corwin; see my tour inside Witch House here.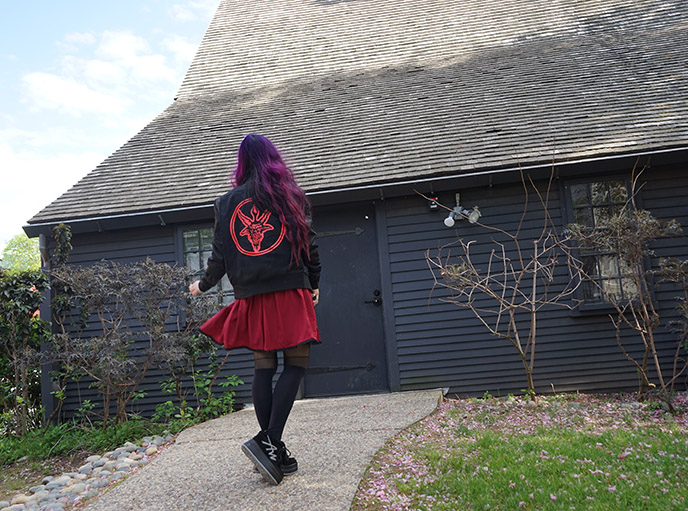 Made sense to wear my Baphomet bomber jacket by Long Clothing. Salem truly is a Goth / Satanist haven.
Hail Thomas O'Brien Vallor — Salem witch, historian and tour guide extraordinaire! When you visit Witch City, I hope you'll join his Satanic Salem Walking Tours. There's no better way to get to know Salem and its fascinating history, from a Satanist perspective.
Speaking of the devil… The Satanic Temple's headquarters looks particularly enticing at night. Located at 64 Bridge Street, TST HQ / Salem Art Gallery is impossible to miss, as the former funeral parlor glows with purple lights after dark.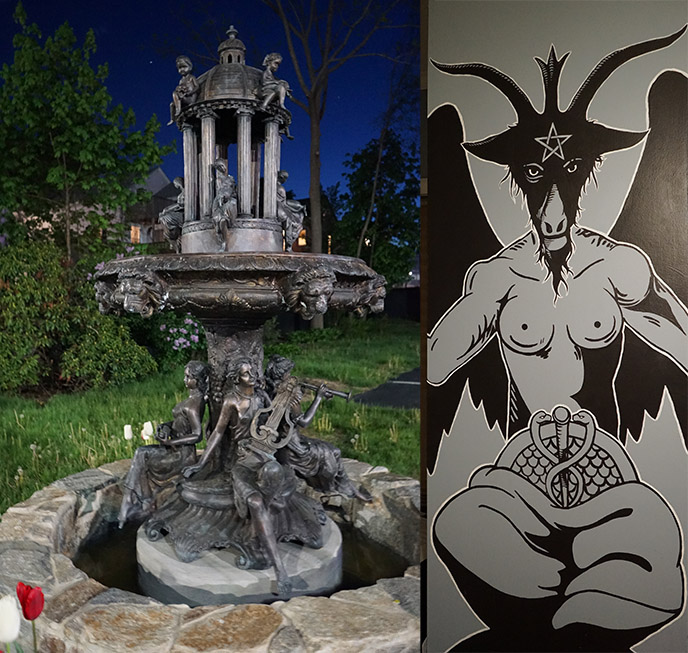 An elegant fountain sits outside the The Satanic Temple Salem. You may recognize this office wall painting from the Hail Satan? documentary; it depicts Baphomet, goat-headed Satanic symbol of the reconciliation of opposites. (As above and so below, male and female, animal and human.)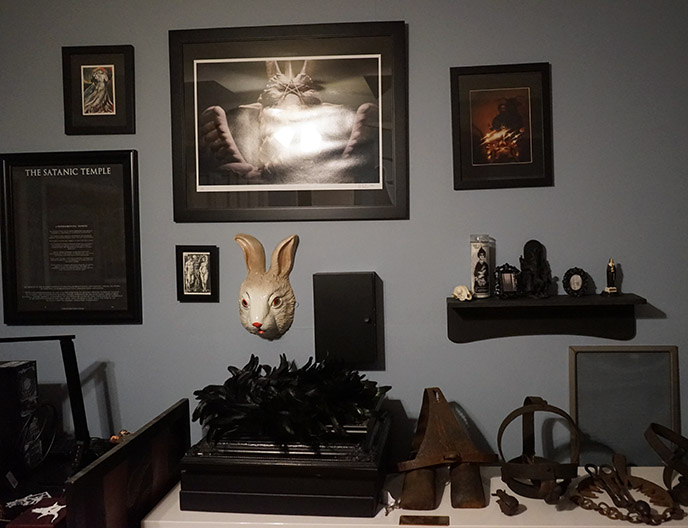 The Seven Fundamental Tenets hang on the office walls. One shouldn't be surprised to see a bunny mask and black feather boa in the inner sanctum of TST…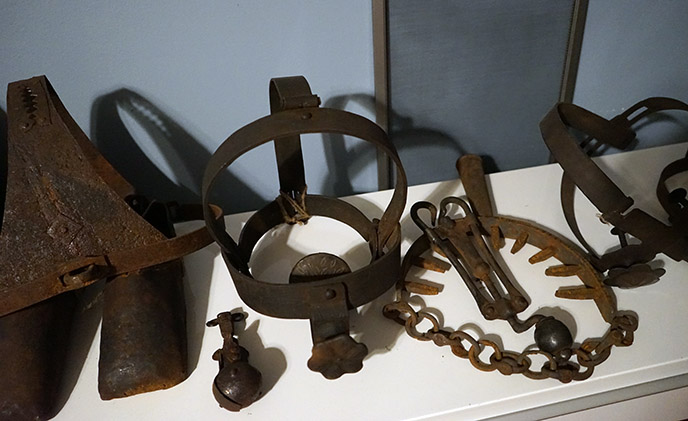 … or a collection of rusting metal chastity belts and torture equipment!
Gothic candles, animal skulls, and a bronze figure of Baphomet add to the office's dark decor.
Visitors are welcome to visit The Satanic Temple / Salem Art Gallery during its opening hours, and sit on the infamous Baphomet statue. (The Satanic symbol was built to be placed next to a Ten Commandments monument on Arkansas Capitol Grounds, to ensure the equal representation of minority religions. To this day, TST is fighting for the right to emplace Baphomet.)
Mark Porter constructed the controversial bronze statue, which weighs over 3,000 pounds and stands eight and half feet tall.
"Baphy" sits next to these ghostly figures by Zach Brown, who had a "Strange Familiars" exhibition at The Satanic Temple Salem. His evocative works draw from ancient myths, and touch upon themes of mortality.
Be sure to bring some US $1 bills, to feed the new Satanic fortune-teller machine! The mechanical Baphomet moves his hands around the glowing crystal ball, and speaks (much like Zoltar).
Here's a first look at another new addition… The Satanic Temple is now available for overnight visits! You can stay in this Gothic suite with red satin drapes and a dramatic wood poster bed. (Book it here.) Guests have access to a private bathroom, and a newly renovated kitchen as well.
You can also now get married, Satan-style. The Satanic Temple is available for wedding parties with fewer than 50 people. Salem Art Gallery provides a TST-ordained minister to officiate your marriage. They'll help you with decor and catering, and have both indoor and outdoor areas for for small wedding receptions.
The Satanic Temple now has a online Satanic Ministry ordination program. The program is currently being rolled out in stages, and involves 10 lessons, an exam, essay, and background check (eligibility also depends on location). Once you're ordained as a Minister of Satan, you can officially oversee weddings, funerals, unbaptisms, and other religious rituals.
(Thomas Vallor just became a minister himself, and will be helping with weddings at Headquarters.)
Here are some bonus answers from an interview I did with TST cofounder and spokesperson Lucien Greaves, as it refers to the Belle Plaine military memorial above (which you can see at Salem Art Gallery).
La Carmina: "I adore The Satanic Temple's elegant veterans memorial, which features gold pentagrams on a black steel cube. Can you tell me about your efforts to emplace it in a Minnesota veterans park, as a means of upholding government viewpoint neutrality?"
Lucien Greaves: "In Belle Plaine we offered a monument on public grounds where there was already a privately-donated Christian monument, similar to Arkansas. Instead of "allowing" a Satanic monument on their public grounds, the city decided to remove their Christian monument and close down their park as a public forum. That's great, but they only did this after approving our monument, which caused us to expend considerable resources in having it constructed, and they shut down the "forum" only after having the Christian monument displayed for some two years. The case for discrimination against us seems pretty clear, and the claim that we have a type of contractual breach claim ("promissory estoppel") is moving forward."
Lucien Greaves continues, regarding the Belle Plaine lawsuit: "Nonetheless, the judge dismissed the claim of religious discrimination on the grounds that we have failed to establish that there is anything in our religious practices or tenets that directly demands that we should have a monument on those public grounds. Imagine if Christian claims were subjected to this level of scrutiny. In fact, there is nothing in the Bible that directly prohibits abortion. More to the point, there's nothing in the Bible that comes close to recognizing that Christian corporations are prohibited from providing health insurance that covers certain forms of contraceptives for employees, but Hobby Lobby successfully argued that case to the Supreme Court.
We are clearly not being treated equally by the courts, and I don't think that's going to change until more legal scholars and commentators start recognizing and exposing what it is that is going on here. Unfortunately, we now see a lot of people merely looking at the ruling in the most general of fashion and assuming, often out of convenience, that we failed to make a compelling case."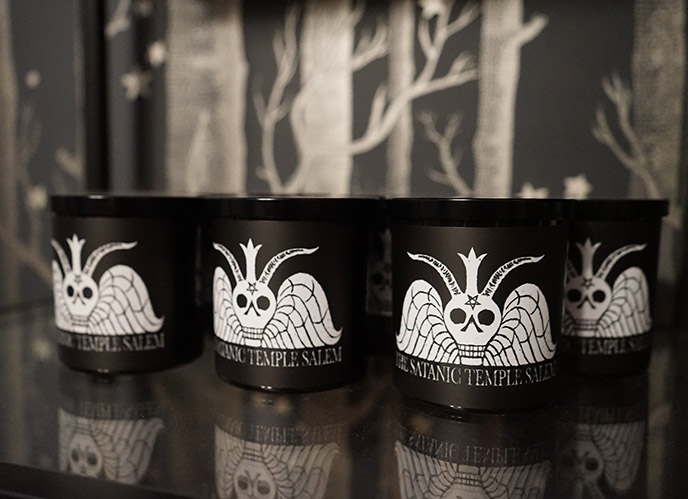 At the entrance of The Satanic Temple Salem, you can pick up candles (such as these), clothing, homewares and more from the gift shop. Proceeds go to their campaigns for social justice, pluralism, and reproductive rights. You can also shop for all things Luciferian through The Satanic Temple's online shop.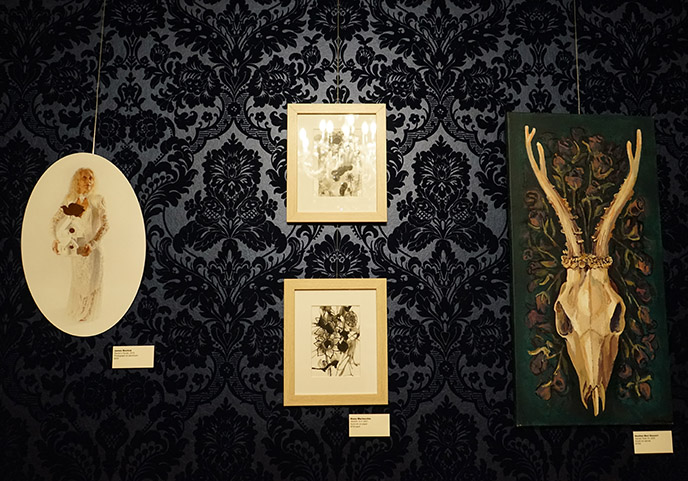 The Salem Art Gallery / TST HQ has rotating art exhibits at all times. When I was there, "Incipit Spring" was on display (photos pictured). Co-organized with the Salem Arts Association, the installation features local artists and their interpretations of renewal and growth.
Right now, you can see Cevin Soling's "We've Become What We Parody." He describes his artwork as "bending the familiar to create an alternate world that exposes the undercurrents of hypocrisy and violence that persist beneath everyday objects' veneer. The works are intended to generate a conflicted response of both horror and humor where the humor may feel guilty or inappropriate. The works serve as critiques of both ourselves and our culture designed to prompt unsettling questions. What kind of world have we created? What do we value, and what do we want to achieve? How do we suppress thoughts of our eventual demise and the specter of violence that surrounds us?"
Here's another bonus Q+A question with LG that didn't get published.
La Carmina: "Many people continue to confuse TST with the Church of Satan (established in 1966 by Anton LaVey, author of "The Satanic Bible"). Could you discuss how TST is distinct from the Church of Satan, and the significance of LaVey's writings to Satanism today?"
Lucien Greaves: "LaVey was certainly important to Modern Satanism, but his Church of Satan did not have much longevity. Something calling itself The Church of Satan exists as a website and a Twitter account today, but there really is no Church of Satan, as an organization, offline. I get the impression that some people think that the Church of Satan holds similar events to The Satanic Temple, has a physical headquarters like The Satanic Temple, believe that the Church of Satan is a federally recognized religious organization in the same way we are, and that the Church of Satan even manages public campaigns in the same way that we do. None of that is true of the Church of Satan."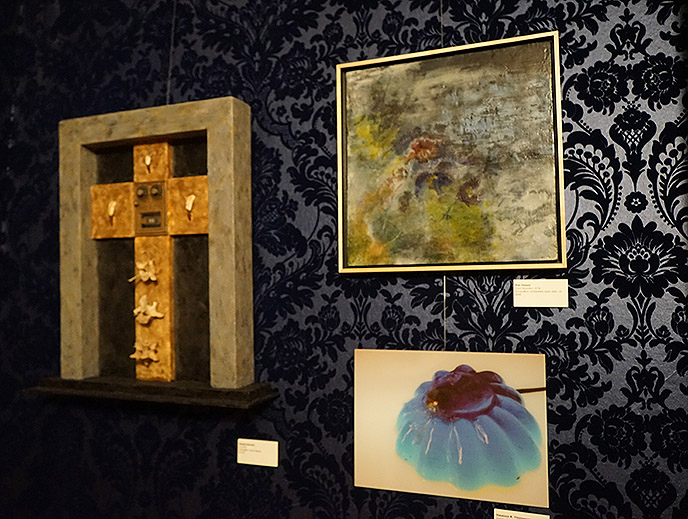 Lucien Greaves: "Philosophically, the Church of Satan fetishizes authoritarianism and endorses a belief in the power of magic, and the legitimacy of Social Darwinism. On the face of it, this places the two organizations worlds apart. However, LaVey believed that his philosophy was born of adherence to the best available scientific evidence, which he clearly thought should override comforting dogmas. It is not at all impossible that if he were alive today, he would adjust his thinking to contemporary knowledge and approve of the Satanism of The Satanic Temple. Some of his living friends have told me that they think he would."
The Satanic Temple has more of a connection to The Process Church of the Final Judgment, a defunct religious group founded in 1966 that spoke of a balance between Luciferian and Christian ideals. Lucien Greaves has the largest collection of The Process memorabilia, much of which is displayed in TST's library (which anyone can visit).
You can learn more about The Process in the engaging documentary Sympathy for the Devil: The True Story of The Process Church of the Final Judgment, which is on TSTTV and directed by Neil Edwards.
Close-up on the masks on the wall of the red throne room, and the shelves of Satanic Panic literature inside The Satanic Temple's Library.
The library has a lot of Satanic eye-candy on the walls. The picture frames contain newspaper clippings about TST, cartoons by Lucien Greaves, a portrait of Elvira signed "To TST," and Lucien's original sketches for the After School Satan logo, and Baphomet statue design.
This cute baby goat caught my attention. Satan is kawaii…
If you're intrigued by The Satanic Temple's work as a religious organization, I encourage you to view the Hail Satan? documentary by Penny Lane. It's currently streaming on Netflix Canada, and can be found on Amazon, Hulu, etc.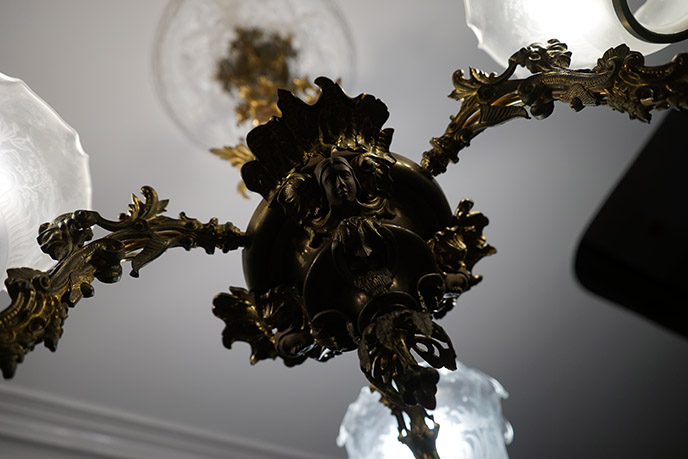 And do pay their official headquarters in Salem a visit. Admission is well worth it to see the artistic details for yourself, such as these antique chandeliers.
The Satanic Temple is having live, in-person events again as well. Check TST's calendar for upcoming events and tickets, including The Satanic Chef's Devil's Dinner Party in October. (And you can spend the night in their suite, above.)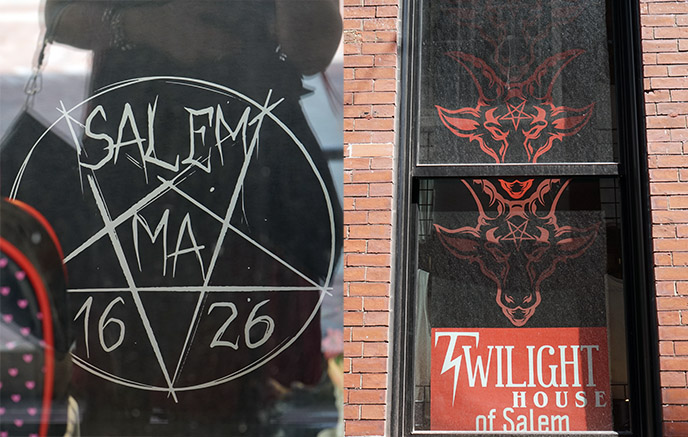 The Mark of the Beast is found elsewhere in Salem. The downtown gift store Twilight House has pentagrams and goat-headed figures in the windows.
Baphomet was a heathen idol associated with the Knights Templar, and later with occult and mystic traditions. His famous image as the Sabbatic Goat is based on an 1856 drawing by Eliphas Levi.
Before we leave Salem, let's take a twirl in my red dress on Salem's only rooftop bar — The Roof. Located at the top of The Hotel Salem, this rooftop bar and restaurant has magnificent views of the historic downtown.
The outdoor bar and kitchen serves up special mixed cocktails, decorated with edible flowers. We tried the blossom 'rita with blood orange liqueur and lime juice, and a pineapple gin cooler with muddled sage.
The Roof's menu includes tacos, rice bowls, and seafood. I went for the fresh guacamole with blue cheese, served with spiced tortilla chips. (I wonder what Anton LaVey would think of me eating this dish…)
Matching the brick architecture around me, in my Sourpuss Clothing red dress.
I was already in awe at the panoramic views from The Roof Salem… and then, this rainbow appeared as the icing on top.
Blending in with the Massachusetts brick buildings, in a red Sourpuss dress and matching silk mask by Lemonwood Luxury.
From the rooftop balcony, I could see Salem's cobblestone streets and harbor in the distance.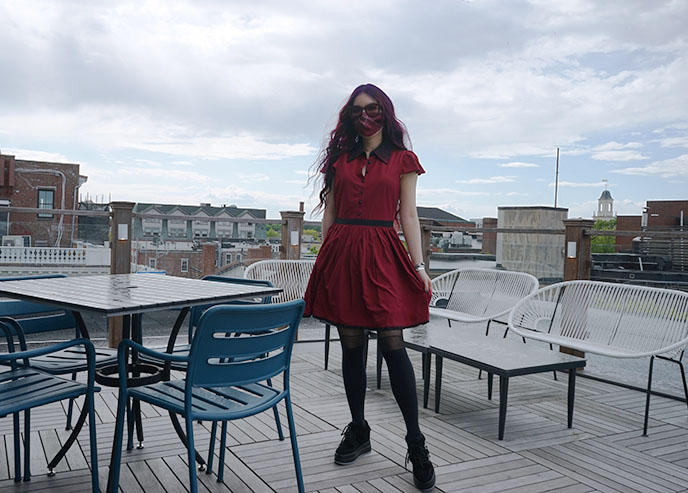 See my full Hotel Salem review here. Loved staying at these hip mid-century modern boutique accommodations (part of Lark Hotels).
"Here lyes Buried"… Come see the skull death head gravestones and more for yourself, in Salem MA.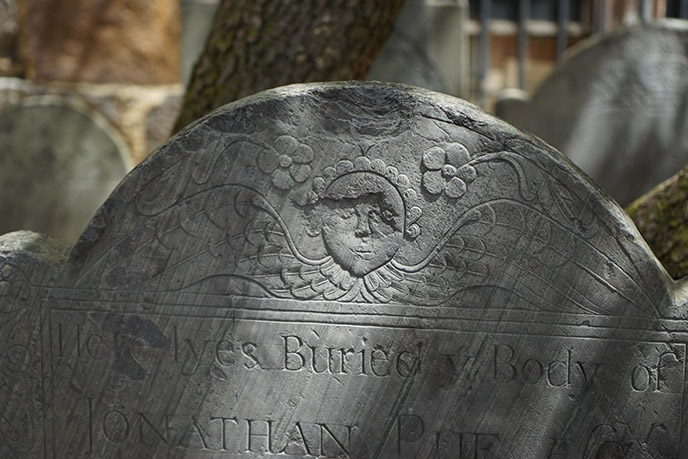 The town is known for its "Haunted Happenings" Halloween celebrations, but it's spooky and Satan-y here year round.
Have you seen the Hail Satan? documentary about TST yet? If you haven't, give it a watch and let me know your thoughts. You can also see more from The Satanic Temple's headquarters in my article from 2019. And never forget… "Thou art thine own master!"