Category Archive for
Art + Design
Hooray for Day of the Dead in Mexico City! 
I couldn't resist striking a disco pose in front of this massive neon skull that appears to be chomping down on me. (This rainbow display was the Celebrando la Eternidad at Bosque de Chapultepec.)
What a pleasure to finally visit CDMX — and during the most Gothic time of the year, when the dead have returned and every public space is filled with smiling skeletons.
As I predicted, La Ciudad de México was my type of urban destination. I got my fill of Dia de los Muertos, and uncovered vibrant pockets of alternative art and spooky culture.
Buckle up for a visual onslaught of Mexican skeletons, along with my inspiring stay at the Mumedi Mexican Museum of Design!
(Quite a few local children admired my Rocket Dog platform sandals. You can find these and more of their funky shoes below:)

I've stayed in a lot of artistic hotels over the years, but Mumedi's interiors made my jaw drop. This photo speaks for itself: my room's soaring design includes exposed brick walls, wood beams and a dramatic circular mirror. 
The building is more than 400 years old, and Mumedi preserves its skeleton. However, the architects added impressive high-tech touches such as blinds that shift with the touch of a button, and a hidden ceiling fan whose wings emerge from the light! 
Design Hotel Mumedi is a secret spot within the historic city center. The museum is only steps from Mexico City's huge Zocalo square, and visitors pass through every day. Yet very few realize that there's a hip hotel right up the stairs!
Mumedi has six rooms available for guests, and each is decorated differently. I loved the contrast between the centuries-old walls and contemporary furnishings, and whimsical touches such as a silver ducky on the bed.
In recent decades, Mexico City has become known for its modern architecture (I'll show you some of the coolest structures in an upcoming post).
For a design-lover like myself, Mumedi boutique hotel lets you feel as if you're living in your fantasy home. That free-standing bathtub is goals…
Mumedi, or Museo Mexicano del Diseño, is a renown multidisciplinary space focused on design and creativity. Locals come to see the latest exhibits, and enjoy the modern cafe and restaurant (I'll show you the delicious meals at the end of this article).
As a hotel guest, I loved having insider access to the museum. Most visitors have no clue that there's a courtyard in the upper floors, or a row of skull posters visible only to those staying overnight.
Even if you don't book a room here, you should pop by Mumedi for the free public displays. I was enthralled by the glass cases filled with quirky textiles, photos, typography, and other design projects.
Mumedi is especially fond of playful pop culture. They recently had a photo exhibition featuring B Duck, the cute Asian avian. (Remember when I found the massive yellow ducky floating in Hong Kong's harbor?)
One of the coolest stores I visited in Mexico City was right here, at MumediShop. The concept store is bursting with design objects from around the world, at a variety of price points.
Acting as an incubator, MumediShop puts a strong focus on young, local handmade works — like these quirky wallets above. On the upper levels, I flipped through books about fashion, photo, art and architecture.
For a nominal fee, you can enter Mumedi's spacious gallery to see the current exhibition (and access is free to guests staying at the hotel). I was thrilled to catch "To Death With A Smile," a collection of posters revolving around Day of the Dead themes.
The windows displayed gorgeous jewelry by Mexican artisans. The sugar skull earrings and necklaces were exquisitely made, and very tempting…
Mumedi put out a call for entries to artists around the world, and more than 5000 submitted poster designs that riffed on the theme of death. It was eye-opening to see the wide variety of interpretations in the 300 finalists. These ranged from a pointillist skull made out of ticking clocks, to a cartoon skeleton musing "Whose day am I going to ruin?"
(I'll share more from Mumedi at the end of this post, including a peek at their creative menu. Already, I think you can see why I chose to stay at this stylish boutique hotel!)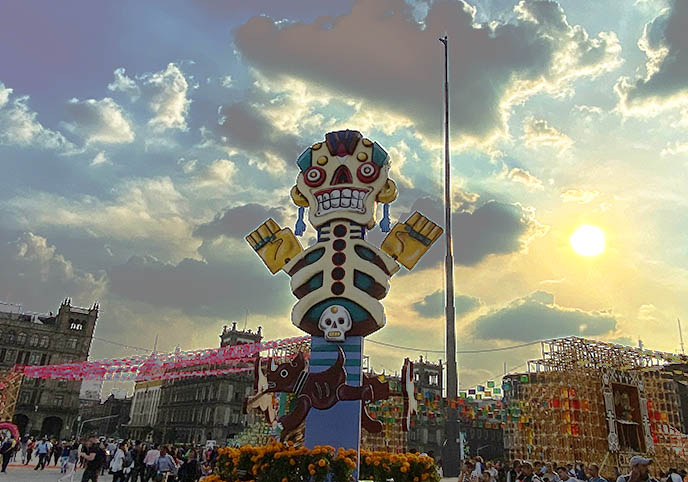 Let's wander outside to hunt for more skulls. Mumedi is steps from the Plaza del Zócalo, the enormous main square of Mexico City. This has been an important gathering spot for residents since the days of the Aztec. 
Safety note: be aware of pickpockets, and use zippered bags that you keep close to your body. There are plenty of police officers on these streets, so there's no cause for concern — but always be aware of your surroundings, wherever you travel.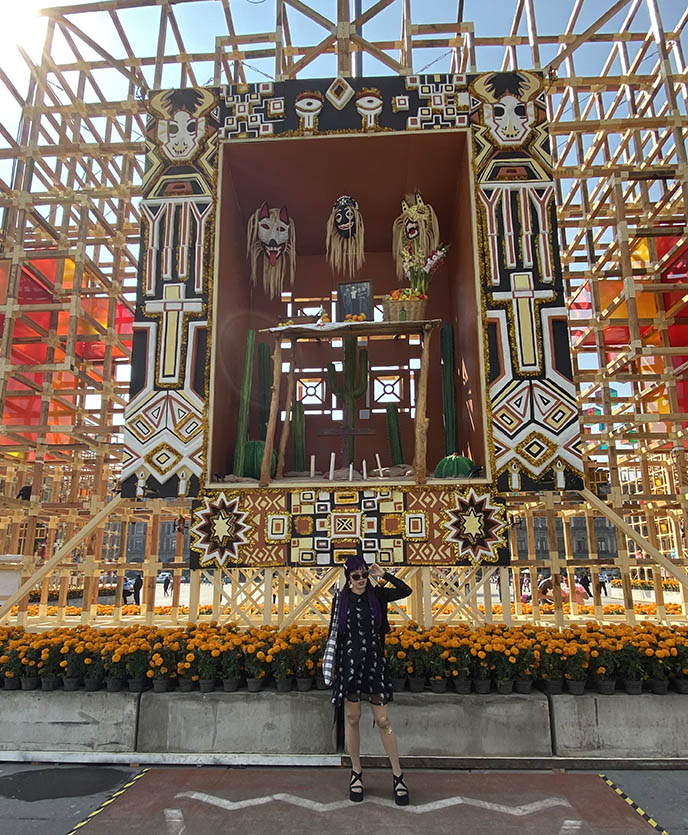 Day of the Dead has its roots in various indigenous rituals across Mexico. This current capital was once called Tenochtitlan, and ruled by the Aztec. Locals believed in Mictecacihuatl, a fearsome goddess of death and the underworld that they appeased through offerings of food and objects.
Quite fittingly, Zocalo continued to honor the dead with an "Altar of Altars" exhibition. The square was decorated with four gigantic "ofrenda," each representing a different regional or cultural style (the Maya, the Yaqui, Huasteca, and Michoacán).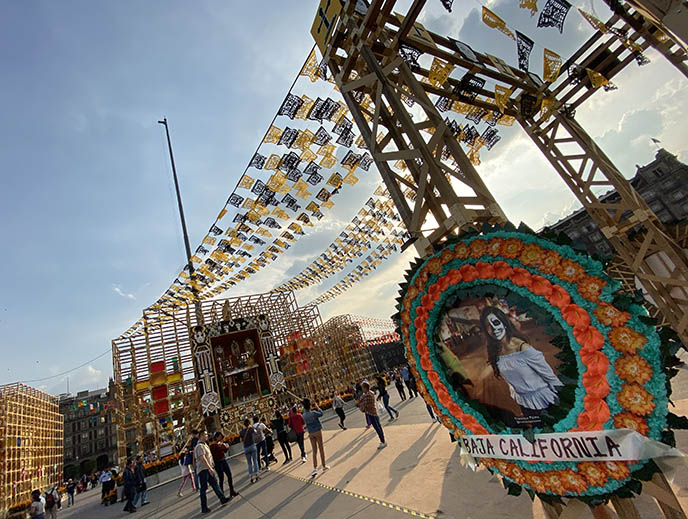 Now that I've experienced Dia de los Muertos in Merida with Borderline Projects, I'm keen to see how other parts of Mexico put their own spin on the sugar skull parades.
Unlike the horror of Halloween, Mexico's Day of the Dead is a cheery and colorful occasion. The sugar skulls are painted in rainbow hues, and they're always grinning widely.
This happy skeleton is accompanied by a bouncing undead dog much like Scraps in The Corpse Bride movie. (Appropriately for Mexico, it appears to be a chihuahua!) 
The mega-altars were temporarily erected to celebrate Day of the Dead. However, at all times of the year, Mexico City's Zocalo has public art installations or performances.
You can also walk to nearby historic sights like the National Palace, Cathedral, Palace of the Arts (Palacio de Bellas Artes), and Templo Mayor ruins, which I'll show you in an upcoming story.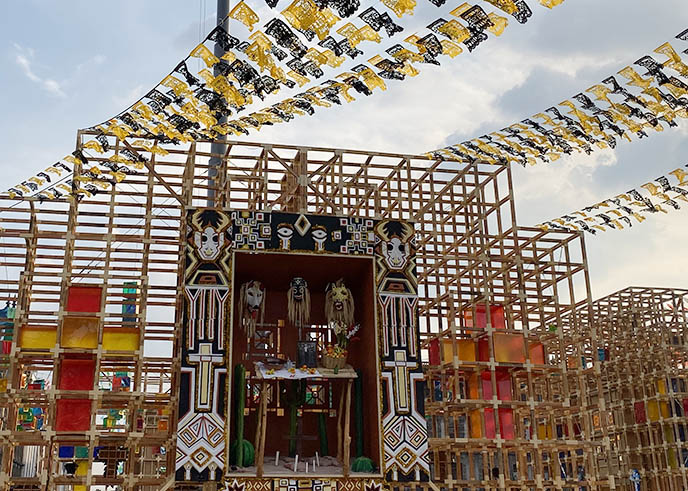 If you're in Mexico City  on November 2, you can join 800,000 people and see one of the world's largest Day of the Dead parades. The ghostly costumes and floats will make you feel as if you're crossed over into the realm of the dead, much like in the movie Coco.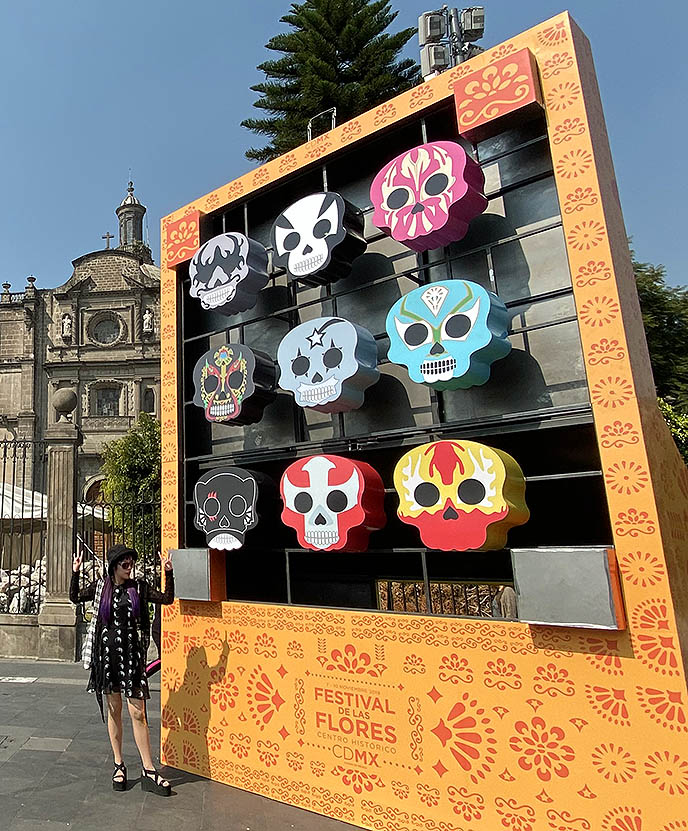 I arrived right after these celebrations, when Centro Historico was getting ready for the Festival de Las Flores. In pre-Hispanic times, locals would make floral offerings to Xiuhtecuhtli (Lord of Flowers) to encourage bountiful crops.
In front of Templo Mayor, I was tickled to see a modern version of a tzompantli. During the Aztec era, the bloody heads of sacrificial victims were mounted onto a rack like this.
I enjoyed strolling around the historic center of Mexico City and admiring elegant buildings from past centuries. One of my favorites was the Gran Hotel Ciudad de Mexico — you've got to pop in to see the Art Nouveau architecture. 
Look who's peering over the balcony: La Catrina! The "elegant skeleton" was first drawn by Mexican caricaturist José Guadalupe Posada, who poked fun at the wealthy by drawing therm as vain bags of bones. Today, La Catrina Calavera is an icon of Day of the Dead.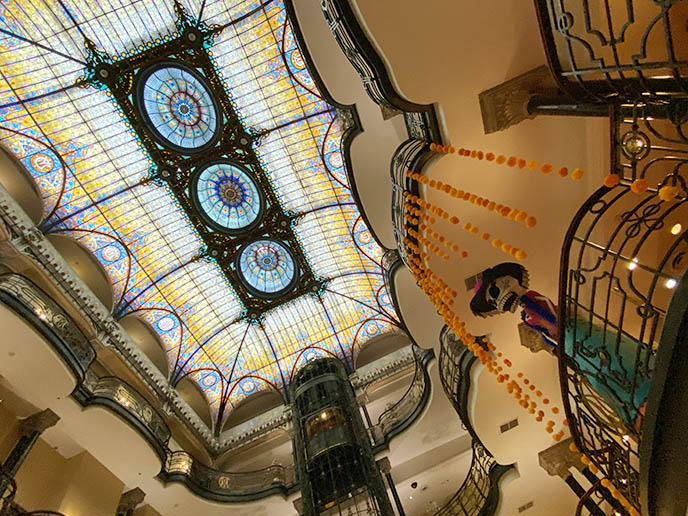 Look up and take in the beauty of the Art Nouveau design, which includes a Louis XV chandelier, wrought iron elevators, and Tiffany stained glass windows and ceilings from the workshop of Jacques Graber.
No wonder the lady skeleton in a feathered hat and gown feels at home here. The Dia de los Muertos altar in the lobby matched perfectly with the 19th century aristocrat atmosphere.
Gran Hotel Ciudad de Mexico brought out smiling paper mache skeletons to illustrate these seasonal rituals. The altar was stacked with enticing ofrenda like pan de muerto (bread of the dead, with bone shaped decor on top), tamales, sugar skulls, and orange marigold flowers.
Mexicans tend to put up photos of their ancestors, and surround them with their favorite things. While strolling around, I came across an altar honoring Bruce Lee! I wonder if they included the Hong Kong martial artist's favorite food, beef in oyster sauce.
Then, I escaped the congestion of CDMX by taking a 30 minute Uber ride to Coyoacán, a calm borough filled with greenery and residences. Once an Aztec village known as the "place of coyotes," this is now a peaceful historical area with plenty of parks and plazas for unwinding.
I'm wearing Bayer platform sandals by Rocketdog and a bucket hat by Lack of Color.
One of Coyoacan's best-known attractions is the Frida Kahlo museum, aka the Blue House. The Mexican artist was born and died in her family home, which now houses some of her most important works. (There was a huge line-up for the Museo Frida Kahlo, so we decided to skip it.)
We took our time to browse Coyoacan's many handicraft and food markets. I was drawn to these calavera de azúcar, or handmade sugar skulls decorated with vibrant colors.
These sweets represent those who have departed — small skulls for children, and larger ones for adults. During dia de los muertos, their spirits return to enjoy the offerings on the altar.
Even in pre-Columbian times, people incorporated imagery of skulls and skeletons in their art. (I'll show you these symbols at the Anthropology Museum later on.)
Today, you can find skull-themed everything in Mexico City. Skull earrings, skeleton decor, spooky shirts… It's a Goth shopping dream.
Perhaps you can pick up a hand-painted Catrina or sugar skull as a keepsake.
At this time of year in Mexico, you'll feel like there is no separation between the living and dead. These skeletons look quite content as hat models.
These leather jackets with Mexican textiles, fringe and sugar skulls on the back… yes.
I found a "Feliz Navidarks" Christmas shirt from a store called Cuidado con el Perro. Couldn't resist this funny Santa Skeleton top.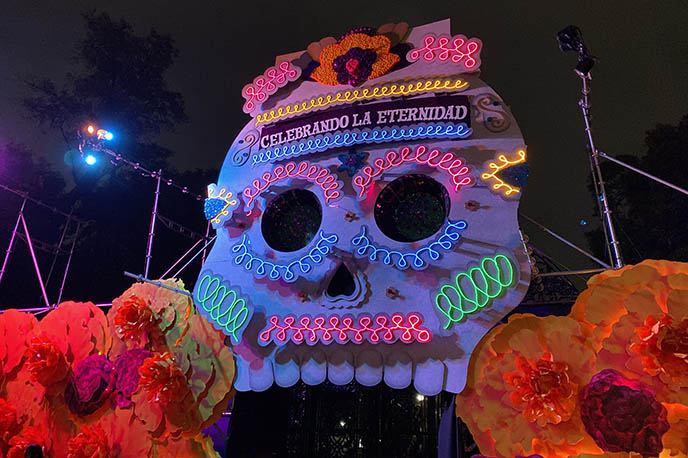 My "sugar skull hunt" culminated with the ultimate find: this towering, lit-up calavera for Celebrando La Eternidad. It guards Bosque de Chapultepec, one of city's largest parks and an important eco space. This lush public area was once also a retreat for Aztec rulers.
In the weeks surrounding Day of the Dead, the Bosque has a number of events to celebrate eternity. These including light projections on the lake, and ancient dances by performers in skull facepaint.
I think the psychedelic skull is ready to have a disco party! His jaws are framed by humongous orange marigolds, or Cempasuchil flowers of the dead.
Every evening, I was glad to return to my home base at Mumedi. I felt re-energized at their chic restaurant, with its friendly staff and walls covered in quirky posters.
I looked forward to a leisurely breakfast every morning at Mumedi's cafe and restaurant. You could choose from a Continental or Mexican set — I especially loved the plantain enchilada with red sauce, and chicken or egg chilaquiles with green sauce. Each platter came with fresh fruit, juice, coffee (they have almond milk), and a black bean dip with tortilla.
Mumedi serves creative lunch and dinner dishes as well, and is open late. Their "food design" is cleverly presented yet full of traditional flavor, with fresh and healthy ingredients.
Case in point: the marrow and beef tacos on blue tortillas, a green mole steak, and "avocado" pannecotta (the seed is actually made of cocoa!)
Mumedi's To Death With a Smile exhibit is showing until January 31, and I hope you get a chance to see it. It's fascinating how artists from all over approach death in serious, comedic, and meaningful ways. (You can check Mumedi's calendar of events for upcoming shows.)
And don't forget that there's a hidden gem upstairs — Mumedi's dreamy design hotel. If you're traveling with a group of friends, you could book this suite with two bedrooms and a spacious lounge area.
Shout-out to the fantastic staff, who were always eager to help and left delicious baked snacks and chocolates by my pillow every night.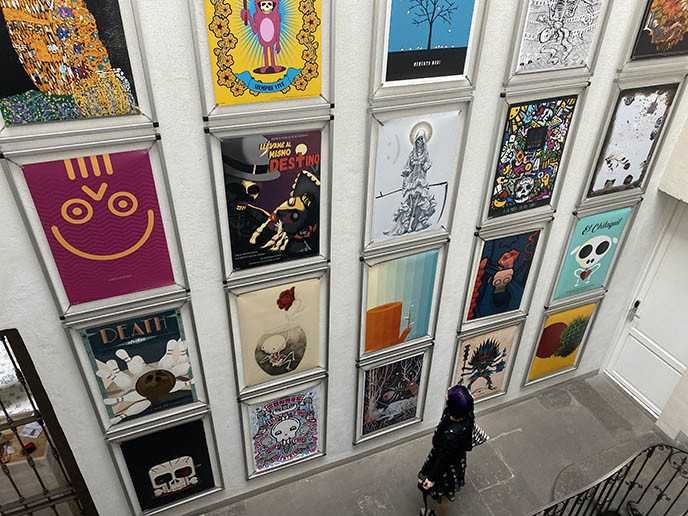 Gracias Mumedi for the inspiring stay — my Mexico City trip wouldn't have been so wonderful otherwise.
Pass it along: Mumedi's museum / shop / cafe / hotel are a must-see in CDMX. (Photos by me and Julie Hunter of Flash Fiction Kitchen.)
Have you ever seen so many skeletons in one destination? Well, there are more to come… I have Day of the Dead stories galore to share with you, from my Yucatan travels with Borderline Projects x Morbid Anatomy!
If you missed my first Dia de los Muertos post, see it here — I danced with the dead in a Merida cemetery, and encountered the supernatural…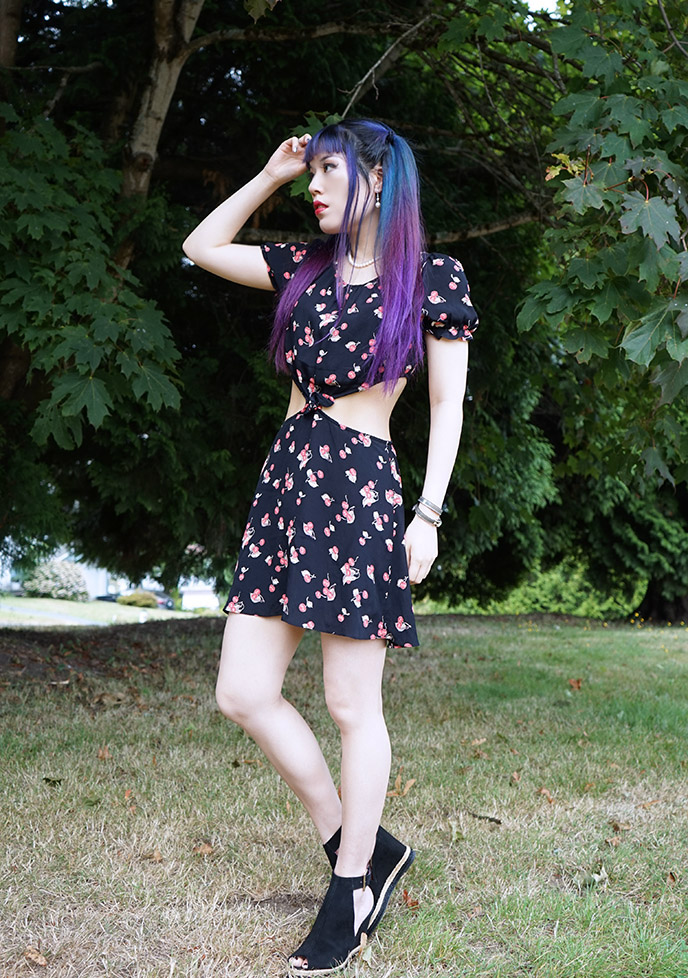 Before I take you inside the Tokyo teamLab museum — I wanted to thank you for the birthday wishes on my Facebook and Instagram! I took these quick outfit photos on August 17, before celebrating with friends. 
OOTD: I'm wearing a cherry print mini dress with a cut-out waist by For Love & Lemons, and black platform sandals from Le Babe by Ferca Italy.
If you haven't heard of For Love and Lemons, I think you'd love the dresses below (click the images to see):
I accessorized with a short pearl necklace from Japan, and here's the current hair situation. 
I had a lovely birthday, with plenty of surprises. Still can't believe I received this fantasy bracelet… a Hermès Collier de Chien. 
This is the silver CDC small model hinged cuff (Hermes has various versions with different hardware, leathers, and sizes). The studs and dog collar O-ring give it Gothic BDSM vibes — a perfect fit.
What I wore on my birthday, for a party. This short sleeved For Love & Lemons dress is as summery as I'll get. The cherry print sundress has a 1990s feel, with revealing cutaway sides and a tie front. 
Couldn't resist taking some closeups of my first Hermès Paris jewelry and the iconic orange gift box. Love the minimalism of this silver collier de chien design (it'll go with all types of outfits). The Medor pyramid studs and circular ring give the CDC bracelet a Goth punk S&M edginess.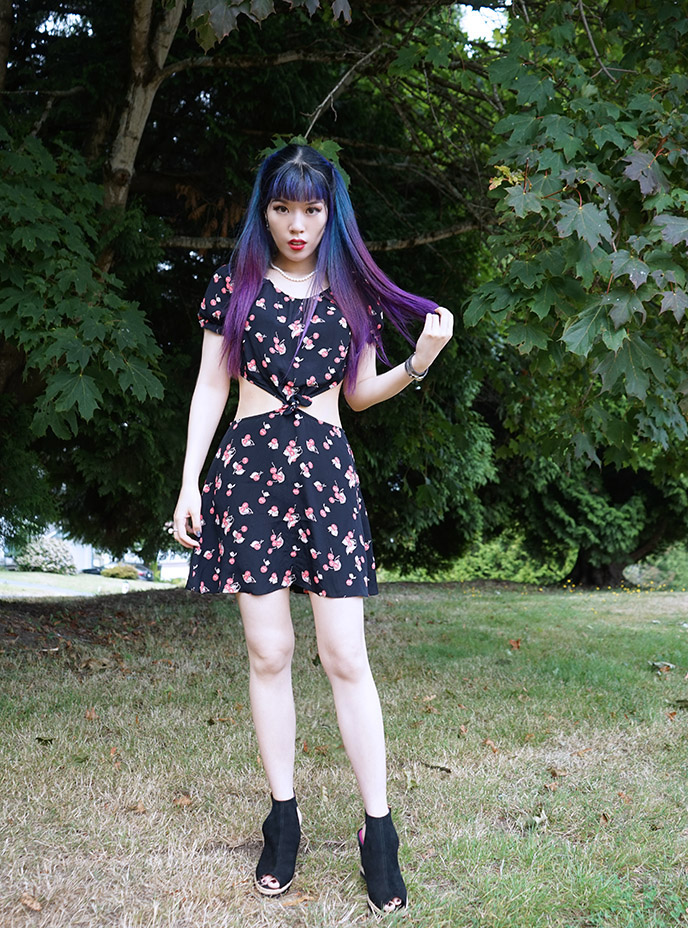 I matched my For Love and Lemons cherries dress with Le Babe peep-toe sandals. See more of my favorite black platform shoes below: 
Thank you again for the well-wishes, as another year goes by. Now, let's segue into my guide to visiting Teamlab, the hottest new museum in Japan. 
Every time I visit Tokyo, there's always something new and wild to discover. On my last visit, my friends and I received a private guided tour of the Digital Mori Museum, by one of its creators! 
I'm sure you have heard of (or seen scintillating photos) of Tokyo's recently-opened teamLab Borderless and Planets. These museums push the boundaries of futuristic technologies, and encourage you to interact with art in unexpected ways. 
Read on for a full guide to visiting teamLabs Planets and Borderless in Tokyo — including the difference between the two museums, how to get tickets, and more.
Japan's teamLab collective dreams up contemporary art exhibitions, with a focus on interactive media. In June 2018, they established a permanent location in Tokyo's Odaiba.
As you might guess, the Mori Building Digital Art Museum is extremely popular with both locals and travelers. Tickets sell out quickly, so be sure to book passes well in advance from their website.
I visited teamLab Borderless with Portland-based artists Becky Hawkins and Naomi Rubin. We were fortunate to have a personal tour with Takashi Kudo, a member of the Digital Arts Collective that created this exhibition.
Becky made this watercolor postcard that perfectly illustrates how mesmerized we were by this digital wonderland.
We walked into a series of rooms with no boundaries, spanning 10,000 square meters. The digital artwork is generally divided into five zones, each transitioning seamlessly into fantastical new worlds.
The digital works are in constant motion, and flow over the walls, floors, and ceilings. We were awed by how the art responds to your presence: for instance, the flowers changed pattern and color at my touch.
At traditional museums, the staff puts up barriers and yells "dah-meeee" if you get too close to the art. In contrast, teamLab Borderless invites you to experiment, touch, and play with everything you encounter. Naomi illustrates this by bounding through the balloons (which change color) in the "Weightless Forest of Resonating Life."
Photos and video don't do justice to teamLab Borderless. You'll have to come here yourself, to see how it feels to wander through the ever-morphing exhibits.
This room had rows of glass panels, each with a translucent human or animal figure wearing a Japanese festival outfit. When you stop in front of them, they'll perform different enka dance moves, and emit various sounds. The music and visuals are therefore constantly changing, depending on the number of people interacting with them. 
This lion covered in flowers strolled through Borderless World, a zone inspired by nature. Likewise, your presence and actions will affect the way the creatures emote.
One of the most Instagram-ed areas is the Athletics Forest. It's as mix of art and PE — you can't help but run around and explore the physical space. 
For more active types, there are even stations for bounding on a trampoline, and climbing through a maze of swings. 
Takashi Kudo, our teamLab guide, spoke about how Borderless explores new dimensions of learning. Today, children engage with computers and apps. In the future, how can we keep using technology to learn in new ways? 
In the "Crystal World," friends gather to take dynamic silhouettes poses in front of the curtains of sparkling lights.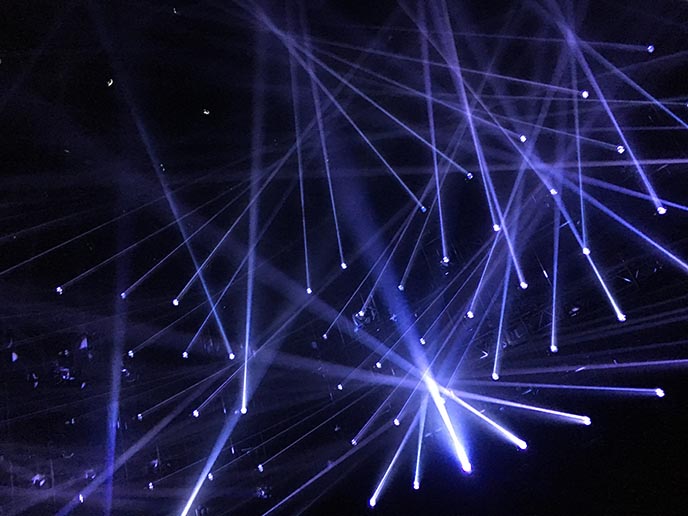 Another room featured dancing strobes of light set to sound, much like a sci-fi movie or EDM party. 
It's remarkable that these enormous, evocative displays — like this "waterfall" — are made with digital art and sound effects. 
Artist Becky Hawkins created a watercolor travel postcard that shows a scene from our tour. "Every few centuries, there's a revolution that brings about a new way of seeing. The internet is the latest such revolution.
How does our relationship to images change when they can be shared instantly, across the world? We don't know yet!"
"This room was inspired by Hokusai's "Great Wave," We celebrate Japan's past while we look to the future."
Takashi told us about Japanese monks who sat by the ocean for decades, meditating. This space encourages you to do the same, in front of the shifting digital waves. 
The Forest of Lamps allows only a limited number of people inside at one time, so there may be a line up for this popular exhibit. When you approach a lantern, it responds by emitting light that spreads to nearby lamps.  
Becky Hawkins bugs out at Naomi's insightful connection between the forest and ocean zones. 
"'The Wave' is a really good parallel, actually, because woodblock printing was another technology that enabled an image to be reproduced and shared on a previously unimaginable scale…"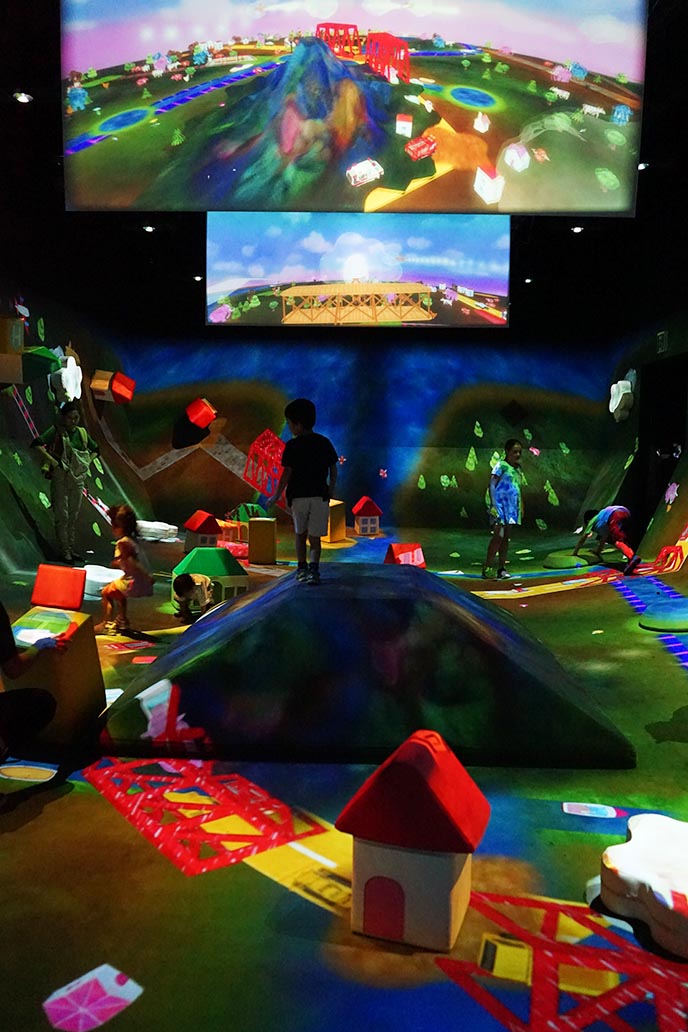 We peeked into this room designed for children. The screen shows a bird's eye view of a city, which mirrors the layout of the room.
Anyone can add bridges, homes, and other movable objects to the urban design — which immediately changes what you see on the screen!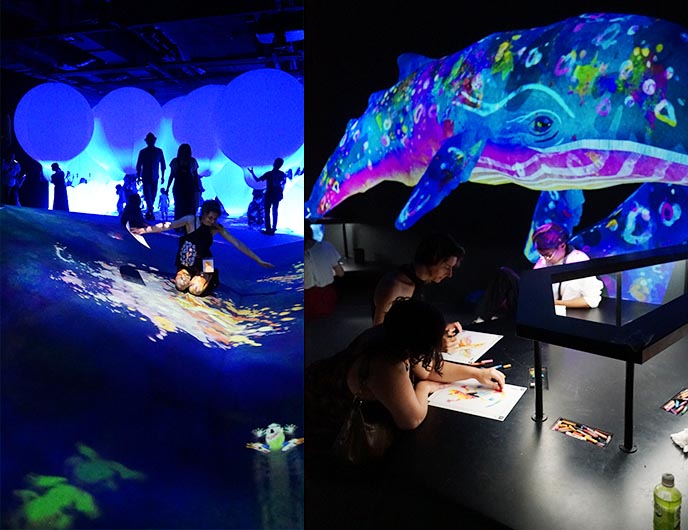 "Future Park" is another educational experience that merges art and technology.  The "Sketch Aquarium" lets you add color to outlines of ocean creatures. 
Then, you pass the page through a digital scanner. The creature comes to life as an animated digital image that moves through the exhibit.
Naomi colored in this phoenix, and once she scanned it, the bird flew over the mountains and valleys of the park.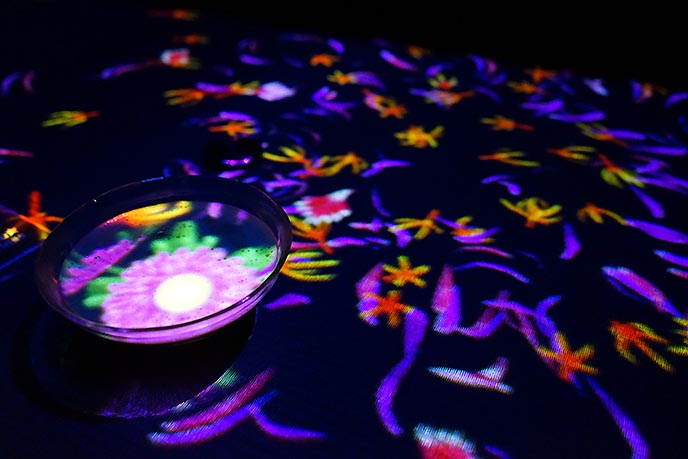 Don't leave before a cup of matcha (powdered green tea) at the museum's EN Tea House. In this unusual cafe, you sit on long benches in a dark tearoom.
When the server pours tea into your glass bowl, it lights up with floral patterns. When you sip the tea, neon flowers bloom and petals float out to the table and walls! 
Takashi Kudo then took us to visit teamLab Planets Tokyo — a temporary museum by the same collective, located next to Shin-Toyosu Station. (It requires a separate ticket, which you should also book well ahead of time.) These virtual installations are more intimate, and play with themes of new worlds.
When you enter, you must take off your shoes and walk up a ramp streaming with water! You'll explore the entire museum barefoot, including parts where you wade through a glowing pond of water. 
One of the "dimensions," called the Infinite Crystal Universe, was surrounded by mirrors on all floors and ceilings. Here, Takashi is showing how anyone can use a special app to change the light and sound patterns in this room.
When you look around, you see yourself mirrored to infinity — a trippy feeling, especially amidst these glistening strands of lights. 
I've never visited any art installation like this one, called "Drawing on the water surface created by the dance of koi and people – Infinity." You wander through a calf-high ocean that is filled with virtual fish and lights.
When you touch one of the goldfish, it bursts into flowers and floats through the water. The visuals are constantly in flux, as each interaction changes how the space looks. 
teamLab Planets ends on a beautiful note, with the "Falling universe of flowers." Lie down, and watch flowers drift throughout the room — blossoming, changing, and dying with the seasons. The floral free-fall evolves in real-time, depending on how you respond to the installation. 
teamLab Planets and Borderless (Mori Digitual Art Museum) are powerful, immersive spaces that merge the boundaries between the viewer and works. Above all — they encourage you to activate your imagination, and have fun with friends! If you are heading to Tokyo, book teamLab tickets as soon as you can, as you don't want to miss out.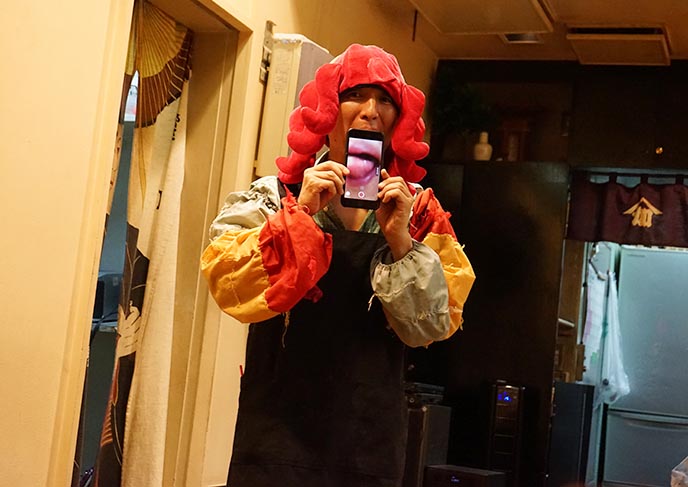 We ended our Tokyo trip with another type of interactive art… Kagaya, our favorite izakaya restaurant! Long-time readers of this blog will know that we always come back to see Mark and his zany performances. 
I've been to Kagaya at least 6 times now, and his surreal, head-scratching, hilarious antics never get old. Will the teddy bear manage to carry the heavy tray to Trevor, or will he buckle under the weight? We cheered, "You can do it, bear!"
Becky Hawkins made this illustration of our joyful group dinner. Kagaya serves wonderful traditional Japanese food, including mackerel, all types of tofu, kabocha (pumpkin), and sake. 
Whenever you order a drink, you get to choose the name of a country from a list on the menu. "Normal Mark" ducks into the closet …. and comes out as a wild character!
I don't want to ruin the surprise, but you have to trust us: Kagaya is a true gem, and the site of some of my fondest memories in Tokyo. You can reserve at table and find the map to Kagaya here.
There's no doubt I will be back in Asia soon, to bring more crazy tales to you! I want to visit the new permanent Sailor Moon cafe in Tokyo when it opens… I also have some comprehensive Japanese travel guides coming out on another website, so keep your eyes peeled.
PS – if you're hungry for more Tokyo tips, I have over 10 years (!!) of subculture coverage on La Carmina blog. You can find everything in my Japan travel section.