Category Archive for
Art + Design
I hope you were naughty this year… because Krampus is coming!
As we head into the holiday season, I thought I'd put together some Gothic gift guide ideas for you. If you're searching for Christmas presents for your favorite dark soul, then I hope this gifting list will provide some inspiration. 
I'll start with an overview of my favorites, and then delve into the details. For the Beachy Goth in your life, I recommend a Towers Swimwear skeleton bikini, or other alternative swimsuit! 
For Witchy Goths, conjure up this celestial black and white dress from Too Fast Clothing. 
If you're more of a Disco Goth, then Too Fast also has you covered — with halter tops and spider cobweb bellbottoms.
What if you're a Luxe Goth? Then hail to this customized leather cell phone case from Michael Louis.
And for the Crafty Goths out there… Papercraft World makes Satanic 3D paper masks!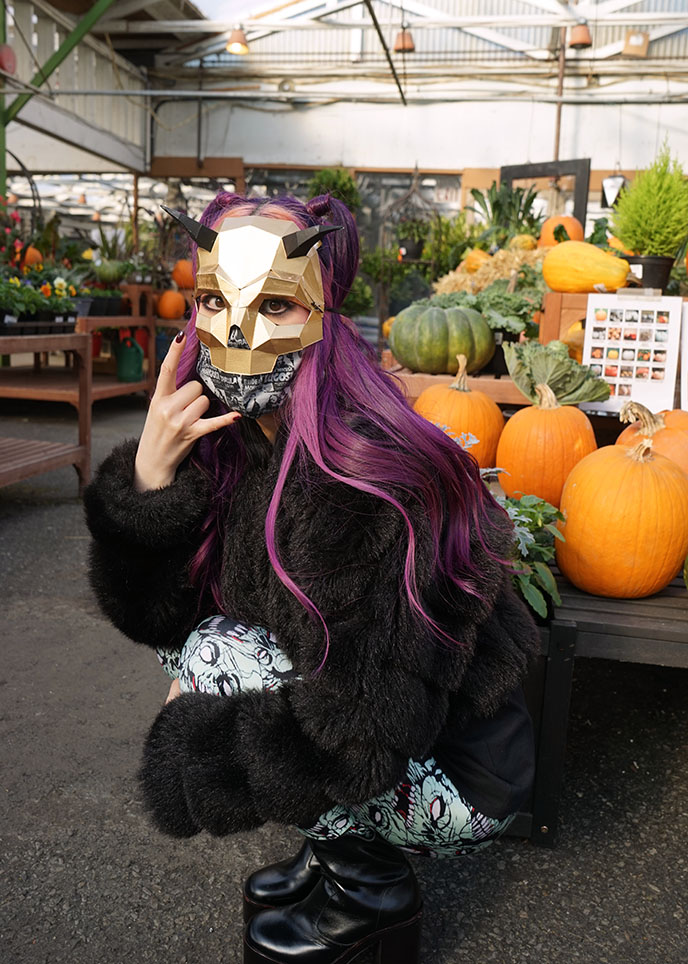 Keep on reading to see photos and reviews for each of these Goth gift suggestions.
(I paired my Paper Craft gold devil mask with zombie tights by Michelle's House of the Strange and Unusual, and black leather platform boots by  Jeffrey Campbell.)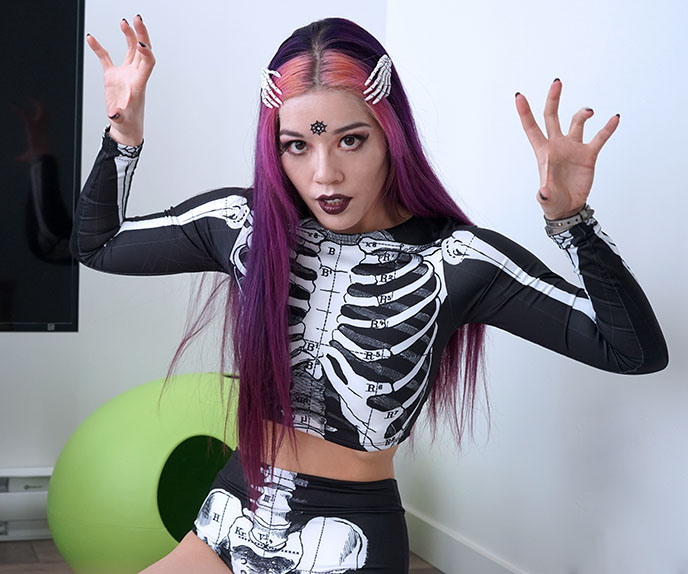 As 2020 comes to a close and the weather grows colder, I'm dreaming of being on the beach… Until then, I can wear my Towers Swimwear skeleton swimsuit at home! The Gothic design is a stand-out, and the long surf sleeves keep you protected from the sun as well.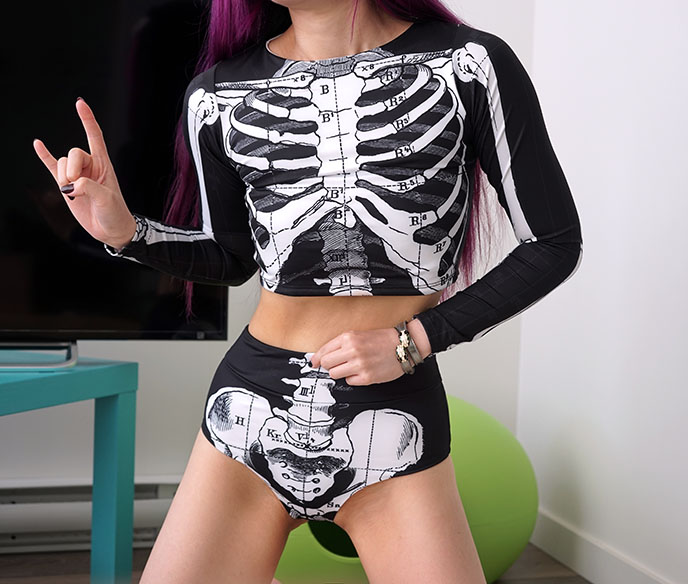 Love the bikini's medical skeleton illustration, which corresponds to the parts of the body. (Can you see my ribs?) Towers Swimwear makes swim designs for men and children as well — using high-quality UV and sea water resistant fabrics.
Towers is an indie company, and their swimwear is 100% made in Colombia. In addition to spooky skull styles, they have other alternative one-piece and bikini designs — I'm eyeing the ones with rainbow tie dye, glow in the dark, and flames. Devil horns to Towers Swimwear — you can see other edgy and rock-inspired swimsuits on their site.
If you're shopping for someone who loves 90s witch vibes, then consider this Gothic babydoll dress by Too Fast Clothing!
Spread a little black magic with their "Xtra Celestial Moon & Suns Lace Slip Dress." Close-up on their enthralling 1990s Goth night sky fabric — featuring constellations, crescent moons, suns with faces, and stars.  
I styled Too Fast's dress with a vintage coat, and Day of the Dead cut-out skull tights by UK Tights. 
The lace trim at the hem, waist and neckline elevate the dress' design. I'm all about playing with different textures.
My two-tone face framing colored hair adds color to the Gothic monochrome. My stylist dyed the front strands on either side of the face with Joico K-Pak Color Intensity. These days, I'm growing out my bangs and doing a middle part.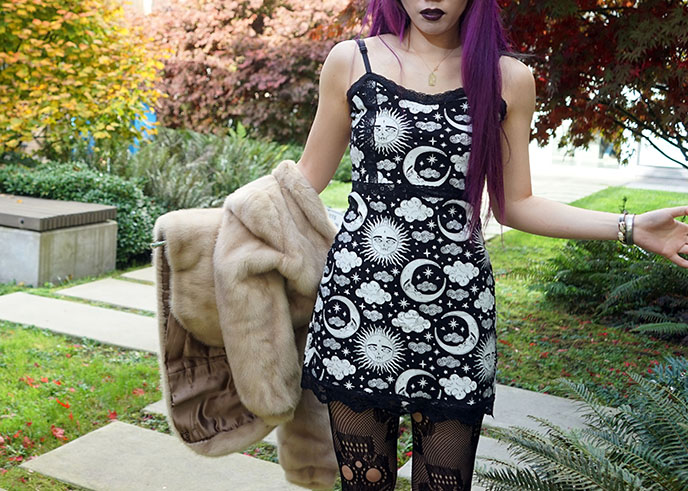 The dress has adjustable spaghetti straps for a perfect fit. Too Fast Clothing carries other devilish designs for men and women — featuring Baphomet, pentagrams, and skulls. 
My hair has grown so much since the last time I cut it (to chin-length) in Feb 2017!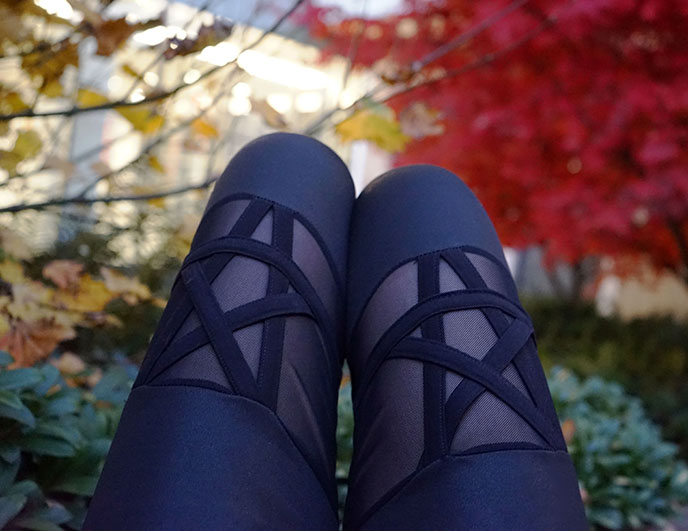 Too Fast Clothing makes pentagram mesh leggings that are easy to wear with oversize shirts and sweaters. Their glitter-infused, stretchy, high-waisted black leggings have a pentagram star at the thighs, with a mesh overly. 
As a disco music fanatic, I've been getting groovy in Too Fast's Bats in the Belfry halter top. It has a flattering white outline, and flying bats and stars on one side of the shirt.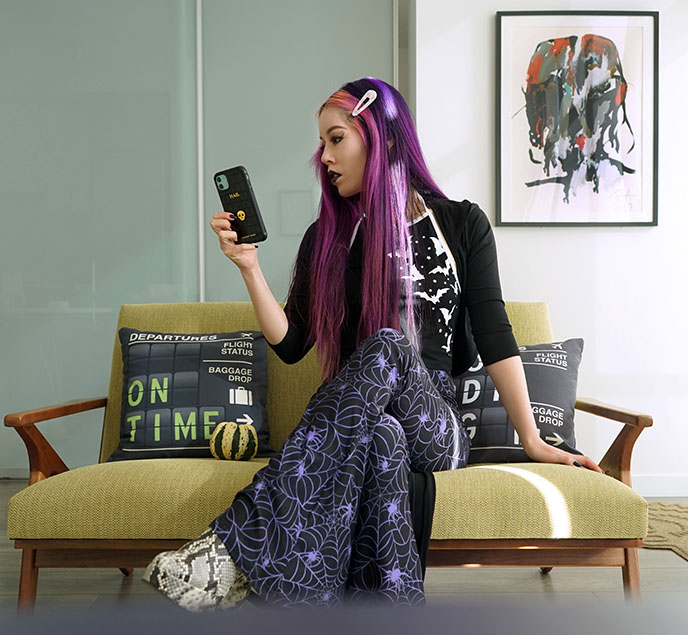 And I'm weaving a tangled web in Too Fast's Hellz Bellz Purple Spider Web Flares. It has a fabulous spiders-in-cobweb print, and wide-legged bell bottom design. 
Ready for a disco party… alone at my apartment. At least I have spooky creatures to keep me company — spot the bats, spiders, skull, and snakeskin (these leather python boots are by Acne).
You can find hundreds of Gothic, Punk and Alternative goods from Too Fast Clothing's site. In addition to clothing for men and women, they carry original dark housewares, shoes, jewelry, bags, you name it. 
Speaking of skulls… Hail to this outstanding smartphone phone case, by Michael Louis!
Each of their protective phone cases are custom-made and fitted, with genuine lambskin leather for a luxurious finish. These slim phone covers keep your phone protected with shock-absorbing material as well.
On Michael Louis New York's site, you can find phone cases of all sizes (Android, Galaxy, iPhone etc). The covers are lightweight and unobtrusive, with perfect cut-outs for the cameras and buttons. I like how you can see a pop of turquoise from my iPhone 11 underneath.  
As you can see, these high-end phone cases are head-turners. Michael Louis NY offers a selection of leather colors and finishes, and you get to customize the words and emoji however you like, at no extra charge.
I chose a gold foil emboss (out of 5 color options), and the cute skull (you can also pick a heart, diamond, star, or other emoji). Then, you can create a custom word or monogram from 6 characters (I went with HAIL). I'm so pleased with the one-of-a-kind result, which suits me to a T.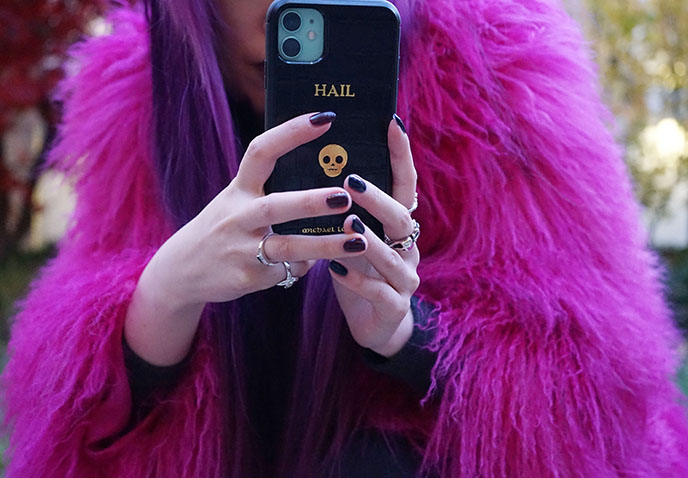 The cases come in various luxury leather finishes (croc, python, pebbled, snake, etc) and colors (pink, green, red, blue, etc).
Michael Louis' designer phone cases are functional as well as beautiful. They're crafted in a shock absorbing rubber/TPU mold, with a raised protective screen edge.
Michael Louis New York sells other leather accessories as well, including wallets and key holders, which can be personalized. 
How would you customize your phone case? On their web shop, you can preview the personalization options before checking out. 
Can't stop staring at my Michael Louis leather smartphone case. Their phone covers and accessories are brilliant and unique gifts for the X-mas season. 
Who's that creeping around and stealing pumpkins?
I spent Halloween raising hell, in my red devil mask by Papercraft World!
I folded and assembled a gold horned skull mask as well, using a Papercraft World 3D kit. Love how these DIY paper masks turned out. 
Papercraft World sells a variety of artistic craft kits, which let you fold and glue together a mask, sculpture, wall art, or other paper item. Their Halloween Masks selection include a number of Satanic designs, like the ones I made above.
Here's how the kits look — you get sheets of hard colored paper, which you punch out, fold, and piece together by numbers. The "map" at the back shows you how to fold the segments (inward or outward). Then you match the numbers, add white liquid glue, and hold the folds together until they stick.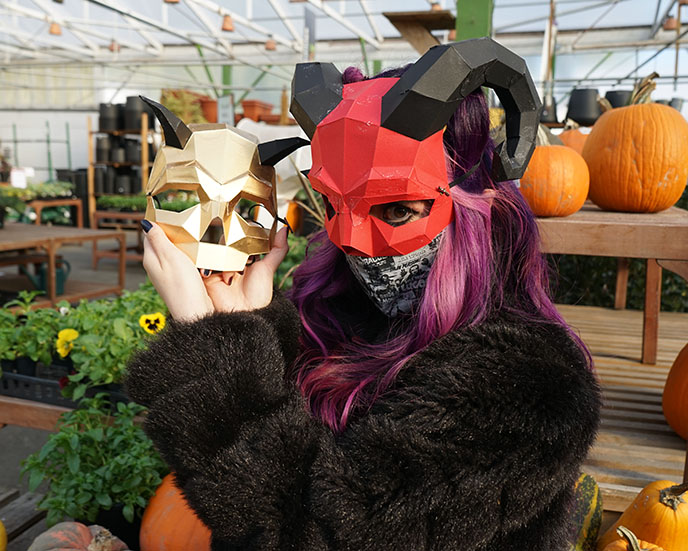 It takes a bit of time and patience, but you soon get the hang of it. I got into the flow of the process, and the result was rewarding — just look at these geometric devilish masks! 
I'm all about natural and eco-friendly Halloween decor — I feel there's too much plastic and waste these days. Papercraft lets you put together a mask using 100% recycled materials, creating a Halloween costume that stands out among the rest. 
Close-up on the round horned skull mask. As you can see, it's made up from strips of paper, which are placed together like a 3-D jigsaw and held together with glue.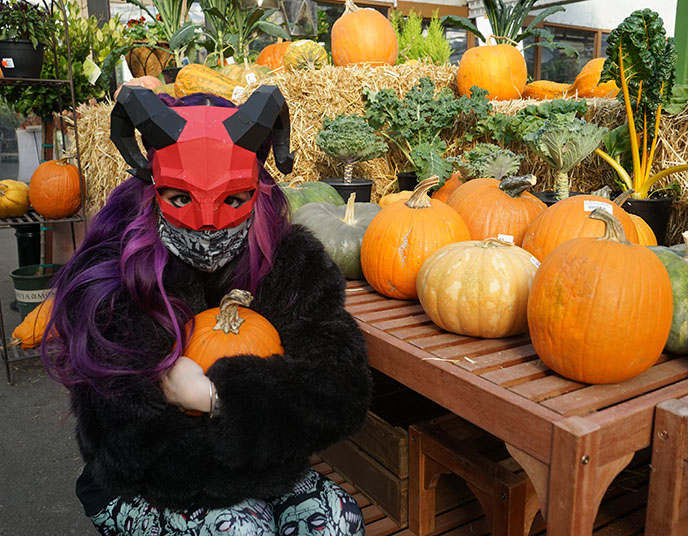 Love the geometric polygonal look of the finished mask. Those black goat horns were the most challenging part.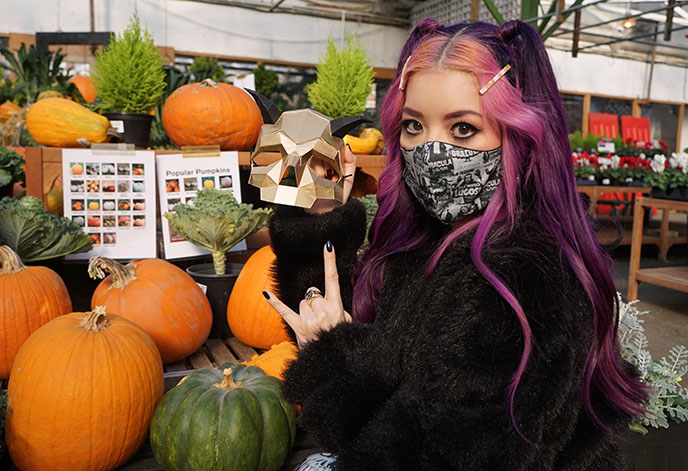 Papercraft has many eye-catching mask designs with cut-outs for the eyes, nose, and mouth. These include a werewolf and pumpkin-head, and cute animals like foxes and panda bears.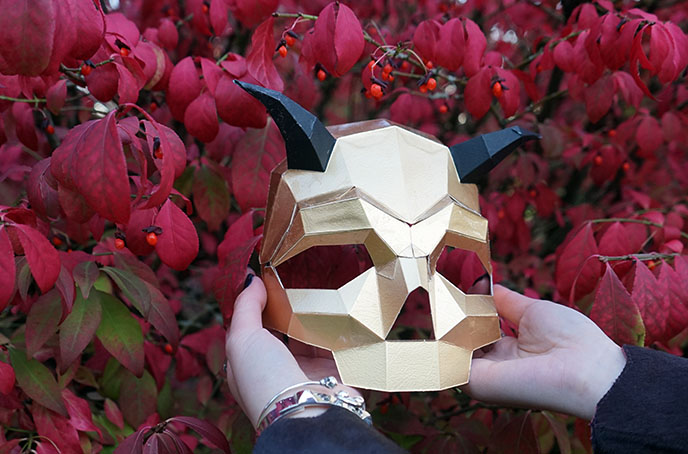 This devil one has a luxurious finish, thanks to the gold heavy paper stock. Each mask includes holes and stretchy string, so you wear it over your face with comfort. 
No need to wait until Halloween — we can wear an occult mask year-round! I styled mine with these exact Jeffrey Campbell Mexique boots. See more styles from this designer below:
In addition to costume masks, PaperCraft has kits that let you create wall art, table or floor sculptures, and other three-dimensional works. 
The kits are fun for families or friends to make together. Patience is key, so set aside at least a few hours, and take your time to make sure everything is properly lined up before gluing. 
A look at my current hairstyle — face-framing front pieces, dyed light pink to contrast with the dark purple in the back, by my Vancouver stylist BlameChad.
OOTD: zombie tights by Michelle's House of the Strange and Unusual, classic monsters fabric face mask by Josie Stevens, and these Jeffrey Campbell Mexique black leather heeled boots.
These photos were taken around Halloween, before there were more restrictions in Vancouver… Looks like we will be wearing masks for quite a while, so we may as well make them stylish. 
If you're looking for an activity to do at home this winter… why not put together a Satanic mask like this? 
Hail Papercraft World — I had fun tapping into my artistic side, thanks to their paper 3D design kits. 
I hope my Goth Christmas gift guide was helpful to anyone looking for original presents (for others, or yourself). 
Last look at my outfit — glad I was able to enjoy Halloween, despite the state of the world. Green zombies tights by Michelle's House of the Strange and Unusual, and these JC Mexique platform shoes.
Shop more Jeffrey Campbell styles below:
I got this BOO shirt in Mexico City last year. The ghosts remind me of the Nintendo Boo character, and also appear to be cracked eggs! (Catch up with my Mexico City stories here.)
I have more Satanic Panic coming your way, in the form of new projects, magazine shoots and articles… including a fashion interview in the New York Times. Stay tuned to @lacarmina on Twitter, Instagram, Facebook and TikTok for updates. 
And remember, you can shop my closet (@lacarmina on Depop) — I'm happy to send you a discounted package from my personal collection.
Stay safe this holiday season… or Krampus will spank you!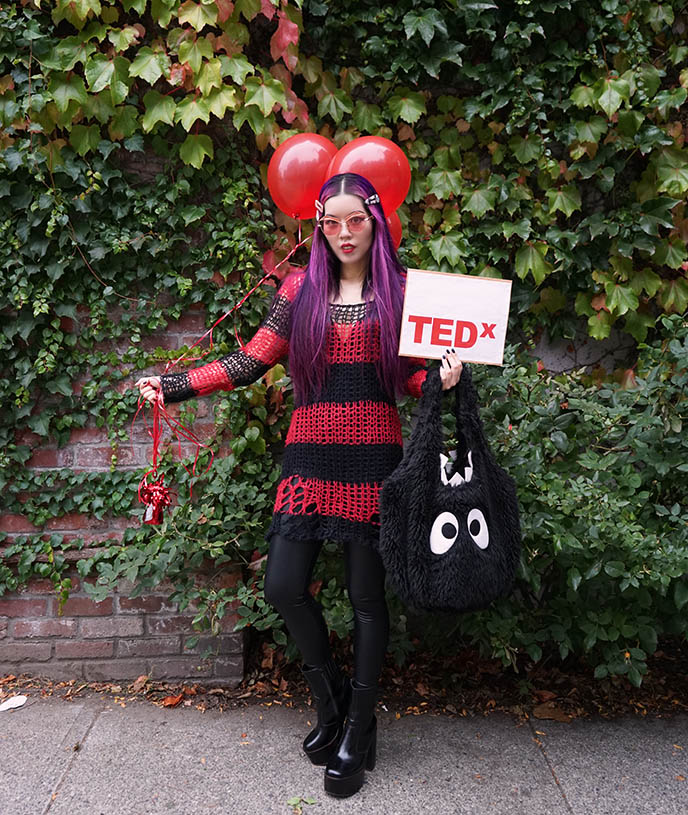 Balloons out, as it's getting closer… to the date of my 2020 TED talk!
You're invited to watch my TEDx speech, which will be livestreamed (there won't be a live audience event this year). Tune in on Nov 14 and 15 from 1-5pm Pacific, to see me and other speakers deliver "ideas worth spreading." The TEDxSFU conference is free to watch — just register here (my Ted talk is airing Nov 15 around 3:30pm PT).
(Read on for more about TED, as well as exclusive photos from the spooky Sedlec Ossuary — a Czech Republic church made from real human skeletons!)
I'm delighted to be part of this year's TEDxSFU 10th anniversary conference. The theme this year is "Unravel," and there's a lineup of 12 speakers from a variety of backgrounds and disciplines.
Register here to watch my TED talk on Nov 15, 3:30 pm Pacific — tickets are free or by donation!
By registering for this event, you'll get access to both livestreams on Saturday November 14 and Sunday November 15, from 1:00PM to 5:00PM PST. You'll get to see six TEDx talks each day (including mine on the second day), as well as performances.
Find out more on the TED x SFU website and Facebook invite page, and pick up free tickets here.
I'm thrilled to be giving the first TED talk ever about Goths. As my TEDx Vancouver video caption will read, "What does it really mean to be a Goth? Why do many of us have biases towards Goths, as well as other groups who seem "strange"?
La Carmina shares her personal journey into the dark subculture, and unravels six of the biggest stereotypes about Goths. Through eye-opening photos and stories, she demonstrates how people of color worldwide participate in Gothic culture, in surprising yet beautiful ways."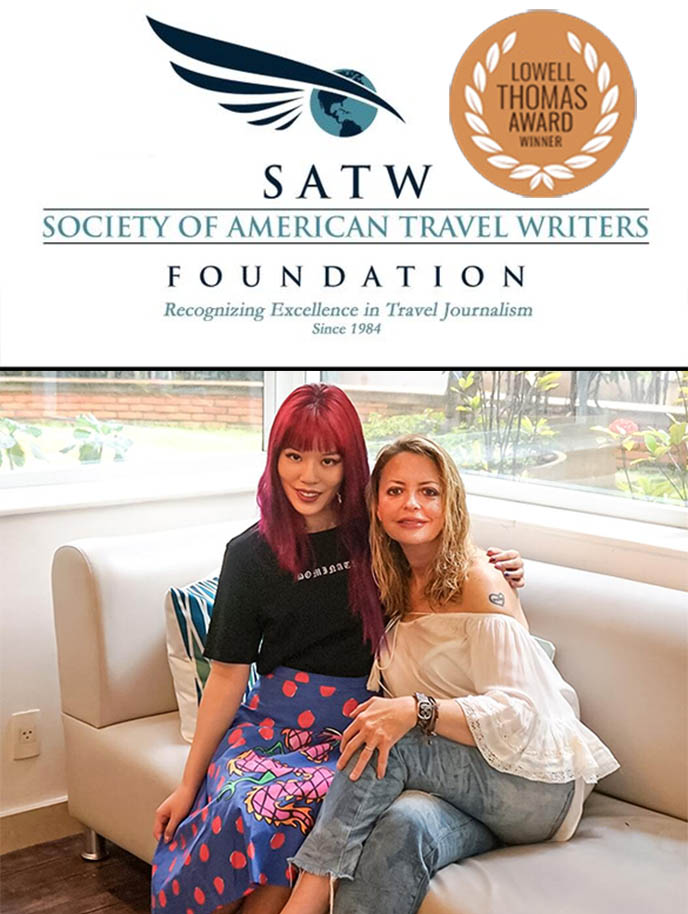 Also, some unexpected news… I received a travel journalism award from the Society of American Travel Writers!
"La Carmina was awarded Bronze in the 2020 SATW Lowell Thomas Travel Journalism Competition. This prestigious annual award ceremony has been "recognizing excellence in travel journalism" since the early 1980s. Journalist La Carmina won in the Best Personal Comment category, for her travelogue about visiting Brazil with her friend Elizabeth Wurtzel."
I'm speechless and honored! You can read my award-winning piece on Fodor's. Thank you everyone who believed in me.
Celebrating with a Goth-Punk sweater in red and black, the colors of the TED conference.
I did my gel nails by myself, using the Gelish at-home gel nails system (it works so well — recommended!). My silver creature ring is by Alex Streeter, and devil necklace by Sofia Zakia 
Close-up on my Witch Tarot 14k gold necklace by Sofia Zakia Jewelry of Montreal. You may recognize the goat, pentagram and fire imagery from the horror movie "The Witch." The horned one taunts: "Wouldst thou like to live deliciously?"
Here is my Satanic Gothic necklace layered with a Stephen Einhorn gold bee pendant. I'm all about fine jewelry with bite.
As a travel blogger, it's quite the change to be stuck at home in 2020. Fortunately, I'm able to take this time to pursue new avenues (like freelance journalism, and TED talks).
And I have trusted friends worldwide who can still bring us international travel stories… Like this exclusive peek inside Sedlec Ossuary near Prague, Czech Republic! Time to turn over the blog to photographer/writer Joey, for his tale of the church made from real human skulls and bones.
Hello again! It's Joey, trusted traveller and photographer friend of La Carmina. I'm back to tell you about my spooky day trip to the Sedlec Ossuary, the chapel adorned with bones from over 40,000 human skeletons.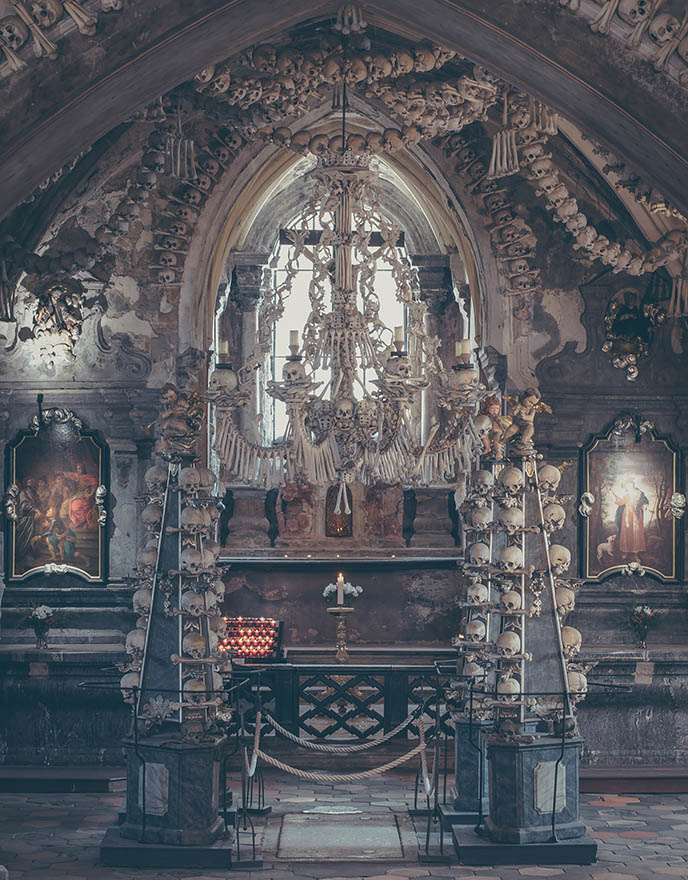 Also aptly known as the Bone Church, the Sedlec Ossuary is located just an hour east of Prague in Kutna Hora making it an easy, must-do day trip from Prague. Due to its close proximity to Prague and it's extraordinary, otherworldly atmosphere, it's no surprise it is one of the most visited attractions in the Czech Republic with over 200,000 visitors a year.
A selfie with skulls is sure to get the Likes, but it is important to note that there is a strict ban on photography inside the chapel. This is due to excessive, inappropriate behaviour from visitors who all too often forget the significance and beauty of the church and touch the bone displays or take inappropriate selfies.
As press, I received unrestricted access to photograph the ossuary. I spent over two hours inside the chapel photographing the striking displays in order to capture the true essence and beauty of this seemingly gloomy place. Somber yet fascinatingly beautiful, I am privileged to share my experience and exclusive photos with you.
The Sedlec Ossuary comes with an enchanting history that matches its striking interiors. It is said that in 1278, an abbot returned to Sedlec with some holy soil from Jerusalem. He spread this holy soil across the cemetery which in turn, made it a very popular place to be buried. Due to the Black Plague and the Hussite Wars of the 14-15th century, the Sedlec Ossuary became the final resting place of an estimated 40,000+ people.
After being commissioned by the Schwarzenberg family in 1870, a Czech woodcarver named František Rint crafted the bone arrangements that we see today. You can even see his name signed in bone on the entry into the chapel!
Today, the ossuary is going through a significant reconstruction, which is completely funded by ticket sales. Although the church is a popular site, most visitors come in groups that are aligned to the train timetable or wider Kutna Hour organised tours. I was very pleased to have many moments where I had the whole chapel to myself so I could enjoy the peace and serenity.
During my visit, I saw so many remarkable creations in the chapel with the most notable being an extravagant chandelier made with every bone of the human body that hangs in the centre of the chapel.
It's easy to get lost in the captivating sites and mounds and mounds of skulls, but when you visit, be sure to absorb the atmosphere and pay close attention to the finer details of the bone creations. In addition to garlands of skulls and a bone coat of arms, I also saw cherubs sitting atop towers of skulls and even a raven poking a human eye out!
Travelling is my favorite form of escapism, and the Sedlec Ossuary truly brought me to another world.
Thanks for following me along on my Prague and Sedlec Ossuary adventures. Until next time!
How to get to Sedlec Ossuary and Church: From Prague, take the train from Prague main station to Kutná Hora hl.n. From there, it's a 15 minute walk to Sedlec.
Joey's photos make me keener than ever to visit Sedlec. Did you know there are other structures worldwide constructed from human remains?
There's a Chapel of Bones in Evora, Portugal. In Italy, you can see desiccated mummies and skeletons in crypts, such as Appia Antica, and Cappucuni Catacombes. Niš, Serbia has a Tower of Skulls. The list goes on…
At least I got to creep through the Catacombs of Paris, France last year. If you missed my story about the Paris Catacombes, check it out here.
For tickets, opening hours, and more info about Sedlec Ossuary, visit their site.Note that Joey received advance media permission to take photos of the interiors; otherwise, photography at Sedlec is prohibited.
Thank you, Joey, for this spooktacular tour of Sedlec Ossuary! At least I got a chance to travel to Prague in 2012. I am dreaming of returning to the Czech Republic for a glass of wormwood-infused absinthe.
I've been on so many memorable travel adventures with photographer Joey. Before we fly away, let's take a photographic stroll through memory lane.
Joey and I met in Tokyo 2010, and above is the first photoshoot we ever did together (in the alleys of Golden Gai, Shinjuku!) I got my hair done gyaru-style in a Japanese salon for the occasion. (Enjoy more of my Japan travel stories.)
Our first international trip together was to Iceland — and it remains one of our favorite destinations. Joey took this photo of me in the Blue Lagoon… right before his glasses fell in the water! See all our photos from Iceland (Reykjavik).
We went to Whitby UK for the annual Gothic Weekend, and shot these dramatic images in front of Whitby Castle (the architectural inspiration for Bram Stoker's Dracula). See more of our United Kingdom adventures.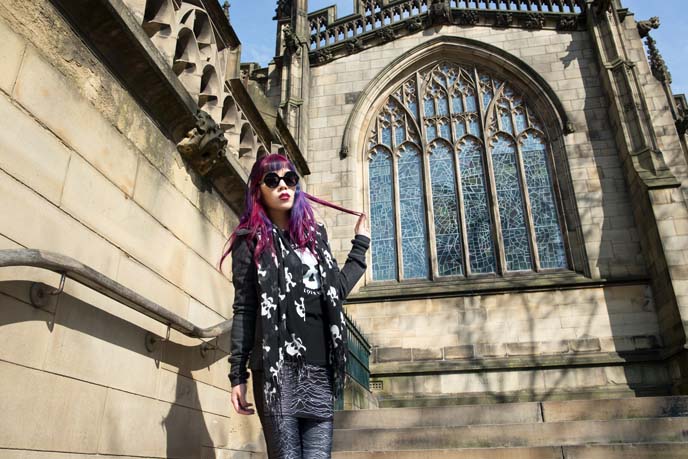 Here's one from Manchester Cathedral (site of the Joy Division album cover photo.)
We hung out multiple times in Vancouver. Joey photographed me for the cover of Giuseppina Magazine, and for a spread in Leveled. We also did a Killstar shoot in front of the Museum of Anthropology.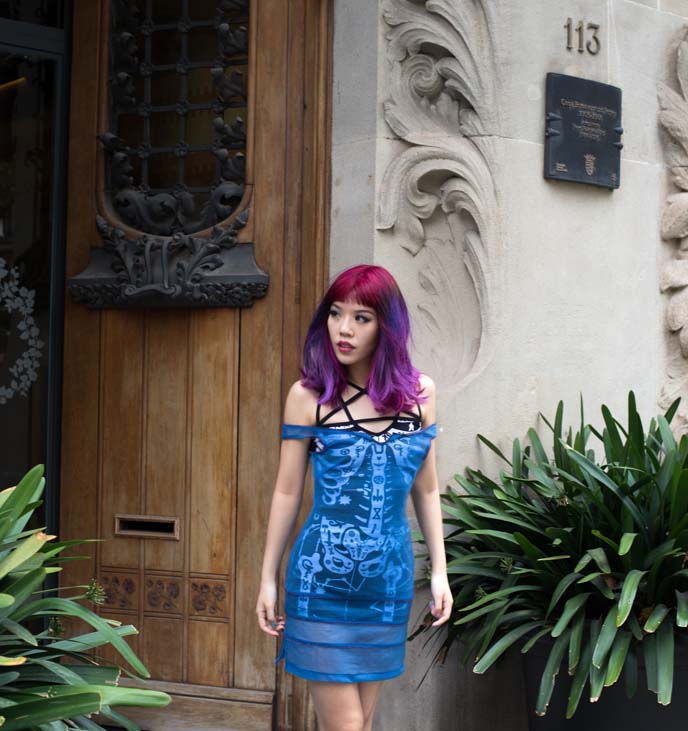 Hola Barcelona, where we stayed in an Art Nouveau palace while working with Spain Tourism and Eurail. Here are our Spain travel guides, which include Granada.
Istanbul, Constantinople! What a city. I was invited there, as a top travel blogger, to attend World Tourism Forum. More of Joey's epic pics from Turkey.
We got ghoulish with Yukiro in NYC, at the Morbid Anatomy Museum (which is now as dead as these wax heads). Can't believe I've been blogging about New York City, NY for over a decade now!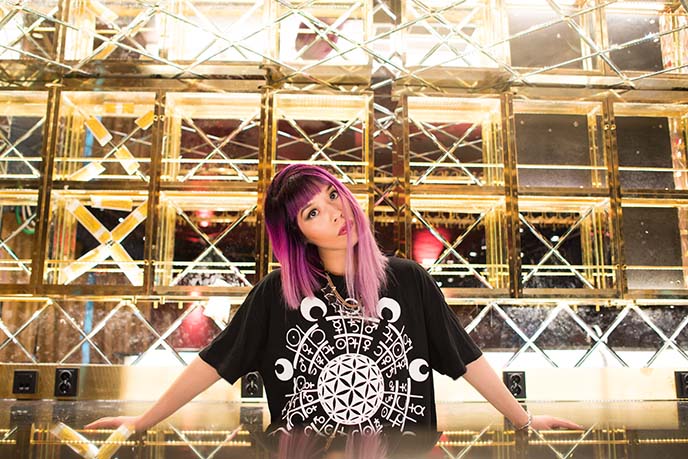 Off to Scandinavia. where we stayed in a haunted theater-hotel in Stockholm, Sweden.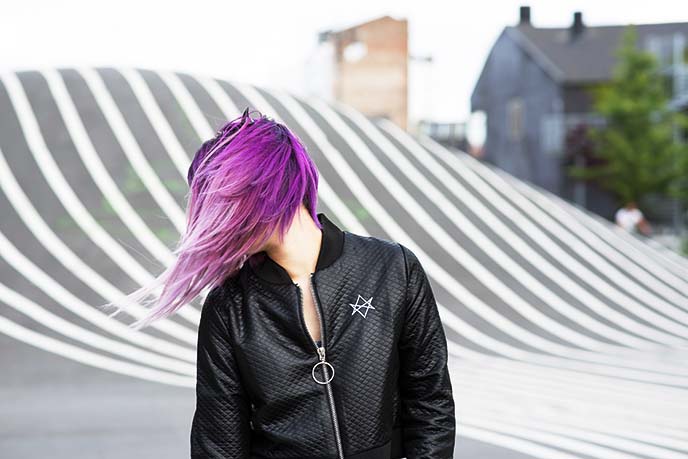 Joey and I also spent time exploring Copenhagen, and got inspired by Superkilen Park.
V-fingers for beautiful Athens and Santorini, Greece. I miss eating sardines, dolmades and orange cake.
A Goth dream come true to visit Romania, as a speaker at Experience Bucharest Conference. The graveyards and Dracula's Castle in Transylvania were to die for.
It was also a dream (or nightmare) to shoot with Joey at the HR Giger Museum and Bar in Gruyeres, Switzerland. We ate so much cheese that we fell into a coma on the train back, and nearly missed our stop in Zurich!
Don't cry for me, Argentina… A little drizzle in Buenos Aires added emo drama to these photos.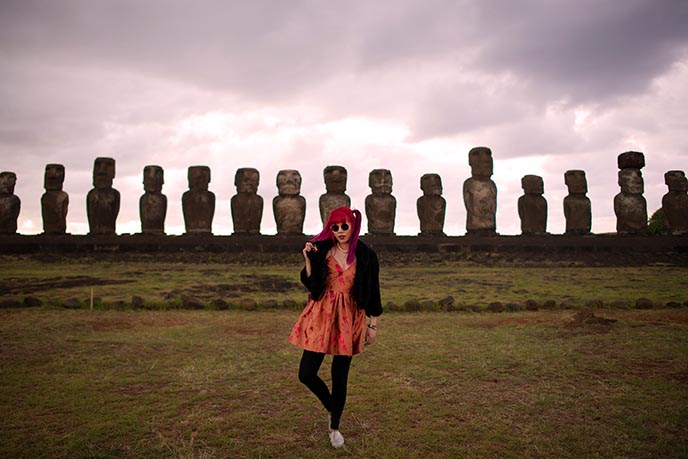 Joey and I reached the zenith of travel photography… Standing with the Tongariki moai of Easter Island! I just wrote about the strange mysteries of Rapa Nui and its stone-faced statues, for this article on Fodor's Travel.
Our LATAM Airlines project took us to various South America destinations, like Santiago and Valparaiso in Chile. (So glad we made the most of these opportunities before the world came to a halt.)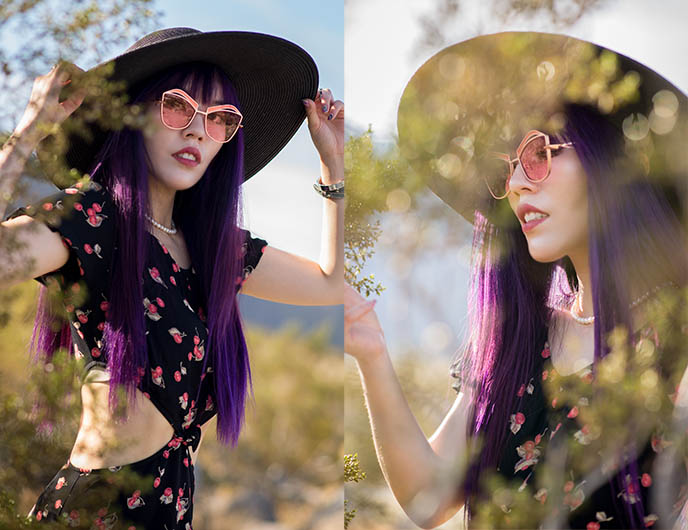 Joey and I had one final trip together in January 2020, before life took a strange turn for us all. Palm Springs, California… A destination as warm and dreamy as the bokeh.
We said goodbye in Los Angeles (after taking snaps at the Blade Runner Bradbury building). What will the future hold for us — space travel, perhaps?
Until the borders re-open, I'll think back at our adventures around the world. (Such as meeting the elves of Iceland). Nothing lasts forever, so take plenty of photos in special places… you won't regret it.
For now, I'm making the most of local adventures in Vancouver, Canada. At the end of summer, I got to experience the Sea to Sky Gondola about a hour north of the city (in Squamish, BC).
It was a joy to rise up into the mountains. (Sadly, a week later, a vandal cut the cable lines for the second time… sending the gondolas crashing to the ground. But the Sea to Sky is re-building, and I'm confident they'll be back and running soon.)
When the Sea to Sky Gondola is back in operation, I hope you'll get a chance to experience the epic views and nature activities up top. I went across the suspension bridge, did scenic hikes, and had a drink at the patio bar.
I'm not usually an "outdoors" person, but that's all we have these days, due to 2020's surprises… so I'm pushing my boundaries. I did a hike at Whyte Lake in West Vancouver — wearing my platform boots, of course!
And that's why they call it "Beautiful British Columbia." I'll be showing you more local getaways in the next articles.
Until then, I'll be counting down the days to my TEDx talk! Register here to watch me on Nov 15 (it's a free livestream, and you'll get to see talks from the other speakers too).
And I'm sooo happy it is Halloween. Wearing my funny egg ghosts shirt from Mexico City, which I got last fall. Gold chunky crystal choker / glasses holder by Frame Chain.
A few final life updates. I'm continuing to write for a variety of travel publications. Read my latest dispatch — "I'm a Goth. Here's How I Stay True to My Style When I Travel the World" — on Fodor's Travel. 
I also did a round-up of destinations with creative skull art for Fodor's. From Malta marble tombstones to Bangalore pirate restaurants and Japan's skull museum, these places are thrilling to the bones.
I've started writing for Brides Magazine as well. Enjoy my guides to having a Gothic wedding, and planning a Buddhist marriage ceremony.
My funny article about animal-shaped architecture also got picked up by MSN.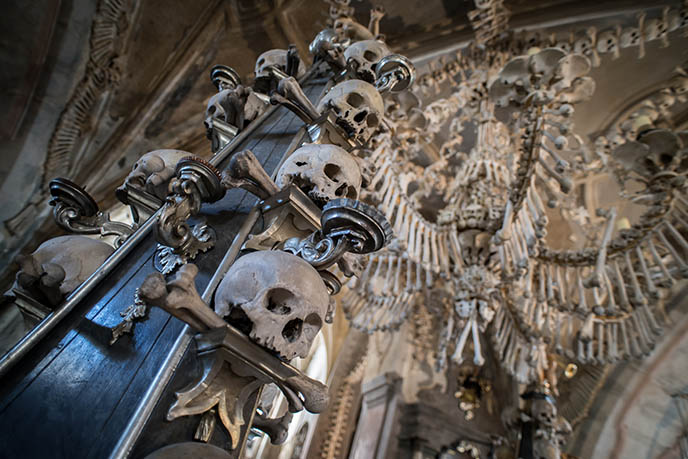 I hope you had a happy Halloween! My guide to the Satanic Temple and Salem Art Gallery came out in time for the darkest day of the year; see it on Tripsavvy, where I'm a regular travel contributor.
I also celebrated Halloween with an Instagram takeover on Tripsavvy's page (@tripsavvy). Check out their story highlights and grid, to see my memories of spooky travels worldwide. You can see more of my travel articles here on Tripsavvy.
And please take a moment to reserve your free ticket for my TEDx talk about Goth culture, airing Nov 15, 330pm PT!.