Category Archive for
Art + Design
My purple evil queen and I were reunited at last in Japan… and sashayed our way through the Sailor Moon Museum in Roppongi, Tokyo! 
Let Yukiro Dravarious and LC show you around the Pretty Guardian Sailor Moon 30th anniversary exhibition, which is the largest one in history. The magic is taking place at Tokyo's Roppongi Museum until December 30: get tickets here while it remains open.
Three decades ago, Japanese manga artist Naoko Takeuchi created the Sailor Moon comic series — and it took off with anime adaptations, merchandise and millions of fans worldwide. To commemorate "Pretty Guardian Sailor Moon," Roppongi Museum put together the largest ever retrospective with a variety of colorful exhibits.
Yukiro and I grew up watching the 1990s Sailor Moon cartoons, and of course, we love the evil characters the most!
My visit to Japan's Sailor Moon museum inspired me to dress as Wicked Lady (also known as "Black Lady") for Halloween. The pink haired mistress of the dark is the grown up bad girl version of Chibiusa, Usagi and Mamoru's daughter. (I had all the cosplay fashion items in my closet already, and put my hair into space buns with an upside-down black crescent moon on the forehead!)
Located in Roppongi Museum, Japan's biggest ever Sailor Moon exhibition debuted earlier this year. It is only running til Dec 30, 2022, so be sure to get advance tickets from the Sailor Moon museum site.
"Moon Crystal Power Make Up!" Yukiro and I practiced our sailor scout poses beneath the banner of Sailor Moon and her main posse: Sailors Mercury, Mars, Jupiter, and Venus. (Photos by Joey Wong)
The museum tickets have timed entry, so be sure to arrive before your slot. When you walk into the first hall, you'll encounter a large immersive screen, as well as recreations of the wands used by the characters.
The famous theme song plays, and the characters display their planetary powers on-screen. You know how it goes… "Fighting evil by Moonlight! … Sailor Mars! Sailor Jupiter!"
Looks like Serena / Usagi is about to get her moon crystal snatched by a fabulous purple villain! (For the occasion, I wore a princess dress from Manon Tokyo boutique in Shibuya 109, and put my hair in Sailor Moon "space buns" — aka dumpling or meatball head "odango.")
Super-fans will recognize the pink wand as an exquisite recreation of the Spiral Heart Moon Rod from season 3.
The Sailor Prism Theater used moving images and laser effects on the big screen to bring the universe of Pretty Guardian Sailor Moon to life.
Then, we entered a room that displayed original drawings from the manga series — using a shimmering holographic effect! As we walked through, these famous scenes took on a different light.
The silver creates a rainbow refraction above the evil Koan, the youngest Spectre Sister of the Black Moon Clan.
The holographic manga panels were a unique way to tell the 30-year-long history of Sailor Moon.
The next room was as fabulously decorated in rainbow gradients. The walls show original drawings as well as video clips from the various Sailor Moon movies.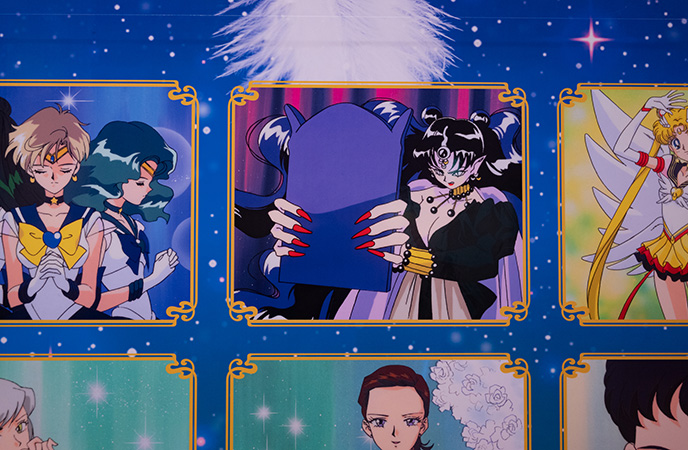 There have been many Sailor Moon anime and films, and it was fascinating to see the evolution of the character design over the decades.
Isn't it obvious why we love the evil lady characters the most?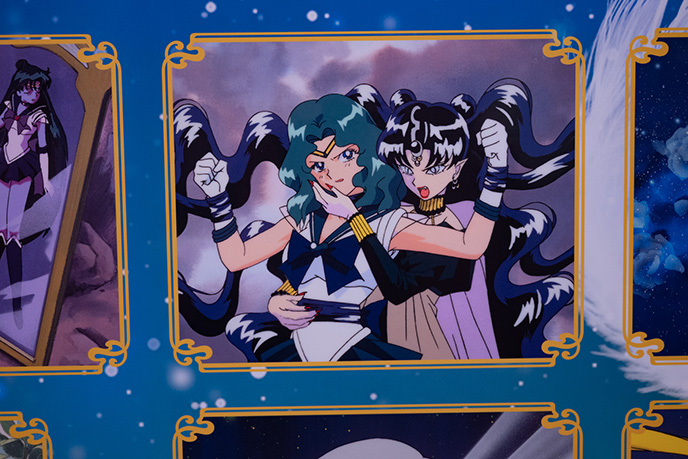 I want to dress up as Koan as well, maybe next Halloween…
Riveted by the original storyboards and sketches for the TV shows and movies.
Sailor Moon and her friends / enemies are known for their transcendent outfits, so of course there were fashion displays at the Tokyo museum. Here's a wedding dress and suit for the Silver Millennium, worn by Princess Serenity and Prince Endymion (the previous incarnations of Usagi and Mamoru / Tuxedo Mask).
Designers created ballgowns inspired by Pretty Guardian Sailor Moon. Love the rainbow gown with moon symbols, and the prom version of her seifuku sailor school uniform.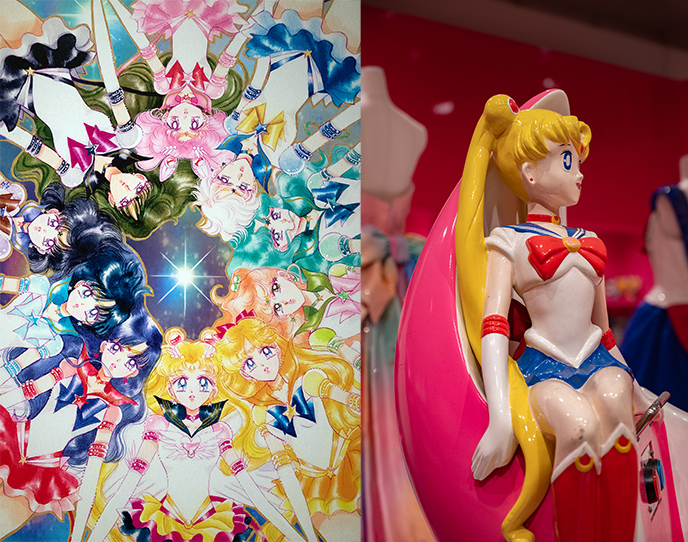 Naoko Takeuchi said she created the series to celebrate strong women and their close friendships — which is certainly part of what draws so many fans to the manga and anime.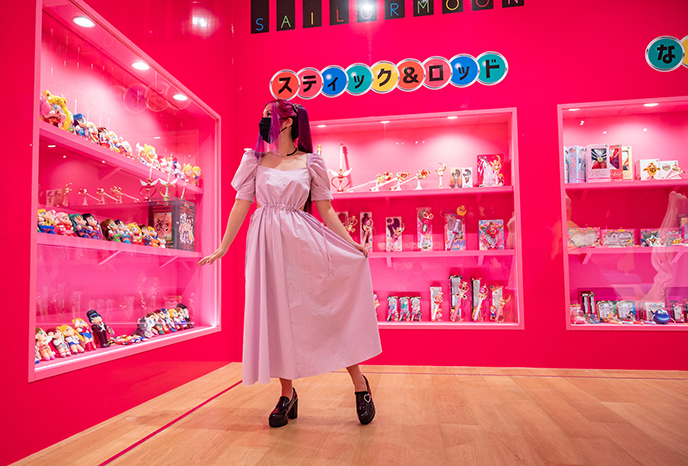 These glass cases showed rare SM collections including Bandai figurines, game consoles, and plush toys.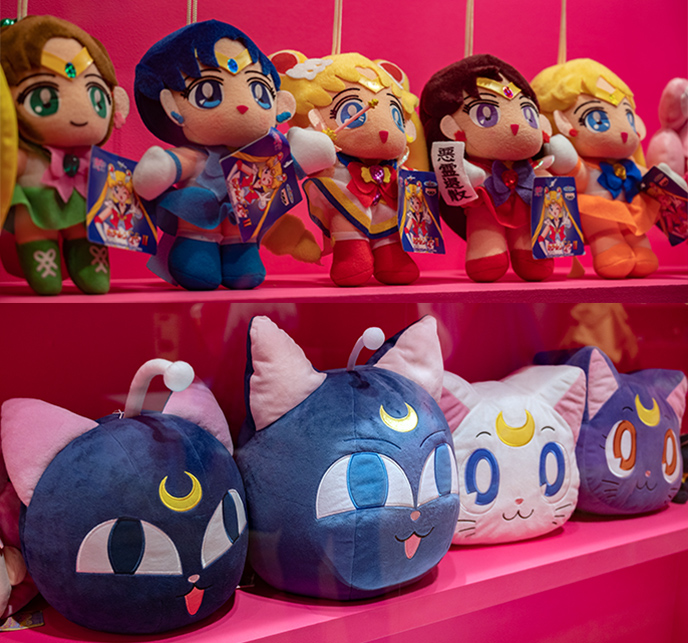 There are endless collectibles based on Sailor Moon, like Luna and Artemis cat pillows… I have some clothing items myself.
Did you watch or read Sailor Moon growing up? And do you own any collectibles?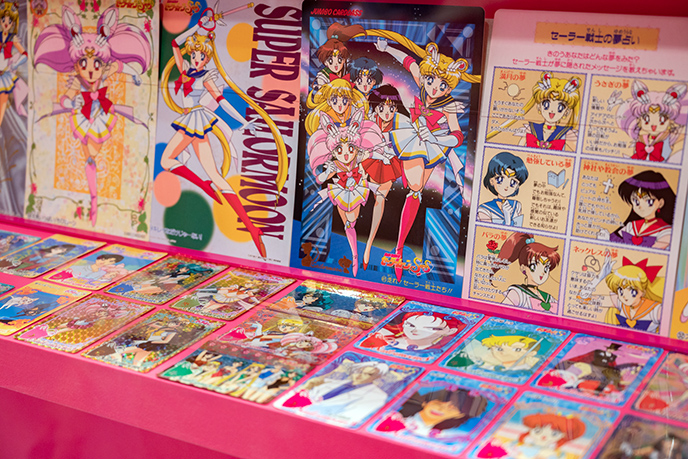 Love how the museum design makes you feel as if you're part of the series.
In the next room, we fawned over tiny costumes used in the various theatrical musicals inspired by Sailor Moon over the years.
Some of the outfits were from a Sailor Moon Takarazuka, or performance by an all-female musical theatre troupe. The costumes are intricately designed, using real feathers…
… and fine materials, as you can see from this choker detail.
Another room showed how various artists depicted Sailor Moon characters and scenes in their own style. Many have been greatly inspired by the storylines.
Luxury shoe designer Jimmy Choo did a version of Sailor Moon's red high-heeled boots.
Fittingly, the experience ends by exiting the Door of Space and Time (no need for a space-time key to get past the hanging fringe). I wore a dress from Shibuya 109's Manon Tokyo store and styled my hair in a tribute to Serena / Usagi.
But you can't leave without browsing the exclusive Sailor Moon merchandise at the museum gift shop!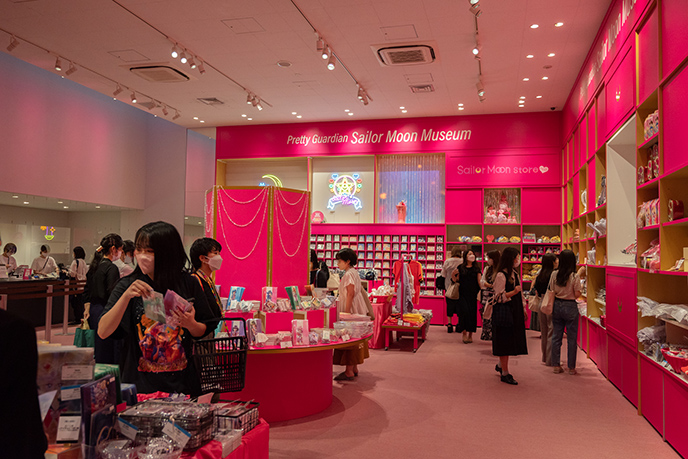 While you can find Sailor Moon merch all over Japan, the Roppongi Museum sells limited edition items only available here.
From buttons to cookies and stationery, there's something for every fan.
How about a chibi plush toy to remember the occasion?
Luna is one of the most popular characters, so there were many items with the black cat on it.
Even the restroom signs match the theme of the temporary exhibit.
Finally, we stepped into the Sailor Moon Museum café for a themed meal. This pink cake is decorated to look like the Cosmic Heart Compact.
The theme restaurant dishes include omelette rice with an image of Sailor Moon on the side.
Of course, there's a lot of pink and cuteness, including on the lattes.
Sailor Moon burger slider, anyone? (The pop up cafe and museum are only running til Dec 30, but there are often other SM theme restaurants or food items available in Japan. And there's a permanent Sailor Moon boutique at LaForet Harajuku; photos soon.)
I've been dreaming of visiting the Sailor Moon Museum since it opened earlier in 2022 — thank you to the press team for inviting us! Be sure to get tickets and check it out before it closes at the very end of the year. (Address: Roppongi Museum, 5 Chome-6-20 Roppongi, Tokyo.)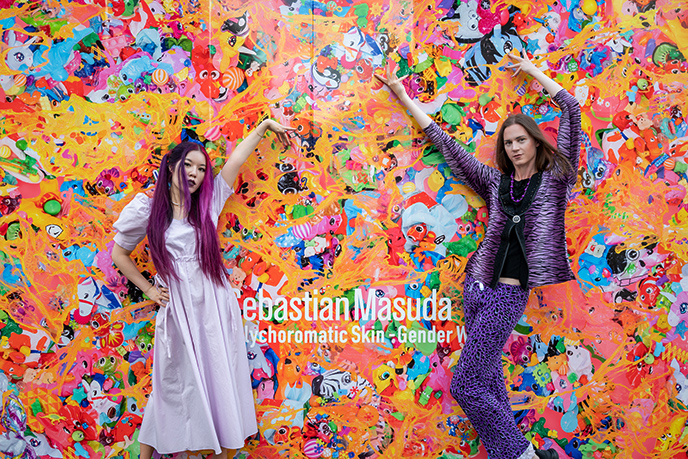 It was a cosmic injustice for Yukiro and I to be separated over the past few years due to The Collapse… We made the most of my time in Tokyo, and have much more to share from our subculture adventures.
(Voguing in front of "Polychromatic Skin – Gender Wall," a Roppongi mural by Sebastian Masuda of Kawaii Monster Cafe fame. This work expresses gender in many colors through a diverse range of materials.)
Til then, you can see a feature about us in Tokyo Cheapo's article about the Goth Scene (Then and Now), as well as my Metropolis Magazine guide to Japan Halloween spots. And add us on socials @lacarmina and @dravarious for more of our evil shenanigans.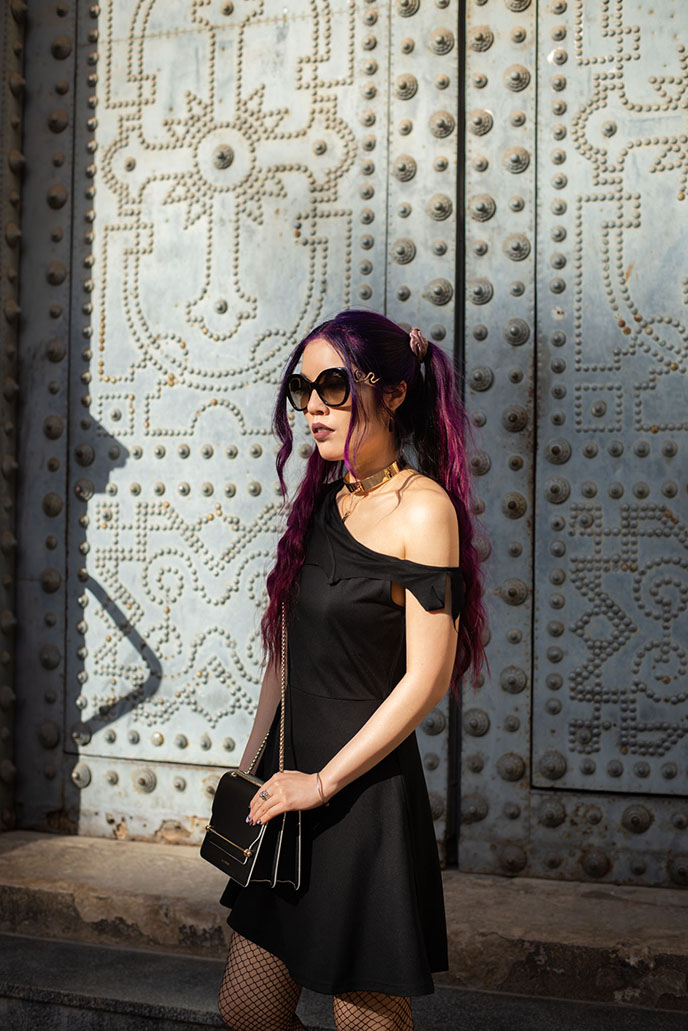 Valencia tends to be overlooked by travelers to Spain, who tend to visit well-known spots like Barcelona. But as you'll see in this photo diary, Valencia is a gem of a destination with space-age architecture, Baroque carvings, Michelin-starred restaurants… and for you Goths out there, the city even has a bat as its mascot.
This mega-post will cover it all, along with outfit photos taken in the most Instagrammable locations in the city. (I was delighted to be invited to Valencia by the tourism board last November.)
Outfit details: Robert Cavalli snake sunglasses, Strathberry East / West purse, Fantasmagoria dress with batwing collar. See more with a click below:

Let's start by visiting the City of Arts and Sciences, which looks like a scene from The Jetsons. Designed by Spanish architects Santiago Calatrava and Félix Candela, Ciutat de les Arts i les Ciències was inaugurated in 1998, with additional buildings added to the complex up to 2009.
My devilish look for the day included a Strathberry crossbody purse, and Satanic dress with a pentagram straps / harness detail.
You can easily spend hours exploring the enormous Valencian cultural / architectural complex. The many curving, white modern structures include L'Umbracle — a landscaped garden dome that includes a Walk of the Sculptures.
Here is Museu de les Ciències Príncipe Felipe — an interactive science museum of science with a roof designed to resemble the skeleton of a whale.
Behold, the Palua de les Arts Reina Sofía — an opera house and performing arts center surrounded by water. Many leading musicians have performed within these eaves.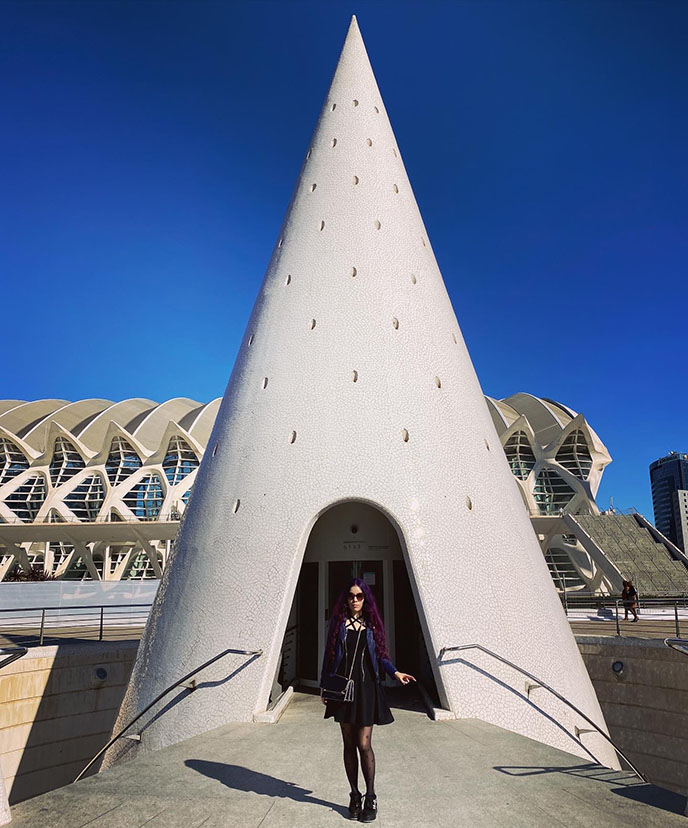 I let my imagination run wild, as I walked around the City of Arts and Sciences. The geometric, bone-white designs made me feel like I was in a sci-fi movie. These cone simply holds an elevator that leads to the garage!
The Ciutat de les Arts i les Ciències includes L'Hemisfèric, which contains an IMAX Cinema, planetarium and laserium. The building is meant to resemble a giant eye of knowledge.
I enjoyed walking around Calatrava and Candela's buildings, and noting how the shapes changed when viewed from different angles.
There were so many fascinating elements that I couldn't photograph them all. The City also includes L'Oceanogràfic, an open-air oceanographic park, and a curving white cabled bridge called Assut de l'Or.
You'll be hard-pressed to find a better spot for Instagram and fashion photography. (Strathberry purse, and see more items below):

I've long been a fan of architect Santiago Calatrava, known for his white spaceship-like designs inspired by organic forms. You may recall I saw his Brazil Museum of Tomorrow and World Trade Center subway station in NYC. 
Duck under Montolivet Bridge, and see the glimmering reflections of the water on the concrete curves.
Look for the light in unexpected places… This is a transportation area that turned out to be a great shooting spot.
There are rotating public art exhibitions throughout the City. This rather emo bunny rabbit sculpture is "Aqui Estamos" (Here We Are) by Leiko Ikemura.
Details, details. Can't get enough of the architectural creativity, such as the zig-zag stair railing that mirrors the peaks of the roof and windows.
All photos by Joey Wong — love how he always finds that sliver of light.
Isn't the City of Arts and Sciences dazzling? I half-expected a UFO to land here.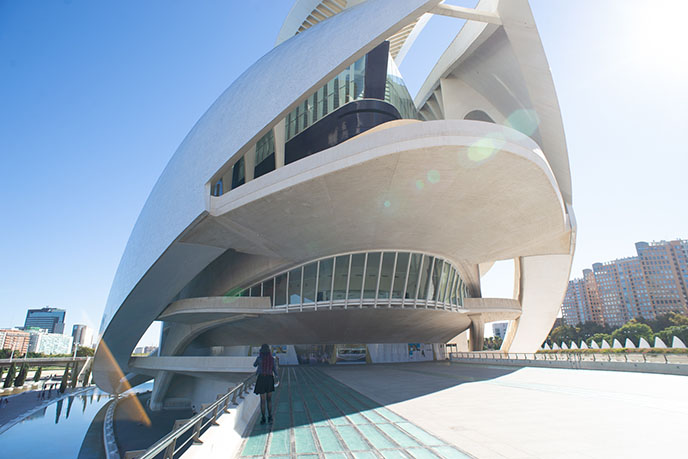 Don't miss this eyepopping site if you're in Valencia. Bring a camera, and enjoy the various events, performances, and museums within it.
Valencia Tourism also took me on a city tour to see the historic side of the city — which is just as fabulous. The main district is filled with churches, buildings, sculptures, fountains and pavilions that date back centuries.
The star of the show is Valencia Cathedral, also know as Saint Mary's. Consecrated in 1238, the church is a fine example of Valencian Gothic architecture.
The ornate chancel of Valencia Cathedral is decorated with colorful 15th-century paintings.
Outside, be sure to snap a photo with the oldest door in the city, which is framed by multiple arches.
I learned that Valencia's symbol is the bat — how vampiric! The nocturnal winged creature has perched atop Valencia's coat of arms since around 1238, when King James of Aragon was fighting the Moors. Legend has it a bat landed on his flag and brought him good fortune, as he won the battle.
Look up as you walk around Valencia, and you'll find the bat mascot everywhere — much like Batman's beacon in Gotham City.
The bat element makes Valencia a fitting city for Goths! (Wearing Robert Cavalli oversize designer sunglasses.)
The walking tour continued on to Mercado Central, the major food market of Valencia. Completed in 1928 by Valencian architect Enrique Viedma Vidal, it is a stunning example of Spanish Art Nouveau. 
The interior is a feast for the senses. You'll find every type of vendor along with Iberian hams hanging from posts, and stacks of bright Valencian oranges (which are delicious).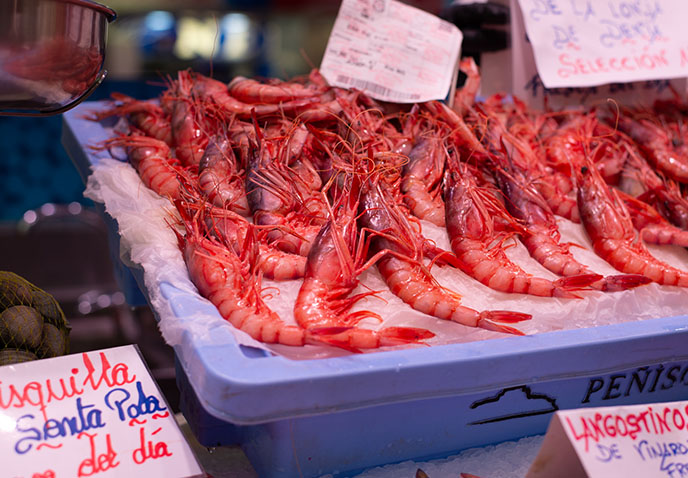 The seafood section is particularly tantalizing. Above are the famous Denia prawns found only in the waters near Valencia, and known as the tastiest and most expensive in the world.
On this trip, I met Valencian chef Danny Lledo and interviewed him about his quest to serve Denia prawns (gambas rojas de Denia) for the first time in America, at his DC restaurant Xiquet. Read my article about his journey here, in my debut for AFAR Magazine! 
I also wrote an article for Fodor's Travel about how Chef Danny Lledó turned his hometown cuisine into a Michelin star. Read how the chef's childhood in a fishing town paved his path to winning paella championships and opening Michelin-starred D.C. restaurant, Xiquet.
I was a guest of Valencia's Mediterranea Gastronoma food festival… and met the Michelin man himself! 
Spain is known for its boundary-pushing culinary scene, and Valencia is home to a number of restaurants starred by the Michelin Guide.
I adored the industrial-style open kitchen and Argentinian-influenced tasting menu at Fierro. At the top: hake fish with seaweed, citrus, and pil pil (a collagen-rich sauce). Below: a creative dish entirely made from parsnips, including picked parsnips that have a spicy touch much like wasabi. The wine pairings were excellent such as Galician-grown whites), and Gran Fondillon dessert wine made from Monastrell. 
I also ate at Michelin-starred La Salita, which had a whopping 16 courses prepared in innovative ways. The amuse bouche plate was beautifully presented: it includes corn tostada, colorless gazpacho, and a chilled caprese bite, decorated to look like flowers and a butterfly.
Each dish came with a story: the focaccia on the right was inspired by the bread brought by soldiers to war, which they softened with olive oil (La Salita uses Lagrima, the finest one). It was served with an eel soup with ikura (salmon roe), green apple, and cilantro — and paired with wines from the Valencian mountain region.
At a time when travel experiences are few and far in between, I feel unbelievably lucky to have done a food and culture journalism trip like this in Valencia.
After being in North America for two years, it felt like a palate-cleanser to be in a very different country / culture, and see buildings that dated as far back as the Middle Ages.
Artistic details like these make me happy. Would you dare to put your hand in the lion's mouth?
Leave it to me to find bats throughout Valencia.
And I think this takes the cake for "most epic door." This is the Palacio del Marques de Dos Aguas, which has now become the González Martí National Museum of Ceramics and Decorative arts.
The Valencian palace / museum's main entrance is surrounded by Baroque alabaster sculptures.
The amount of details in this doorway… phenomenal.
Museo Nacional de Cerámica y Artes Suntuarias González Martí is dedicated to ceramics (with a focus on Valencian ones), porcelains and other decorative arts such as textiles, costumes, and furniture.
I happened to wear a one-shoulder dress from Fantasmagoria with a batwing design at the collar… how fitting for a day exploring Valencia!
Details, details. My large gold choker necklace is the Safety Chain by Eddie Borgo. Sunglasses are Robert Cavalli.
Look up to see stately stained glass rotundas… and a gargoyle pleasuring itself!
Some travel outfit inspiration for you. I wore these Anthony Wang platform sneakers and a loose dress so that I could walk around comfortably all day. I dressed it up with fishnets and a leather jacket, and tied my hair with silk scrunchies.
A final Baroque facade: this is Church of the Santos Juanes (Església de Sant Joan del Mercat).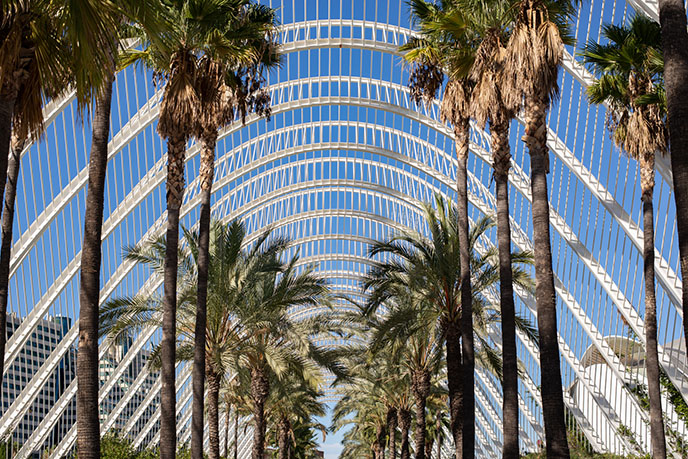 I hope this story convinces you to add Valencia to your itinerary, if you're traveling in Spain!
If you liked my outfit of the day, you can find these designs below:

And cheers to all for reading and featuring The Little Book of Satanism! My latest book is featured in Auxiliary Magazine, as well as publications like Forbes and CBC.
You can get a copy of my "The Little Book of Satanism" from Amazon ♡ Kindle (digital) ♡ Barnes and Noble ♡ Bookshop and other retailers worldwide. Thank you for your kind support!