Category Archive for
Art + Design
It's been a while since I've dressed up for an event! (Above is what I wore for my cousin's wedding — haven't been to a gathering like this in years now.)
I've been making the most of reprieves in The Collapse to see family and friends. If you've been following my @lacarmina Instagram, you'll know I was recently hopping around Boston, Baltimore, and Puerto Rico.
(Wearing a For Love & Lemons dress and Alexander McQueen skull bag. Click below for more of their designs:)

Before returning home, I flew to Boston for a quick visit. Read on for soaring photos of my stay at The Bostonian Boston hotel, where I got to channel The Crow on their rooftop pati
I took my Too Fast Moon Phases dress out to play at The Bostonian Boston, a Millennium hotel. Love the striking design featuring bat-wing bell sleeves and a witchy starry moon print.
It felt great to spread my wings inside my spacious Deluxe Room that featured a makeup / vanity area, large plush bed, and balcony.
The Bostonian's contemporary rooms feature these photogenic views of historic downtown Boston, Quincy Market, and Faneuil Hall Marketplace (which is located right across the street from the hotel).
From my private Juliette balcony, I got to enjoy a bit of sun on my legs while looking out at the waterfront and surrounding North End architecture, which ranges from classic brick to Brutalism.
The Bostonian Boston's 7th floor also has a large rooftop patio with lounge chairs and tables, which any guest can access.
The hotel's location is as good as it gets, if you want to be close to Boston's main attractions. I only had to walk a few minutes to find excellent shops and food, such as poke burritos. I also had fun meandering around the nearby docks.
The Bostonian's cheerful staff and chic red-and-black lobby were among the highlights of my stay. (Wearing a bell-sleeved Gothic dress by Too Fast Clothing.)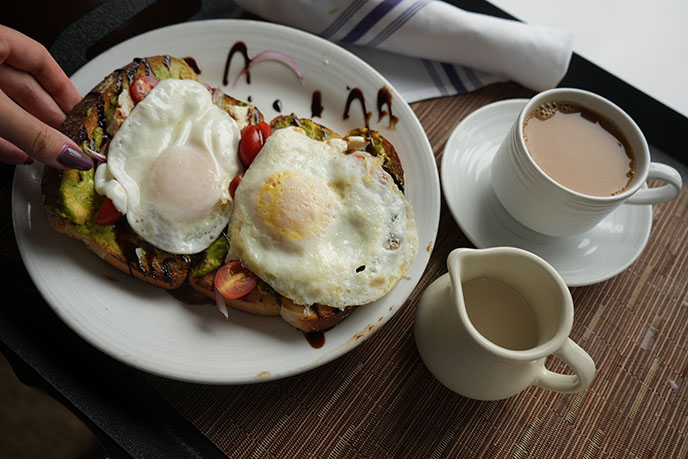 Room service from North 26 is also very reasonably priced. I lazed around with avocado toast (topped with eggs, mozzarella, tomatoes, balsamic) and coffee with almond milk.
The downstairs restaurant, North 26 Restaurant and Bar, stood out for its casual and locally sourced fare, including traditional New England seafood with modern elements.
The bartender showcased his talent for cocktails: picante margarita with jalapeno tequila, orange liqueur, and lime. A starter of crab cakes with spicy remoulade and arugula hit the spot.
Then came a fresh Maine Lobster & Shrimp Cobb with blue cheese, and succulent New York Sirloin with wild mushroom risotto.
The Bostonian Boston hotel and North 26 restaurant have it all: superb views, location, service, and dining. I'd swoop back here any time for more. Cheers to Millennium Hotels for the stay.
On the same trip, I had the opportunity to experience Baltimore, Maryland for the first time. I attended my cousin's wedding at Catonsville Overhills Mansion / Whitehouse Caterers.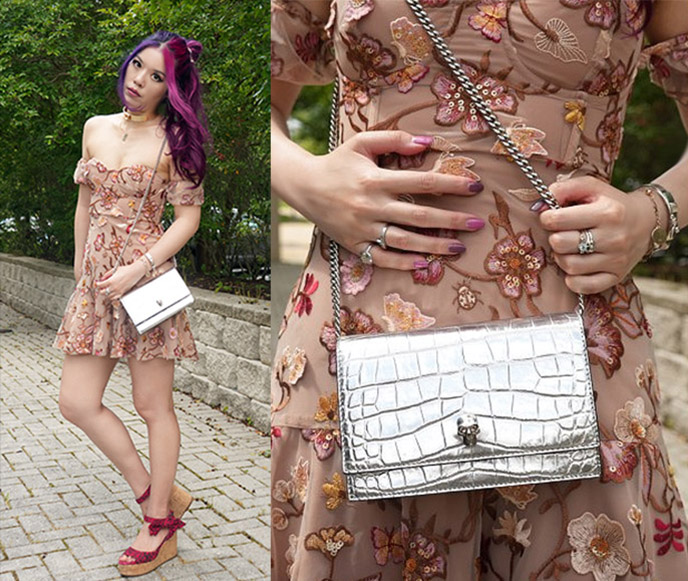 I wore some of my favorite fashion for the occasion: For Love & Lemons Botanic strapless dress and Alexander McQueen silver skull bag. (Find these designs below):

When in Baltimore… do what John Waters would do! This is the hometown of the cult film director known for his eccentric, fabulous comedies — including Pink Flamingos, Female Trouble, Hairspray, and Cry-Baby.
I made a bee-line to the American Visionary Art Museum, as it is right up John Waters' surrealist alley.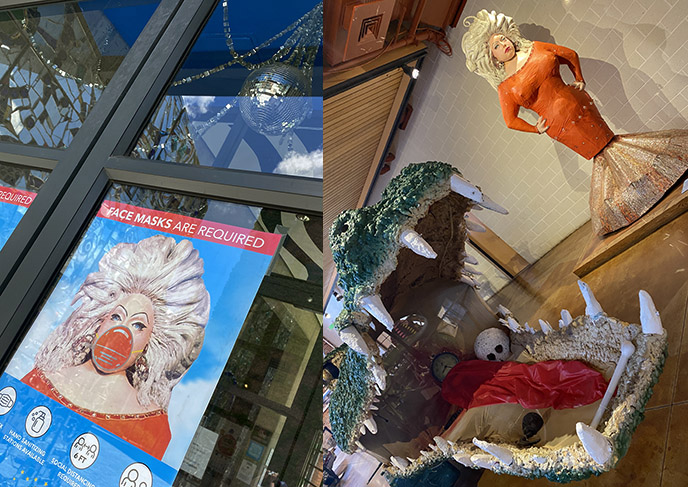 Many of John Waters' films star drag queen and disco diva Divine. At the entrance, a poster of her highness asks visitors to mask up.
The museum's Jim Rouse Visionary Center houses a 10-foot statue of Divine by her friend Andrew Logan. The fierce queen spins from side to side, in her iconic orange dress from Waters' Pink Flamingos movie.
You can also fine Divine memorabilia at The American Visionary Art Museum's gift store, Sideshow. Above is a Baltimore postcard of the drag queen, and an autographed copy of John Waters' new novel, Liarmouth.
A sign proclaims that John Waters considers Sideshow to be the best museum gift store out there — and I'd have to agree. I was mesmerized by the kooky and imaginative selection of items…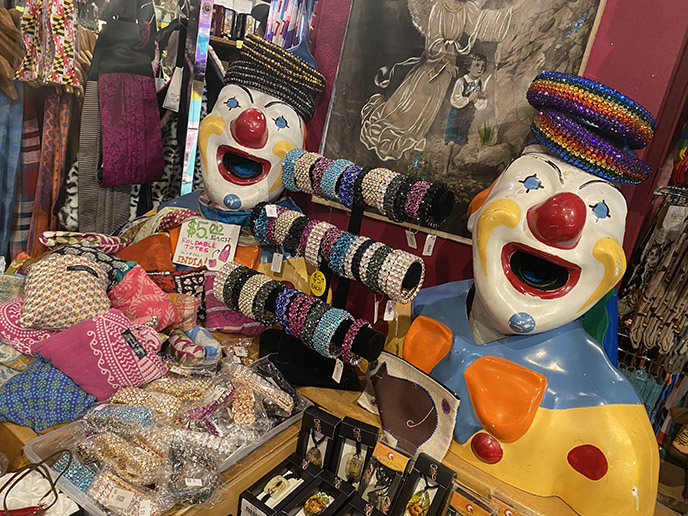 … such as sparkly bracelets, gag gifts, and Nepalese peace sign bags (I got one of those).
The American Visionary Art Museum consists of two buildings and an outdoor sculpture area with an head-scratching, eye-popping selection of permanent and special exhibits. The AVAM features self-taught and intuitive "outsider artists," meaning that their works have plenty of passion and imagination, and aren't afraid to bend so-called design rules.
Case in point: a depiction of the Biblical Job's story includes details of a serpent Satan, and a golden cow licking out a sinner's eye!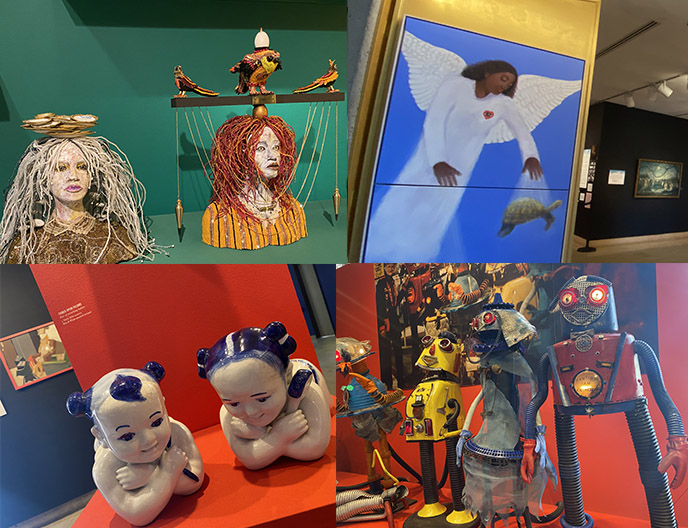 Here are more examples of the offbeat Art Brut at AVAM. The above two works are part of a healing and compassion gallery (I chuckled at the angel saving the turtle!) Below are Chinese opium pillows and a robot family: humorous and charming outsider art that you wouldn't find in a typical museum.
After exploring the three floors of the Main Building, don't miss out on the Jim Rouse Visionary Center. I was tickled to see this portrait of actress Edith Massey as Edie, the egg-loving trailer-dwelling mother in John Waters' Pink Flamingos.
And here's the big bitch queen herself… Divine! As the late drag star sings in her catchy disco song, "Turn around, stand up like a man and look me in the eye. Turn around, take one final look at what you've left behind!"
The AVAM runs an annual Kinetic Sculpture Race, among other creative events. Here are 15-foot fluffy pink poodles that participated in the race.
I had an illuminating time at Baltimore's American Visionary Museum — it was one of my favorite art experiences in recent memory. Don't forget to visit Sideshow gift store, and say hi to owner Uncle Fun and the colorful staff!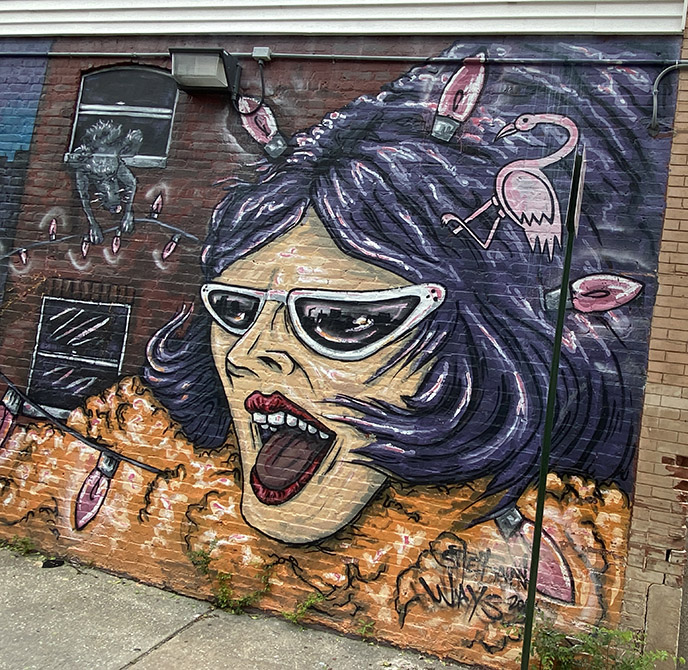 Next, I went to hang out in John Waters' favorite Baltimore neighborhood — Hampden. As you saunter through the hip area along 36th Street, you'll feel like a main character in one of his movies. (I spotted a mural of Mink Stole as the degenerate villain Connie Marble, from his 1972 movie Pink Flamingoes.)
Many scenes from John Waters' films were filmed in Baltimore's Hampden, including Pecker and Hairspray. You might recognize the bright row houses from his cinematography (and as you'd expect, this is the city's LGBTQ+ district).
John Waters has a nearby residence, and often spends time hanging in Hampden. Browse the director's beloved Atomic Books, along with vintage clothing and record stores. Grab food at Ekiben (the yuzu juice rocks), and peek at The Food Market restaurant (the site of scenes from Pecker).
Wave hello to the 30-foot pink flamingo sculpture, which poses over The Avenue and was made by Randall Gornowich.
Although I didn't have much time in Baltimore, I'm pleased I got to get a glimpse of John Waters and Divine's filthy, flamboyant universe. Have you ever been, or wanted to go?
We live in apocalyptic times… and I'm dressed to meet The Collapse head on!
Let me show you more of Seville, Spain's historic sites –wearing Dorawyn, a conceptual, experimental slow fashion brand that reminds me of the outfits in the Dune movie (which I very much enjoyed).
Located in the south of Spain, Sevilla was the filming location for scenes in Star Wars: Ep 2, Game of Thrones, and Lawrence of Arabia as well.
The Arabic architectural elements formed the perfect backdrop to shoot Dorawyn's "Bunker" Collection. I am wearing her "Keyword" wrap cardigan, which can be tied at the waist and has a hood to protect you from the sun and sandstorms. My Dorawyn "Uprise" black fingerless gloves complete the look.
Before we continue, a quick announcement — Dr John Skutlin and I have relaunched our "Satanic Show + Tell" series by interviewing a real-life cannibal turned macabre artist, Nico Claux! This meaty new episode is now out, exclusively on The Satanic Temple TV. 
(Watch the hour-long cannibal chat at this link, as well as see our trailer. More info at the very end of this blog).
This magnificent palace is the Real Alcázar, or Royal Alcázars of Seville, which is one of Sevilla's most famous sites. The palace was first built for the Christian king Peter of Castile in the 14th century. Above the Patio de las Doncellas (Courtyard of the Maidens), which references a Moorish tale.
The palace was built over the site of a Muslim alcazar, or residential fortress. The Mudéjar architecture retains Arabic elements such as these tiles and rounded arches, and adds Romanesque, Gothic, and Renaissance influences.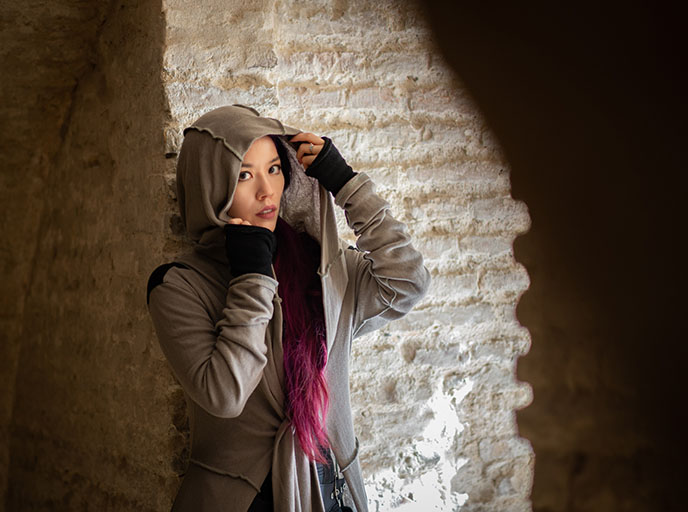 The Iberian Real Alcazar was the perfect site to feature fashion by Dorawyn, a Budapest-based label designed by Dóra Tesényi. Her clothing imagines a post-apocalyptic world in which everyone is fighting for survival. However, a tribe of women joins together and carries out a vision of the future that lives in harmony with nature, and makes positive changes.
Real Alcazar may look familiar to you… because it was a shoot location for HBO's TV series, Game of Thrones. It stands in for the palace of the kingdom of Dorne, run by the Martell family.
I visited Seville in November 2021, so the weather was comfortable. (I encourage you to avoid visiting the Iberian Peninsula in the summer, when temperatures are excruciating and it's difficult to walk around outside and enjoy the gardens.)
Here are the "Water Gardens of Dorne," as featured in Game of Thrones. What better place for strolling with royals, and plotting to take down your rivals?
Don't forget to look up — above is the ceiling of the Hall of Ambassadors.
The famous oranges of Seville frame a fountain. (Photos by Joey Wong.)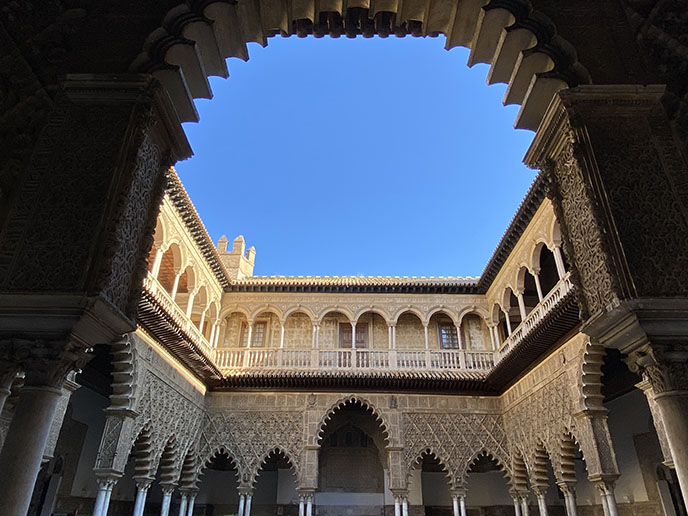 If you'd like to visit Real Alcazar, be sure to get tickets in advance via their official site. Plan ahead, as bookings may sell out.
I've been on a post-apocalyptic, dystopian, cyberpunk kick — and Dorawyn lets me live out my fantasies. Her fashion is made from slow and sustainable methods, such as hand-dying and knitting with recycled cotton. Each piece is handmade and conveys a unique feeling; I haven't seen styles like these anywhere else.
Onward to the Plaza de España, which turned out to be one of my favorite spots in Seville. You may recognize it as the shoot location for scenes in Lawrence of Arabia (1962) and Star Wars: Episode II – Attack of the Clones (2002) (it stands in for the City of Theed on the Planet Naboo).
A close-up on one of the many devilish details. The Spain Square was built in 1928 for the Ibero-American Exposition of 1929.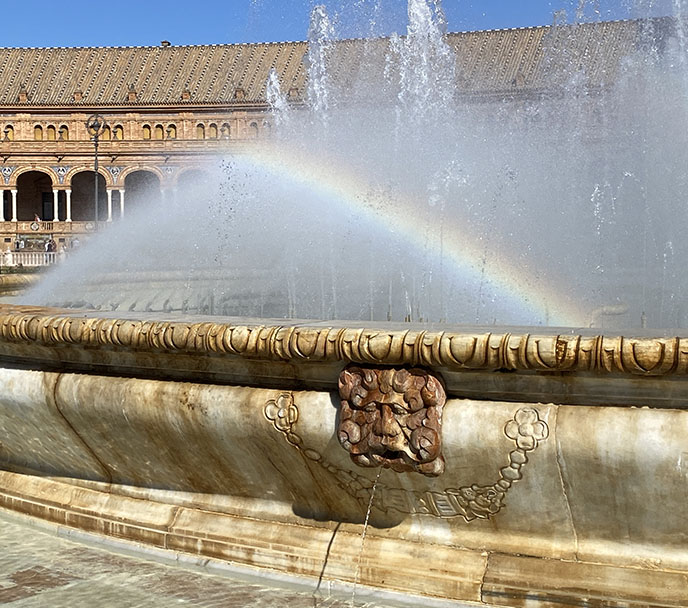 In the centre is the Vicente Traver fountain. The water shoots up high, framing the central building of Plaza de Espana and glowing with rainbows.
Plaza de Espana is designed in a huge half-circle. The buildings are accessible by four bridges over a moat, which represent the ancient kingdoms of Spain.
This is a spectacular site for photography (no wonder these corridors are in so many movies). Go during different times of the day, to make the most of the dramatic light and shadow.
Plaza de Espana is a free public space, and has a lively atmosphere with young locals hanging out on the steps.
You can rent a cute blue and white rowboat, and paddle the canal that weaves through the pavilion.
The Plaza de España was designed by Aníbal González, and sits next to Maria Luisa Park. The architecture is a playful, fantastical mix of 1920s Art Deco, Spanish Renaissance Revival, Spanish Baroque Revival and Neo-Mudéjar styles.
When I visited, there were two groups of flamenco dancers performing for free. The singing, stomping, and strums of guitar added to the vivacious atmosphere of Plaza de Espana.
Closet up on the ceramic white and blue painted balustrade.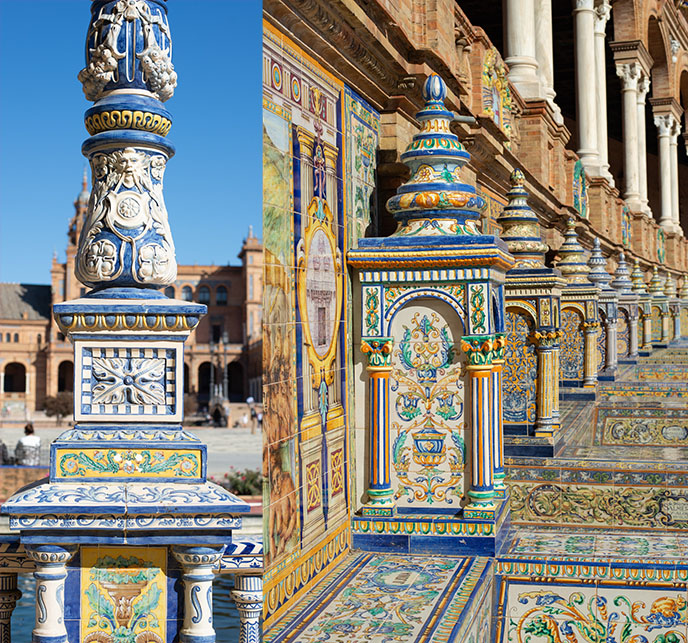 And the colorful tiled Provincial Alcoves along the walls of the Plaza de España.
Access to Plaza de España is free. Hanging out here was one of my favorite experiences in Seville, Spain.
Finally, a look inside the stunning La Casa de Pilatos (Pilate's House). This Andalusian palace was built in 1483, and was the permanent residence of the Dukes of Medinaceli.
Casa de Pilatos has one of the largest collections in the world of azulejo (Spanish glazed tiles), arranged in majestic colorful formations.
Parts of Lawrence of Arabia were filmed in the mansion. I arrived at golden hour, which was ideal for dramatic portraits.
The Casa de Pilatos is small but worth visiting, as it is one of the finest examples of 15th century Andalusian architecture.
In addition to the architectural details, you can admire classic paintings, furniture and sculptures.
The rear contains two lovely tiled gardens, filled with flowers and manicured in a 16th century style. To visit Pilate's House, order tickets in advance from Fundación Casa Ducal de Medinaceli's site.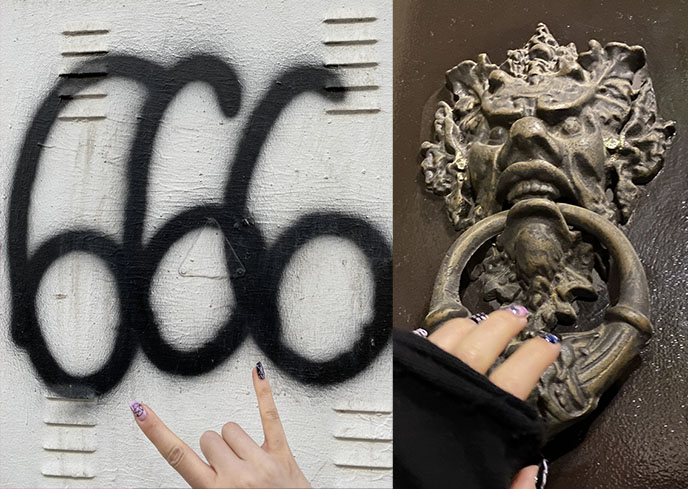 I leave you with a few devilish snaps from Seville. (I have some Satanic news coming up for you soon… stay tuned…)
For more Sevilla travel tips and photos, see my first post featuring Las Setas, the cathedral, and more.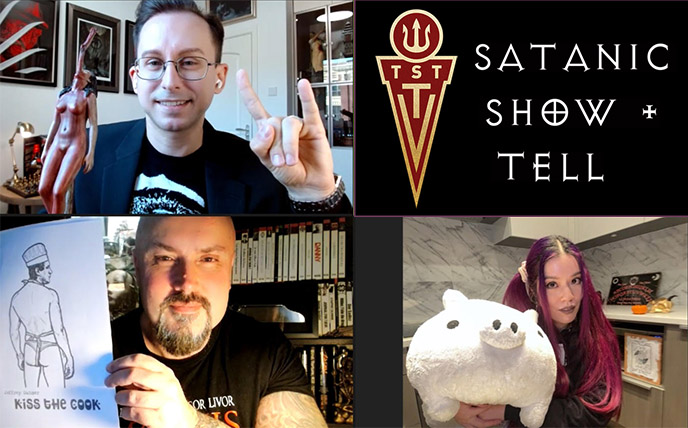 Finally, I wanted to let you know about my Satanic TV interview with a French cannibal!
Dr John Skutlin and I interview former human flesh-eater Nico Claux about his collection of serial killer artifacts — including mementos from Japanese cannibal Issei Sagawa, and German wiener-eater Armin Meiwes.
In this screenshot, John is holding a Cannibal Holocaust figure, Nico shows a page from his Cannibal Killers Coloring Book, and I am squeezing my "long pig" (a nickname for eating human flesh) — which Nico said was long and chunky.
We have now released four episodes of "Satanic Show + Tell," our TST TV series produced by William Morrison (Skinny Puppy). Please check out the two-minute trailer for a peek of our cannibalism conversation — and see our newest show at The Satanic Temple TV!