Category Archive for
Art + Design
Last Halloween, someone had a date with the Devil… in Salem, Massachusetts!
All hail the Satanic Temple, who have a headquarters and art gallery in Salem — the New England town where the 1692 witch trials took place. Read on for a peek inside…
In part 1 of my Salem Goth Guide, I took you to the witchiest museums and historic attractions, including the local cemetery and Witch House. (Since these tend to close early, around 4-5pm, I suggest that you visit them first if you are only here for a day).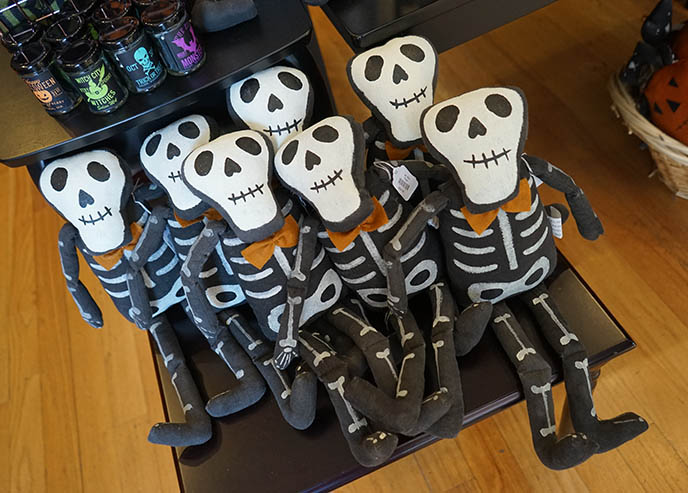 In this second installment of my Salem adventures, I'll show you what we did in the later afternoon (around 4-7pm). This is the ideal time to check out the Gothic stores on Essex Street, as they don't generally close until 6pm. But before we go shopping, let's pay a visit to The Satanic Temple of Salem.
Coronavirus Note: Salem will still be having "haunted happenings" this year, but with safety precautions to prevent COVID. Please see the tourism board's FAQs about travel, mask requirements, and events in Salem for Halloween 2020, before you visit.
Because of COVID-19, the Salem Art Gallery is open only by appointment. You can easily make an advance reservation via their site.
The gallery and Satanic Temple are located at 64 Bridge Street. The street number is a few digits shy from 666, but the black and red signpost makes up for it.
Don't feel apprehensive about visiting this devilish lair — everyone is welcome here. I saw families and children wandering inside, and snapping cheerful photos with Baphomet.
The Satanic Temple (TST) has chapters worldwide — remember when I went to their disco party in London! — but their head office is in Salem, MA.
The Satanic Temple has been designated a tax-exempt church, but they're a non-theistic organization and don't "worship the devil." In their words, "Satan is an icon for the unbowed will of the unsilenced inquirer – the heretic who questions sacred laws and rejects all tyrannical impositions."
Members believe in respecting the freedoms of others, and acting with compassion in accordance with science. (Unlike certain religious figures who sit on chairs like these…)
Logistics time. What's the best way to get to the Satanic Temple of Salem?
Most of Salem's historic / tourist attractions are in the central part of the town. The TST is a little further north (15-20 minute walk, or 5 minute car ride). If you're only here for a day and short on time (as we were), I suggest taking an Uber to maximise your time.
Opening hours: TST usually closes at 7pm, which is why we visited it last. (Salem's other Gothic attractions close earlier). Keep in mind that it is closed Monday/Tuesdays, and that this year (with COVID), you must make an appointment through their site first.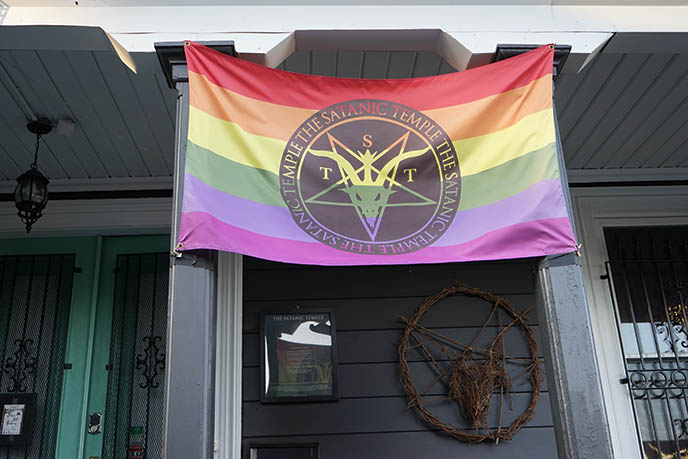 The Satanic Temple and Art Gallery are easy to spot. Look for a dark grey historic house with a rainbow flag of the goat-headed one.
Many members identify as LGBTQ+. The Satanic Temple stands for equal rights, benevolence, and freedom of expression — often taking part in campaigns for LGBTQ+ and reproductive rights.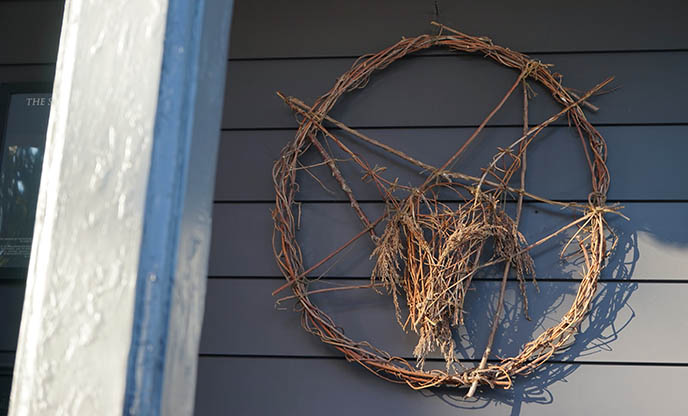 How charming is this goat-headed wreath? The Satanic Temple's logo is a Sigil of Baphomet (the Sabbatic Goat) and an inverted pentagram.
Inside, you can sit on the lap of Baphomet — check out Daddy's hooves! (More about this controversial statue further down.)
Founded in 2013, The Satanic Temple rebels against arbitrary, tyrannical norms that interfere with individual freedoms. They've made waves by using devilish imagery (such as black masses and "Snaketivity" sculptures) to fight encroachments on the separation between church and state.
If you're confused about the Church of Satan vs. Satanic Temple, here's a funny guide to the differences between the two. (The former was founded in 1966 by Anton LaVey, author of The Satanic Bible).
For members of TST, Satan isn't a supernatural deity. He represents the never-ending search for knowledge, using the best scientific evidence available to make rational decisions.
The Satanic Temple has seven fundamental tenets, which focus on living with compassion, justice, and wisdom.
In addition to serving as an office, Salem's Satanic Temple is an art gallery and creative gathering space. Anyone is welcome to visit and see the rotating works on display.
(Admission must be made in advance via their site. Note the local logo, featuring a death's head or winged skull that is found on many Puritan graves.)
It's well worth the visit — you get to peruse a dark collection of memorabilia for sale, and see art such as the original concept sketch for the Baphomet statue.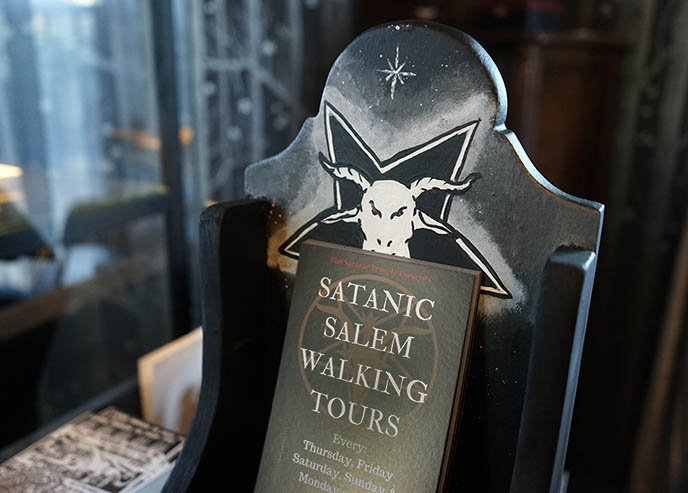 The team also offers a Satanic Salem Walking Tour, and various activities. You can attend a lecture, take a class on making candles for a Satanic ritual, or watch a screening of documentary Hail Satan? (which focuses on co-founder Lucien Greaves, and TST's activities).
As you'd expect, the Satanic Temple of Salem is a Gothic dream-house. Built in 1882, the Victorian-style interiors once housed a funeral parlor. Wander up the winding staircase, and be inspired by the artwork by mostly local artists.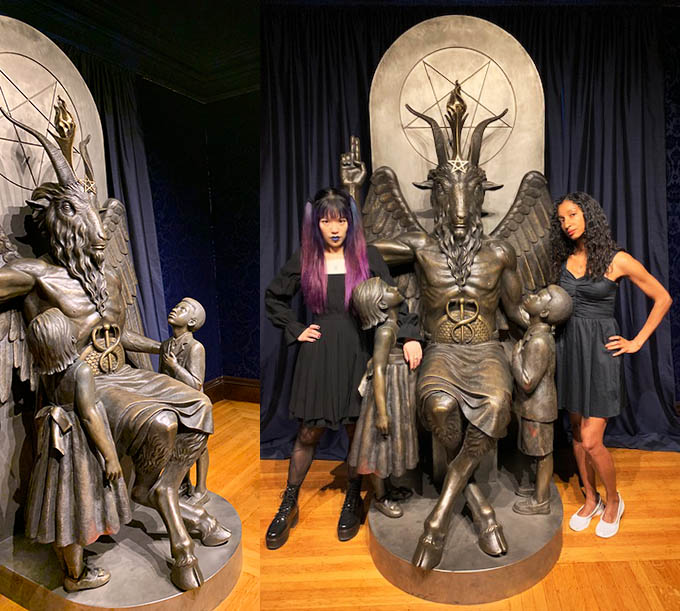 Lissette and I were delighted to stand with the infamous Baphomet statue, which is 8.5 feet tall and weighs 3000 lbs. Originally a pagan idol associated with the Knights Templar, the horned deity evolved into the Sabbatic Goat, and is a symbol of both TST and the Church of Satan.
When a Ten Commandments statue was placed outside Oklahoma State Capitol, The Satanic Temple created this Baphomet to sit beside it in the name of religious equality. The court ended up removing the Christian statue on the grounds that state property shouldn't be used to further religions — win!
The bronze Baphomet is a political symbol, and a powerful work of art especially when seen (and sat on) in person. Love the pentagrams, snakes, and two children staring up at him.
The Satanic Temple has fought against religious encroachment in other creative ways. They asked to give a Satanic invocation before Scottsdale City Council, since only Judeo-Christian groups have said prayers in this public forum. They were arbitrarily denied, and are currently in court to defend their First Amendment rights.
I got a kick out of their response to the Christian Good News Club, which some public schools offered as an after-school children's program. Enter the After School Satan Club! "While the Good News Clubs focus on indoctrination, instilling them with a fear of Hell and God's wrath, (we) focus on free inquiry and rationalism, the scientific basis for which we know what we know about the world around us." V-fingers to that, from our perch on these Pope chairs.
The Salem headquarters also holds the Satanic Temple Veterans' Monument. In response to a two-foot steel cross memorial placed in Belle Plaine's remembrance park, the Satanists donated this statue. However, they were denied the right to place it — and are currently still fighting for the same access to public spaces as other religions.
The monument is simple yet strong: a black steel cube marked with a gold inverted pentagram, and an empty soldier's helmet on top where people can leave messages.
Be sure to visit the Satanic Temple's library. They have a fascinating collection of death masks and medical devices, which reminded me the Morbid Anatomy exhibit.
A wonderful collection of books and objects on the subject of witch-hunts, Satanism, and occult matters.
Peruse the fascinating collection of Satanic Panic literature and records. In the 1980s, there was a widespread and unfounded fear that Satanic ritual abuse had become widespread, resulting in child blood-lettings and other dark matters. These books (Halloween Satanism, Turmoil Toybox) look ridiculous now, but they were taken seriously at the time.
The moral panic even led to police guidelines on how to spot a Satanist. I laughed out loud… if your teen draws a yin-yang or is listening to Dio, you better pray for their soul!
Intrigued by this "hell house?" Then crawl on over to The Satanic Temple of Salem for an enlightening visit.
(You can find out more about their work in the Hail Satan documentary.)
Now, let's check out some spooky boutiques. Salem is an incredible destination for those who love Gothic fashion and home decor. (Note that these photos were from my visit last fall, so things may have changed with COVID.)
Some of the stores are more on the tourist side, and sell generic Halloween goods. However, there are also wonderful indie boutiques with local / handmade Goth items (like this skull sweater).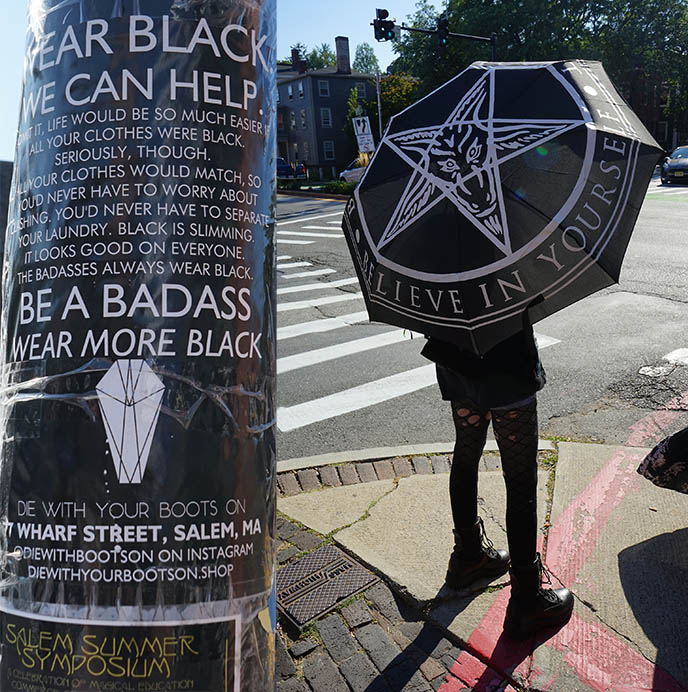 I didn't get to go to every Goth store — I missed out on Die With Your Boots On, purveyor of underground / subculture fashion and locally made products.
Most of the Gothic boutiques are on Essex Street, between Summer – Washington – Hawthorne. I suggest starting at one end and walking along Essex, and meandering to the side streets as well.
Lissette and I were fans of Witch City Wicks, an independent, handmade, local candle and home goods company.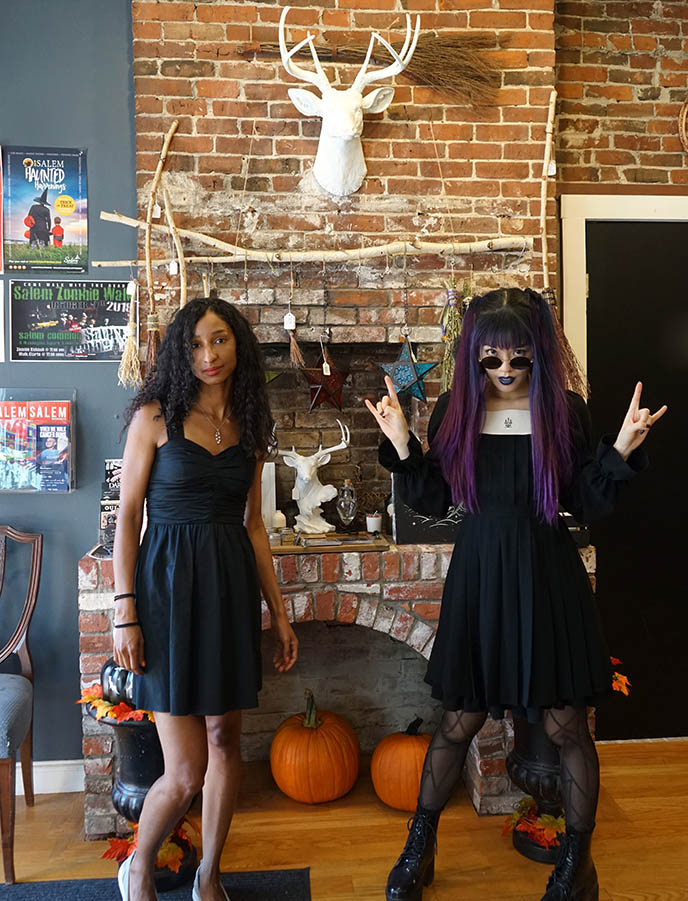 In addition to artisan candles, Witch City Wicks stocks hand-crafted interior decor and gifts — perfect for witchy women.
They carry an enticing selection of silver jewelry with witch and occult themes. These pentacle necklaces and pendants are by Burial Ground.
All their candles are made with vegan-friendly soy wax, and have alternative scents and packaging influenced by Salem's culture.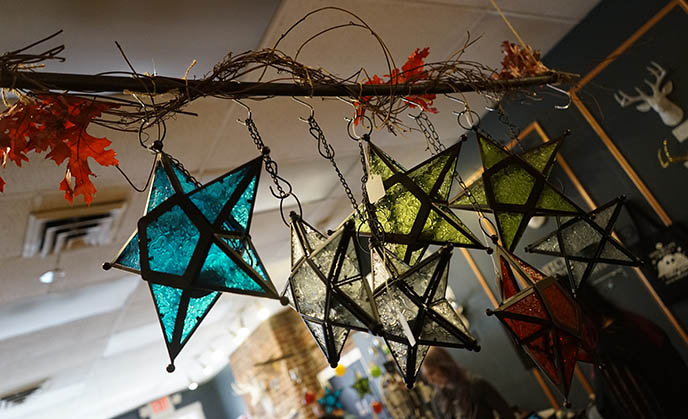 Witches tend to be associated with horror and darkness in popular culture, but Witch City Wicks shows the positive, spiritual side of wicca.
Be ready to spend when you're in Salem… it's hard to resist designs like these, especially when they are by indie makers.
Bubble, bubble, toil and trouble… Can you picture me stirring a cauldron by this hearth?
I'm wearing a rare OG pleats dress by Moi-meme-Moitie (the elegant Gothic Lolita brand of Mana-sama, guitarist of Moi dix Mois and Malice Mizer).
Salem isn't just for witches. The little New England town with a ghastly history had drawn in other bloody subcultures.
Coffin-dwellers will love the boutique Vampfangs. Founded in 1993, they carry all things vampire-related including red contacts and sharp fangs.
There's a selection of jewelry that looks like it belongs to Lestat. I spot an anhk and skull.
Vampfangs also has a variety of fragrances, oils and skincare — wiwth vampiric names like Bitten, Immortal, Funeral Parlor, Black Cloak.
Need a skull, or a horned headband? Vampfangs has you covered.
These specialty boutiques are run by locals who participate in the subculture, and put careful attention to design details. Salem's historic atmosphere adds to the charm of shopping for Goth goods.
"I put a spell on you…" All your ritual needs can be found at Hex Old World Witchery.
This old world witchcraft store is a wonderland of herbs, crystals, divination objects, voodoo dolls…
Hex pays homage to deities and demons from all cultures. The Satanic Baphomet sits next to Kali, Hindu goddess of destruction (remember I visited her temples in India?)
So many potions to choose from… In Salem, it's always the Season of the Witch.
Can you picture yourself wearing this pointed witch hat with a skull?
Be sure to pay your respects to the altar at the entrance of Hex, which brings together Santa Muerte candles, voodoo dolls and a human skull.
Many Salem stores run special events and workshops. No matter when you visit, you'll find something witchy or artistic to partake in. Tarot card readings, spell casting, broom-making… If only I had more time!
You can visit the store websites and Destination Salem to learn about upcoming activities. Or just wander around, and see what happens to be going on (we stumbled upon a small vendors fair).
The sun, it burns! Outside The Coven's Cottage, which has a pagan and metaphysical focus, especially on Norse/Asatru.
The word "witch" is found on pretty much everything in Salem… Impossible to see everything in a single day. I'll have to come back for more.
Be sure to read Part 1 of my Salem Goth Guide as it covers the best museums (including the Witch Trials of 1692), and Goth-friendly attractions like Count Orlok's Nightmare Gallery of monsters.
A hearty hail to The Satanic Temple of Salem for the special tour. (Keep in mind that I visited last year, so these photos are from the pre-COVID days.)
Salem, MA more than lived up to my Gothic expectations! I hope you'll get to safely fly (either by plane or broom) to Destination Salem and revel in these haunted happenings for yourself.
(For more, check out the first instalment of my Salem Goth travel guide and Chilling Adventures of Sabrina the teenage witch adventure. Happy Halloween!).
Feeling so nostalgic for Japan… I miss the era when we could party all night, and share absinthe freely! At this rate, I'm not sure when I can safely return.
Thankfully, I have a crew of Pirates — and we can live vicariously through their travel adventures in Japan and beyond.
Today, we're letting our favorite spooky lady, Yukiro Dravarious, steer the ship… with a guide to traveling in Aomori, Japan! Read on for bizarre and Buddhist art, and a visit to Mount Osore, a hell-like volcano haunted by Gothic spirits.
Before I turn over the wheel, I wanted to share some of Yukiro's recent drag photos and projects (as Die Schwarze Frau). She and her Haus of Schwarz did a live, socially-distanced performance for Tokyo Closet Ball. Watch it here; our dead diva comes alive near the end.
For more fabulosity, check out Yukiro's Witch Review series on YouTube — it breaks down the best horror B-movies, without spoilers!
And you're invited to Yukiro's online Halloween party on October 10, 8pm Japan time! Tune into the event here — Casket of Horrors. All members of her drag Haus will perform live, followed by a battle to the death between 10 spooky video contestants. 
If this Evil Queen's genius makes you bow down in awe, show your support by buying Yukiro a glass of red wine here.
(Above photos by: Akane Kiyohara from Beauty Blenda, by Haus of Gaishoku.)
Now gather round children, and let's listen to Yukiro's Aomori travel story…
In July, my boyfriend and I escaped the Tokyo heatwave by taking a local trip to Aomori. It was our first time visiting the northernmost region of Japan's main island Honshu (本州), right below Hokkaido. We researched where to go and what to see – as well as the government's safety recommendations, as our priority was to minimize the risk of getting or spreading COVID-19.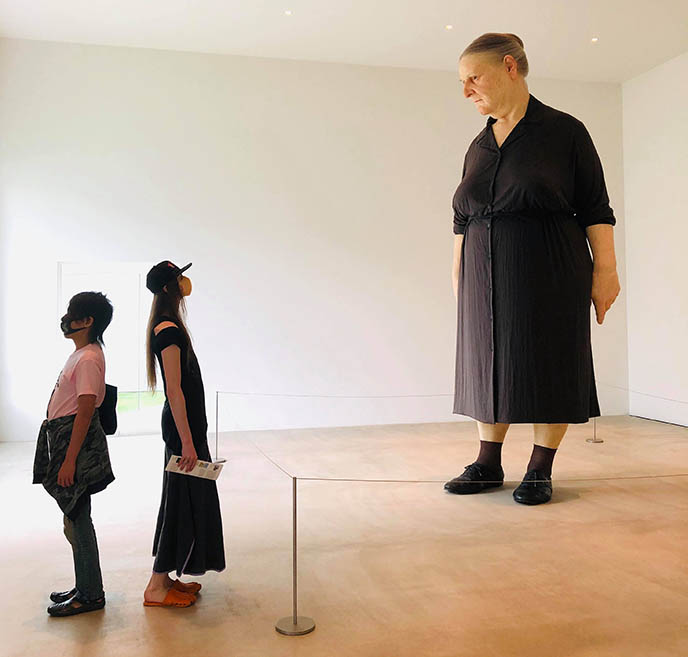 Our shinkansen route: We took the bullet train to Hachinohe (八戸) from Tokyo Station. Then, we took a local train to Misawa (三沢) where we booked our hotel. The trip took about 4 hours and cost about 18000 yen one way. We travelled just before the Japanese summer vacation so we avoided crowds, and got a very reasonable deal on our hotel, Hoshino Resort Aomoriya (less than 5000 yen per person a night!)
Pro tip: Pack a mask and hand sanitizer, and avoid crowded trains and rush hours. Our trains were more or less empty, and we saw almost no humans during this trip. Just what we desired!
Misawa is a rejuvenating spot, and we were delighted by the brisk air, surrounding nature, and no humans as far as the eye could see. Between Misawa station and the hotel, there was a 10-15 min walking path through small waterfalls and meadows.
Our hotel, Hoshino Aomoriya, was one of the best I've been to in Japan. We had an airy room and relaxation area. It bordered a Japanese park filled with art, birds, pony rides, jogging routes, and a pond with lotus flowers and auspicious carp fish.
The hotel also had two natural onsen (hot springs) free of charge for hotel guests, with both inside and outside options. The outdoor onsen was especially spirited as it was surrounded by trees, a pond, and trailing pink flowers.
The hotel displayed art from Okamoto Taro (岡本太郎); I loved his kappa-like spirit depiction. I was impressed by the collection of nebuta, or gigantic paper figures in the form of dragons, gods or Shoguns. Some were 9 meters in length, and spat out smoke and lights. Aomori has a yearly Nebuta festival (ねぶた祭) every summer, but it was cancelled due to the virus. In the future, I hope I can see this procession of musicians, dancers, and locals carrying the giant white floats.
I carried my mosquito repellent and sun lotion and hand sanitizer in my bag, as well as sunglasses and a mask of course. I was expecting mosquitoes but to my delight I wasn't bitten once in Aomori! In Tokyo I get bitten 1-3 times a day if I don't wear full cover up or spray myself heavily with repellent.
We chose to stay in Misawa because it was close to the memorial museum of Terayama Shuji (寺山修司). He's an avant-garde poet, dramatist, writer, and film director — one of the most influential Japanese artists. I'm a big fan of his provocative movies and was eager to learn more about this extraordinary man.
Getting to the Terayama Shuuji museum: We took a 20 minute taxi ride from Misawa station, since there are only connecting buses on weekends and during vacations. All museums (and most stores) are also closed on Mondays in the Misawa area, and you more or less need a car to efficiently get around Aomori.
Needless to say the Terayama Shuji museum was very much worth the costly taxi ride (4000 yen one way). Every guest has to get their temperatures checked, and wear plastic gloves provided by the museum, as well as pay a small admission fee of 400 yen.
Terayama Shuji's museum was as kooky and wicked as one would expect. The first room was a traditional exhibition space about his career, along with books, merchandise and collaboration pieces.
The second was very impressive since it was designed like a treasure hunt! There were 12 desks, and you had to use a flashlight, open drawers and find secret hidden panels. Each bench contained keywords to help solve the riddles. Inside the desk drawers were more facts, poems and interesting curiosa regarding Terayama; some even projected movie clips. The other parts of the room contained a library, and a ceiling constellation of his bizarre characters being lit up one after another. We bought some goods and left, without seeing another single visitor, and were very pleased.
We then took the local train to Aomori city, and from the station, we rode a bus to Heiwa Park (the Park of Peace – 平和公園) , which is said to be haunted! Unfortunately we did not encounter any ghastly beings, as it was empty as everywhere.
Then, we paid 400 yen to visit the memorial museum of Shikō Munakata (棟方 志功), a woodblock printmaker who reached international fame. Munakata was known for his eccentric personality and obsession with Vincent van Gogh; at a young age he claimed to be the "Van Gogh of Aomori." The grandest piece in the museum was his "Ten Great Disciples of the Buddha" (二菩薩釈迦十大弟子) (1939), considered to be his crowning achievement.
The following day we had the pleasure of meeting a local friend, Yoko, who kindly took time to rent a car and take us to must-see places. We realized how difficult it is to travel around Aomori without a car, so her help really made our trip worth writing about!
Our first stop was the Towada Art Center (十和田現代美術館). Outside, there was free street art for anyone to enjoy.
The infamous Yayoi Kusama (草間彌生) had an art platform opposite the main building, featuring her recognizable dotted sculptures. We also saw firefighters climbing a wall that was surprisingly part of the exhibit, and a friendly ghost manifestation.
PS: see La Carmina's review of the Stockholm Yayoi Kusama exhibit here, as well as her trip to Naoshima Island (land of the giant pumpkins).
Also exciting was the Wish Tree, planted by Yoko Ono; you wrote your wish on a paper strip and hung it on one of the branches.
I enjoyed Towada's many interactive pieces, and slightly hidden art that you had to search for. We took fantastic photos amidst the glass walls, and enjoyed installations from artists around the globe.
Next, Yoko took us to the Oirase Gorge (奥入瀬渓流) – a long path for hikers, through jaw-dropping waterfalls and picturesque trees. The gorge stretches 14 km from Nenokuchi (子ノ口) on Lake Towada (十和田湖) to Yakiyama (焼山). The strong current leads through a ferocious path with many rocks.
When we went, there was mud because of rain, and the thicket of trees made the temperatures quite cool. Even in the peak of the summer, I recommend wearing rubber boots and an extra coat layer.
After a few scenic stops, we made it to the peaceful Lake Towada, the largest caldera lake on Honshu Island. On one of the rocks in the water we could spot a tiny shrine, which belongs to a god who protects the lake. Yoko took us to Towada Shrine (十和田神社), and we admired the mossy stones that are said to have healing powers.
We also saw the "Statue of Virgins" (おとめ像) on the beach side of the lake. It's the last remaining work of poet and sculptor Takamura Kōtarō (高村光太郎), and in our eyes, looked more like a romance between two women. Thanks to Yoko, we had a lovely day of nature and art.
The next day we went to Mt. Osore, the Mountain of Dread: one of the three most sacred places in Japan. It is also a main shooting location for Terayama Shuuji's movie "Pastoral: to die in the country" (田園に死 す).
Mount Osore is home to psychic mediums called "itako" who are traditionally blind, and undergo rigorous spiritual training. Itakos can summon the soul of a dead person; they become possessed, and speak to the customer in their spirit's voice!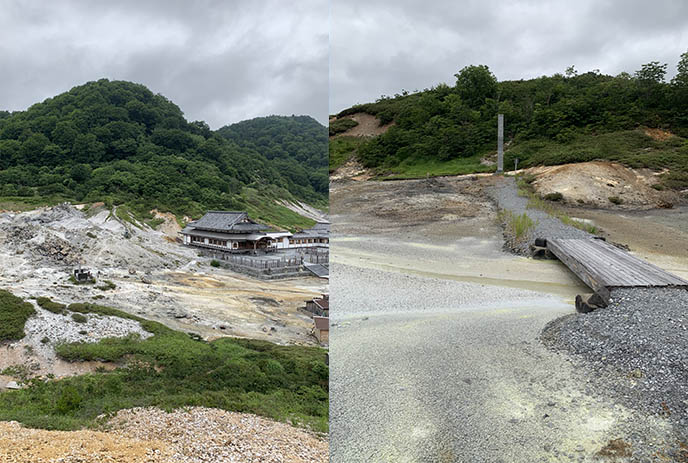 How to get to Mt Osore: From Misawa, take the express train direct to Shimokita Staton (下北), or take the local and transfer at Noheji station. (Not to be confused with Shimokitazawa, the hipster area in Tokyo frequently shortened to Shimokita!) Then, ride one of the three daily 40 minute buses to Osore. The trip took about 2-3 hours and cost 1900 yen for the train and 800 yen for the bus ride, per person each way.
Arriving at Mount Osore was like entering another realm. The holy ground is said to have spirits of the dead roaming about. It is also an active volcano, and is believed in Japanese mythology to be one of the gates to the underworld.
Admission info: The entry fee for adults is 500 yen, and there's an overnight option with meals included for 12000 yen. The festivals with Itako spirit readings take place between July 20-24, and the area is open 6:00-18:00 each day between 1st of May to 31st of Oct (imagine going there on Halloween.) Osore is too cold in the winter for humans to visit… but not for spirits!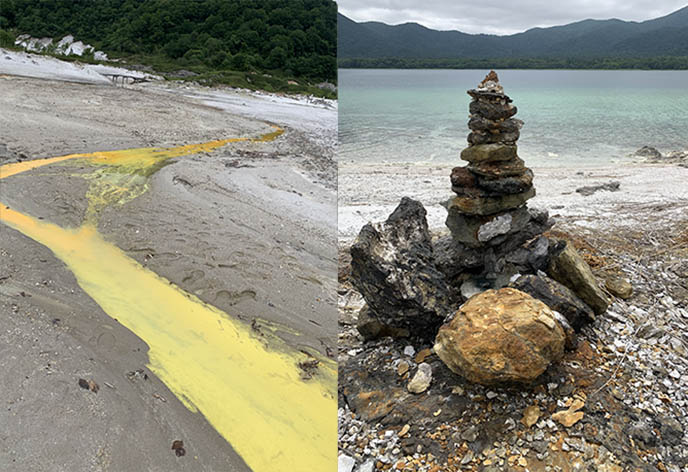 The place is gigantic, so allow several hours to walk around. The main temple, Bodaiji (菩提寺), is said to be founded 1200 years ago by the monk En'nin (円仁), and belongs to the Sōtō division of Zen Buddhism. The sanctimonious Mount Osore contains the highly acidic waters of the caldera lake. Lake Usori is in the center, surrounded by 8 mountain peaks representing the lotus flower's 8 petals.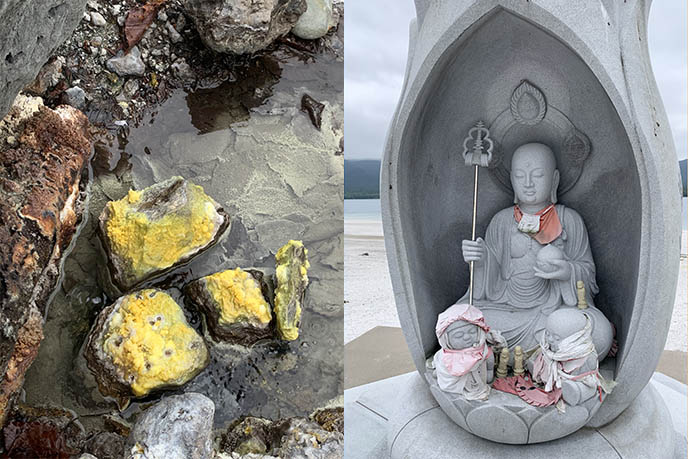 The area has many fumaroles (openings of the planet's crust) emitting steam and volcanic gases (especially sulfur dioxide… the smell was everywhere). There are exactly 108 fumaroles, representing the 108 worldly desires and the 108 hells bound to them. Some of these hells even had their own signs with dramatic names, such as: The hell of salt, The eternal hell, The hell of severe crimes, and the hell of the blood-pounding pond!
Mount Osore looked like a demon landscape. The paths bubbled with sulphuric yellow, orange or blue, while the white sand and grey stones made the scenery look like an endless graveyard. Adding to the melancholy were hundreds of Jizou bodhisattva (地蔵菩薩), or stone figures that guard over children who have died. Many of these small stone monks were clothed in handmade baby bibs and hats.
We saw pyres and monuments to famous monks, as well as offerings of cute pink windmill toys (風車). This famous Japanese toy represents unborn children, and is said to help them find peace in the afterlife. Seeing so many was heartbreaking and overwhelming.
Osore had other meaningful tributes to those who have passed. I saw a large urn, shaped like a giant lotus, with hand-prints (mainly of children) on the back side. This was a monument for the unfortunate souls who died in Japan's 2011 tsunami and earthquake.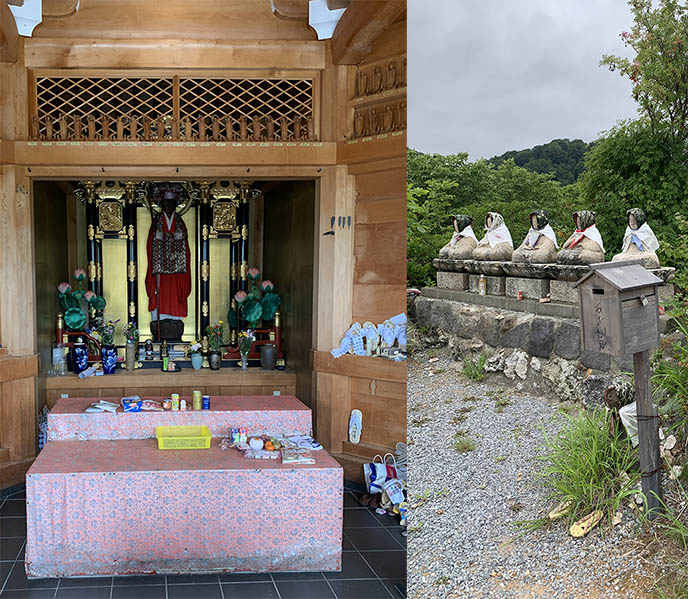 In one hut, I found heirlooms and old clothes belonging to the dead, with names of the unborn written on wood stripes all over the ceiling.
In Japanese media, the Mountain of Dread tends to be portrayed as a haunted place. It is said that you are cursed if you take any stones from the holy ground. In fact, this is a site of meaningful stillness and remembrance, which really spoke to me. While I loved the otherworldly Gothic atmosphere, I also felt this was one of the most serene places I've ever visited. There was no malice in the air – just a solemn peacefulness.
On the last day of our journey, we took a local train from Hachinohe to Shark Town station (伸), where there were an obnoxiously high number of seagulls by a shrine. These were actually "Black-tailed gulls" (Umineko 海猫). Fun fact: the word in Japanese Umi-neko is a compound of Umi – ocean and Neko – cat, so basically they are called "sea cats" or "cats of the ocean."
We walked 10 minutes from Shark Station to Kabushima Shrine (蕪島神社) and as we got closer, we started hearing cat-like cries. It turned into a screeching as we approached the small harbour. Unlike regular seagulls, these beasts had black tails, a red ring around their eyes, a black mark on the beaks, and a sharp red tip: as if they'd just dug into raw flesh and still had blood dripping from their Gothic faces.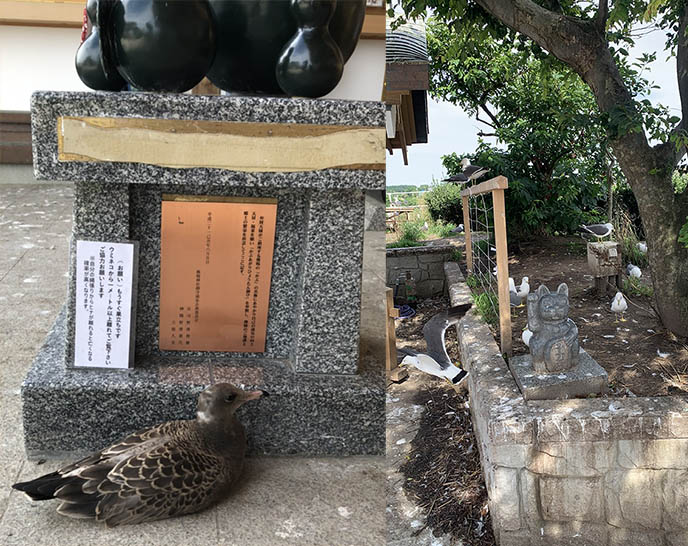 The little shrine on the hill burnt down in 2015 but was rebuilt as of last year. The workers stopped construction while the gulls were hatching their babies, so they could raise them in peace. In mid July, the hatchlings still wore a brown coat of feathers but were as large as adults. I was stunned by how they were unafraid of humans; you basically had to be careful not to step on them.
As you can imagine there was bird poop absolutely everywhere and we were afraid of being targeted from above! I would recommend this shrine if you are a fan of animals and birds in particular, but only if you have some extra time in Aomori. On the contrary, if you have a phobia or were freaked out by Alfred Hitchcock's "The Birds" I would suggest never to step your foot at Kabushima shrine!
Thanks to Yukiro for the eye-opening guide to Aomori! I didn't realize there was so much avantgarde art and spiritual / Gothic scenery in this region of Japan. (Here are a few final pics from Towada Art Center.) Hopefully I can visit soon.
For more from Yukiro, watch his latest (freak)show drag performance here. The entire Haus of Schwarz (Stefani ST Sl;t , Le Horla, and Angel Heart) performed, with mommy dearest Die Schwarze Frau near the end! Le Horla's spooky makeup was put on by Haus' Drag Dad, Weryk.
If want something unproductive to do during quarantine, watch Yukiro's YouTube series, Witch Review. Die Schwarze Frau dishes on her favorite old school horror cult B movies, sharing her darkest thoughts with you! There are no spoilers, so you can watch these reviews in (ill)-faith.
And if you're inspired to dress in Gothic or Punk clothing, check out Punk Rave Store — they have many dark styles for men and women.
And we order you to tune in to Yukiro's Halloween livestream extravaganza, called Casket of Horrors! All members of Haus der Schwärze will perform live, and then there will be 10 spooky videos submitted from around the globe. The winner will be crowned "The Queen (or Queer) of Halloween 2020!" Watch the live-stream online (here's the info) on 2020/10/10 at 20:00 Japan time, if you dare.
Love it to death? Then support Yukiro by buying him a glass of red wine here!