Category Archive for
Art + Design
Let's start this Thailand temple diary in a fitting way… with an Italo Disco song!
"One night in Bangkok and the world's your oyster
The bars are temples but the pearls ain't free,
You'll find a god in every golden cloister
And if you're lucky then the god's a she.
I can feel an angel sliding up to me!"
I think you can tell we had a fun time exploring Bangkok temples, with Tours By Locals! Our insider guide took us on a fully customized journey that included the demon protectors of Wat Arun…
… and the Temple of the Emerald Buddha. (How do you like my "sun protection schoolgirl" outfit of the day?)
I can't stand basic, big group tours — which is why I teamed up instead with Tours By Locals. They link travellers with passionate local guides, and create a custom itinerary off the beaten track. 
My friends and I were keen to see Thai Buddhist art and spirituality, without crowds elbowing us. Our guide Kay listened to our preferences, and delivered by taking us to obscure temples (like Wat Kalayanamit) that were literally empty of tourists. 
As you'll see, the day tour was a joy, and left us buzzing with knowledge and inspiration. Kay picked us up and gave us an overview of Thai Buddhist culture, along with a primer on helpful phrases. Becky Hawkins made this terrific reaction drawing of her and her "shoulder angel"! 
I have been to Thailand twice before, but it's always a joy to return (and this was the first visit for Yukiro, Naomi, and Becky). Even though Bangkok is now an extremely popular destination, you can still enjoy the warm, welcoming Buddhist culture. 
So many temples, so little time… There are over 400 "wats" in Bangkok alone. The most famous ones (Wat Pra Kaew, Wat Arun, Wat Pho) are certainly worth seeing if you're here for the first time. Kay made sure we got to peek around Wat Arun, but focused most of our tour on temples where tourists rarely tread. 
A reflective moment in front of the Golden Buddha statue at Wat Arun Ratchawararam. Also known as the Temple of Dawn, it dates back to the 17th century, and is known for its glowing exterior at sunrise. (More photos at the end of this post.)
We also said hello to the giant demon yaksha, guarding the Grand Palace at Wat Phra Kaew (Temple of the Emerald Buddha). Don't avoid these sacred sites, simply because they're popular — they're among the most impressive ones in Thailand. 
We struck a balance by visiting those two landmarks quickly, and then took our time to wander around two little-known temples on the outskirts of Bangkok.
(I'm wearing a Boy UV umbrella, Mary Wyatt London shirt, Lola Ramona heart bag, and Japanese plaid skirt similar to the ones below.)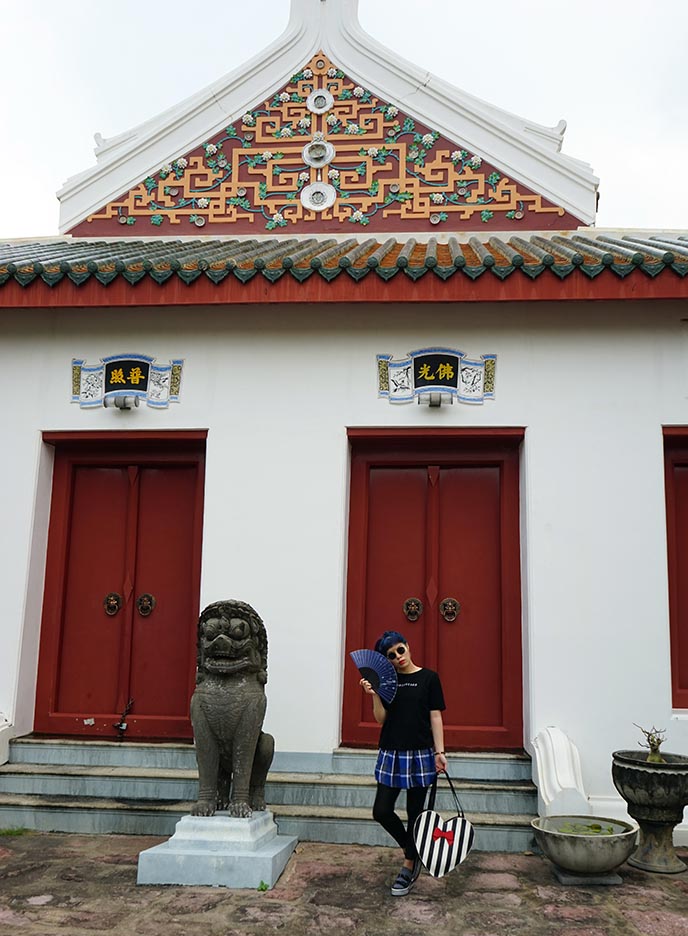 We're at Wat Ratcha-Orasaram, a royal monastery built in the Ayutthaya period. The prince was influenced by both Thai and Chinese art, hence the unusual temple colors and carvings. 
Can you spot Yukiro beneath the colored eaves and white pillars? You can see I'm not exaggerating when I said there was nobody else around during our visit. In bustling Bangkok, it was a joy to take our time to meander through this peaceful monastery. 
We said hello to the resident golden Buddha icon. Becky Hawkins made this drawing that gives you a sense of the ornate detail of the altar. In this unhurried atmosphere, she and Naomi could take all the time they wanted to draw their surroundings. 
Yukiro and I mosied around and took photos of the fascinating details. Of course we were drawn to the metallic demon on this red door, with a fierce grimace and horns. 
Love the elegant features of the Buddha, sitting in the lotus position. The chandeliers, candles and surrounding murals add to the radiant feeling of the room. 
As a fan of minimalist design, these white stupas spoke to me. (They house the remains of Buddhist monks and nuns, or sacred relics.)
Naomi Rubin sketched the residence of the monks. It was surrounded by shrubbery that looked like it had been pruned by Edward Scissorhands! She has been posting these travel drawings as part of her web comic Moonsprout Station; you can read the Thailand dispatches here.
We were glad to have our Tours by Locals guide Kay with us, as he introduced us to these secret spots and answered all our questions. Whats's the deal with the fan in front of the Buddha's face? Is he being coy? Kay explained this traditional fan with a long handle was made of talipot palm leaves, and used to cover the face while chanting.
We dared not disturb the Buddha's repose by ringing the giant bell.
There was so much to see at Wat Ratcha-Orasaram, including sculptures of all sizes dedicated to the Buddha.
In the Ordination Hall, we came across this giant gold reclining Buddha. Love the chill expression in his eyes. 
Becky Hawkins captured Kay in action. We couldn't have seen all these temples and learned so much without his guidance.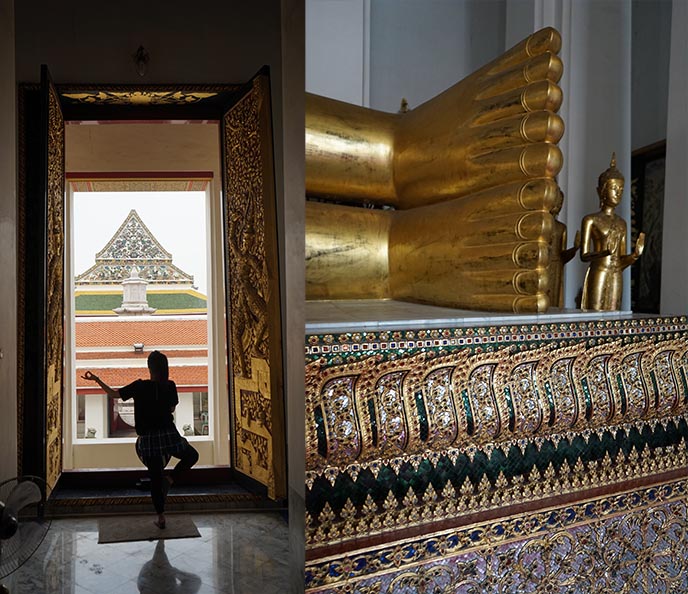 Close-up on the Buddha's extra large feet, with toes all lined up. 
Looks like Yukiro wants to join Siddhartha in hanging out!
We saw a few monks walking through the courtyards, wearing their signature vermilion robes over one shoulder.
Becky Hawkins sketched these scenes from daily life in a Thai Buddhist monastery. 
Yukiro and I got some posing inspiration from these green yakshas.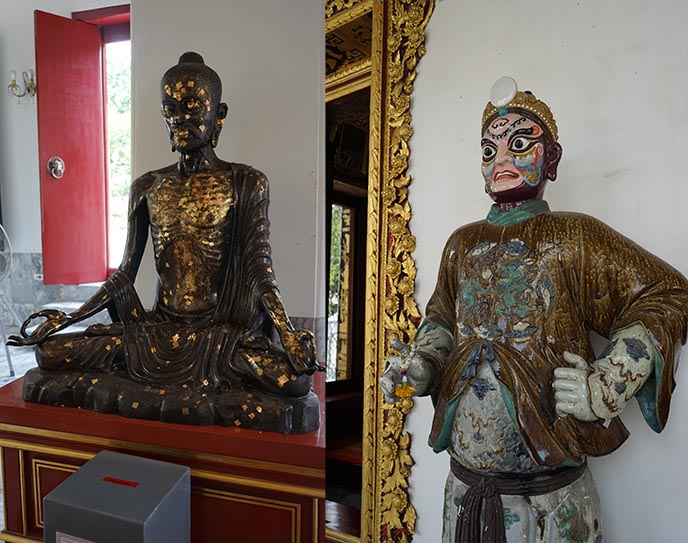 Seeing art and architecture like this, firsthand… this is why we live to travel.
"When the mind is silent like a lake, the lotus blossoms." – The Lotus Sutra
Kay then took us to Wat Kalayanamit Varamahavihara — the name means "friendship." Founded in 1825, this is one of the most tranquil temples in the city. (Once again, you can see there's nobody around us!)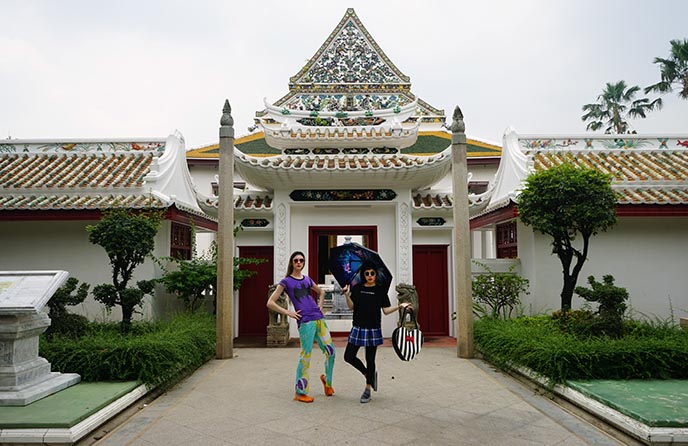 From the trees to the rooftop carvings, everything is richly yet subtly decorated. 
Many Buddhists come to a Wat Kalayanamitr for New Years blessings. The gold Buddha statue has a slim frame and long earlobes, and is the only Thai temple to feature him in Palilai posture. 
Such fun to visit the "friendship" temple with friends I've known through thick and thin, for over 10 years now!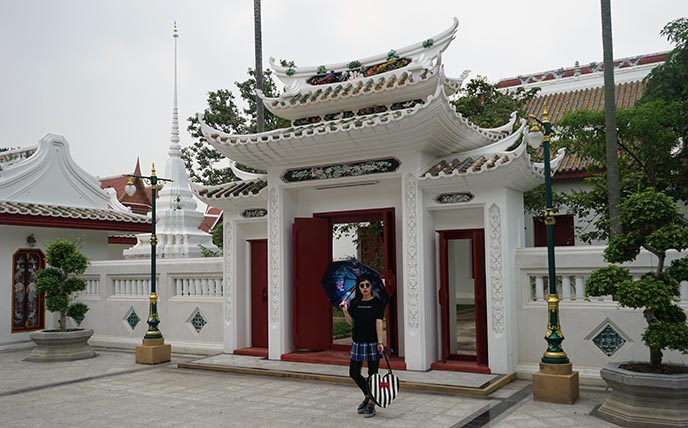 The gold, red, and green details make the white structures stand out.
This wat is also a monk's residence. If you come across any visitors here, they'll be locals performing spiritual rituals. 
When visiting Thai temples, you should cover your shoulders and knees. I'm wearing a short tartan skirt like the ones below (click to see).

Grateful to Tours By Locals for letting us see this special side of Bangkok. We would never have heard of these monasteries if it weren't for Kay.
We'll finish off at Wat Arun. Kay took us here in the early morning so that we could avoid the hoards of visitors. We were transfixed by this towering prang, or Khmer-style tower, studded with porcelain carvings. 
There were quite a few signs and billboards around Bangkok with this message: don't use the image of the Buddha in tattoos, bar decor, and other ways they consider disrespectful.
This huge central prang is covered in stucco figures from Hindu and Buddhist mythology. The various levels symbolize the realms of existence.
These "Khon" figures have a heavy load on their shoulders, wouldn't you say?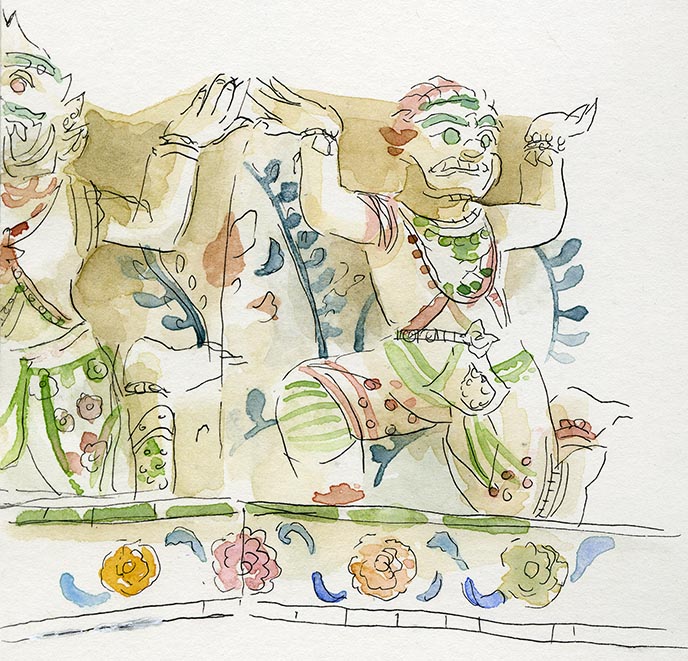 Naomi Rubin made this gorgeous watercolor of the mythical demons, with arms and a foot raised. (In the next Bangkok posts, you'll see more of her works. She and Becky added a new dimension to these travel stories through their art.)
"Khob kun" to Kay for teaching us how to say thank you in Thai (and for taking us around on this fabulous day-tour.)
Close-up on the artistic details at Wat Arun. Some of the 3D elements are seashells. 
Ready for another Italo Disco refrain? 
"One night in Bangkok and the tough guys tumble
Can't be too careful with your company
I can feel the devil walking next to me."
Elegant goddesses peered out from these arches. 
Work that asana (pose)! 
Also known as Wat Chaeng, this temple is dedicated to Aruna (Hindu God of Dawn). Located by the river, these spires sparkle at sunrise and sunset. 
Becky's take on the grand pagoda. Love how she captured the horse sculpture detail.
If you're heading to Bangkok (or any major destination), give Tours By Locals a look. As you can see from our temple hop, they help you get the most out of your destination — with entirely bespoke private tours led by a fantastic guide. 
I teamed up with Tours by Locals in Luang Prabang, Laos as well: check out this travel diary of our waterfall trek.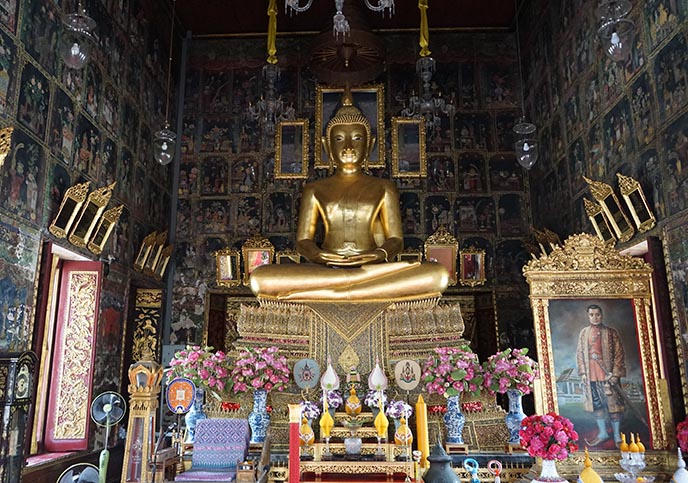 I hope you enjoyed our Bangkok travel photos and art so far, and there's more to come. Leaving you with love and the Diamond Sutra:
Thus shall you think of all this fleeting world:
A star at dawn, a bubble in a stream;
A flash of lightning in a summer cloud,
A flickering lamp, a phantom, and a dream.
Ah, take us back to Laos! The laid-back, Buddhist country stole a piece of our hearts when my friends and I visited in September.
Staying at Sofitel Luang Prabang hotel made our trip particularly memorable. As you can see from the images, this property is a Southeast Asian tropical daydream.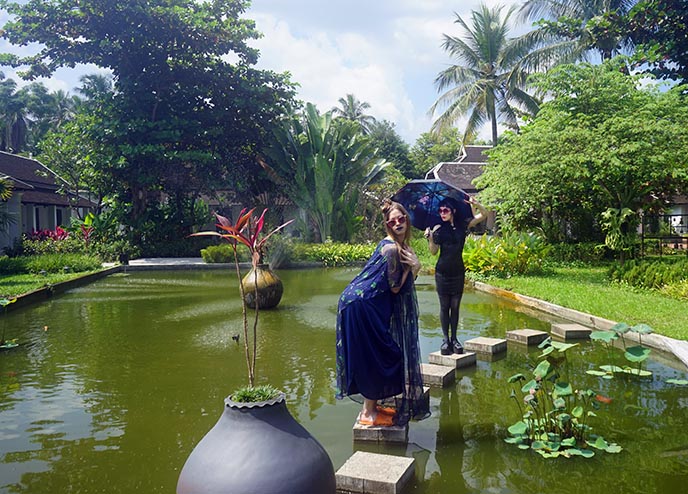 In this final story from Luang Prabang, we'll take you through Sofitel's lush gardens —  as well as sister property 3 Nagas by MGallery. Fair warning: you might feel hungry when you see the river-fresh Laotian food we ate.
But first, since it's Black Friday (Nov 23), I thought I'd share some finds that caught my eye. I Am Gia has Goth grunge punk clothes that are currently on sale for Cyber Monday.
(1) Their amazing one-sleeve bodysuit is apocalypse sci-fi ready.
(2) Love the plaid tartan and silver chain of Gia's skirt.
(3) And how great is this leopard print coat:  reminds me of the one Shirley Manson of the band Garbage wore in the 90s!
Click the thumbnails for more of my I Am Gia picks: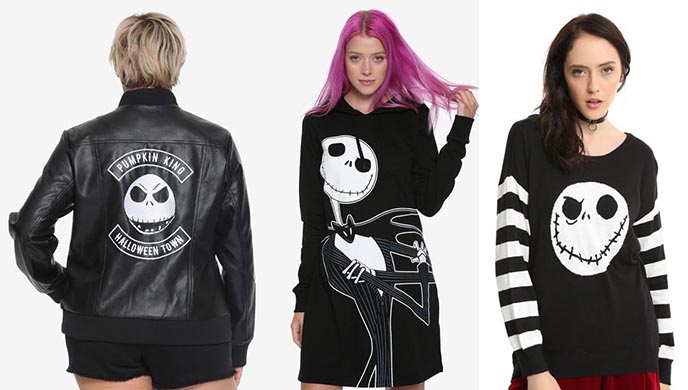 It's almost the Nightmare Before Christmas, and these Goth clothes are on sale right now as well.
Love this Jack Skellington bomber jacket, this Gothic Xmas long sleeved dress, and epic skull sweater.
More skeleton designs below; click to view:
I'm also offering Black Friday reductions on my closet sale! Just listed new items from my wardrobe, and happy to do bundles and discounts.
You can shop my Depop @lacarmina (or Google "La Carmina Depop" to find my shop). If you prefer, you can contact me by email (gothiccarmina attt gmail dott com) to do a sale, instead of using the app.
Yukiro and I wore dresses with decadent accents to match the stately French design of Sofitel Luang Prabang.
OOTD: My dress is Cyberdog, and I'm holding a UV-protecting parasol by Boy1904 Umbrellas.  My shoes are these platform sandals by Rocket Dog, and my black lace capelet is Pheren Couture.
The Sofitel is located in Ban Mano, a peaceful residential quarter of Luang Prabang. The grounds are a fusion of Laotian materials with colonial-meets-contemporary French design. How inviting are these colorful pillows and lounge seats by the swimming pool?
The inner courtyard features a lush pond with floating lilies, framed by palm trees and tropical flowers. We dared to do acrobatics on the stepping stones across.
(Photos by Julie Hunter)
Sofitel Luang Prabang has rooms fit for royal queens. The suites feature five-metre-high ceilings, and open up to a private garden / patio, or personal swimming pool.
These modern rooms have an old-world nostalgia: traditional art on the walls, and a four column carved poster-bed shaded by mosquito netting.
The clay-roofed villas are outfitted with every luxury — yet you feel as if you're nestled in the quiet countryside of Laos.
Luang Prabang is frequently described as a "sleepy" city, giving travellers a chance to slow down and focus on wellness. At Sofitel's Le Spa, we indulged in ancient Laotian massages, where the ladies climbed up and used their elbows to work out all our kinks. The hotel also offers free essential oil baths, delivered right to your room.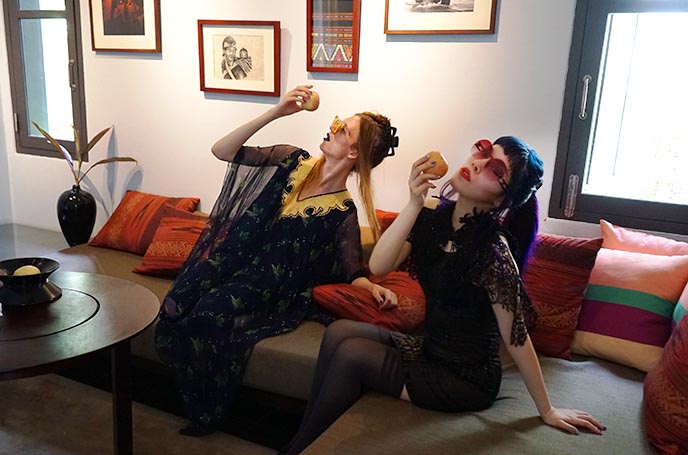 Now this is how to enjoy life: lounge around, eat apples, and brew lemongrass and roselle tea!
Love how the Sofitel incorporates regional hand-woven textiles, pillows, pottery and antiques in each room.
Every morning, we feasted on the breakfast spread overlooking the pool and gardens. The pots hold sticky rice, stewed fish, vegetable noodles, and other local specialties.
Sofitel Luang Prabang's breakfast menu includes items made fresh to order: such as Indochina noodles in soup, and pork rice rolls. You can also choose from the international spread (croissants, yogurt, cheese, pancakes, eggs cooked in any way.)
The hotel honors Laotian culture through art displays and events. Guests can also take part in the morning alms ceremony, where locals offer food to a procession of saffron-robed Buddhist monks. 
It's hot and humid in Laos… this 25-metre mosaic-tiled pool is calling us in for a dip.
Luang Prabang's Old Town is only a 5 minute drive away, so the hotel is in the perfect spot for cultural explorations. (You can see the heritage city and temples in our first post about Laos.)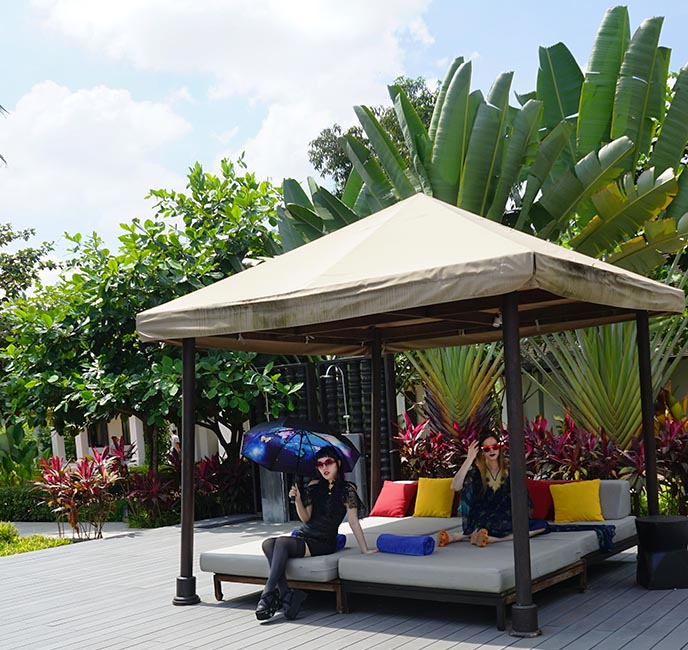 Sofitel Hotel Luang Prabang was once a century-old colonial mansion. It was transformed into a resort in 2010, but retains the elegant manicured gardens and amethyst tiles.
"Step by step, oh, baby, gonna get to you, girl." I think you can tell we had a grand time at Sofitel! (They're one of my favorite hotel groups; I've stayed with them in Rio and Bangkok as well.)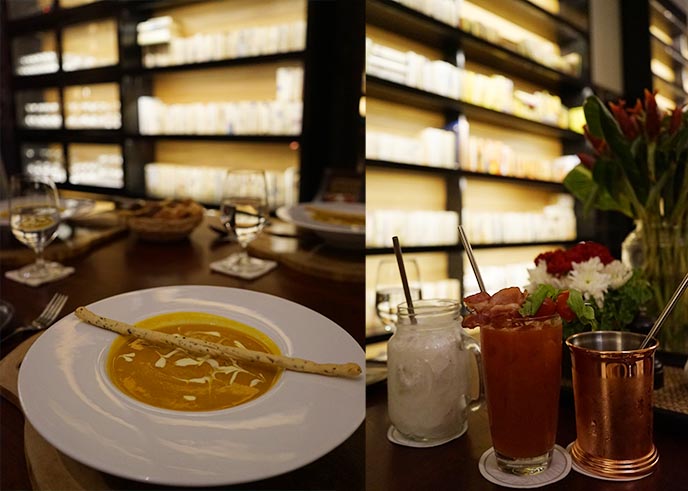 One evening, we ate dinner at Governor's Grill. The hotel's steakhouse brings traditional Lao spices and flavors together with Western specialties. The cocktails, made with coconut and fresh fruit, were the perfect start — along with creamy pumpkin ginger soup.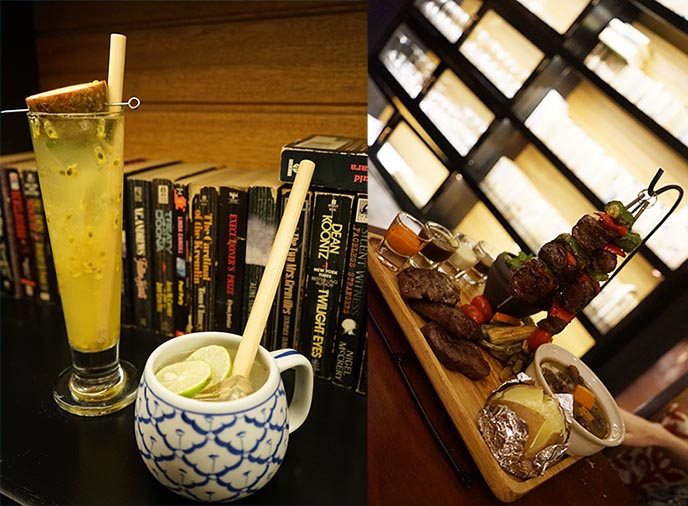 Then came this impressive buffalo tasting platter! The board was piled high with local buffalo prepared in different ways: steaks, kebabs with vegetables, Laotian larb (minced meat salad) and more.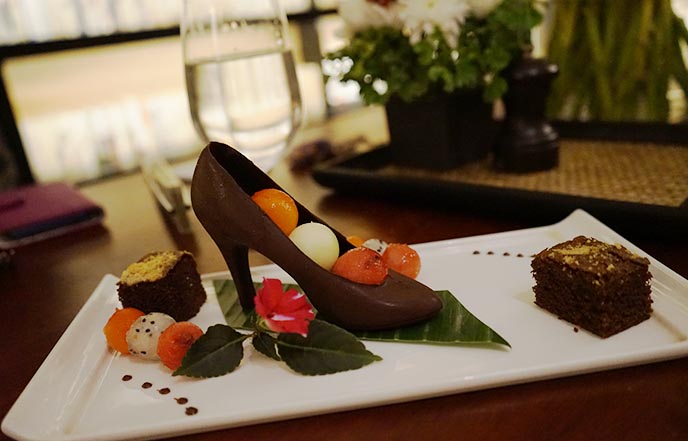 We hardly had room to eat the chocolate shoe with tropical fruits for dessert.
(The hotel also offers a four-course cooking class with the chefs. Guests get to visit a local market and then learn how to prepare authentic Lao fare).
On another night, we checked out their other Luang Prabang property: 3 Nagas, an MGallery by Sofitel hotel.
"Naga" refers to a serpent or snake in Sanskrit, and reflects the mythical feeling of these boutique accomodations. There are 15 rooms in three restored historical houses, blending contemporary style with traditional architecture.
The colonial manors are furnished with dark woods, warm throws and spiral staircases. You can either sleep in Lamache House (once an ice cream shop to the royal palace) or Khamboua House (built for the king's counsellor in 1903).
Red decorative accents add to the warmth of 3 Nagas. Guests can stroll in the courtyard garden, and rent one of the matching bicycles. This hotel is right in the city center, so it's easy to see the Night Market, galleries and temples.
Parked outside, this vintage red automobile hints at the classic food served at 3 Nagas Restaurant and Bar. Try the tasting menu, which gives you a broad selection of Laotian favorites.
After a rice cake amuse bouche, we ate up this deep fried Mekong river weed, served with sesame seeds and homemade jam. Then came this generous platter with a variety of local dishes, paired with the famous sticky rice.
I spy Tom Son Pla (Mekong river fish soup with lemongrass and vegetables), Phanaeng chicken curry, stir fried beef, and steamed egg with mushrooms and herbs wrapped in banana leaves. We were surprised at how much we loved the cone of sticky rice, which is not sweet and goes perfectly.
We couldn't resist getting dessert from the old-time parlor. Coconut, mango and roselle ice cream.. plus custom passionfruit ginger cocktails. A meal to remember.
Khop tchaï laï laï (thank you very much) to the kind Sofitel staff for welcoming us! We're so happy we stayed at this elegant hotel, known as one of the most luxurious in Laos. 
I hope you'll get a chance to visit as well. You can learn more on Sofitel Luang Prabang's Facebook page and Instagram @SofitelLuangPrabang.
Isn't the Sofitel Luang Prabang straight out a dream? Until next time, Laos.
(PS – a reminder that there are Black Friday sales going on right now, including the alternative styles below. Have fun!)