Category Archive for
Bali + Indonesia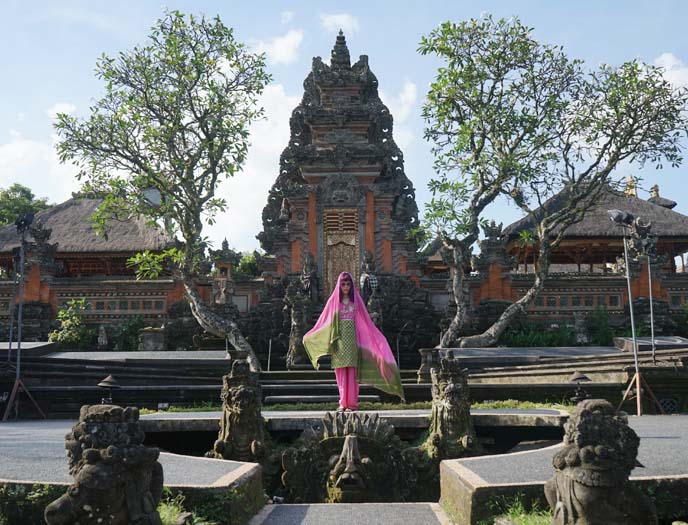 It's true what travel bloggers say about Southeast Asia: you'll find the warmest, most generous and welcoming locals here.
So far, I've been to Indonesia, Vietnam, Cambodia, Thailand, Singapore and the Philippines (click these country names to see the stories). These were some of my favorite trips ever, and I'm excited to announce I'll be adding one more to the list… Keep reading to see where I'm journeying! 
In this spirit, I've decided to finally release Part 2 of my Bali, Indonesia temple tour (see part one here). I put on my Indian robes and pink-tinted glasses, and visited some of Bali's most sacred spots — including the Pura Sawaswati water temple…
The Elephant Cave temple in Ubud…
… and Tirta Empul, where Hindu devotees bathe under a row of fountains, sourced from the sacred springs.
This month, I'll be back in S.E. Asia… I'm thrilled to announce that I'm going to Myanmar (Burma) with Yukiro! HK Express, the airline I've worked with since its launch, has added a route to Yangon — a destination that was basically closed off to tourists until a few years ago.
I can't wait to discover this Buddhist country, and hang out with monks and punks. That's right: Yangon has an old school punk scene, with studded and Mohawked bands like Rebel Riot (above). They rock hard, but also run charities that help the local homeless and children. We're excited to find out more about this subculture, and take part.
Also, you may have seen on my social media that I'm currently in Hong Kong, filming with Stakk Factory! I'm honored to be working with this new media site, which produces original videos about style tips, travel, food and more. We'll be shooting nail art tutorials, fashion lookbooks and more that I can't wait to share with you.
Now, back to my Ubud, Bali temple story. The locations are quite spread out, so I was glad to have Destination Services take me around on a custom tour.
They provided a car, driver and guide for the day, and brought me to all the temples on my wishlist. I'm a big fan of hiring local experts, as they're versed in the history and culture, and can answer questions about anything you encounter.
Destination Services planned an efficient route that started early to avoided traffic. We got to the Goa Gajah Elephant Cave in Ubud before the crush of tourists (it's about 30 km from Denpasar).
This has been a holy ground for both Buddhist and Hindu practitioners, for over a thousand years.
Water from these stone statues is used in religious ceremonies. Look closely, and you'll see large fish swimming in the pond.
(Photos by my friends Cohica Travel, who offer a worldwide guide to sustainable and socially responsible travel.)
There are six of these female water-bearing fountains in total. An endless stream flows out of their pots.
And there it was, the famous entrance! I felt like I was being swallowed up by the iconic "Elephant Cave". (The demon-like figure was once thought to be an elephant, hence the name.)
Blown away by these intricate Balinese stone carvings of creatures and nature motifs.
Inside the cave, there are three stone idols wrapped in cloth (known as a trimutri of Shiva-lingams). In the past, monks came to meditate inside these dark passages.
Hindu statues like this are found all over Bali. I often drove through intersections that had deities standing right n the middle. Such energy in the poses and expressions. 
Outside the rock entrance, a fierce protector raises a sword against negative spirits.
Next, we went to the beautiful purification temple Tirta Empul (or Tampak Siring Temple) around 20 minutes north of Ubud. I could have spent hours taking in the details of the Balinese temple architecture.
The temple pond is considered to be holy, as it was supposedly created by the god Indra.
Bathers come here to purify themselves in the holy springs. 
In addition to the purification baths, the Tirta Empul temple has areas for giving offerings and making prayers. 
As with any cultural site, it's important to be respectful to the pilgrims who come here as a spiritual journey. Tourists are welcome as long as they wear the sarongs provided (I didn't need one because I was already covered), and don't interrupt the bathers. Photos are allowed, but to be safe, check before taking images.
The inner courtyards are for worshippers only, in order to give them some peace and privacy from the tourists.
Our guide spoke about the mythological stories associated with the water temple.
I exited through this tiny gate guarded by a barong (lion-like protector spirit).
We drove past the famous Ubud rice paddies, or Tegalalang Rice Terrace. The distinctive layered steps are called subak, and make up a traditional Balinese irrigation system.
(There is a entrance fee to walk inside, so we didn't stop.)
After a scenic twisting drive (past farms, collectives and yoga retreats), we stopped in Ubud city center for lunch and a walk around.
The main Ubud streets are jammed with traffic, and you'll see a number of touristy gift shops. However, you'll also see gorgeous puras and other artistic details like these.
Megan and Ryan of Cohica Travel showed me Pura Saraswati, a temple with a long dramatic path bordered by blooming lotus flowers.
The pond and flowering trees make this one of the region's most beloved temples.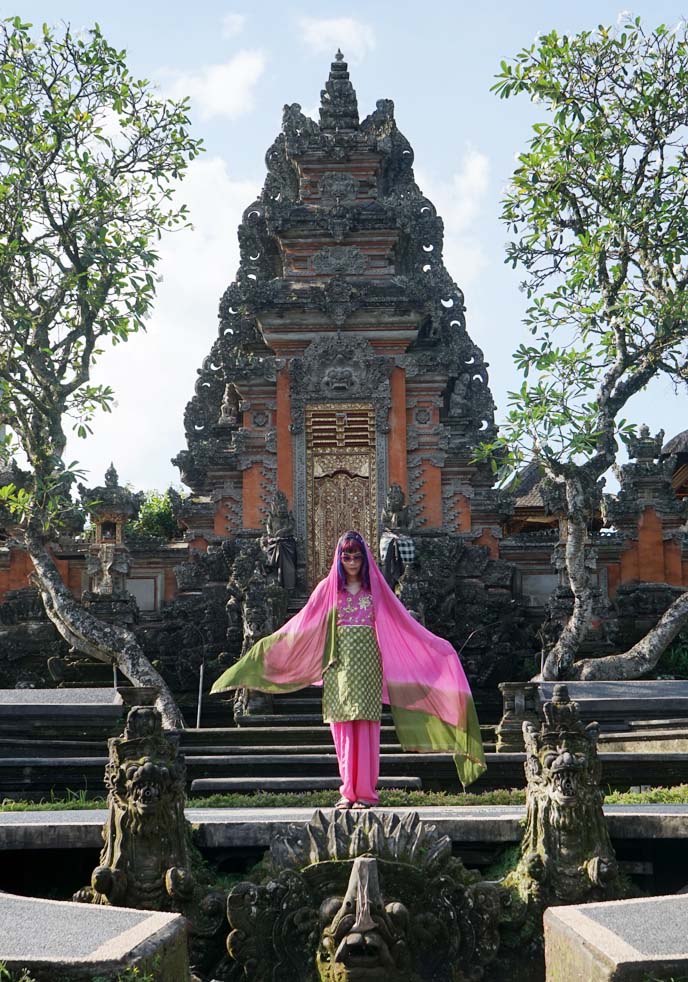 Pura Taman honors Saraswati, the goddess of wisdom and arts. She certainly looks over Ubud, which is considered the cultural capital of the island.
At night, there are dances and performances in this area that surrounds the water gardens.
The Hindu water temple is relatively new — built for the royal family in 1950, by artist and architect Gusti Nyoman Lempad.
Lempad was an accomplished stone carver, and brought these creatures to life.
Many travellers describe Bali as a place of peace and joy. It's hard not to agree.
Spirituality is a huge part of the Balinese consciousness, and the ritual offerings are unique to the island. Religion is also expressed here an inclusive way (you'll often see homes with statues of both Ganesha and Buddha).
I hope you are able to spend at least half a day in Ubud, seeing the temples and culture for yourself. Here are all Indonesia travel posts, including a video of traditional dances, to help you plan a trip to Bali.
Finally — I'm glad you found my Black Friday / Cyber Monday discount codes helpful, for finding the best shopping deals! I've just come across a new site, Woznow, which lets you easily search for fashion (by brand or category), and access sales in over 200 stores. For example, the site let me compare leather jackets, see how much they were discounted, and shop them with a tap.
Thanks, everyone, for supporting my fashion and travel adventures over the years! Here's to finishing 2016 strong, and keeping the momentum going into the New Year.
2015 is drawing to a close… Time for my annual blog ritual of looking back at the highlights of the year! 
In my 2014 recap (see part 1 and part 2), I was determined to dedicate more of this site to travel and subculture stories. I feel like this goal came into fruition: my work took me to 14 different countries in 2015, where I covered alternative topics ranging from British Goth festivals to Moroccan beauty workshops.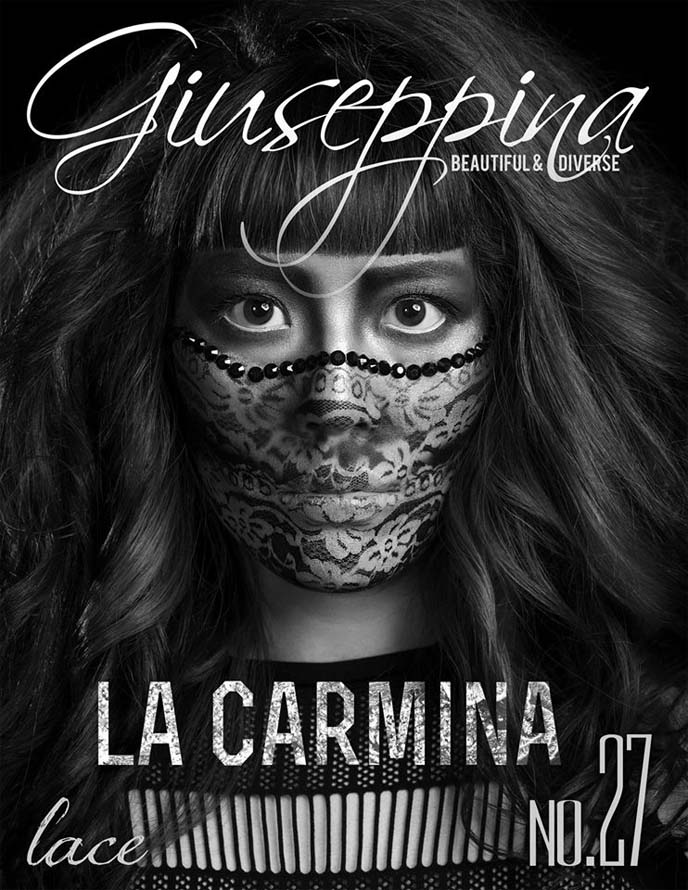 In this post, I'll share how these projects came together, and reminisce on my favorite memories of the first six months (above is my Giuseppina Magazine cover – here is the whole shoot). I've also embedded my travel videos from each destination, in case you missed them when they first came out.
And the year's not quite done yet… Two more destinations ahead. Find out what they are at the end of this post, and on my social networks (@lacarmina, linked below). Thanks for being part of my journey, and here's to a meaningful 2016!
Find @LaCarmina on Snapchat, Instagram, Twitter, Vine, YouTube, Facebook page
My travel filmmakers and I started the year in Hong Kong, where we were working with the new Hotel Sav. I always love coming back to this city, where I have many friends and relatives.
It was an incredible honor to have my own hotel room at Sav, which I decorated with artist Naomiyaki! This "Floor of Love" project appealed to us because it had the goal of elevating a traveller's stay through art, and giving back to charity.
Check out all my Hong Kong articles here for the behind-the-scenes story of how we made a "La Carmina" room, and what these paintings represent.
We also celebrated Chinese New Year for the first time, in Hong Kong.
Dragon dances, fireworks and food… take a moment to watch the travel video above, to see it all in action.
Next, my film team and I flew to Tokyo, Japan. We were working once again with trip-planning startup Odigo. I had the time of my life at the Odigo launch party with my friends.
We also did stories and videos about the bizarre, kawaii attractions found only in Japan. From the Pompompurin puppy cafe (above) to the mecha Gundam robot, you can see the latest pop culture oddities in all my Tokyo posts.
And above is the Tokyo travel video — Pokemon cafe, Suspiria horror pubs, game centers and more madness.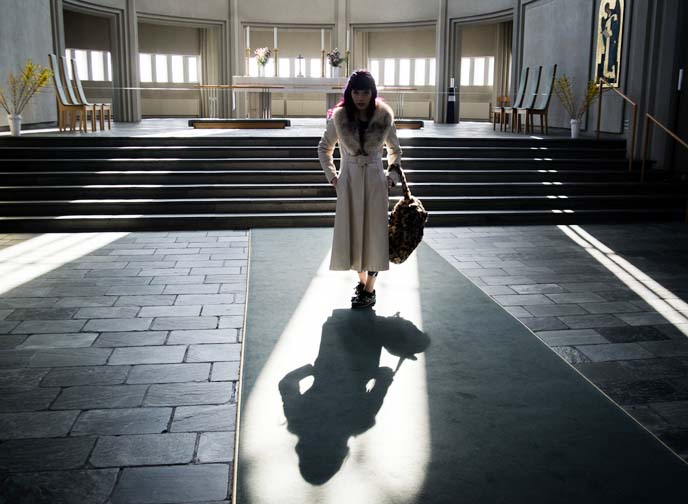 In the spring, I finally visited one of my top dream destinations: Iceland. The country is like nowhere else, with science fiction buildings and an otherworldly landscape.
My Reykjavik memories include exploring the street art and prismatic architecture, eating insanely fresh seafood, and meeting the RuPaul drag queens (they were randomly performing while we were there).
You absolutely must take a nature tour in Iceland. Our wonderful guides Salty Tours took us to secret spots including black sand beaches, waterfalls and elf caves, instead of the usual Golden Circle. (Here are all my Iceland photos and posts, to help you plan a trip here.)
Enjoy the ethereal video of my Iceland adventures above and on YouTube @lacarmina. There's footage of me dipping into the Blue Lagoon and taking selfies with plump Icelandic horses!
My white rabbit (Miffy) and I went onward to Manchester UK, where we were working on stories with support from the tourism board. These British adventures included Alice in Wonderland high tea…
… and a pilgrimmage to Manchester music landmarks, including Salford and Sons. (Enjoy the full story about my The Smiths and Joy Division music tour.)
After a train ride through the Yorkshire countryside, I arrived at the seaside town of Whitby. We did a magazine cover shoot at the Dracula abbey that inspired the Bram Stoker novel.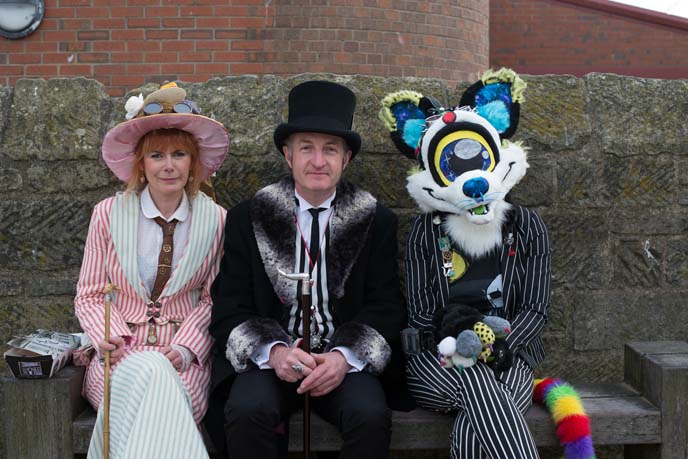 Such fun to finally experience Whitby Goth Weekend, where Andi Sex Gang and other Gothic greats performed. For more photos of the event, take a gander at all my England posts.
I then went back to Tokyo, Japan for a Travel Channel TV shoot. I can't reveal anything about this TV hosting gig yet, but when it airs next year, I'll be sure to let you know.
I also got to see the Japanese cat temples, Gotokuji and Imado shrines (featuring thousand of lucky cat statues). I haven't had a chance to blog about this yet… still so many posts from 2015 that need to go up…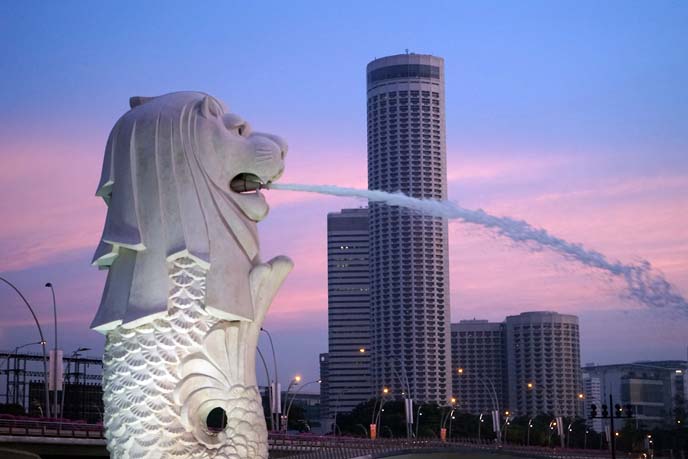 In May, I traveled to Singapore for the first time (it was a year of many firsts). We got insider access at Marina Bay Sands, and ate our way around the city — from high end molecular gastronomy, to hawker center street food.
I still have a Little India and Chinatown post to share with you, but until I get around to it, you can see all my Singapore travel tips so far.
And then, there was Bali — land of temples and spirituality. I thoroughly enjoyed my time here with my friends Cohica Travel, and think back fondly at our temple tour around Ubud.
We also had far too much fun taking a Bali cooking class at the Ritz-Carlton Nusa Dua, with these jolly chefs!
I invite you to check out my Indonesia posts here, for a visual diary of my time on the island.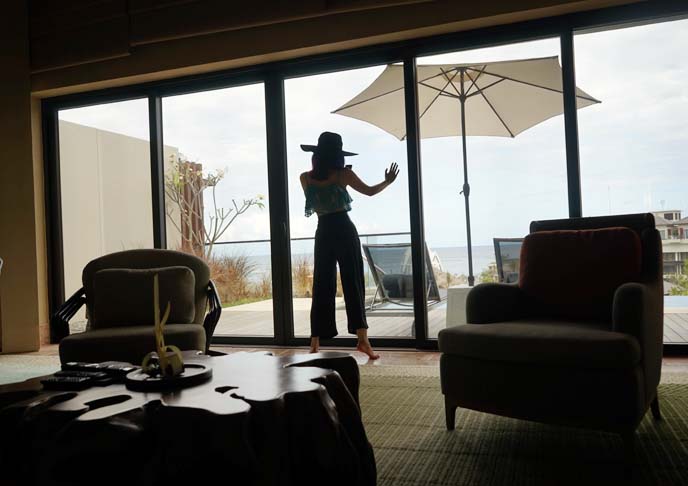 That takes us up to June! Next up, I'll look back at memories from the second half of the year.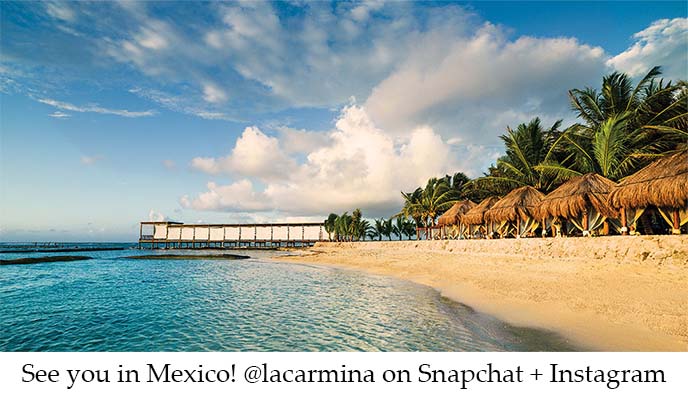 And what's next? Off to New York City and Mexico — with partner in crime Yukiro! We'll be celebrating New Year's Eve, and kicking back at the new Karisma El Dorado resort in Riviera Maya / Tulum.
I'll be posting inspiration all throughout these travels. Join us on my social networks @lacarmina — Instagram, Twitter, Vine, YouTube, Facebook page.
How about you — what were your favorite moments of 2015? Did you achieve any goals that you set, or experience something extraordinary?