Category Archive for
Bali + Indonesia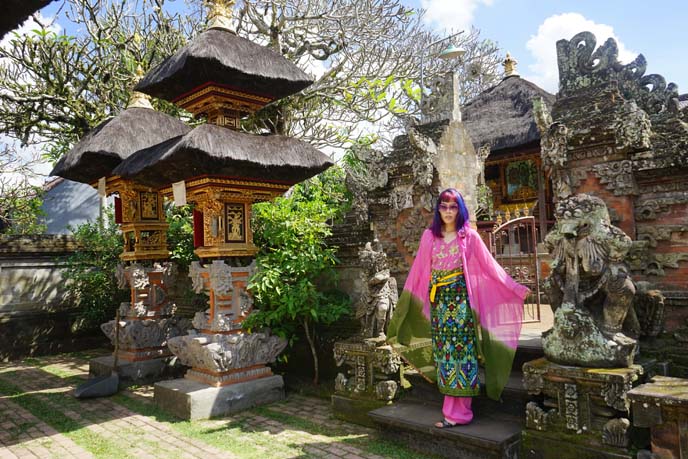 Bali, the Island of Gods! At last, I was able to come to this destination known for its warm, spiritual culture.
I had seen stunning photos of Hindu temples in Ubud…
… but nothing prepared me for how impressive it feels to be there in person, surrounded by incense and flowers.
You'll remember that I stayed at The Ritz-Carlton Bali, a five-star hotel that encourages guests to take in the culture of the island. They have a partnership with Destination Services, who offer private tours and immersive activities for travellers.
Destination Services was wonderful at listening to my goals for a day trip, and arranging a temple and culture journey around Ubud. We had a sweet local guide with us, and we learned so much about Bali living — from temple histories to marriage customs.
In addition to visiting sacred places in Bali, we watched two colorful performances — including a kecak fire dance, as the sun set over Uluwatu Temple. There's video footage below, so read on.
That morning, our Destination Services guide picked us up from The Ritz-Carlton Bali. The climate is especially humid around noon, and we were grateful we had a private, air-conditioned van to take us around.
The temples provide sarongs and scarves for guests to cover up bare limbs, as a sign of respect. I wore an Indian garment, which kept me cool yet covered. 
I love customized private tours since you get to go exactly where you want with a local expert, and can avoid tourist traps like gift shops. Our guide took us to Pura Desa Puseh Batuan, a lesser-known village temple. (Photos by my friends Cohica Travel, who blog and consult on sustainable traveling.)
This pura (Hindu temple) is a thousand years old, and dedicated to the god Brahma. 
At the entrance, we saw these beautifully packaged ritual offerings. Devotees present these to the spirits three times a day, in a uniquely Balinese tradition.
You feel a special energy as you walk through the "candi bentar," or ornate split gate that is found in many of Bali's temples.
Balinese Hinduism is distinct from the Indian tradition. Here, the religion merges with folk rituals and mythological deities. Many temples also have Buddhist statues, as the Balinese look to the Buddha as a spiritual figure.
I was mesmerized by the sculpted stone designs. Bali's craftsmen are known for their intricate techniques.
Bali is known as "the island of the thousand temples" because in addition to village temples, people set up their own "puras" at home. As we drove through Ubud, every third house seemed to have an adjoining courtyard for worship.
Balinese Hindus give a colorful packet of offerings three times a day, to thank the good spirits and appease the evil ones. This lady at Pura Desa Batuan holds a tray of fruit, flowers and incense.
We were glad to have our guide with us, to tell us personal stories of growing up in this spiritual place.
Most of Indonesia is Muslim, but Bali practices a distinct form of Hinduism.
Nature plays an important role in Balinese spirituality, and the temples are blossoming with trees and flowers.
You can't help but feel the love, when you see these devotional gifts everywhere.
I was in awe of the intricate rooftop carvings.
I had never seen architecture like this anywhere else. Courtyards, pavilions, bas reliefs, prayer areas.
The design of traditional puras follows a "tri mandala" concept that creates balance.
These guardian deity statues protect the gates.
The elephant god, Ganesha, is one of the best loved in the Hindu pantheon. I also saw many representations of the garuda, or holy bird.
On another evening, Destination Services took us to the famous Uluwatu Temple, which dates back to the 11th century. 
At the parking lot, we spotted several long-tailed macaques! These monkeys are seen all over Bali, and the trouble-makers tend to be at Uluwatu. Our guide warned us to secure our sunglasses and belongings, since these monkeys are notorious thieves.
You can see many of these creatures in the Sacred Ubud Monkey Forest.
Pura Luhur Uluwatu is one of Bali's nine directional temples, which protect the island from evil spirits. Down below, we saw the rolling waves that make Uluwatu beach a hit with surfers.
Talk about a dramatic location. The tiered-roof temple stands at the end of the cliff, 70 metres above the Indian ocean.
We arrived right before sunset, and spent about 30 minutes walking through the accessible grounds of Uluwatu Temple. (Other areas are closed off from visitors). Wear good shoes, as you'll have to climb about 100 stone-cut steps. 
These swirling stone friezes caught my eye.
To respect the sacred ground, both men and women wrap sarongs around their waist, covering their legs.
Sunset over the ocean, with the temple silhouetted in the back… a postcard-perfect view.
Time to gather in an open arena to watch the kecek dance. This performance takes place as the sun sets, around a central flame that casts dramatic shadows.
The male performers wear this traditional wrap garment, and red flowers tucked into their ears. Kecek is a combination of dance, chanting and theater that tells the story of the Hindu epic, "Ramayana."
The chorus of males ranged in age, from pre-teen to senior. They chanted the story Prince Rama, who with the help of a monkey-like being, defeats King Ravana to rescue the kidnapped Princess Sita.
These men chanted "jack-a-jack-a-jack" while sitting in a circle facing the flames, and waved their arms in trance-like patterns. Some voices rose high above the crowd, keeping the rhythm in a higher pitch. A leader yelled out "Jack" and "Deen" to change the volume, tone and sequences of the chorus.
This man anointed the chanters. Meanwhile, actors in masks roamed and spun around the group.
I couldn't take my eyes off the female dancers, who were able to bend their fingers in the most expressive ways. 
It's hard to know exactly what the kecek fire dance is like until you see and hear it. I filmed parts of it, which you can watch here on VideoFy Me.
My friends and I also got to watch a Barong performance. This features the live music of the gamelan, an Indonesian ensemble of percussion instruments like the gong and xylophone.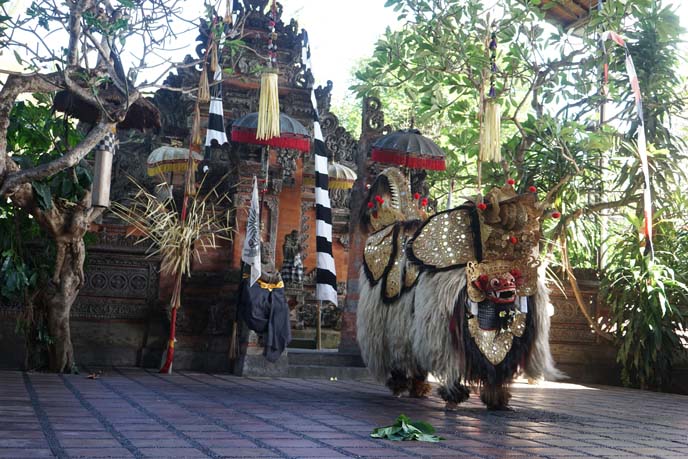 The Barong is a good, lion-like creature in Balinese mythology. It was incredible to watch the actors clack his jaws and shuffle his feet.
The story features his cheeky monkey friend, and their battles with the demon queen Rangda.
It's a rather complex plot: Dewi Kunti is supposed to sacrifice Sahadewa to the Rangda, but mischief ensues and in the end, goodness prevails.
You can see highlights of both Indonesian dances in my video above and on VideoFyMe
The monkey in the barong theater moves exactly like this cheeky fellow, who ripped the antenna off a taxi!
Thanks to Cohica Travel for the photography and company in these adventures, and to Destination Services for this bespoke tour.
Moments like this — the sun setting over Uluwatu — are what make travel such a joy. Thanks for letting me share these stories with you.
PS: please be patient, as I write up my recent adventures in Spain, Portugal, Morocco, Hong Kong and Vietnam… They'll be up soon,  I promise!
Wherever I go, I try to take part in activities that let me get immersed in the local life. Several of my friends insisted that I take a Balinese cooking class — and they were right, it ended up being one of my favorite memories from this trip.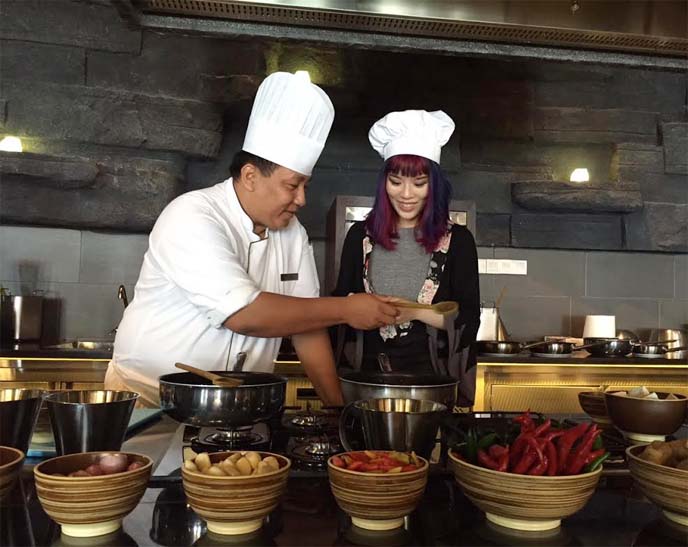 At The Ritz-Carlton Bali, I learned how to cook Indonesian cuisine with two of their chefs! Read on for my Bali cooking class adventure — including a visit to a seafood market, and a new favorite drink called "bajigur."
But first, a quick announcement… German readers,  watch me on TV on August 13! I'm the Hong Kong guide of a new Pro7 travel show, "Offline," starring Palina Rojinski. I hope you'll tune in to Pro Sieben for this episode (and for everyone else, I'll post photos and clips soon).
If you recall from my first post, Ritz-Carlton Nusa Dua was the perfect home base for travellers like me. I got to experience these picture-perfect beaches, which you wouldn't find in tourist districts like Kuta and Seminyak.
The hotel is wonderful at suggesting activities, based on the guests' interests. I wanted to experience Balinese daily life, and the island's distinctive cooking — so they arranged for a private food tour and cooking class at their Bejana restaurant.
My friends Cohica Travel took these photos of me in the lobby, while we waited for Executive Sous Chef Wayan Wacaya.
I wore a grey romper from Chaser, and a floral kimono by Japanese Goth designer h.NAOTO.
The hotel arranged a van and driver, which took us to the morning market. I enjoyed looking out the window, and seeing families balanced on motorcycles.
Your eyes are not deceiving you… above, that is indeed a dog riding on a scooter!
Chef Wicaya led us around the bustling Jimbaran market. We saw all sorts of fresh ingredients for sale, as well as homewares and other goods.
Chef Wicaya introduced us to two women preparing "banten," or ritual offerings for the gods. Three times a day, Hindus honor deities by placing a "banten" at entrances, statues or temples.
This lady is wrapping up the offerings into bamboo packets. Inside, you might find flowers, fruit, rice and leaves. If they're too busy to make their own, locals purchase these "pre-wrapped" offerings for the thrice-daily ritual.
You'll see these colorful, fragrant offerings everywhere in Bali. They're an important part of daily life. 
It's best to see the Jimbaran market early in the morning. Even at 6-9am, the marketplace will be lined with rows of motorcycles.
I don't know how these women balance full buckets on their heads.
The catch comes in every morning, on the shores of Jimbaran. This child looks eager to meet his fisherman father.
What a lively place — the beach was photography heaven! These colorful boats are "jukung" or traditional Indonesian fishing boats.  
Families waited on the beach, chatting and playing while the boats pulled in. Balinese fishermen can be out in these small wooden boats for two weeks at a time, without ever coming to shore.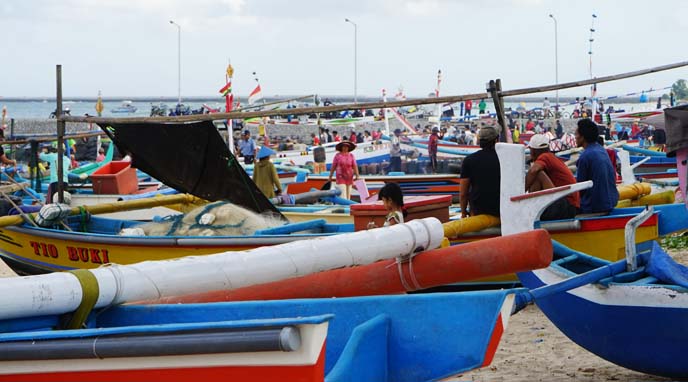 Colors everywhere, and no foreigners in sight (other than ourselves).
Now that's a clever way to rig up lighting for a boat.
It's true that the Balinese are warm and welcoming. I saw smiles everywhere I turned my camera. (I shoot with a  Sony alpha 7 mirrorless.)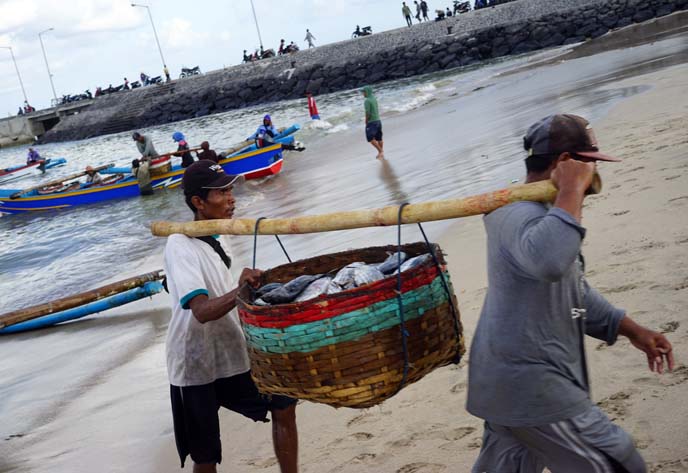 Fresh off the boat! It takes a team to bring in the catch. Love how even the baskets are brightly colored.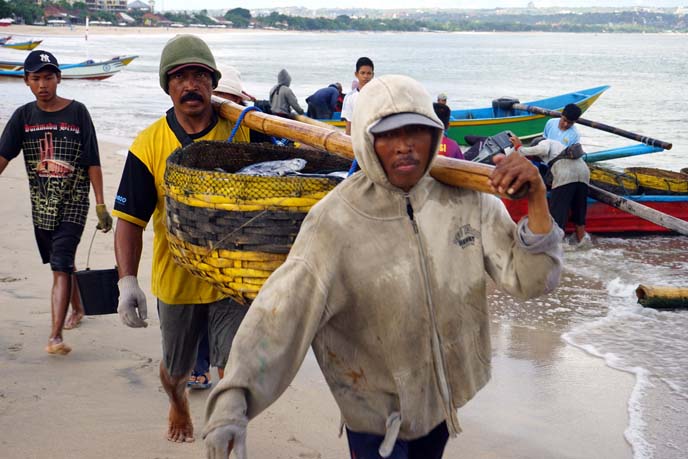 I learned that the government makes efforts to encourage sustainable fishing. These boats are prohibited from catching rare shark species, turtles and dolphins.
It's hard work, being out in the ocean. For some, these water jugs are the only source of fresh water for a fortnight.
These women in triangle-hats were selling fish right on the sand.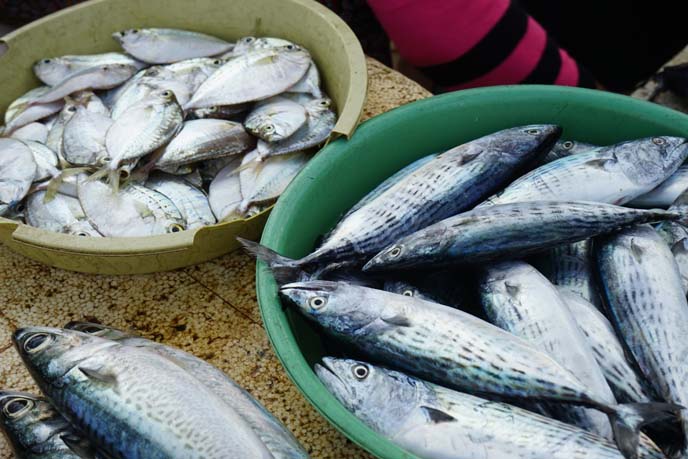 Big fish, small fish. Surprisingly fun to photograph.
Chef Wicaya led us inside to the covered area, or "pasar ikan" (fish market). 
Locals squeezed through this small space, and bought fish to prepare at home.
I saw Southeast Asian species that I didn't recognize. This looks like a zombie fish. "The Swimming Dead," perhaps?
My friends Cohica Travel, who write about sustainable tourism and local experiences, also blogged about our Jimbaran market visit. Here's how they describe the scene:
"We watched Chef Wicaya walk the narrow corridors with confidence, waving hello to friends and neighbors who are picking up fish for their families (without refrigeration, many local woman visit the market each morning to pick up everything needed for the day's meals). The sense of community and daily ritual is evident, and amidst the chaos, we're grateful to be silent observers."
Outside, I learned that yellowfin tuna… is called "yellow finned" for a reason! 
I was happy I got to see Jimbaran market, and take part in this slice of local life. It made me better appreciate the food that we were about to make…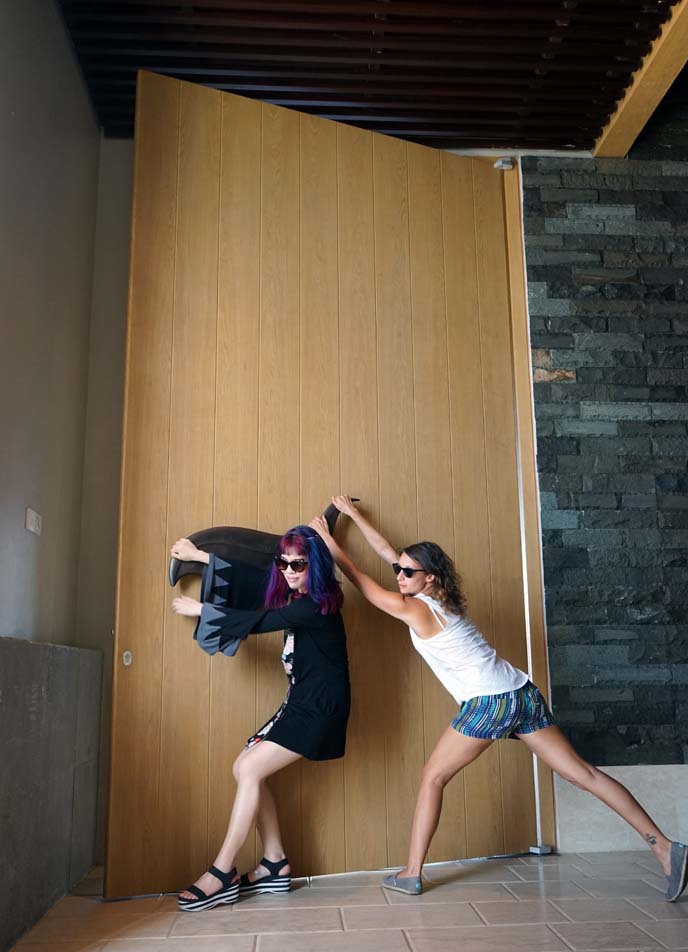 But first, we had to open this gargantuan door! Bejana, the Ritz-Carlton's Indonesian restaurant, has an entrance worthy of Game of Thrones.
Located on the hotel's upper cliff, Bejana's interiors pay tribute to Indonesian art and performance.
Everything is grand here, especially the dramatic patio views of the resort and Indian Ocean.
Bejana is also home to the Culinary Cave, a fully equipped cooking station that lets you learn Indonesian cooking through hands-on instruction. We suited up in aprons and hats, and shook hands with our cheerful teacher, Chef Made Siriana. 
(A fun aside: In Bali, all firstborn sons are named Wayan, while the secondborns are called Made. There is a succession of four names, and you start again at Wayan for the fifth boy. This Wikipedia article desribes Balinese naming traditions in more depth.)
Chef Made could have been the star of a cooking TV show. He was marvelous at explaining ingredients and preparations, while weaving in stories of childhood, and even a joke or two!
My fellow students Cohica Travel describe the scene: "Pre-prepped ingredients sit perfectly chopped and julienned in small bowls. We recognize some of the Asian flavors we've grown accustomed to: ginger, lemongrass, coconut, turmeric, garlic, shallots, and red chilies. As we get started, we also learn about new herbs and spices: pandan, a green plant that is a key ingredient in many local dishes, salam leaves, similar to a large bay leaf, and kaffir lime leaves."
The chefs were happy to modify the ingredients for us — no nuts, please, or we'll die! (Here's the best peanut allergy poster ever made, by my pirate Naomi.)
First, we learned how to make bumbu, a curry-like spice paste that forms the base of many Indonesian dishes. We stir-fried aromatic ingredients together, then blended them into a hot and mouthwatering base. We all took turns stirring and chopping behind the stove.
From two versions of the bumbu paste, Chef Made showed us how to prepare a variety of homestyle dishes, including curries and tofu wrapped in banana leaves. Above, I'm learning how to pinch together a mahi-mahi fish satay (grilled on lemongrass sticks).
Next, we moved over to the dessert station and learned how to make dadar gulung: bite-size pancakes turned green by pandan leaves, and filled with coconut and palm sugar. So, so good.
The staff gave us all copies of the recipes, so that we could re-create these meals back at home.
The photo above says it all… What a meal, and one that we cooked together! After this trip, I gained a new appreciation for Indonesian food, which is flavorful, spicy and more complex than you might imagine.
My friends and I also have a new favorite drink, called bajigur. It's a traditional Javanese hot beverage, rich with the healing flavors of ginger, coconut milk, lemongrass and pandan leaf. We're convinced that if someone made this available in North America, it would become more popular than the Starbucks chai latte.
I was so obsessed with this drink that the Ritz-Carlton arranged a special bajigur lesson for me! 
This is what I love about travel: no matter how much you read up about a place, you'll never know what will inspire you until you're actually there.
Food is such a fantastic window into local culture, do you agree?
Terima Kasih (thank you) to The Ritz-Carlton Bali for this unforgettable day! I enjoyed their Balinese cooking school so much that I'm going to do more experiences like this, wherever I go.
I leave you with another photo of the dog riding the scooter. Bali, you're the best.