Category Archive for
Books + Magazines
"Blue skies, Smiling at me… Nothing but blue skies, Do I see." – Ella Fitzgerald
As you'll see from the photos in this post, the jazz song seems to have been written for Porto, Portugal! Let me share how I spent the perfect day in Porto — a travel itinerary that includes vintage shops, the Harry Potter library, futuristic architecture, and the best sponge cake in the world.
(PS – but I'm currently in Istanbul and Brussels… follow along on @lacarmina Instagram and Snapchat to see my daily life.)
Porto is about a five hour train ride north of Lisbon. A stress-free journey, thanks to our Eurail passes that let us board trains all over Europe.
As you recall from this Lisbon story, we loved Portugal from the moment we arrived. I heard that Porto was a laid-back, artsy type of place — and so we came to check it out with the help of Visit Porto.
Porto is known as a center of modern architecture. We started our day at the Casa da Musica, designed by the legendary Dutch architect, Rem Koolhaas.
This spaceship-like auditorium has over a thousand seats and is bathed in light, thanks to two walls made entirely of glass.
We saw more alien art as we drove along the coast. This hovering net is "She Changes," a work by Janet Echelman. Made from wire, the sculpture pays tribute to Porto's seafaring and fishing industries.
As we drove around the city, we spotted contemporary buildings at every turn. There's a renown architecture school in Oporto, and two locals won the international Pritzker prize (the highest honor for an architect).
One of these architects, Álvaro Siza Vieira, constructed this mesmerizing Leça Swimming Pool in 1966. The open-air pool is filled with salt water from the Atlantic Ocean, and the design naturally harmonizes into the craggy coastline.  I felt like a mermaid, perched on the rocks and gazing at never-ending skies and waves.
In addition to these modern works, you'll find charming century-old buildings all over Porto. One of the oldest bookstores in Portugal is Livraria Lello, which dates back to the late 19th century.
The shrubbery hides the long lineup inside… Livraria Lello is Porto's most famous landmark because of how it inspired author JK Rowling to write Harry Potter!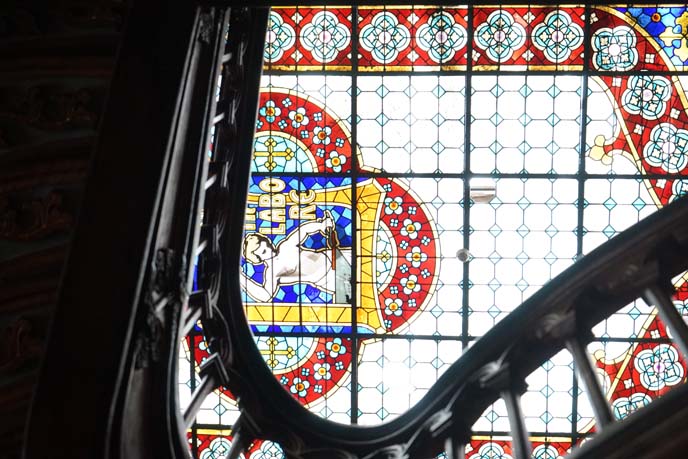 The best-selling author spent a great deal of time in Lello as she was formulating her story. The art nouveau meets Gothic interiors conjure up the magic of Hogwarts School of Witchcraft and Wizardry.
JK Rowling was most likely inspired to put a Grand Staircase in Hogwarts Castle, after seeing the winding wood stairs of this Porto bookstore.
After, we spent a few hours walking around Porto. It's the perfect balance for travelers like us: no annoying  tourism trappings, and yet the city has a lot to see and experience.
Our guide took us to the downtown square, and explained that this mega-church is actually two churches, separated by one of the world's narrowest houses! 
Carmo and Carmelitas was built this way to overcome a loophole, which prevents monks and nuns from having contact.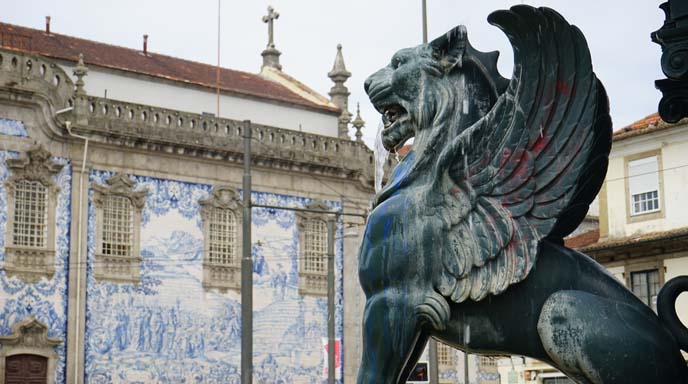 Located the left, Carmelitas has an ornate gold interior. On the right, the baroque Carmo has a striking blue and white panel on the side. 
It seems blue and white are favorite colors here — I can see that inspiration comes from the sky.
Those classic facades, with swirling wire balconies!
Our guide stopped at a viewpoint, overlooking red rooftops and the Romanesque Porto Cathedral (oldest in the city). I did a little panorama of this view on my Vine (you can add me @lacarmina).
Onward to my favorite Porto neighborhood: Bombarda, a district filled with young art and hip galleries.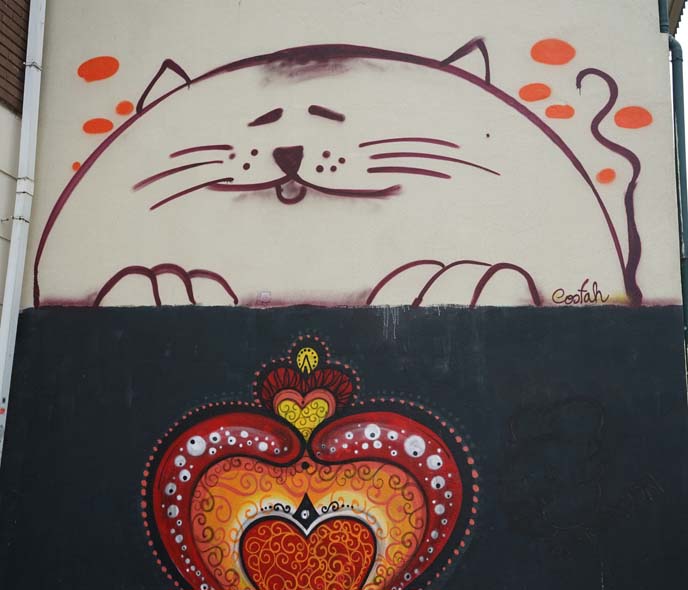 Bombarda is the bomb. Every few paces, we saw giant works of street art. The round cat over-top a heart was my favorite.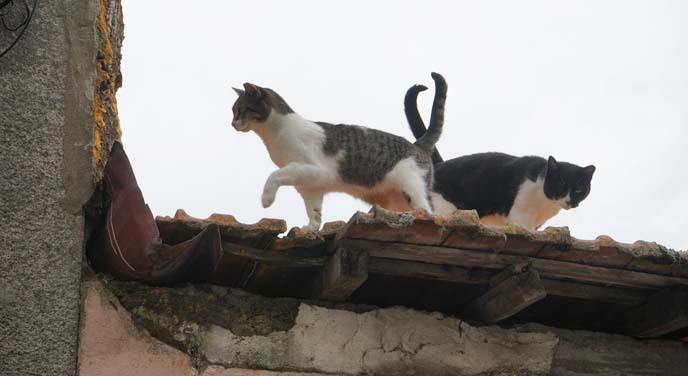 Perhaps these two kitties, intertwining their tails on a nearby wall, were the muses.
We browsed small, indie "creative shops" inside the Bombarda CCB Centro Comercial.
Locals have all sorts of designs on display here, from Robert Smith illustrations to dog and cat lamps. We also stopped by the CCB cafeteria for a simple yet incredibly tasty homestyle meal.
I recommend walking on Rua Miguel Bombarda, and popping into the various galleries. So much intriguing art to see here! Keep reading…
Happy Halloween, pirates! Are you dressing up for the spookiest day of the year?
To celebrate October 31st, I'm pleased to share my latest magazine cover for Carpe Nocturne — shot on location at Whitby Abbey, the church that inspired Bram Stoker's Dracula!
As you might remember, I went to Whitby Gothic Weekend in spring 2015. (See my guides to the Goth festival, in part 1 and part 2.)
Photographer Joey Wong and I couldn't resist shooting a vampire-inspired fashion editorial, right in the ruins that inspired the famous Dracula novel.
And here's the cover, for the fall issue of Carpe Nocturne magazine! Thank you to the team for featuring me — they were kind and professional the whole way through. (You can order the issue through their site, link is above.)
Carpe Nocturne is a magazine dedicated to alternative subcultures and creativity. Their headline is "other than the norm," which resonates with my whole approach to life.
Makeup details: I'm wearing decadent eyelashes from Velour Lashes — their quality is far and above regular plastic falsies.
My lip gloss and eyeshadows are from Anastasia Beverly Hills (get it here). I swear by my Sigma Beauty makeup brushes, which come in travel size and let you blend and contour like a pro.
I'm standing in front of Whitby Museum. Inside, you'll find display of artifacts found in the ruins, and other objects linked to the British town's long history.
It's always a pleasure to shoot with photographer Joey Wong — he also did our recent Love Japan magazine cover, on the frozen beaches of Iceland.
My hair color is by the one and only Stephanie Hoy of Stratosphere Hair Salon in Vancouver, Canada.
Inside this issue of Carpe Nocturne, you'll find more fashion photos and an extensive interview with me. Each of the Feature Editors asked me a question based on their section — meaning that I spoke about Art, Entertainment, Fashion, Film & Literature, Life & Style, Music, and Technology/Gaming.
My entire outfit is by Dracula Clothing, who came to Whitby Goth Weekend with me. I adore this black off-the-shoulder Victorian style dress, gold steel-boned corset with a Da Vinci design, and steampunk goggles.
I stood in front of Cholmley House, also known as Whitby Hall. Now a museum and reception area, this building dates back to 1672.
We continued shooting inside Whitby Abbey itself. One glance at the crumbling Gothic arches, and you'll know exactly why it inspired Bram Stoker's Dracula novel.
Whitby Abbey is a protected historical site, and there's an admission fee of about $10 US. Here's the visitor info — be sure to note the closing times, since if you arrive too late, you won't be able to get inside.
Could there be any better place to shoot this long-sleeved Victorian mourning top and tiered skirt? (They're also from Dracula Clothing.)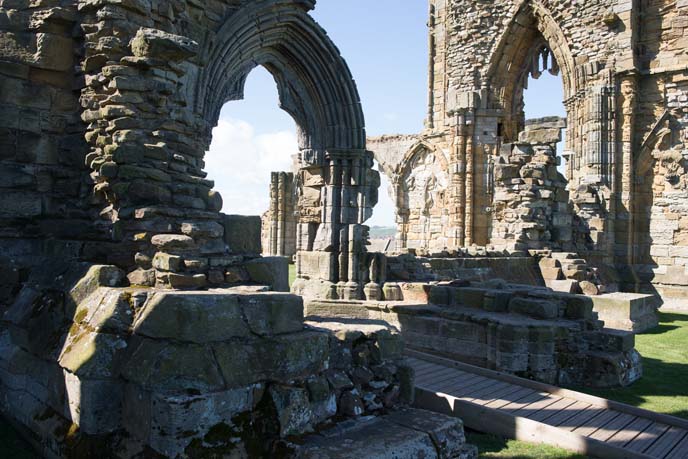 Whitby Abbey dates back to 657 AD, when it was a monastery founded by the Anglo-Saxon king. The second version of this monastery was destroyed by Henry VIII in 1540, and fell into ruin.
The Benedictine abbey was further damaged by storms, and a German naval shelling in 1914.
Despite the wear and tear, Whitby Abbey has retained its Medieval Gothic glory. The intricately carved arches and mouldings have stood the tests of time.
Whitby Abbey became famous for inspiring author Bram Stoker, who lived in the seaside village as he wrote his 1897 novel, Dracula.
In "Dracula," the vampire is shipwrecked on his way to London on the Russian ship, Demeter. The vessel broke apart while near the coast of Yorkshire, England…
… so Count Dracula took the form of a big black dog, and climbed the 199 steps of the Abbey. And so, the terror and blood-sucking began.
The character Mina wrote a journal that described the ruins.
"Right over the town is the ruin of Whitby Abbey, which was sacked by the Danes, and which is the scene of part of "Marmion," where the girl was built up in the wall. It is a most noble ruin, of immense size, and full of beautiful and romantic bits; there is a legend that a white lady is seen in one of the windows."
(I didn't see any white lady in the windows that day, but visitors got to see an Asian purple-haired lady lurking around!)
Tip: if you want to take photos at the Abbey, arrive as soon as it opens (we came at 10am). If you come later, there will be too many people mulling around and getting into your shots. Don't bring a tripod, as it's not allowed.
And be prepared for people to look at you and take their own snaps as you are shooting!
Walking around the skeleton of the abbey, it was easy to understand why Bram Stoker made this the setting of his horror classic, Dracula.
The location is as dramatic as Mina describes it, in the novel. Whitby Abbey stands on the East Cliff, overlooking the North Sea. 
There are indeed 199 steps that you must climb, to reach Whitby Abbey from the town. It's a steep but scenic trek.
Before you reach Dracula's Abbey, you'll come across the Church of St Mary. This graveyard also inspired one of the settings of the Bram Stoker story.
St Mary's is a Norman church constructed around the year 1110, and modified over the centuries. The King of Bernicia, who signed the Magna Carta, is buried here among other notables.
Bram Stoker wrote: "For a moment or two I could see nothing, as the shadow of a cloud obscured St. Mary's Church. Then as the cloud passed I could see the ruins of the Abbey coming into view; and as the edge of a narrow band of light as sharp as a sword-cut moved along, the church and churchyard became gradually visible… It seemed to me as though something dark stood behind the seat where the white figure shone, and bent over it. What it was, whether man or beast, I could not tell."
While it may be tempting to take fashion photos amidst the fascinating tombstones, the church and town asks you to respect this space and refrain from posing in the cemetery. However it's okay to photograph the stones from afar, as we did.
Details of my makeup — I swear by my Anastasia lip gloss and brow pen. 
After seeing the Abbey in person, it makes absolute sense that Whitby is a world-renown Gothic destination.
I wouldn't be surprised if there were ghosts haunting the remains.
I hope you enjoyed this fashion editorial for Carpe Nocturne magazine. Let us know what you think of the photos.
I encourage you to visit Whitby and see the Abbey for yourself — especially if you're a connoisseur of vampires and Victorian horror.
Don't forget to say hi to the horses, as you descend the 199 steps back into town! I hope these photos get you into a Halloween mood. Comment below, and let me know what costume you wore this year.
PS: check out my other Whitby Goth Weekend guides, including tips for where to stay and fashion and music reviews. The festival happens twice a year, and is going on right now.