Category Archive for
Cambodia
Cambodia was one of the most inspiring countries I've visited.
I've long been fascinated by Angkor Wat — and the mysterious temple more than lived up to my expectations.
However, there's more to see in Siem Reap than just the archaeological ruins. I'll give you a glimpse of the nightlife of Pub Street, where you'll find bars like "Angkor What?" (Couldn't resist taking this photo!)
You also must stop by my favorite craft cocktail bar, innovative restaurant and Phare, the Cambodian circus… read on to find out why!
I'm not a morning person, but it's worth it to wake up at 5am to see the sunrise over the reflective pool at Angkor Wat. (I'll show you more photos in an upcoming post.)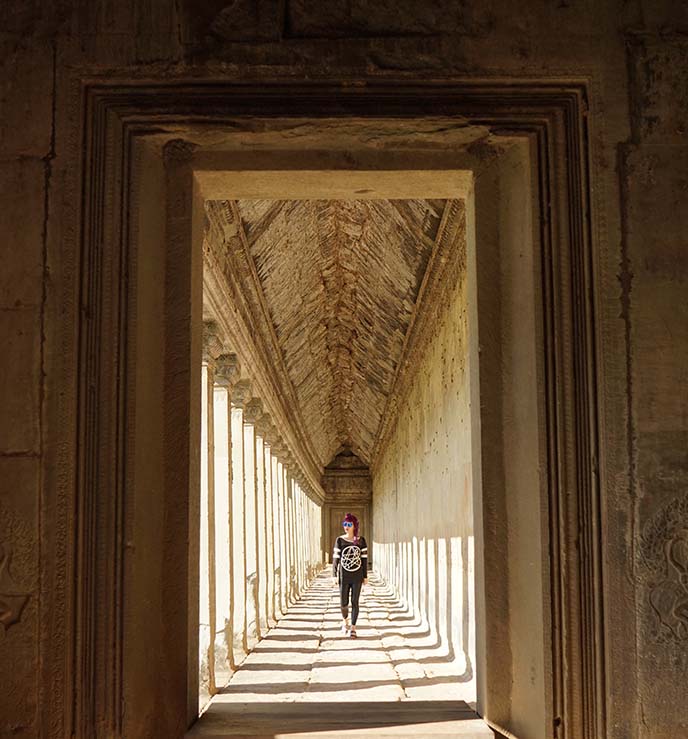 After the sun rises, many tourists go on to explore the main buildings of Angkor Wat. However, to avoid the crush, I recommend seeing other temples in the morning and early afternoon — and coming back later, when it's less busy.
Angkor Wat's lighting conditions are also better in the afternoon. You can capture dramatic light and shadow-play such as above (in this long hallway that feels like an infinite portal).
We loved incorporating the ancient architecture of Angkor Wat into our photography. This image is by Ken Yuen, who didn't realize until too late that Sniper Chau was in the frame!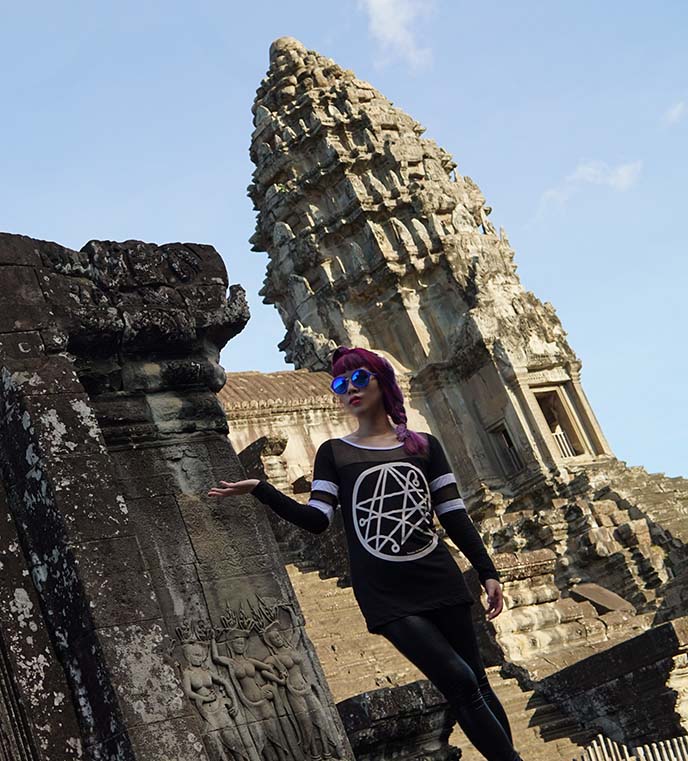 Angkor Wat is one of the world's most mysterious archaeological sites. There were rumors of a great Khmer stone city, but the West was unaware of its existence until the late 19th century.
In an ancient, mysterous lost city, it seemed right to wear clothing inspired by HP Lovecraft's mythos. I'm wearing this exact Disturbia Dead Moon Rising top — they also make a Necronomicon top.
Shop more nu-Goth fashion below:

Can you imagine how French explorer Henri Mouhot must have felt in 1860, when he stumbled upon this view? There are over a thousand temples here, filled with images from Hindu mythology and Cambodian legends.
The unusual architecture made my imagination run wild. I imagined that this thin, rectangular door was a portal into an alien universe. 
OUTFIT DETAILS: Linda Farrow sunglasses † Disturbia HP Lovecraft top † Black leggings
Inside the central sanctuary, we saw a monk offering blessings to visitors. 
The 12th century temple design reflects Hindu conceptions of the universe. We were glad to have our guide (provided by Le Meridien Hotel) with us, to answer questions about this fascinating place.
Visitors are free to climb and explore most of the temples. I went up this stepped terrace in the main Angkor Wat hall.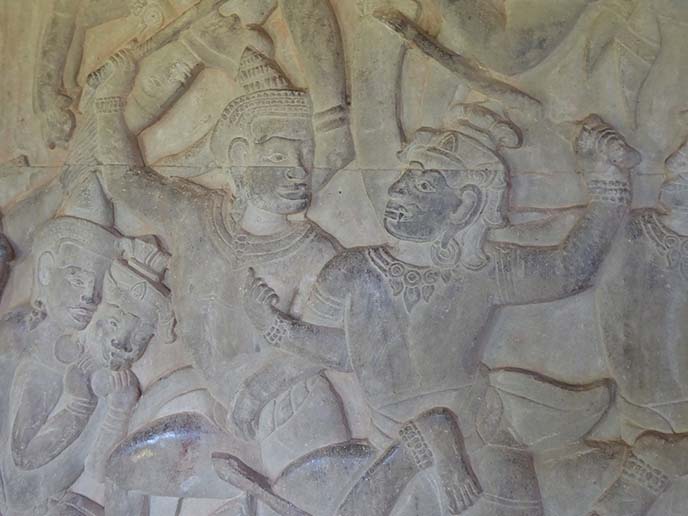 We walked down the long covered galleries, which were decorated with exquisite bas-reliefs. Most of these carvings depict the Hindu epic tales, Ramayana and Mahabharata. 
Our guide also pointed out depictions of hell tortures, elephant warriors, martial artists, and much more.
An outside view of one of the long galleries, which surrounds the central sanctuary. My pose was inspired by the carvings of apsaras (celestial dancers).
Of course, there is much more to see at Angkor Wat. We wished we had more time to see the outer-lying temples, such as Banteay Srei (dedicated to the god Shiva).
On the way to an elephant gate topped by a Buddha, we saw this row of Buddha and demon statues. Some had been restored, hence the different conditions of the faces.
In the previous post, I showed you the famous "tree roots Tomb Raider" temple, Ta Prohm.
We also stopped by Bayon, the richly decorated structure that is famous for its serene, smiling rock faces. 
These depict the Buddha, or King Jayavarman VII — or perhaps both.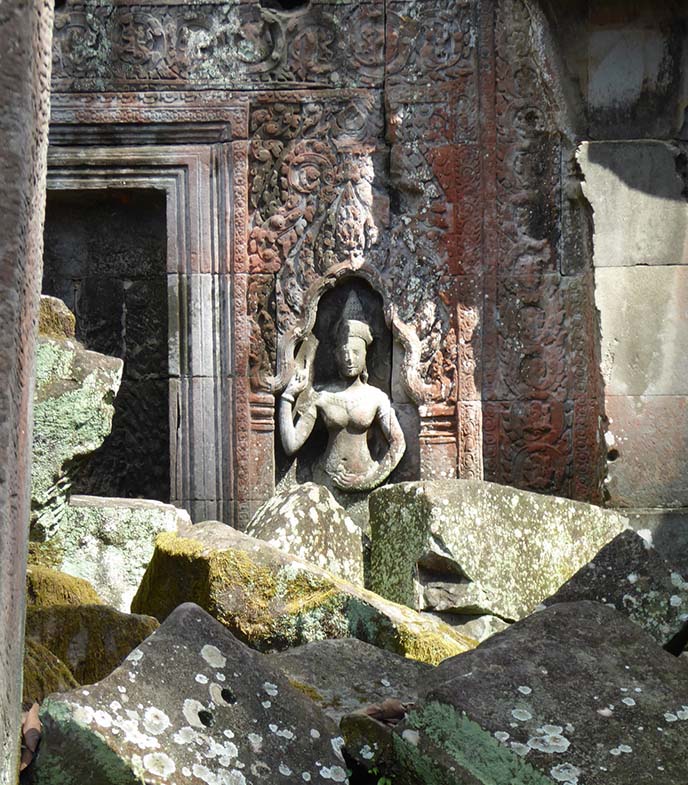 Similar to the temples in Bali, there is a lot of flow between Buddhism and Hinduism. Angkor Wat was originally dedicated to Hindu god Vishnu, but later became a Buddhist holy ground.
An ancient civilization, hiding in the jungle… Angkor Wat truly captured my imagination.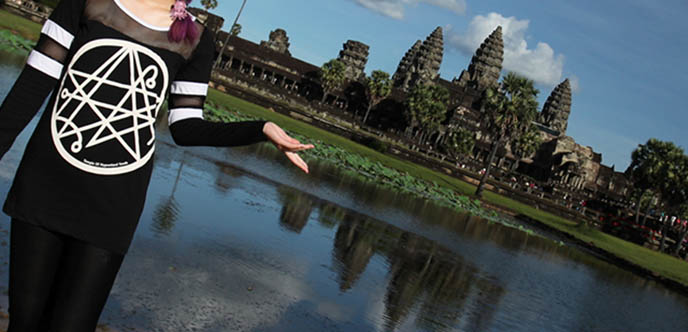 A closeup of my Disturbia UK long sleeve shirt with mesh cut outs. The symbol is the Necronomicon gate symbol, from the Lovecraft mythology.

There's more to see in Siem Reap, Cambodia than the legendary temple. At night, the city center comes alive with night markets, street food and bars.
We crossed this bridge, lit up with X-lights, and John found a stuffed crocodile to take home.
Pub Street is the center of the nightlife (including the Angkor What? pub that you saw above). It's a cacophony of tuk tuks, partiers and bars, many of which are geared towards foreigners.
So many bars, so little time…
Pub Street was fun to walk through, but these tourist-oriented bars and shops aren't our type of scene.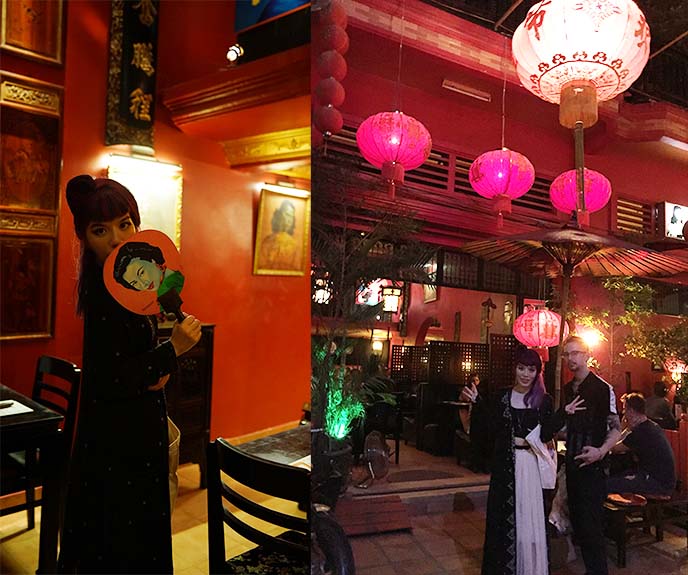 Fortunately, we found a place where we felt we belonged: Miss Wong. This retro Shanghai-themed bar is located a little off the main roads, tucked away from the crowds. Look for these glowing red lanterns at the entrance.
(Address: The-Lane, Krong Siem Reap, Cambodia)
Inside, the decor is ravishing: elegant red walls and vintage Chinese art. Dean (the owner who is originally from New Zealand) gave us the warmest welcome. We could sense that he runs Miss Wong with passion, always taking the time to make his visitors feel at home.
Miss Wong is known as the best cocktail bar in Siem Reap. It deserves this accolade: the rose petal and mocha martinis were as amazing as they sound, and look.
We were impressed by how Miss Wong infuses spirits with Asian flavors. The Lemongrass Collins, made from vodka heated with fresh lemongrass, was one of the best drinks I've had all year. We were also wowed by the black pepper infused vodka, delightful on its own or as a Bloody Mary.
Miss Wong also serves Chinese dim sum bites, and has a top selection of liqueurs from around the world.
If you're all about handcrafted cocktails and a classic, relaxing atmosphere, Miss Wong Siem Reap is a gem. You can't miss out on this bar; tell Dean that we sent you, when you visit!
We had a wonderful set-menu dinner at Cuisine Wat Damnak, a restaurant that merges Cambodian flavors with French culinary techniques. It is on my cousin's list of top 50 restaurants in Asia (we are trying to go to each one).
(Address: Wat Damnak village, Sala Kamreuk Commune, Siem Reap 17000)
The open kitchen and lush dining area set the mood for this special meal. Chef Joannès Rivière changes his six-course menu every week, focusing on seasonal ingredients sourced from local farms and foragers.
The unusual ingredients and creative preparations — like frog legs with Cambodian spices — were magnificent. The chef does an outstanding job of balancing modern and traditional, French and Khmer.
Six sophisticated plates for under $30 US — only in Cambodia! Be sure to make a reservation in advance for Cuisine Wat Damnak, since this restaurant is often booked up.
Finally, you can't leave Siem Reap without seeing the Phare, the Cambodian Circus. Inside a big top, we saw young Cambodian performers tumble, leap, juggle, balance, dance and clown — while wearing the biggest smiles on their faces.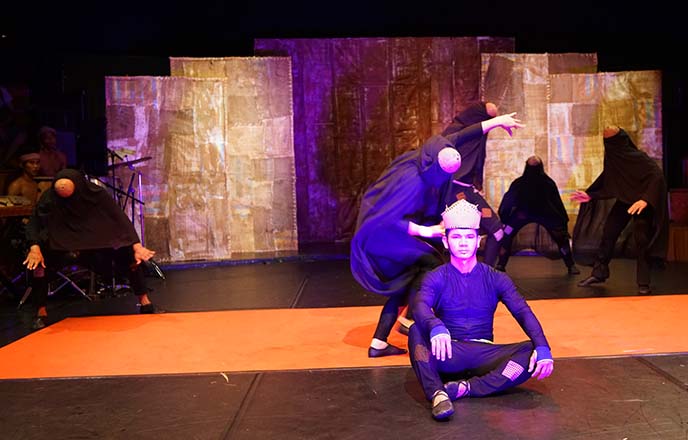 The show drew upon Cambodian folk storytelling, and pushed it forward with avantgarde antics and sky-high acrobatics. We watched these young performers tell a narrative that took us from primordial times to colonial conquest and beyond.
Phare is more than just entertainment: it has the social mission of educating Cambodian youth (through their NGO school), helping them find employment, and furthering the Cambodian arts.
The crowd could sense the passion and determination of the young artists, who all overcame difficult socio-economic backgrounds.
Phare, the Cambodian Circus has performances daily; you can find out more on their site. We loved watching these young talents, especially knowing that it was in support of Phare's meaningful programs.
Cheers to Cambodia! From Angkor Wat to the bars, restaurants and circus, I had a blast here.
OUTFIT DETAILS: Michi top † White tulle skirt † Linda Farrow sunglasses † Metallic sneakers
I leave you with a sunset shot. Cambodians are known as some of the friendliest people, and I'd have to agree. (Photography by Sniper Chau and Ken Yuen)
Thanks to HK Express for the easy direct flights from Hong Kong to Siem Reap, and to Le Meridien Angkor Hotel for the magnificent stay.
Are you as fascinated by the "Tomb Raider" temples as I am? Coming up soon — I'll unveil the photoshoot we did amidst the archaeological ruins!
Happy New Year! Before we jump into 2016, let's wrap up the second half of my "Year in Review" — which included journeys to Morocco, Cambodia, Vietnam and Portugal.
This year, I was fortunate to work with a number of travel partners that made these trips possible. I'll give you a deeper look at how these blogging projects come together (case studies, if you will). Hopefully this sheds some light into the way we team up on projects around the world.
The downside of being a road warrior is that you can't spend as much time with your pets…
But my Scottish Fold cat had his own adventure this summer. He went on a stuffed toy tour of Poland, with Panda Tours. (Here's the full story.)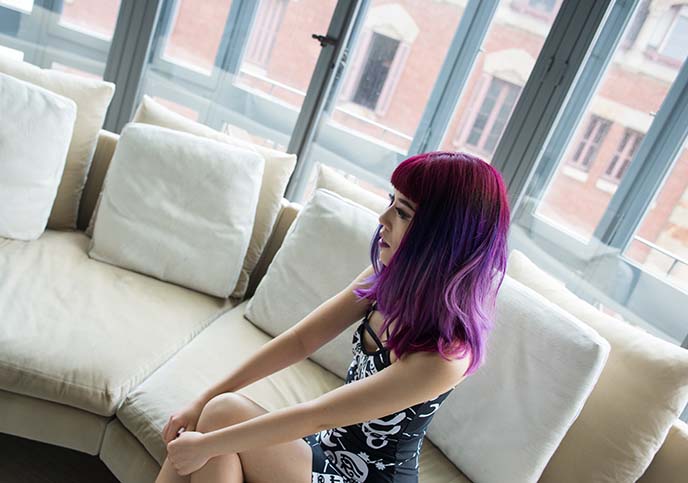 Meanwhile, my film team and I went on a long and slightly grueling trip throughout Spain, Morocco and Portugal.
Since we aren't on the road full time, we try to combine as many destinations, partners and projects into a two or three-week leg. This way, we can keep flights to a minimum and capture a lot of content, in a limited amount of time. Then, we can go home and work on this material for you, in various formats (videos, travel stories, photos).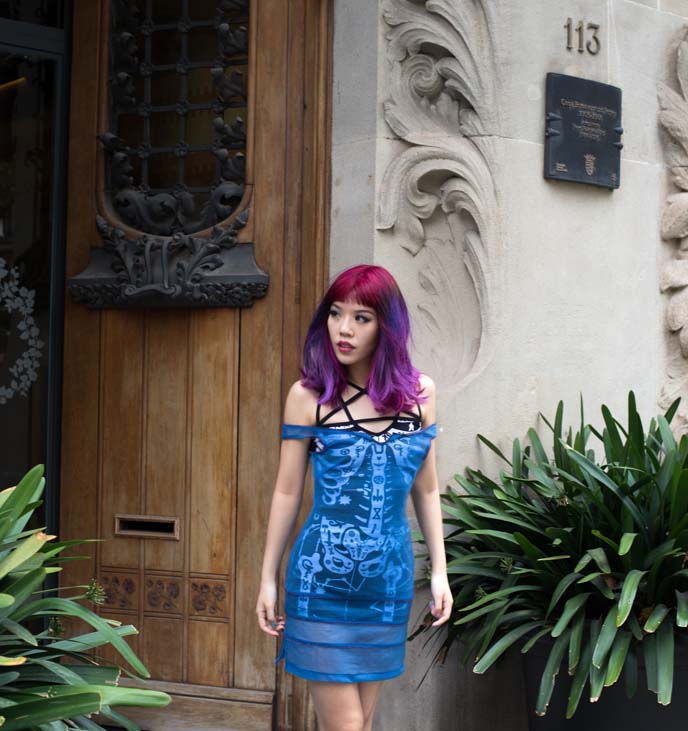 For our Southern Europe journey, we partnered with Spain Tourism Board, Portugal Tourism, and Eurail (riding between the cities on their rail passes). We also stayed with hotels like the art nouveau El Palauet Barcelona (here are all the photos).
We'll only ever team up with partners that are a natural fit with our niche (artistic, creative, offbeat travels). It's a delicate balance, and we turn down a lot of offers. At the end of the day, our primary mission is to capture worldwide stories that otherwise wouldn't get a voice — such as punk rock artists in Iceland, and women running collective businesses in Morocco.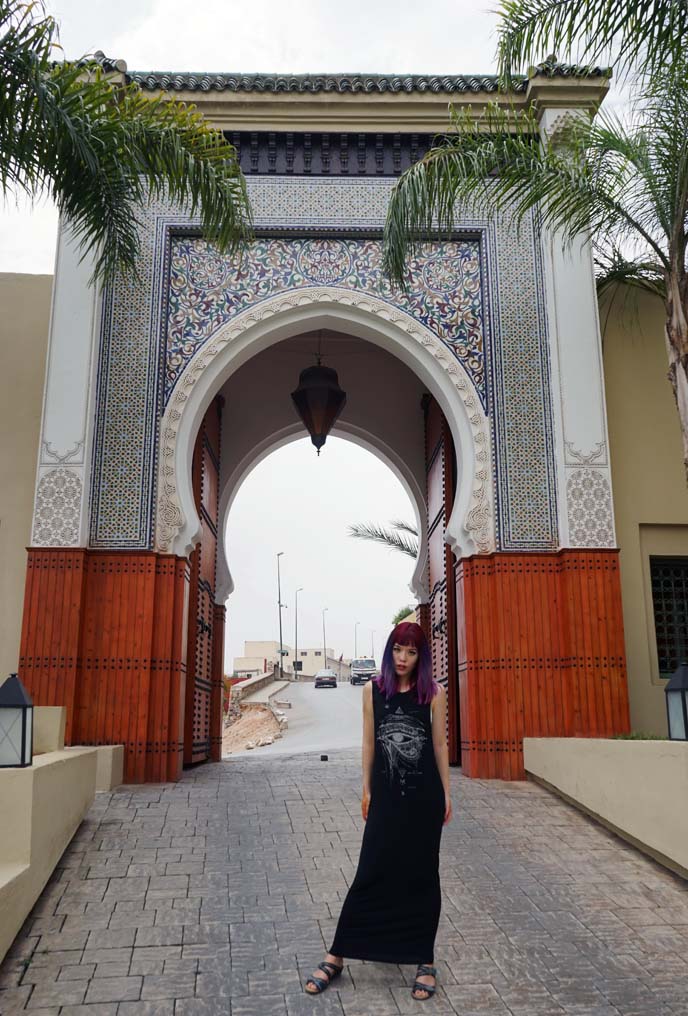 A perfect example: We worked with Plan-It Fez Tours for our Morocco journey (driving from Tangier to Fez, Marrakesh, Essaouira). Thanks to their translation and expertise, we were able to stay in Berber villages and interview locals. 
We were happy to get the word out Plan-It Fez, since their approach was exactly in line with ours (and we wholeheartedly recommend their tours for travelers to Morocco). With their support, we were able to dive right into the culture — such as by taking a henna workshop with ladies of all generations.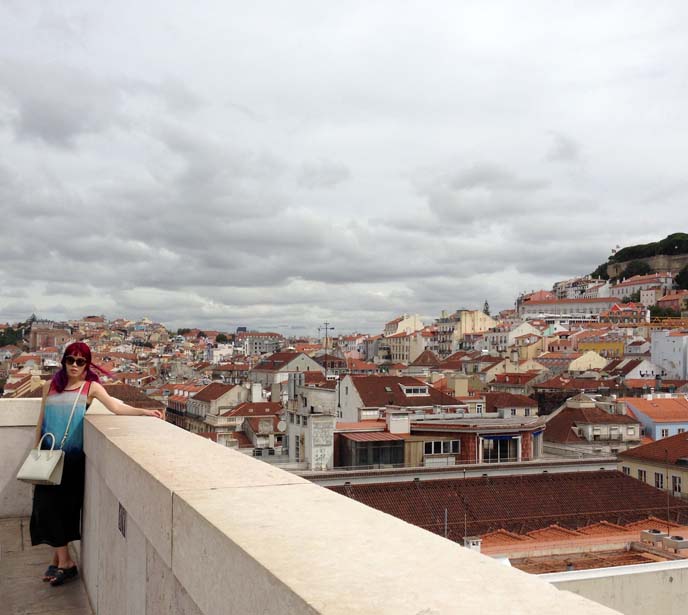 As I mentioned, we try to visit multiple destinations in one go. From Marrakesh, we flew to Lisbon and took the train to Porto.
When tourism boards assist us (with a driver, accommodations, meals etc), we can cover more ground in a short period, without stressing about the logistics of getting around. Keep in mind that we aren't traveling as tourists for leisure, but have work responsibilities — so we can't just show up somewhere and "wing it."
I haven't gotten around to sharing all my stories from Portugal yet, but they're coming up… and this country is now one of my favorites in all of Europe!
I also frequently travel for television hosting jobs, especially in Asia. In spring, I was in Tokyo for a Travel Channel shoot. Later that summer, I was flown to Hong Kong for a major US network TV project. As usual, I must keep mum until it comes out… and it can take a while.
For example, I filmed with German TV in Hong Kong last year, and didn't get to post the clip until recently (watch me on Inside TV with Palina Rojinski).
While in Hong Kong, I also did a dark fashion photoshoot with my friends. I also collaborated with a new pet supplies company called Pet Sensei, which has Basil as its mascot! (All the details and modeling images here).
When I have time off in Hong Kong, I take the opportunity to find cute shops and cafes to share with you. One of my most popular articles last year was about the Hello Kitty Chinese dim sum restaurant, and it's no surprise why.
Hanoi is only a two-hour flight from Hong Kong… say yes to an adventure, always! This time, I collaborated with Vietnam Food Tour. Similar to Morocco, I was able to have an immersive, foodie experience thanks to the help of these local experts.
From making spring rolls with a village grandma, to interviewing tattoo artists in Hanoi, Vietnam surpassed all my expectations. (Read all my Vietnam travel posts here.)
We made a casual video about these Vietnamese adventures — watch it above, for pirate shenanigans!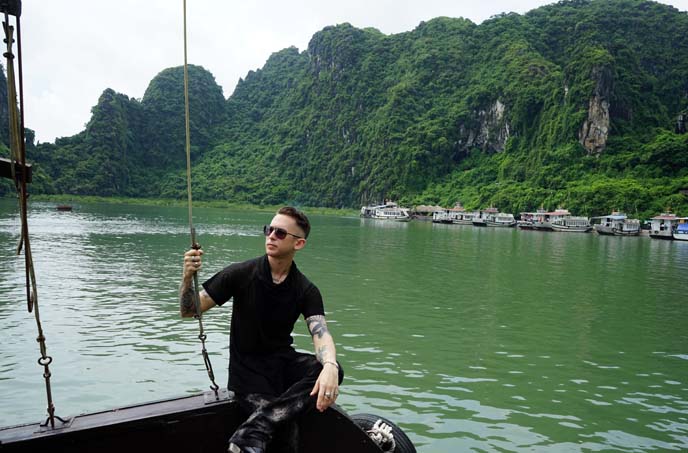 You've probably noticed that I travel with different people (who help me with the photography and videos). Who accompanies me?
It depends on the job, location and availability, but I'm always around friends — which makes these trips all the more fun.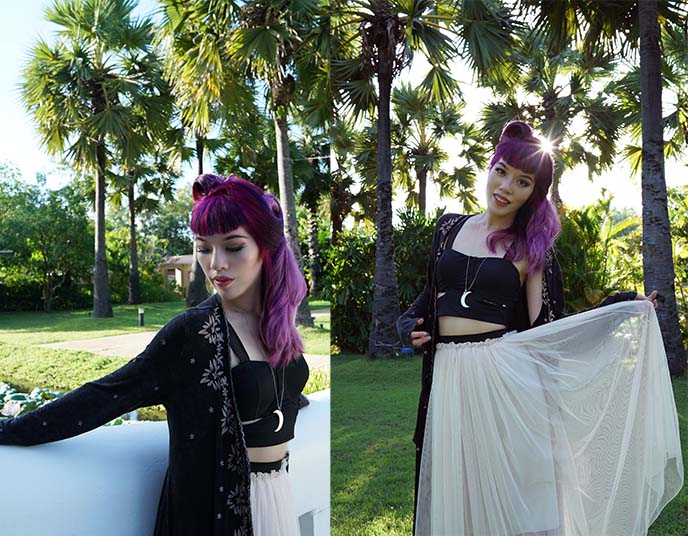 I wrapped up 2015 with a journey to Cambodia, thanks to my long-time flight colleagues HK Express.
I felt at peace in Siem Reap as soon as I arrived. One of my favorite outfit shoots of the year was this one, at Le Meridien hotel (another partner that shares our artistic leanings). Soon, I'll share a video from our Cambodian travels.
It was unthinkable — even a few years ago — that I'd be able to see such incredible places around the world, with my own eyes. The sunrise at Angkor Wat temple was one of the magic moments of 2015, and I'm excited for what 2016 holds.
If my 2015 was all about travel, then what will be the word for 2016? Technology. I have to keep my current project secret for now, but it's happening — and I'll share the news with you as it unfolds.
Sending you all the best for 2016. Be bold, take a leap, live life according your terms… and let this be the most extraordinary year yet!
And don't forget, you can take part in my current travels in Tulum, Mexico on my social networks @lacarmina: Snapchat, Instagram, Twitter, Vine, YouTube, Facebook.