Category Archive for
Caribbean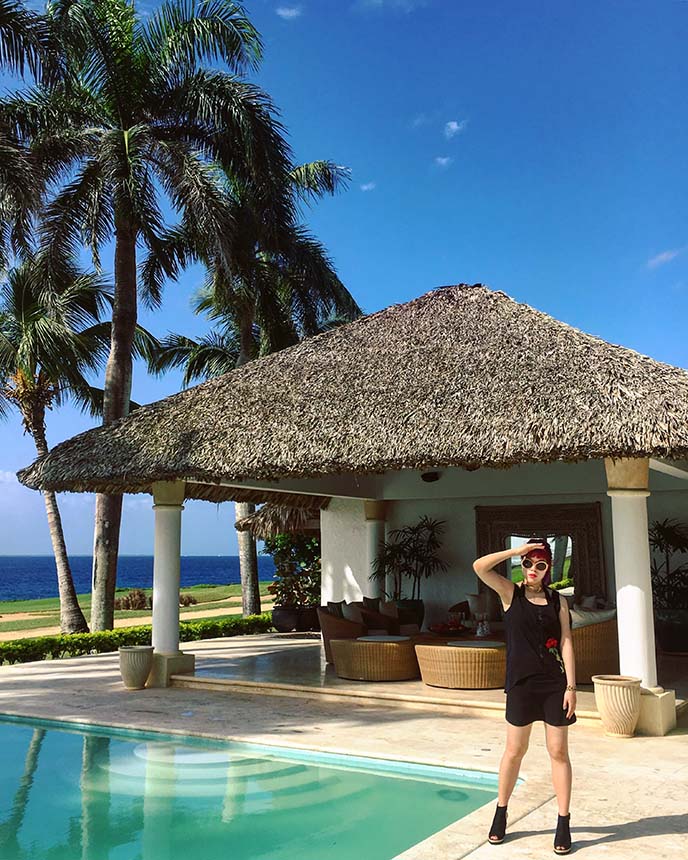 Coming at you… from my rock star villa in the Dominican Republic! I don't know about you, but I'm ready to move in.
In my first post, I introduced you to the elegant Casa de Campo resort. We'll kick things up yet another level: with a look at their tropical villas for rent, and activities including skeet shooting and horseback riding!
We'll also bask in the white sand and waves of Minitas Beach and Catalina Island, aka paradise on Earth.
Casa de Campo is in located in La Romana, which is considered the most exclusive and beautiful area in the country. Quite a few celebrities own mansions or vacation here regularly; perhaps you might recognize the names Drake, Beyonce, J-Lo, A-Rod, Jay-Z.
When you step into this backyard of dreams, overlooking the Caribbean Sea, it's obvious why this is an A-list destination.
Casa de Campo has multiple Oceanfront Villas available for rent. They each have bright bedrooms filled with modern decor, and a state-of-the-art kitchen.
The star of the show, however, is the long outdoor pool flanked by a luxurious gazebo. 
I could laze in this open-air lounge all day, reading a sci-fi novel. The space is airy thanks to the peaked roof and ceiling fans.
CDC's villas are decorated in muted Caribbean colors, which match the elegant natural surroundings. The wicker furniture is accentuated by local crafts and glasswork.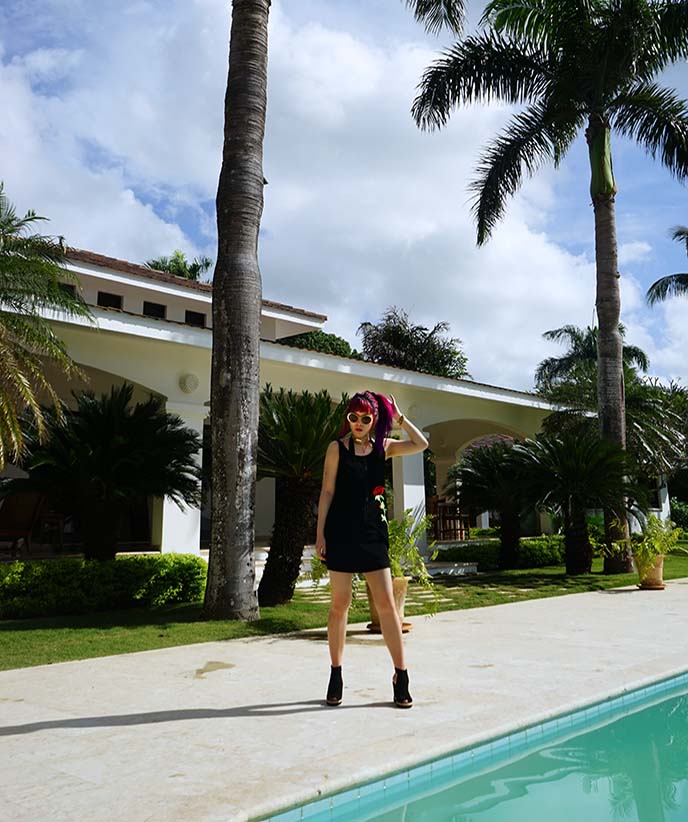 OOTD: I'm wearing a rose tank top by Jawbreaker London, sunglasses by House of Harlow, and black platform velvet sandals by Le Babe. (Shop more styles by Le Babe shoes with a click below:)

Photographer Molly Weingart and I daydreamed about living here in style.
As villa guests, we'd have access to maid and butler services, and a culinary staff that prepares daily breakfast in the kitchen.
The most difficult decision you'd have to make is whether to dip into the swimming pool, the Caribbean sea…
Or the pod-like hot tub next to the bedroom patio.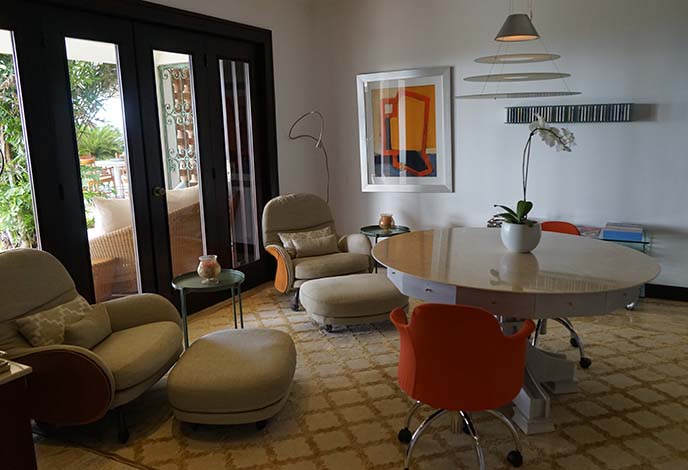 We'd never get bored indoors, with these pop-modern rooms. The villas are equipped with a sauna, full gym, and private cinema with theater seating.
"Scarface" vibes, in the central living room that is set up to entertain guests.
Molly and I loved the artistic details that make each villa unique. This handcrafted mahogany bench and rainbow canvas formed the perfect photo backdrop.
Casa de Campo makes the most of the Dominican Republic's tropical beauty. They also offer Garden Villas for rent, with lush natural surroundings as well as a swimming pool.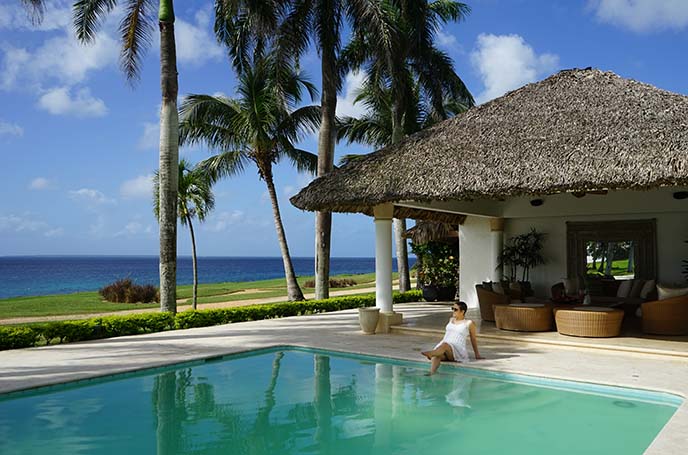 Although you'll feel like a millionaire, the villa rentals are actually quite affordable compared to others in the area (especially when split among a group of friends). Many guests rent a villa for Christmas and New Year's, hen getaways, or other occasions.
(If these photos make you keen to move in, there's more info on Casa de Campo's site.)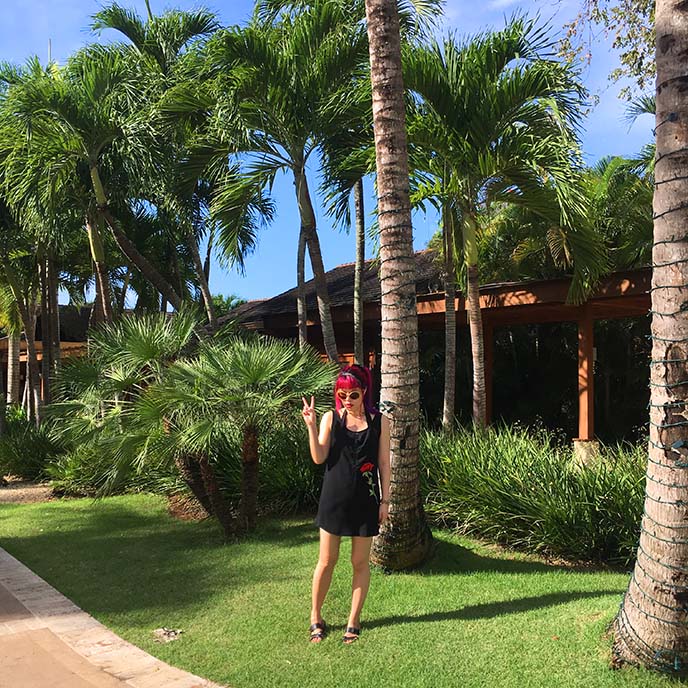 As guests of the resort, we had full access to "fun in the sun" activities — ranging from water sports to outdoor massages. Since Casa de Campo is a huge resort (at 7000 acres), we never ran out of options for activities, many of which are included in the package experience.
The Dominican Republic is known for its pristine beaches. One of the best is Playa Minitas, Casa de Campo's private beach. We drove here in our personal golf cart, and found ourselves on a quiet stretch of soft white sand.
At Minitas Beach, guests can try activities like snorkeling, kayaking, paddleboarding or windsurfing in these gentle waves.
Molly and I couldn't wait to wade into these clean, warm waters. This, right here, is my happy place.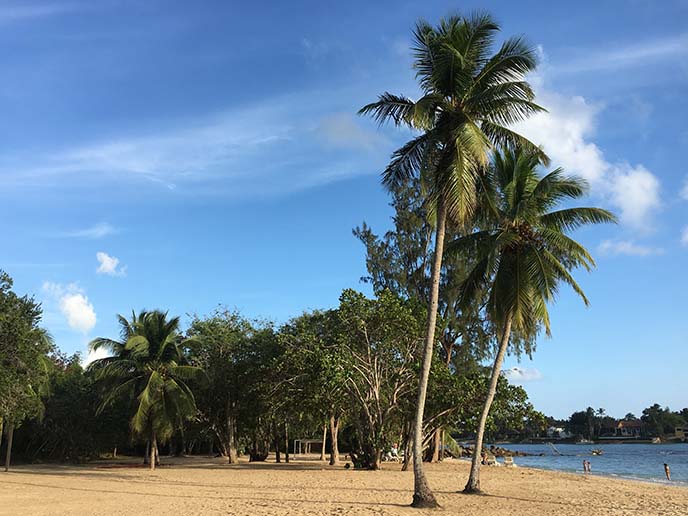 I've visited beautiful beaches worldwide (Maldives, Bali, Maui), and Minitas Beach ranks among the best I've ever experienced. Unlike other places in the Dominican Republic, this is an uncrowded and meticulously maintained spot.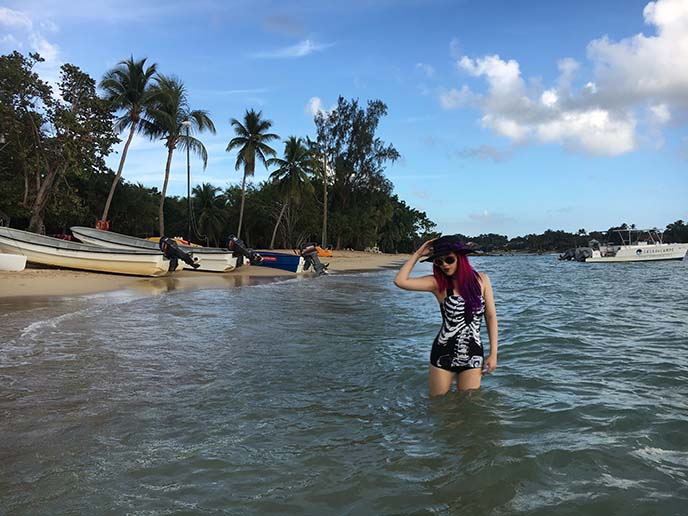 Casa de Campo offers free towel service at the entrance, and plenty of amenities including change rooms, several bars, and Minitas Beach Club restaurant (which we reviewed in this post).
(I'm wearing a skeleton swimsuit; similar one here).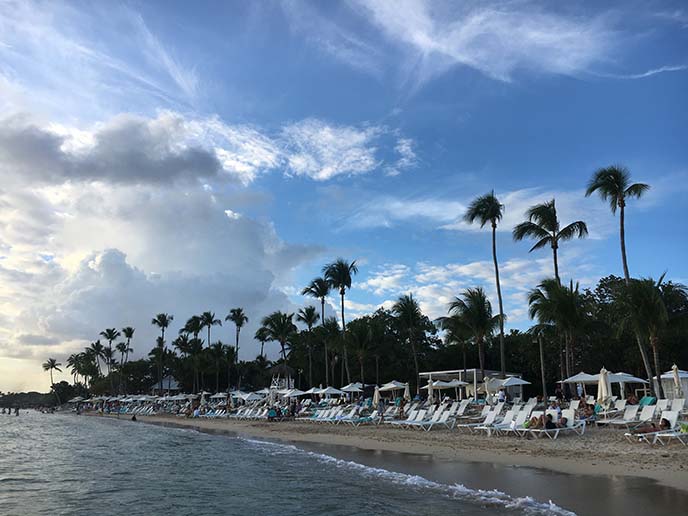 We alternated between dips in the crystal-clear waters, and lounging on the comfortable chaises under the shade of palm trees.
There weren't many tourists around, which let us feel as if were in our own Blue Lagoon.
If you stay until the sun sets, you'll get this spectacular light show over the horizon. 
We watched the sunset, while sipping their famous piña coladas served in a fresh, local pineapple…
I have to admit, I love being a "beach Goth" every so often!
Quite a few people recommended that we visit Catalina Island, and we were glad we took their advice. To get here, ask the Casa de Campo staff to help you make an advance booking for the catamaran ride. The boat departs from Minitas Beach and takes 25 minutes — and it's a fast and furious ride that made us smile.
We disembarked onto six square miles of beach paradise. No photo filters needed: the turquoise hues and perfectly clear waters are exactly what you get in real life.
Catalina Island is part of the Parque Nacional del Este, which preserves the diverse ecosystem that includes sand-dunes, mangroves, and reefs.
If you're a snorkeler, take a short swim from the pier, and you'll find calm waters teeming with sea life. 
Relaxing on Catalina Island turned out to be one of the best moments of our trip to the DR.
You may recall that we ate like queens at Casa de Campo, from sushi fusion to rustic Italian. To balance it out, we spent time in the fitness center, which has a large selection of weights and machines.
Guests can also book a private training session, or visit the physiotherapy center. Molly did a functional class with David, and says: "I went to the workout tired, but left feeling energized. David did a great job of assessing my strength. When he realized that I could do more than he had originally intended to give me in the workout, he adjusted it workout accordingly — all with a smile. I even got to learn how to say some of the exercises in Spanish!"
The resort also has regularly scheduled group fitness classes like Pilates, Zumba, Saco Box, Spinning, and aerobics. We woke up for the 8:30am Pilates class, and it was absolutely worth it. 
Molly's reaction: "Liliam was such a magical teacher. I felt like she saw my heart, and then just made my abs work hard! One of the things that I really enjoyed about her (and David, and fitness at Casa de Campo in general) was that there was a focus on wellness, so progressing an injury to advanced athletic performance could be done in one class. She exemplified this completely, as she took the extra time to show us those stretching machines that released the back."
The Spa was another place to rejuvenate both body and mind. Casa de Campo's spa uses traditional techniques and local, organic ingredients in their menu of treatments.
Molly booked the Signature Ayurvedic massage. She says, "Alexandra, the woman who took care of me, touched me with such kindness and knowledge that the 90 minutes drifted by. I've been suffering from a pretty serious injury and she did a great job of handling the tension around the muscles to release some of the pain."
I agree with her words that "The staff at Casa de Campo was spectacular. That's an understatement. They made you feel like you were at home with friends you just hadn't met yet. From checking in with Victor, to the bartenders who recommended we go to Catalina Island, and servers who pushed me to speak more Spanish… everyone just wanted to make us more comfortable and help us explore."
The all-inclusive package includes horseback riding. I was excited to get on a horse for the first time in over a decade.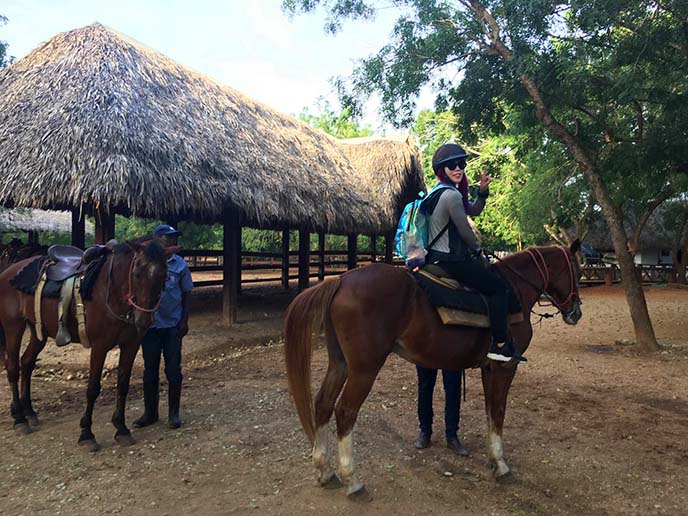 The horses are extremely well-trained, and will never dart off or disobey commands. We explored the ranch's lush pathways, by walk and trot.
I also got to try skeet shooting for the first time. The all-inclusive package includes 25 shots; it's nice how CDC encourages guests to experience new sports and activities that they wouldn't otherwise do on their own.
Our instructor was a kind, detail-oriented teacher who made us feel we were in safe hands. He patiently showed us how to use the two-barrel gun, which could hold two shots before requiring a re-load.
Skeet shooting means hitting clay targets that fly in the air. By pressing a button, he launched these disks from fixed stations, at a variety of angles and speeds.
I discovered that I'm surprisingly good at hitting clay pigeons. I credit this to my many hours of playing "Duck Hunt" on the original Nintendo console… the 1980s video game is remarkably good at mimicking the actual experience of skeet shooting!
Don't mess with travel bloggers. They learn skills on the job.
(Molly is wearing these Bulgari Serpenti sunglasses, and my sunglasses are for sale on my Depop.)
I've shot rifles in indoor gun ranges before, and didn't enjoy the experience much. However, an outdoor shooting center is a different story. Molly and I appreciated getting to know the history and skill of the sport, at one of the biggest centers in the Caribbean.
If you're a golf fan, then you might already know of Casa de Campo. The resort has three of the best golf courses in the Caribbean, if not the world: Teeth of the Dog, Dye Four, and The Links. We saw groups of golf buddies renting a villa together, and swinging their clubs in this postcard-perfect setting.
A big heart for Casa de Campo — Molly and I couldn't have had a better time in the Dominican Republic! Everything about the resort was as pristine as these waters, and the staff deserves a special mention for their kindness.
If these photos are convincing you to fly off to this beach, check out more info on CDC's website.
Let's do the time warp again… from Havana, Cuba!
As far back as I can remember, I've been curious about this Caribbean country where time seems to stand still. While on a job in the Dominican Republic, I took the opportunity to hop over to "La Habana" for a few days.
How to enter Cuba: As a Canadian, I merely had to fill out a "visa on arrival" and pay $20 US cash. If you have a US passport, the process is more complicated and changes constantly… be sure to check the current Cuban visa requirements here. Or you can "secretly" fly in from another country (Canada, Mexico, Panama, etc), as Americans have in the past.
Where should you stay in Havana? If you're looking for a local, authentic experience, there's only one answer: in a casa particular like Prado Colonial!
As you likely know, Cuba has been a communist country since Fidel Castro overthrew military dictator Batista in 1959. As a result, all the hotels and resorts are at least partly owned / run by the government.
However, since 1997, the state has allowed locals to rent out rooms in their homes to tourists. These "casas particulares" are independent, family-run bed and breakfasts. There's no better way for travelers to support Cubans, and learn first-hand about their culture — while staying in a friendly, homey environment.
I love boutique, design accommodations, which is why Prado Colonial caught my eye. This is a group of three B&Bs, run by a family and located within walking distance of each other, in Old Havana.
My friend Asta and I stayed in their Hostal del Angel, which is a vintage-lover's dream. The stained glass windows and chandeliers scatter rainbows over neoclassical floor tiles… And the French doors open to a balcony view of Old Havana!
Outfit of the Day: I went for a futuristic 1950s look. My hooded mesh top is Cyberdog, my dark floral skirt is from Hong Kong, and I'm wearing these exact John Lennon brand sunglasses.
I looked out at this view of Plazuela de Santo Ángel, a cheerful plaza by the yellow church of Santo Angel Custodio. This spot inspired Cuban author Cirilo Villaverde to write his famous novel "Cecilia Valdés," so there's a statue of both of them here.
Address of Hostal del Angel: Cuarteles 118, La Habana Vieja, Cuba
"Casa particular" means "private house," and "hostal" is the Spanish word for a family-run b & b. Don't mistake it for "hostel" (dorm-style living) — we had private rooms with their own bathrooms, and common areas fit for a queen. 
When we first entered Hostal del Ángel, we were greeted by Ali, the lady who lives here and takes care of guests. The next morning, we met Marina, the manager for all three properties (you can glimpse her in the mirror!). She's warm and radiant, and puts her heart into helping guests feel at home.
Marina is fluent in English, and takes care of everything including restaurant recommendations, reservations, and taxi hires. She's always happy to answer questions and help guests make their most of their visit.
All of the Prado Colonial casas feel like family homes, with walls of portraits. We enjoyed feeling as if were in the care of Christian, Kenia and their two daughters, who own these places. The family spends most of the year in Germany, so they rent out these accommodations to travelers while they are away.
Asta and I looked forward to waking up each morning for the tasty breakfast. We sat down to a huge spread of fresh tropical fruit and juice, Cuban coffee (which is delicious!), cheese and cold cuts, homemade marmalades, and eggs made to order.
Some casa particulars can be on the sparse side. This is not the case at Hostal del Ángel: just look at our luxurious suite, dressed in Imperial and Louis XV style furniture and mirrors! The two adjoining rooms are separated by French doors, and we had our own large bathroom.
All of their rooms have air conditioning, a safe, plenty of towels and other amenities. In Cuba, you must purchase a WiFi card in order to access the Internet (as this is not a regular service) — but I actually enjoyed being "off the grid" for my stay.
We couldn't have picked a better home base. All of the Prado Colonial bed and breakfasts are in Old Havana, near major sights like the Museum of the Revolution. The interiors are classic Cuban, the ladies provide outstanding service… and yet, their room prices start at only 85 CUC (US $85) a night.
Asta and I loved the cultural immersion of a casa particular. We encourage you to support Cuban families and their independent businesses, by staying in one.
(You can also help out by bringing donation items to Cuba, such as USB sticks, stockings, school supplies, beauty products and other small gifts that are difficult for locals to get. I brought bags of items, and let the staff distribute them.)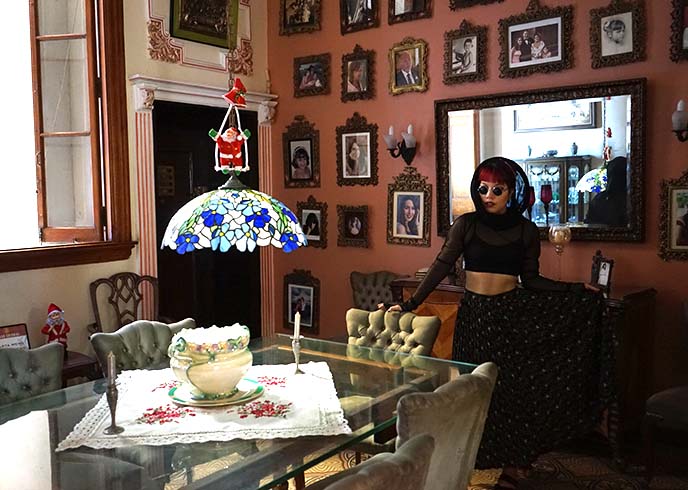 You can make a reservation at any of the three Prado Colonial hotels here, or send an email to booking@pradocolonial.com — I can assure you that you'll be in great hands with this family.
Marina gave us tour of the neighborhood, and pointed out her favorite cafes. Old Havana is in the heart of the action; just step out the door, and there are a million sights to see.
Around the corner from our casa particular, we ran into this Cuban boy band doing a photoshoot. They invited me to join in — why not!
Marina manages all the family's hotels, which are within a few minutes walk of each other — so we also stopped by Casa Prado Colonial. No wonder these are the best casa particulars in Old Havana; check out this rooftop view!
Prado Colonial also has a classic Cuban vibe. The interiors make you feel as if you've entered a past era (but everything is spotlessly maintained).
Address: Prado 110, Ground Floor, between Genio and Refugio. Havana Vieja. Ciudad de La Habana. ZIP: 10100. Cuba.
Unlike cookie-cutter hotels, each of Prado Colonial's rooms has a unique decor and personality. It's hard to "feel blue" when you're surrounded by Art Deco furniture and floral paintings! (My backpack is Spiral UK, similar to this one.)
We'll later meet Marina for dinner and a cooking lesson, at the third property. But for now, it's time to explore Havana.
First stop: the Malecón, which is only a short walk away from PradoColonial. This is Havana's iconic seawall and roadway, which stretches for 8 km (5 miles) along the waterfront.
With a cool breeze and view like this, it's easy to understand why the Malecon is a favorite spot to for locals to hang out. You'll see groups of friends playing music, having snacks, fishing, or simply enjoying the view of the water.
Havana's rich history (from colonial days to Communism and the embargo) is especially visible the old quarters of the city. Even in the 21st century, the laid-back Caribbean culture has a 1950s / 1960s vibe.
You'll find classic cars zooming around the city. The US has banned car exports to Cuba since 1955, which is why all these "coches Americanos" are from the James Dean era.
(Photos by Asta Mail and La Carmina)
Havana's colonial architecture is a mix of Moorish and Spanish styles, along with influences from the French, Italians and Greeks. The bright hot rods match the pastel buildings, with swirling iron rails and ornamented arches.
Cuba is also known for its cigars. I'm not a fan, but this fellow seemed to enjoy puffing on his pipe.
We came across local street art by Yulier Rodriguez. He paints ghostly, alien-like faces on dilapidated buildings throughout Havana.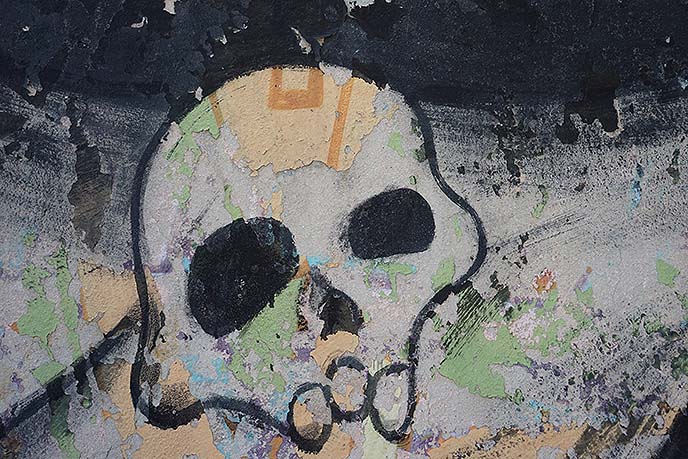 Leave it to me to find a skull wherever I go.
Yulier's murals tend to be social commentaries on life in Cuba. (In the next post, we'll show you more art at Callejon de Hamel, the Afro-Cuban santeria community.)
Havana is a city made for walking. It's nice to see "slices of life," such as children in uniform heading to school. (Cuba's health care and education are excellent for all residents, regardless of their income.)
Now that we worked up an appetite, it was time for our Cuban cooking lesson at Habana 101 (the third hotel), which any guest can request. Marina greeted us dressed all in white, with fabulous heels!
We learned how to make ropas viejas, one of Cuba's most beloved nation dishes. The term means "old rags," which describes the look of the shredded beef and seasoned vegetables.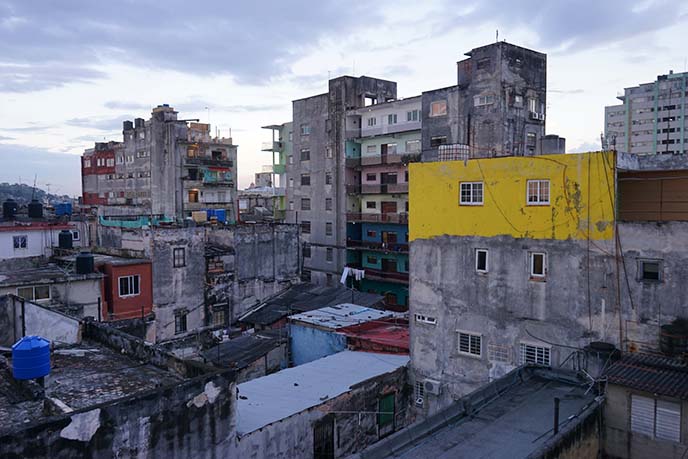 We started on the roof terrace, and took in the sunset over Old Havana. Marina prepared us one of her famous mojitos, with fresh mint and a touch of honey. She also let us try the anise flavored Mulata De Cuba liqueur in a cocktail.
I try to take cooking lessons wherever I go, as it's one of the best ways to learn about local food. Marina and the ladies were the perfect teachers. (I'm wearing the "Grillmeister" apron that belongs to home-owner Christian.)
The ladies had prepped all the ingredients — slow-cooked flank, tomatoes, onions, bell peppers, and spices. Time to head into the kitchen and learn how to make several flavorful Cuban dishes.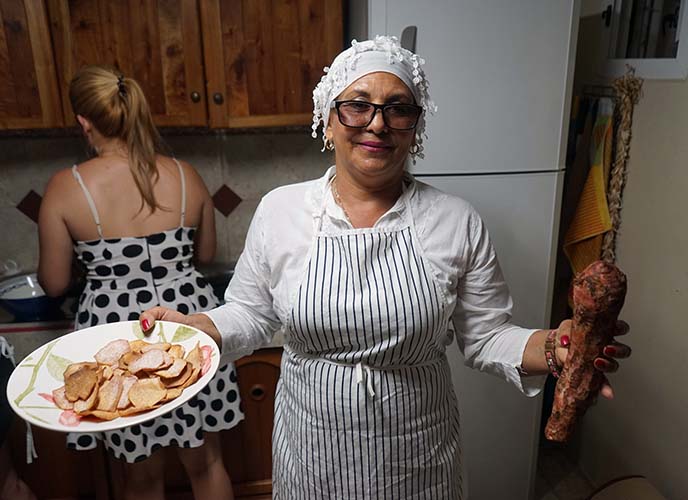 We satiated our hunger by snacking on freshly fried taro root chips. I was tempted to eat the whole plate!
Marina showed us how to use a rice cooker to prepare rice and beans, with lots of diced vegetables and spices. We wound up with a healthy, gluten-free and inexpensive meal that I could eat every day.
Talk about cute food: the staff put together a salad that spelled out Hab 101!
We learned how to make various Cuban staples, including fried green and yellow bananas. 
I'm so glad we decided to stay in a casa particular. We got to learn about daily life in Cuba from locals, while preparing one of the best meals I've had this year.
(Find more about Prado Colonial here.)
For dessert: guava simmered with a bit of sugar, and topped with German cheese. Who knew this combination could be so good.
We all sat down together for this incredible meal — I ate until I was stuffed!
Many people told me that when they visited Cuba, they found the food was bland and unseasoned. This was not at all the case for me — every meal was delicious, even from random cafes. I'm not sure if we got lucky or the cuisine has improved. Regardless, you can't go wrong with a home-cooked meal at your casa particular.
On another night, we dined at La Guarida, one of the most famous and highly rated restaurants in Havana.
In 1993, Cuba released a groundbreaking LGBT film called "Strawberry and Chocolate." Much of the story takes place in this elegant location. In homage, La Guarida showcases some of the original props, and named its signature dessert after the movie.
La Guarida restaurant address: 418 Concordia, La Habana, Cuba.
La Guarida is a "paladar," or privately owned Cuban restaurant. Similar to casas particulares, these restaurants are run by locals rather than the state. Paladars tend to have beautiful, intimate settings (just check out this balcony!) and amazing food.
At La Guarida, the "new Cuban" cuisine lives up to the open-air atmosphere. Our server presented us with Cuban rum cocktails, and a special corn soup and "sushi" roll appetizer.  Then, we feasted on braised beef cheek, and medallions of filet mignon served three ways (peppercorn, Béarnaise, and a chocolate and blue cheese — surprisingly, the best one).
Don't miss out on the rooftop bar. Walk up a winding staircase in what looks like a pneumatic tube, and you'll end up on this ornate floor.
From the top of La Guarida, you can look out at the lights of central Havana, and the blue Malecon in the distance.
Once again, we felt transported back in time, to the days of grand colonial mansions.
La Guarida lives up to its hype as one of Havana's top restaurants. Be sure to order the smoked marlin tacos, and delicate snapper ceviche that melts in your mouth.
I recommend that you make an advance online reservation from the La Guarida website, as tables fill out quickly. Both locals and visitors choose this spot for a dinner to remember.
Did this intro to Havana make you smile? If you have any questions about traveling here, you're welcome to leave a comment.
I hope you'll support locals and stay at one of Prado Colonial's casa particulars; you can learn more and make a booking through the family's website.
My trip to Cuba felt a little like visiting another planet — which is what I love best about travel. I think this ET mural sums up the inspiration I found on every street in Old Havana.
Stay tuned for another post to come… about our joyride in a cherry red vintage convertible!