Category Archive for
Cute Yummy Time
Winter is coming… and autumn has most certainly arrived!
My friends and I love this time of year because we can finally take out our leather jackets, and vamp up our wardrobes with cold-weather accessories such as gloves.
I was excited when Farfetch invited me to create an Autumn / Winter look from their latest collections. This online fashion portal carries an immense selection, including a lot of independent and Japanese designers — and you know I'm all about that.
I love taking walks outside any time of the year, but there's a particular joy in crunching through autumn leaves, and breathing in the crisp air. So I thought I'd show you what I wear on one of my outdoor excursions.
In the Farfetch workout essentials section, I found this cut-out Michi top that doubles as a sports bra. It's perfect for wearing under a leather jacket, and if you start to feel cold, you can simply zip up your coat.
I love these black leggings with white line details — they're Y-3 by Yohji Yamamoto. I usually have a hard time finding activewear that I love, but this Japanese edgy label is right up my alley.
I paired my Gothic activewear with a studded, dark blue leather jacket from Hong Kong. It's by the brand Bauhaus, which is only found in Asia.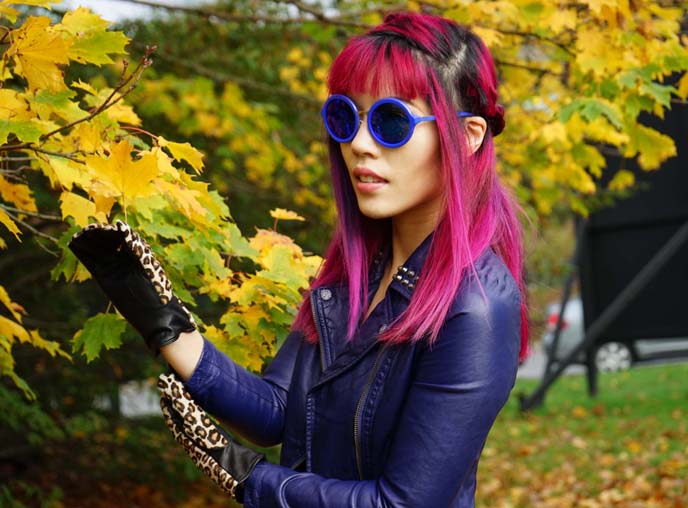 In the wintertime, it's still important to protect your eyes by wearing sunglasses. The glare from the snow can be blinding, and the harsh weather can dry out and irritate your eyes.
Happily, Farfetch has a treasure-trove selection of sunglasses. I picked out Linda Farrow x Phillip Lim sunglasses: I adore retro accessories, and couldn't resist these round glam-hippie frames. I also thought the blue color was a nice fit for winter.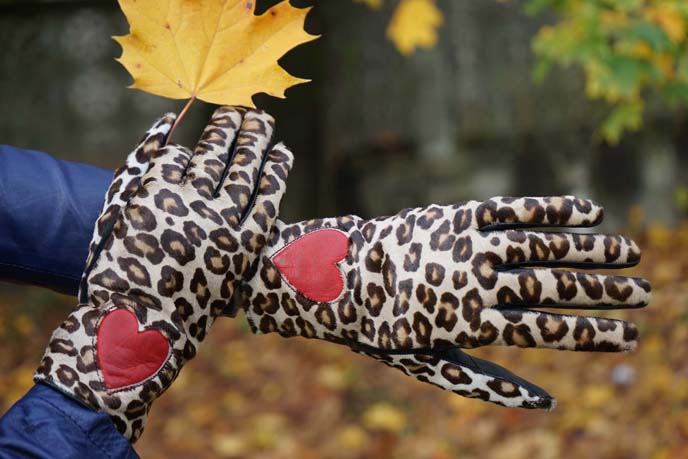 Finally, my hands get cold easily, so I'm always in need of gloves. Many people think of winter accessories as "utility garments," but why not get something with style?
When I saw these Moschino gloves on Farfetch, I couldn't resist. The style is 100% "me," with a red heart, leopard print, and black leather! 
I hope my outfit post got you inspired to revamp your autumn / winter wardrobe. There's no need to stick to black colors and boring accessories… have fun with this season!
If you liked these looks, you can get everything I'm wearing (plus much more) on Farfetch. They invite you to share your finds on social media with hashtags #farfetch #myfarfetch.
During the winter months, you'll inevitably be spending more time inside.
Instead of seeing this as a negative, I make this an opportunity to re-boot my workouts. Keeping fit also helps me feel energized, even if I'm staying indoors.
Have you heard of the term Health Goth? The media has been talking about the trend of people wearing black, Gothic-looking activewear. But in fact, this has nothing to do with the subculture, and the sportsgear is still by mainstream brands.
Nevertheless, I like the general idea of "health Gothic" — in the sense that you can work out hard, and still dress and feel like yourself. I don't think any of you could picture me in a pink yoga outfit, right?
I'm wearing black workout leggings with a stripy twist: Y-3 by Yohji Yamamoto. They're functional for all types of fitness activities, and well made so that they won't thin out or stretch out of shape (two of my pet peeves about leggings).
This Michi sports cropped top fits my aesthetic perfectly. I'm a big fan of cut-out designs, and the bra has built in support.
I hope these outfit photos give you some ideas for how you too can be Goth at the gym. 
What type of workout routine do I have? 
When I'm home for an extended period of time, I enjoy taking fitness classes. This month, I did a mix of pilates, yoga, and TRX (a Navy Seal suspension training method that's brilliant for core).
I also work out on my own. I do bodyweight exercises, videos (such as Tracy Anderson), and high-intensity interval training. I choose cardio that is gentle on the knees, such as sprinting on an elliptical or rebounding on a trampoline. And, as mentioned before, I go on long walks.
Overall, I mix up my workouts and try to maximize efficiency (no moderate chronic cardio for this girl). I focus on exercises that build up my core, flexibility, and balance. This all works toward my goal of "functional" strength and endurance, which helps me on my sometimes grueling travels.
Now, let's talk about food and diet! When I'm home, I try to eat "clean" about 80% of the time. It's not complicated: I focus on high quality whole foods (especially organic / grass fed / free range / seasonal / local). Everything is prepared simply (baked, steamed, poached, stir-fried) with simple flavors.
I eat a lot of vegetables, healthy protein and fats, and low-glycemic fruits. I love my raw cheeses and organic plain yogurt / kefir.  I avoid "junk foods" (with chemicals and unrecognizable ingredients), added sugars (including fake sweeteners), and empty carbs / gluten (I stick to brown rice, sweet potatoes etc). The above sashimi salad from Hong Kong's Sushi To is a great example.
However, it's important to stay flexible, and thoroughly enjoy the other 20%! (Coco Ichiban curry gets a thumb's up and bow, during our Norway travel TV shoot in Tokyo.)
Now, when I travel, I don't stick to the 80/20 equation. I consider food to be a huge part of the traveling experience, and eat my fill of local dishes while I'm there. (It's actually good to mix things up, to avoid having the body adapt and stagnate. You can Google "leptin reset" for more on this phenomenon.)
Eating freely while you're overseas lets you learn so much about the local culture. I often didn't realize certain ingredients or dishes existed — or that the Japanese were this creative at cute food design!
Did you enjoy reading about my diet and workout? What do you think of my fall / winter "health Gothic" outfit?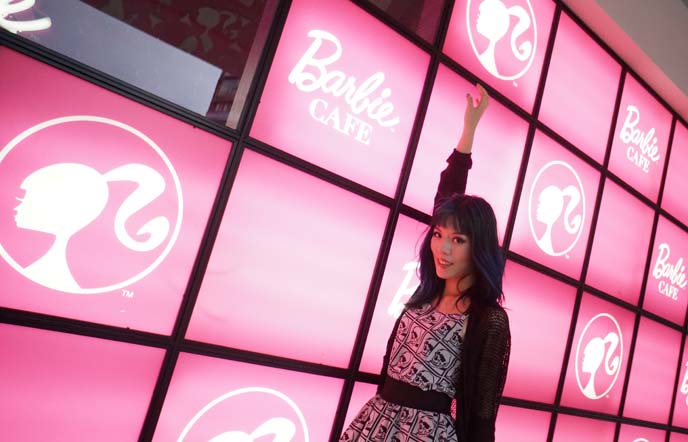 Where can you find the world's most bizarre theme restaurants? Japan still has the most madcap ones, but Taiwan is coming in at a close second.
While in Taipei, I visited some of these quirky theme cafes — which include a Barbie dream house, and a fake European castle. Let's start with the blonde plastic doll, shall we?
She's a Barbie girl, and this theme cafe is her world. The glowing staircase is a prelude to the spacious, neon-pink restaurant upstairs. (Address: 2F, #128 Section 4, Zhongxiao East Road, Da'an, Taipei)
If your friends are late, you can sit on the plush handbag-shaped sofa and relax on poodle pillows.
Mattel opened this "dream house" in 2013, and it is the first officially licensed Barbie cafe in the world.
A glass case displays cakes and other sweets stamped with Barbie's ponytailed profile. Other pastries are topped with hearts and bows (colored pink, what else?)
In the back, there are Mattel dolls for sale. I saw Barbie, Ken and friends in various outfits.
Here's a princess Barbie, wearing what looks like a cake dress with swirls of icing. (All photos by Ken Yuen and noircorner).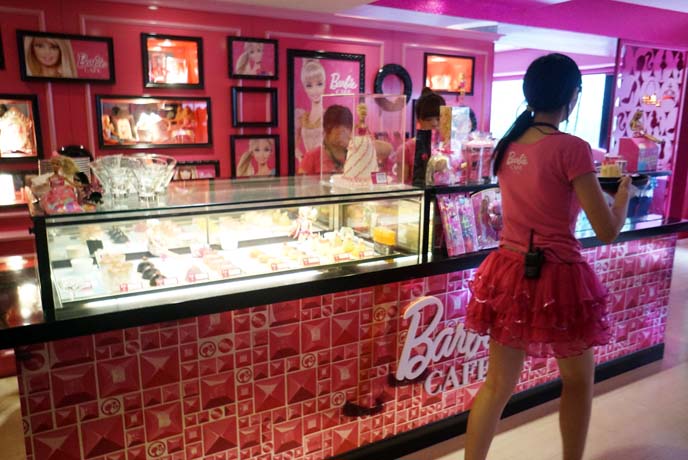 The waitresses even get in the spirit by wearing hot pink skirts and tops, topped with tiaras. None of them had blonde hair, however.
As typical in theme restaurants, the food is nothing special and on the pricey side: a set lunch with salad, curry and cake costs $15-20 US.
Still, it's a unique venue for a girly-girl bonding session. The Barbie cafe is not far from Zhongxiao Fuxing station exit 2, and next to the SOGO department store — in case you suddenly get the urge to dress in pink ruffles.
(Personally, I will stick to Gothic dresses! Purchase a skull dress like mine here.)
Walking around this district, you'll come across cute shops and unique eateries. My film team and I stopped by Soma, a "tea and mocktail" parlor.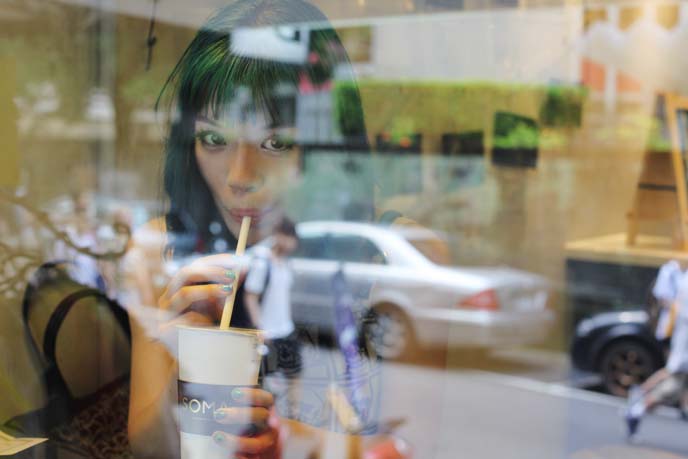 I had a grapefruit mix, which had chewy, gelatinous basil seeds in it. Such a bizarre texture, like a mouthful of little eyeballs.
While I've visited plenty of theme restaurants, I haven't seen anything quite like Deja Vu. It's located in Huashan Creative Park (Address: No.1, Section 1, Bade Road, Taipei).
The velvet curtains open into what looks like a tall European castle, with royal portraits and gargoyles staring down from the high stone walls.
This restaurant is the brainchild of Jay Chou, Taiwan's most popular singer-actor-idol. Fans love to take photos of the personalized decor, which includes his Batmobile and an aristocratic piano.
The food, however, is nothing to sing about: mediocre and over-priced Italian (around $12-15 US a plate). I suggest coming just for a coffee and to pose in the grand space.
How about Taipei's nightlife? My friend Boris took me to several laid-back, artsy bars in the Xinyi district (by Taipei 101). For those in the know, there's a secret bar inside the popular nightclub, Barcode. (Address: 22 Songshou Rd, Taipei)
Walk in and to the right, and look for an unmarked door. It leads to a narrow staircase, which ends at a bookshelf. But if you slide the shelf open, you'll find yourself in Alchemy. The speakeasy theme matches the "insiders only" cozy feel, featuring a fireplace and dark leather seats.
Try a signature Prohibition cocktail, made with whisky and wrapped in an American newspaper announcing the 1920s ban on alcohol. The Miso-Tini comes in a miso soup bowl, and smells like bonito flakes — but when you take a sip, it's sake and wasabi with a light, pleasant sweetness. Cocktails are around $12-15 US each.
Boris also took me to Mod bar, and his favorite MonoMono, which has architectural photographs on the walls. We ended our final night at "F-king Place"  (above) — yes, that is the actual name — and drank cocktails while listening to a retro-rock playlist!
Go on a pub crawl to all these Taipei bars, and you're guaranteed a fun night.
During the daytime, I encourage you to check out Taipei's contemporary art scene. Many of these exhibits are free, and found in the unique Huashan 1914 Creative Park.
In 1997, a group of young actors discovered an abandoned factory that used to produce wines and breed moths. They took it over and started putting on experimental performances. More artists set up workspaces, and today, Huashan is a protected center for art.
When I visited, there was an exhibit dedicated to the Japanese manga One Piece, and a shop for the Korean Line characters. I loved poking my head into the local design shops, which sold creative goods like the "color-me" robot toy above. Have a look at Huashan 1914's website for upcoming event listings; the hands-on art workshops are excellent for children of all ages.
Where else can you find cute character goods in Taipei? At Shima Risu picture books store. "Shimarisu" means "chipmunk" in Japanese, so this children's shop is designed like a fairytale forest hideaway.
The books are in Chinese and English; I found my childhood favorites like Miffy, Tintin, Babar, Moomin, Peter Rabbit. The shelves also stock gorgeously bound and illustrated works by new authors, especially from Taiwan. There are miniature seats all around, and parents are encouraged to read to their children right in the bookstore.
The little ones, however, might be more interested in the plush toys and mascot accessories placed all around Shima Risu. I picked up a small stuffed Miffy bunny for $320 TWD, or $11 US.
Toys aren't just for children. Taipei has many anime collectible stores, like Hot Dog Toyz in Da'an. A Robot Hello Kitty beckoned us to enter.
All your favorite Japanese mascots are here, including collectible figures of Doraemon the earless robot cat.
As you can see, "kawaii" is big in every part of Asia. The subway had a poster for StayReal's Disney clothing collaboration.
Songshan Park is another creative art destintaion, and home to the Eslite Spectrum mall. Be prepared to spend hours inside, mesmerized by the selection of cute gifts like these cat-in-hat notebooks. The bottom floor is a cluster of speciality cafes, including a stall for Ice Man shaved ice.
Upstairs is a seemingly endless hall of hip design: I spotted panda bear soap, owl pillows, plants in beakers, oversized fringe pillows and more, mostly by local designers.
The top floor is an Eslite bookstore with an immense collection of photography and art books. Look for the traditional tea house hidden among the racks, which go well with the sun biscuits also sold in the mall.
I leave you with a shot from the entrance of the Raohe Street Night Market. So many bizarre street foods inside…
Taipei has more strange theme restaurants, including Modern Toilet, Sky Kitchen (which looks like an Airbus A380), and DS Music (hospital themed). There's also a Hello Kitty Sweets Restaurant! However, since I went to the one in Seoul, and John covered the Hello Kitty pop-up in Hong Kong, I decided not to visit it. (I did, however, go to the Sanrio exhibition in Taipei's Songshan Design Park, which I'll show you soon…)
Have you tried Taiwanese food? Would you eat at any of these theme cafes?