Category Archive for
Eastern Europe
I'm smiling wide… because my travel episode about Belgrade and Zagreb is out! Watch the third and final installment of my Eastern European journey, featured on the front page of Business Insider.
In this video, my Eurail.com journey takes me to floating raft bars, cutting edge fashion stores, and much more. I hope our coverage will encourage you to visit Croatia and Serbia in person.
Video and photography by Melissa Rundle and Eric Bergemann
Japanese subtitles translation by Jotaro Tojo
Here are the rest of the photos from my coolhunting journey in Zagreb. Our friend Andrea introduced us to divIT, a young tech company that is revolutionizing the way people experience video games.
Do you like my "two buns" hair? I'm wearing a Hello Kitty KiLaRa top, and leggings from Izzue HK.
Inspired by Kineckt technology, this "3D Gesture Recognition" program lets you control an avatar (Iron Man, The Hulk) with your body movements.
divIT is also working on a virtual reality headset that is a giant leap forward from the 1990s versions. Put on the Oculus, and you find yourself in a 360 degree fantasy world (look up and behind you – there are no blank areas). I felt like I was in a rickety roller-coaster, climbing up… and then throttling down. The rush feels real; I was hanging on to my seat!
Speaking of ground-breaking, Andrea took us to Studio Smijeha (Vlaška 92), the first comedy club in the former Yugoslavia. In this region, locals aren't familiar with the concept of stand-up. As Seinfeld would say, "What's the deal with that?"
It's tough, engaging audiences when they've never experienced stand-up comedy before. I'm impressed by the Smijeha crew's ambition and drive; they write hours of new material each week, and set high standards for their performances. Before long, I'm sure they will be making waves.
During this trip, I ate some of my best meals in Zagreb. Near the base of the "funicular" (remember what this is?), there lies Wine Bar Basement (Tomićeva ulica 5). This bunker-like space has a huge menu of Croatian wines, which have recently been getting raves from connoisseurs.
We paired our red wines with a plate of sheep and goat cheese, prosciutto, cranberries and other munchies. Let me tell you… these cheeses from local farms have so much more flavor. Nothing from the Whole Foods specialty corner can compare.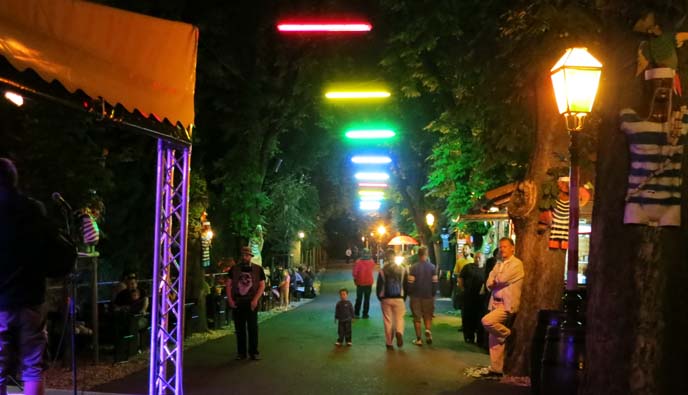 We hung out with Tom, vocals/guitar of the swing and rhythm n' blues band, Tom & The Twisters. He took us to Strossmartre or "Summer on Stross," a seasonal festival that transforms Upper Town into celebration of music, dancing, and drinking.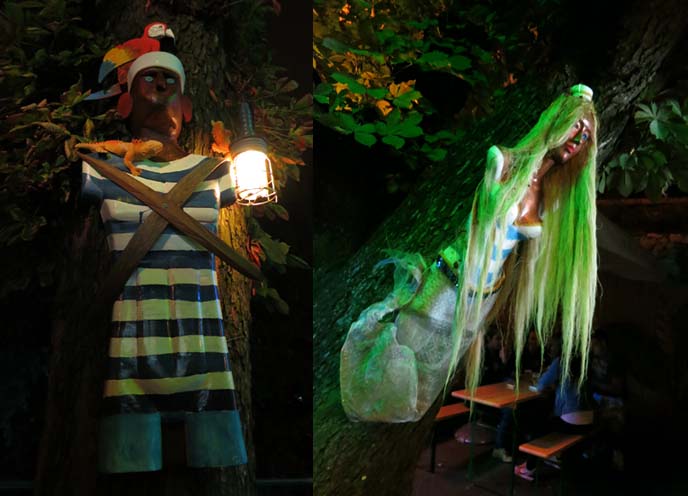 Arr, we behold Pirates! Locals hung out under the colored lights, listening to the live bands and dancing in a circle. Down the street was another free event: Summer Cinema Gradec, an open-air screening of art films.
Thanks to Andrea for being an incredible friend and guide — we wouldn't have known about these places without her. We hope you'll get to experience her hospitality too, by renting her Zagreb apartment or Croatian seaside apartment when you visit.
One of the best parts of traveling by Eurail.com train: the front-row scenic views. My film team and I passed through Slovenia, during our final ride from Zagreb to Vienna. These photos don't do the country justice; you really have to be there in person, seeing the picture-perfect farms and sun reflecting off the lakes…
None of these experiences would have been possible without our partner Eurail.com. Thanks for the comfortable journey, and we hope you'll check out their passes and bundles — there's no better way to discover Europe.
Don't forget to read all my Eastern European posts, and watch my Croatian/Serbian travel video on Business Insider. Were you surprised by what we found in these countries?
Goodbye, 2013! What a spectacular year you've been. Let's continue our look-back with highlights of the last six months.
But first: a peek into a Hong Kong cat cafe! Watch my new video on Huffington Post, where I visit Causeway Bay's "Ah Meow" theme restaurant. It's home to dozens of adopted cats, including at least three Scottish Folds.
My round Basil Farrow makes a cameo too… Can you find him in there?
Now, back to the yearly sum-up. As you saw in Part 1, I spent the first half of the year traveling for work. In July, I remained in my hometown of Vancouver — but did I stop to rest? Hell no.
The famous German TV show, Circus HalliGalli with Joko and Klaas, flew in to shoot a challenge about lip-sewing body modifications! When it aired, it caused quite the stir among the tabloids. Watch my evil TV hosting in this episode, if you dare.
Seby and I also appeared as guests of honor, at Vancouver's Anime Evolution convention. We had a great time meeting you, and hope to be back next summer.
Next, my film team and I did an epic journey in Central and Eastern Europe with Eurail. We "coolhunted" emerging trends, nightlife, fashion and more in Vienna (Austria), Bratislava (Slovakia), Budapest (Hungary), Belgrade (Serbia), and Zagreb (Croatia).
Our videos are getting hundreds of thousands of views, on Business Insider; I'm glad you're enjoying this series. Here are all my east European travel guides.
Then it was back to Asia. Thailand Tourism sent Seby and me to Bangkok, to experience "T-pop" culture and share it with you. We were hosted by Sofitel So, a blissfully elegant 5-star hotel (this is their funky "Earth"-themed room).
We were enthralled by the colorful local fashion at Siam Discovery, and golden temple of Wat Pho. I still have more Bangkok posts to share with you, so stay tuned to the South Asia page.
I also had the chance to do more TV presenting. Some projects, I can't say much about yet due to contractual agreements… but rest assured that when things air, you'll be the first to know.
Above is my latest TV hosting reel, which includes clips from Discovery TV's Oddities. The cover image is from my dinner with my friend Andrew Zimmern, who was in Vancouver filming Bizarre Foods!
Every year, I go all-out for Halloween and Day of the Dead. This time, I celebrated my favorite holiday in Portland. Between partying, this space-girl floated to steampunk stores, vegan brunches and Lovecraft bars. Click here for all the PDX, Oregon action.
Are you exhausted yet? The year's not quite done: a TV job meant spending most of November in Tokyo, Japan. I love seeing the cute Christmas lights and decorations during this festive season.
I was also on two magazine covers in December: the alternative fashion Rebelicious Mag, and the in-flight magazine of Hong Kong Express Airways.
And here we are, licking our feet. I can't wait to see what 2014 holds. Already, there are meaningful travel projects in the works, and a new destination in January… Keep your eyes peeled for the announcement. Hint, it's somewhere in the Middle East.
For you Tokyo fashion lovers, worry not: I have lots of Jpop posts coming up. You can get sneak peeks (along with snapshots of my cat) on @lacarmina Instagram.
And don't forget to watch my new HK Cat Cafe video, wink wink.
Do you feel you've grown or changed in 2013? What are you looking forward to in the New Year?