Category Archive for
Fashion
It's hard to feel "grave" in this Mexican graveyard… Even my skull shirt is smiling!
Let's welcome 2020 with more Day of the Dead stories from Mexico.
Last November, I joined a trip led by Borderline Projects x Morbid Anatomy (you can already get on the email list for next year's tour). We traveled through the Yucatan, and learned how this joyful ritual celebrates departed friends and family.
On the first evening, I celebrated Dia de los Muertos with a Lost Souls parade in a Merida cemetery (see this story).
On day 2, Borderline Projects took us to colorful graveyards in Hoctun and Izamal, where we witnessed families cleaning the rainbow tombs and making loving offerings.
Even though it was November 1st, the Yucatan was still very hot and humid. (Hello, global warming…)
I'm wearing oversized designer sunglasses by Balenciaga, and a sugar skull screenprinted t-shirt by Chaser Brand.
I'm hiding from UV rays under four types of mineral sunscreen, a Goth skull umbrella by Raven Goods, and a wide-brimmed hat by Lack of Color. More from these designers below:
Borderline's "Death in Mexico" tour arranged all our hotels and transportation for four days. Our group of about 40 people drove 45 km east from Mérida, and soon arrived in Hoctun — one of over 100 municipalities in the Yucatan.
While many Mexican burial grounds are colorful, Cemetario Hoctun stands out as one of the most eccentric and vivid. Talented artists in the community painted flowers and religious images on the house-like tombs.
Day of the Dead actually spreads out over several days, and each region of Mexico has its own cultural twist on the tradition.
In the Yucatan, November 1st is "U Hanal Nucuch Uinicoob," or dedicated to the adults who have left this world. They are remembered with offerings of food, alcohol, cigarettes and other favorites placed on their graves, and/or in altars set up in homes.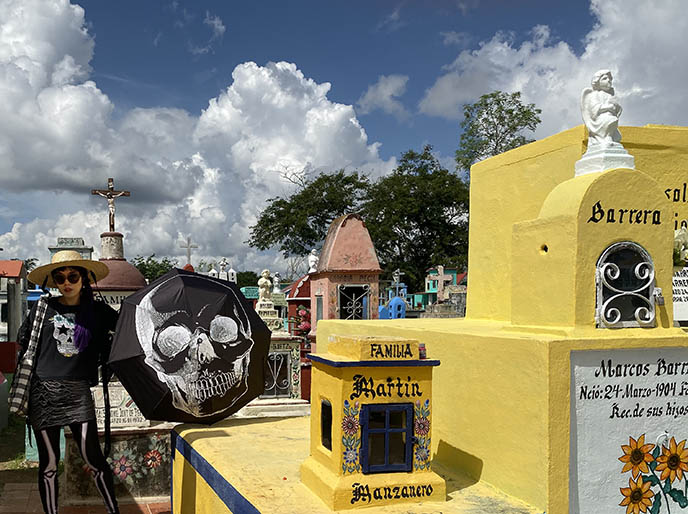 I loved strolling through Hoctun Cemetery, and seeing the wide, creative variety of tombs. Families painted these resting places with the favorite color of the deceased, and added artistic or sculptural flourishes that represented them.
We tend to think of graveyards as "spooky, gloomy, haunted" places — but that's not the case in Mexico. I can't imagine a zombie or vampire living in one of these pastel rainbow tombs!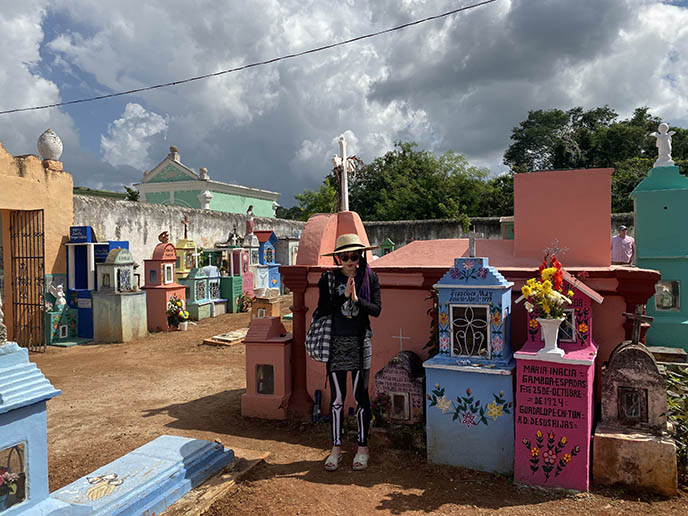 The brightly colored mausoleums convey the Day of the Dead attitude to the end of life. There's no real separation between the living and dead, and we should celebrate them with glee.
Hoctun's graves are well-tended and decorated. Family members keep the colors vivid with fresh coats of paint, especially around this time of year.
Most bear the typical markers of Christianity (crosses, angels) — but others are unique expressions of Mayan culture.
Some of the graves look like traditional houses, with circular forms.  Others are painted with marigold flowers, or huipil embroidered clothing patterns. On my right, you can see a roof shaped like an ancient Maya pyramid!
In addition to Dia de Muertos-related activities, Borderline Projects' tour lets you dig deep into the local culture, architecture, crafts and food. 
Our bus continued to Izamal, and stopped at the foot of Kinich Kakmó. This partly-restored Mayan pyramid is the third largest in the Yucatán, rising 34 meter high. 
(I'm wearing a Gothic parasol by Raven Goods, a skeleton shirt by Chaser, and a sun hat by Lack of Color.)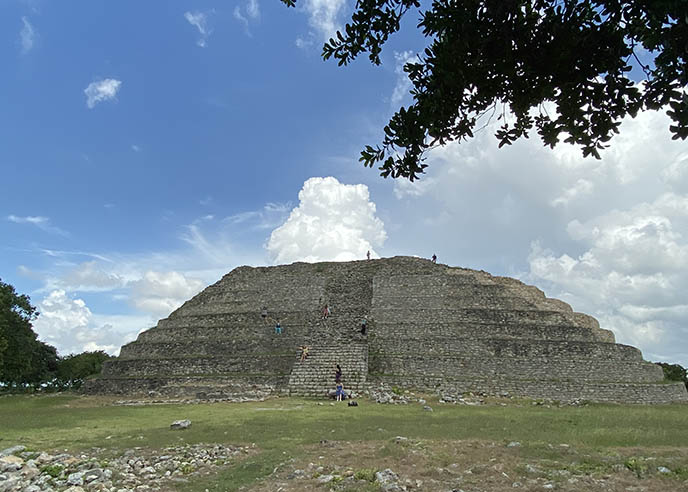 Made out of limestone, this Mayan pyramid is dedicated to the deity Kinich Kakmó, or "the fire macaw with the sun face." Fittingly for this sunny region, he is a solar god.
First, you have to climb up these stone steps to reach the grassy plain where the pyramid stands. From there, you can choose to scramble up the steep incline.
Mayan civilization was remarkably advanced, and full of mysteries that we've yet to understand.
Why is there a ring near the foot of Kinich Kakmo? A crop circle of the apocalypse… or a portal into an alternate universe? 
In ancient times, people would present sacrificial offerings to Kinich Kakmó under the scorching sun that he represented. Some say the deity would take on the form of a fiery macaw, and fly down to grab the sacrifices. 
The pyramid dates back to the Mayan classic era, or 400-600 ACE. The immensity of the stones reminded me of the pyramids of Giza, Egypt.
The Yucatan and Riviera Maya have plenty of famous pyramids, such as Coba and Chichen Itza (see my guide to these ruins).
Personally, I prefer exploring the lesser-known but just-as-impressive structures like this one. Entry is free, and you can avoid seeing tourists everywhere.
Borderline's Mexico cultural tour included plenty of free time, which is great for travellers (especially seasoned ones) who prefer a less structured experience.
Photographer Julie Hunter and I wandered around the small town of Izamal, which is as multicolored as the graveyard. These men are hanging out by a Paleteria for popsicles and frozen ice cream treats.
This churros almost had my name on it! (I skipped the street food, just to be careful. Read on to see where I feasted.)
At home with the kitsch of a Mexican carnival. The merry-go-round had a Roadrunner and Pikachu, in addition to horses.
I had never heard of Izamal before this tour. Most tourists stick to Mexican resorts, so I'm glad I got to see off-the-beaten-path places like this.
Known as the "yellow city," Izamal is one of Mexico's "17 Magical Towns" (Pueblos Mágicos) thanks to its charming architecture, and mystical background.
Izamal was once a Mayan spiritual center with multiple pyramids. After the Spanish came, locals were forced to tear down the main pyramid and build this monastery and church on top. The conquistadors believed this would dissuade residents from "devil worship."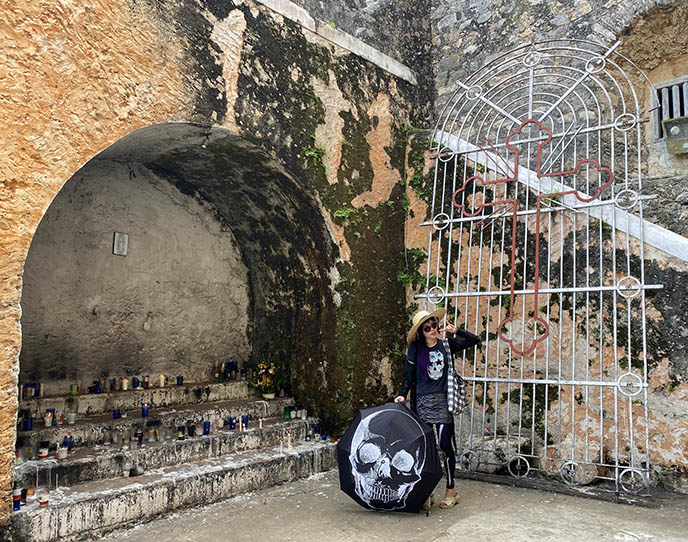 However, miracles of healing began to occur. The Mayans had previously dedicated their pyramid to Itzam Na, a god of healing… perhaps the "devil" prevailed after all? (Even though this red crucifix isn't upside-down!)
One of my goals in visiting the Yucatán was to try as many local dishes as possible. Here, Day of the Dead is known as Hanal Pixan, or Food of the Souls.
This restaurant shows the type of altar that people set up in the homes. Photos of deceased ancestors are lovingly displayed next to marigold flowers, fruits, drinks, and food offerings.
Our group had lunch at Kinich, known as the best restaurant in Izamal.
I discovered my new favorite drink — chaya. It's a refreshing vegetable juice made from tree spinach, a shrub native to the Yucatan. Full of nutrients, this green drink is especially tasty as a margarita with tequila and a salted rim. (I simply had to offer this Mayan big-head a sip!)
Julie and I shared a sampling at Kinich. These are handmade tortillas in different styles (salbutes and panuchos), with roast chicken and avocado, cochinita pibil (marinated pulled pork shoulder), and relleno negro (more on that below).
On another day, I tried mucbil pollo, or "chicken that has been buried" — it's the special dish eaten for Day of the Dead in the Yucatan. Mucbipollo is similar to a tamale, but larger and crunchier. Usually filled with chicken and pork, it's wrapped in banana leaves and slow-cooked underground. Hearty and multi-faceted — we loved it.
In Kinich's restaurant garden, you can smell and touch some of the regional ingredients used in the dishes. Our guide Claudia is showing us achiote, an orange-red tree seed that adds a nutty, peppery flavor.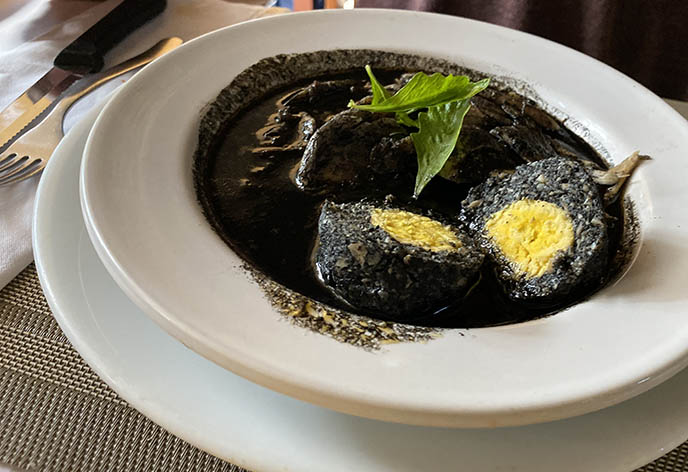 Achiote is one of the many ingredients in relleno negro, a Yucatecan dish with a rather Gothic look! It consists of chicken and a hard boiled egg in a savory black sauce: the dark result of mixing various chili peppers and seasonings.
Before leaving Izamal, we popped into the Centro Cultural y Artesanal. This small art and cultural center holds an inspiring collection of Mexican folk art, made from all types of media.
Entrance costs 25 pesos (just over $1 US), and it's worth it to see the many happy skeletons inside. A tall La Catrina towers over one room, with a snake draped around her neck. (Is she signing opera? And how fabulous are her nails?)
Special delivery from a devil, skeleton and angel… Bread of the Dead, carried on the head! (Did you notice they are biking on top of colored skulls?)
On the right, these cute skeletons are dancing the Mexican maypole / ribbon dance, El Baile de las Cintas.
On the left, the fight between good and evil never ends… (Will the devil flip over the angel, and turn the cross upside down?)
I enjoyed discovering Mexican artists like Gabriel Pérez Rajón. The jaguar is an important symbol for the Mayans, and he gives the fierce felines a modern, cute interpretation.
My eyes were drawn to this ceramic funeral procession by Alfonso Soteno. Lots of sugar skulls, jaguars and warriors joined the happy parade.
Izamal's artisan museum lets you see lively works from communities all around the country. You can also purchase home goods or fashion items to support these rural creators (I was tempted by an embroidered skull tote bag.)
As the sun was setting, our tour arrived at Izamal municipal cemetery. Just like in Hoctun, this Cementerio Municipal is a colorful resting ground filled with personality.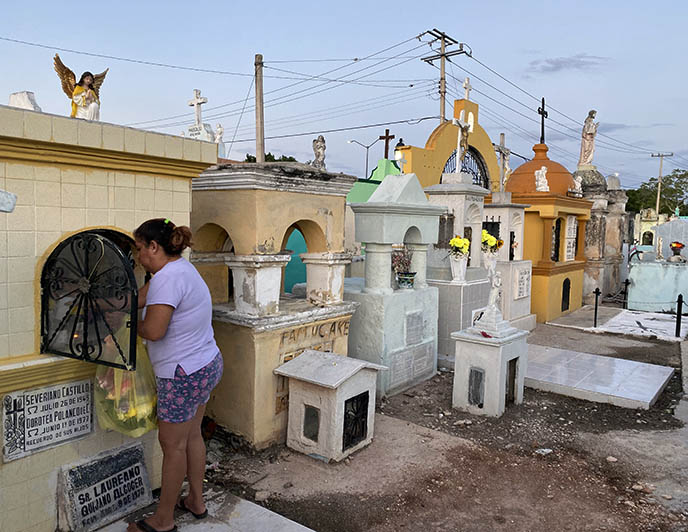 How wonderful to see people bringing food and flowers for their loved ones to enjoy.
Hanal Pixan's rituals keeps the connection strong between the living and the dead.
Many families come here together to place ofrenda, and remember the dead through stories.
Izamal's cemetery is arranged a tad haphazardly, but that adds to the quirky, individual feeling of the grave markers.
Many of the "houses" had a vivid fresh coat of paint. This lady is opening up the door to put flowers inside.
This photo made me think of a quote: "From my rotting body, flowers shall grow, and I am in them, and that is eternity." — Edvard Munch
It was a joy to explore Yucatan's cemeteries, with a group of intelligent and darkly-inclined travellers.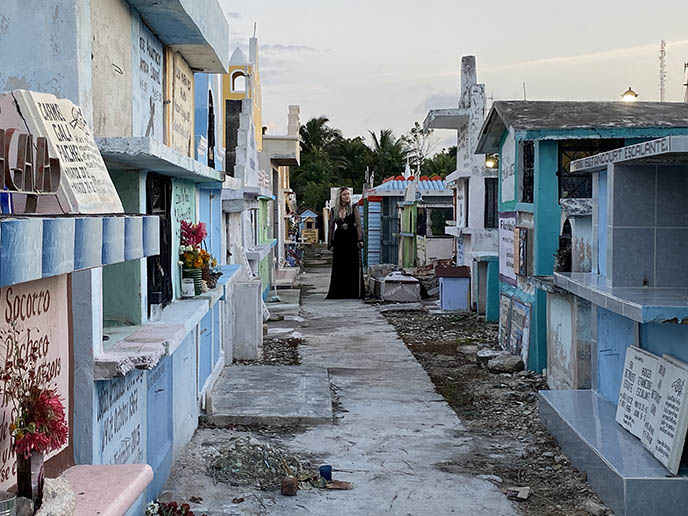 A Gothic gown is perfect for walking through the aisles of the dead.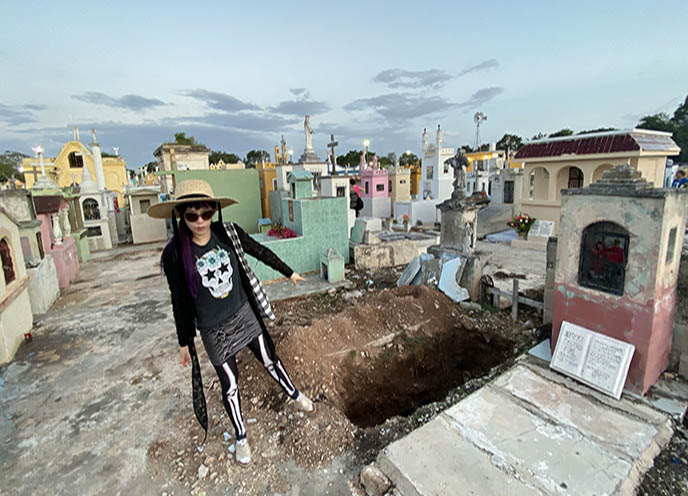 Never forget, we all have one foot in the grave… Might as well have fun while we're still on this Earth.
Coming up, I'll show you the ossuaries and poignant "brushing of the bones" ritual that we witnessed on Day 3.
Isn't it remarkable how much we did in a single day? And the night's not over yet…. Borderline Projects suggested that we visit Cathedral of Mérida at night, for a special sporting event.
I was thrilled to see a demonstration of Pok-A-Tok, the ancient Mayan ball game! I took this photo of the fierce drummer and dancer, who look like living skeletons.
The musicians and dancers set the stage with a performance inspired by Mayan legends. A man dressed as an owl leapt and flapped his wings, referencing the owls that invited brothers Hun-Hunahpú and Vucub Hunahpú to play the deadly ball game.
The ball players, with their faces and bodies painted like skeletons, paced and genuflected in unison. An elder in a headdress held up a smoking goblet to their outstretched arms… it was like a scene from the Apocalypto movie. 
Let the games begin. To play Pok Ta Pok, the two teams try to pass the ball through a small ring in the center, without using their hands, feet or heads.
Some records indicate that in ancient times, the victorious team was honored… by being sacrificed. Or, perhaps only the winning captain was decapitated. (We didn't stick around for the full match to find out!)
Merida's boutiques were open late, so we did a bit of browsing and souvenir shopping. Skulls and bones, everywhere… even a cat skeleton.
Merida is known for its elaborate silver filigree jewelry, and embroidered garments (huipils). I couldn't resist getting one of these squiggly-mouthed skeletons as a memento.
I came across a group of Nuestra Señora de la Santa Muerte, or the Lady of Death.  
But I took home this Boo~ t-shirt… How could I resist the bizarre cracked-egg ghost design? (It reminds me of the shy Nintendo character as well.)
Time to wrap up with a drink at Malahat, a hidden speakeasy bar. I'm not exaggerating when I say hidden… the entrance was extremely well concealed. It took us quite a few tries before figuring out how to get inside. (Hint, look for a secret entrance in an alley-like area in the back, by the parking lot).
Loved the craft cocktails and hip atmosphere at Malahat. The bar carries a wide variety of liquors from Mexico and abroad. I highly recommend the "Mayahuel" cocktail, which contained green chartreuse and a spring of burning rosemary.
We enjoyed the live electronic sounds of a DJ, and admire the winning pumpkins from that evening's Jack-o-lantern carving contest.
(For more Merida travel tips, see my first story about the Paranormal Museum, elegant mansions, and Day of the Dead cemetery parade).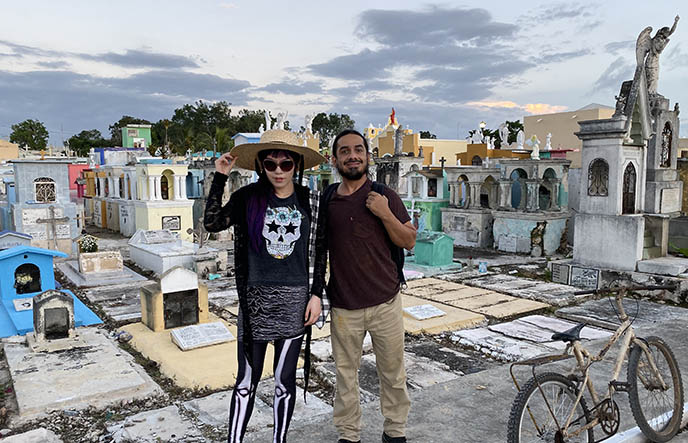 Thank you to Salvador Olguin and everyone at Borderline Projects / Morbid Anatomy for inviting me on this eye-opening journey.
Wouldn't you like to join Borderline Projects' 2020 Mexico tour? Each year, the dates coincide with Day of the Dead but feature a different region, so it's never exactly the same.
You can find out more on Borderline's website, and sign up for their newsletter. This way, you'll be the first to know next year's trip details and registration.
Perhaps I'll be back as well… so we can travel together, and experience Day of the Dead in Mexico!
When I was in Salem MA, a child came up to me and yelled "Witchhh! Witchhh!" I took it as a compliment that she put me on trial (wearing Moi-meme-Moitie achieved the desired effect).
This September, I made a Goth pilgrimage to Salem, Massachusetts — the center of the 1692 century witch trials. As you'll see, this little American town lives up to its notoriety as the ultimate Gothic destination.
The sign "Enter if you Dare" is apt. I have several friends who didn't plan out their trip to Salem well, and ended up being disappointed (the shops and museums were closed, or they couldn't get tickets or access to certain places).
Fear not — if you're planning a trip to the witch capital, then this Goth travel blogger has got you covered. Here lies part 1 of my guide to getting the most out of a day trip to Salem MA, including how to plan transportation and see all the darkest, witchiest attractions.
† How to maximize Salem, in a nutshell †
– Come between spring-fall, but avoid the October tourist rush.
– Weekdays are less crowded, but make sure the places you want to see are open (some shut in winter, and Satanic Temple closes Mon-Tues).
– Arrive around 10am, when the museums and shops open.
– Go to the Witch Museum first, as ticket slots sell quickly. Then make your rounds of other attractions and stores before things close around 5-6pm.
– End with a visit to the Satanic Temple & Art Gallery, as it requires an Uber and closes at 7 or 8pm. (I'll take you inside in Part 2 of this guide).
Let's start with how to get to Salem. Unless you're able to fly on a broom, most travellers come over from Boston — as this is the closest major city and airport.
Year-round, you can take the subway from Boston to Salem. Board the MBTA Commuter Rail (Rockport/Ipswich Line) from Boston's North Station. In 30 minutes, you'll be in Salem.
Boston Harbor Cruises also runs a Salem Ferry between mid-May and October 31. The boat sails from 1 Long Wharf, and the journey takes less than an hour.
My friend Lissette and I took the earliest Salem Ferry sailing. We enjoyed being out on the water, and taking in Boston's famous waterfront and brick skyline from the deck.
Be sure to reserve Salem Ferry tickets in advance from their website, as time slots can sell out. Also keep in mind that the boat route only runs from spring-fall.
(We took the subway back, as we wanted to stay past the last ferry departure; take note that the last train departs around 11:30pm. You can make Salem a day trip like we did, or book a room overnight if you want to take your time and see more.)
The moment you arrive in Salem, you'll feel as if you have arrived in witch heaven! The quaint New England town is filled with occult symbols and spooky stores, much like in the movie Hocus Pocus (which was filmed here).
I walked by a statue of Samantha, the witch from the 1960s TV show Bewitched, by Lappin Park. The popular series shot a few episodes in Salem, which got people intrigued about traveling here. (Photo by my friend Julie.)
From the 1960s onward, Salem has embraced its witch / Halloween reputation to the fullest. Today, travellers flock here to learn about the late 17th century witch trials, and take part in all things Gothic (as the posters around town hint).
Thankfully, Salem remains a small town with a historic, indie and subculture feel — it hasn't turned into a "Disneyland for Witches."
That being said, Salem gets extremely busy around Halloween. Tourists are blocked from the graveyard in October, and you may encounter long lineups everywhere. I recommend coming in late September (like I did): you'll still get to experience the fall / Halloween feeling, without too many people around.
I've been waiting for this moment… Hail, Salem Witch Museum! This is the most popular museum in Salem, centering on the Witch Trials of 1692.
I did a "Puritan meets Harajuku Goth" look for this journey. The dress is a Moi-meme-Moitie rare Pleats from the early-mid 2000s; got it in Tokyo Japan, of course. I paired it with UK Tights, Edwardson Eyewear sunglasses, and Jeffrey Campbell platform ankle boots.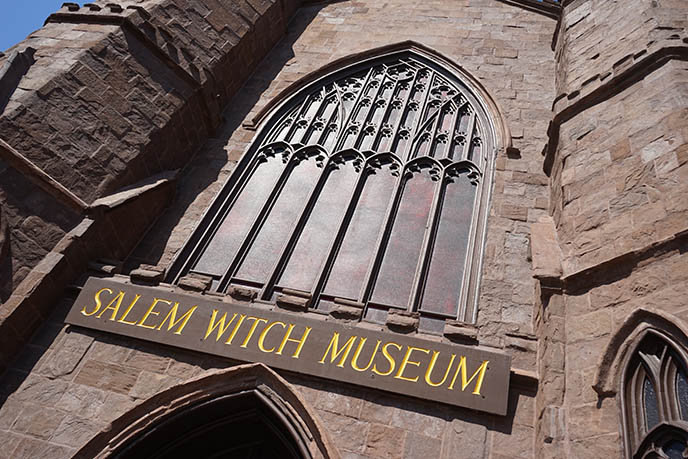 Goth alert: Get to the Salem Witch Museum early, ideally around opening time (10am). The tickets are first come first serve, and can't be booked in advance. Since the passes are sold by 30-minute time slots, you might have to wait until a later hour to get inside. (We arrived around 11am and were lucky, as we got the next immediate entry).
If you need to kill time before the doors open, go next door to Salem Witch Museum's gift shop. There's an enormous selection of witch-themed books, jewelry, homewares and other memorabilia.
(My next article will focus on all the Gothic boutiques you must visit, so stay tuned for a full Salem shopping guide.)
My Alex Streeter Ouroboros ring fits in with the shop's selection of witch brooms and magic spells.
I was tickled to see a "Ride with Pride" t-shirt with a rainbow broomstick trail. As you'd expect, we ran into many fellow Goth and alternative travellers in this dark destination.
Our group was ushered inside, and the riveting presentation began. All around the room, life-sized sets lit up, and a narrator told the story of the 1692 Salem Witchcraft Trials in dramatic voices.
Photos aren't allowed, so imagine… Satan, with red horns and glowing eyes! Did the "evil hand of the Devil" cause the "embittered women" to accuse hundreds of witchcraft, resulting in 30 courtroom death sentences?
I learned how a slave's fortune-telling games led to weird behaviors and hysteria among a group of young women. Between 1692-3, hundreds (mainly outsiders such as older single women) were accused of "entering a pact with Satan." By the end of the Salem witch trials, 20 were executed as witches, mostly by hanging.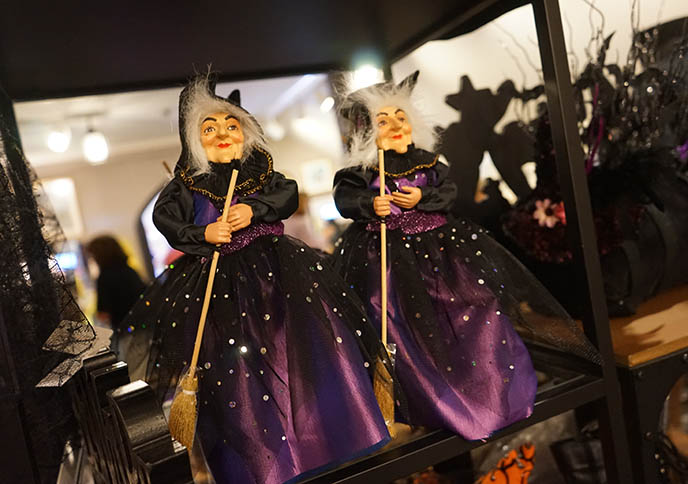 After, a guide took us to an exhibit on the evolving perspective of witches over the years: from pagan healing women, to green-faced crones on broomsticks (influenced by the Wizard of Oz).
The Salem Witch Museum was both entertaining and enlightening — I was fascinated by the tales of witch hunts throughout the ages. I was also glad I went here first, to learn about the town's terrifying history before sightseeing further.
Since I was in a morbid mood, it made sense to stand among the tombstones of The Old Burying Point Cemetery. Also known as Charter Street Cemetery, this is one of the oldest graveyards in America (established 1637).
It's right by the Salem Witch Trials Memorial: a simple granite monument with an open book etched with court transcripts, and benches carved with the victim's names.
Many of the 17th century headstones were decorated with winged skulls — how pirate-Goth. Known as death's heads or Soul Effigies, these represent the spirit flying to the afterlife.
(I have many more photos of these Gothic-looking Puritan tombstones in my article about Boston's Granary Burying Grounds.)
This year, Salem's historic burial place was closed to visitors between late Sept and early Nov. October is peak season for Salem tourism, and they wanted to prevent damage to the centuries-old tombs. Keep the closure dates in mind, if you want to tread carefully among the dead.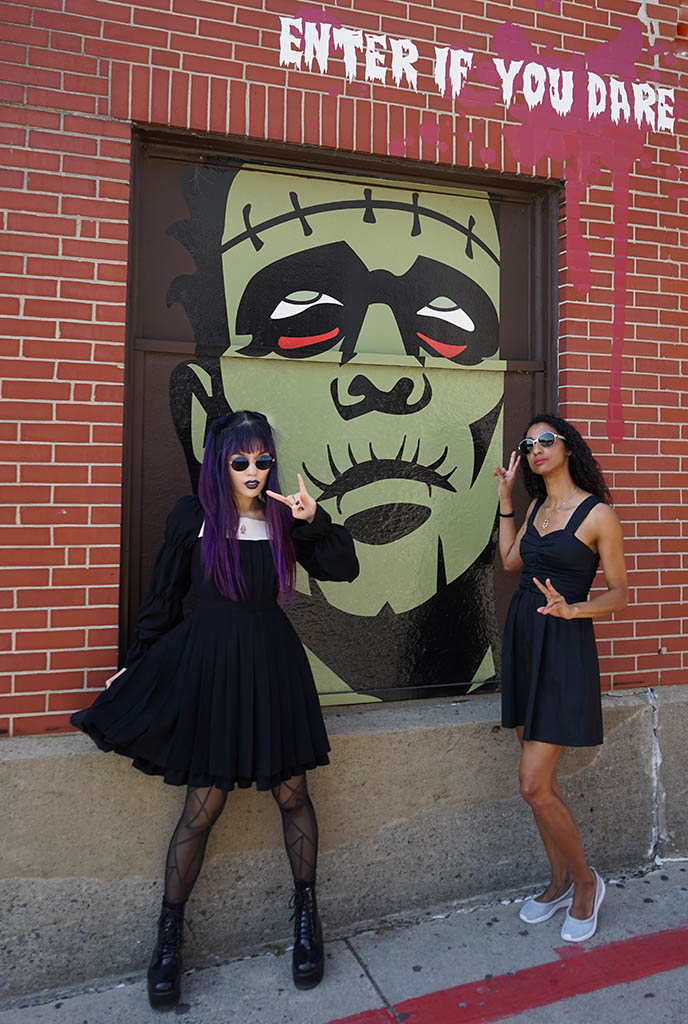 Lissette and I had until 5-6pm to see Salem's other museums and boutiques (as they generally close at this time, with the exception of the Satanic Temple / Art Gallery).
I recommend browsing Destination Salem's site, as they give a great run-down of all the restaurants, shows, tours, shops and attractions in Salem.
I personally wanted to focus on all things Goth and Witch, so I didn't see some of the other highly-rated places, like the Peabody Essex art museum or House of Seven Gables (the mansion at the center of Nathaniel Hawthorne's novel).
Some of Salem's witch-related attractions seemed to be on the cheesy side, and I preferred to learn about the culture / history than to get scared at a haunted house (there are several here).
That's why I stopped by the Salem Witch Village. A local man took us through a pathway of tableaus, which explored the legends, myths and truths about witches and their craft.
Rather than sensationalizing witches, the Village Museum taught us about the symbols and rituals of Wicca. Our guide talked about the many meanings of the pentacle (an upright five-pointed star in a circle). It's a symbol of the elements and divine feminine, and a magical talisman that summons energies.
The tour delved deeper into the Salem Witch Trials. We saw a mannequin being pressed to death by giant rocks! This was Giles Corey, a man accused of being a warlock. Because he refused to plead guilty or not guilty, he was pressed over the course of three days. When asked what he wanted, Giles — his eyes bulging from the heavy boulders on his chest — defiantly told them to add "More weight!"
We also learned about the ancient pagan festival of Samhain, which takes place in October and influenced Halloween. I was thrilled by the tales of Jack O' Lantern, a miserly man who tricked the Devil. Later, the horned one got his revenge and cursed Jack to roam the Earth until the apocalypse, with only an ember inside a turnip to light his way. (These carved turnips turned into Jack-o-lantern pumpkins lit by candlelight!)
Salem's a small and walkable town, so Lissette and I were able to easily see multiple historic sites by foot in a single day.
I struck an ominous pose in front of The Witch House. Isn't this dark and pointy-roofed home a Gothic dream? Built in the mid-17th century, this was the home of Judge Jonathan Corwin, who presided over the witch trials of 1692.
The Witch House is located at 310 Essex Street, and it's a stunning example of New England architecture in the 17th century. I've been to many allegedly haunted houses, but in this case, the truth is scarier than sorcery. Swayed by witch-hunt hysteria, Judge Corwin's court sent 20 wrongly-accused victims to the gallows, while others died in jail.
Inside, you can see relics of the diabolical trials. There were documents about witchcraft and demonic possessions, and examples of "witchcake." This not-so-delicious cake was baked with the urine of possibly possessed girls, and fed to the household dog. Somehow, this could reveal whether the ladies were dabbling in black magic.
The upper levels gave me a peek of how limited life was for these Puritan women. The weaving wheel and wood cradle look like something out of a dark fairy tale…
Some theorize that the women "acted out" in response to their oppressive religious/patriarchal environment, leading to the witch-scares and executions.
The Witch House is open daily from mid-March through November. It's great to go inside if you're interested in the daily life and artifacts of the witch-hunting days. However, if you're short on cash, you can just take photos outside.
(Side note: there's a dark electronic music genre called witch house that emerged about a decade ago. Perhaps this could be my album cover.)
We wrapped up our museum escapades at Count Orlok's Nightmare Gallery. Salem MA has a movie monsters permanent exhibition, and it's a classic horror film buff's dream (or nightmare).
This town isn't just about witches –– Salem has grown into a hotbed for all things horror and Halloween especially in October, when the annual Haunted Happenings take place.
Outside Count Orlok's lair, I ran into these old-school monsters… and gave Frankenstein's creature a tip in order to get strangled! (As my friend John S. would say, "I'd buy that for a dollar.")
This private gallery is named after the Draculean baddie in the 1922 classic horror, Nosferatu. Photography isn't allowed inside Count Orlok's museum, so here are snaps from the gift store outside.
The admission fee is well worth it for the life-sized monsters and killers you'll encounter inside. The Nightmare Gallery isn't your typical cheesy wax museum. Made of resin, silicone and other life-like materials, these horror legends are impressively made and dramatically lit, with eerie music in the background of each room.
This mannequin insists, "Hi, I am NOT Slappy." He's been mistaken one too many times for Slappy the Dummy, from R. L. Stine's Goosebumps books.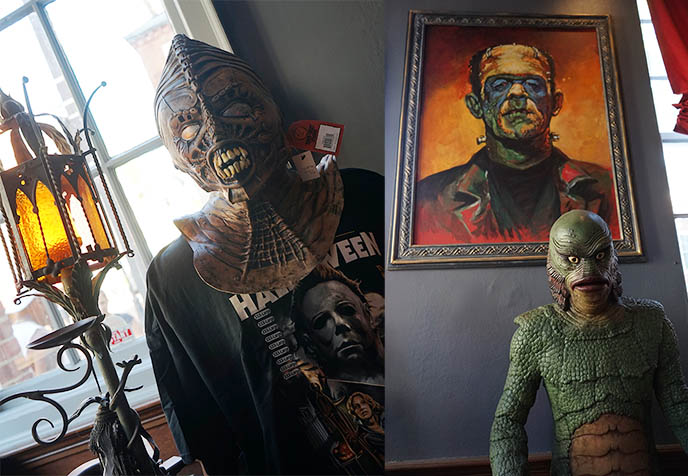 I appreciated the mix of old and new creatures inside Count Orlok's. The tour begins with replicas of silent and black-and-white movie stars, dressed as their horror alter egos. Hello Boris Karloff as Frankenstein's Monster, and Bela Lugosi as Dracula.
The human-sized creatures includes cult characters from The Shining, Halloween, Carrie, Friday the 13, Night of the Living Dead, and Trick 'r Treat. (Can you recognize the masks above?)
You'll also see rare photos of the actors, and actual set pieces or props. I was wowed to see the real upside-down head with crab legs, from John Carpenter's The Thing!
If the terrifying characters above stir your heart, then Count Orlok's Nightmare Gallery is a must-see.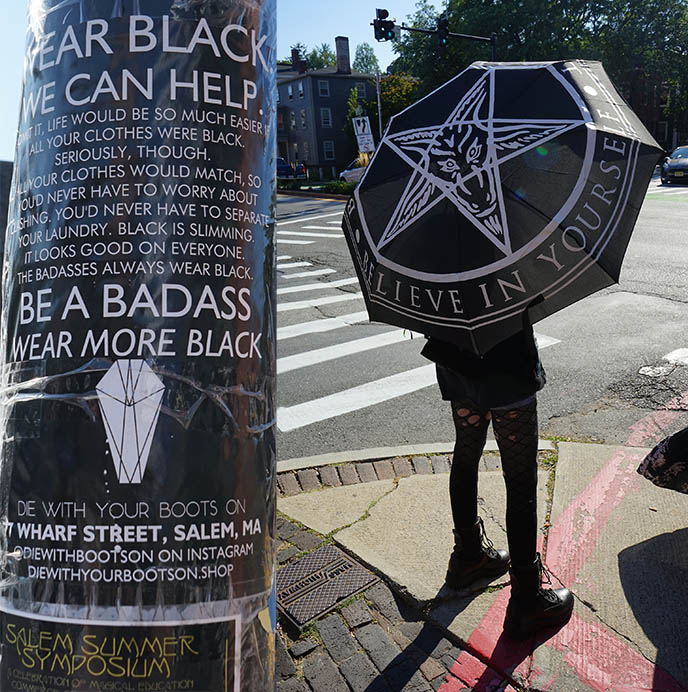 We packed so much into a single day-trip to Salem… this is only part 1 of my coverage! In the next piece, I'll take you inside the most fabulous Goth, vampire and witch-themed indie boutiques. (As you'd guess, Salem is a Gothic shopping paradise, with stores like Die With Your Boots On.)
At any time of the year, you'll find dark and monstrous events in Salem. I'll gladly go back any time to experience more of this Goth destination.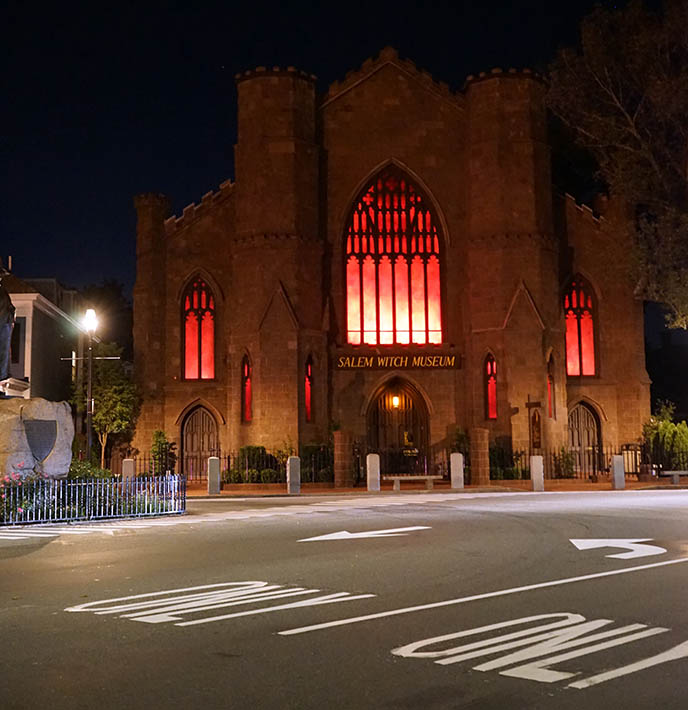 The last train from Salem to Boston departs around 11:30 pm, so if you're staying late, keep an eye on the clock.
Salem is fun to walk around at night. Lots of lively cafes and bars, and the Salem Witch Museum glows red with the fires of hell.
Hail Witches! Thanks to Destination Salem for supporting our trip here. Their website and visitor center (a short walk from the train station) are excellent resources for planning your journey.
PS, speaking of horror: my episode of The Purge TV show airs Dec 17 on USA Network and Amazon! Next, I'll take you behind-the-scenes of my television shoot and set experience in New Orleans.