Category Archive for
Fashion
Hooray for Day of the Dead in Mexico City! 
I couldn't resist striking a disco pose in front of this massive neon skull that appears to be chomping down on me. (This rainbow display was the Celebrando la Eternidad at Bosque de Chapultepec.)
What a pleasure to finally visit CDMX — and during the most Gothic time of the year, when the dead have returned and every public space is filled with smiling skeletons.
As I predicted, La Ciudad de México was my type of urban destination. I got my fill of Dia de los Muertos, and uncovered vibrant pockets of alternative art and spooky culture.
Buckle up for a visual onslaught of Mexican skeletons, along with my inspiring stay at the Mumedi Mexican Museum of Design!
(Quite a few local children admired my Rocket Dog platform sandals. You can find these and more of their funky shoes below:)

I've stayed in a lot of artistic hotels over the years, but Mumedi's interiors made my jaw drop. This photo speaks for itself: my room's soaring design includes exposed brick walls, wood beams and a dramatic circular mirror. 
The building is more than 400 years old, and Mumedi preserves its skeleton. However, the architects added impressive high-tech touches such as blinds that shift with the touch of a button, and a hidden ceiling fan whose wings emerge from the light! 
Design Hotel Mumedi is a secret spot within the historic city center. The museum is only steps from Mexico City's huge Zocalo square, and visitors pass through every day. Yet very few realize that there's a hip hotel right up the stairs!
Mumedi has six rooms available for guests, and each is decorated differently. I loved the contrast between the centuries-old walls and contemporary furnishings, and whimsical touches such as a silver ducky on the bed.
In recent decades, Mexico City has become known for its modern architecture (I'll show you some of the coolest structures in an upcoming post).
For a design-lover like myself, Mumedi boutique hotel lets you feel as if you're living in your fantasy home. That free-standing bathtub is goals…
Mumedi, or Museo Mexicano del Diseño, is a renown multidisciplinary space focused on design and creativity. Locals come to see the latest exhibits, and enjoy the modern cafe and restaurant (I'll show you the delicious meals at the end of this article).
As a hotel guest, I loved having insider access to the museum. Most visitors have no clue that there's a courtyard in the upper floors, or a row of skull posters visible only to those staying overnight.
Even if you don't book a room here, you should pop by Mumedi for the free public displays. I was enthralled by the glass cases filled with quirky textiles, photos, typography, and other design projects.
Mumedi is especially fond of playful pop culture. They recently had a photo exhibition featuring B Duck, the cute Asian avian. (Remember when I found the massive yellow ducky floating in Hong Kong's harbor?)
One of the coolest stores I visited in Mexico City was right here, at MumediShop. The concept store is bursting with design objects from around the world, at a variety of price points.
Acting as an incubator, MumediShop puts a strong focus on young, local handmade works — like these quirky wallets above. On the upper levels, I flipped through books about fashion, photo, art and architecture.
For a nominal fee, you can enter Mumedi's spacious gallery to see the current exhibition (and access is free to guests staying at the hotel). I was thrilled to catch "To Death With A Smile," a collection of posters revolving around Day of the Dead themes.
The windows displayed gorgeous jewelry by Mexican artisans. The sugar skull earrings and necklaces were exquisitely made, and very tempting…
Mumedi put out a call for entries to artists around the world, and more than 5000 submitted poster designs that riffed on the theme of death. It was eye-opening to see the wide variety of interpretations in the 300 finalists. These ranged from a pointillist skull made out of ticking clocks, to a cartoon skeleton musing "Whose day am I going to ruin?"
(I'll share more from Mumedi at the end of this post, including a peek at their creative menu. Already, I think you can see why I chose to stay at this stylish boutique hotel!)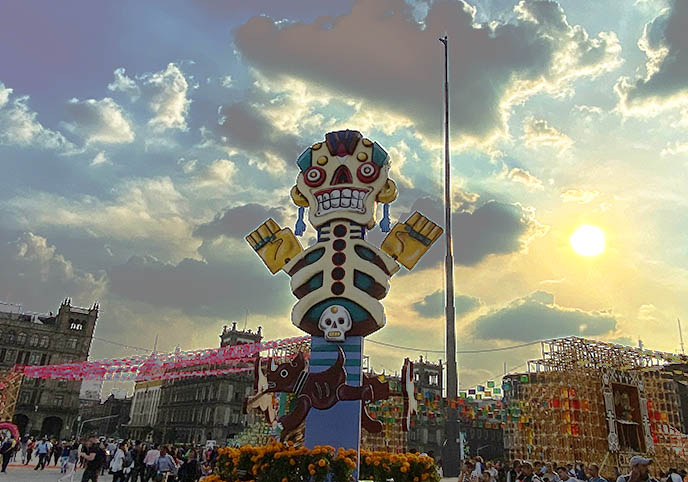 Let's wander outside to hunt for more skulls. Mumedi is steps from the Plaza del Zócalo, the enormous main square of Mexico City. This has been an important gathering spot for residents since the days of the Aztec. 
Safety note: be aware of pickpockets, and use zippered bags that you keep close to your body. There are plenty of police officers on these streets, so there's no cause for concern — but always be aware of your surroundings, wherever you travel.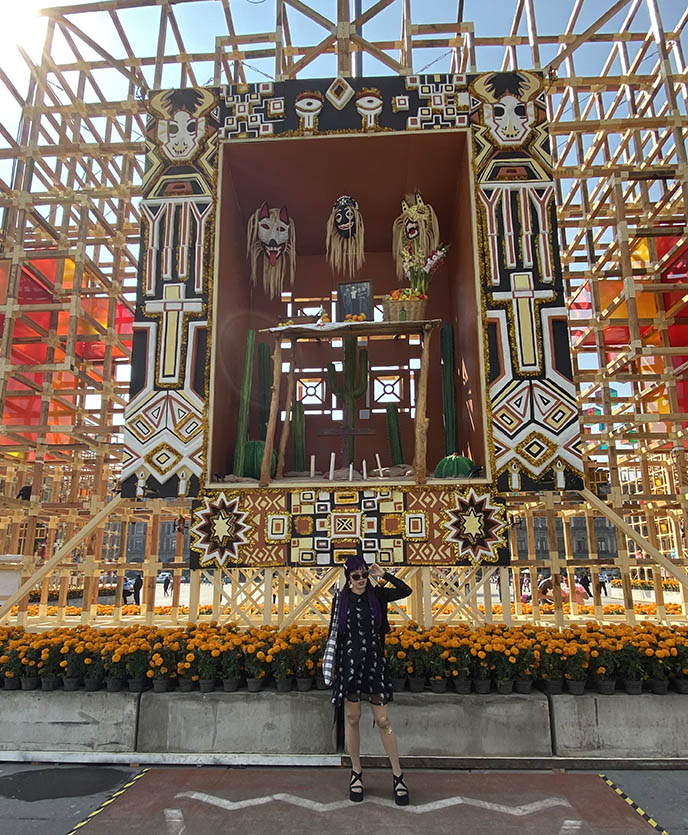 Day of the Dead has its roots in various indigenous rituals across Mexico. This current capital was once called Tenochtitlan, and ruled by the Aztec. Locals believed in Mictecacihuatl, a fearsome goddess of death and the underworld that they appeased through offerings of food and objects.
Quite fittingly, Zocalo continued to honor the dead with an "Altar of Altars" exhibition. The square was decorated with four gigantic "ofrenda," each representing a different regional or cultural style (the Maya, the Yaqui, Huasteca, and Michoacán).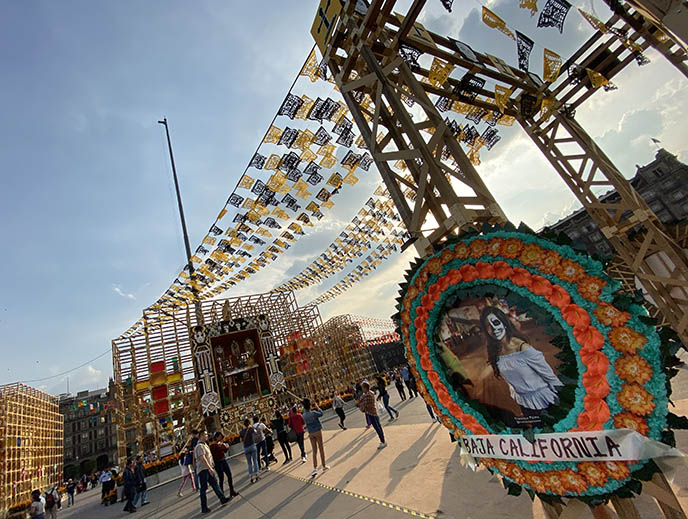 Now that I've experienced Dia de los Muertos in Merida with Borderline Projects, I'm keen to see how other parts of Mexico put their own spin on the sugar skull parades.
Unlike the horror of Halloween, Mexico's Day of the Dead is a cheery and colorful occasion. The sugar skulls are painted in rainbow hues, and they're always grinning widely.
This happy skeleton is accompanied by a bouncing undead dog much like Scraps in The Corpse Bride movie. (Appropriately for Mexico, it appears to be a chihuahua!) 
The mega-altars were temporarily erected to celebrate Day of the Dead. However, at all times of the year, Mexico City's Zocalo has public art installations or performances.
You can also walk to nearby historic sights like the National Palace, Cathedral, Palace of the Arts (Palacio de Bellas Artes), and Templo Mayor ruins, which I'll show you in an upcoming story.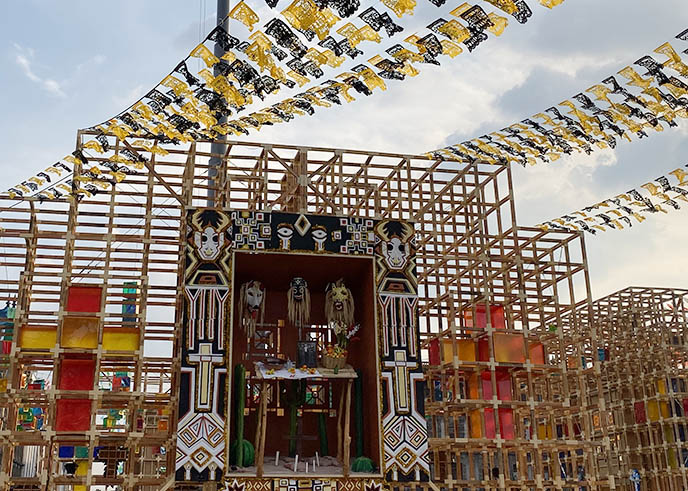 If you're in Mexico City  on November 2, you can join 800,000 people and see one of the world's largest Day of the Dead parades. The ghostly costumes and floats will make you feel as if you're crossed over into the realm of the dead, much like in the movie Coco.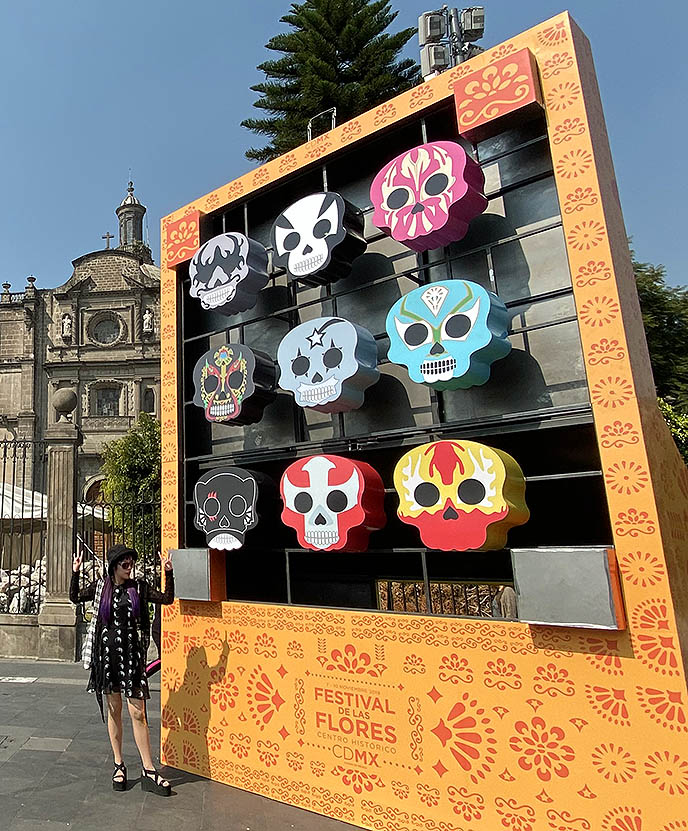 I arrived right after these celebrations, when Centro Historico was getting ready for the Festival de Las Flores. In pre-Hispanic times, locals would make floral offerings to Xiuhtecuhtli (Lord of Flowers) to encourage bountiful crops.
In front of Templo Mayor, I was tickled to see a modern version of a tzompantli. During the Aztec era, the bloody heads of sacrificial victims were mounted onto a rack like this.
I enjoyed strolling around the historic center of Mexico City and admiring elegant buildings from past centuries. One of my favorites was the Gran Hotel Ciudad de Mexico — you've got to pop in to see the Art Nouveau architecture. 
Look who's peering over the balcony: La Catrina! The "elegant skeleton" was first drawn by Mexican caricaturist José Guadalupe Posada, who poked fun at the wealthy by drawing therm as vain bags of bones. Today, La Catrina Calavera is an icon of Day of the Dead.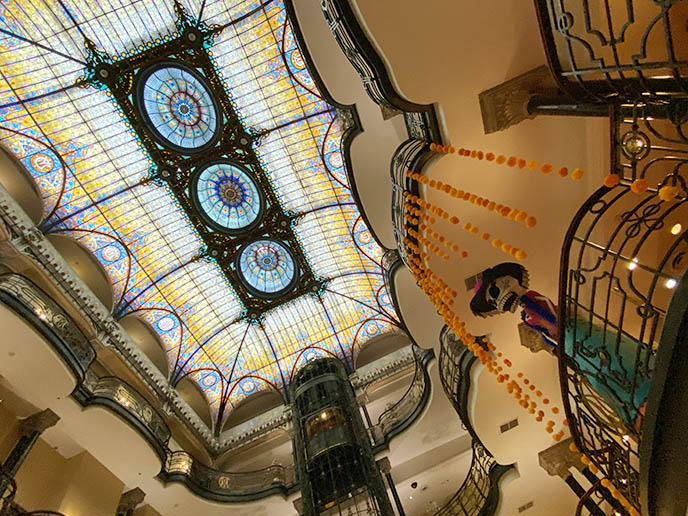 Look up and take in the beauty of the Art Nouveau design, which includes a Louis XV chandelier, wrought iron elevators, and Tiffany stained glass windows and ceilings from the workshop of Jacques Graber.
No wonder the lady skeleton in a feathered hat and gown feels at home here. The Dia de los Muertos altar in the lobby matched perfectly with the 19th century aristocrat atmosphere.
Gran Hotel Ciudad de Mexico brought out smiling paper mache skeletons to illustrate these seasonal rituals. The altar was stacked with enticing ofrenda like pan de muerto (bread of the dead, with bone shaped decor on top), tamales, sugar skulls, and orange marigold flowers.
Mexicans tend to put up photos of their ancestors, and surround them with their favorite things. While strolling around, I came across an altar honoring Bruce Lee! I wonder if they included the Hong Kong martial artist's favorite food, beef in oyster sauce.
Then, I escaped the congestion of CDMX by taking a 30 minute Uber ride to Coyoacán, a calm borough filled with greenery and residences. Once an Aztec village known as the "place of coyotes," this is now a peaceful historical area with plenty of parks and plazas for unwinding.
I'm wearing Bayer platform sandals by Rocketdog and a bucket hat by Lack of Color.
One of Coyoacan's best-known attractions is the Frida Kahlo museum, aka the Blue House. The Mexican artist was born and died in her family home, which now houses some of her most important works. (There was a huge line-up for the Museo Frida Kahlo, so we decided to skip it.)
We took our time to browse Coyoacan's many handicraft and food markets. I was drawn to these calavera de azúcar, or handmade sugar skulls decorated with vibrant colors.
These sweets represent those who have departed — small skulls for children, and larger ones for adults. During dia de los muertos, their spirits return to enjoy the offerings on the altar.
Even in pre-Columbian times, people incorporated imagery of skulls and skeletons in their art. (I'll show you these symbols at the Anthropology Museum later on.)
Today, you can find skull-themed everything in Mexico City. Skull earrings, skeleton decor, spooky shirts… It's a Goth shopping dream.
Perhaps you can pick up a hand-painted Catrina or sugar skull as a keepsake.
At this time of year in Mexico, you'll feel like there is no separation between the living and dead. These skeletons look quite content as hat models.
These leather jackets with Mexican textiles, fringe and sugar skulls on the back… yes.
I found a "Feliz Navidarks" Christmas shirt from a store called Cuidado con el Perro. Couldn't resist this funny Santa Skeleton top.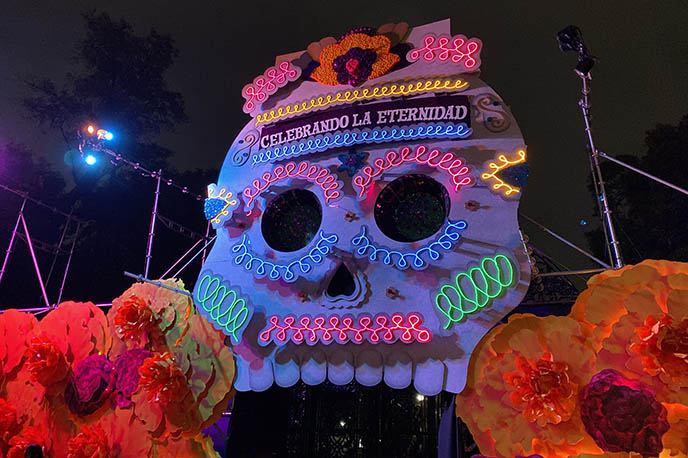 My "sugar skull hunt" culminated with the ultimate find: this towering, lit-up calavera for Celebrando La Eternidad. It guards Bosque de Chapultepec, one of city's largest parks and an important eco space. This lush public area was once also a retreat for Aztec rulers.
In the weeks surrounding Day of the Dead, the Bosque has a number of events to celebrate eternity. These including light projections on the lake, and ancient dances by performers in skull facepaint.
I think the psychedelic skull is ready to have a disco party! His jaws are framed by humongous orange marigolds, or Cempasuchil flowers of the dead.
Every evening, I was glad to return to my home base at Mumedi. I felt re-energized at their chic restaurant, with its friendly staff and walls covered in quirky posters.
I looked forward to a leisurely breakfast every morning at Mumedi's cafe and restaurant. You could choose from a Continental or Mexican set — I especially loved the plantain enchilada with red sauce, and chicken or egg chilaquiles with green sauce. Each platter came with fresh fruit, juice, coffee (they have almond milk), and a black bean dip with tortilla.
Mumedi serves creative lunch and dinner dishes as well, and is open late. Their "food design" is cleverly presented yet full of traditional flavor, with fresh and healthy ingredients.
Case in point: the marrow and beef tacos on blue tortillas, a green mole steak, and "avocado" pannecotta (the seed is actually made of cocoa!)
Mumedi's To Death With a Smile exhibit is showing until January 31, and I hope you get a chance to see it. It's fascinating how artists from all over approach death in serious, comedic, and meaningful ways. (You can check Mumedi's calendar of events for upcoming shows.)
And don't forget that there's a hidden gem upstairs — Mumedi's dreamy design hotel. If you're traveling with a group of friends, you could book this suite with two bedrooms and a spacious lounge area.
Shout-out to the fantastic staff, who were always eager to help and left delicious baked snacks and chocolates by my pillow every night.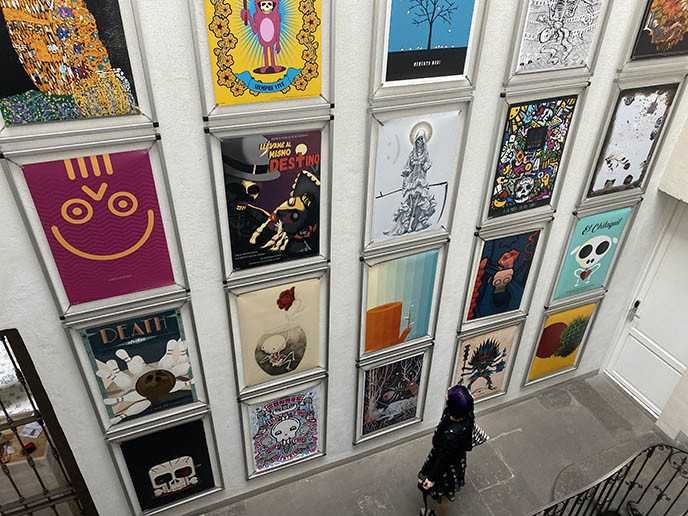 Gracias Mumedi for the inspiring stay — my Mexico City trip wouldn't have been so wonderful otherwise.
Pass it along: Mumedi's museum / shop / cafe / hotel are a must-see in CDMX. (Photos by me and Julie Hunter of Flash Fiction Kitchen.)
Have you ever seen so many skeletons in one destination? Well, there are more to come… I have Day of the Dead stories galore to share with you, from my Yucatan travels with Borderline Projects x Morbid Anatomy!
If you missed my first Dia de los Muertos post, see it here — I danced with the dead in a Merida cemetery, and encountered the supernatural…
Banff, Alberta! This destination is real, and it's spectacular.
Located in the Rocky Mountains, this adorable Canadian town is about a 1.5 hour drive from Calgary. Like many travelers, I went to Banff to kick back in the natural beauty of this UNESCO World Heritage Site.
I stayed in the supposedly haunted Fairmont Banff Springs… This 19th century chateau hotel is one of Canada's most paranormal places, and the site of terrifying ghost stories!
I dressed in my Gothic best to explore the Fairmont Banff hotel.
Outfit details: Acne snakeskin boots, Strathberry crossbody purse, Chaser Brand square neck black longsleeved top.
See more winter shirt styles from Chaser below:

Fairmont's Banff Springs hotel has a spooky guest: the Ghost Bride. Legend has it that when she was about to meet her groom, she tripped on these very stairs — and tumbled to her death.
Some people claim to see her ghostly figure, still wearing her white wedding dress, haunting the old staircase and ballroom.
Banff's luxurious hotel has friendlier residents too. In the outdoor pool area, I came across a pair of deer, grazing on the bushes! The forest creatures didn't seem to mind taking a photo with me.
From the Fairmont's many viewpoints, you can get ridiculous panoramas of the surrounding mountain ranges and lakes. I'm feeling as tiny as a mouse beneath the strangely-shaped Mount Rundle.
I visited Banff in October, and the first snowfall had just coated the landscape. Although the town is stunning in the wintertime, Banff is also a draw in the summer — when travelers can canoe on the lake, and spot wildlife on hikes.
(Wearing a Sylvain Le Hen hairclip — love their high-end hair accessories).
No matter the time of year, you can always savor a meal at the most outstanding restaurant in Banff: The Block Kitchen + Bar.
I walked into a cozy eatery with eye-catching art on the walls. The Block focuses on fresh, creative interpretations of Asian cuisine, especially Thai and Japanese. Every dish we tried was wonderful, balancing modern Asian flavors in unexpected ways.
We dug into the authentic takoyaki (Japanese octopus balls), and bright beef tataki rolls with julienned vegetables, micro greens, and sesame sauce. The cocktails came with lovely garnishes and many of them incorporated Japanese liqueurs: I loved the Taste of Asia cocktail with sake and yuzu.
Every guest is warmly welcomed by chef Stéphane Prévost, who is married to a Japanese lady and spends significant time in Japan. Drawing from these experiences abroad, The Block feels just like a homey izakaya, with tastes that ring true.
We picked out a selection of items from The Block Banff's tapas-style menu to share. Their calamari was the best I've ever had — unlike the typical greasy preparation, this squid was lightly battered and infused with Asian ingredients like mirin, soy sauce, and sesame seeds.
The menu board offers different specials each day, with a focus on seasonal products. We ordered the chef's selection of Thai green curry, a mouthwatering broth with Prince Edward Island black mussels and a side of kim chi.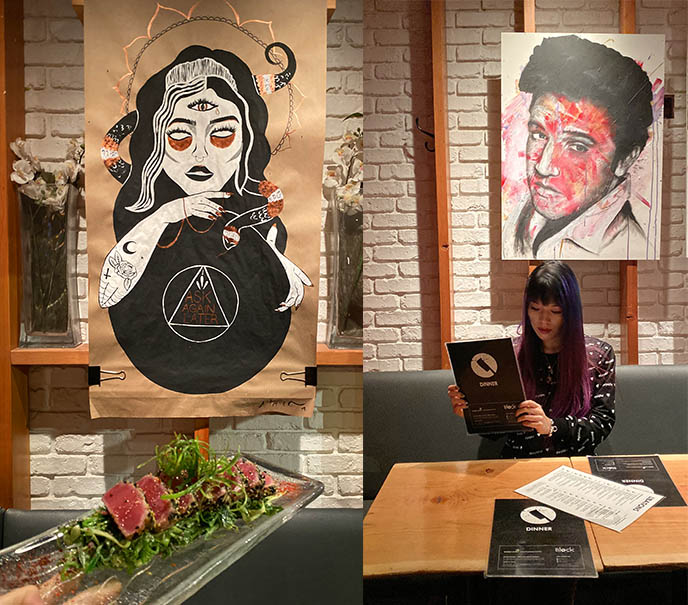 The intimate, wood and brick space is conducive to sitting back and chatting with your neighbors. Banff Block Kitchen + Bar is open at lunch time as well, with offerings like daily-changing sandwiches and duck poutine (a tip of the hat to the chef's Quebecois roots).
Alberta isn't known as a place for great seafood — except at Block Kitchen, it appears! We were wowed by the tasty, sustainable selection of ocean products that rivals that found in Vancouver (to my surprise).
The colors of the salmon tartar, with saffron and seaweed salad, speak for themselves.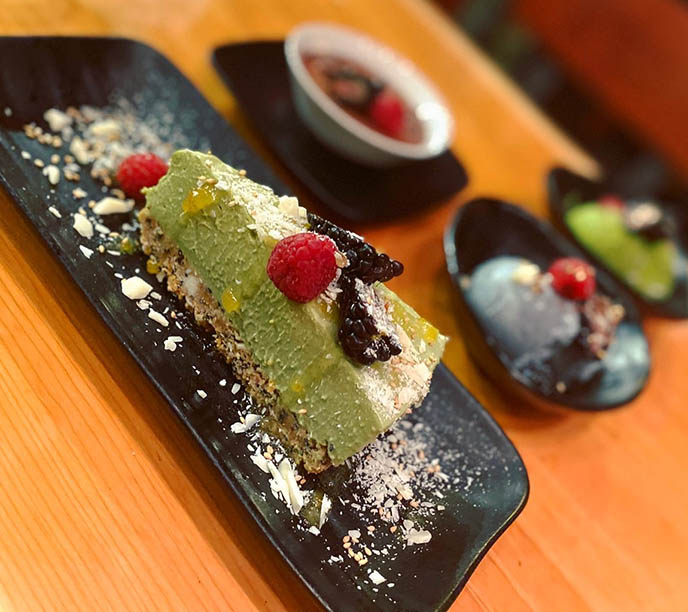 I'm still dreaming of the dessert we shared… an ingenious matcha cheesecake with a sesame crust base, drizzled with yuzu sauce. Made with premium green tea powder, with textures that come together magnificently. We also ate up every last bite of the dark chocolate pot de creme, and black sesame and matcha ice cream.
The Block Restaurant is exceptional Asian fusion: this a restaurant you can't miss out on if you're in Banff. I hope to be back soon to experience the izakaya-style deliciousness.
Banff is a small town, and it's easy to walk here from the Fairmont Springs hotel. Crossing the bridge, I stopped to admire the view of Banff National Park.
Bundled up from the cold in my Anubis knit hat by Cryptic Apparel, and white Snowman New York puffer coat. See more jacket designs from Snowman NY below with a click:

I'm not sure if the infamous hotel is truly haunted… but it sure looks that way.
The Banff Springs was opened in 1888 by the Canadian Pacific Railway, and designed in the aristocratic Châteauesque style typical of these railroad hotels.
The Fairmont Banff hotel is enormous, with plenty of hidden nooks and crannies to explore. We found coffin-shaped doors in winding hallways, and knight uniforms guarding event spaces. There's even a bowling alley and movie room to find.
Love the wide angle photo effect of the new Apple iPhone 11 — so satisfied with the battery life and camera on my new smartphone.
Close-up on my Strathberry East/West leather crossbody bag. Can't get enough of their clean, modern lines and flap with bar closure. This purse comes in a variety of colors, and Strathberry makes tote and clutch styles as well — you can browse below:

I wore my new Acne leather platform boots — the black and white python effect goes with all types of outfits.
You can find similar snakeskin shoes below, including these ankle booties:

I went on a hunt for the Fairmont Banff's mysterious Room 873. In the past, murders and other violent acts apparently took place in this hotel room. Guests that then stayed in #873 reported visits from ghosts.
Since there was too much paranormal activity, the staff sealed up the haunted room. Today, you won't find #873 at the hotel, but you can still see the outline of the door through the wall. (Some claim this was merely boarded to expand the room next door into a suite… but you can believe what you want!)
I took advantage of the free yoga classes for guests at the Fairmont. In the afternoons, I enjoyed walking around the trails near the hotel.
One of the paths follows the river, which turns into rapids and ends at Bow Falls. You can also trek through golf course grounds, and discover sweeping alpine views.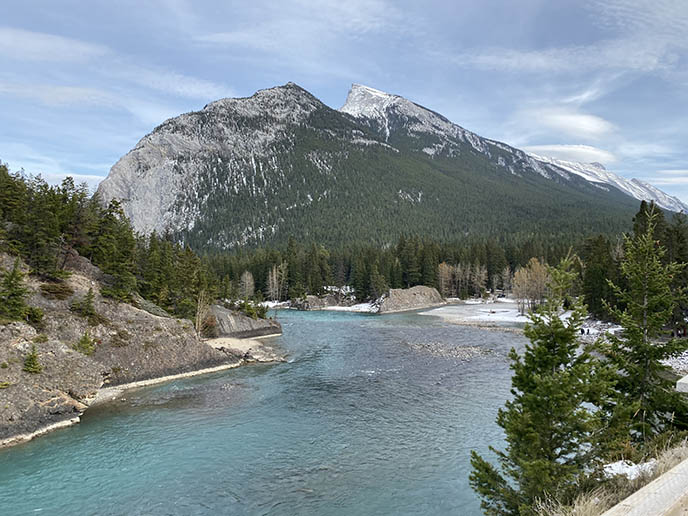 Banff's chilly lakes are a gorgeous shade of turquoise. Travelers tend to visit the nearby Lake Louise as well, which is about a 45 minute drive away. (I've been to all these destinations as a child, and it was lovely to come back after many years.)
No matter where you wander, you'll find picture-perfect backdrops. It's no surprise that Banff, Alberta has become a favorite destination for travel and fashion bloggers / influencers in recent years.
It's also a rather Gothic travel destination.. wouldn't you like to have a spooky stay in an antique ghost hotel, beneath the Rocky Mountains?
Just don't trip on the dramatic staircases… lest you become another ghost bride!
PS: Stories from Salem, Massachusetts and Mexico (Day of the Dead!) are coming up next. I know you're going to love these… For previews of these dark adventures, I invite you to glance at my Instagram @lacarmina.
PPS: If you're getting a head start on holiday shopping, you're welcome to check out my Depop shop (@lacarmina)! I'm letting go of a variety of items from my closet, including rare clothing from Japan.
Please take a peek at my store and let me know if I can send you anything; happy to do bundle discounts and exact shipping. Have fun!