Category Archive for
Fashion
Once upon a midnight dreary… I was in Boston, getting spooky… with Edgar Allan Poe! 
After my Purge television show appearance, I spent a few days in New England. Boston's known as a preppy city, but leave it to me to find the darkest and quirkiest sides.
Outfit details: My faux fur leopard jacket and bat shirt are by Sourpuss Clothing. Burgundy faux leather leggings by UK Tights, platform black boots by Jeffrey Campbell. Click below for more of my style:
If you've got a Gothic bent and are visiting Massachusetts, then this Boston Goth travel guide has got you covered.
We'll creep around the Granary Burial Grounds, home to spooky skull tombstones, and pay a visit to Edgar Allan Poe Square. We'll also get fabulous at Six, the glamorous musical about Henry the VIII's wives.
For an out-of-this-universe stay in Boston, there's only one hotel worth teleporting to: Yotel! 
This futuristic hotel speaks to my sci-fi soul. I stayed at Yotel in NYC for fashion week years ago, and was delighted to dock with them once again.
I adore Yotel's hip decor, which looks like something out of a 1960s space opera. The lobby's curving lines and white lights have a rocketship feel, and these "pillows" are like squishy asteroids. 
My black and white dress is by Valfre (available here).
As we get closer to the reality of space travel, Yotel Boston gives a glimpse of what hotels may look like in the future. Guests can check in or out with self-service terminals, and float around the vibrant co-working space and cafe at any hour.
My long-time friend and travel comrade Lissette shares her first impressions. "Upon arriving at Yotel, I was impressed by the way the entrance looked like a space station. All of the furniture reminded me of the Jetsons and was complete with a robot."
My "Wednesday Addams" dress is by Valfre; see more from this French designer below:
We were delighted to meet Yotel's cute-faced robot when we checked in. As Y2D2 says, "I'm a delivery robot, but that's not all I can do…" He can also tell jokes, perform demos, and take selfies with you!
Yotel's little purple robot can even bring items to your room, such as a toothbrush if you forgot one. Y2D2 opens up to reveal a compartment, where you can place items for delivery.
Lissette says, "We even got to see the robot in action delivering items to someone's room on our floor." It was amazing to see how Y2D2 could ride the elevator by himself, scoot past obstacles, and wirelessly ring the doorbell.
When you answer the door, his compartment opens so you can take you item. Don't forget to say "Domo arigato, Mr Roboto."
Yotel's playful approach makes the hotel stand out. Even the chairs in the Sky Lounge spell out LOL! 
Yotel Boston is located in the Seaport, a vibrant waterfront area with many hip boutiques and restaurants.
As you can see, "The views from the rooms as well as the rooftop lounge area provided excellent snapshots of the city." – Lissette
At night, we enjoyed a cocktail on Yotel Boston's rooftop terrace. Outside, you get a brilliant view of the surrounding brick buildings and twinkling skyscrapers.
Lissette says, "Our room was super cute with bunk beds and a very futuristic bathroom setup and lights that could change colors. The glass enclosures in the bathroom supplied a surprising amount of privacy, and there was a curtain to separate the bathroom from the bedroom as well. The ability for the queen bottom bunk to have a range of reclining options added to the spaceship feel of the room."
Yotel is like a 5-star spaceship: you sleep in a luxurious but compact cabin, with ingenious tech that helps maximize the space. For example, when you push a button, the bed unfurls. I was fond of this mod chair, which matched my hair color, and had striking views of South Boston's brick walls.
Cheers to the friendly and accommodating staff at Yotel Boston, and the kind bartenders that knew their stuff.
(More from our space-age hotel at the end of this post.)
Now, let's go from robots to pirates. (Did you have any clue that Boston had such odd attractions?)
I've visited Boston twice before, mainly to see the historic sites with family. This time, I was keen to get Gothic at the Granary Burying Grounds, the city's most famous graveyard.
I hung out with famous Bostonian ghosts in late September. The sky was bright but there was a dusting of dead leaves on the tombs: perfection.
Founded in 1660, the Granary Burying Grounds is Boston's third-oldest cemetery. The small Tremont Street plot as over 2000 grave markers, but as many as 5000 bodies lie here. (Or "lye," as they wrote back in the 17th century.)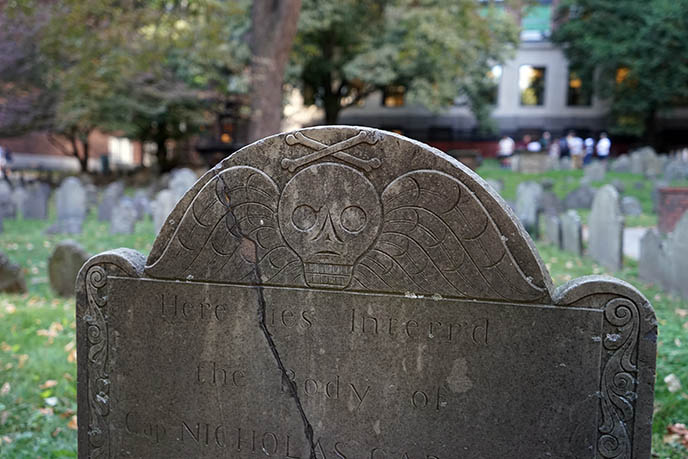 Some of the tablet-shaped tombstones are blank, or have words that got partially wiped out through time. However, many have a pirate Goth look, with grinning winged skulls and crossbones!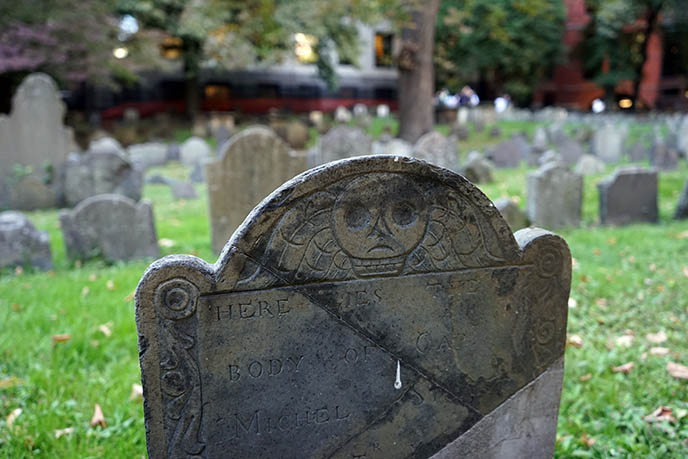 What's the story behind these spooky grave-markers? This "death's head" is know as the Soul Effigy. This represented the soul flying to the afterlife after death.
The Granary Burial Grounds are home to other odd monuments for the dead. The tallest one is an obelisk, erected in 1827 and dedicated to the relatives of Benjamin Franklin (a Bostonian).
Boston's Granary is also the final resting place of Paul Revere, Samuel Adams, and John Hancock (his headstone is nowhere as large as his signature on the Declaration of Independence).
The Granary is worth visiting for its historic importance, but let's face it — I'm here for skulls.
Unlike typical graveyards, you won't see any angels, crucifixes or Virgin Mary statues. The Puritans were against religious imagery, so they expressed their beliefs in the afterlife through winged skulls on tombs. (Ironically, to our modern eyes, these carvings have an edgy Goth feel!)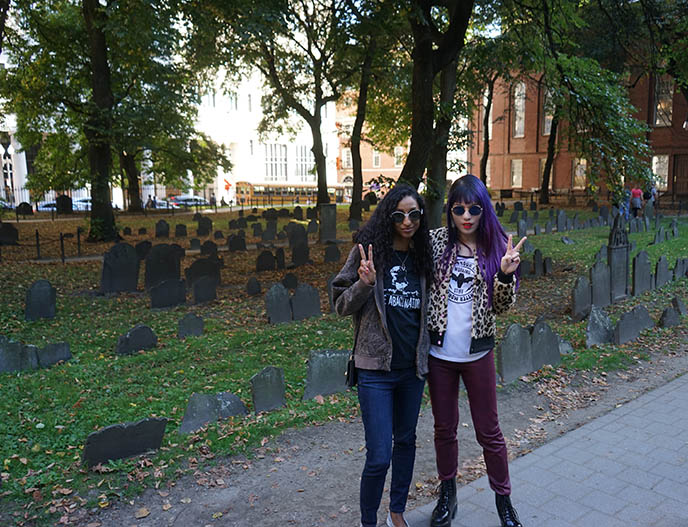 These rows of headstones, surrounded by fall leaves and Boston brick, give a Halloween atmosphere like nothing else. I can easily imagine RIP written on one of these upright slabs, and a hand sticking out to pull you underground!
Some of the 17th century headstones are now askew (perhaps the restless undead tipped them over?) The Soul Effigies are exquisitely carved into the stone tablets.
Looks like a vampire got buried among the American Puritans… (This above-ground coffin reminded me of the Romanian graveyard I visited in Bucharest.)
It was fun to read the engravings on the Granary headstones, written in old-time English. Each followed a straight-forward script: "Here Lyes Ye Body of X wife to Y, aged Z. Departed this life, date." No RIP or fancy memorials to be found here.
In 2009, a visitor fell through the ground and discovered a secret stairway leading to a crypt! I wonder what other mysteries lie beneath the Granary Burying Ground…
Looks like it's a pirate life for these Puritans. In fact, the skull and crossbones were a popular "memento mori" symbol in the 16-17th centuries. They remind us that no matter our status, it's impossible to avoid the Grim Reaper.
Some of the Death's Head or Soul Effigies have scowling faces, while others are grinning and cheery. The one on the right looks sad: was he an emo Puritan boy? 
The headstone "emoji" may have reflected the dead's fate, or outlook on the afterlife.
Can you tell I'm in my autumn element? Lissette took this behind the scenes snap of me. (I'm shooting with my Sony A7 mirrorless camera. Highly recommended for travel, as it's lightweight but full frame and brilliant quality).
This "grave" place is a must-see in Boston, MA.
Lissette and I also went to Salem, Massachusetts and photographed the cemetery there (along with all the witchy things). Stay tuned for this story soon!
Time to sign off on a fabulous note… We were thrilled to see Six the Musical at the American Repertory Theater! 
This new show re-imagines the 6 wives of Henry the Eighth as sassy pop queens, who compete to see who had the worst marriage with the king. Each belts out a number about her life story, with a different musical feel (ie, inspired by Sia, Beyonce, Britney — and all are catchy earworms.)
Lissette raves: "We made the trip to Cambridge/Harvard Square to witness the histo-remix that was Six, the musical. The stage picture was just what the musical called for, with the six wives standing in formation backed by a very talented four-piece band of all women presenting this "her-story."
"Coming from Chicago, it was great to see Courtney Mack, a fellow Columbia College Chicago grad, as Katherine Howard. Her number, "All You Wanna Do," is an excellent example of how well the choreography matches the lyrics and mood of each song. As she sings about the different relationships she has with men throughout her life, the other queens grab at and touch her body in an increasingly more aggressive way as it becomes clear what it is that "[t]he only thing [guys] wanna do is…"
(As you can see above, the Tudor pop superstar costumes were pure fabulousity! My dress is no match for these royal designs.)
Lissette continues: "It was most enjoyable to watch the energy and execution Brittney Mack brought to the ensemble. Her Anne of Cleves was really fun to watch and deftly played. Although her queen profile was modeled after Nicki Minaj, the moment when she showcased her operatic range was a pleasant surprise in the middle of a pop musical."
"Her song, "Get Down," did an amazing job of overlaying contemporary social media vernacular on top of the history (Henry VIII expressing interest in Anne because he saw her portrait, but then rejecting her in person). That is such a common experience for people who interact with dating apps and the online swipe n' match game. This song really brought the experience of the queens into the modern context."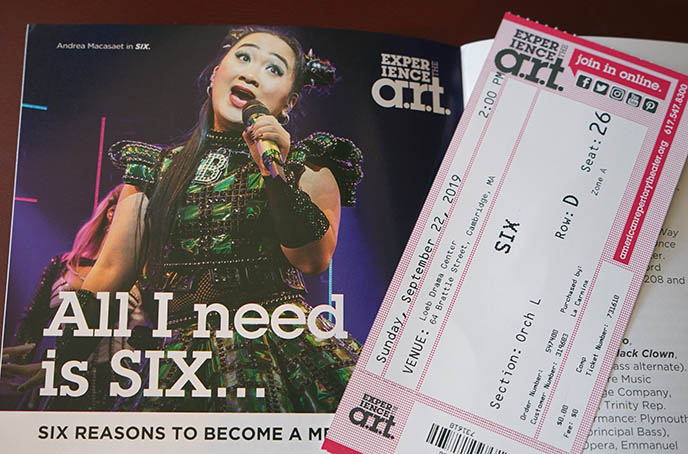 "Andrea Macasaet (above) was charming as Anne Boleyn. The number of times she reminds us that she was beheaded was provided necessary levity to the competition about who was treated the worst by Henry."
"The actors brought a strong level of musicality and emotion to each of the numbers — it was really easy to want each of them to win the competition. Like the choreography, the costumes were well matched to the personality and style of each queen.
Six was a complete theatrical statement that spanned different kinds of pop while staying true to expectations of musical structure, with full cast numbers at the top and bottom of the show, and a solid variety number in the middle with "House of Holbein."
"The surprise encore medley paying homage to each of the queens' songs was really fun. The finale song, "Six" is a great conclusion to the show and the refrain was another representation of why this cast and the band were all so talented. They put on a great show that blended history with pop culture in the same way that Hamilton married history with hip hop. I can't wait to see what is next from writers Toby Marlow and Lucy Moss."
I think we've given you more than six reasons to see Six the Musical!The show is currently touring the world, with runs in London, New York, Australia, Chicago, Edmonton and Minnesota. You heard it here first — this is a feminist powerhouse that can't be missed.
Before we fly away from Boston, let's strike a pose at Edgar Allan Poe Square. This life-sized statue was unveiled in 2014, to commemorate the Boston-born horror writer. (Address: Boylston St & Charles St, Boston, MA)
I hope Edgar liked my punk-Goth outfit. My faux fur animal print jacket and bat mortuary shirt are Sourpuss Clothing, burgundy faux leather leggings by UK Tights, boots Jeffrey Campbell. See details below:
Poe is best known for his spooky short stories, and poem "The Raven" published in 1845. The statue, created by Stefanie Rocknak, shows the author strolling with a long coat. A raven perches on his suitcase, which is bursting with books and papers.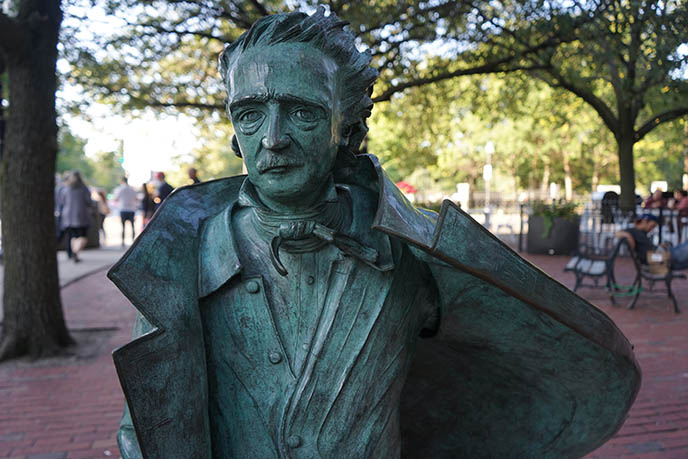 Fun fact: Edgar Allan Poe had a bitter relationship with the city of Boston and its literary elite. He claimed to have made a suicide attempt here in 1848, and wrote "Their pumpkin pies are delicious. Their poetry is not so good." (This man… he's as Goth as you can get!)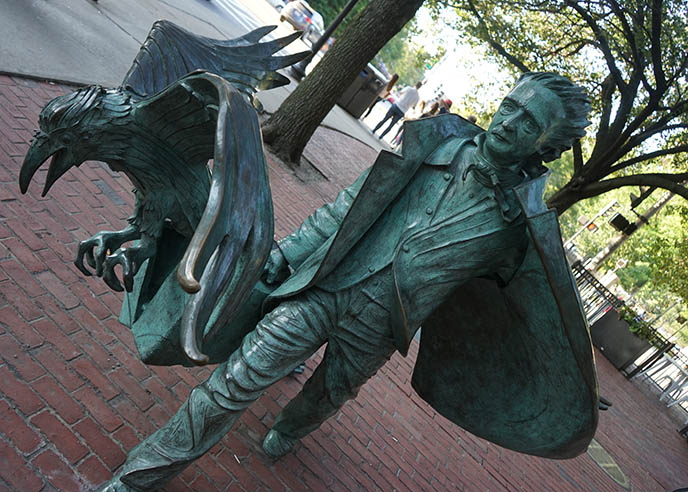 The Edgar Allan Poe statue and Granary Burying Grounds are a short walking distance apart, so you can easily visit both in an afternoon. Be sure to take a stroll in the lovely Boston Common park as well.
We also stopped for dinner at the nearby Union Oyster House, which has been open since 1826, and is the oldest continuously running restaurant in the USA.
Although many tourists come here, the historic wood building and artifacts on the walls are worth admiring. Most importantly, the food is excellent: we feasted on haddock, blackened cod, broccoli, and warm cornbread (their clam chowder is also notable).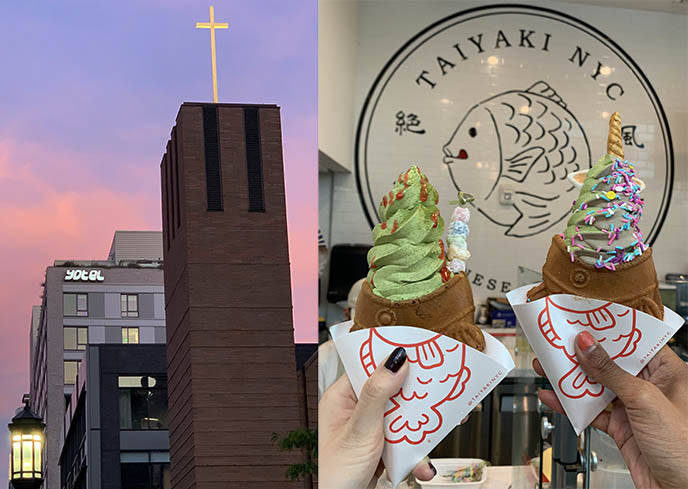 As the sun set, we wandered back to South Boston where we were staying. Feeling the urge for something sweet, we munched on unicorn taiyaki (Japanese red bean waffles shaped like a fish) with matcha ice cream — so good.
Domo arigato, Mr Roboto and the team at Yotel Boston for welcoming us through these space-y revolving doors.
I can't help but feel invigorated every time I stay with Yotel. The compact space-age rooms are fun to share with friends, and the public spaces are full of quirky books and design objects.
Did you realize Boston, MA was such an eccentric and alternative destination? Also, what are these balls for? (Find my Wednesday Addams dress here.)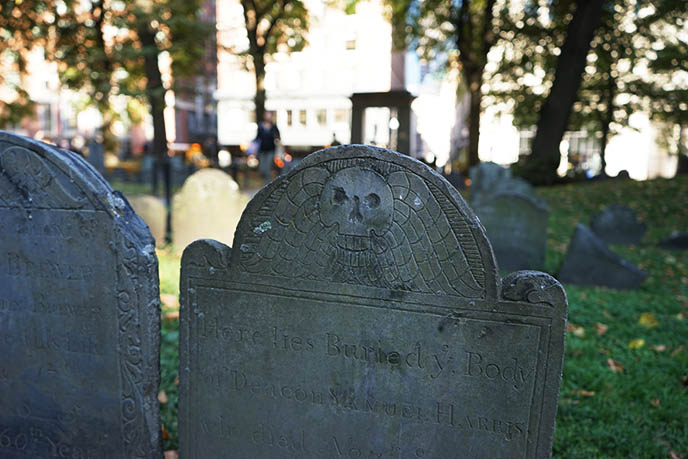 "Here lies buried y body…" I have tons of Halloween coverage still to come for you, including our spellbinding escapades in Salem, Massachusetts. Isn't this the best time of year, by far?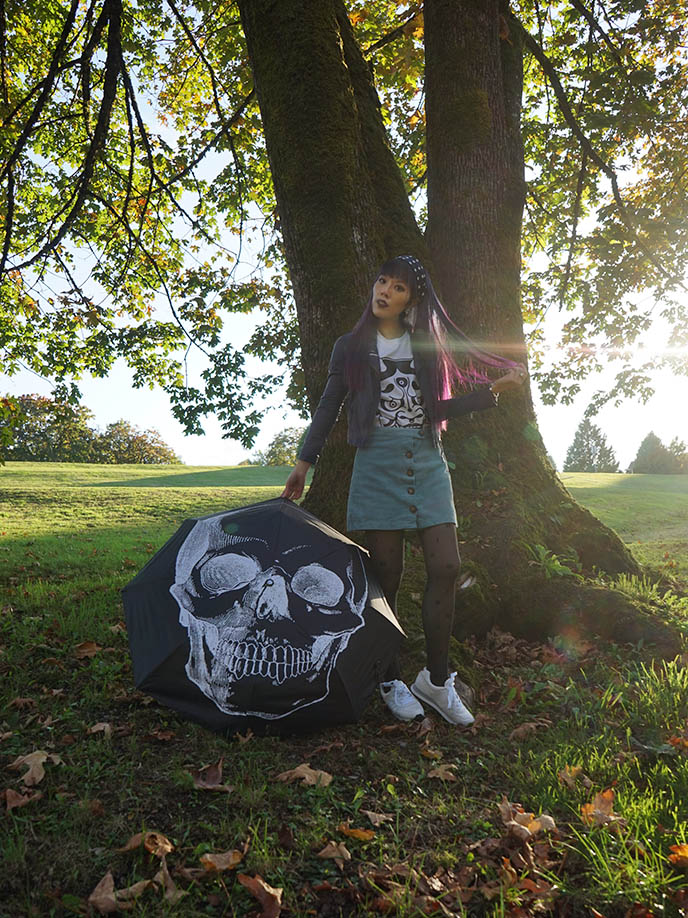 When leaves hit the ground, the veil between the living and the dead is at its thinnest… and I am in my element.
Happy October, everyone. I've missed the fall so much!
I have several Halloween tricks and treats for you, including a major trip…
My skull umbrella from Raven Goods is a hint at where I'm heading at the end of October.
I'm thrilled to announce that I'll be celebrating Day of the Dead in Mexico, on a cultural tour with Borderline Projects and Morbid Anatomy! I can't wait to share our Yucatan journey, which includes intimate encounters with the brushing of the bones, and Dia de Los Muertos.
Scroll to the end of this post for the full info about my deathly travels in Mexico, and how you can join next year's adventure.
I'll also give you a teaser of my Purge TV show adventure: I'm making a little cameo in the finale episode. (Above: I had the hardest time figuring out which one was my trailer…)
Blumhouse Productions and USA Network flew me to New Orleans, so I could get a behind-the-scenes look at the TV production. In our downtime, we did a little purging on Bourbon Street!
Keep reading to see my exclusive set visit, and… new tattoos??
(Season two of The Purge TV show begins airing October 15, on USA Network. I'm in the tenth / last episode.)
First, let's welcome the spookiest time of the year with some devilish outfit photos.
OOTD: Goth umbrella Raven Goods, demon tee 1991NewYork, corduroy skirt Forest Ink, stockings UK Tights, hair scarf and sneakers Lola Ramona.
Isn't this grinning cranium umbrella fabulous? It's my new favorite accessory, from indie Goth boutique Raven Goods.
Raven Goods has a magnificent curated selection of items in black or dark tones: perfect for creatures of the night like ourselves. Their web shop includes dark and Gothic home decor, jewelry, and crystals.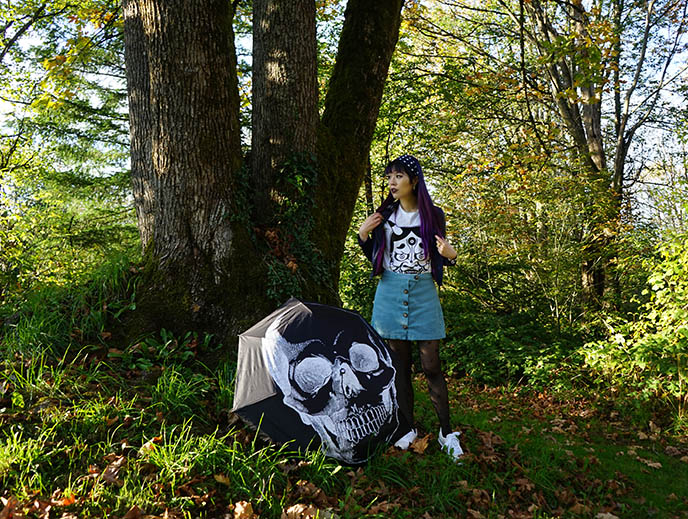 I'm all about supporting small businesses like Raven Goods, which is owned and operated by a husband and wife team. Their dark fashion and home design products are offered at reasonable prices, and they give friendly and fast personal support to their customers.
I love the reflecting crystal in the center of the skull (it looks a bit like a nose ring). The retractable umbrella is perfect for traveling, and doubles as a parasol: the black SPF fabric protects you from the sun.
Take a peek at RavenGoods.com if you fancy items like Victorian anatomy plates, Rococo Gothic bedding, ram's head rings, and dark angel wing earrings.
I invite you to see more on their Instagram @shopravengoods and Twitter @ravengoods.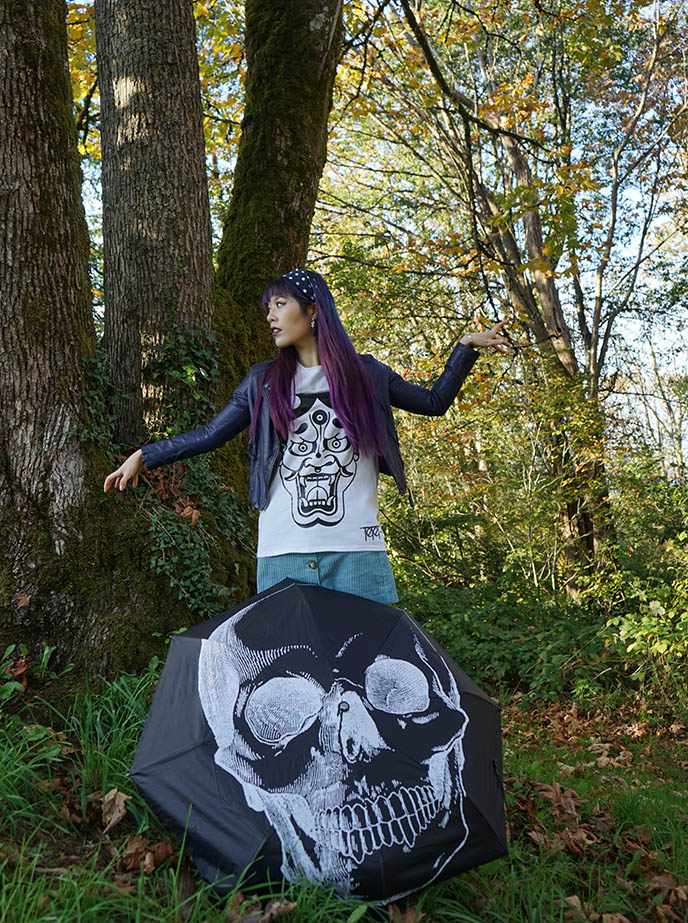 My scowling Japanese devil mask top is by 1991NewYork. It's actually a Hannya, representing a jealous Shinto female demon!
1991 New York is a streetwear brand by NY tattoo artist Hiten Damodar. His screen printed tees are 100% cotton and made in the USA, and feature his tattoo designs based on mythology. (You can see more of his striking designs on his site.)
How do you like my "white demon" look of the day? As you can see, it's possible to do a Gothic look without wearing black.
This is also an example of how to style white sneakers with an outfit.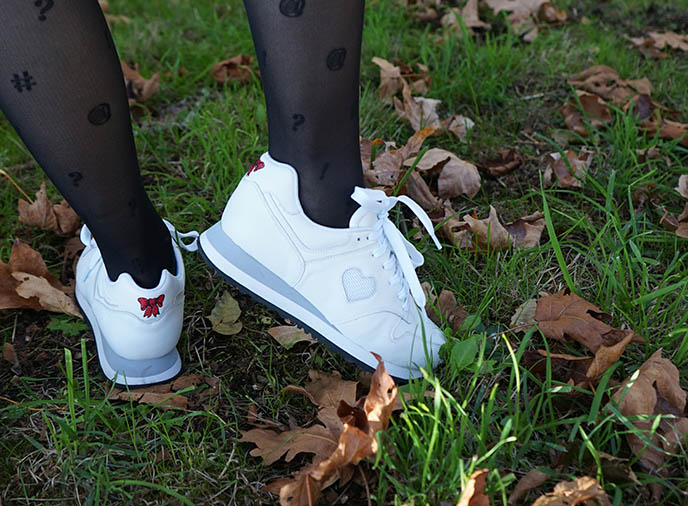 Lola Ramona sent me these Serena Bullseye white leather sneakers, and they're the cutest kicks I've ever seen. In love with the mesh heart on the sides, and red ribbon design in the back. The bouncy sole and comfortable lace-up style makes these sneakers perfect for fall walks.
I matched them with Lola Ramona's retro polka dot scarf, which I wore as a headband. My stockings with keyboard symbols is by UK Tights.
Click the thumbnails below for more shoe styles from Lola Ramona:
Now, let's talk about NOLA! I was invited along with several other journalists to visit the set of The Purge TV, which was shooting its second season after a successful debut.
Before flying to New Orleans, I felt inspired to put together a Purge cosplay. Using caulking and paint, I DIY-ed a Kiss Me mask like the one worn by Kimmy the Candy Girl, in "The Purge: Election Year" movie.
My mask and I sat down to delicious New Orleans lunch: blackened cod po'boy and salad. On this press trip, I got my fill of grits, mahi mahi, gumbo, catfish, and Sazerac cocktails… but boy, are portion sizes immense in the South. Ironically, I was so full from these meals that I was close to Purging!
Quite fittingly for a horror television show, The Purge (season 2) is shot in New Orleans. Many of the new episodes make the most of the city's spooky vibe.
I hadn't been in New Orleans since my first visit in 2014, and it felt great to be back right before Halloween. We only had a few days here, but it was enough to explore a few spots — like Marie Laveau's House of Voodoo.
With its vampire and voodoos connections, New Orleans is one of the Goth-est cities on the planet.
For more travel tips, see my NOLA Gothic guides from my previous trip. I covered the graveyards, haunted places, alternative nightlife and art galleries, you name it.
I've got the urge to purge…
Horror fans will be familiar with The Purge movies by Blumhouse Productions. In this universe, once a year for 12 hours, pretty much all crime is legal.
Some citizens love the annual bloodbath, and get creative in the ways they commit murder. Others hide in fear, or fight against the "New Founding Fathers" that implemented the Purge.
The Purge is now also a highly-rated TV show. The second season follows several characters in a year between the Purges, leading to intertwined storylines. I've watched several episodes of the new season so far, and it's bloody fantastic — better than the first, IMO.
As an invited journalist, I got to go on set while The Purge was filming, and meet the actors and crew. I can't reveal any spoilers, but soon, I'll give you an inside look at the masks, daring stunts and more.
I also got to be an extra in the final episode, in a scene with actors Derek Luke and Rochelle Aytes! (They play a husband and wife whose perfect life is shattered when an assassin breaks into their house on Purge night.)
My lips are sealed when it comes to exactly what I do in my appearance on The Purge TV show. You'll just have to wait until the last episode for my big scene…
However, I can show you this "Kimmy the Candy girl" costume I put together, in tribute to the evil schoolgirl from The Purge: Election Year film!
Here's a wink. I got to wear fake tattoos for my scene in the Purge TV finale!
The makeup artist put this temporary skull tattoo on my hand. I told the crew they could go wild with my hair and makeup, and so they did, as you'll see…
I made sure this crucifix tattoo was upside down. So much fun to embody a different character, and have giant Gothic tattoos for a day.
Here's another look at my Kiss Me mask, and Purge Election Year candy girl outfit.
Compare my cosplay to the character in the Purge movie, above. I think it turned out quite bloody well!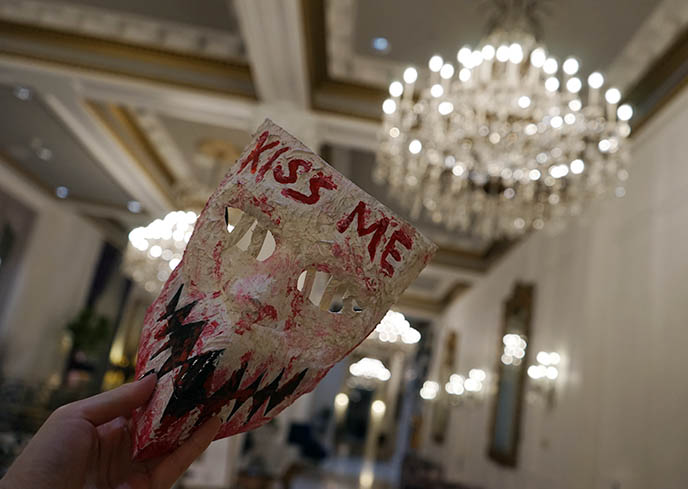 "This is your emergency broadcast system announcing the commencement of the Annual Purge."
The Purge TV show (season 2) starts airing Oct 15 on USA Network. Give it a watch; I assure you that you won't be disappointed. (And you can see me on-screen in the final episode, which will be broadcast Dec 17 at 9pm ET.)
I think you can tell I'm loving Halloween season… Next, I can't wait to celebrate Day of the Dead in Yucatan Peninsula!
Every year, Borderline Projects and Morbid Anatomy offer a curated tour that lets you experience Dia de los Muertos traditions with local communities in Mexico.
I'm joining this year's Mayan Rebirth trip, which will take me to Merida, Campeche, and surrounding areas. Take a peek at our 4-day Mexico itinerary: it includes a "Food for the souls" ritual, a "Festival of the Souls" celebration in a cemetery, and a "Cleaning of the Bones" ceremony in a small town.
Gracias to Borderline Projects for inviting me to take part in this Death In Mexico travel series; I can't wait to learn first-hand about Mayan rituals and folk traditions.
This year's tour is sold out, but there is already a RSVP list open for the 2020 edition. You can email info@borderlineprojects.com for more info and to reserve a spot for next year.
A last look at my nylons from UK Tights, and cute white leather sneakers by Lola Ramona. (See more shoe styles below from this designer.)
Can't wait to get my hands on more Mexican sugar skulls!
(Gothic umbrella Raven Goods, skirt Forest Ink, hair scarf Lola Ramona, Japanese tattoo t-shirt 1991NewYork).
Stay tuned to my Instagram/Twitter @lacarmina to see my adventures in Yucatan for Halloween and Day of the Dead. I also invite you to add Salvador Olguin & Borderline Projects on Facebook, Instagram and Twitter for updates on their cultural journeys.
I'll be stopping in Mexico City as well, so please let me know if you have any travel tips for me. See you at Dia de los Muertos… and watch out for The Purge!