Category Archive for
Fashion
Dot, dot, dot! I love the zany Japanese contemporary artist Yayoi Kusama. During my NY trip, I got to see her giant pumpkins, and be part of her flower power obliteration room.
She currently has many eccentric installations on view at her Yayoi Kusama: Cosmic Nature show, at New York Botanical Garden in the Bronx.
Yayoi Kusama's exhibitions are found both indoors and outdoors, harmonizing with NYBG's ponds and greenhouses. Strolling around, I felt like Alice in Wonderland as I encountered "Dancing Pumpkin" and her other incomparable works. (Kusama is known for her gourds, so it's fitting that Cosmic Nature is open until Halloween – Oct 31, 2021.)
OOTD: Wearing a cream puff pirate print dress by Sourpuss Clothing.
New York Botanical Garden was founded in 1891. The living space has over a million plant species in a variety of environments, such as wetland and waterfall.
To get to the NYBG: From Manhattan, the most convenient route is via the Metro-North Railroad. Take the Metro-North Harlem local line from Grand Central Terminal to Botanical Garden Station; the ride takes 20 minutes. Then, walk across the street to the Mosholu Entrance, and you're in.
Tickets to Yayoi Kusama's Cosmic Nature are available in advance via their site. I encourage you to pick up a map when you enter, as it shows where her exhibits are located throughout the gardens. (I felt like I was on a treasure hunt, as I went from place to place.)
Yayoi Kusama has been fascinated with the natural world ever since her childhood in Japan. Much of her art is inspired by the patterns, shapes and colors of plants and flowers, which she pushes to the point of obliteration / infinity. 
(All photos by Joey Wong.)
Yayoi Kusama has become a household name in the past decade. After her early years in Japan, she moved to New York City and created art that vibed with the swinging, happening subculture of the 1960s. (Mod tentacles, anyone?)
Later, the artist moved back to Japan to check into a mental hospital, where she continues to live and work… at age 92!
From the start of her career, Kusama's works have been dotty (figuratively and literally). She experienced hallucinations since childhood, which made the world look like it was made of dots — and inspired her artistic vision.
Her giant pumpkins, flowers, and other flora-based works get the polka-dot treatment. Love how they integrate with the natural surroundings at NYBG.
In "My Soul Blooms Forever" (left), her flowers stretch towards the glass dome of the Conservatory's Palms of the World Gallery. On the right. "I Want to Fly to the Universe" seems to be reacting in surprise to its reflection in the pool!
My favorite spot was Yayoi Kusama's first-ever obliteration greenhouse, "Flower Obsession." Before entering, visitors receive a colorful red and black gerbera flower sticker.
They must place the sticker somewhere in the interior — which lets them take part in an ever-changing Obliteration Room. (I didn't realize that it was "dah-mee" to put my decal on the exterior of the greenhouse, until afterwards… oops!)
Visitors came up with clever ways to add their stickers to the Flower Obsession. Some created long chains of flowers, which hung down from the glass panel roofs.
My sunglasses are these by Roberto Cavalli: RC 1047 Chianciano oversize frames, with gold snakes on the arms.
I suppose the NYBG caretakers will make a "Pikachu surprised face" much like this starfish-y sculpture, when they find my sticker here!
Yayoi's Flower Obsession edges further towards obliteration over time, as more people add stickers to the furniture and walls.
Be sure to visit Yayoi's "Narcissus Garden" at New York's botanical garden — a disruptive art piece that she introduced at Venice Biennale in 1966.
The shiny steel orbs float on the shallow pond of the Native Plant Garden. The wind changes the arrangement of the silver balls, and brings about a gentle melody as they clink together.
With a glittering orange skin, Yayoi's "Starry Pumpkin" looks like magic among the ferns.
Yayoi Kusama: Cosmic Nature had a few areas that prohibited photography — so you'll have to come for yourself to see these areas. They include collections of her early canvases, and an Infinity Mirrored Room. Walk into a dark space, and you'll find lit-up and dotted gourds reflected endlessly through mirrors ("Pumpkins Screaming About Love Beyond Infinity").
My tentacles dress by Sourpuss Clothing matches the phallic theme in many of her works.
Loved seeing Yayoi Kusama's vision in the context of a gorgeous garden. Here's another view of "Narcissus Garden" at the pond, and the back side of "I Want to Fly to the Universe."
Even a path through the trees gets the Yayoi treatment. The artist wrapped branches and trunks in red and white fabric, for "Ascension of Polka Dots on the Trees."
The gardens are able to hold her largest-scale works, such as "Dancing Pumpkin." (Why choose between tentacles and pumpkins, when you can have both?). So much fun walking around and through her giant yellow-and-black-dotted bronze sculpture.
Yayoi Kusama's works have added impact in the botanical landscape. Most of the art can also be experienced outdoors and without lineups, making Cosmic Nature a perfect outing for our time of social distancing.
This isn't my first encounter with the Japanese artist. I saw also saw Yayoi Kusama's show in Stockholm; see the review here (my hair was much shorter with an undercut at the time!). And I went to Naoshima Island in Japan, where I considered moving into one of her pumpkin houses.
I hope you'll get a chance to see Yayoi Kusama: Cosmic Nature at NY Botanical Garden… before we all turn into pumpkins on Halloween.
NYC always lets me scratch my itch for culture and architecture. On my recent trip, I also checked out the new Little Island at Pier 55. (Tickets are free, but you must make advance timed bookings.)
The Hudson River Park area continues to be revitalized, this time with three acres of green space floating on a bed of "tulip" stilts. On Little Island, you can enjoy views of mid-town Manhattan, and experience art and music by locals.
These 132 pot-shaped "tulips" suspend Little Island above the water, much like a floating leaf.
Little Island's park has a variety of topologies — go up the twisting wood stairs to discover gardens, performance spaces, food trucks, interactive op art, and more. I encourage you to visit if you're in New York City.
In writing news… I wanted to share my diabolical new article for Inkstick Media. I spoke with co-founder Lucien Greaves about The Satanic Temple's fight for reproductive rights.
"We believe we have a duty to protect the reproductive rights of our membership," Lucien Greaves tells La Carmina. "Their ability to make informed decisions about their own bodily autonomy is sacrosanct to us." Read more about how The Satanic Temple is hell-bent on fighting back here.
Speaking of the devil… Episode 2 of our "Satanic Show + Tell" TV show is live, on The Satanic Temple TV! Dr John Skutlin and La Carmina interview Trevor Alexander White about his devilish collections, including 666 butt tattoos and monster masks from his uncle – Kirk Hammett of Metallica. Above is the trailer, and enjoy the full episode here.
And a thank you to True Travel Podcast for interviewing me about alternative travel and fashion journalism, Japan, blogging / social media and more.
I also was a guest on We Travel There travel podcast. We discuss my favorite places in Osaka, Japan, including a 666 boutique.
Wishing you a happy Halloween, with an emo-hipster outfit snap. Special shout-out to everyone who's been reading this blog since the MySpace days… Thanks for being with me throughout all of life's changes!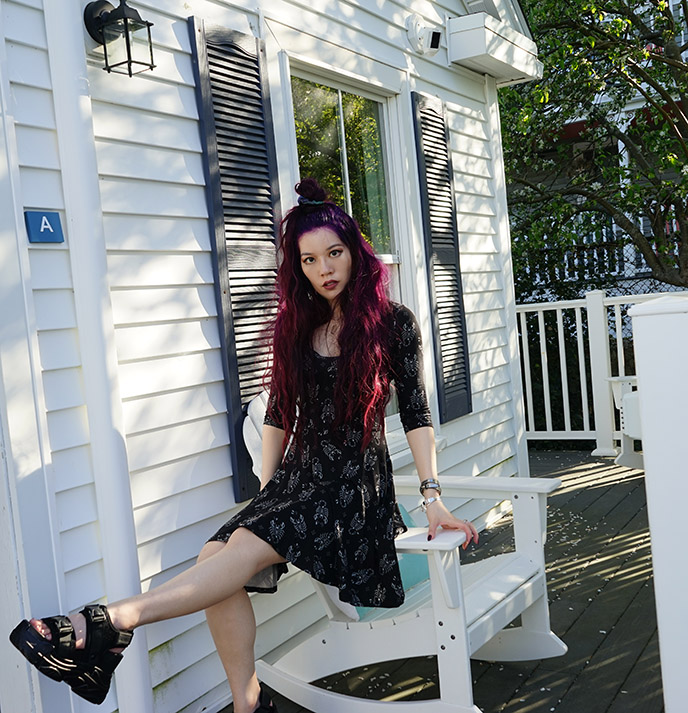 In this era of travel restrictions, I'm grateful whenever I have the chance to enjoy "pockets of devilish fun." This summer, I took a 35 minute drive north from Salem, MA — to kick it at The Cove at Rockport beachfront hotel!
(My platform 90s-style sandals are by Anthony Wang Shoes.)
Here's the picture-perfect view of the Atlantic Ocean, which you get from The Cove's vacation condos. Now I get why vacationers love to spend time in New England in the summer, indulging in seafood and beach time.
With fishing boats under blue skies, the harbor town of Rockport, Massachusetts is the definition of charming. You may recognize the red fishing shack known as "Motif No. 1," as it's featured in many scenic American paintings.
The Cove at Rockport is right across from the beach, and a 5-minute walk to the downtown filled with art galleries, cafes and restaurants. All guests have access to the common areas and clubroom, which are decorated with these mod pod basket chairs. (I felt like I was in a 1990s music video, especially with these Anthony Wang platforms.)
You can also hang out with a cocktail at the "On the Rocks" Oceanfront Deck, and watch the sunset over the water.
Address: 1 King Street, Rockport, MA, 01966.
I was pleased to find white Adirondack rocking chairs on my sunlit patio.
(Outfit details: Gothic platform shoes by Anthony Wang Shoes and dress by Sourpuss Clothing)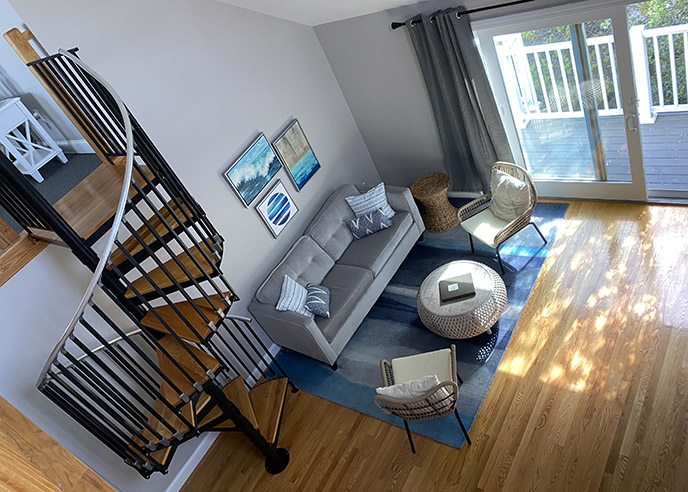 My condo, "Milbrook A," had a spacious living room and full kitchen. A twisting modern staircase took me to the bedroom in the upstairs loft.
The Cove's condos and suites have a classic seaside design, but are equipped with modern amenities. The purple planter of flowers at the front entrance were a sweet touch.
Inside, the decor is all about casual beach comfort. The Cove at Rockport's accommodations are well-suited to family or friends traveling together, or a romantic getaway.
I was hungry when I checked in… Fortunately, The Cove left me a generous basket of local treats. The snacks included wine, white lavender chocolates, and tea. The rosemary salt crackers and cheeses are not pictured, as I devoured them immediately!
The Cove's spaces retain historic elements, such as restored woodwork pieces and flooring. They blended in new furniture and bright paint, for a modern refresh.
The condos were surrounded by trees and flowers of all types.
Close-up on my Alex Streeter Ouroboros ring, and Hermes Collier de Chien bracelet. I'm wearing a Bvlgari Serpenti bracelet, see more Bulgari accessories below:
Summertime, and the living is easy…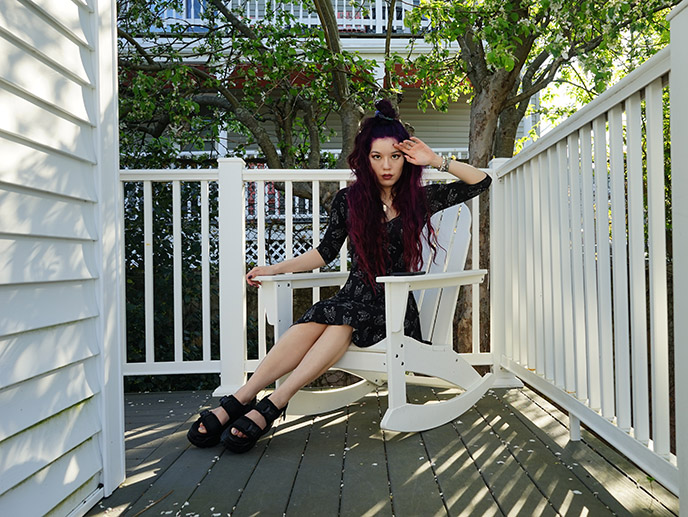 Rockport, MA was historically a colony of artists and fishermen. The creative, maritime feeling comes across at The Cove at Rockport.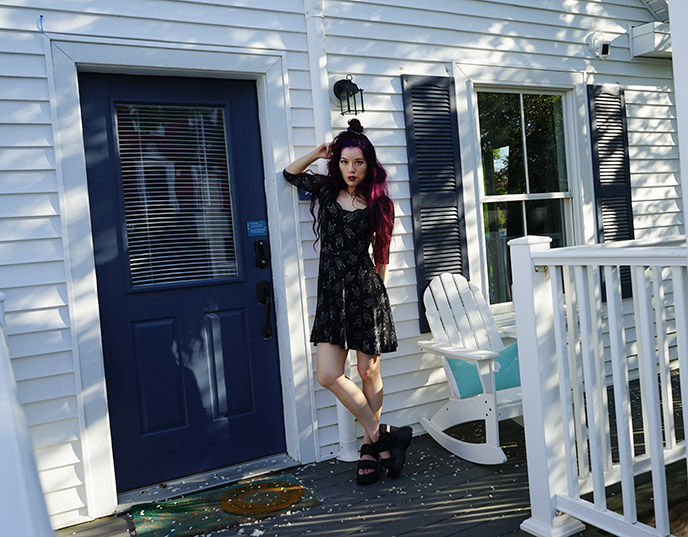 The classic architecture has a high-tech keyless entry, with a digital touch code unique to each guest.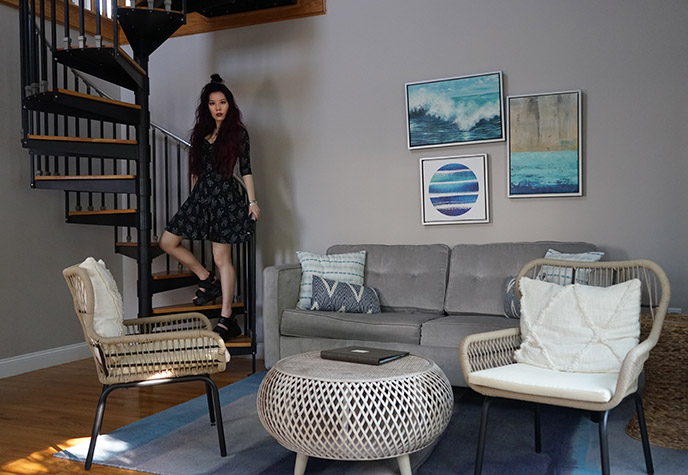 If you're in Boston or Salem, it's an easy and short drive up the coast to Rockport, MA. I encourage you to come to the Cove for a few days, to relax by the ocean.
Guests have access to the mixed-use common areas, which contains tea and coffee pods, game tables, a giant TV, and lounge seating.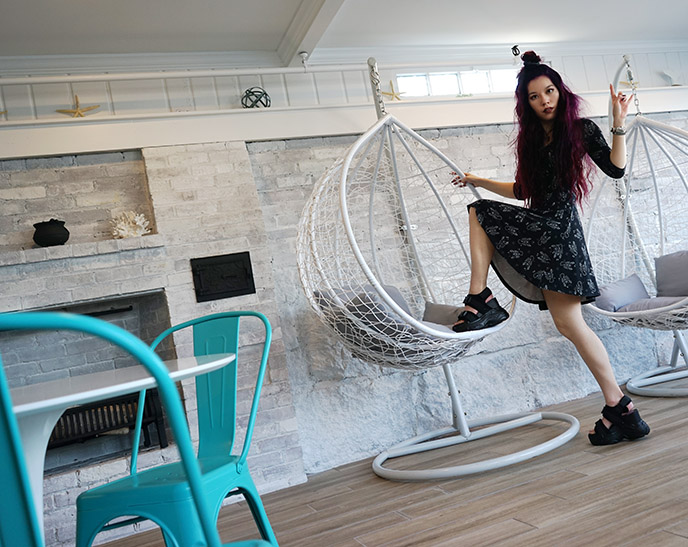 Scorpions dress by Sourpuss, and shoes by Anthony Wang.
The hotel was formerly the Peg Leg Inn, hence the pirate statue with a telescope haunting the exterior!
Time to explore. I went across the street to Front Beach, which has a mix of sand and rocks. Then, I took the quick walk to downtown Rockport village.
Along the way, I came across a friendly whale and an old cemetery overlooking the water.
The red Motif Number One fishing hut was first built in 1840; this is a replica of the original. It's known as "the most often-painted building in America," as it's found on many canvases.
I ate very well while in Rockport. Try the avocado egg toast from Brothers Brew, the fish sandwiches and salads from Roy Moore's Fish Shack Restaurant And Bar, and the oat milk lattes and snacks from Two Little Birds Eatery (right next door to The Cove hotel).
For a sweet treat, stop at Helmut's Strudel (fresh baked German apple pastry, topped with vanilla ice cream).
The town is tiny, and filled with quaint ports.
You can also peer in to indie art galleries, and take in a show at the Shalin Liu performing arts center.
For those focusing on outdoor activities, go for a walk and look for animals at Millbrook Meadow and Mill Pond. The park is straight out of a storybook (frog pond, stone bridge, playground), and right next to The Cove at Rockport.
Details of New England architecture. I thought those were flying bats, but they appear to be sea birds.
With sunsets like this, no wonder Rockport, Massachusetts attracts artists from all over.
Next time, I'd love to do some sailing along the coast.
Make a booking at The Cove at Rockport, for a luxurious and laid-back stay like mine.
Have you spent time vacationing in the New England seaside? This was my first time, and I'm keen to come back and see more of its charm.