Category Archive for
Fashion
There's a new Goth Sheriff in town… And she's making you stay home!
Doesn't it feel like we're living in a Bizarro universe? The world has flipped over within the span of a few weeks.
On March 11, the coronavirus COVID-19 was declared a pandemic. As the numbers rose worldwide, countries increasingly went into lockdown mode. Borders were shut, and people were urged to self-isolate to stop the spread.
Now, the travel industry has essentially come to a halt. For travel bloggers like myself, all campaigns, trips and projects (including a Japan TV show shoot) are on hold… Possibly til the end of 2020, or beyond.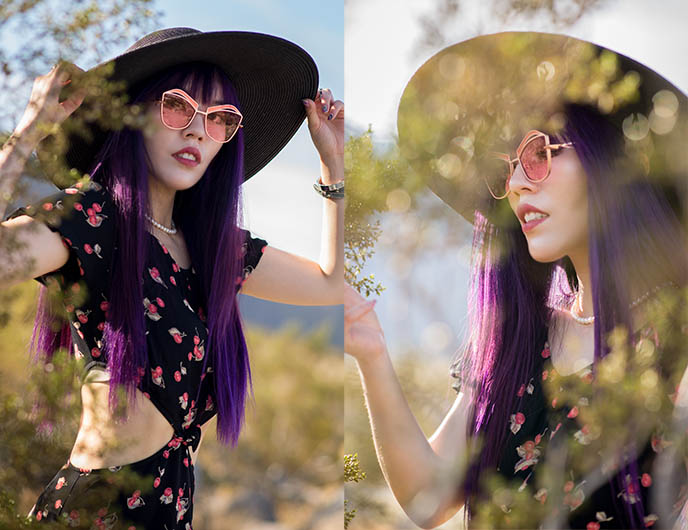 Everything's in flux… but for now, my mind is set on doing all I can to flatten the curve. That means staying in at all times (except to get groceries every two weeks), and being conscious of hand-washing, mask-wearing, and social distancing. 
It's a strange and unprecedented time for all of us. For travel bloggers and others who make their career from traveling, there's a lot of uncertainty about the future. However, there's a lot we can do to halt Covid-19, and make the most of our time at home.
Don't think you want to see my current pajamas look… so I'll also share some of Joey Wong's sunny images from January. I'm grateful we got to relax at the Parker Palm Springs, before it all went down. (If you missed it, here's our colorful photoshoot in the hotel.) 
OOTD: Wearing a For Love and Lemons cut-out dress, similar to their Cherry Twist mini dress. I accessorized with Lola Ramona sandals, sunglasses by Spiltmilk Eyewear, and a sunhat by Tenth Street Hats.
Although I could never have predicted the worldwide shut-downs, I have to confess I had a dire feeling about the coronavirus even in January. When I heard that China was quarantining entire cities inhabited by millions of people, I knew this was something deadly serious.
In January and February 2020, I traveled to several cities in the USA (Los Angeles, Palm Springs, NYC, Portland). These turned out to be my final trips for a long time to come.
I had several major projects lined up for April, including something that would take me to several new countries. I also was planning a Japan television show shoot and campaign. Now, all these are cancelled or delayed.
It's a time of significant stresses for all of us — I can't even begin to address the potential worldwide devastation. In terms of the travel industry: hotels, airlines, tour companies and more have shuttered, some for good. It's unclear how or when things will pick up, and what travel will be like in 2 years or so.
But right now, staying in is the best thing we can do for ourselves and others, to keep the coronavirus from spreading. If we aren't essential workers who must go out, then we can make the biggest positive impact by self-isolating.
I don't go out except for necessary groceries (which I get in bulk, on a single trip). And always with protective practices (social distancing, mask, gloves, hand sanitizer, cleaning my credit card and clothing when back).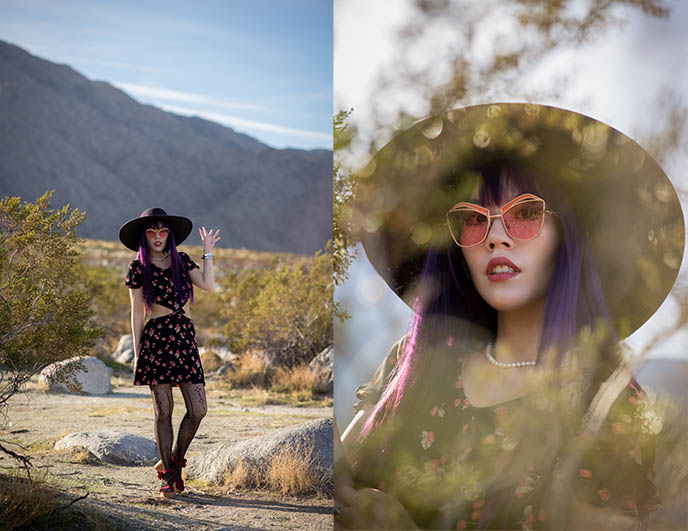 It's quite a change from the travel blogger lifestyle. But I'm focused on the bigger picture, and determined to help in the best way I can.
Until it's safe to move around again, what will I be up to? I recognize I'm fortunate to be a Canadian citizen and have the resources to likely ride out the storm. I've been pivoting to other writing work, as well. (You can see my latest article for Fodor's Travel about animal architecture around the world.)
I've been finding positives in spending time at home. Without the disruptions of traveling, I'm able to focus fully on fitness and healthy eating. I'm enjoying home-cooked, nutritious meals with the occasional baking foray… such as pumpkin and dark chocolate brownies!
It's also a moment to appreciate the small things, like the cherry blossom trees coming into full bloom. (While on short, socially-distanced walks in uncrowded areas. )
(I'm never outdoors without sun protection, of course! In Palm Springs, I shielded my skin with a black sunhat by Tenth Street Hats. My one-of-a-kind St Bart's pink sunglasses are by Spiltmilk Eyewear. Each metallic frame is handcrafted in Japan, and how fabulous are the built-in eyebrows.)
Cactus spikes ahead: I've been railing against the rise of fake news. I see a lot of misleading COVID stories being shared on What's App and social media, and the effects can be dangerous. (Such as spreading false medical info, and encouraging harmful behaviors.)
We need to be more responsible. I urge you to verify sources: Consult the CDC and WHO, and look up keywords on Google News to see if any reputable media has reported on the alleged story. Think critically and don't simply pass alarmist things along.
It's more important than ever to stay healthy, and work out at home. I've been doing yoga workouts almost daily (here's a collection of my favorite free yoga vidoes on YouTube, if you'd like to join me).
Don't forgot mental wellness. I'm a fan of the Sam Harris meditation app Waking Up, and Ten Percent Happier (which has many free podcasts and lessons online).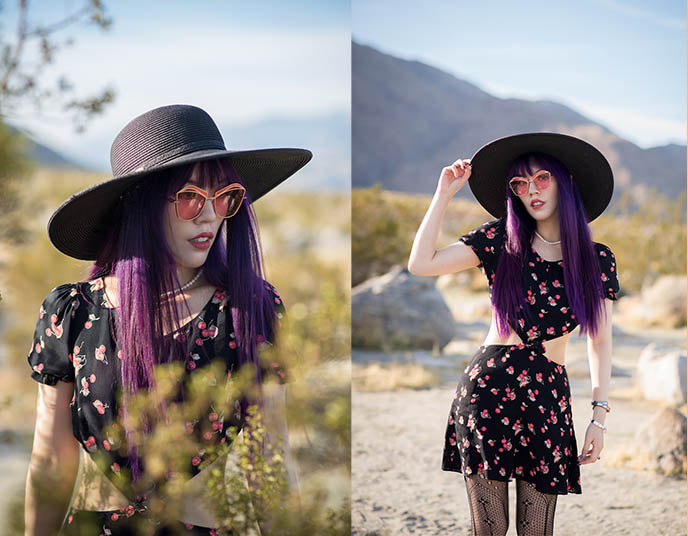 We aren't alone in the wilderness — this is a key time to catch up with friends and family. I've been doing video calls with people around the world, and it's been wonderful to reconnect. I encourage you to reach out; it's simple to use Facebook Messenger, What's App, Zoom, Skype and other apps to do video group calling.  
Warning shot: wash your hands, and keep 2 meters or 6 feet away from each other!
(Feeling grateful to have experienced Palm Springs in Jan… Wearing Spilt Milk St Bart's sunglasses, Lola Ramona sandals and a For Love & Lemons cherry dress (find it here). See more from this romantic label below with a click:)

The world will be here for us, once this is over. (And perhaps in a better state, with less carbon emissions and over-tourism…)
Let's look out for each other, and support our healthcare and essential workers. Let's be kind to ourselves, and keep up-to-date with the latest news without getting overwhelmed.
The future of travel is a big question mark, but I'd love to keep sharing meaningful stories with you. I hope to make 2020 a year of exploring new things, and growing in unexpected ways. 
Please keep in touch any time — I'm here to connect, and help in any way I can! You can find me @lacarmina on Instagram and Twitter, and here on Facebook. Keep safe and healthy, my friends.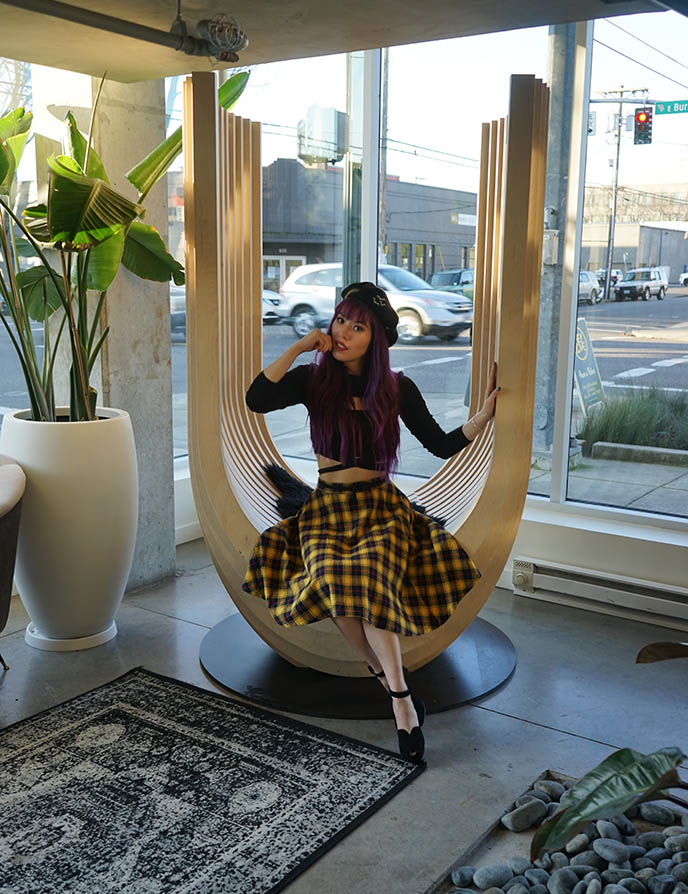 Blink, and you may have missed that I spent a few days in Portland, Oregon!
On this short but sweet trip, I got to catch up with my pirate comrades and hang out in the stylish new Jupiter Hotel Next.
I haven't been to PDX for a few years, and am pleased to report that yes — Portland is as weird as ever.
Keep reading to see our adventure at the Freakybuttrue Peculiarium, where I got probed by aliens and sat on Krampus' knee!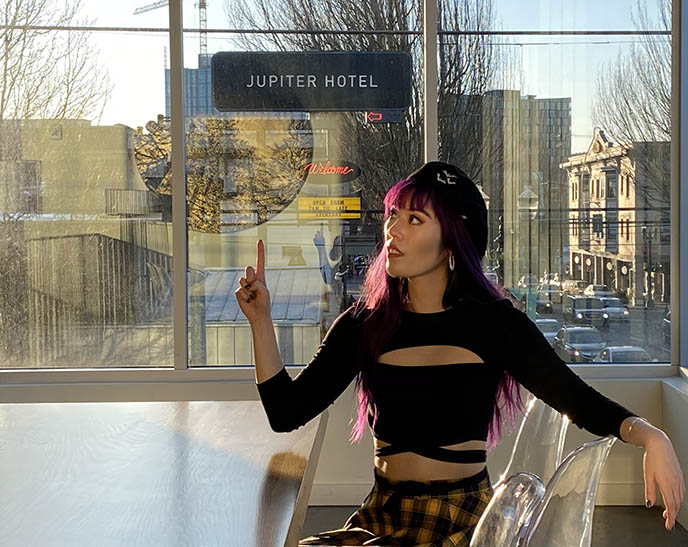 In 2013, I visited Portland, Oregon for the first time and stayed at the original Jupiter Hotel. I had fun shooting with the space-inspired rooms, and exploring the kooky and Gothic subcultures in the city. 
This time, I rested my head at the Jupiter Next, the hip new outpost of the Jupiter Hotel located right next door.
Opened in 2018, Jupiter Next is a sleek and stylish boutique hotel set in a funky six-floor building.
The lobby is an airy space featuring concrete planes, walls of plants, and giant windows that let in plenty of natural light. Many of the staff and guests are tattooed and pierced types with colored hair… The Jupiter is my type of place!
I put together an outfit with "Clueless" vibes. (The beret and yellow and black tartan are totally Cher Horowitz.)
My plaid skirt and bats beret are by Sourpuss Clothing, criss-cross top from Forest Ink, and my black platform pumps are found here.
Every morning, I made it a routine to get free coffee with oat milk downstairs at the Hey Love bar. The baristas also have a spectacular handmade pumpkin latte…
Hey Love, their resident restaurant, serves tropical-inspired dishes and cocktails. Loved the brunch presentation that included edible flowers on a generous platter of chilaquiles.
Be sure to take a break on the rooftop terrace, which has sweeping views of Portland's historic buildings and mountains. The hotel is located in East Burnside, an easy walk from plenty of chic cafes, bars, and the Lovecraft Bar (a favorite Goth party space).
The Jupiter Next is also a home for the local art and performance scene. There's a music venue on the property, and regular events and partnerships with creatives. (Hotel pics by local artist Naomi Rubin.)
The art in each room sums up this design hotel's playful Portland vibe.
Each room is outfitted with cozy modern amenities, and has fabulous views of the city from a big picture window.
You can compare the Next to the original Jupiter Hotel, where I stayed on my first trip to PDX. The original has more of a motel and partying feel, while the new one is a more chic and upscale "big sister." 
Close-up on my hoop pearl earrings from Stephen Einhorn — I've been wearing them non-stop. The medium hoop Creole earrings have an elegant French vibe, and stand out with an all-black outfit and dark hair.
My black beret with flying bats is by Sourpuss Clothing.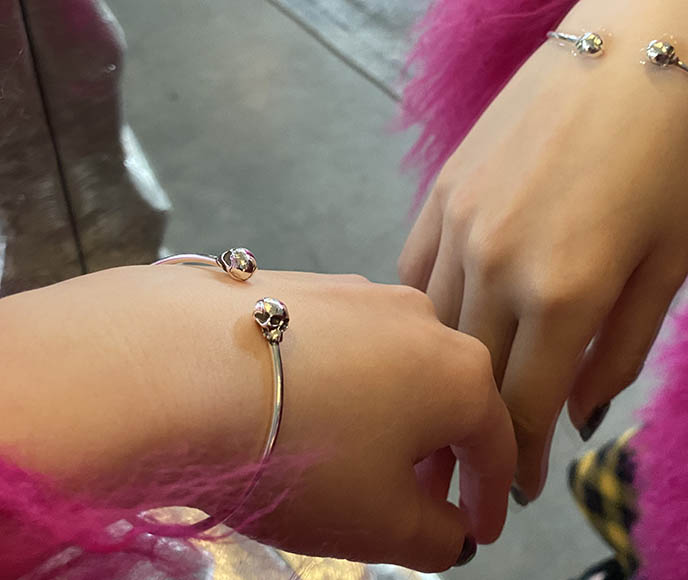 Close-up on my Dainty Skull bangle, also from House of Einhorn. (The British designer is famed for his fine Gothic jewelry, including the rings Johnny Depp wore in Dark Shadows.)
The silver double-skull bangle is a subtle yet striking piece, which can be worn alone or layered. You can also customize the eyes by adding in diamonds or gems for sparkle.
More from the Jupiter Next at the end of this blog post… But first, let's go out into the city and get freaky.
I did my best to "Keep Portland Weird" — and I think I succeeded.
Wearing a neon green alien beanie and abduction hoodie, by Chicago streetwear designer Cryptic Apparel. 
My pirate comrades and I were excited to experience the Freakybuttrue Peculiarium, the craziest and strangest museum / art attraction in Portland, OR.
The exterior gives you a hint of the disturbing kitsch horror within… This seems like our type of place!
We visited the Freaky but True Peculiarium right before it moved to a new and larger location, with more exhibits. (Check their site to see the new address and details.)
The gift shop alone is worth a visit. You can spend a good amount of time here marveling at the quirky objects for sale, and taking disturbing photos with Sasquatch. Many of the offbeat works are by local artists, including a wall of comics by Portland creators.
The mish-mash of items ranged from funny to puzzling to terrifying. We were tickled to see vintage clown plates, chocolate chip cookies made with bugs, "anti-hipster" poison vials… If it's freaky or peculiar, you'll be sure to find it here.
Admission to the Freakybuttrue Peculiarium is $5, but you get in free if you wear a hardcore costume.
Inside, you'll find a hodgepodge of displays that don't make much sense — but they're all eerie, bloody or weird in some way. In this corner, you can sit on a leering Krampus and take photos –– much like pictures with Santa! (Or Satan…)
The emporium of oddities pays tribute to sci-fi, horror, urban legends and other weird niches. Two of my favorites were the Vampire Killing Kit, and a blood-spewed bathroom titled "Dude where's my guts."
This isn't a haunted house, so you won't experience any jump-scares. However, you'll be certain to be creeped out by something in this enormous collection.
A Victorian dollhouse looks like an innocent playhouse for children… until you notice the murderous scenes in each room.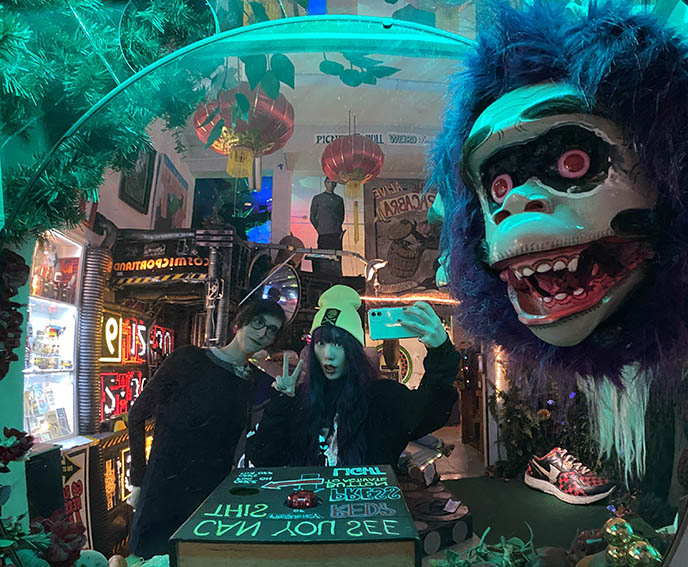 You're encouraged to take photos at the Freakybuttrue Peculiarium, and many areas are set up for fun selfies.
A group of art students put together the wildest attraction of all… An alien autopsy in progress! 
There's a hole for you to pop your head out and be part of the dissection. I seem to be okay with having my organs harvested. Aliens need to learn human anatomy and eat protein, after all…
This mannequin in a bunny-suit, on the other hand, gave me the willies. Warning: if you're planning to visit the bathroom here, you might be in for a spooky surprise…
Wearing an alien abduction sweatshirt and skullcap by Cryptic Apparel. Not sure if this Cosmic Portland portal is teleporting me to the future, or back to the 1980s.
I think I'll press the Depeche Mode button, and wind up in a 1986 Goth club.
(The space vibes match my Alina Abegg alien pinky ring.)
The Freakybuttrue Peculiarium is one hell of a weird place — and that's saying a lot, for Portland!
Speaking of devilish matters… I went on a hunt for Gothic and Satanic themed things in Portland.
I couldn't resist trying a pentagram doughnut from the popular Voodoo Donuts. Called the Diablo Rex, this is a chocolate cake donut with red sprinkles, hailed with a white vanilla pentagram star.
(You can also ask for a pentagram pizza from Sizzle Pie, which has various locations in PDX.)
I stopped by Powell's Books, and was in heaven — there were rooms upon rooms of esoteric tomes, zines, and novels. Everything is free to browse on the shelves… except the occult / Satanic books and tarot cards, which are locked behind a glass case!
Is it because books like the Satanic Bible by Anton Szandor LaVey are too dangerous for innocent eyes? The truth is more mundane: emo teenagers tend to steal these books, hence the extra layer of protection!
If you love eclectic shops, be sure to stroll along Southeast Hawthorne Boulevard. There are plenty of alt cafes and two Gothic boutiques: Danse Macabre (above), and Another State of Mind. 
Portland's NW 21st and 23rd avenues also have funky shops, including Paxton Gate. Find two-headed skeletons, horned taxidermy, and rare fossils including T-rex teeth.
Death, 666, and upside down crucifixes are everywhere… Hail Portland!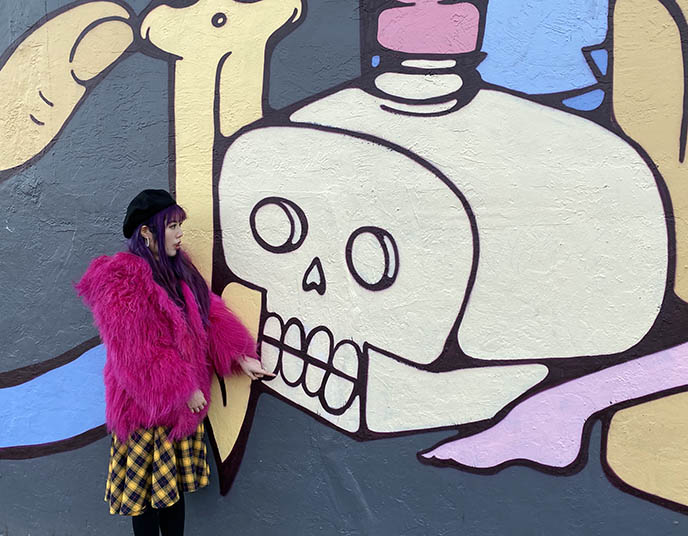 So much wonderful street art to see all over Portland, including this grinning skull. "You turned around, and you had these wooden teeth!"
I kept warm in my Skandinavik pink Mongolian fur coat with a hood.
Another look at my Stephen Einhorn skeleton heads bracelet. A timeless piece and a perfect gift for anyone with a Gothic disposition.
If you're curious about the original Jupiter Hotel, you can see my review here from a few years ago. It turned out to be the perfect place to wear my astronaut outfit for Halloween.
Very happy I got to experience the new Jupiter Next. Waking up to these views in the X Room was heaven.
If you're looking for hip accommodations in Portland, the Jupiter Next Hotel can't be beat for value and location. It's also a great spot to grab craft cocktails or a meal with friends.
A salute to Weird Portland — there's so much to love about this city, and I'm keen to come back again soon.
OOTD: Clueless plaid skirt and hat by Sourpuss Clothing, cut out black top from Forest Ink.
PS: For more alternative and Goth travel tips, check out my full Portland, Oregon series here. I cover The Lovecraft Bar, pirate Day-Glo golf, absinthe and Victorian theater, underground warehouse parties, and other weird and wonderful attractions!