Category Archive for
Fashion
Call me Queen of the Damned. If you dare rouse me from my sarcophagus, I'll unleash the curse of the mummy!
I think you can tell I had fun with Yukiro in Egypt, on our journey with Travel Talk Tours. Alas, this is the final story from the land of Cleopatra… but it's an epic one, featuring royal mummies, sphinxes, and other undead delights in Cairo.
(Wearing pants by Charli Cohen, and lace bodysuit by UK Lingerie.)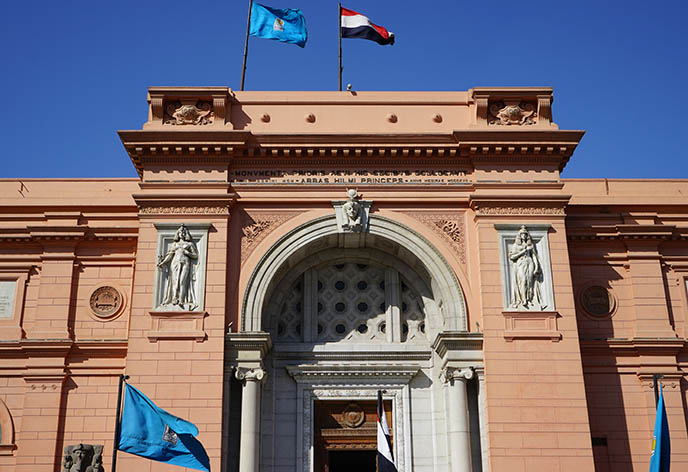 Our 12-day Travel Talk tour included two days in Cairo. I was most excited to visit the Museum of Egyptian Antiquities — I've dreamed of being here since I learned about it as a child.
But first, I wanted to share something meaningful I published in Fodor's Travel. On January 7, my close friend Elizabeth Wurtzel (who you may know as the author of Prozac Nation) died from breast cancer (BRCA mutation and metastasis).
I wrote a tribute to Lizzie here, highlighting what I learned about her during our trip to Brazil. I hope you enjoy it, and that it captures a sense of her one-of-a-kind personality — "forever wild and brilliant and impossible."
On that note – I'm delighted to announce I'll be at New York Fashion week… but this time, for a more meaningful reason.
One of my best friends, Molly, is a breast cancer thriver. She and her mom are walking the catwalk to share their story and make a difference.
NY friends, please join us on Feb 9th. We'd love to be with you at this fashion show.
Watch Molly and her mom walk the stage wearing AnaOno (designer of post-surgery bras for those affected by breast cancer), in partnership with Cancerland. 100% of funds will go to nonprofit METAvivor Research and Support Inc. for metastatic / stage IV breast cancer research.
More info & tickets here; I hope to see you February 9th!
And now, Egypt — the ancient land of powerful women rulers.
Cairo's Egyptian Museum was built in 1901, and parts of it shows its age (crumbling walls, tilted captions). In the outdoor sculpture courtyard, a Sphinx welcomes visitors.
However, the city is currently building a new Grand Egyptian Museum, slated to open in 2020. I caught a glimpse of it by the Giza pyramids: designed by Heneghan Peng, it's a modern structure of glass triangles.
Until then, you can go to the original Egyptian Museum to see tens of thousands of ancient artifacts. The museum houses around 120,000 items, with most of it in storage.
(Note: you need to get a photo pass in order to take images inside, like we did).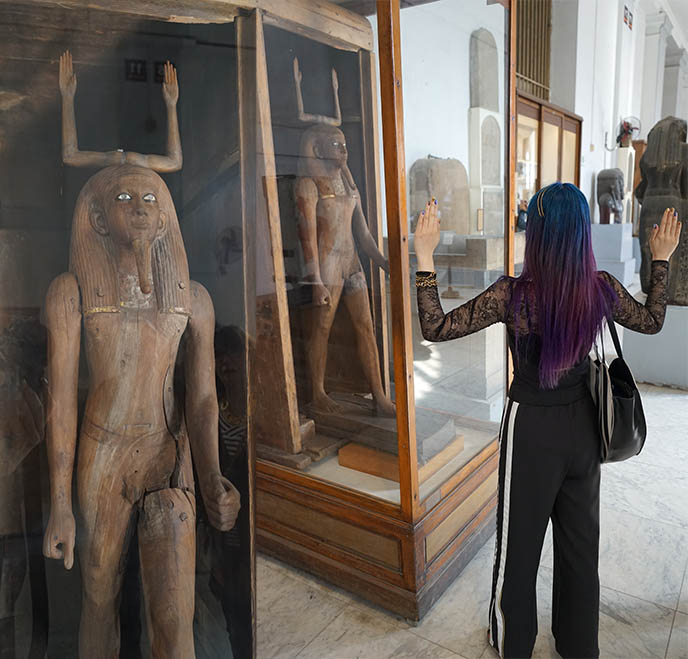 In books and blogs, you typically see the most famous Egyptian works (such as the Rosetta Stone and bust of Nefertiti). But I'm here to show you the most bizarre relics we encountered at the Egyptian Museum!
Is it just me, or does this standing male sculpture make you think of Beavis and Butthead? "I am the Great Cornholio, I need TP for my bunghole!"
Not all mummies look like the elegant King Tut. In the later era of Egyptian civilization, the sarcophagi had Greco-Roman-style portraits painted over the facial area.
(And it appears they understood the importance of elevating one's feet, even after death!)
I think you can guess why the sarcophagus room was our favorite area of the museum. From above, the shape resembles a vampire coffin. (I suppose that's why the undead emerge from both?)
Looks like a mummy has escaped from one of the coffins…
These are traditional styled Egyptian sarcophagi, with the nemes headscarf. Propped up in a row, the dark stone death chambers are as Gothic as it gets!
Speaking of morbid anatomy — we were delighted to see Egyptian canopic jars. During the mummification process, the viscera are removed from the corpse, and preserved in these carved jars for the afterlife.
Canopic jars are topped with four deity heads. Your lungs are protected by Hapi the baboon, while your stomach goes to jackal-headed Duamutef. Imsety the human gets the liver, and the falcon-headed Qebehsenuef holds the intestines.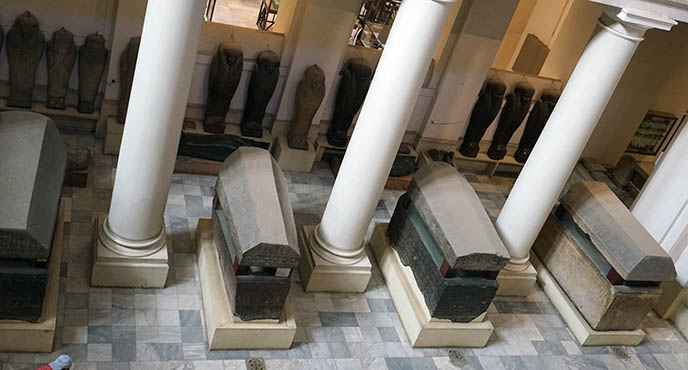 If you're fascinated by ancient Egyptian death rituals, you've got to see the Mummy Room at the museum. Entry requires a separate ticket, and it's well worth it for the special exhibits related to mummification… and the glass cases of dead pharoahs!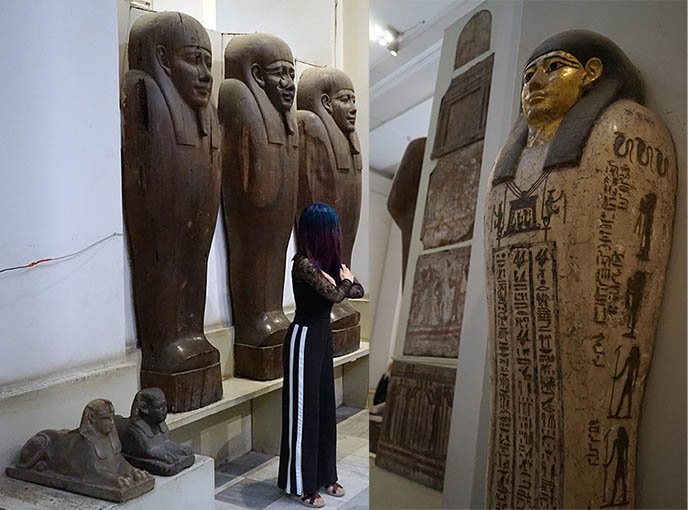 You aren't allowed to take photos in the Egyptian Museum's Mummy room, so you'll have to imagine the small, shriveled brown bodies of Egypt's most famous pharoahs.
We ooh-ed over the preserved corpses of Seti I, Ramses II, and various pharoahs named Amenhotep and Thutmosis. Each was wrapped up in bandages, with arms crossed over the chest. The mummification technique was so pristine that we could still see their teeth and nails, and strands of hair!
The museum labels couldn't possibly explain all the weirdness we saw. What's the deal with the two heads coming out of a stone covered in hieroglyphics, much like an Alien movie scene?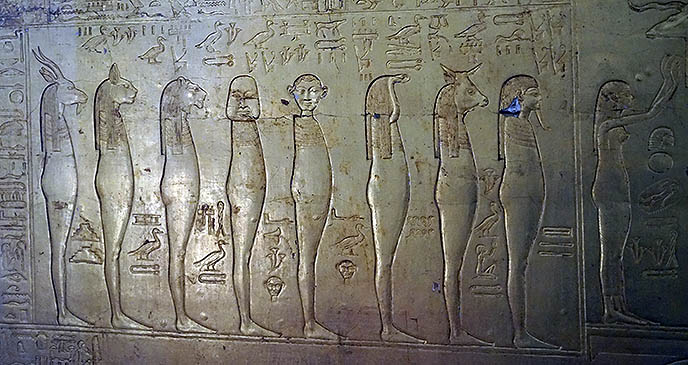 I did a double-take when I saw the potato head faces in the middle, staring at me from the side of a stone mausoleum. Why are they turned to towards the viewer, like something out of a horror movie?
Plus, they're flanked by horned and snake-headed deities… and led by a woman giving a "hail!"
It's obvious why the ancient Egyptians are associated with the occult and undead. (How heavy metal is this pose?)
Aleister Crowley, deemed "the wickedest man in the world," spent time in Egypt investigating the dark arts. In 1904, he was Cairo with his wife, and she had a dream where a voice was saying "They are waiting for you."
Crowley's wife described an ancient artifact in her dream. They went to this very Egyptian Museum in Cairo, and she discovered that it existed. The relic showed an image of Horus on a slab, which became known as the Stele of Revealing.
And then, Crowley looked at the number of the exhibit… and it was 666, the sign of the Beast!
(Unfortunately, the displays are no longer numbered, so we couldn't find it… but here is a rather Gothic double-ankh.)
Fascinating how the Egyptians worshiped gods with animal heads and human bodies. Here's the fierce lioness Sekhmet, and falcon-headed Horus in a shrine (or is it a birdcage?)
We were mesmerized by the wing of the museum dedicated to Akenhaten. The ruler is always portrayed in this strange way, with wide hips, a slender face, and womanly body.
This has given rise to theories that Akenhaten was intersex, or a woman cross-dressing as a man! However, he had several children… perhaps he chose to be carved like this for political or spiritual reasons lost to the sands of time.
Of course, Yukiro and I are fans of sphinxes — the mythical creature with the head of a human, and the body of a lion. You'll recall that we saw the Great Sphinx of Giza with Travel Talk Tours.
The Egyptian Museum had plenty of Sphinx statues on display. This one had big paws and ears, and appeared to be winking at me.
"Sphinx" was the name given to this deity later on. Nobody knows what the Egyptians actually called this feline… perhaps that's the true riddle of the Sphinx.
Could this be the first example of "kawaii" art? These smiling lions were certainly carved to look as cute as possible.
The ancient Egyptians considered cats to be sacred, and worshipped Bastet (the cat-god) and fierce lion goddess Sekhmet.
I could have spent all day at the Egyptian Museum in Cairo. The art techniques were remarkable for the time — and who knows what masterpieces are still buried under the sand.
When we think of Egyptian art, we usually picture the stiff, stylized "walk like an Egyptian" carvings. However, artists also made incredibly detailed, painted 3D sculptures. Aren't the anatomy and facial detail astonishing?
So. Many. Sphinxes! It's easy to spend hours wandering around, but leave some time for the excellent gift shop as well. I picked up a gold ankh as a memento, which I hang on my backpack.
Travel Talk Tours took us to see other cultural sites in Cairo, to round out our experience of the city.
We toured the Mosque of Muhammad Ali, which is located in the Citadel of Cairo.
Built in the mid 1800s, the mosque has a magnificent cupola lit with intricate lanterns. The soaring Ottoman-style interior reminded me of when I saw the Blue Mosque and Hagia Sophia in Istanbul.
Outside, there's a fabulous city view! Cairo is a massive capital, and has a population of 19.5 million.
Cairo is one of the oldest human habitations in the world. Do you see the points of the Pyramids of Giza in the distance?
Wearing pants by Charli Cohen, and a long sleeved bodysuit by UK Lingerie.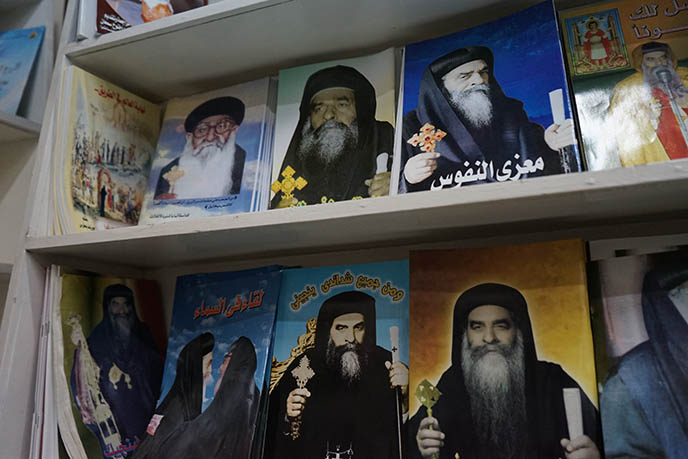 We also got to see the Hanging Church, one of the oldest in Egypt. The leaders of the Coptic Orthodox Church have a rather "vampire-slayer" look.
The Coptic Christian church is dedicated to Virgin Mary. She appears to have bats with human heads flying around her head…
As Elaine said on Seinfeld, when she realized she was going to hell… "and the heat, my god the heat!"
Expect to run into traffic jams when you're in Cairo — it's just part of the experience, and gives you a chance to take in scenes like this market.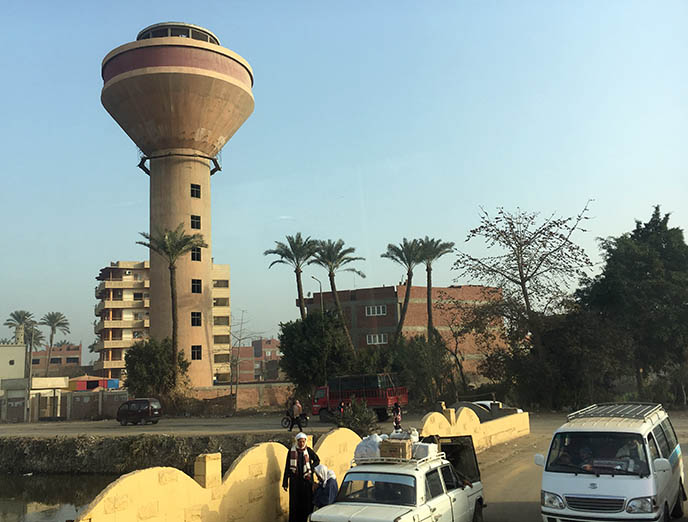 Love the juxtaposition of fan-shaped palm trees and an alien tower.
Our group stopped at Khan el-Khalili souk, which is the main market in Cairo. You'll find lots of shops and cafes here. (This man is balancing a tray of pita bread on his head!)
Most of the goods at this market are made in China trinkets… if you're interested in souvenirs, be sure to barter hard.
For more authentic items, look for boutiques that sell goods made by Egyptian artisans. (We stopped by a shopping mall, and saw these funny ancient meets modern murals.)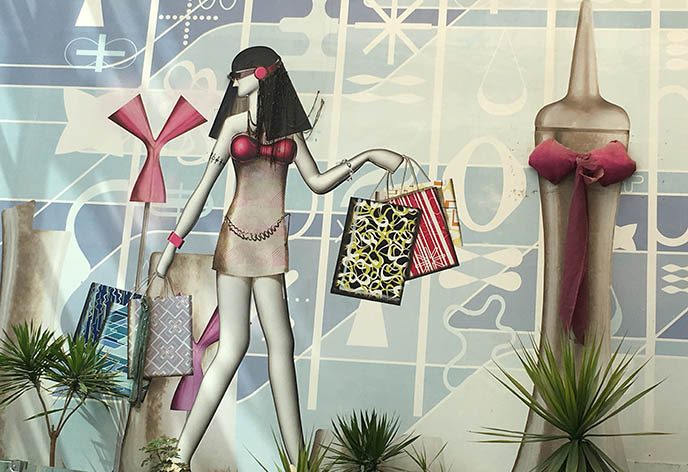 Cleopatra's hairstyle – straight black hair with bangs – never goes out of style. Pair it with kohl eyeliner and a mini-dress, and you've got a timeless outfit.
Travel Talk Tours offered a variety of optional excursions during the trip (Yukiro and I opted to do most of them). On our first evening in Cairo, we took a dinner cruise on the Nile River.
At night, the Nile lights up with rainbow colors from passing boats. (Imagine how this scene must have looked, in 2000 BCE!)
We helped ourselves to food, and watched an Egyptian culture show. The performance featured a sultry belly dancer, and a whirling dervish who spun in dizzying circles.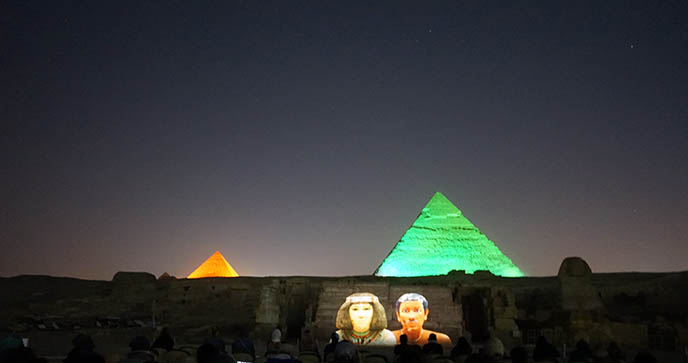 On another evening, we opted to watch the Sound & Light Show at the Pyramids of Giza. The show illuminates the Pyramids and Sphinx in neon lights, while you hear tales of ancient Egypt.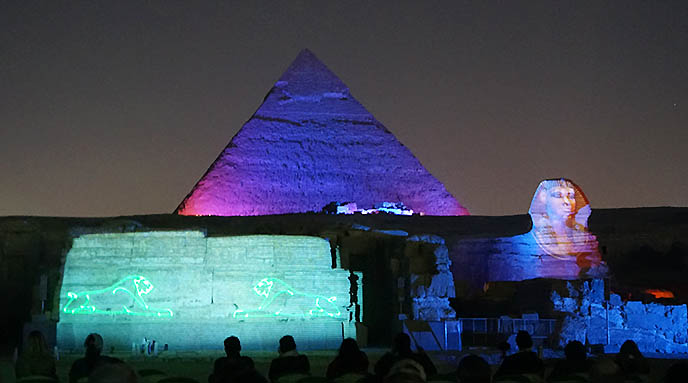 The Sound and Light show hasn't been updated since the 1960s, and the effects are rather kitschy — which we actually loved.
The male narrator speaks in a dramatic "Ten Commandments" voice. Imagine him announcing: "Behold… (dramatic drum roll)… the Pyramid of Cheops!" (The triangle turns purple).
The retro kitsch made the experience unintentionally funny at times — but again, that's why we were into it.
"Gaze… (lion roar)… upon the glory of the Great Sphinx!" (Can you imagine a synthwave party at the Pyramids?)
A final pyramid pose for you, as we say goodbye to Cairo for now.
Hearts to Travel Talk Tours for showing us the many sides of Egypt, over the course of 12 days. I recommend looking into their guided group tours, which cater to young travelers (18 to 30-somethings) and let you dive into destinations worldwide. Without them, we wouldn't have seen so much of Egypt — and had this much fun!
That's all from us Queens of the Nile… but I have good news. I'll be traveling again with Travel Talk this spring! Keep your eyes peeled to find out where I'll be heading this time (hint, I'll be in eight countries with them)!
PS thanks for your kindness about my reminisces on author Elizabeth Wurtzel, on the front page of Fodor's Travel.
"Perhaps the last lesson Lizzie taught me is that travel creates some of the most important moments we have with loved ones. Travel can also bring us peace, when we're acutely aware they will not always be with us." (Read my full piece on Fodors.)
PPS If you're in New York City, I hope to see you at the fashion show benefiting breast cancer – info here.
It's hard to feel "grave" in this Mexican graveyard… Even my skull shirt is smiling!
Let's welcome 2020 with more Day of the Dead stories from Mexico.
Last November, I joined a trip led by Borderline Projects x Morbid Anatomy (you can already get on the email list for next year's tour). We traveled through the Yucatan, and learned how this joyful ritual celebrates departed friends and family.
On the first evening, I celebrated Dia de los Muertos with a Lost Souls parade in a Merida cemetery (see this story).
On day 2, Borderline Projects took us to colorful graveyards in Hoctun and Izamal, where we witnessed families cleaning the rainbow tombs and making loving offerings.
Even though it was November 1st, the Yucatan was still very hot and humid. (Hello, global warming…)
I'm wearing oversized designer sunglasses by Balenciaga, and a sugar skull screenprinted t-shirt by Chaser Brand.
I'm hiding from UV rays under four types of mineral sunscreen, a Goth skull umbrella by Raven Goods, and a wide-brimmed hat by Lack of Color. More from these designers below:
Borderline's "Death in Mexico" tour arranged all our hotels and transportation for four days. Our group of about 40 people drove 45 km east from Mérida, and soon arrived in Hoctun — one of over 100 municipalities in the Yucatan.
While many Mexican burial grounds are colorful, Cemetario Hoctun stands out as one of the most eccentric and vivid. Talented artists in the community painted flowers and religious images on the house-like tombs.
Day of the Dead actually spreads out over several days, and each region of Mexico has its own cultural twist on the tradition.
In the Yucatan, November 1st is "U Hanal Nucuch Uinicoob," or dedicated to the adults who have left this world. They are remembered with offerings of food, alcohol, cigarettes and other favorites placed on their graves, and/or in altars set up in homes.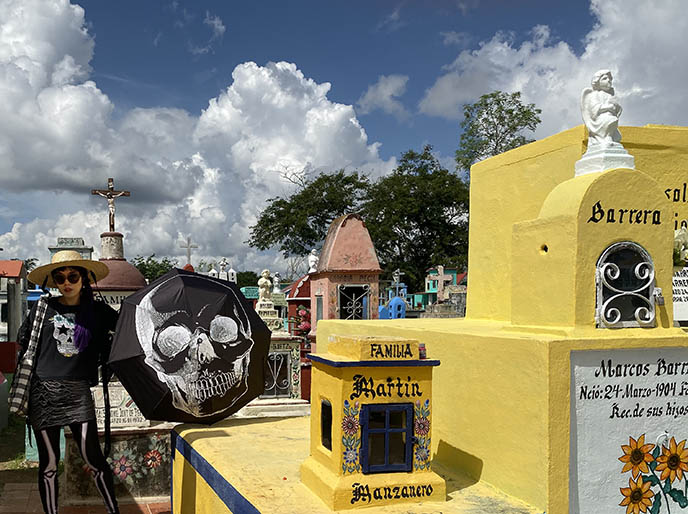 I loved strolling through Hoctun Cemetery, and seeing the wide, creative variety of tombs. Families painted these resting places with the favorite color of the deceased, and added artistic or sculptural flourishes that represented them.
We tend to think of graveyards as "spooky, gloomy, haunted" places — but that's not the case in Mexico. I can't imagine a zombie or vampire living in one of these pastel rainbow tombs!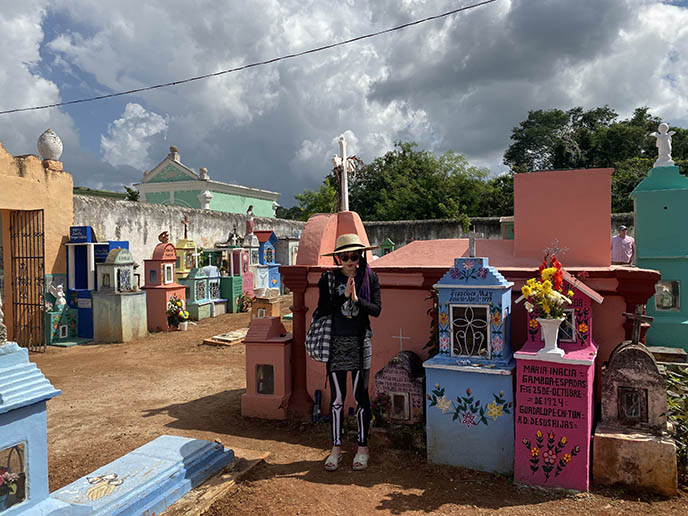 The brightly colored mausoleums convey the Day of the Dead attitude to the end of life. There's no real separation between the living and dead, and we should celebrate them with glee.
Hoctun's graves are well-tended and decorated. Family members keep the colors vivid with fresh coats of paint, especially around this time of year.
Most bear the typical markers of Christianity (crosses, angels) — but others are unique expressions of Mayan culture.
Some of the graves look like traditional houses, with circular forms.  Others are painted with marigold flowers, or huipil embroidered clothing patterns. On my right, you can see a roof shaped like an ancient Maya pyramid!
In addition to Dia de Muertos-related activities, Borderline Projects' tour lets you dig deep into the local culture, architecture, crafts and food. 
Our bus continued to Izamal, and stopped at the foot of Kinich Kakmó. This partly-restored Mayan pyramid is the third largest in the Yucatán, rising 34 meter high. 
(I'm wearing a Gothic parasol by Raven Goods, a skeleton shirt by Chaser, and a sun hat by Lack of Color.)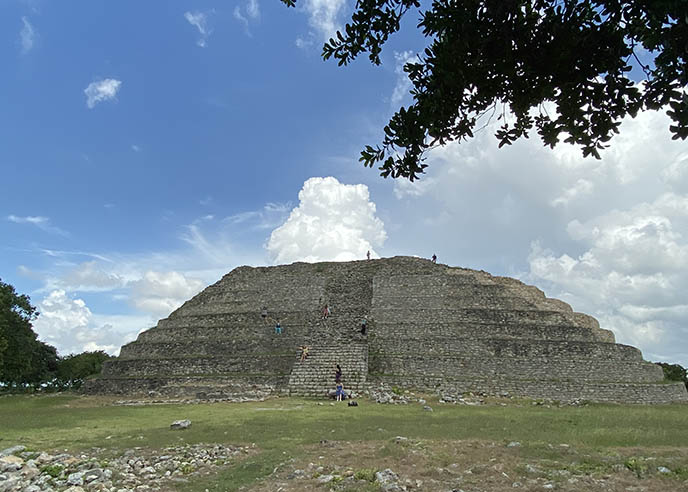 Made out of limestone, this Mayan pyramid is dedicated to the deity Kinich Kakmó, or "the fire macaw with the sun face." Fittingly for this sunny region, he is a solar god.
First, you have to climb up these stone steps to reach the grassy plain where the pyramid stands. From there, you can choose to scramble up the steep incline.
Mayan civilization was remarkably advanced, and full of mysteries that we've yet to understand.
Why is there a ring near the foot of Kinich Kakmo? A crop circle of the apocalypse… or a portal into an alternate universe? 
In ancient times, people would present sacrificial offerings to Kinich Kakmó under the scorching sun that he represented. Some say the deity would take on the form of a fiery macaw, and fly down to grab the sacrifices. 
The pyramid dates back to the Mayan classic era, or 400-600 ACE. The immensity of the stones reminded me of the pyramids of Giza, Egypt.
The Yucatan and Riviera Maya have plenty of famous pyramids, such as Coba and Chichen Itza (see my guide to these ruins).
Personally, I prefer exploring the lesser-known but just-as-impressive structures like this one. Entry is free, and you can avoid seeing tourists everywhere.
Borderline's Mexico cultural tour included plenty of free time, which is great for travellers (especially seasoned ones) who prefer a less structured experience.
Photographer Julie Hunter and I wandered around the small town of Izamal, which is as multicolored as the graveyard. These men are hanging out by a Paleteria for popsicles and frozen ice cream treats.
This churros almost had my name on it! (I skipped the street food, just to be careful. Read on to see where I feasted.)
At home with the kitsch of a Mexican carnival. The merry-go-round had a Roadrunner and Pikachu, in addition to horses.
I had never heard of Izamal before this tour. Most tourists stick to Mexican resorts, so I'm glad I got to see off-the-beaten-path places like this.
Known as the "yellow city," Izamal is one of Mexico's "17 Magical Towns" (Pueblos Mágicos) thanks to its charming architecture, and mystical background.
Izamal was once a Mayan spiritual center with multiple pyramids. After the Spanish came, locals were forced to tear down the main pyramid and build this monastery and church on top. The conquistadors believed this would dissuade residents from "devil worship."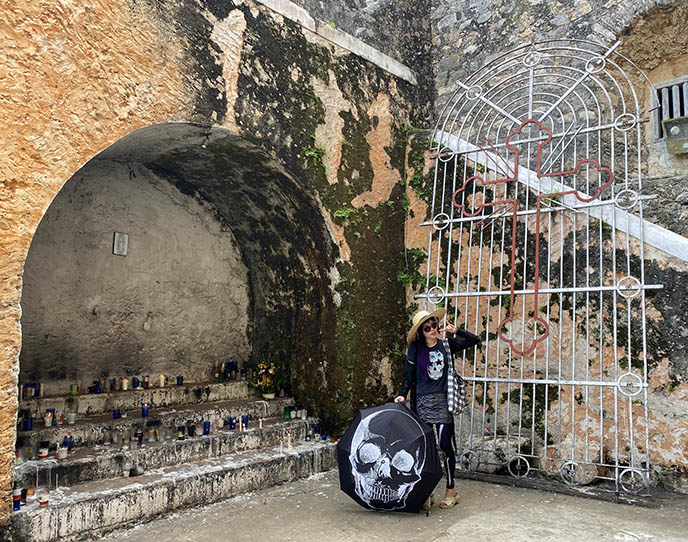 However, miracles of healing began to occur. The Mayans had previously dedicated their pyramid to Itzam Na, a god of healing… perhaps the "devil" prevailed after all? (Even though this red crucifix isn't upside-down!)
One of my goals in visiting the Yucatán was to try as many local dishes as possible. Here, Day of the Dead is known as Hanal Pixan, or Food of the Souls.
This restaurant shows the type of altar that people set up in the homes. Photos of deceased ancestors are lovingly displayed next to marigold flowers, fruits, drinks, and food offerings.
Our group had lunch at Kinich, known as the best restaurant in Izamal.
I discovered my new favorite drink — chaya. It's a refreshing vegetable juice made from tree spinach, a shrub native to the Yucatan. Full of nutrients, this green drink is especially tasty as a margarita with tequila and a salted rim. (I simply had to offer this Mayan big-head a sip!)
Julie and I shared a sampling at Kinich. These are handmade tortillas in different styles (salbutes and panuchos), with roast chicken and avocado, cochinita pibil (marinated pulled pork shoulder), and relleno negro (more on that below).
On another day, I tried mucbil pollo, or "chicken that has been buried" — it's the special dish eaten for Day of the Dead in the Yucatan. Mucbipollo is similar to a tamale, but larger and crunchier. Usually filled with chicken and pork, it's wrapped in banana leaves and slow-cooked underground. Hearty and multi-faceted — we loved it.
In Kinich's restaurant garden, you can smell and touch some of the regional ingredients used in the dishes. Our guide Claudia is showing us achiote, an orange-red tree seed that adds a nutty, peppery flavor.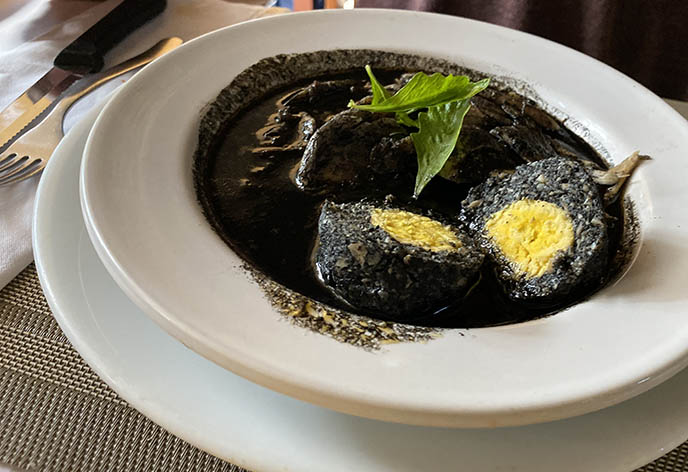 Achiote is one of the many ingredients in relleno negro, a Yucatecan dish with a rather Gothic look! It consists of chicken and a hard boiled egg in a savory black sauce: the dark result of mixing various chili peppers and seasonings.
Before leaving Izamal, we popped into the Centro Cultural y Artesanal. This small art and cultural center holds an inspiring collection of Mexican folk art, made from all types of media.
Entrance costs 25 pesos (just over $1 US), and it's worth it to see the many happy skeletons inside. A tall La Catrina towers over one room, with a snake draped around her neck. (Is she signing opera? And how fabulous are her nails?)
Special delivery from a devil, skeleton and angel… Bread of the Dead, carried on the head! (Did you notice they are biking on top of colored skulls?)
On the right, these cute skeletons are dancing the Mexican maypole / ribbon dance, El Baile de las Cintas.
On the left, the fight between good and evil never ends… (Will the devil flip over the angel, and turn the cross upside down?)
I enjoyed discovering Mexican artists like Gabriel Pérez Rajón. The jaguar is an important symbol for the Mayans, and he gives the fierce felines a modern, cute interpretation.
My eyes were drawn to this ceramic funeral procession by Alfonso Soteno. Lots of sugar skulls, jaguars and warriors joined the happy parade.
Izamal's artisan museum lets you see lively works from communities all around the country. You can also purchase home goods or fashion items to support these rural creators (I was tempted by an embroidered skull tote bag.)
As the sun was setting, our tour arrived at Izamal municipal cemetery. Just like in Hoctun, this Cementerio Municipal is a colorful resting ground filled with personality.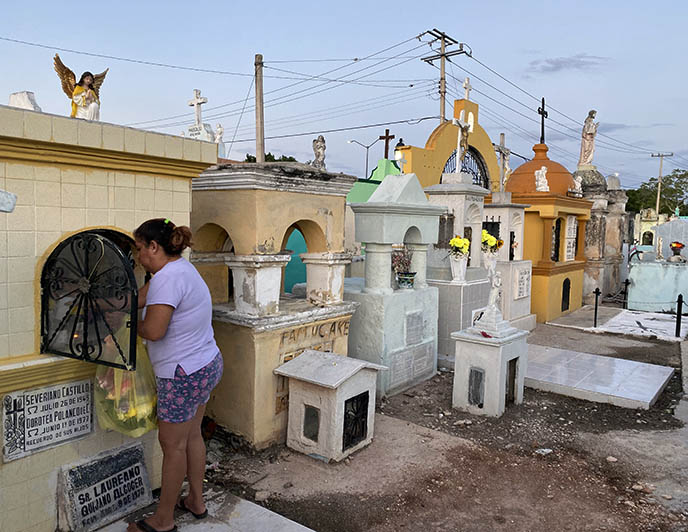 How wonderful to see people bringing food and flowers for their loved ones to enjoy.
Hanal Pixan's rituals keeps the connection strong between the living and the dead.
Many families come here together to place ofrenda, and remember the dead through stories.
Izamal's cemetery is arranged a tad haphazardly, but that adds to the quirky, individual feeling of the grave markers.
Many of the "houses" had a vivid fresh coat of paint. This lady is opening up the door to put flowers inside.
This photo made me think of a quote: "From my rotting body, flowers shall grow, and I am in them, and that is eternity." — Edvard Munch
It was a joy to explore Yucatan's cemeteries, with a group of intelligent and darkly-inclined travellers.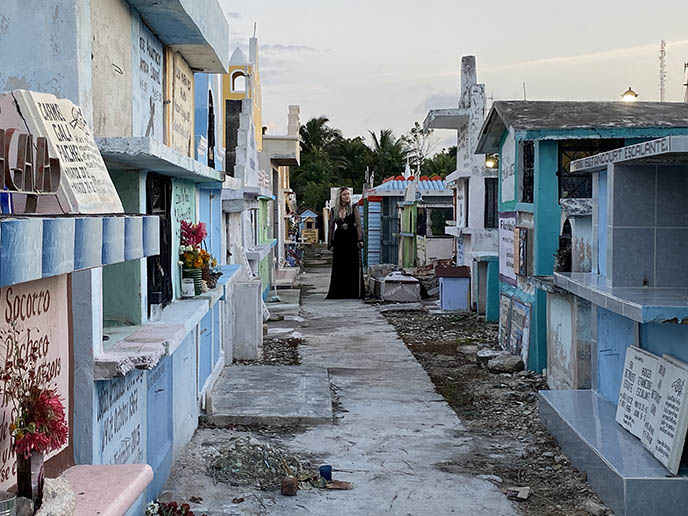 A Gothic gown is perfect for walking through the aisles of the dead.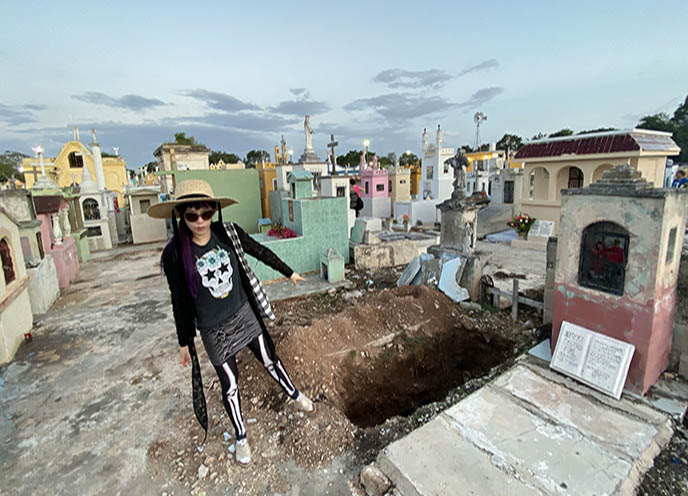 Never forget, we all have one foot in the grave… Might as well have fun while we're still on this Earth.
Coming up, I'll show you the ossuaries and poignant "brushing of the bones" ritual that we witnessed on Day 3.
Isn't it remarkable how much we did in a single day? And the night's not over yet…. Borderline Projects suggested that we visit Cathedral of Mérida at night, for a special sporting event.
I was thrilled to see a demonstration of Pok-A-Tok, the ancient Mayan ball game! I took this photo of the fierce drummer and dancer, who look like living skeletons.
The musicians and dancers set the stage with a performance inspired by Mayan legends. A man dressed as an owl leapt and flapped his wings, referencing the owls that invited brothers Hun-Hunahpú and Vucub Hunahpú to play the deadly ball game.
The ball players, with their faces and bodies painted like skeletons, paced and genuflected in unison. An elder in a headdress held up a smoking goblet to their outstretched arms… it was like a scene from the Apocalypto movie. 
Let the games begin. To play Pok Ta Pok, the two teams try to pass the ball through a small ring in the center, without using their hands, feet or heads.
Some records indicate that in ancient times, the victorious team was honored… by being sacrificed. Or, perhaps only the winning captain was decapitated. (We didn't stick around for the full match to find out!)
Merida's boutiques were open late, so we did a bit of browsing and souvenir shopping. Skulls and bones, everywhere… even a cat skeleton.
Merida is known for its elaborate silver filigree jewelry, and embroidered garments (huipils). I couldn't resist getting one of these squiggly-mouthed skeletons as a memento.
I came across a group of Nuestra Señora de la Santa Muerte, or the Lady of Death.  
But I took home this Boo~ t-shirt… How could I resist the bizarre cracked-egg ghost design? (It reminds me of the shy Nintendo character as well.)
Time to wrap up with a drink at Malahat, a hidden speakeasy bar. I'm not exaggerating when I say hidden… the entrance was extremely well concealed. It took us quite a few tries before figuring out how to get inside. (Hint, look for a secret entrance in an alley-like area in the back, by the parking lot).
Loved the craft cocktails and hip atmosphere at Malahat. The bar carries a wide variety of liquors from Mexico and abroad. I highly recommend the "Mayahuel" cocktail, which contained green chartreuse and a spring of burning rosemary.
We enjoyed the live electronic sounds of a DJ, and admire the winning pumpkins from that evening's Jack-o-lantern carving contest.
(For more Merida travel tips, see my first story about the Paranormal Museum, elegant mansions, and Day of the Dead cemetery parade).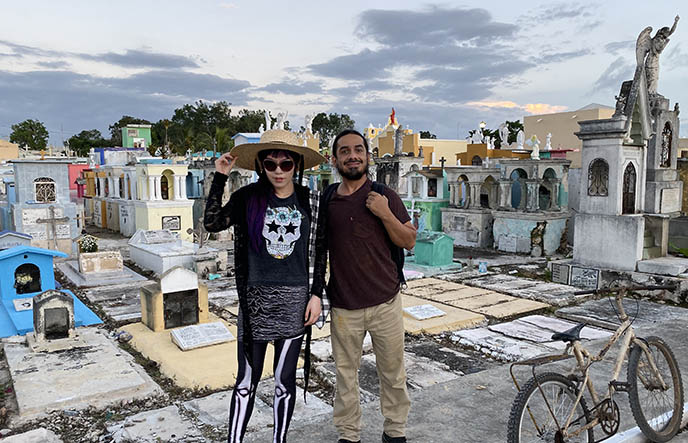 Thank you to Salvador Olguin and everyone at Borderline Projects / Morbid Anatomy for inviting me on this eye-opening journey.
Wouldn't you like to join Borderline Projects' 2020 Mexico tour? Each year, the dates coincide with Day of the Dead but feature a different region, so it's never exactly the same.
You can find out more on Borderline's website, and sign up for their newsletter. This way, you'll be the first to know next year's trip details and registration.
Perhaps I'll be back as well… so we can travel together, and experience Day of the Dead in Mexico!