Category Archive for
Fashion
Lately, I've been sending out Cleopatra Goth vibes… because I'm about to embark on a dream journey. The cat's now out of the bag: I'm going to the land of animal-headed gods and cunning queens!
Hail Bastet… in collaboration with Travel Talk Tours, Yukiro and I are heading to Egypt!
(How excited are you to see us rocking Egyptian undead fashion, next to the Pyramids of Giza? Here's a hint: I'll be packing this crop top by Cryptic Apparel, which has a winged goddess design and hieroglyphics down the arm! The headbands are Sylvain Le Hen.)
Yukiro and I were invited to join Travel Talk Tours' Felucca Odyssey and Red Sea journey, a 12-day trip that will take us to Cairo, Aswan, Luxor, Dahab, and more major sites. We'll be in a group tour with fellow young travelers (generally age 18 to 30s), which will be a fun and safe way to see Egypt.
(Above is as photo from the time I visited Metairie Cemetery in New Orleans. Can't wait to see the real Sphinx this month.)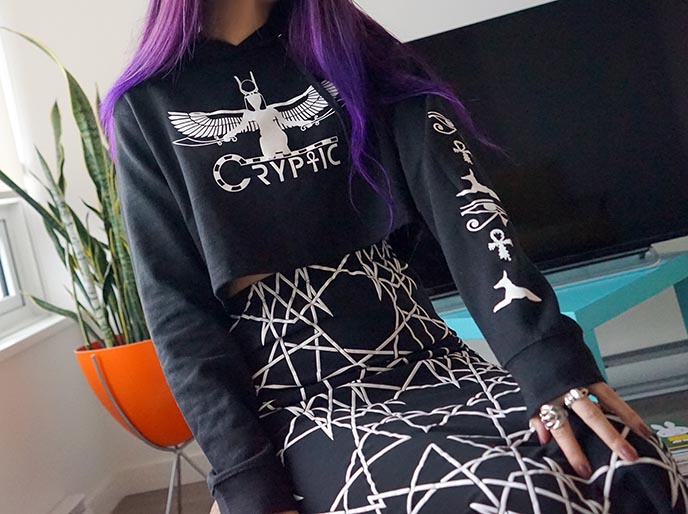 As someone who's long been fascinated by ancient Egyptian culture, I'm excited see the country with an expert guide. Booking with Travel Talk Tours means that we don't have to stress over anything, as they'll be driving us throughout the country, and arranging our hotels (we'll be in 4-5 star places). We'll also get to take part in activities like a dinner cruise on the Nile, and a camel trek in the desert. (You can peek at our itinerary here.)
If you're keen to see our adventures from Egypt, add me on Instagram @lacarmina — I'll be posting daily snaps!
But wait… there's more! Before flying to Cairo, I'll be swinging by Paris for a few days, with the assistance of Paris Tourism and Paris Perfect Apartments. (It's been ages since I stepped foot in France. What shall I wear to Pere Lachaise cemetery and the catacombs? Maybe something like the above?)
Yukiro and I are also spending a few days in Beirut, Lebanon! I've long wanted to visit this stylish city with a fab nightlife — can't wait to share what we discover with you.
I couldn't wait until Egypt to rock my streetwear from Cryptic Apparel, so I did a photoshoot with Jim Ollett, assisted by Joey Wong.
Since some associate the ancient Egyptians with aliens… I paired Cryptic's jackal beanie and goddess cropped hoodie with Irregular Choice's Satine space boots!
Irregular Choice is infamous for releasing glam glitter fabulous footwear. Their latest collection is inspired by outerspace. How amazing are these thigh-high boots, with stars and planets on sparkly pink fabric?
Click the images below for more decadent Irregular Choice shoes:

Cryptic Apparel is a Chicago-based streetwear brand that "merges the mysteries of ancient culture with modern style." Many of their designs are dark and with an occult bent, or Egyptian influence — like this Goddess Crop Top Hoodie.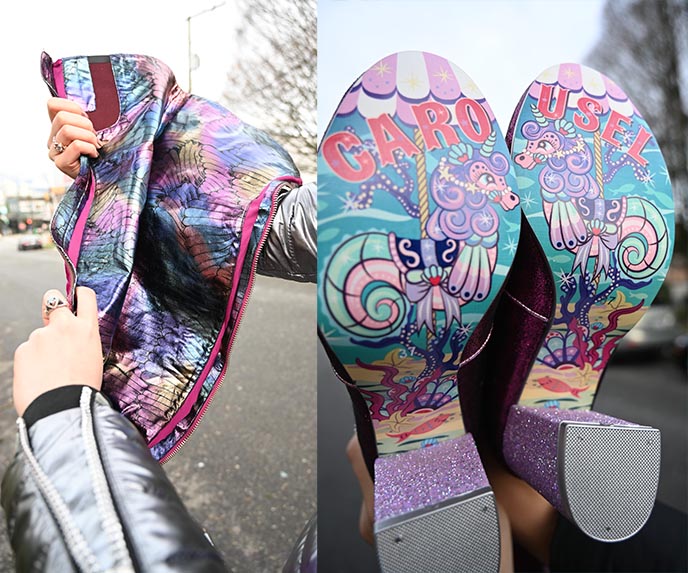 Details of the shimmery lining, carousel soles, and glittery heels of my Irregular Choice Satine boots (they come in pink and dark grey versions). Aren't they out of this world?
Barbarella, queen of the Galaxy… meets 1980s Egyptian Goth. Think Siouxsie Sioux and Death from the Sandman comics.
Love how Cryptic Apparel combines alternative street fashion with the symbols of ancient Egypt. These visuals are directly inspired by the art found in the tombs of queens and pharaohs.
My space age boots have a zipper down the back, and rise up over the knee. The crescent moons, starbursts and Saturns are embroidered onto the fabric. Even the high heel has a stardust effect.
Irregular Choice lets you "be the ultimate space age queen of the universe, in these astronomically superb over the knee boots."
Here's another look, this time with a pin-up vibe. I'm wearing a cropped bat sweater by Jawbreaker Clothing, and 3/4 style Oroblu designer stockings from UK Tights.
Release the bats! The spooky neon green creatures stand out from the black knit fabric.
I've been a fan of Jawbreaker Clothing for some time now. They produce alt clothing inspired by 1990s grunge, Goth, and Victorian aesthetics.
Call me Batgirl… Hair color and cut by Chad Mitchell Evans at Kore Salon in Vancouver, Canada. (You can book him through the link in his Instagram.)
I wore the sweater with a black suede skirt with a slit, which I had since the early 2000s. I've been wearing skeleton hand barrettes like this since that same era.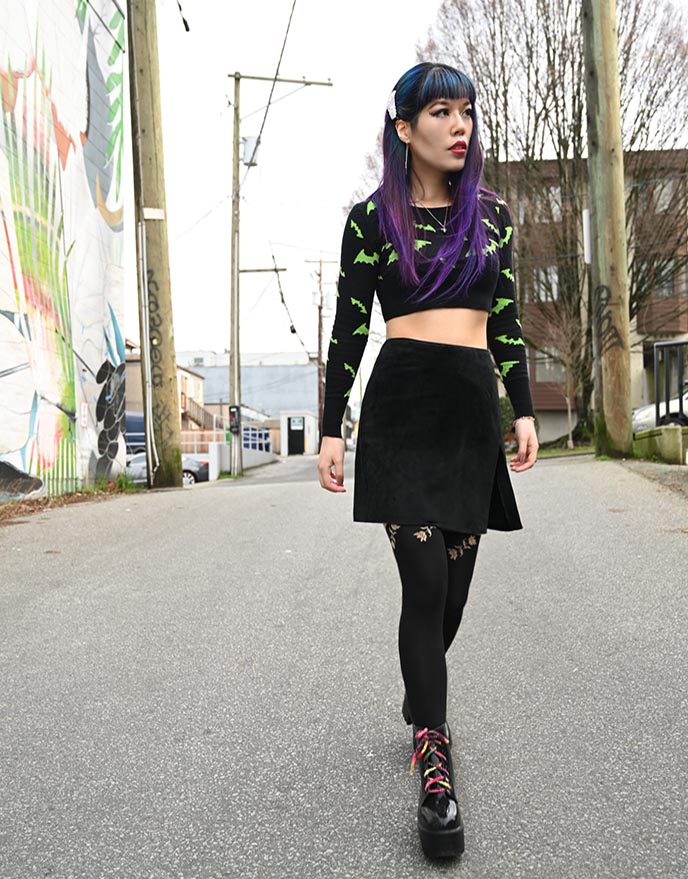 As for the platform shoes, they're Jeffrey Campbell boots. See more from this footwear designer below:

These Jeffrey Campbell Fog boots are remarkably easy to walk in, and waterproof as well. They came with black laces, but I replaced them with rainbow ones from Japan.
Jim Ollett took these photos in a random Vancouver alleyway, with creative direction and assistance from Joey Wong.
We snapped one last look with my red floppy hat from Tenth Street Hats, a silver space jacket I got in Romania, and Moschino leather gloves. Which of these three looks do you like best?
Speaking of aliens… we ventured to Locked Canada for their Abduction escape game. (Bodysuit from UK Tights.)
I've gotten into escape rooms over the past years, and Locked Vancouver's games are among the best I've experienced. As you can see, they put enormous attention into the details, immersing you in the world of extraterrestrials, zombies, serial killers, and more.
Take me to your leader… Pikachu?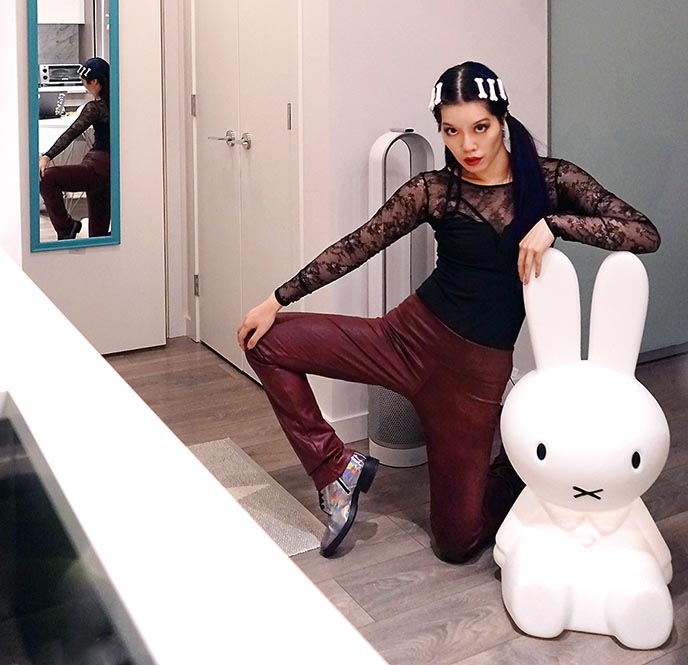 Negative. We all know that the leader of the Illuminati is Miffy! :x
My silver boots are also Irregular Choice, and the red faux leather leggings are UK Tights.
I leave you with a final Egyptian fashion preview. I'll be living in these Oliver Goldsmith sunglasses: they're the 1970s Rose Gold. The British designer's OG Decades Live collection includes frames from every iconic decade of the 20th century. Of course I chose the ones from the days of disco!
Can you spot the gold ankh pull-through earring? It's Wendy Nichol Jewelry, and the Domination top is Mary Wyatt London. (I could see Hatshepsut and Nefertiti rocking that.) My gold barrette is this one by Sylvain Le Hen. More below:

I'm all about minimalist design these days, and Oliver Goldsmith is a master craftsman. These Seventies sunglasses are constructed with lightweight stainless steel, and have large gradient lenses for a decadent look.
(For more eyewear from Oliver Goldsmith, click below.)

And that's it for now. See you in Cairo: I owe the real Sphinx a kiss!
Feel free to add me on Instagram @lacarmina — I'll be posting live updates from Paris, Beirut, and Egypt.
Let's start this Thailand temple diary in a fitting way… with an Italo Disco song!
"One night in Bangkok and the world's your oyster
The bars are temples but the pearls ain't free,
You'll find a god in every golden cloister
And if you're lucky then the god's a she.
I can feel an angel sliding up to me!"
I think you can tell we had a fun time exploring Bangkok temples, with Tours By Locals! Our insider guide took us on a fully customized journey that included the demon protectors of Wat Arun…
… and the Temple of the Emerald Buddha. (How do you like my "sun protection schoolgirl" outfit of the day?)
I can't stand basic, big group tours — which is why I teamed up instead with Tours By Locals. They link travellers with passionate local guides, and create a custom itinerary off the beaten track. 
My friends and I were keen to see Thai Buddhist art and spirituality, without crowds elbowing us. Our guide Kay listened to our preferences, and delivered by taking us to obscure temples (like Wat Kalayanamit) that were literally empty of tourists. 
As you'll see, the day tour was a joy, and left us buzzing with knowledge and inspiration. Kay picked us up and gave us an overview of Thai Buddhist culture, along with a primer on helpful phrases. Becky Hawkins made this terrific reaction drawing of her and her "shoulder angel"! 
I have been to Thailand twice before, but it's always a joy to return (and this was the first visit for Yukiro, Naomi, and Becky). Even though Bangkok is now an extremely popular destination, you can still enjoy the warm, welcoming Buddhist culture. 
So many temples, so little time… There are over 400 "wats" in Bangkok alone. The most famous ones (Wat Pra Kaew, Wat Arun, Wat Pho) are certainly worth seeing if you're here for the first time. Kay made sure we got to peek around Wat Arun, but focused most of our tour on temples where tourists rarely tread. 
A reflective moment in front of the Golden Buddha statue at Wat Arun Ratchawararam. Also known as the Temple of Dawn, it dates back to the 17th century, and is known for its glowing exterior at sunrise. (More photos at the end of this post.)
We also said hello to the giant demon yaksha, guarding the Grand Palace at Wat Phra Kaew (Temple of the Emerald Buddha). Don't avoid these sacred sites, simply because they're popular — they're among the most impressive ones in Thailand. 
We struck a balance by visiting those two landmarks quickly, and then took our time to wander around two little-known temples on the outskirts of Bangkok.
(I'm wearing a Boy UV umbrella, Mary Wyatt London shirt, Lola Ramona heart bag, and Japanese plaid skirt similar to the ones below.)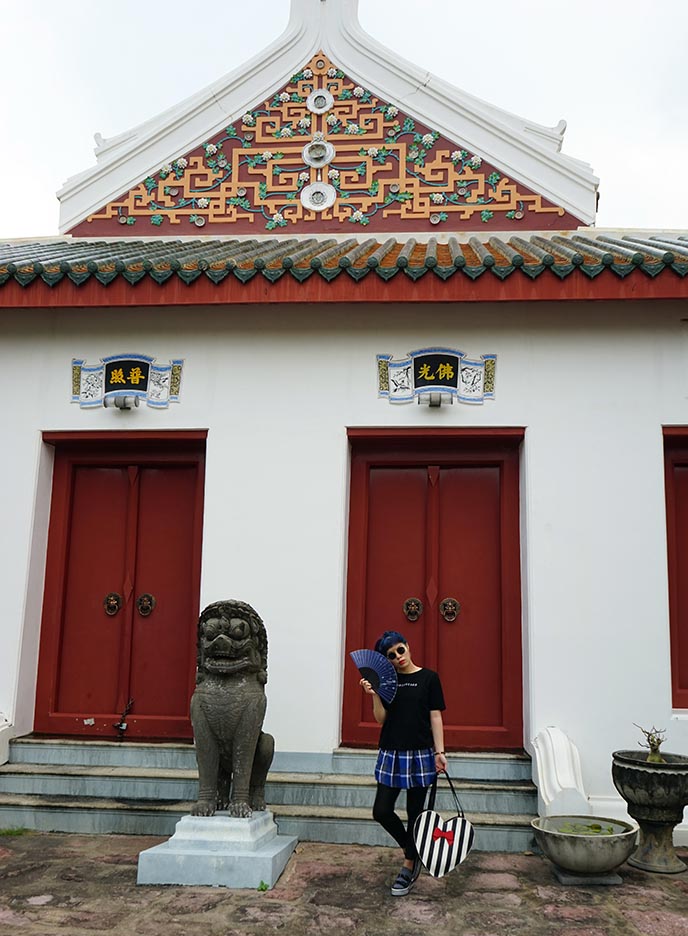 We're at Wat Ratcha-Orasaram, a royal monastery built in the Ayutthaya period. The prince was influenced by both Thai and Chinese art, hence the unusual temple colors and carvings. 
Can you spot Yukiro beneath the colored eaves and white pillars? You can see I'm not exaggerating when I said there was nobody else around during our visit. In bustling Bangkok, it was a joy to take our time to meander through this peaceful monastery. 
We said hello to the resident golden Buddha icon. Becky Hawkins made this drawing that gives you a sense of the ornate detail of the altar. In this unhurried atmosphere, she and Naomi could take all the time they wanted to draw their surroundings. 
Yukiro and I mosied around and took photos of the fascinating details. Of course we were drawn to the metallic demon on this red door, with a fierce grimace and horns. 
Love the elegant features of the Buddha, sitting in the lotus position. The chandeliers, candles and surrounding murals add to the radiant feeling of the room. 
As a fan of minimalist design, these white stupas spoke to me. (They house the remains of Buddhist monks and nuns, or sacred relics.)
Naomi Rubin sketched the residence of the monks. It was surrounded by shrubbery that looked like it had been pruned by Edward Scissorhands! She has been posting these travel drawings as part of her web comic Moonsprout Station; you can read the Thailand dispatches here.
We were glad to have our Tours by Locals guide Kay with us, as he introduced us to these secret spots and answered all our questions. Whats's the deal with the fan in front of the Buddha's face? Is he being coy? Kay explained this traditional fan with a long handle was made of talipot palm leaves, and used to cover the face while chanting.
We dared not disturb the Buddha's repose by ringing the giant bell.
There was so much to see at Wat Ratcha-Orasaram, including sculptures of all sizes dedicated to the Buddha.
In the Ordination Hall, we came across this giant gold reclining Buddha. Love the chill expression in his eyes. 
Becky Hawkins captured Kay in action. We couldn't have seen all these temples and learned so much without his guidance.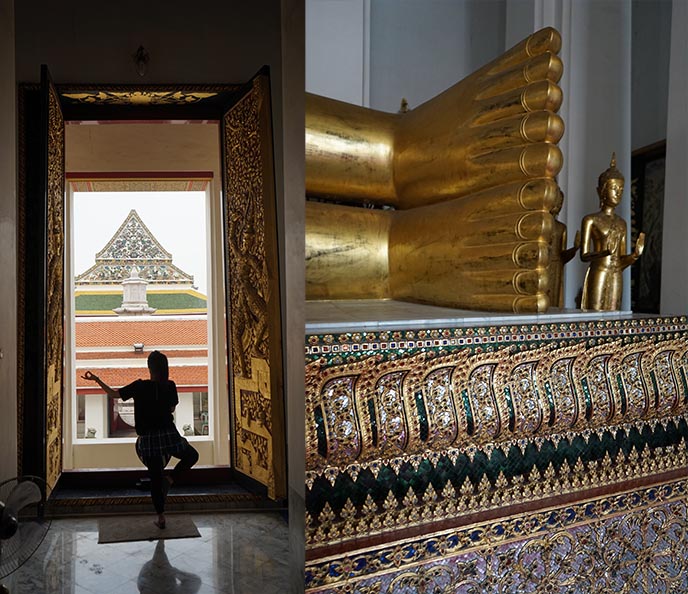 Close-up on the Buddha's extra large feet, with toes all lined up. 
Looks like Yukiro wants to join Siddhartha in hanging out!
We saw a few monks walking through the courtyards, wearing their signature vermilion robes over one shoulder.
Becky Hawkins sketched these scenes from daily life in a Thai Buddhist monastery. 
Yukiro and I got some posing inspiration from these green yakshas.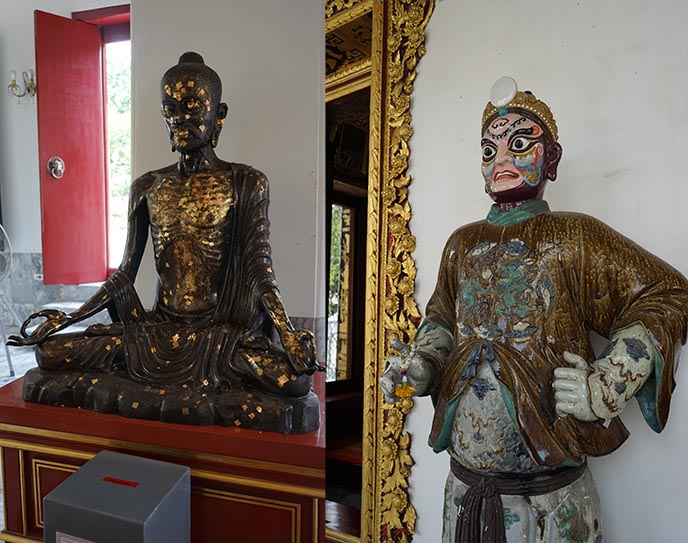 Seeing art and architecture like this, firsthand… this is why we live to travel.
"When the mind is silent like a lake, the lotus blossoms." – The Lotus Sutra
Kay then took us to Wat Kalayanamit Varamahavihara — the name means "friendship." Founded in 1825, this is one of the most tranquil temples in the city. (Once again, you can see there's nobody around us!)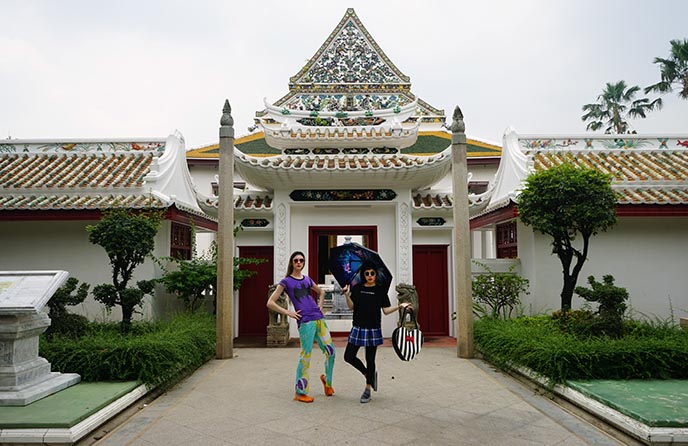 From the trees to the rooftop carvings, everything is richly yet subtly decorated. 
Many Buddhists come to a Wat Kalayanamitr for New Years blessings. The gold Buddha statue has a slim frame and long earlobes, and is the only Thai temple to feature him in Palilai posture. 
Such fun to visit the "friendship" temple with friends I've known through thick and thin, for over 10 years now!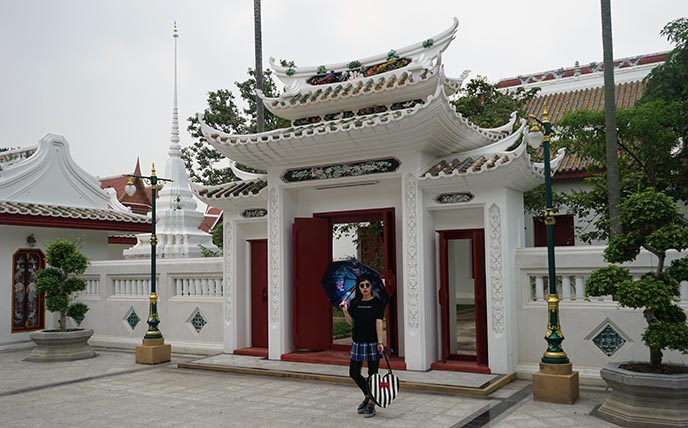 The gold, red, and green details make the white structures stand out.
This wat is also a monk's residence. If you come across any visitors here, they'll be locals performing spiritual rituals. 
When visiting Thai temples, you should cover your shoulders and knees. I'm wearing a short tartan skirt like the ones below (click to see).

Grateful to Tours By Locals for letting us see this special side of Bangkok. We would never have heard of these monasteries if it weren't for Kay.
We'll finish off at Wat Arun. Kay took us here in the early morning so that we could avoid the hoards of visitors. We were transfixed by this towering prang, or Khmer-style tower, studded with porcelain carvings. 
There were quite a few signs and billboards around Bangkok with this message: don't use the image of the Buddha in tattoos, bar decor, and other ways they consider disrespectful.
This huge central prang is covered in stucco figures from Hindu and Buddhist mythology. The various levels symbolize the realms of existence.
These "Khon" figures have a heavy load on their shoulders, wouldn't you say?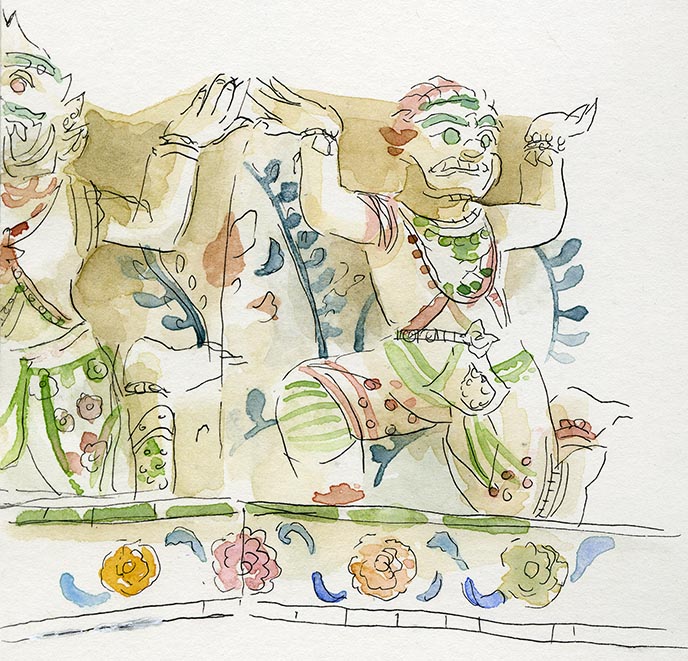 Naomi Rubin made this gorgeous watercolor of the mythical demons, with arms and a foot raised. (In the next Bangkok posts, you'll see more of her works. She and Becky added a new dimension to these travel stories through their art.)
"Khob kun" to Kay for teaching us how to say thank you in Thai (and for taking us around on this fabulous day-tour.)
Close-up on the artistic details at Wat Arun. Some of the 3D elements are seashells. 
Ready for another Italo Disco refrain? 
"One night in Bangkok and the tough guys tumble
Can't be too careful with your company
I can feel the devil walking next to me."
Elegant goddesses peered out from these arches. 
Work that asana (pose)! 
Also known as Wat Chaeng, this temple is dedicated to Aruna (Hindu God of Dawn). Located by the river, these spires sparkle at sunrise and sunset. 
Becky's take on the grand pagoda. Love how she captured the horse sculpture detail.
If you're heading to Bangkok (or any major destination), give Tours By Locals a look. As you can see from our temple hop, they help you get the most out of your destination — with entirely bespoke private tours led by a fantastic guide. 
I teamed up with Tours by Locals in Luang Prabang, Laos as well: check out this travel diary of our waterfall trek.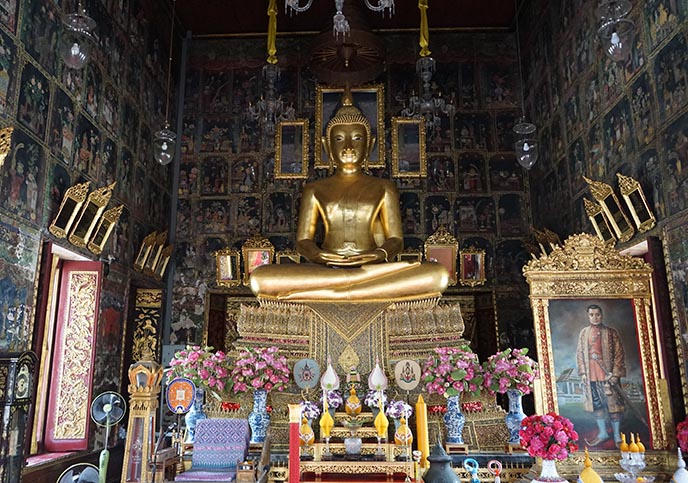 I hope you enjoyed our Bangkok travel photos and art so far, and there's more to come. Leaving you with love and the Diamond Sutra:
Thus shall you think of all this fleeting world:
A star at dawn, a bubble in a stream;
A flash of lightning in a summer cloud,
A flickering lamp, a phantom, and a dream.