Category Archive for
Fashion
Hi. How are you doing in these bizarre pandemic times? It's hard to fathom that most of us have been in lockdown for over a month now.
I'm in "pajamas mode" almost all the time, but I dressed up to take a walk outside and enjoy the cherry blossoms. (The city lets people spend times outdoors, if you avoid crowded areas and always maintain a safe social distance.)
This year, there shall be no "hanami," or gathering with friends to admire the pink blossoms. Instead, it's sakura meets survival mode!
(Reason #666 it's good to be Goth: you already have a closet full of apocalyptic clothing. I'm wearing a fuzzy Mongolian lamb coat by Skandinavik, Very Metal dress by Gladnews Japan, Moat House wood sunglasses, and Sylvain Le Hen HairDesign Access barrettes.)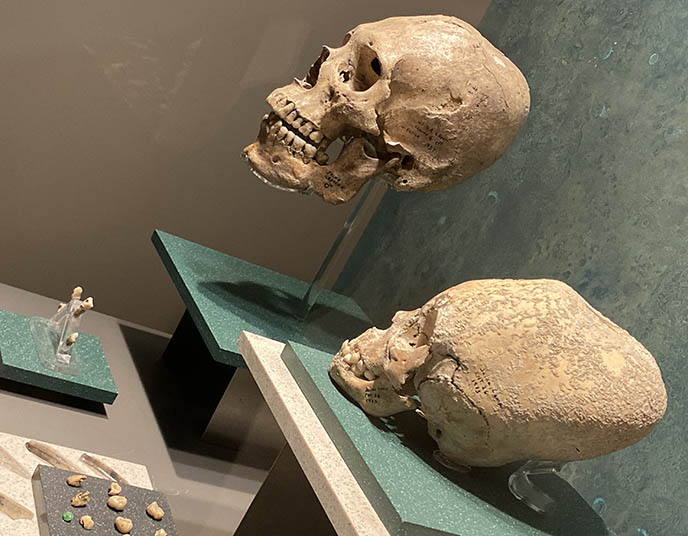 These days, much is uncertain. All my travels are cancelled for the foreseeable future. But I'm here to connect, and help however I can as we go through this strange era together.
For now, I'll keep sharing Gothic outfits, and stories from my recent trips. I hope you enjoy this deep dive into Mexico City's skull-loving ancient civilizations. I went to several fascinating museums, where I learned about Mayan conehead skulls and Aztec sacrificial remains…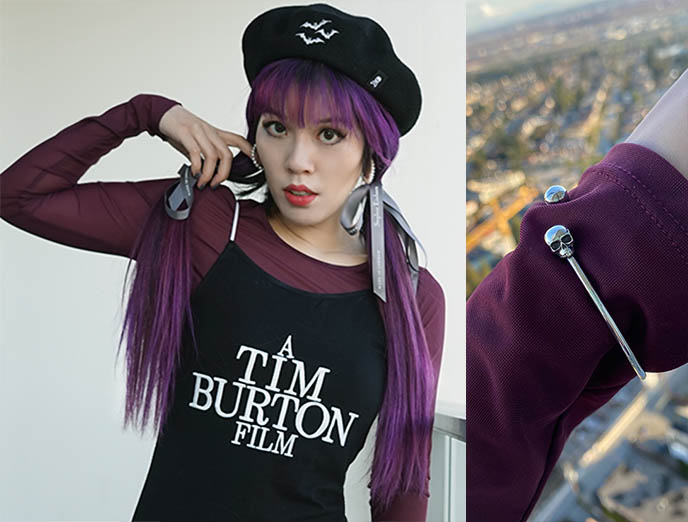 Until we flatten the curve, I'll be staying in and shooting outfit photos on my balcony with a remote. (That's the way we fashion bloggers did things in 2007… are we back to the future?)
(OOTD: Skull bracelet and ribbons Stephen Einhorn, Goth dress Forest Ink, burgundy top StellasStyle, beret Sourpuss.)
These days, I find myself reaching for activewear that is edgy and stylish.
I was delighted to discover StellasStyle, an indie shop that curates luxurious fitness fashion. Their site brings together select designs from forward-thinking, sustainable labels (I'm wearing a golden jacket and purple-red mesh top from their collection).
StellasStyle's Lanston Aiden sheer runched long sleeve shirt can be worn for barre, ballet or yoga classes (layered with a sports bra). Or slip it under a bodycon dress with spaghetti straps, for a 1990s vibe. The breathable material is perfect for layering, especially when I travel in different climates.
(I styled it with a bat beret by Sourpuss, Tim Burton dress by Forest Ink, and Stephen Einhorn pearl earrings and skull bangle.)
You know I love space-age metallics… so I went for this "Going For Gold" brass jacket by L'urv (from StellasStyle). I've never seen such a fabulous puffer.
Love the futuristic gold fabric and hardware, which elevate the design to the next century. The waterproof bomber has a hood, diamond-quilted insulation, and plenty of pockets. Browse more eye-catching active fashion (including my coat and top) on StellasStyle.com.
Nowadays, I'm appreciating the small things such as a walk outside. Have you been able to see and enjoy the cherry blossoms?
I dressed up to match the pink flowers. Wearing a Tita mini dress by French designer Valfre, red floppy hat by Tenth Street Hats, and Mexique platform boots by Jeffrey Campbell. Find more below from this alt shoe designer:

Finally, my new sunglasses are by Pugnale Eyewear, an Italian designer whose motto is "The metal side of art." These Spalla pink frames have a pretty butterfly shape, and silk gathered fabric at the edges! Pugnale's sunglasses are handmade in northeast Italy, and the metallic frames are beautifully crafted.
Voodoo heart cardigan by Sourpuss Clothing, and black felt hat by Tenth Street Hats.
Now, let's flash back to my travels last fall, in Mexico City. CDMX has been on my bucket list for years — as a lover of ancient civilizations, I've longed to visit the famous Museum of Anthropology.
The Museo Nacional de Antropología focuses on pre-Columbian Mexican history, and contains around 600,000 artifacts from all over the country. Visitors can gape at everything from prehistoric skeletons to tribal jewelry, to the enormous Temple of the Feathered Serpent in Teotihuacan.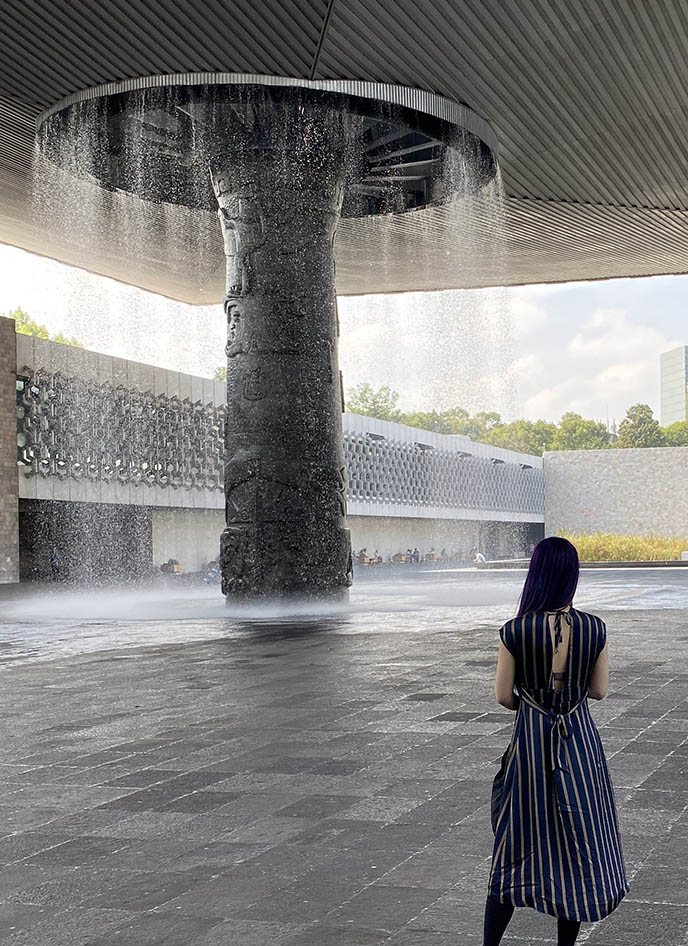 The Anthropology Museum is immense, and you can easily spend an entire day (or at least several hours). How space-y is the concrete courtyard, held up by a dramatic "umbrella" fountain?
You'll find dozens of exhibition rooms around the main courtyard, as well as outdoor gardens with centuries-old temples. (Wearing a striped silk dress by Chaser.)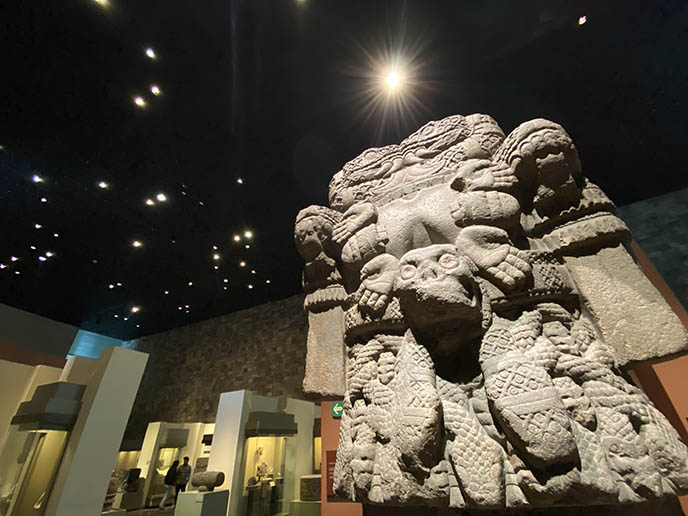 The museum is full of intriguing archaeological finds — but since this is a Gothic travel blog, I'll highlight the darkest and spookiest relics! My favorite rooms were 4) Teotihuacan, 6) Mexica, and 9) Maya.
I nearly turned to stone when I stared in the eyes of Coatlicue, goddess of fire and fertility. Carved in the 1400s, the Aztec statue shows the deadly goddess in a skirt of snakes. She has a necklace made from human hands and hearts, and wears a skull on her belt… So heavy metal.
I learned that the people of Mexico have always loved skulls. Behold the Disc of Mictlantecuhtli, one of the Aztec gods of death. Worshippers sometimes engaged in ritual human cannibalism, to appease his morbid nature.
Death rites have long been important to locals (who continue to honor ancestors with Day of the Dead, as I witnessed in Merida). The Pre-Hispanic people believed in Mictlan, an underworld ruled by the Lord and Lady of the dead. This duo was represented as fearsome skeletons with bulging eyes.
When a family member died, their kin performed intricate rites to ensure their soul reached the land of the dead.
Some of the Aztec rituals involved human sacrifice and flesh-eating. The Anthropology Museum discovered these skeletal remains of victims, usually slaves or prisoners of wars. The captives were slayed en masse to appease the bloodthirsty deities (especially sun god Huitzilopochtli), and display the brutal power of the empire.
Go to the lower level of the Maya room, and say hello to the alien-like King Pakal. In the 7th century, he was the ruler of Palenque, located in the south of Mexico. His funerary mask is this glowing jade masterpiece, which makes him look like a little green Martian man!
The museum also displays K'inich Janaab' Pakal's sarcophagus, which is decorated with the sun, moon and stars. The carvings show the king seated on a structure… which looks remarkably like a spaceship. He also appears to be wearing a breathing apparatus and holding controls with his hands.
It makes you wonder… Did the ancient Maya have knowledge of space travel and extraterrestrials? 
I enjoyed seeing pre-Columbian fashion and jewelry, like flamboyant feathered headdresses. Some statues had intricate body mods, such as nose and ear piercings… How punk is this lady's look.
Mexico City's anthropology museum has several elongated Mayan skulls… they look eerily like HR Giger's xenomorphs in the Alien films! Were these coneheads the remains of extraterrestrial visitors?
The truth is not so out there. The Maya performed cranial deformation as a body modification. Parents pressed a board to their baby's still-soft skull, creating a long flat forehead that was considered a sign of beauty. The art of adornment even went so far as to inserting precious stones into the teeth.
Archaeologists have uncovered intriguing burial sites in Mexico, like this one. The couple is surrounded by practical and fine objects, arranged in intricate patterns.
Here's how a Mayan child was interred.
Mexico City's Museo Nacional de Antropología is fascinating on so many levels… I've only shown you a small sliver of their collection. If you only go to one museum in the city, make it this one.
I wasn't kidding when I said CDMX was full of skulls and human sacrifice. You can see the remains of both at Templo Mayor, located in the Zocalo historic center. In the 1300s, the city was known as Tenochtitlan, and this was the main temple of the Mexica people.
I'm sitting next to a cute jaguar, or Ocelotl-Cuauhxicalli. Don't let the smiling feline fool you… this stone vessel was used to hold human hearts, which were ripped out of sacrificial victims!   
In 1521, Spain's Hernán Cortés arrived in Tenochtitlán and described the bloody Aztec ceremonies that took place at Templo Mayor. Like in the Apocalypto movie, the priests used a knife to slice open the person's chest, and lift up their heart to the gods. Then, they tossed their bodies down the steep steps.
The decapitated heads of the victims were mounted on a towering wooden rack, called a tzompantli. Some of these skull-racks held over a thousand heads, lined up in rows!
Historians thought that the Spanish conquistadors were exaggerating… until they found proof of the tzompantli and large-scale human sacrifices in 2015 and 2018. I guess Mel Gibson's brutal movie had it right after all.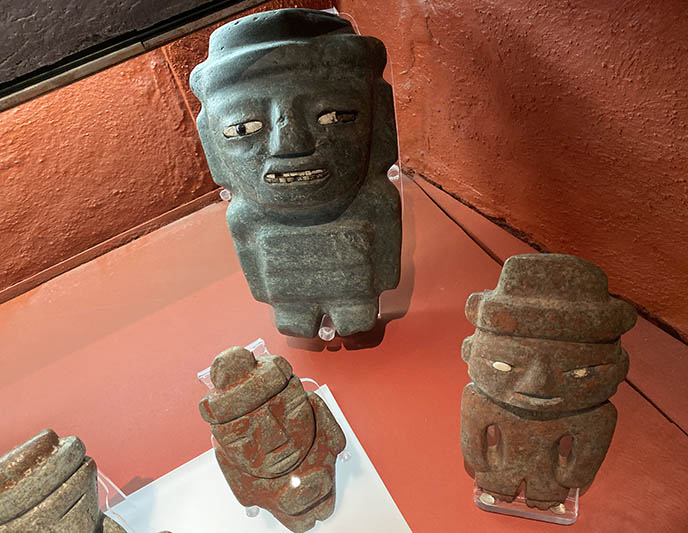 After you walk around the exterior ruins of Templo Mayor, you can go inside to see displays of artifacts from this excavation. Once again, there were loads of interesting objects, but let's focus on the Goth-est ones.
These "skull masks" were created as offerings to the gods. The shell and pyrite eye decorations give them a googly-eyed look. Note the perforations on top; these probably held curly hair.
I saw more burial arrangements, featuring grinning skulls and gems.
The bodies of human sacrifice victims weren't as well-treated after death. They were often given to high-ranking community members, who cooked their body parts in large pots and ate them. Ritual cannibalism was considered an honor, and a way of communing with the gods.
Inside Templo Mayor's museum, you can get up close with a reproduction of the "huey tzompanti." The skulls of decapitated victims were covered in stucco, and used to build a wall. (This would look right at home in a Goth club, or heavy metal bar.)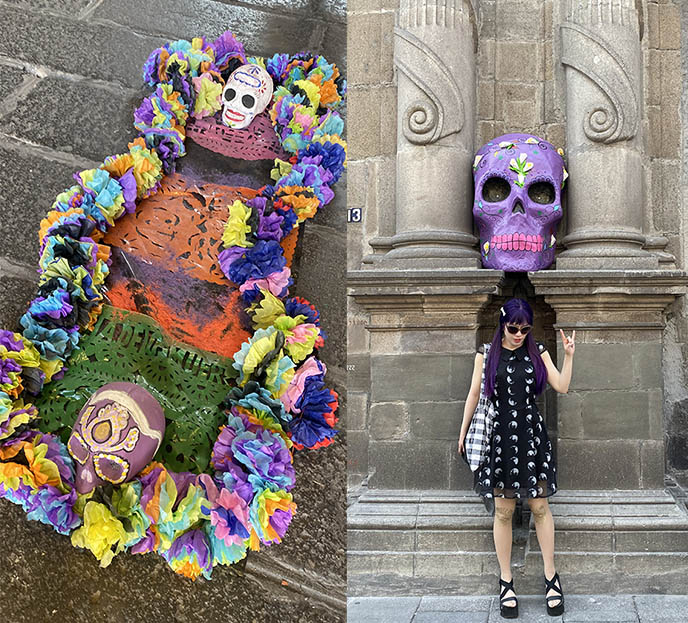 Today, the people of Mexico City still put skulls everywhere… but now, they're colorful calaveras that don't require the loss of life!
(See Part 1 of my CDMX Day of the Dead report, for sugar skulls galore.)
Around Day of the Dead, you can see plenty of skulls at Museo Nacional de las Culturas del Mundo. Located in Zocalo, this free museum lets you learn about both Mexican and global cultures. (My star platform shoes are Rocketdog Footwear).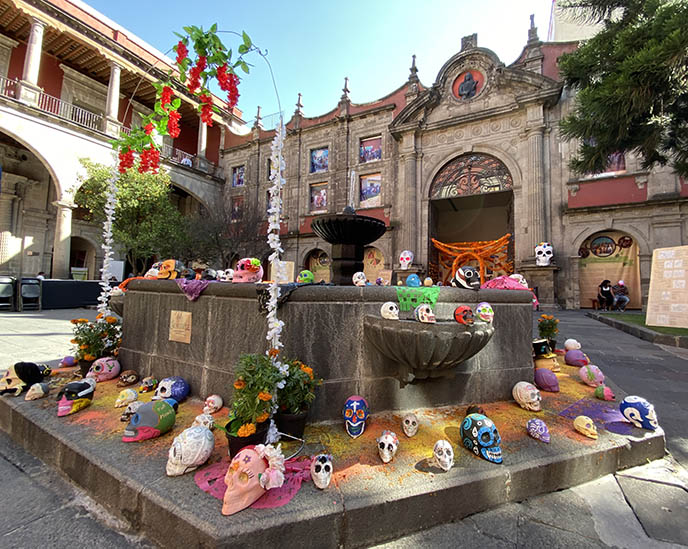 The culture museum is located in an elegant colonial-era building. In the 1700s, this was the site of a mint.
I had fun seeing the creative ways that artists painted sugar skulls. Neon colors and floral motifs were popular.
This cheerful, rainbow arrangement expresses the joy of Day of the Dead. Rather than being a scary holiday like Halloween, this is an occasion to honor those who have left us, and celebrate their personalities.
Mexicans put up altars for those who have left us. This one is laden with fruit, marigold flowers, and skeleton dolls.
I also popped into the free Museo de la Medicina Mexicana. Housed in an 18th century palacio, the Museum of Mexican Medicine covers Mexican medical practices over the centuries. You can find all sorts of oddities like preserved fetal brains…
… and tubes of babies in various stage of development before birth. This scene looks straight out of a sci-fi film.
The medical museum also has wax figures depicting ailments, and plenty of rare skulls and bones.
And that's only a small glimpse of the cultural wonders in Mexico City… This skull-filled destination is ideal for Goths, as you can see!
If you're hungry for more skulls, check out the rest of my Mexico Day of the Dead journey here.
Grateful I had the chance to see these artifacts and rituals in-person. Travel may not be possible right now, but I'm certain you can look forward to exploring Mexico City — or anywhere that fascinates you — soon. 
Check back on the blog soon, as I have a backlog of stories still to share! You can also keep in touch via my social networks: Add @lacarmina on Instagram – Twitter – Youtube – Facebook – Pinterest.
There's a new Goth Sheriff in town… And she's making you stay home!
Doesn't it feel like we're living in a Bizarro universe? The world has flipped over within the span of a few weeks.
On March 11, the coronavirus COVID-19 was declared a pandemic. As the numbers rose worldwide, countries increasingly went into lockdown mode. Borders were shut, and people were urged to self-isolate to stop the spread.
Now, the travel industry has essentially come to a halt. For travel bloggers like myself, all campaigns, trips and projects (including a Japan TV show shoot) are on hold… Possibly til the end of 2020, or beyond.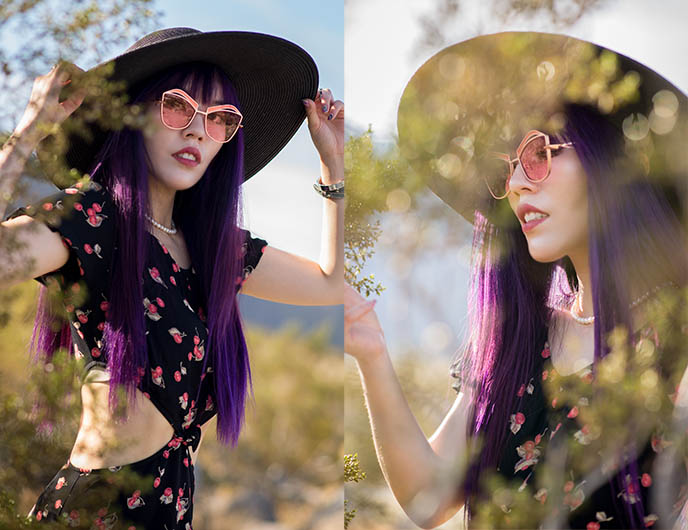 Everything's in flux… but for now, my mind is set on doing all I can to flatten the curve. That means staying in at all times (except to get groceries every two weeks), and being conscious of hand-washing, mask-wearing, and social distancing. 
It's a strange and unprecedented time for all of us. For travel bloggers and others who make their career from traveling, there's a lot of uncertainty about the future. However, there's a lot we can do to halt Covid-19, and make the most of our time at home.
Don't think you want to see my current pajamas look… so I'll also share some of Joey Wong's sunny images from January. I'm grateful we got to relax at the Parker Palm Springs, before it all went down. (If you missed it, here's our colorful photoshoot in the hotel.) 
OOTD: Wearing a For Love and Lemons cut-out dress, similar to their Cherry Twist mini dress. I accessorized with Lola Ramona sandals, sunglasses by Spiltmilk Eyewear, and a sunhat by Tenth Street Hats.
Although I could never have predicted the worldwide shut-downs, I have to confess I had a dire feeling about the coronavirus even in January. When I heard that China was quarantining entire cities inhabited by millions of people, I knew this was something deadly serious.
In January and February 2020, I traveled to several cities in the USA (Los Angeles, Palm Springs, NYC, Portland). These turned out to be my final trips for a long time to come.
I had several major projects lined up for April, including something that would take me to several new countries. I also was planning a Japan television show shoot and campaign. Now, all these are cancelled or delayed.
It's a time of significant stresses for all of us — I can't even begin to address the potential worldwide devastation. In terms of the travel industry: hotels, airlines, tour companies and more have shuttered, some for good. It's unclear how or when things will pick up, and what travel will be like in 2 years or so.
But right now, staying in is the best thing we can do for ourselves and others, to keep the coronavirus from spreading. If we aren't essential workers who must go out, then we can make the biggest positive impact by self-isolating.
I don't go out except for necessary groceries (which I get in bulk, on a single trip). And always with protective practices (social distancing, mask, gloves, hand sanitizer, cleaning my credit card and clothing when back).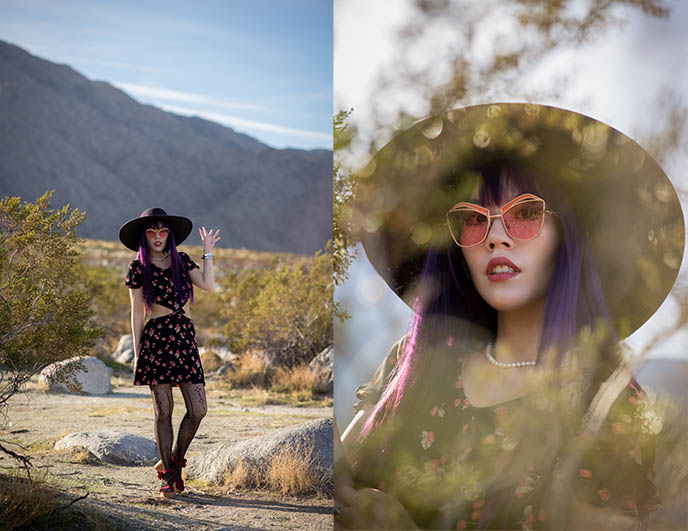 It's quite a change from the travel blogger lifestyle. But I'm focused on the bigger picture, and determined to help in the best way I can.
Until it's safe to move around again, what will I be up to? I recognize I'm fortunate to be a Canadian citizen and have the resources to likely ride out the storm. I've been pivoting to other writing work, as well. (You can see my latest article for Fodor's Travel about animal architecture around the world.)
I've been finding positives in spending time at home. Without the disruptions of traveling, I'm able to focus fully on fitness and healthy eating. I'm enjoying home-cooked, nutritious meals with the occasional baking foray… such as pumpkin and dark chocolate brownies!
It's also a moment to appreciate the small things, like the cherry blossom trees coming into full bloom. (While on short, socially-distanced walks in uncrowded areas. )
(I'm never outdoors without sun protection, of course! In Palm Springs, I shielded my skin with a black sunhat by Tenth Street Hats. My one-of-a-kind St Bart's pink sunglasses are by Spiltmilk Eyewear. Each metallic frame is handcrafted in Japan, and how fabulous are the built-in eyebrows.)
Cactus spikes ahead: I've been railing against the rise of fake news. I see a lot of misleading COVID stories being shared on What's App and social media, and the effects can be dangerous. (Such as spreading false medical info, and encouraging harmful behaviors.)
We need to be more responsible. I urge you to verify sources: Consult the CDC and WHO, and look up keywords on Google News to see if any reputable media has reported on the alleged story. Think critically and don't simply pass alarmist things along.
It's more important than ever to stay healthy, and work out at home. I've been doing yoga workouts almost daily (here's a collection of my favorite free yoga vidoes on YouTube, if you'd like to join me).
Don't forgot mental wellness. I'm a fan of the Sam Harris meditation app Waking Up, and Ten Percent Happier (which has many free podcasts and lessons online).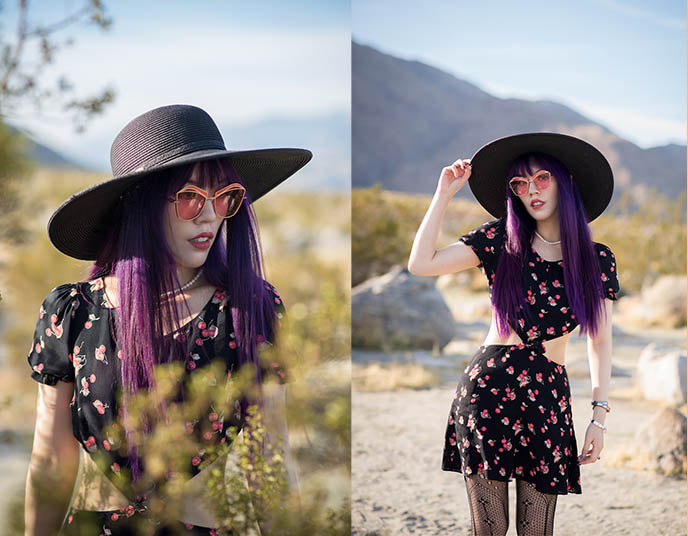 We aren't alone in the wilderness — this is a key time to catch up with friends and family. I've been doing video calls with people around the world, and it's been wonderful to reconnect. I encourage you to reach out; it's simple to use Facebook Messenger, What's App, Zoom, Skype and other apps to do video group calling.  
Warning shot: wash your hands, and keep 2 meters or 6 feet away from each other!
(Feeling grateful to have experienced Palm Springs in Jan… Wearing Spilt Milk St Bart's sunglasses, Lola Ramona sandals and a For Love & Lemons cherry dress (find it here). See more from this romantic label below with a click:)

The world will be here for us, once this is over. (And perhaps in a better state, with less carbon emissions and over-tourism…)
Let's look out for each other, and support our healthcare and essential workers. Let's be kind to ourselves, and keep up-to-date with the latest news without getting overwhelmed.
The future of travel is a big question mark, but I'd love to keep sharing meaningful stories with you. I hope to make 2020 a year of exploring new things, and growing in unexpected ways. 
Please keep in touch any time — I'm here to connect, and help in any way I can! You can find me @lacarmina on Instagram and Twitter, and here on Facebook. Keep safe and healthy, my friends.