Category Archive for
Fashion
Hello, it's been a minute! I was MIA because I flew somewhere for a major TV appearance… I can't talk about it yet, but I'm thrilled to be back to the land of television, and will share the details with you once I can.
Thank you again for the love for "The Little Book of Satanism!" Pleased to share that my book is now available from The Satanic Temple's web shop, as well as in the physical store at The Satanic Temple's Salem headquarters.
Featured in Forbes | Publisher's Weekly | Dazed – The Little Book of Satanism is an accessible guide to Satanic culture, history and ideas with a foreword by Lucien Greaves. Little Baphomet seems to like it…
See more details about my latest book here, as well as links to many retailers (it's available worldwide in paperback and digital, and published by Simon and Schuster). Thanks to everyone who read it and reached out — it's amazing to see my book on the shelves of Barnes and Noble, Powells, and other bookstores!
And more good news… a Spanish version of "The Little Book of Satanism" will be out soon! Some of you asked about translations of my book, and Ulysses Press made it happen.
"A thoughtful, concise examination of the history of the devil [that] cuts through the Satanic Panic myths that are still prevalent today." – Forbes Magazine. See more info about my book here.
I'm also happy to see that many of you are traveling to Japan once again, now that the country is open to tourism. I was in Tokyo and other areas last August/September, and still have tons to share.
I'll begin with a cute / Goth / alt shopping guide to Shinjuku, as I hope this might be useful to you when you travel to Tokyo! Read on for a tour of Marui Annex, Studio Alta, Don Quixote, Sanrio stores, and more. 
Everyone knows Harajuku is the center of youth / alternative fashion, but Shinjuku has tons of pop culture boutiques as well. Whenever I'm in Shinjuku, I stop by 0101 Marui Annex department store to peruse the latest funky shops — like the Godzilla boutique!
The ground floor pop-up is dedicated to all things "Gojira" and his fellow dai kaiju. Find Mothra t-shirts, Godzilla head statues and other monstrous delights.
The bottom floor of Marui Annex also holds the Cinnamonroll Cafe. It's a theme cafe dedicated to the cute bunny Sanrio character with long floppy ears.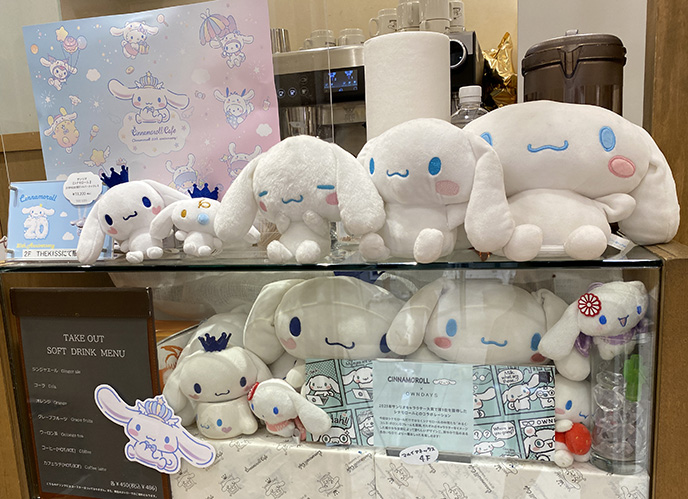 You can dine on ice cream parfaits and curries shaped like Cinnamonroll's face, and sit at a table with one of the large plush toys.
The old Marui One Shinjuku was a treasure trove of Gothic and Lolita fashion. Today, this style is less popular and many labels dissolved — but Marui Annex still has a good number of kawaii and Loli boutiques in a single location, such as Milk.
I found a pentagram, Satan silhouette and "Vampires" shirt at Milk Boy. Equally scary is the rack of Miffy socks from the bunny-themed boutique in Marui Annex!
Walk around the multi-floored Marui Annex, and you'll come across lots of cute mascot goods like these.
An entire store contains merch from lesser-known kawaii characters.
Marui has art displays as well, such as these cardboard anime devil ladies.
You know you're in Shinjuku when there's cuteness everywhere you look.
The seventh floor of Marui 0101 Annex is home to multiple boutiques that represent Harajuku, Jpop and Kawaii culture. 
These include Emily Temple Cute, which has been around for ages…
… and my personal favorite, Kera Shop. The racks carry a variety of designers, and the fashion leans towards the darker side (Goth, punk, metal).
Even if the subculture is smaller now, the alternative handmade fashion remains inspiring — case in point above.
Mana's Moi-meme-moitie brand has a presence at Kera Shop on the 7th fl of Marui Annex.
As you can see, the old school Kera Magazine / Gothic Lolita Bible styles are still alive (or undead).
Angelic Pretty is as pink and candyland-frilly as ever.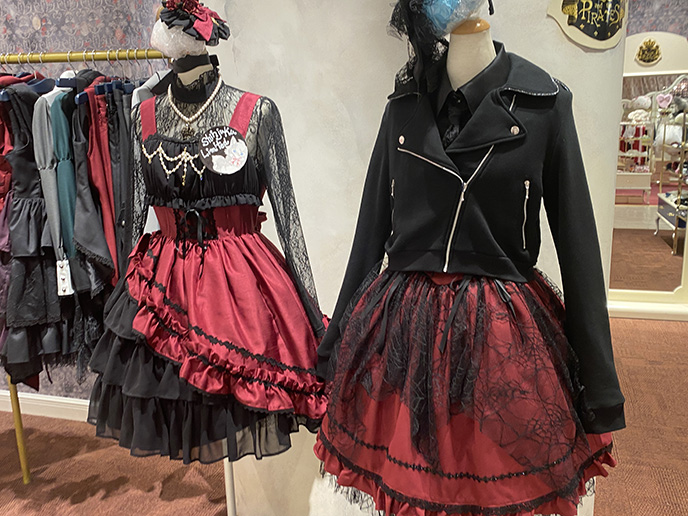 Alice in the Pirates still brings the fierceness with black and red rock asymmetry.
Jirai Kei is currently all the rage — you'll see a lot of young Japanese wearing dark girly styles like Amavel.
But there's something for every type of alternative dresser at Marui, including urban and rave garments.
Speaking of undead vampires… I ran into an exhibition by Hyde, J-rock lead vocalist of L'Arc-en-Ciel in the 1990s.
"Fantasmagorie: The Ghost Show 1799" displays gentleman-meets-Jrocker outfits and videos made in collaboration with Hyde.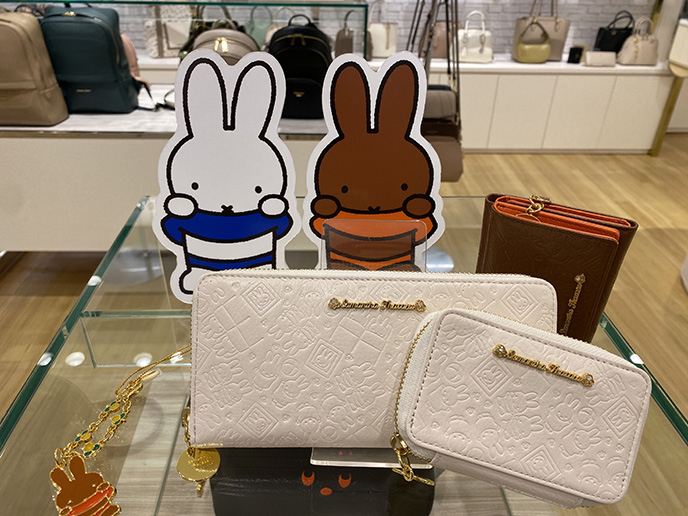 Marui Annex is the best one-stop shop for alt fashion in Shinjuku. However, there are many other department stores in the area worth perusing — including Lumine, Keio, and others near the station.
I ran into a Miffy × Samantha Thavasa wallet / bag collaboration…
… and a Samantha Vega x Sanrio characters collab! I was tempted to get this studded black Kuromi tote purse.
Happy to report that Kuromi is dominating Tokyo. You can find her memorabilia everywhere, including in Don Quixote.
Donki is, of course, the giant Japanese "general store" packed with everything from mascot socks to snacks and adult toys.
I always stock up on skincare and other necessities at Don Quixote. The Shinjuku location is rather packed, but has everything including Keroppy face masks. (Go to the Shibuya Donki for a more peaceful shopping experience).
Shinjuku has multiple Sanrio stores. Yukiro and I were a bit puzzled by the Sanrio x Sailor Moon collaboration… they did Sailor Jupiter dirty!
Of course, Sailor Mercury got the Kuromi Goth treatment.
From Shinjuku, you can also easily hop over to Ikebukuro to check out additional kawaii stores in/around Sunshine City. I had to stop by Flower Miffy.
The name says it all. Miffy flower bouquets and other home goods.
I always stay in Shinjuku, as there's so much to see, eat and do here.
The Kabukicho red light district never fails to please… Who wants to see the BJ Group BJ boys?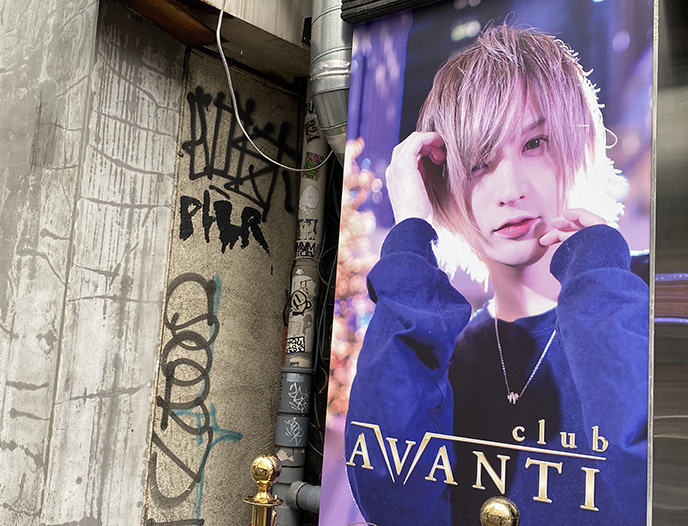 This is the area for host clubs and silly host boys like the fellow above.
Studio Alta (across from Shinjuku station east exit) isn't as funky as it used to be. There are only a few alt stores now, like the one above.
I'm digging this Hello Kitty skirt, beanie and sweater combo.
Oversized sailor shirt with Kuromi in purple, yes please.
And here's a Satanic bunny with a pentagram and caduceus.
The Hello Kitty store "Gift Gate: Elegant Shinjuku" is another classic stop. Snap a photo with the big Kitty statue outside.
Inside, there are all sorts of Sanrio goods and displays like Hello Kitty in a wedding dress.
I was in Japan right before Halloween, so I got to see slightly odd spooky designs like the above. (Of course, Hello Kitty is the devil while Kuromi is a maid.)
As for food… Shinjuku has it all. The Baskin Robbins next door to Gift Gate has smiling Pikachu cakes, as well as other Pokemon characters.
I'm fond of Coco Ichiban curry, conveyer belt sushi, and takoyaki (there's a stand near the Godzilla Hotel in Kabukicho).
And don't forget the many dollar stores and game centers! Wander around and pop into a few arcades — I came across Miffy in this UFO gaming machine.
I hope you enjoyed this updated Shinjuku shopping guide. Let me know if you make it to Japan this year, and what else you'd like to see on my blog! And you can always reach me at @lacarmina social media.
PS – I'm honored to be featured by the Tokyo Metropolitan Government! In this interview, they highlight my work in Japan pop culture and underground journalism.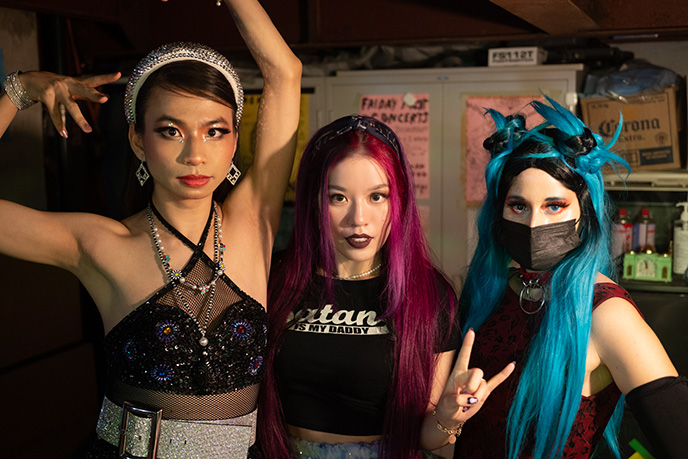 2022 was a bizarre year… but on the bright side, Japan finally re-opened to travellers. It felt so good to be back in Tokyo's alternative / Goth subculture and reunited with friends!
As luck had it, my visit (last September) coincided with the 20th anniversary of Midnight Mess — Tokyo's longest-running Goth party. I've been haunting this Gothic club night since 2008, and my friend Mistress Maya (below) invited me to do a little book release celebration for my new The Little Book of Satanism at her party.
Midnight Mess, Tokyo's monthly Gothic/Industrial EBM club, has been running at various venues since 2002 (if you're an OG like me, you'll be nostalgic for the Club Marz Shinjuku days!). Mistress Maya, the talented mistress and DJ behind it all, pulled out all the stops for the nightclub's 20th birthday — including a cyberpunk bondage show.
Speaking of OGs… I also got to celebrate DJ Sisen's birthday party at the new Decabar S bar in Kabukicho, in space-themed bash featuring Yukiro's drag performance as Nattmara! Can you believe we've known each other since the MySpace era? (Did you put us in your Top 8 back then?)
The Deca Bar S all-night party featured another old-school diva extraordinaire: Selia, who sang operatic enka and reunited with SiSen to perform as Seileen.
Read on for a "back to the future" blog about two Japanese Goth/alt events that have long been staples of my life and Tokyo's underground: Midnight Mess and Tokyo Decadance.
After being restricted from entering Japan for 2.5 years, it was a joy to be able to celebrate the release of my latest book at Midnight Mess. THE LITTLE BOOK OF SATANISM is now out — here is more info about it. Thank you for ordering it, sharing the news with friends, and leaving a review!
You can find The Little Book of Satanism on Amazon ♡ Kindle (digital) ♡ Barnes and Noble ♡ Bookshop Simon & Schuster ♡ Chapters/Indigo ♡ Amazon Canada ♡ Dymocks Australia and other retailers online. Or ask your local bookstore to order you a copy!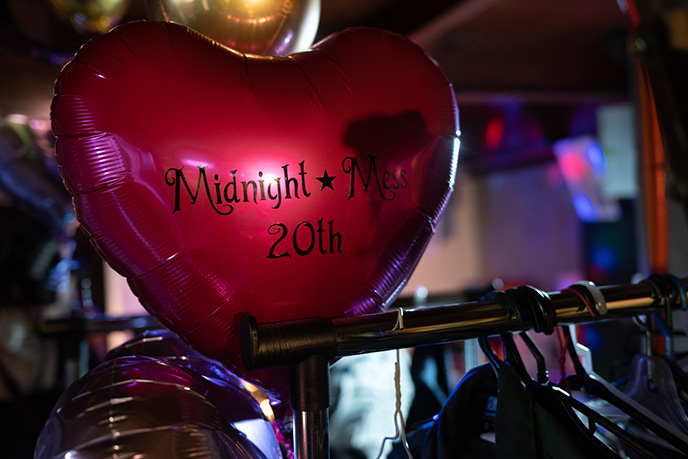 A birthday party calls for balloons… Can't believe it has been two decades since the start of Midnight★Mess! The Goth nightclub's 20th anniversary party was held in a below-ground industrial space at Sakuradai Pool.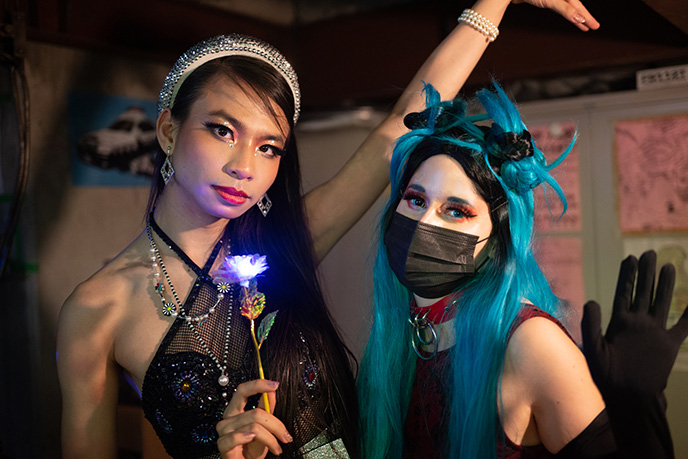 For twenty years, Midnight Mess has always brought in the kindest, most welcoming hosts and guests that love all things dark and decadent. That night, the MC was the scintillating Stefani St. Sl*t, with Julia "werking" the door in otherworldly style.
(They both perform in Yukiro's Haus von Schwarz — I'll share more about the drag extravaganza later in this article!)
As always, Midnight Mess attracts all types of underground denizens, such as this steampunk gentleman with goggles and rings. (Mess photos by Joey Wong.)
I made my way to the Cyberpunk Bar, which was run by Gothic model Ruku Kuroi — love her corseted outfit.
One absinthe, please (the bar even had Mansinthe bottles). Maya and her crew always make the events feel magical by adding decorative touches like the fairy lights and maneki neko.
The space was Satanic already, according to the poster on the wall… And it became even more so, as I was a "special guest" to do a book launch for my The Little Book Of Satanism! (Above is the flyer for the 20th anniversary Midnight Mess.)
Ruka, Maya and I wore designs by Kikirara Shoten, an indie label with "dark carnival" hats, corsets, bags, and other handmade creations. Designer Kiki Gotoh brought a "La Cidrerie du Golfe" French Baphomet cider, decorated with one of her black coffins, for the occasion.
Midnight Mess has always been a gathering spot for Tokyo's Goths. I was glad to see friends like Atsushi again after years apart — many of us had been frequenting Mess for over a decade.
And as always, Midnight Mess is the place to meet fab new comrades (everyone here is friendly and eager to chat). The MC, Stefani, called me on stage to do a little presentation about my Satanism book — and officially launch it with a Hail Satan!
One of the performers, Lolita K, poses with a doll and a black ruffled and bell-skirted dress with a bonnet.
There's so much to experience at Midnight Mess — dancing to industrial EDM Goth music, enjoying video projections and the laser show, grabbing absinthe or cocktails at the bar, watching performers and musicians, or getting your makeup done in dramatic fashion by Hengenshi OLI (above).
Here's the lady of the night (Mistress Maya) about to take the stage. She wears a black veil and corset by Kikirara Shoten (in an upcoming post, I'll take you inside this boutique).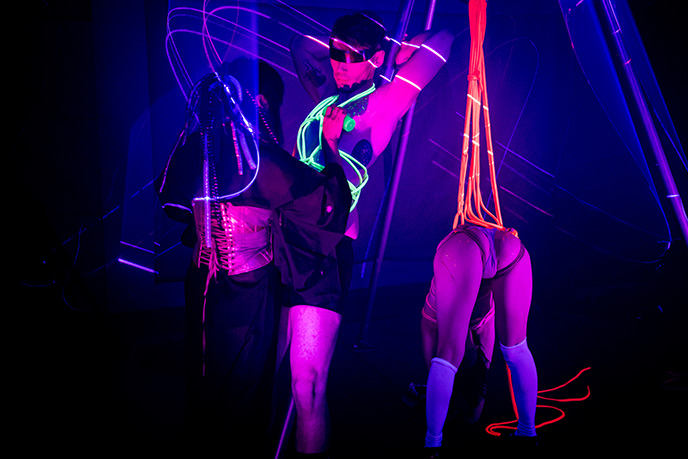 We watched a Blade Runner-inspired short video, which led to a jaw-dropping replicant kinbaku (Japanese rope bondage) demo with live laser by 100ch.
Since what feels like the beginning of time, Maya has been performing and teaching kinbaku / shibari, or Japanese rope tying.
She bound her two victims with intricate knots, using rope that lit up in neon under the lasers.
From steampunk fashion to accordion music, Midnight Mess is eternally a place to meet creative alt-Japan types, and be inspired.
Another sweet touch that makes Midnight Mess so special — Maya brings out a cake for those celebrating birthdays that month. She included a heart for me, and for the event's 20th anniversary milestone.
Vincent is a September baby, so he licked clean the doll that topped the cake.
I hope these photos and stories convey why Midnight Mess is — and remains — such an extraordinary place to be. Maya's legendary Tokyo Goth night has brought together so many of us over the years.
Here's a blast from the past: snaps from a 2008 Midnight Mess! (You can spot Dr John Skutlin, Sisen, Yukiro, Covenant, "I am Sebastian" and others in there). The digital camera quality has come a long way since then, but Midnight Mess remains my favorite Gothic party in the known universe.
Speaking of other space-disco creatures of the night… Let's continue the party at another Japanese alt/subculture space, Decabar S (run by Tokyo Decadance)! DJ SiSEN invited me to his birthday party, which he was hosting with long-time collaborator Diva Selia (DJ, operatic singer, and other half of his musical project Seileen).
And look who else was a featured performer… Yukiro Dravarious as Gothic drag queen, Nattmara! (That means "nightmare" in Swedish, quite fittingly for his devilish drag.)
In addition to performing regularly at Deca Bar S and other venues (like Dragula screenings at Eagle Blue in Ni-Choome), Nattmara runs regular drag queen / king events throughout Tokyo, with her Haus von Schwarz.
"Galaxy greetings, cosmic kitties…" DJ Sisen's party was themed after Space Channel 5, the intergalactic 1999 music video game (which arrived at the height of human civilization… Everything has been in collapse since '99, if you ask me). Many wore Y2K / candy rave / cyber alien fashion themed after the stylish game.
Others wore Gothic fashion, and other Harajuku / subculture styles. How cute is Nattmara's pentagram tome of friendly ghosts? (Speaking of the Devil, I was interviewed about my book and the revival of the Satanic Panic for Dazed Magazine.)
Over the years, Tokyo Decadance's parties have been held in a variety of venues, and their own namesake bar has moved a few times. The current Decabar Super is in the heart of Kabukicho (down the stairs, in the basement of the Asahi building at 1 Chome−9−8 Shinjuku).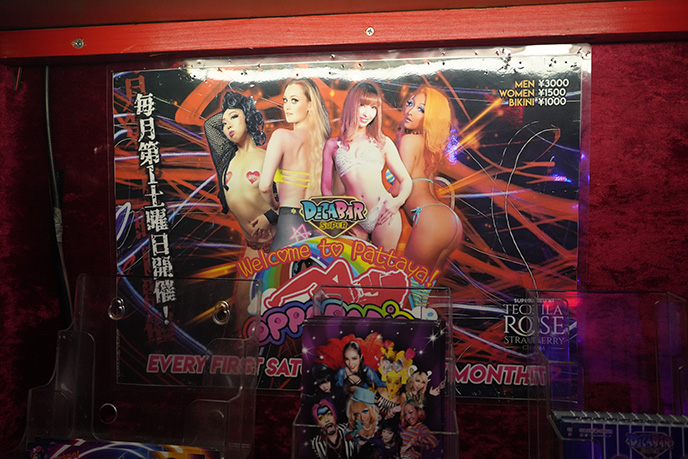 Tokyo Decadance hosts regular alt and queer nights at Decabar S, such as a recent "Welcome to Pattaya" party.
The queen of the night got glammed up in the tiny (and rather precarious) backstage area behind the stage.
Outside, Selia and other DJs played sets that included anime songs. Guests in cyberlox and Lolita dresses bopped along to the music on the dance floor.
While there is no dress code, you're encouraged to dress up in creative fashion — from cute rave cat ears to devil horns and kimono.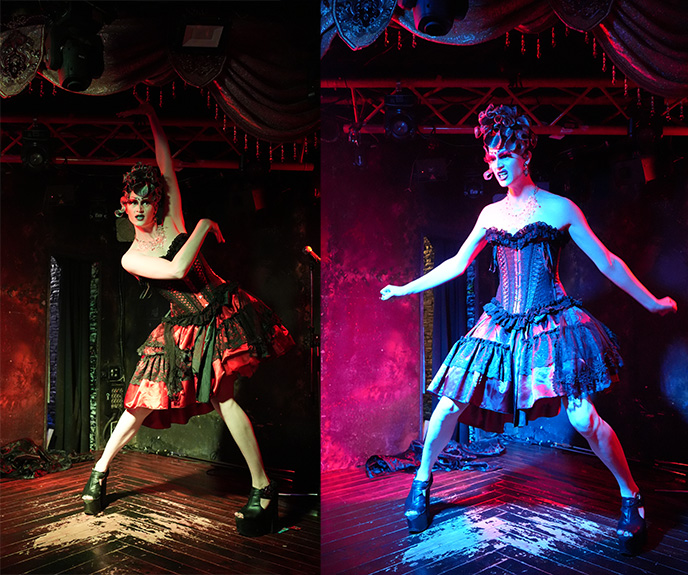 And then, Yukiro took the stage as the deathly Nattmara. I'm proud of how far come her drag performances have come since our earliest days together.
Now, she runs the monthly Casket of Horrors –a queer cabaret featuring international artists — along with other drag queen events throughout Japan. There's info about her next drag extravaganzas on her Haus von Schwarz page.
Sisen brought his alien baby with him (looks like he wants food or cocktails from Decabar).
I've also been going to Tokyo Decadance parties since 2008, when they were mostly held at Christon Cafe (RIP to the kitschy Jesus-themed restaurant). The events always bring in artists and creative types, dressed to the nines.
While Gothic and Sweet Lolita fashion isn't as popular as it once was, you'll still see Lolis at events like this one.
A new and risky addition… If you pull this lever, you have to spend 20,000 yen on drinks for everyone!
The bartenders are always smiling and full of multi-dimensional kandi energy.
True to the 1990s theme… Teletubbies made an appearance.
Dance, dance, dance til you death-drop. The music ran until 6am, and as always, there were lots of amiable party animals on the dancefloor.
Lots of original outfits and makeup for me to photograph. Both Selia and Sisen wore horns (a mix of Japanese oni and Satanic inspiration).
Selia took the stage to bless us with her glorious operatic singing. I was moved to see her perform again after all these years — her presence is as powerful as when I first saw her. Later, she reunited with Sisen to perform tracks from their Gothic-industrial band, Seileen.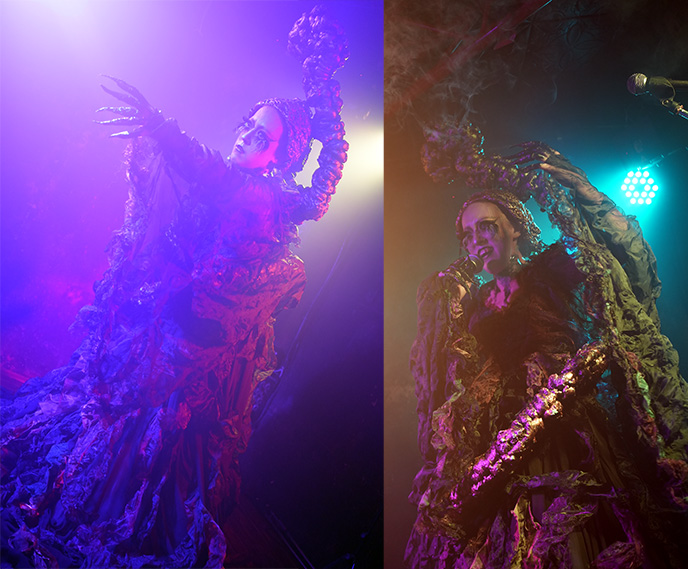 Naniwae Wami's witchy singing was also out of this world. The amount of time and detail that went into her handmade costume, nails, makeup… wow!
Between sets, Nattmara and I went for a stroll through Kabukicho and Golden Gai, the "red light" and small bars districts of Shinjuku.
We came across Halloween random-ness — love this about Tokyo.
Of course, the over 6 foot tall drag queen caused a stir in the streets. Quite a few men stopped to take selfies with her highness.
Kabukicho is the domain of host boys and host / hostess clubs — here are some of the latest neon signs.
And you can pop into one of the love hotels for an hour or so… They tend to have cheesy names and decor like: Hotel Labio, The Art of Time.
Our nightlife superstar also runs events at Club Science and Club Heist in Shinjuku. It's a concert venue for Visual Kei and J-rock bands, as well as her witch-themed Goth nights. You can also check out her next drag queen events, which are announced on the Haus von Schwarz Insta page.
What a relief to see Tokyo's Goth / alt nightlife blossoming again, after 2+ years of unease. My recent nightcrawls at Decabar and Midnight Mess were a much-need reminder of how life can and should be. Much more to come from my Japan reunion — so much has changed since I was last there.
Life is short, so let's slay it in 2023 and onward. As Yukiro puts it, "Always forward, but never straight!"