Category Archive for
Fims + Videos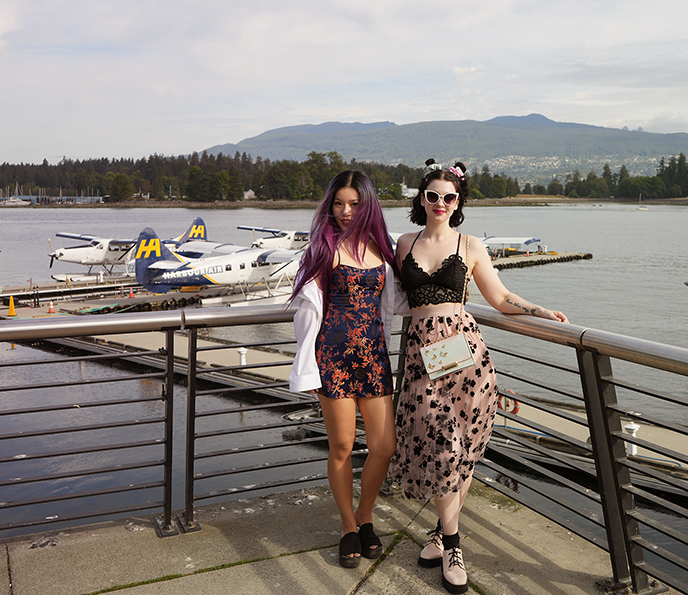 Girls getaway time! Bindi and I wanted a relaxing overnight vacation, so we flew on Gulf Island Seaplanes to Gabriola Island, British Columbia.
Gabriola is a quiet isle in BC's Strait of Georgia with stunning natural features, like this sandstone beach at Malaspina Galleries. Read on for our travel guide to Gabriola Island — including where we stayed and ate, and our cute encounter with farm animals!
From Vancouver, the fastest and most fabulous way to reach Gabriola Island is by floatplane (the ride is only 25 minutes long). We were excited to take our first seaplane ride ever with Gulf Island Seaplanes, which has routes from downtown Vancouver's waterfront harbour to Gabriola and Hornby Island.
Gulf Island Seaplanes is an indigenous-owned company, and the staff feels like a family. They walked us through the safety features, and made sure we were all good throughout the flight.
The floatplane only holds 5 people and the pilot — it felt as if were boarding a private jet! Since the flight is local, we only had to arrive 30 minutes before departure to check in at Vancouver's downtown harbour terminal (no customs or bag scanning required).
My OOTD: DMY by DMY Billy sunglasses, Realisation Par dress, Steve Madden Slinky shoes, Maison de Fleur bag.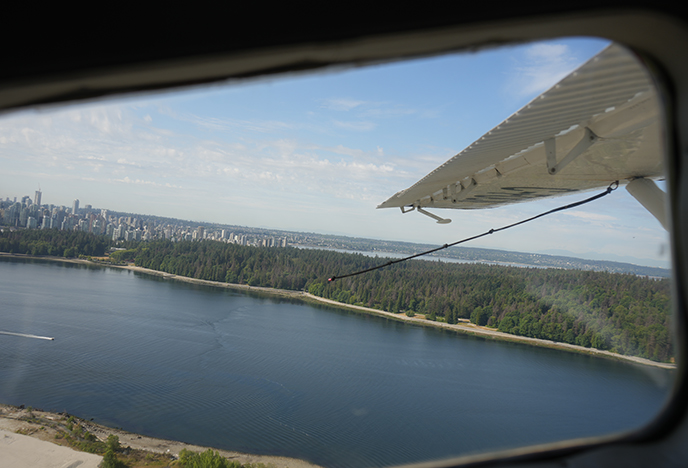 The sea plane takes off from the water… and there we were, up in the air and grinning at these ridiculous views.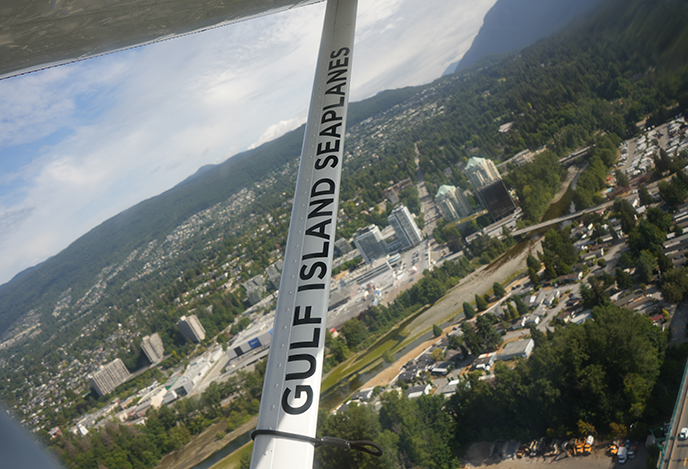 "Like an Eagle, in the city." These are the lyrics of the disco song I used as the background music to my Instagram reel about our seaplane experience — watch the video here!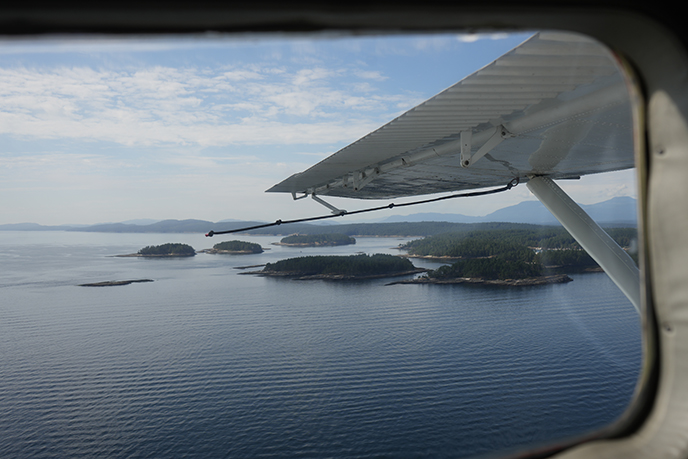 Our seaplane flew west over the Salish Sea (between the mainland and the Pacific Ocean). Still not over these window views of BC's tiny islands, blue mountains and waves.
All of the passengers wore earplugs or earphones (provided) to minimize the noise.
A gentle landing on the water — in less than 30 minutes, we had arrived at Gabriola Island! We can't thank Gulf Island Seaplanes enough for the smooth floatplane journey. The company also offers private charters throughout coastal BC, as well as short scenic tours from downtown Vancouver.
The seaplane landed at Silva Bay dock. We then called Gabriola Island Taxi for a pickup (there's only one service with several drivers, so plan ahead and be prepared to wait for taxi rides!)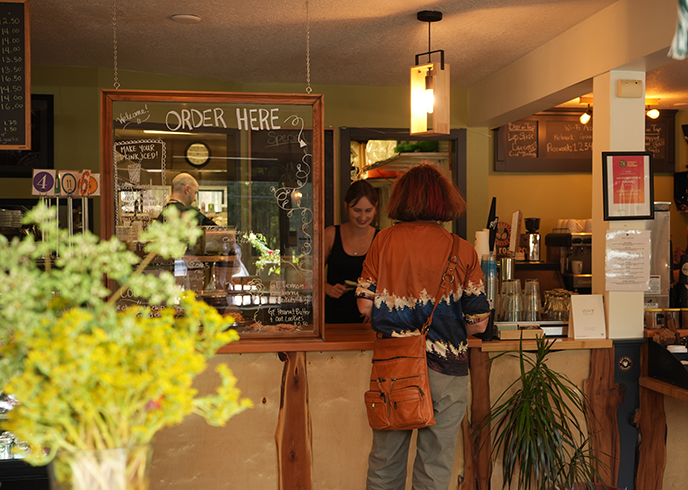 Ravenous as usual, we asked to be dropped off at Ground Up Cafe and Catering. I saw that this was one of the highest-rated restaurants on Gabriola Island — and we loved it so much that we came twice.
Ground Up has a laid-back, community vibe with a tree-shaded patio. Locals and their dogs love to stop by for fresh and healthy meals, such as a burrito bowl and peanut noodles with lots of vegetables.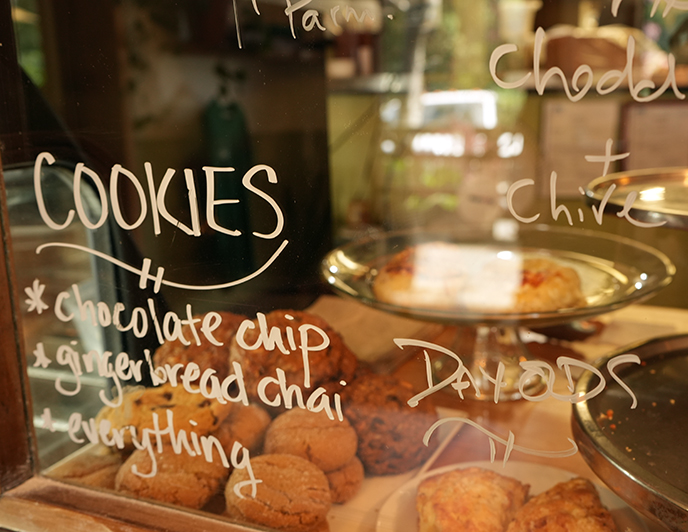 The home-baked goodies at the counter are a must. We devoured the apple cinnamon muffin, and ginger cookies.
But first, coffee! Perfectly brewed, with oat milk, by the friendly staff.
Ground Up Cafe serves breakfast and lunch — we're still thinking of this turkey avocado egg hash bowl, and gluten free pancakes with hand-whipped cream. Be sure to visit Ground Up for a delicious meal on the deck — and you can see more of our meals in our Gabriola Island travel tips video!
Time to check in at The Surf Lodge, a waterfront hotel dating back to the 1920s. While the interiors have been revamped, the hotel retains a quaint wood cabin vibe.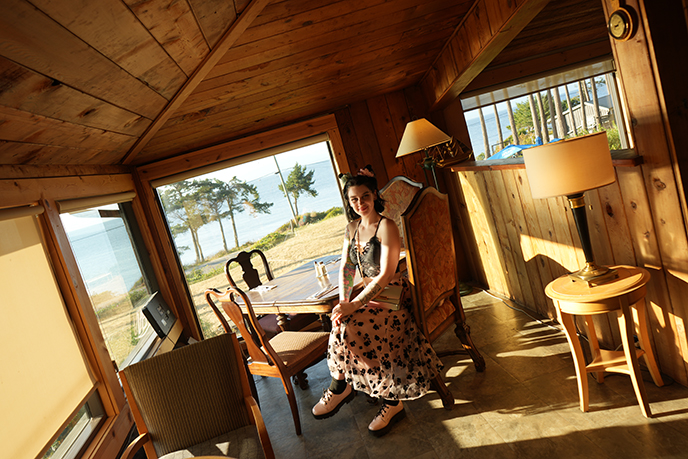 The Surf Lodge is also a popular spot to enjoy dinner with a view, either from the large patio or in the Sunset Lounge.
We started at The Surf Pub, a chill bar with a homey menu and weekly specials. Quite a few locals were gathered on the balcony overlooking the water.
Our room had two comfortable queen beds, and a large private balcony. The Surf Lodge was the perfect spot for our overnight stay on Gabriola Island. (Try to reserve well in advance, especially during the busy summer season).
A must-see on the island: Malaspina Galleries, a beach with remarkable geologic formations.
BC's Gulf Coast is known for its rocky sandstone beaches, which bring the drama.
I think you can see why Malaspina Galleries is the most photogenic / Instagrammable location on Gabriola Island.
The Malaspina Caves are a wave-like rock formation, which looks like a rip curl hugging the ocean. This natural sandstone curve formed over centuries through erosion by the wind and waves.
Aren't the Malaspina Galleries magnificent? This is where we shot the promo video for my game show appearance.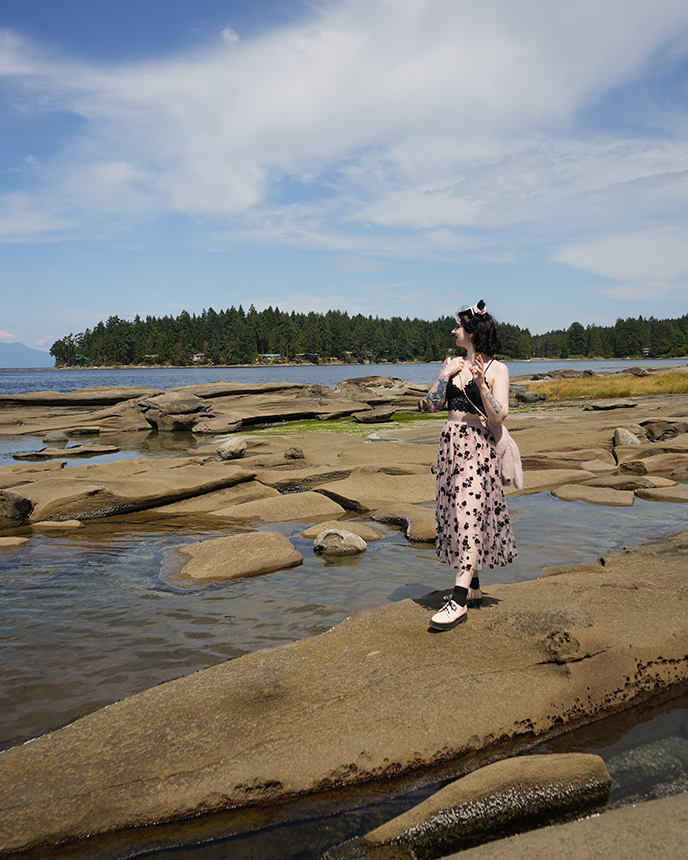 Then, we wandered the shores and said hello to the tiny crabs and barnacles in the shallows.
Love the dark energy of the Pacific Northwest: one of the best places to visit in the summertime, especially in this era of The Collapse (it's now way too hot to be in Japan and Europe in the summer months).
Goth on the beach, always. My top is part of a surf swim bikini from Towers Swimwear, and the skirt is vintage.
Later, we caught the sunset at the rocky beach in front of The Surf Lodge hotel.
This duck (or geese?) family joined us to watch the glowing skyfall.
Magic hour. Gabriola Island is small, and it isn't a tourist destination (unlike say Tofino) — so its natural attractions are easily accessible and uncluttered with people.
Travelers come here to hike, camp, get out in nature, or simply relax like we did.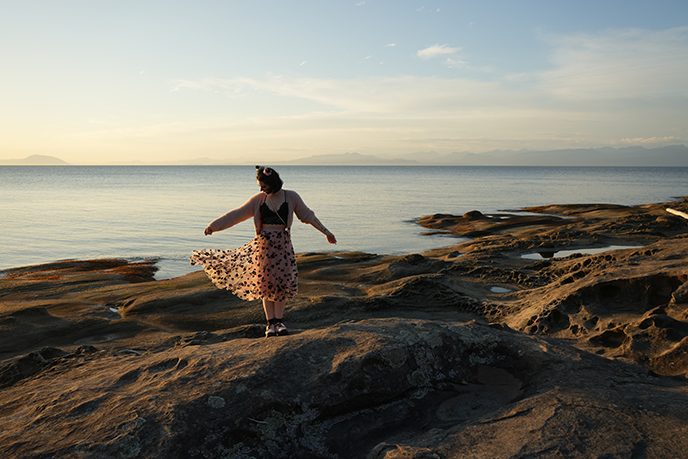 Gabriola also turned out to be a fab place for fashion photography.
Here's a shot simply taken on my iPhone. Love the cinematic feel.
There's more to do on a getaway — like shop for jewelry and crafts by local artisans, at Free Sprit and other shops.
And head to Paradise Alpaca Farm to pet and feed animals, including goats!
These wooly alpacas are smaller and gentler than…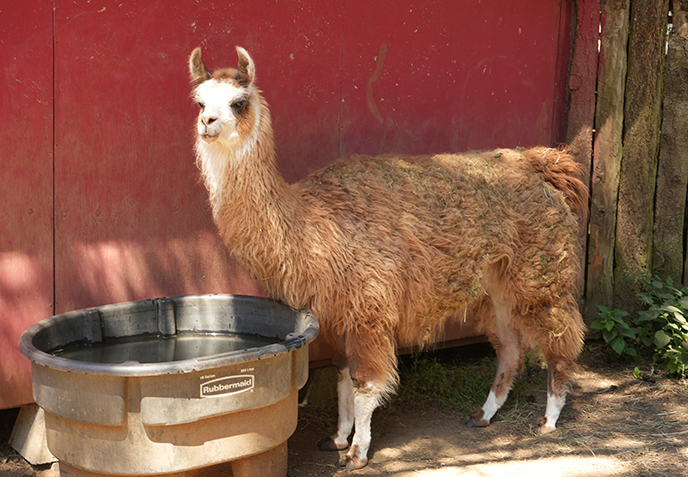 … llamas, which are larger and more "aggro," and might even spit! Their faces are also more elongated with banana-shaped ears, which differentiates them from alpacas.
Bindi gave some love to the miniature horses (they're bred to look like smaller horses, as opposed to ponies that are stockier with shorter legs).
Hail, Paradise Farm on Gabriola Island! Like everyone we met here, the owners are warm and welcoming.
Stop by their gift shop to pick up items made from llama and alpaca wool, and to make a donation.
So glad we took our first seaplane ride ever to Gabriola Island! Gulf Island Seaplanes lets you fly here in style in half a hour, from downtown Vancouver. Please take a minute to watch our  seaplane ride video for footage of the flight!
And enjoy our Gabriola Island travel guide video, which includes Surf Lodge, Ground Up cafe, and the alpaca farm. Of course, it's set to a Fun Fun disco song.
Have you ever gone on a girls getaway? If so, where?
Ever dream of being on a TV game show? I did… and I've now achieved that goal! On July 31, watch me compete on CTV's new primetime quiz show, Battle of the Generations!
Battle of the Generations is a pop culture trivia television show, so it was a perfect fit for me as a subcultures blogger. In each episode, four contestants from different generations (Gen Z, millennial, Gen Z, and boomer) battle it out over questions about popular culture from 1945 to the present.
The new CTV (Canada network) gameshow puts contestants through different type of trivia battles. Sometimes, contestants go one-on-one against each other. Other times, they answer rapid-fire questions, and might have the option to pick the pop culture category or generation.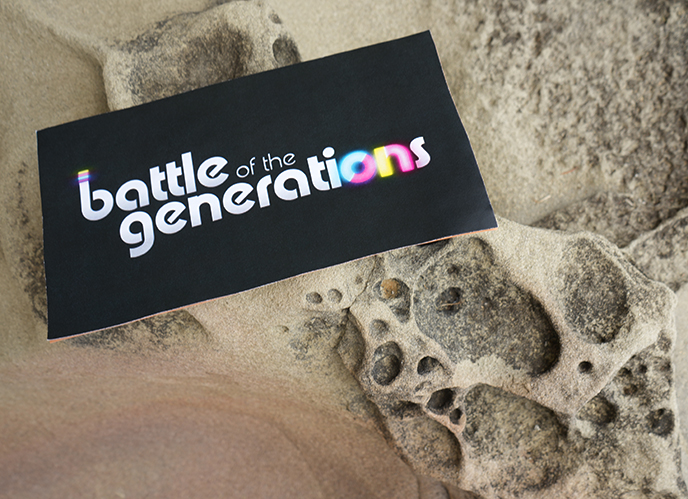 You can see me compete against three people on Episode 7 of Battle of the Generations, which airs on CTV at 9pm PT and ET on Monday, July 31! If you miss it, you can stream the gameshow on CTV's site.
I can't tell you more until the episode airs, but it was a thrilling experience to represent millennials on a new TV game show. (We filmed in Toronto in January — the producers selected me after a screening process, and flew me in for the shoot. Above is what I wore on-screen: skeleton swim top by Towers Swimwear, skirt is vintage.)
The game show questions are all about pop culture (films, music, trends, tech, celebrities, etc), which span various generations. Herein lies the fun: the boomer might be familiar with a 1950s film star, but be clueless about viral TikToks.
Do you like watching TV game shows? Hit the buzzer with me and see how I fare on Battle of the Generations: my episode airs Mon, July 31 on Canada's CTV! Whoever comes out on top and unlocks the Vault gets $25,000.
(Photos of me by Bindipop, taken at Gabriola Island's Malaspina Caves in British Columbia. More photos from this girls getaway to come; see my reels on @LaCarmina Insta for sneak peeks.)
Another announcement: I've embarked on a new social media series, which I'm titling "La Carmina Redux!" I'm leveling-up my older content with revamped photos and tips about destinations worldwide — like Malaysia (above), India, Morocco, Taiwan, and Easter Island.
Why? I've been haphazard with my socials over the years as they weren't my primary focus. Also, upload quality and editing styles have changed over the years (remember when we added Instagram photo borders, and did dog-ear selfies and boomerangs?)
I want to give my older travel / fashion photos justice and have them fit today's vibes — so I've archived a lot on past posts on @lacarmina Instagram and am launching a "best of" series, one country at a time. From now, you'll get more frequent uploads of both new content and re-edited throwbacks to my trips in 70+ countries, along with my latest travel recommendations.
For example, here's a look back at my 2017 Langkawi, Malaysia travels with Her Majesty Yukiro. Luxury beach resort Casa del Mar treated us like queens with sunset dinners by the ocean, dragon fruit rum cocktails, and a boat tour of a lush mangrove forest with a bat cave.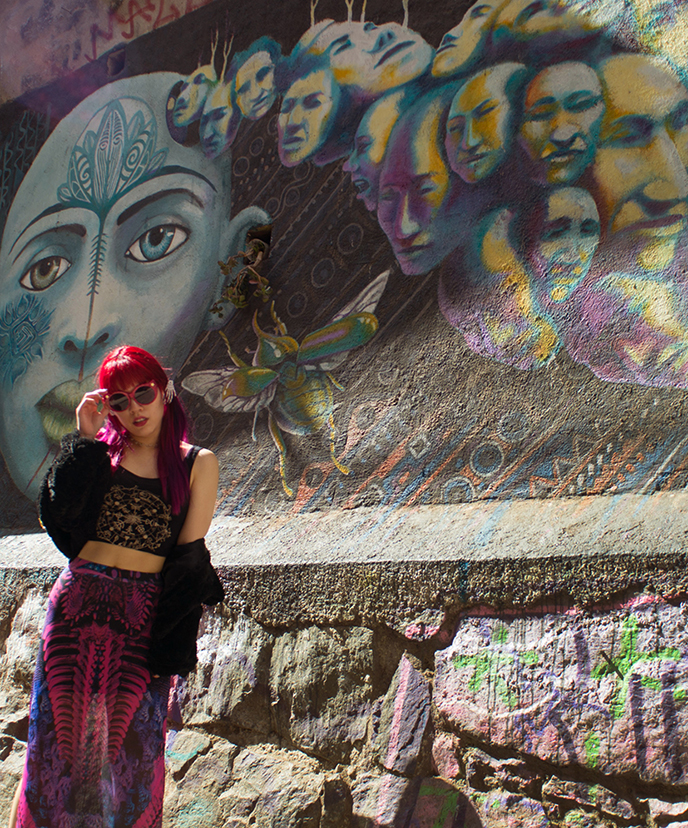 Throwback to my 2018 trip to Valparaiso, Chile: a UNESCO site known for its rainbow street art. It was a joy to stroll the hilly streets and get inspired by energetic murals, found art, 3D installations, and other creative works by Chileans. More photos in this blog from the trip.
"I'm going on an adventure!" One of my favorite memories of New Zealand (2016) was wandering through Hobbiton, the pastoral village from The Hobbit and Lord of the Rings films. The real-life Shire is a 2.5 drive south from Auckland, and visitors must book a tour in advance.
What a joy to duck into the tiny homes and gardens of Frodo and Bilbo — and then laze at the Green Dragon Pub with a Southfarthing brew and warm cheese scone. As JRR Tolkien famously wrote, "Not all those who wander are lost." (More from my Hobbiton Tours visit here.)
A lot of you loved my 2019 Goth guide to Paris, France (see the redux post on @lacarmina Instagram). As I wrote: Don't be put off by Paris because of all the beret-wearing influencers traipsing around the Tour Eiffel. J'adore the City of Light for its magnificent history, architecture, fashion, cuisine… And there's a spooky side to it for my fellow Gothic travelers
Each of the "redux" post includes tips on things to eat, do, and see like:
– Be an unabashed tourist and hit up the legendary art museums, opera house, jardins.
– Paris is one of my favorite cities for simply walking around and admiring architecture (such as Art Nouveau doorways).
– Goths, haunt Père Lachaise cemetery with its vampiric and bat lore (look for markings like the one above)
– And of course the Catacombs, stacked with skulls and bones!
Please let me know if you're enjoying the new "La Carmina Redux" series on my social media @lacarmina (Instagram, Twitter, Facebook). Some of my past "lewks" and edits don't fit with today's vibes, so I'm having fun revisiting older pics and giving them new life.
For example, I visited Petra, Jordan in 2014 (here's the Insta post). It was magnificent to see the ancient city, which lost under the sands until it was rediscovered in 1812.
Must sees:
– Wander through the siq, a narrow winding gorge leading to Petra
– Be awed by the famous Treasury, carved out of sandstone
– Say hello to the friendly camels and donkeys
The full blog post about Petra, Jordan is found here.
For more "redux" travel / fashion throwbacks, add me on @LaCarmina Instagram. I'm also posting more frequent photos and reels of recent travels — I hope you dig the levelled-up content.
And I invite you to watch me battle a boomer, Gen X, and Gen Z over pop culture questions on my CTV game show, Battle of the Generations!
Thank you to Vancouver is Awesome for interviewing me about my work, new book and latest TV appearance. I'm also featured in The Vancouver Sun's "Five Things to Do This Week."
Watch me rep millennials and take on challengers for a cash prize on Battle of the Generations! My game show episode premieres Monday July 31, 9pm on CTV (and can be streamed from their site afterward). Who do you think will win this Canadian trivia / game show?