Category Archive for
Fims + Videos
When I mentioned I had a cameo on The Purge television series, everyone assumed I'd be one of the baddies. I think you pictured me donning a mask, and slashing victims with homemade weapons.
Surprise: I'm one of the people protesting Purge Night, at a Resist rally!
Did you spot me next to the main cast, in the finale of Season 2? The Purge TV show just finished airing on USA Network and Amazon Video – meaning I can finally share my experience with you.
For the second season of this horror series, The Purge took everything up a notch. Instead of focusing on a single night, we follow four interconnecting storylines over the course of a year.
This time around, each episode is filled with thrills, action, satire and blood — which is what the Purge universe does best.
Read on for my behind-the-scenes report from the set of the Purge, including the scoop on my appearance (I'm at the end of episode 10, titled "7:01 AM" — which also features Ethan Hawke!).
As a horror fan, I had the time of my life meeting the cast and watching the crew film wild stunts — like escaping from a bus lit on fire. (Head's up: some of this post may reveal slight spoilers, but I did my best to keep the main twists hidden.)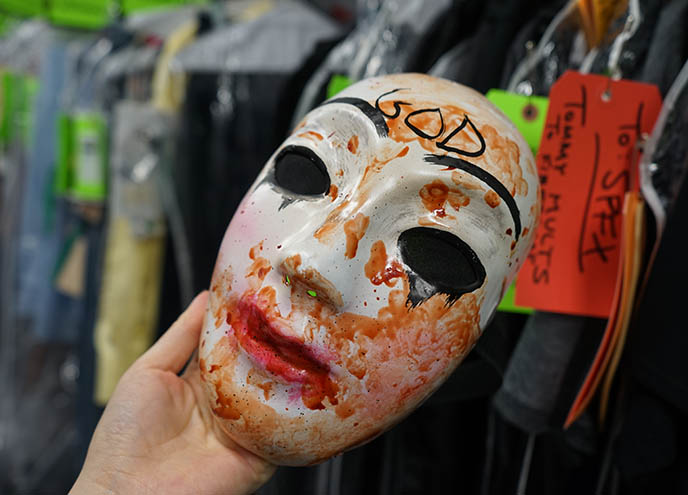 I also got to try on The Purge masks from the TV shoot, including the infamous blood-stained God mask!
As you may recall from this post, Blumhouse Productions and USA Network flew me to New Orleans for a set visit. I'm a mega-fan of Blumhouse's horror films (such as Purge 1-4, Sinister, Halloween, Insidious, Get Out) — so this was a Goth dream come true.
For those unfamiliar with the Purge concept: The USA was taken over by the New Founding Fathers of America (NFFA). This totalitarian government created an annual Purge Night, where citizens can commit pretty much any crime without penalty — even bloody murder.
Inspired by the Purge: Election Year character Kimmy, I made a Kiss Me mask to accompany my return to NOLA. I got to chat with several cast members; they all found my mask rather amusing / terrifying! 
I sat down with actress Paola Nuñez, who plays Esme Carmona — a NFFA agent who uncovers a conspiracy by her bosses, and sets out to make things right.
Paola revealed that when she was a child, she felt scared to watch horror movies. Today, she finds it exhilarating to be a principal actor in a series where "The greatest fear is what you don't know."
Paola had never been to New Orleans until this role, and she's enjoyed shooting in historic homes and iconic city sites. "There's a ghostly, voodoo energy here" that makes NOLA the perfect setting for The Purge.
(The lovely Paola hails from Mexico, and she also gave me fantastic travel tips for my Day of the Dead trip!)
I also had a conversation with Joel Allen, the main actor of another narrative in The Purge season two.
He plays innocent college student Ben Gardner, who narrowly escapes death on his first Purge Night out. The violent incident instills an "urge to purge…" Before long, Ben is putting on the creepy God mask and causing bloody havoc at his school.
Joel told me he enjoyed the challenge of portraying Ben's coming of age. This role required him to convey a range of emotions, from "pure fear" to killer instincts. Some of the scenes were difficult to shoot — particularly Ben's violent assault by "God," and complex choreography for the camera — which made the character evolution all the more gratifying.
The other journalists and I climbed into a van, and arrived on set (in a NOLA warehouse). We received hair, makeup and costumes… as we were "Resist the Purge" protesters in the final episode! 
It was thrilling to go behind-the-scenes at a major network TV show. I'm accustomed to run-and-gun travel TV hosting / production, which is very different from shooting a scripted series with massive sets, special effects, and hundreds of extras.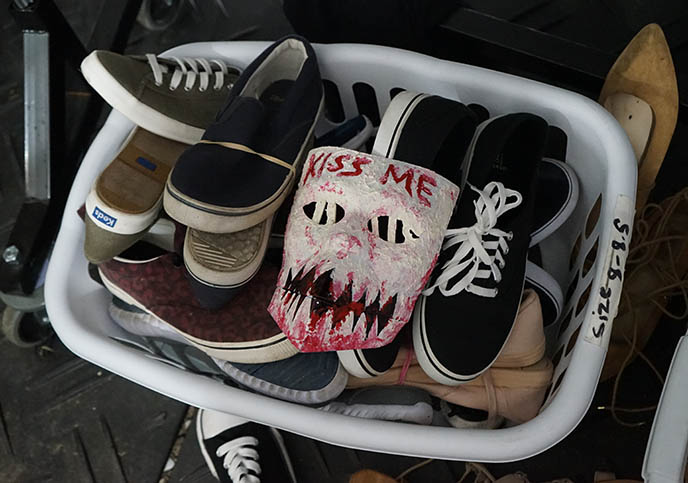 We joined the crew in a giant tent with craft service. The costume department was working hard, outfitting the background actors with dark garments typical of a resistance rally.
I wore my own faux-leather legging and stomper boots, and slipped on the Resist logo t-shirt that the Purge costumers gave me.
The hair artist gave me a semi-pulled back style. I sat in the makeup chair, and emerged with a dark lip and fierce smoky eye. I also got me badass fake tattoos… I made sure the crucifix was pointing upside down.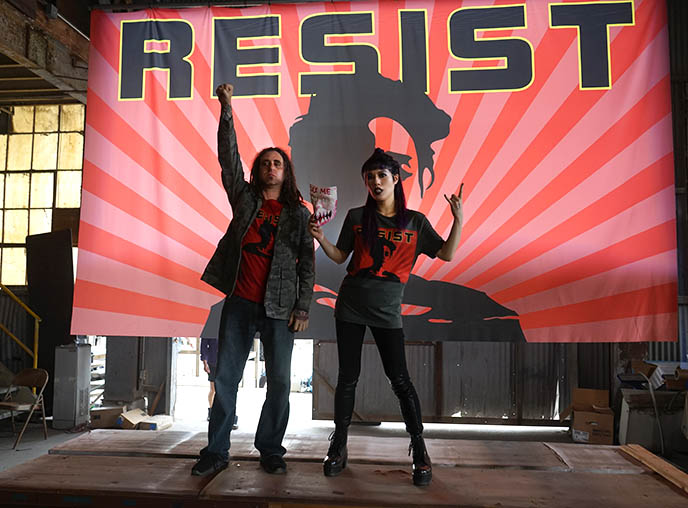 This ramshackle warehouse was set up with a platform and big red Resist banner.
Without revealing too much of the storyline — the sign shows Esme's face because of her fight to expose the NFFA's wrongdoings. She learned that Purge Night doesn't decrease violence as the government claims. It makes people like Ben hungry for more.
In season 2, the television show follows different groups of NOLA residents in the period between Purges. All the storylines cross in clever ways, leading to plenty of frights and a satisfying finish.
The Anti-Purge protesters cheered as Denzel Whitaker (playing university student Darren Moore) walks on stage. He delivers a rousing speech about how the destructive Purge needs to end, "right here, right now."
The director placed me next to two of the principal actors, Derek Luke and Rochelle Aytes. They play Marcus and Michelle Moore, a wealthy couple whose lives are turned upside-down when someone breaks into their home and tries to Purge him. 
I added my own handmade mask to the pile of props. In this end scene, I held one of these posters that urge citizens to "Join the Resistance" and "Stop the Purge – End the NFFA."
In the rally scenes, you can see me standing next to the main actors while we listen to Darren's impassioned words. The camera shows me in close-up as I clap and cheer him on.
It was fun to see how a single scene came together. The actors were pros, giving perfect performances with each take. At one point, the crew removed the banner so that they could get shots from an alternate angle.
Resist Authority! End the Purge!
Can you tell I had fun getting into character and rocking a darker look? 
Everyone I met was kind and welcoming, and it was an honor to be a tiny part of the show.
I can't post the full scene featuring me, but you can see a little clip with my fist-pumping closeup here!
Later that day, we got to watch another scene from Episode 10 while it was being shot. We drove to a covered hangar on the outskirts of New Orleans, where Jaren Mitchell, Jonathan Medina, and Chelle Ramos were geared up and ready for a fight.
Check out the guns and ammo on the table… Some of these are dummies, while others emit a loud noise with a realistic flash of light!
Chelle gets a touch-up between takes. In the resulting scene, you can't tell that they are in a sheltered space, and that it was quite humid even at night.
Very cool to meet Max Martini, and see him get intensely into character as leader of the team. (Perhaps you recognize the talented actor from Pacific Rim, Saving Private Ryan, Captain Phillips and Fifty Shades.)
Max Martini plays Ryan Grant, a former police officer who tried to execute a daring bank heist during Purge Night. Things go south when the rival Jackals arrive and one of his friends ends up jailed.
In the scene we witnessed, Ryan and his loyal team are preparing to make things right.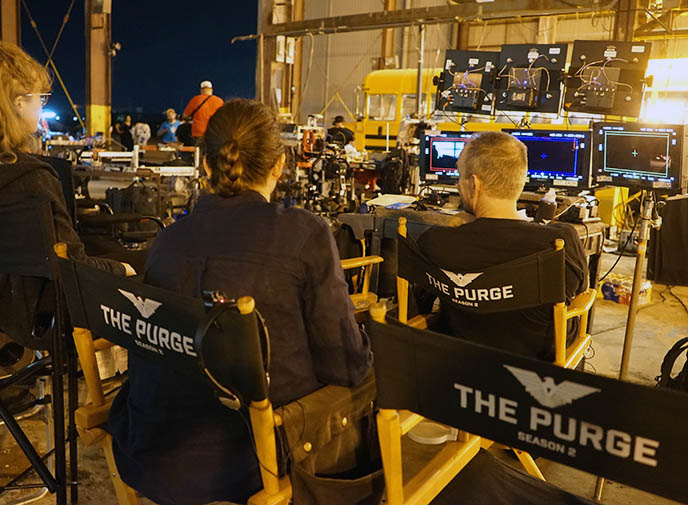 Take note of the cinematography when you watch The Purge, Season 2 — it's beautifully shot and paced. Acclaimed horror director Gigi Saul Guerrero helmed several of the episodes as well. 
I was also impressed by the efficiency of the Purge production. The director yelled the final "cut," and within 10 minutes, all the equipment had been packed and moved to the next location.
Onward to one of the most thrilling scenes in the show… A daring escape from a burning bus.
This stunt was carefully executed with the highest safety precautions. I learned that you can turn the blazing jets on or off, and that a fire-proof screen separates the back of the bus from the front driver's area. Still, these are real flames, and you can feel the heat even from a distance. 
Jonathan Medina must have nerves of steel… As soon as he stepped out of the hot bus, the "string" of fire behind him rose to human height!
I took advantage of these special effects to have a Sadako moment. Doesn't this look straight out of a Japanese horror movie?
I also got to go inside the costume truck, and try on the many terrifying masks from the Purge TV show. Costume designer Eulyn Hufkie (known for her work on The Walking Dead) and her team drew from their darkest imaginations to create the various disguises that Purgers wear. 
Eulyn says this Baby Doll mask " was inspired by a true story that I heard at the NOLA cultural museum. The baby dolls were a group of women who attacked Mardi Gras goers with sticks and knives. I had these made out of plastic and they all wear a different color lipstick."
The "God" mask made its first appearance in "The Purge: Anarchy" movie. Considered one of the eeriest masks in the series, it makes its return in The Purge TV show. 
There ended up being multiple people playing God, as events unfolded… so the costume department had to create multiple versions, and store them in bags. Doesn't this look like something you'd find in a serial killer's lair? 
The Purge costume designer Eulyn Hufkie reflects, "I always felt part of the grotesque allure of the Purge was that it allowed sick, demented psychopaths to play GOD – deciding who would live or who would die on this nihilistic day." 
At one point, a God mask gets broken. Sometimes, you only get a quick glimpse of a Purge mask, so it was sweet to see the bloody detail up-close. 
The Purge TV's masks are expertly made, from a variety of materials. If you see this one… RUN.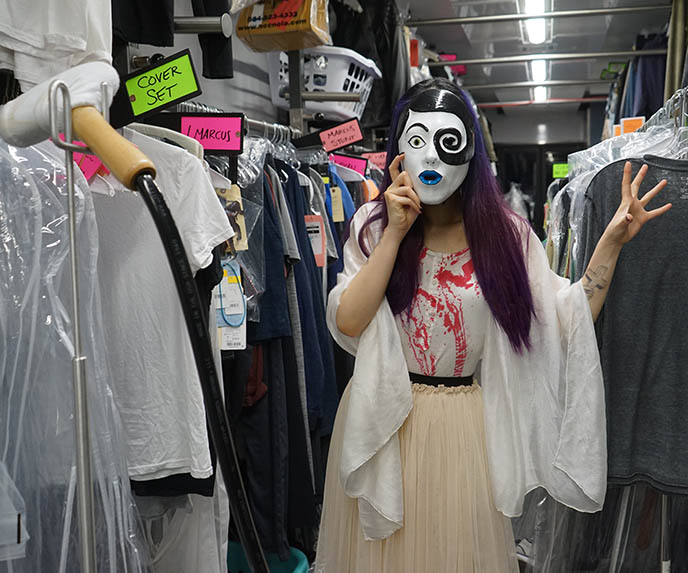 The flapper Baby Doll is among the freakiest looks this season. 
I'm standing next to racks of clothing for the various characters. The costume team drew upon brands and colors that best represented each personality. For example, they outfitted Dr. Marcus in Theory and Lululemon, while Max Martini's Ryan had a scruffier look. 
The Purge TV series got very creative for season 2. I always laughed out loud at the standalone opening vignettes, which gave glimpses into the twisted "Purge economy."
For instance, a marketing group discussed launching a scary rainbow mask, to appeal to LGBT+ Purgers! In my favorite, a Brazil bride-to-be asks a travel agent about booking a Purge bachelorette party in the USA. She whispers, "What if not everyone makes it back on the return flight?"
Here's a peek at the fake blood — you'll see a lot of it this season. 
I don't think you would want to run into me, in a dark alley… So much fun to get my hands on the Purge masks and costumes.
A last look at my temporary skull tattoo.  
The Purge TV show rocks — fans agree that the second season is better than the first, and stays true to the dystopian concept. I invite you to screen The Purge TV show (a Blumhouse production) on USA Network and Amazon Video.
There's also bonus website, Morning Time America: Post-Purge Edition, which is a spoof on the morning talk show. In the Off-Purge months, the peppy hosts chat about how to make yourself un-Purgeable, or put together a freaky look! 
(The team sent me this cheery mug, which I use daily. And I got to keep my Resist t-shirt from the filming.) 
In an alternate universe where "Blessed be our New Founding Fathers and America, a nation reborn… " it makes sense that my friends and I would be anti-Purgers, fighting with the Resistance.
Hail Blumhouse and USA Network for making this set visit possible. You can take glimpse at my Purge TV appearance in this clip here.
For Goth travel tips about New Orleans, see all my stories here.
Do you think I could be the next Scream Queen? Did these photos give you the urge to watch The Purge?
(PS: additional photos of me at the rally, Max Martini with his crew, Jonathan escaping the bus, and Denzel pumping up the crowd were shot by Alfonso Bresciani.)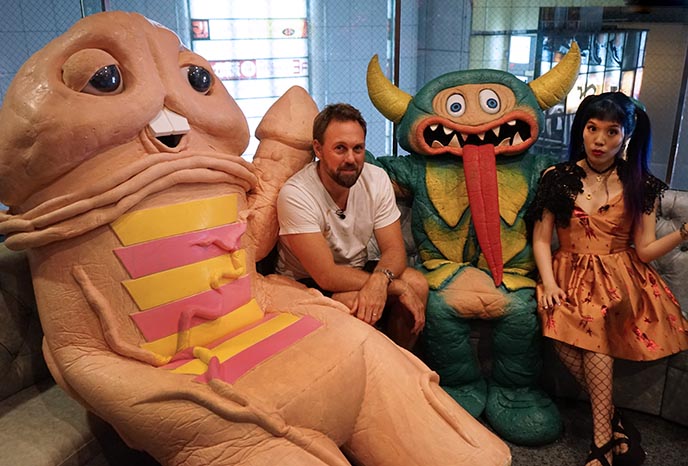 Uhh you may have recently seen La Carmina on German TV, with a giant peen… Ach du lieber!
Finally, we can reveal details of the crazy Japanese travel TV show we shot in September. As you may know, Naomi Rubin and I run a Pirates production company. We do local producing or "fixing" for travel television shows, in Tokyo and worldwide.
The Pirates have teamed up before with Joko und Klaas, the prime-time challenge show airing on Pro Sieben Germany. This time, "Das Duell um die Welt" (Duel around the World) featured celebrity guests… so we took presenter Steven Gätjen on a wild ride through Tokyo's fetish underground!
It was fabulous to be on-camera again for Joko and Klaas' program. As you'll see, I delivered Steven Gätjen's challenge, forced him to dress up in a pink studded suit, and introduced him to his bizarre band-members.
Keep reading to see the behind-the-scenes story of how we turned Steven into Ralf Acapulco, the schlager-industrial superstar singer… culminating in a hilarious performance at Department H, the alternative / S&M / latex / anything-goes party that remain the wildest in Tokyo.
❤ Wanna watch? I can't post the full episode, but here are clips above and on Vimeo. ❤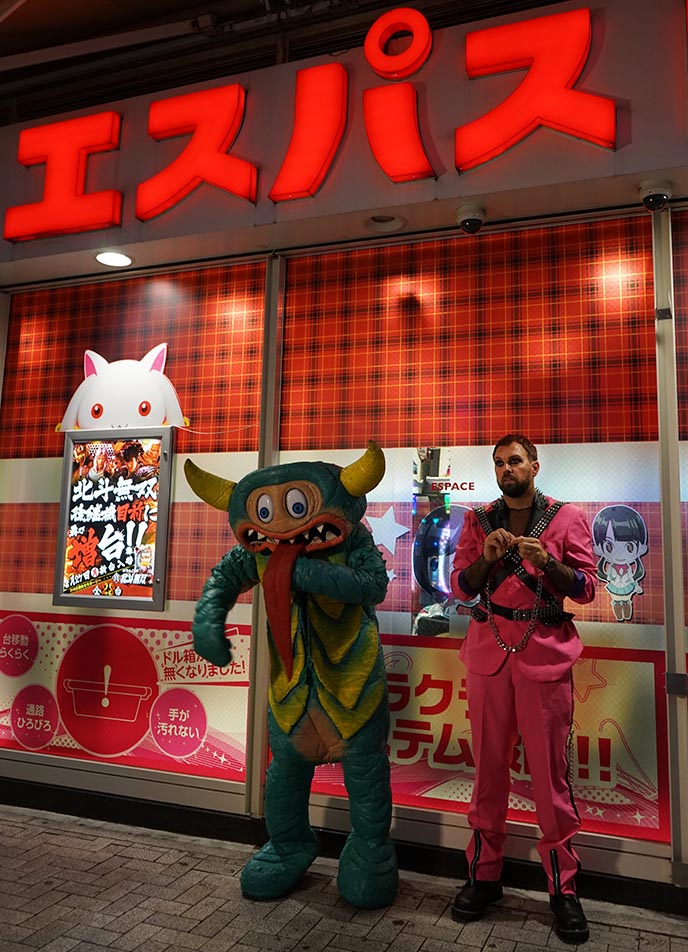 Naomi and I love working with the Joko gegen Klaas team, as they're always keen to do something crazy for the TV show. The production process is a long one: we throw around ideas for the challenge, and then build a story and locations around it.
As fixers, the Pirates make the local arrangements in Japanese including securing permits and locations, casting extras, arranging costume and makeup, hiring a van driver, securing hotels, and any other logistics for a successful shoot.
(You may recall that we gave Klaas a bagelhead, and sewed Joko's lips together for this show! We also worked with Palina Rojinski on a ProSieben travel shoot in Hong Kong, and Olli Schulz in a Box in Tokyo.)
Steven's adventure began in a Zen-like fashion. He sat down to a matcha tea ceremony, in a traditional tatami room that we rented.
The four people in kimono are extras that we hired… from the Japanese "rent a family" company! (Yes, you can hire someone to pretend to be your relative or significant other.) We previously rented the same lady to play a fake mother in Olli's TV show.
Naomi Rubin is an amazing Japanese-English translator who makes the shoot possible by communicating the director's words to the cast. She is also a talented illustrator, and created the elegant watercolor above based on the tea house scene.
In this scene, Steven received a mysterious card with an address. This led him to the next location…
… A karaoke room, where wacky individuals were waiting for his arrival! 
Steven Gätjen is lovely in person, with a gracious and positive attitude. We worked off a script, but had a good time ad-libbing during our scenes.
(My earrings are Alex Streeter, and dress House of Holland.)
Say hello to PicoPico. He makes astonishing full body costumes of monsters and strange creatures. We hired him to be on the show, wearing his original green Becos costume.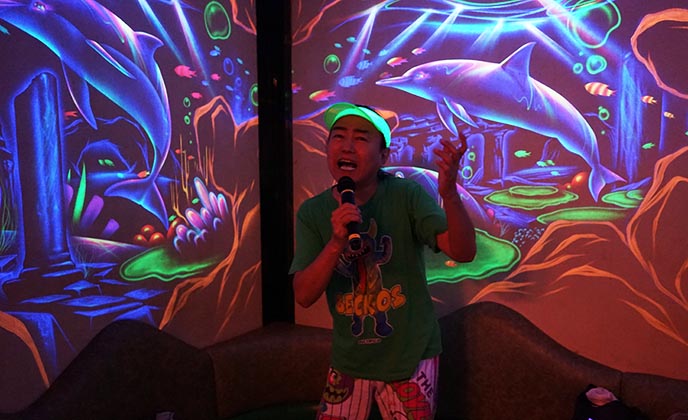 While we waited for our scene, Pico Pico and I did karaoke… why not, we were in Karaoke Kan Shibuya after all!
What's the deal with the blacklight space dolphins on the walls of the karaoke booth? Again… why not! (When you choose a song and it begins, the room lights up with a disco ball and neon lights.)
Pico Pico selected a Power Rangers tune to belt out. Love the spaceship background of the karaoke video.
Yours truly stuck to disco. We did a YMCA duet, of course with the appropriate hand motions!
(If the monster costume looks familiar, it's because he was also in the French travel TV show I did years back, with Antoine de Caunes for Canal Plus.)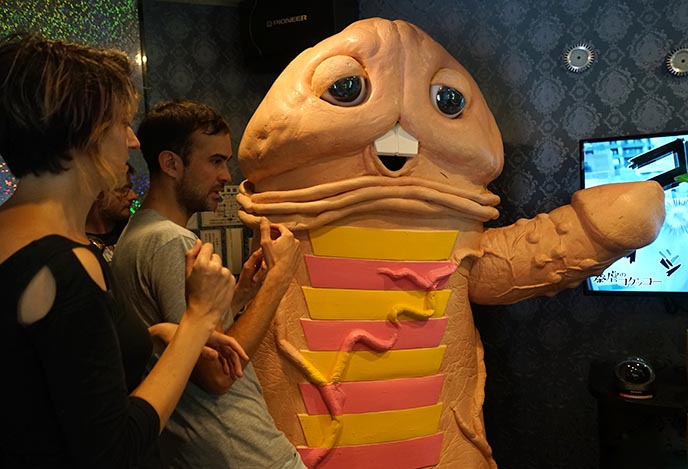 And then, a giant penis arrived… Welcome, Mr Peen! He was so big that he could hardly fit through the doors, no joke.
This phallic character, known as Gachachin, often pops up at Department H and once appeared at Kanamara Matsuri, the Penis Festival in Japan. The old costume got a bit… rotten… so the creator whipped up a fresh and bigger one in just three days.
As you can see, it takes two men to deal with the massive Mr Peen! When Sasano is inside, he can shuffle around and go turgid or flaccid. Check out the vein-y detailing on the foam body, and the arm appendage.
PicoPico also got inside his suit (he can see out of the mesh mouth area).
Naomi arranged for us to shoot in at Karaoke Kan Shibuya, in the exact same glass booth featured in the Lost in Translation movie by Sofia Coppola.
Here's a screenshot from the scene we shot together. I introduced myself as Steven Gaetjen's challenge-meister for Tokyo.
I'm sitting in the same place as Scarlett Johansson in the film, but unlike her pink wig, my hair color is real. (My cape is by Pheren Couture)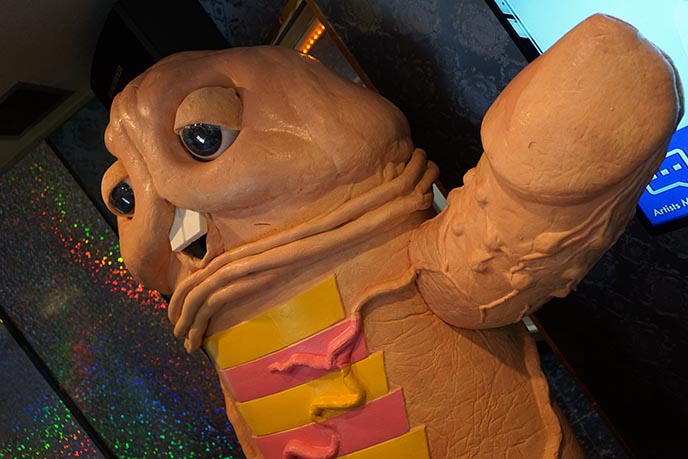 I presented Steven with his Tokyo challenge. He had to sing live on stage, at a wild party with hundreds of people watching… with Picopico and Mr Peen as his band members!
Steven Gaetjen had to perform a song that mixed schlager (cheesy, upbeat German music) with industrial (Rammstein-esque headbanging). He had to dress the part, hence this pink-studded costume that I declared was "so fash."
To add insult to injury, I made Steven take part in a nonsensical interview with a Japanese news crew. Our friends Miki, Ken and Yugo did a fantastic job acting as the host and camera crew for this segment.
We hired makeup and hair artist Tomomi Tokuda to give Steven this edgy look. She nailed it, and was a pleasure to work with.
Travel TV shows always need a ton of B-roll footage, so we headed to Akihabara to do a montage of Steven and the monster. PicoPico couldn't be there for that scene… so someone else literally stepped into his big shoes!
Akiba, the otaku and anime "electric town," made the perfect setting for these funny scenes. Above, the monster insists on taking a selfie with Steven, who is not amused.
Strolling through Tokyo, dressed ridiculous and shooting a TV show… just a typical day in the life of La Carmina and the Pirates.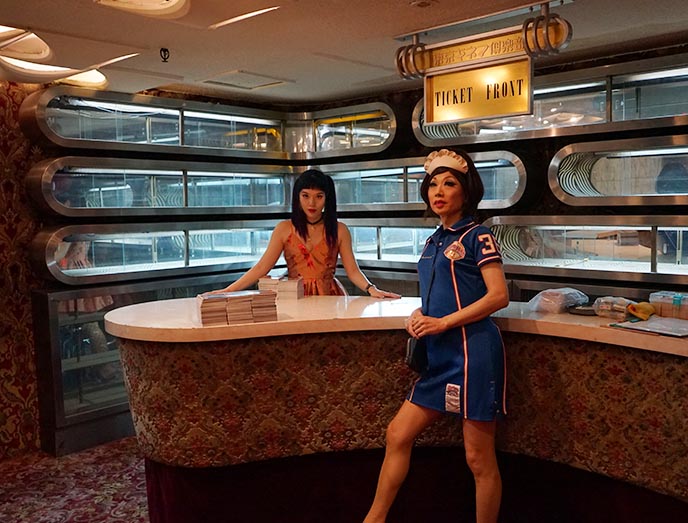 Finally, Steven arrived at the most insane party in Tokyo, if not the universe: Department H. (Keep scrolling for photos, and you'll see why.)
Organizer and mistress of ceremonies, Gogh, generously let us film here many times.
The Dept H party starts at midnight, and takes place the first Saturday of each month. However, the crew got here early to set up and rehearse the performance.
We put up a poster featuring Steven's flamboyant alter ego, Ralf Acapulco, who would be performing "Sushi of Love" live on stage.
"Itai, itai… painful!" Looks like Mr Peen is made to be a drummer. He even has a hole for his drum stick!
Time to rehearse, with the instruments that we rented. I can't stop laughing every time I see Mr Peen banging on the cymbals.
As you can see in the video clips, I took Steven to meet his keyboard players. These three are the Gokiburi crew… and they shocked him by sticking a long skewer through their cheeks, like a human shish kebab.
No Photoshop here. These regular-looking folk gleefully stuck a long metal needle through their jowls, connecting themselves together. Gotta love the creativity of Japanese body modifications.
Naomi shows them how to choreograph their headbanging and hand gestures during the live performance. (In this rehearsal photo, they aren't yet human-centipeded together.)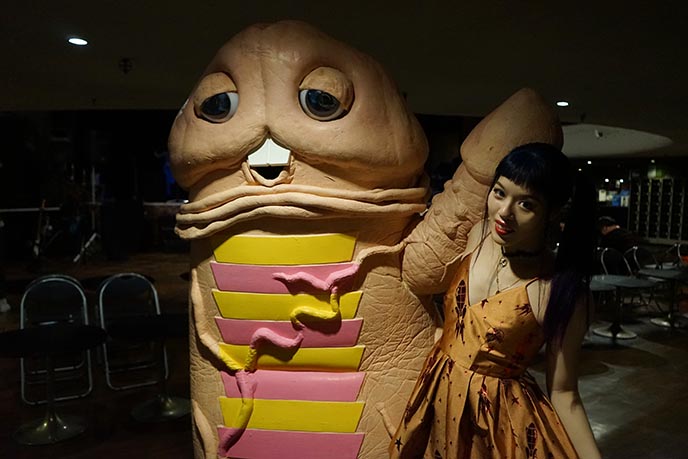 Looks like somebody is happy to see me. P size wa?!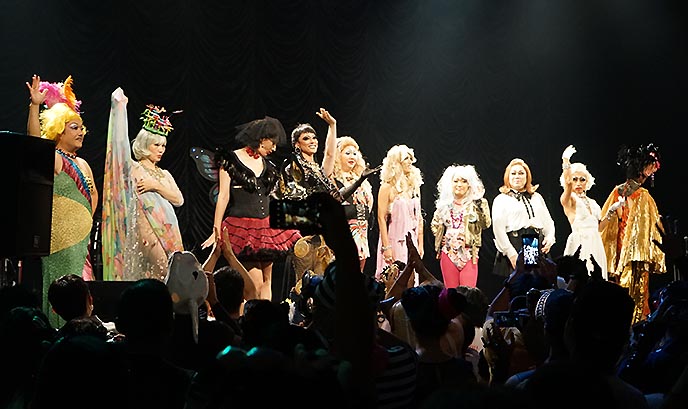 Department H takes place at Uguisidani's Kinema Club. The regular club night has been raging since the 1990s, and is still going strong. The event includes a drag queen show…
… and weird, racy performances such as this monster wrestling match.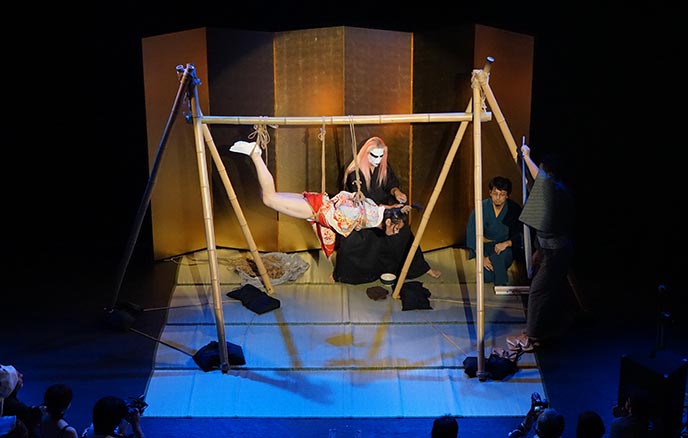 Hajime Kinoko, shibari artist, tied up a victim on stage with rope. The person's hair was then dipped in ink, and used to paint calligraphy on a scroll.
And then, "Ralf Acapulco" took the stage! The contrast between the bright schlager and scream-and-groan Industrial rock made for a hilarious performance.
(Watch some clips from the TV show below, as well as extras on my Instagram video.)
Danke everyone for watching me on Joko und Klaas: Duell um die Welt, Tokyo episode! Take a moment to see what we got up to in the video. I hope our surreal monster dance makes you laugh.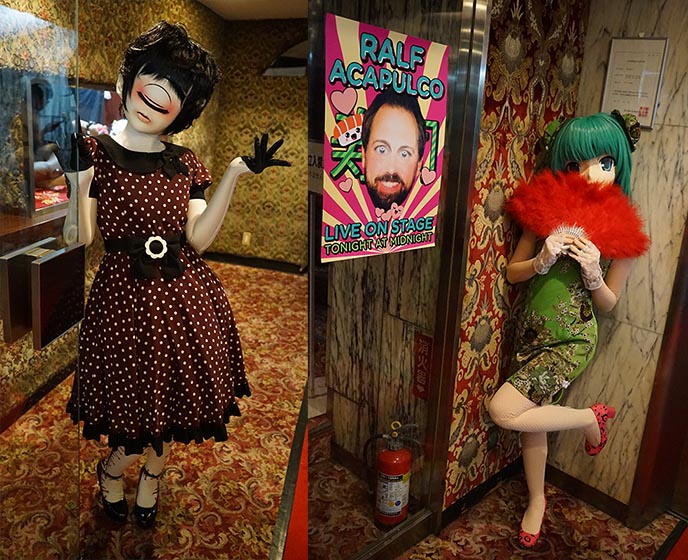 I'll leave you with mind-bending photos from Department H nightclub. The partygoers wear the most bizarre outfits you'll see on the galaxy. At Dept H, you can be whoever you want to be — whether it's a one-eyed dolly, or a green haired lady of the night.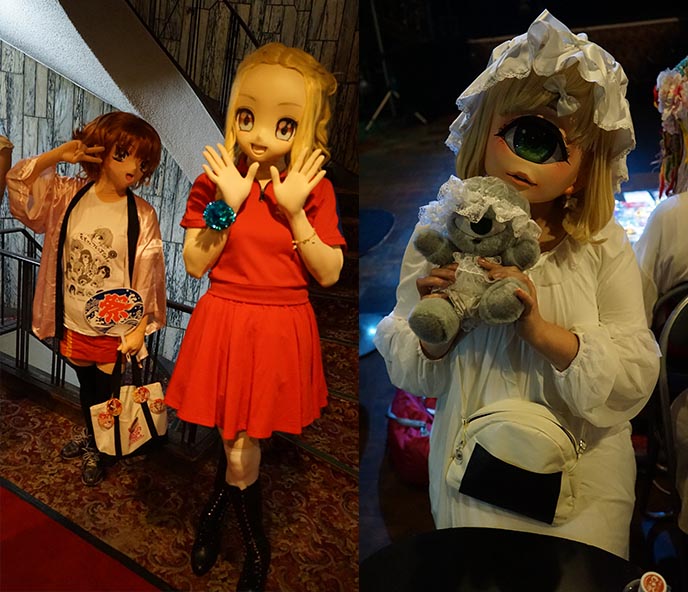 You'll see a lot of anime kigurumi, or dollers, at Department H. Typically handmade, these are full-body suits that include giant masks with big eyes. The effect is a bit cute, a bit creepy… a real-life anime or manga character come to life in three dimensions.
(Click below to see more photos.)