Category Archive for
Hawaii
While in Maui, I had the opportunity to interview the designer of Letarte Swimwear. Read on for skull and animal-print bikinis!
My "tropical explorer" outfit…
Floral printed soirée silk skirt gifted by Nanette Lepore. The same design is sold here
Black and white sunhat: from Hong Kong (similar to this hat by Emma Fielden). I decorated it with a fresh yellow protea flower.
White layered top: vintage
Lace jacket: handmade
The Maui tourism board generously gave a rental car for the week. My film crew and I drove to Paia, a hippie-ish town filled with coffeeshops and boutiques. Letarte's interior decor pays tribute to Paia's title: "World Capital of Windsurfing."
I interviewed designer Lisa Letarte Cabrinha, who founded the label with her sister. In addition to swimsuits, Letarte makes cashmere zip-ups, kid's items, and beach accessories. Can you tell that she loves animal prints?
I always have a hard time finding swimwear that fits my personality, so I was pleased to see edgy elements like this skull print. It matches my leather wristband from Good Art.
The swim shop also carries local jewelry and Lisa's custom-made moisturizers.
On the walls: artwork by her husband Pete Cabrinha, founder of Cabrinha Kites. This is their daughter, Tahiti.
Lisa styled me in her clothes, which are remarkably flattering and comfortable. This cotton tunic with neon embroidery matches my hair color. (Pick up this beach coverup here.)
If you're an alternative fashionista, you might also like Letarte's leopard print bikini and black one-piece swimsuit with a dipped neckline. Many of her designs are influenced by Maui's natural environment, such as shell ornamentation.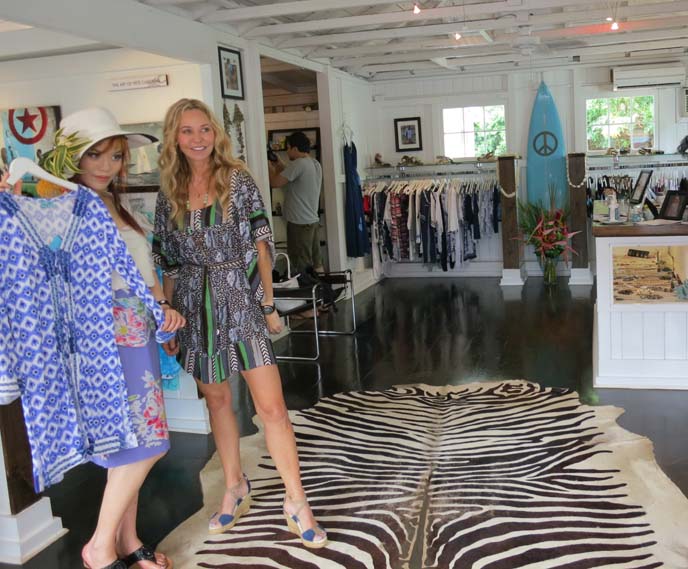 Wait til you see our travel video — there's a fun "dressing room" montage!
What type of swimsuit do you wear, and which swim brands do you prefer? What do you think of Letarte's designs?
❤ Hug if you like Like/Share this (below)…
The places I go inspire the clothes I wear. While in Maui, my personal style took on a Hawaiian flavor. Like MacGyver, I made hair pieces out of fresh local flowers!
I'm wearing a Malibu silk dress gifted by Nanette Lepore (there's also a strapless version.) The design is too cute, with floral print and bows at the back.
I adapted my usual Japanese kawaii makeup for the tropics. The leather skull bracelet is gifted by Good Art — they have a rockin' collection of USA-made accessories. As for the shell one… you'll learn about it in an upcoming post!
For the first part of the press trip, my film crew and I stayed at Wailea Beach Villas (Destination Resorts). These were by far the most luxurious accommodations I've ever experienced. Our 3-bedroom villa had its own tropical garden and private pool.
My room had a mega walk-in closet and bathroom. As I say in the upcoming video, "The bathtub is large enough to hold a Japanese family, grandparents and all!"
I turned the dining room's centerpiece into a crown. Don't the flowers remind you of bunny ears?
The kitchen was fit for a professional.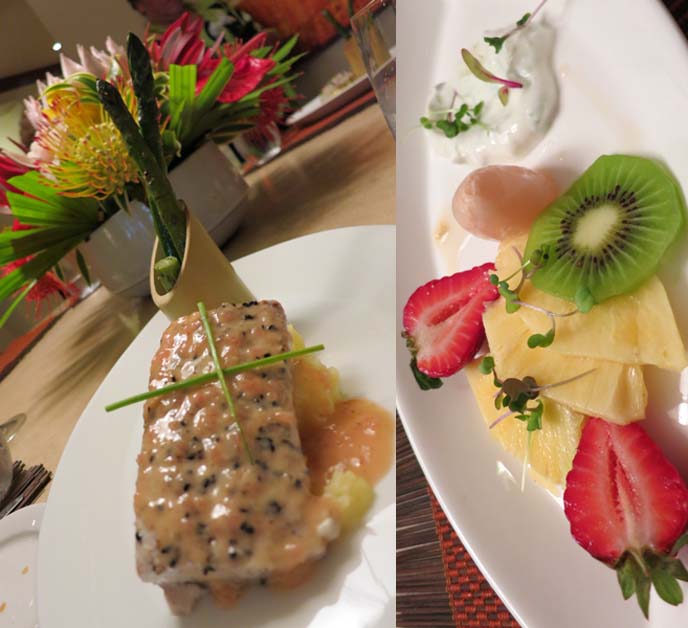 Chef Joss came and cooked for everyone on the press trip. After goat cheese appetizers, we ate mahi mahi with asparagus, followed by fruit with jalapeno-flavored Greek yogurt.
The resort's grounds were lush and flowing with waterfalls.
I filmed a segment at the adult-only pool, designed like an oasis. My sandals are by Kenneth Cole (available here.)
Excited to show you the Hawaii travel videos — professionally shot and edited by my talented team.
My only regret is that I didn't spend more time at the private beach! Thanks to the Wailea Beach Villas team for the warm hospitality. You've created a very special place in Maui.
What's the nicest hotel or resort you've ever stayed in? Are you a fan of tropical or beach vacations?
❤ Enjoyed? Then share this post (below)…