Category Archive for
Hong Kong + Macau
It's getting close to Halloween! To get you in the mood, I'm doling out two Treats from Asia. (And no Tricks, promise.)
1) Scroll on to see dozens of cute photos of Halloween shops in Osaka! As you'd expect, Japan celebrates the October holiday in kawaii-scary style. Read on to see the spooky beauty products and costumes found only in Japanese stores.
2) And… I'm thrilled to finally release my Hong Kong photoshoot, which was published in the spring issue of Auxiliary Magazine!
Bonus treat: isn't the new Lush Halloween collection to die for? I'm excited to try them all (I'll share snaps on my Instagram stories @lacarmina).
I look forward to taking a black cat bubble bath, and fizzling the glitter pumpkin, monster and "Lord of Misrule" bath bombs in my tub.
Also perfect for Goths: the Black Rose lip scrub and gloss (which appears black but turns pink), and Goth Fairy shimmer bar. The Hedgewitch and Magic Wand soaps promise to leave you with "boo-tiful, spellbinding skin!" There's a video on my Instagram with close-ups of Lush's spooky collection — which one is your favorite?
Now, let me share one of my favorite photo editorials to date. The images are by the brilliant Hong Kong based photographer, Rose Conway.
As always, my hair cut and color are by Stephanie Hoy (you can tell that we took these photos a while back, as my hair is pink and longer now).
Outfit details: I'm wearing this exact Michi Onyx bra, and a crescent moon silver necklace.
We shot these photos in – where else? – the streets of Hong Kong. I'm standing in front of a Buddhist temple in Kowloon. 
I'm wearing these exact Michael Kors black suede pumps. More items from my outfit below:
Hong Kong truly has a Blade Runner vibe: alleyways lit by neon lights, juxtaposed with old Chinese signs. My Lovecraft "Necronomicon gate" top is by Disturbia Clothing.
It was an honor to have these photos appear in the Spring 2017 issue of Auxiliary Magazine.
An absolute pleasure to work with HK based photographer Rose Conway.
We looked for interesting storefronts and colors to shoot. This Chinese shop sold statues of folk gods, incense, and other ritual items. The flamboyant owner insisted on coming out to pose for a photo!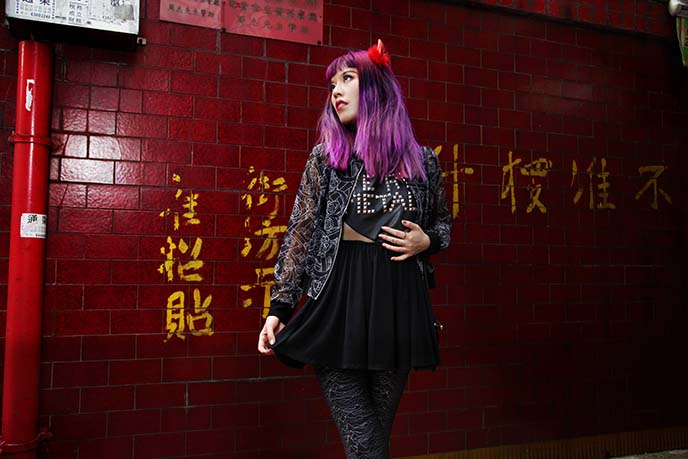 Red and gold are the signature lucky colors of Hong Kong. (The brick wall matches my devil horns as well).
I've been going to Hong Kong since I was a child, and certain scents and images are quintessential to the city. The Chinese butcher, with BBQ duck hanging under bright lights, for example.
I like how you can see "real world" Hong Kong in these images. Citizens live in close quarters, and carry themselves with an upfront attitude. It can seem brash at first, but you grow to love it for what it is.
Kawaii culture and street style are as popular in Hong Kong as they are in Japan. I paid tribute with a cat-ears headband and a white tulle skirt.
A curtsy for a hunk of meat? (Find my Michi top here.)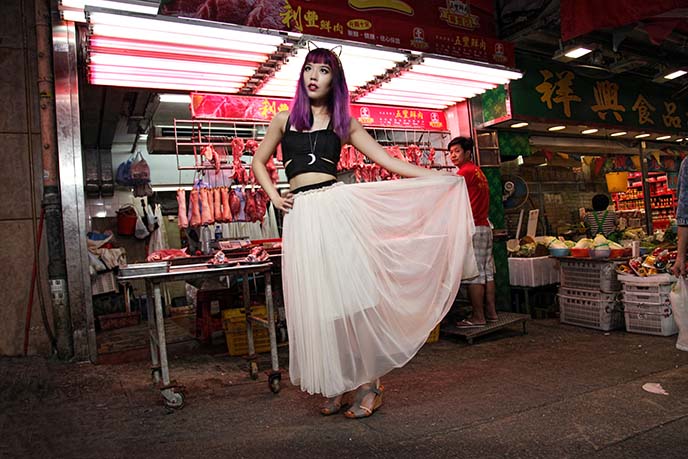 Perhaps Lady Gaga got her "meat dress" from this Chinese street market vendor!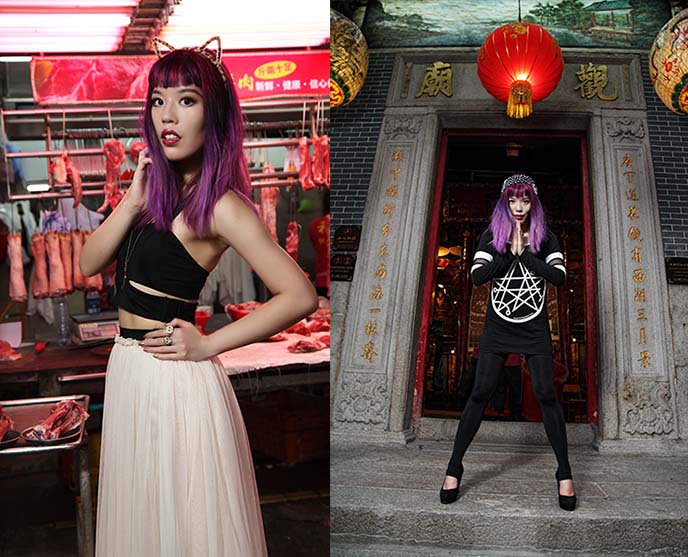 Major thanks you to Rose Conway for photographing me in Hong Kong! Hair is by the fabulous Stephanie Hoy, and makeup / styling is by yours truly. You can get copies in print in the current issue of Auxiliary Magazine (and stay tuned for the next one… I'll be doing something more with them!).
If you like what I'm wearing, click below to shop my look:
Now, let's get you excited for All Hallow's Eve — the best time of the year! When I was in Osaka last September, I took lots of snaps of the ghoulish-sweet items found in Japanese stores. 
The Sanrio store puts a whimsical Halloween twist on Hello Kitty and Friends. Above, you can see Dear Daniel as Frankenstein, and Hello Kitty and Pompompurin (the yellow dog) as witches!
Sanrio's favorite "kawaii" characters get a spooky makeover, while retaining their adorable look. On the right, Kuromi yells "Noooo!" while surrounded by smiling pumpkins, and Chococat with a cobweb.
The usually sweet bunny Cinnamonroll transforms into a red-eyed vampire. Pom Pom Purin gets a sewn-up skeleton look, and a deathly green pallor to his fur.
Sanrio releases a special Halloween collection each year in Japan. However, the store continues to sell its regular pastel cute merchandise as well. Witness Gudetama (the lazy egg) in many forms, and what appear to be… My Melody Crocs meets Uggs slippers? 
Many of these designs can be only found in Japan (they aren't sold online, as they are produced here). If you're a rabid Hello Kitty fan, it's reason enough to make a pilgrimage to Japan.
I went around to various Osaka beauty / 100 yen stores, especially in the Amerikamura and Umeda districts (two of my favorite shopping hubs). Since it was mid-late September, there were lots of Halloween designs available — such as these "come on!!" Halloween stick-on nails.
Fancy eyelashes and colored contact lenses remain very popular among Japanese youths. When I saw the Disney "Evil Queens" collection on the right, I thought of Yukiro.
I love how creative Japanese makeup can be. In spooky season, there are tutorials on how to use "hypersharp eyeliner" to create Day of the Dead, spiderweb and undead effects around the eyes and lips.
The Korean makeup brand, Etude House, is big in Japan as well. How sweet are the heart-eyed pumpkins and pink skulls, which contain product inside? The panda and kitten keychains also stole my heart.
More examples of Halloween cosplay makeup. This time: how to be a cute cat, or a Snow White witch.
Disturbed, yet cute as a button. That's the spirit of Japanese Halloween! (These female models are showing off glitter and rainbow face / body tattoos.)
From bloody wounds to fake blood, Japanese dollar stores have you covered.
Jelly moustache, anyone? For 450 yen ($4), why not.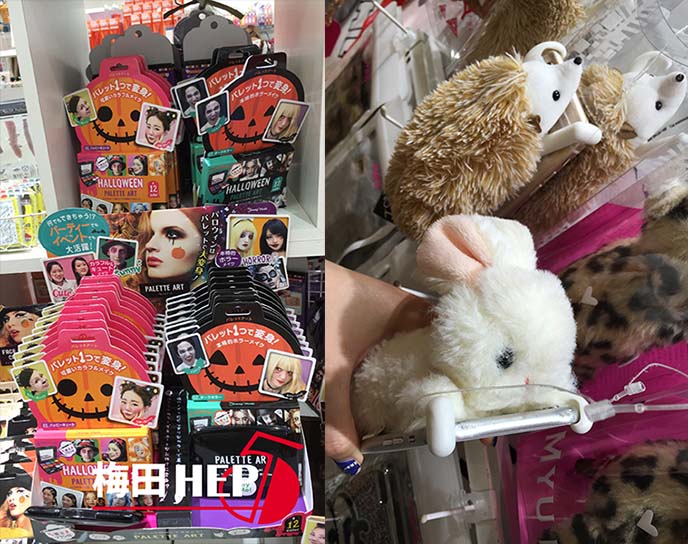 My friends and I tend to stock up around Halloween, such many items (like the dark eyeshadows) can be used year round. Not sure about the impractical stuffed animals clinging to the smartphone cases though…
Japan also gets into the Halloween mood with themed food. At Chococro, the addictive chocolate croissants come in a haunted house box.
Namba-Land (the Osaka arcade and amusement park) has Halloween celebrations each year. Above, the same flyer advertises a pumpkin pudding and tart that made my mouth water.
Now, let's look at some street fashion in Osaka. The neighborhood America Mura is your best bet for Gothic Lolita and underground styles. There are several secondhand stores dedicated to these style tribes here…
… as well as department stores that cater to youth fashion. Snoopy on the left; pumpkin-printed Sweet and Goth Lolita outfits on the right.
Follow the white rabbit to cute stores. Oversize pastel and monochrome garments are everywhere recently.
No matter how many times you visit Japan, you'll undoubtedly encounter something that leaves you scratching your head. At Funky Fruit, I was perplexed to see sweatshirts… with giant, heavy nooses around the necks! 
You saw it here first. Hangman-chic.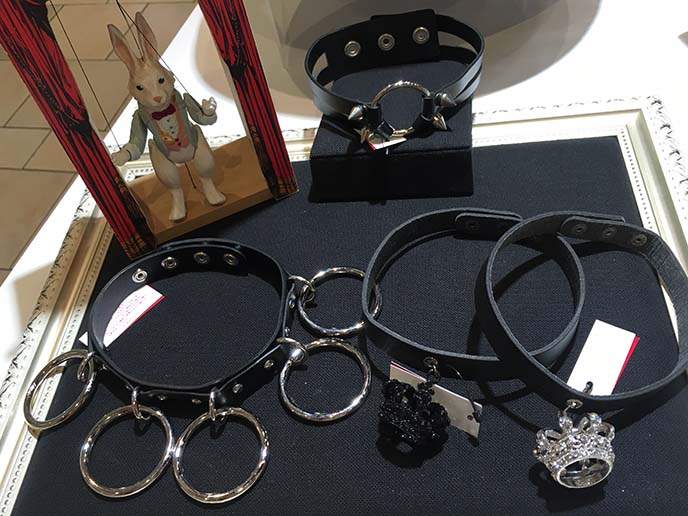 Funky Fruit carries all sorts of fetish-Gothic fashion, like these chokers with silver rings. 
Punk and fetish influences, combined with sportswear. Weird.
Around Halloween, many of the Goth / Lolita / Kawaii labels put out spooky-themed garments. The Jack-o-Lantern print top on the left caught my eye.
Rydia / World Wide Love remain one of my favorite designers. I tried on the "Night Wander" devil-ghost on the left, and left a note in the black cat post office box on the right!
Vampire fangs, floating ghosts, crescent moons, plaid and leopard print. You can tell why I'm into Rydia / World Wide Love.
I also made a stop at EST, the Umeda department store by Hep Five and the Osaka Ferris wheel. Inside EST, you'll find indie boutiques with out-of-the-ordinary items — like these vintage-style cat carpet bags.
Near the entrance, I found this eccentric pop-up.
These colorful critters have chains through their nostrils… more creepy than cute, in this case.
Trick or Treat — Halloween in Japan is sweet! Did you enjoy these snapshots from my trip last year in Osaka? Have you stocked up on any bat, ghost, zombie, Dracula or pumpkin goodies yet?
PS: If you're looking for a Halloween costumes — I have some of mine for sale on my Depop! Above are some of the many available (size small), which you may recognize from past Halloweens. If you'd like any, shoot me an email at gothiccarmina (att) gmail (dott-comm) and I'll send it to you. More details and prices here on my shop; lots of clothes available.
Here's to the spookiest time of the year!
Thank you for your fantastic response to the Hong Kong episode of Better Late Than Never, the new NBC show travel TV show!
It was a dream come true to hang with The Fonz, Henry Winkler (of Happy Days fame)…
… and William Shatner, aka Captain Kirk on the original Star Trek. That is indeed me, dancing with Shatner in the streets of Mongkok, for this travel TV shoot! (Thanks to Thomas for this epic shot — full photo credits below.)
I'm very happy that "Better Late Than Never" has been raising lots of laughs and positive reactions! I couldn't believe it when the producers contacted me to be part of the series. I was flown to Hong Kong and got to take part in this second episode.
This hilarious travel-reality show stars Terry Bradshaw (quarterback and broadcaster), William Shatner (Star Trek's Capt. Kirk), Henry Winkler (The Fonz on Happy Days) and George Foreman (boxer and grill-master). Along with comedian Jeff Dye, these funny guys travel around Asia in search of adventures and Zen, with lots of mishaps along the way.  
Their journey throughout Asia includes Tokyo, Kyoto, Seoul, Bangkok and Chiang Mai. I was thrilled to have them be in Hong Kong with me — my friends and family even got to join the big dance scene in Mongkok.
(My dress is Spider by Natalie Lam. I'm currently selling a lot of my personal wardrobe; let me know if you're interested in any of my fashion/accessories! Take a look at my store listings here, and email me to let me know what you'd like.)
The weather was a little iffy that day, but the rain and clouds cleared in time for the big dance number. Believe it or not, we took over one of the busiest streets of Hong Kong!
The Fab Four arrived on the scene — Henry Winkler turned his camera on us for this shot. Terry Bradshaw whipped out a microphone and burst into song!
Then it was time to dance, dance, dance. I was impressed by their ability to pull off a choreographed number!
So much fun, to dance in the streets with Captain Kirk and Fonzie! 
(All of the amazing photos above are by Thomas Sandfield of Sandfield Productions. Thank you for capturing this epic day.)
I was glad to have my local friends with me, to take part in the scene.
Chaos, color, song… that's the spirit of Hong Kong! Can you see me dancing with William Shatner in the middle?
(Above two photos by K. Lau of Bright Production.)
I also filmed a scene on the minibus, where I talked about Hong Kong's travel attractions and general awesomeness. (Love the V-fingers photobomb behind me.)
What a joy to joke and riff with Henry Winkler and George Foreman, for this TV scene. They're truly kind and humble, and up for anything!
Here are more black and white images from Thomas Sandfield of Sandfield Productions. It was a genius idea to pair "culture and Zen" William Shatner with "let's roughhouse and sing" Terry Bradshaw on a travel show!
We were dancing along to the Otis Day and the Knights song "Shout (You Make me Wanna)."
Above shots by Arthur Rash. Thanks to everyone who supported the TV shoot, and for watching NBC's Better Late Than Never!
On that note… I never got around to posting about my travels in Sydney, Australia. But better late than never, right?
If you have me on your Snapchat (@lacarmina), then you'll have glimpsed me taking selfies under Harbour Bridge, earlier this year. (Since many of you asked, I'm wearing Karen Walker sunglasses.)
I'm wearing a Black Milk top and skirt: this Great Wave maxi-skirt is one of my favorites (see me wearing it at New Zealand's Hobbit Town). Blackmilk's designs are fantastic for travel because they're lightweight and don't crease, and easy to pack in luggage. (And stylish, of course). My fuzzy purse is from Mercibeaucoup in Shinjuku.
I had never been to Australia, and had very little time to explore. However, it was worth the trip to go down under and at least see Sydney. I'll have to come back soon to see the Gold Coast, Melbourne and more.
As a first-timer, I had to visit the Sydney Opera House. I took the subway to Circular Quay, and walked over.
The Sydney Harbour Bridge is also located here. Many travellers do the "bridge climb" where they walk on top of the structure for panoramic views. I'm not afraid of heights, but you aren't allowed to take your own photos, and must wear a not-so-stylish jumpsuit… I'd prefer to pose below, wearing Black Milk!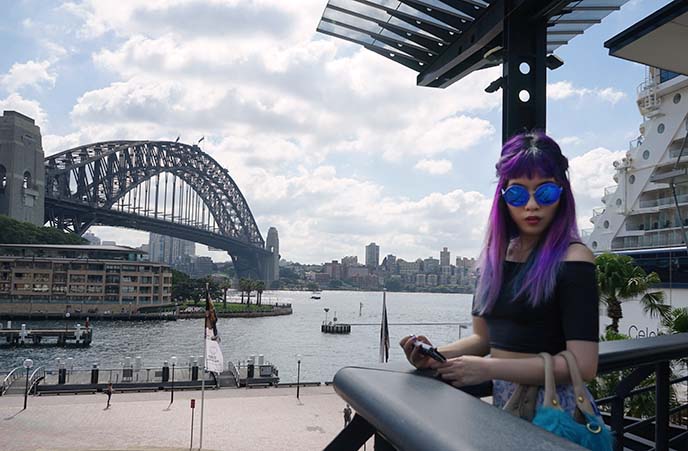 Even from "down under" the bridge, you can't beat these views of the harbor.
(My sunglasses are Karen Walker, similar to these round ones by her. More of her styles below.)

I don't usually like to do "tourist" activities in cities, but I thoroughly enjoyed the Sydney Opera House tour. This guided tour lets you go inside the concert halls and see Jorn Utzon's masterful architecture up close. 
I learned, for example, that the "white" sails of the roof are actually made over a million chevron tiles, in two shades of cream. Our guide spoke about the politics involved in the construction process, and how the Danish architect eventually left the project. (He's never even been inside the completed structure, which opened in 1973.)
I had the opportunity to see Jørn Utzon's room, defined by concrete structural beams and a 14 meter long tapestry of his own design. On the opposite end, giant windows overlook the harbour waters.
Our guide spoke about how Utzon solved design problems in innovative ways, such as by peeling an orange to see how the curved sails could fit together.
As you can tell, I learned so much from the multimedia Opera House tour. Anyone who is interested in modern architecture should check it out.
I selected the Tour and Tasting Plate, which ends with an al fresco meal underneath the sails.
At Opera Kitchen, I got to try a three-tiered lunch set with a range of finger foods: sushi, mini burgers, dumplings, salad and more.
The perfect lunch for sharing with a friend, especially when paired with Australian pinot noir. I got to enjoy the sunshine, and bask in this uninterrupted view of the Harbour Bridge and waters. 
From Circular Quay, it's a short walk to the Royal Botanic Garden. This large park is filled with different themed gardens, and has a pond and Asian pavilion.
It would be tragic if went to Sydney and skipped out on Bondi beach. I rode the subway to Bondi Junction, and then hopped on the bus that runs frequently to the beach. When you see this curving cove of sand, you've arrived.
This 1 km long beach is classic Sydney. I watched surfers ride the waves, and walked barefoot on Bondi's warm and soft sand.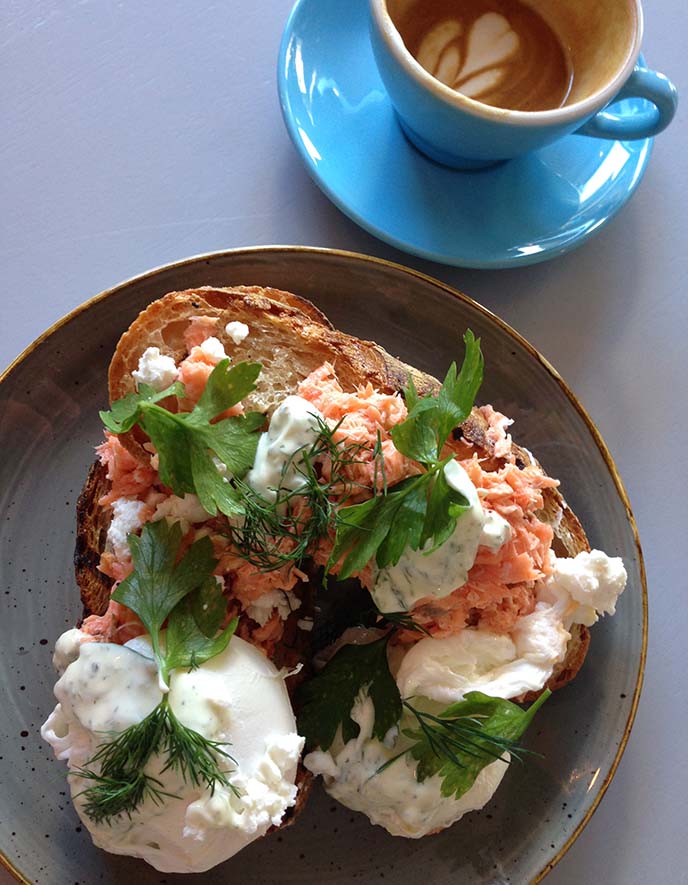 Time to chow down. I've heard that Sydney is famous for its breakfasts, and found this to be true. This salmon eggs Benedict, with an almond milk flat white, was as good as it looked on my Instagram.
I loved the breakfast at Ceru Restaurant so much that I came back for dinner. (I went to the Potts Point location, but the restaurant is currently moving to a new spot.)
I was accompanied by my friend Leanne, writer at Trashtastika. We were charmed by the Middle Eastern ceramics near the windows.
British chef Tom Kime launched Ceru as a celebration of Levantine cuisine. He incorporates flavors and recipes from the Eastern Mediterranean, infusing them with a modern interpretation.
We started by sharing a spread of mezzes and salads. Beetroot and chickpea purees, with cucumber sticks and pita — everything is organic, and the menu is vegan and gluten free friendly.
Fresh pomegranate, mint, and pistachio add dimension to this lamb dish. These Levant spices pair marvellously with Ceru's craft cocktails and cold-pressed juices.
I'm still thinking about Ceru's honeycomb baklava ice cream… with flavors of burnt caramel and roasted nut. Possibly the tastiest and most creative dessert I've had all year.
PS – you can find out more about Better Late Than Never on their website, including viewing times and clips.
I leave you with a few more scenes from this huge network shoot. There were so many moving parts, but the team pulled it off.
"We-eee-eeel…. / You know you make me wanna (Shout!) / Kick my heels up and (Shout!) / Throw my hands up and (Shout!)"
For more Hong Kong adventures and travel tips, check out all my posts here. And don't forget to take a glimpse at my wardrobe sale.
Have a happy weekend!