Category Archive for
Huffington Post + AOL Travel
Do the Charleston, the Charleston! I'm very happy with my latest travel video, about Miami's Art Deco Weekend, now published on Huffington Post Travel.
This episode recounts my Miami adventures, from the Bettie Page fashion show to the flapper gala. Be sure to watch until the end, or you'll miss the "jazz hands"!
I always appreciate your feedback about my work. If you'd like to see more alternative travel coverage, I'd be grateful if you can share my Huff Post article (or Like below):
Shout-out to my collaborators for sharing my passion. I'm wearing a fringe top by Peace Love World, and a striking scarf with a face by Pitsart.
My host, The Betsy Hotel, is consistently rated one of the top in Miami, and I quickly found out why. The staff genuinely cares about your comfort; there's an atmosphere of home here.
All around the hotel, there were intimate portraits of the Rolling Stones and The Beatles. The rock and roll lounge lit up a reflective film ceiling.
The rooftop garden overlooks South Beach (right across the road). The Betsy's on Ocean Drive, but a few minutes walk from the main strip, so you're not surrounded by noisy revelers. It was a perfect stay; I'll be back.
At night, Ocean Drive's Art Deco hotels glow with neon.
Do you recognize The Carlyle? It's where The Birdcage movie was filmed.
Miami's a winter haven for many East Coast dwellers.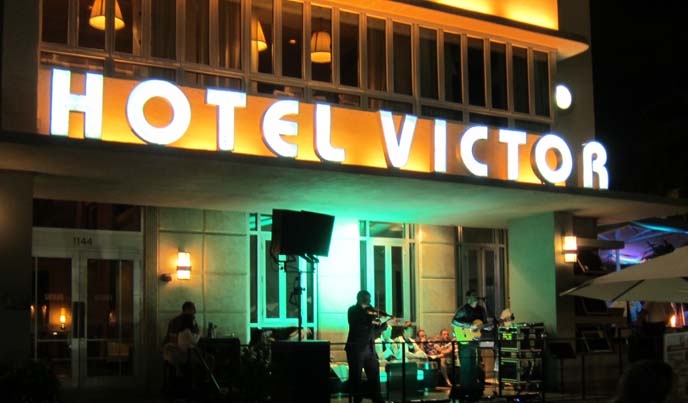 During Art Deco Weekend, there was live music all throughout the district.
I'd be remiss if I didn't mention the incredible seafood I had in Miami. Lantao Restaurant, located in the Kimpton Surfcomber Hotel, is inspired by Asian street food. I started with the "28 Days Later" cocktail: several types of rum (arr!) and house-made grenadine. Followed up with well-spiced tom yum soup, grilled paiche (South American tropical fish), and ended with pear cake — marvelous.
I mostly stayed in South Beach, but ventured to Coconut Grove to eat at Jaguar Ceviche. Six types of marinated raw fish on a spoon… mojitos… sangria… blue tortilla chips… grilled mahi mahi… is your mouth watering yet? Jaguar's service and flavors were spot on, and the space is great for a big group.
Wynwood Village is also a must-visit (although be careful at night, and in certain parts). It's an artsy district with colorful murals like this anime one.
I think this psychic would predict my imminent return to Miami… hopefully in December, for Art Basel!
Please take a minute to watch my Art Deco Weekend video. Did you laugh at the dancing scenes?
What are your favorite hang-outs and shops in Miami? Would you be interested in seeing me cover Art Basel?
Why am I splattered in paint? Because I'm now contributing to Huffington Post Arts (in addition to Travel and Weird News). My debut piece is about my J-pop printmaking adventure.
During my Arizona trip, I took a colorful class at Mesa Arts Center. Watch my video (below and on HuffPost) to see the art-making in action.
Do you dig my new art focus? Please support by sharing the article and Liking it (below) so that I can keep the coverage coming.
Printmaking has come a long way since Hokusai's "Great Wave." At Mesa Arts Center (MAC), I rolled acid paint onto stencils and cranked out anime-pop prints.
David Manje is the kindest, most encouraging instructor imaginable. He's a well-regarded printmaker, with multiple arts and education degrees from Arizona State University. Now retired, he teaches part-time at MAC.
My jaw dropped when I saw the stencils David made for me. He had cut out over 70 shapes representing my spooky-cute world, including my Scottish Fold cat, eyelashes, lips, hearts — and even a bagelhead!
Traditionally, pochoir involves inking or painting stencils for hard-edged prints. David's unique, freestyle method creates neon layers that flow from pop art to abstract.
1. David set up three stations. Each had an inked Plexiglas plate, several paints, and a selection of stencils. Using a roller, he showed me how to color the stencils until they reached an orange-peel-like texture.
Rollin' with my homies.
Basil Farrow looks angry because hasn't been painted yet.
When you lift the stencils, they leave behind a bright outline.
2. We randomly layered the colored stencils onto the plates, with plenty of overlap.
The kawaii iPhone case is a present from Luxy Loli (see more photos here). Just got a new one from her; can't wait to show you.
3. David covered each plate with dry paper, and I cranked it through the etching press. "A manual press lets the printer feel the variations in pressure exerted on the paper and plate," he explains.
The first run, called a "generation-one print," was starkly graphic, with bright colors and hard edges.
Drying the prints on the racks.
4. We removed the stencils, and switched them between the plates. Thanks to the overlap, they're now marked with intriguing patterns.
For subsequent runs, we used wet paper and greater pressure.
"The color and shape magic begins to happen as the stencils continue to be interchanged," says David.
"Random patterns begin to occur on the tops and bottoms of each stencil that breakup recognizable imagery."
I had a lively afternoon with David — one of the warmest teachers I've ever met — and got an arm workout to boot!
In total, we made four generations of prints, or twelve works. With each run, the clean cut-outs devolved further into soft-hued amalgams.
Here are more of David's pochoir prints. You can take his class, as well as other visual and performance arts workshops, at the Mesa Arts Center.
Have you tried your hand at printmaking? Did you find my art video helpful? Please take a second to watch and share.
More Huffington Post articles and videos coming up; follow my author page to stay in the loop.