Category Archive for
J-News
Ever wish you had pieces from my wardrobe? Well, now you can — because I've launched a store on Depop! 
I've listed hundreds of unique clothes and accessories for sale: including Gothic Lolita, pin-up, J-rock, kawaii styles.
Most of my items are rare, and found only in Japan. As a thank you for your support over the years, prices are low, and I'm willing to put together a bundle order for you at a discount. Email me (gothiccarmina att gmail dotcom) and let me know what you'd like!
Ready to shop? Then come over to my Depop store – username "lacarmina" – and pick out your favorites! (I ship worldwide; contact me if you have any questions, I respond to everything myself, and can send items with a personal photo and note.)
Click to shop La Carmina's closet sale now!
A lot of my clothing can't be found anywhere else on the Internet. I'm selling designs by Japanese underground brands — including several that no longer exist (like Banana Fish, Peace Now, Sex Pot Revenge).
For example, everything in the above photo is for sale (dress by Banana Fish, coffin backpack by h.Naoto, shoes by Yosuke). You can find it all here on my Depop shop.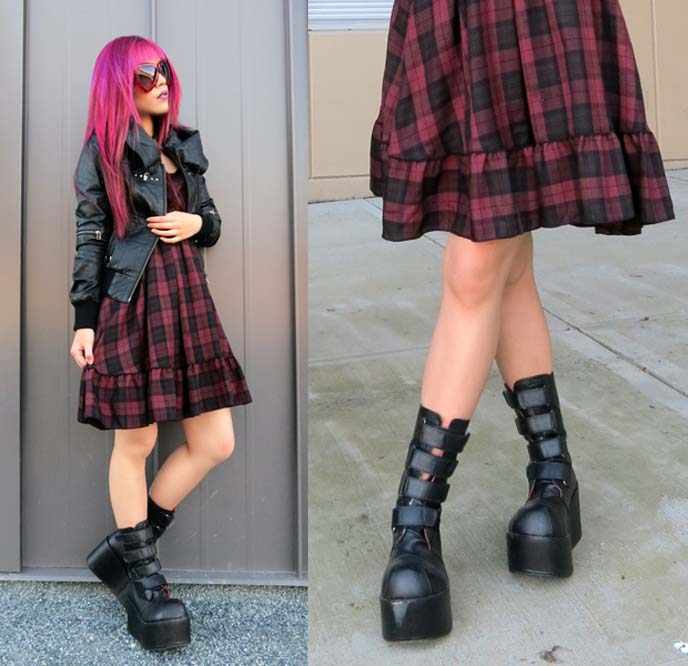 I've gotten many messages over the years from people who wanted to purchase my clothes — like the Miho Matsuda grunge dress above. However, I couldn't find an easy way to list and sell items.
Depop solved my problem. It's a free mobile app that makes buying/selling a breeze.
With a few taps on your cell phone, you can browse for goods (makeup, clothes, home decor) or put things up for sale. It takes me less than two minutes to snap a few photos, write a description and publish.
Above is a screenshot of my Depop store (lacarmina)! The app loads quickly, and has a fun visual layout similar to Instagram.
It's easy to click on an item to see more photos, and read the description (size, construction, etc). You can browse by hashtag or use the fast-loading search, and find beautiful designs for sale from all around the world.
I've worn a lot of my clothing only once for photoshoots, so they're in near-new condition.
Almost everything on my store is listed at 50%below the retail price, and I can ship to any address worldwide.
I'm selling a lot of my Gothic Lolita EGL dresses, skirts, corsets, accessories. These labels include Innocent World, Angelic Pretty, Baby the Stars Shine Bright, Alice and the Pirates. 
I've put up a fantastic selection of alternative, Goth and pin-up fashion. This Iron Fist dress and heart purse are available! 
Don't worry: my store has clothes in all sizes, and I'm selling dozens of accessories starting at a few dollars. Skull bracelets, kawaii jewellery, purses from Japan and Hong Kong, and more.
In addition to tons of Gothic, Jrock and Gyaru styles, I have a range of fashion by international designers. Floaty summer dresses, bohemian tops, you name it.
I'm loving the experience of using Depop. Payments are easy and secure through the app (PayPal, credit card) and I can ship to any mailing address in the world.
I'm personally responding to all comments and messages through my Depop store, so it's also a fun way for us to chat and interact!
Message me and I can put together a bundle order for you, at a discount. You'll also save on the shipping cost for the package.
Items are going fast from my wardrobe sale, so I encourage you to check out my store before your favorites are gone.
This dress, that skirt… it's all for sale now, on La Carmina's Depop shop! You won't find this fashion sold anywhere else online, and I've priced everything low.
I hope you enjoy my fashion blogger closet sale. Looking forward to chatting with you, and putting together a package for you — with a special signed note included! 
Ready? Set? Let's shop La Carmina's closet now!
I'm glad you enjoyed the first half of my Year in Review! In this post, we'll look back at the last six months of 2014, which took me to eight different countries for various work collaborations.
We'll begin with this magic moment, in front of the glowing orange Tokyo Tower. I've lost count of how many times I have been to Japan, but each time, I fall in love with the country once again.
This year, I began working with Odigo.travel — a startup that lets travelers plan "exceptional journeys" to Japan, by creating trips and getting offbeat tips from insiders like me.
In June, Odigo flew me to Tokyo to give a speech in front of hundreds at PechaKucha. I spoke about my bizarre journey from blogging to TV presenting, writing and traveling worldwide. << Curious about my presentation? Watch my Pecha Kucha speech.
I'm excited for the official launch of Odigo early next year, and invite you to get a sneak peek here. Odigo lets you discover the coolest attractions in Japan — such as the adorable owl cafe — and put together a customized trip with all the addresses, maps, hours and info in one place. You can also contribute your own write-ups and images; take a look at Odigo, and I hope you'll enjoy using the site.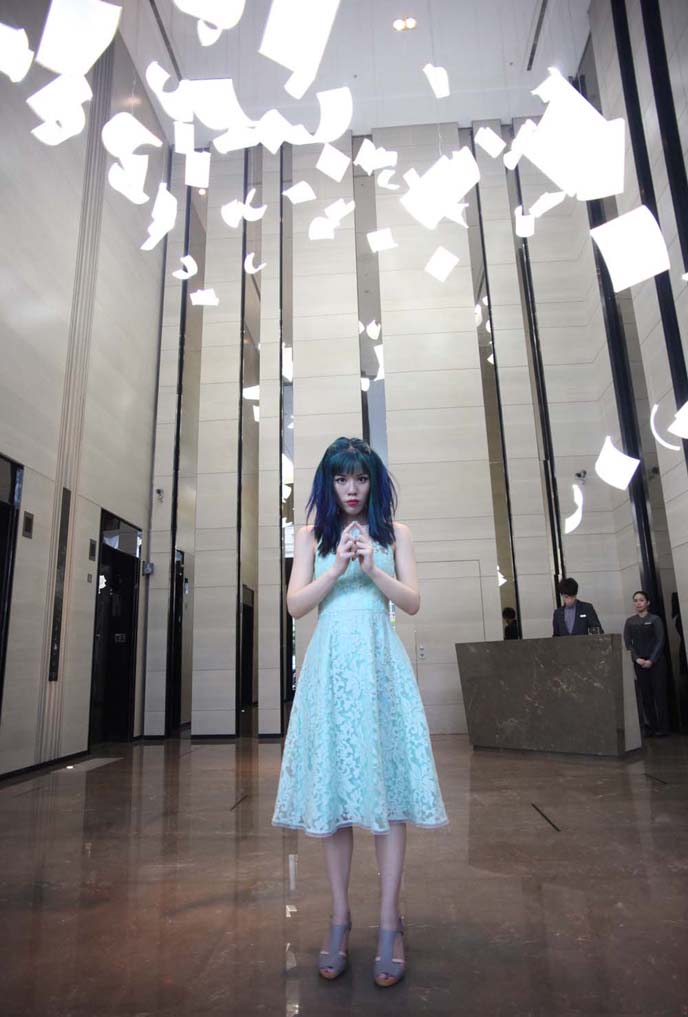 As part of my mission to find Asia hotspots, I flew to Taipei for the first time. Here's a Nanette Lepore outfit post from Taiwan's Humble House boutique hotel.
Taipei's cheeky, modern art scene impressed me. Looks like the resident caveman (at Le Meridien) is trying to apologize to me. Perhaps he tried to steal my cat… << All the photos and outfit details here.
Did you think "kawaii" cute culture was found only in Japan? In fact, Hello Kitty is possibly even more popular in Taiwan. She has a theme cafe in Taipei, and Sanrio had an interactive exhibition while I was there. (I haven't blogged about this yet — I know, I'm always backlogged — but you can peer inside the Hong Kong Hello Kitty cafe.)
I keep busy with a variety of different projects. I was in Hong Kong for a big TV shoot with Pro Sieben (German television). Can't say much about this yet, but I'll show you the photos and clip when they air next spring.
I wrote a number of articles for magazines this year, like Sunday Times Travel UK. I also have my own column in each issue of Hong Kong Express Airways' in-flight magazine (scans above).
As I mentioned in the last post, my focus is now on coverage I find meaningful — hence the stories about travel and underground culture worldwide. I'd feel empty if I followed the typical fashion blog format: outfit photos, consumption-oriented roundups, and little else of substance.
Nonetheless, I'm still passionate about style when I can express it on my own terms. I love to support designers who do things differently: slow fashion, alternative styles, eco materials, vintage. Moat House's sunglasses are a perfect example, and I was honored to model their frames on a life-size poster in Paris.  
I returned to Hong Kong, which remains one of my favorite cities thanks to my friends and relatives here. I organized an influencers dinner for Odigo, and took Yukiro around to my favorite boutiques and restaurants.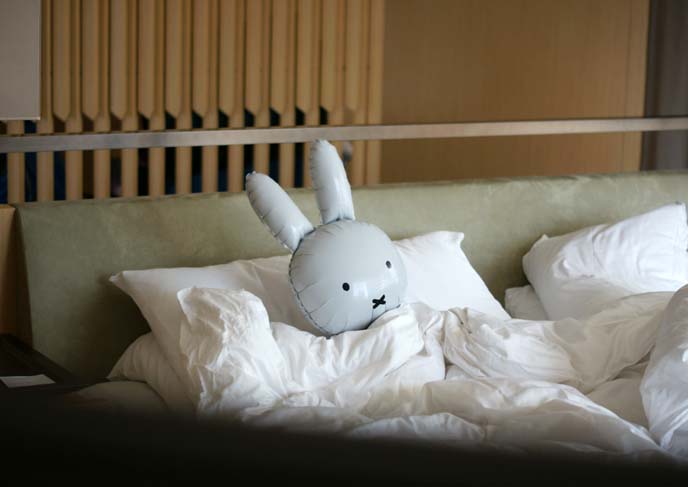 Things got Miffy-crazy in our Hong Kong penthouse, at the Upper House Hotel… You've got to see this epic blog and video, if you missed it!
My Pirates and I went to the new art center: PMQ in Central. At the time, there was an exhibition of 1600 panda bear statues. A powerful (and cute) way to get word out on the WWF, and their work in protecting endangered animals.
Oh, and the delicious food we ate in HK! Above was one of the best meals of the year, a melt-in-your-mouth sashimi salad by Harlan Goldstein at Sushi To. << Check out all my Hong Kong restaurant reviews.
My Asia journey didn't end there. I went to Seoul for the first time in over a decade, and it's changed so much. Fortunately, my friends Eat Your Kimchi gave me pointers on where to see the best of K-pop culture. << Wander inside the EYK YouTube studio.
I couldn't get enough of the youtful university district, Hongdae, filled with coffee shops and Kpop fashion shops. I posed with the modern art in Itaewon…
… and got beamed up into the Dongdaemun Design Plaza. Now that's what I call space disco architecture!
This year, I realized more than ever: you only live once, and opportunities may never come again. So when Cape Town Tourism invited my film team and me to go to South Africa, we had to say yes — even though it was happening during an insane travel period. We weathered a sleepless schedule, trans-continental flights, lost luggage, and other fiascoes along the way.
But as soon as we stepped out onto the colorful streets of the Bo Kaap, I knew we made the right choice. We had so many wonderful moments on this trip — jazz in townships, Stellenbosch wines, street art, hanging out with local artists.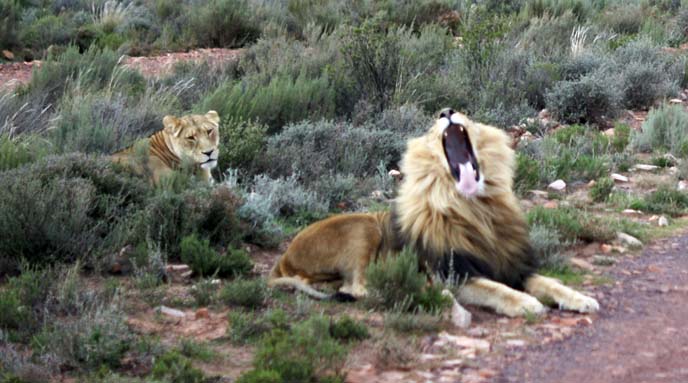 I also went on my first safari, and it was as magnificent as I imagined. We took photos of elephants, rhinos, zebras and this pride of lions.
Perhaps you've been wondering: who is "we"? Or rather, who goes on these trips with me? Since my jobs require high-quality photos and videos, I'm not a solo traveler.
For the most part, these comrades are Eric and Melissa, my close friends and seasoned filmmakers. With each project, we aim to improve the quality of everything we produce. I hope you've been enjoying the recent visuals and stories — we'll keep on upping the ante in 2015.
In the late summer, I was honored to be the cover model for Kirameki Magazine, wearing a Moi-meme-Moitie dress. << See all the photos and credits from this shoot.
Also, fun fact: I found out I'm a direct descendant of 16th century Chinese military leader, Yuan Chonghuan (袁崇焕)! His story is rather heavy metal… In the Ming Dynasty, Yuen was a revered commander who twice defeated the Mongol army, but was later betrayed and killed via Death by a Thousand Cuts. His enemies in Beijing rushed to buy and eat his body parts, but his loyal friend She managed to rescue the head. For the past 300 years, She's descendants have been guarding my ancestor's decapitated head. I'm not sure where it is today, but my family still has an ancestral plot of land in Dongguan, his southern Chinese hometown…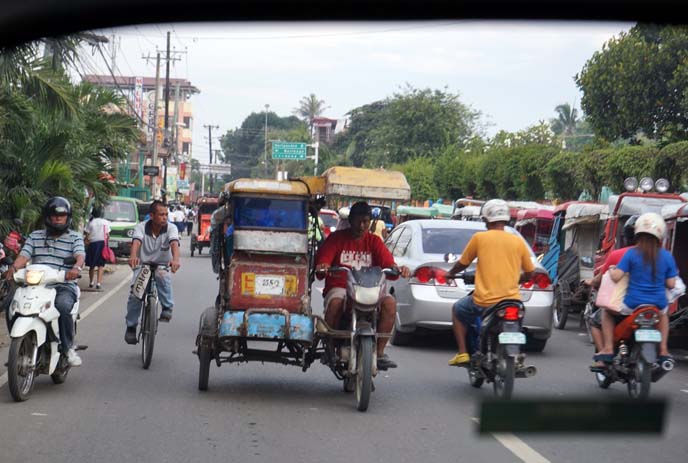 After a bit of sunshine in Vancouver, I was back on the plane to a new Asian destination… Cebu in the Philippines! The streets were a jumble of colorful jeepneys.
This time, my Pirates and I were collaborating with sáv Hospitality. I judged the Miss Scuba beauty pageant, a competition that gets the word out on ocean conservation…
… and we did a showcase of their gorgeous Pacific Cebu Resort (travel video to be released soon).
Jet lag, what's that? The small annoyances are all worth it, when you get to experience a near-perfect day like this one. << Look back at my boating and beach adventure in Lapu Lapu.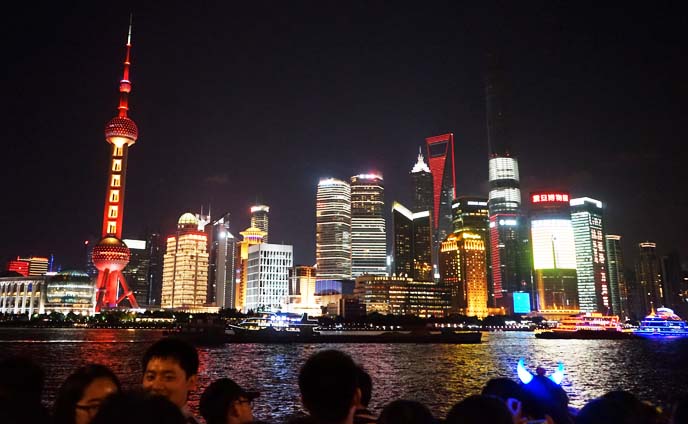 We flew a few hours north, and wound up in what seemed like completely different universe: Shanghai, China. Here's the glowing Bund, which captures how fast the city's developed in recent years.
I went to the mainland a few times when I was growing up, and it never looked anything like this. I still have more to show you about Shanghai's young design scene, hip restaurants, and French Quarter. << For now, here's an outfit post from Cachet Boutique Hotel.
Before the end of the year, I made two final trips: to New Orleans, and San Francisco for a TV shoot with ABC Nightline. I haven't had a chance to post about these adventures yet, but here's a preview at my new hair color (a blue-purple-magenta ombre by Stephanie Hoy). You can look forward to these stories and several new travel videos, beginning in January.
Middle East, Africa, Asia… what's next? I hope you'll continue to join my journey in 2015, since I have big plans up my kimono-sleeves! Check out @lacarmina on Instagram for day-to-day images, and to hear announcements like reader meet-ups. 
Thanks for being with me on my journey — I read all messages and comments, and am grateful for all the love you give. It's amazing to connect with like-minded people who believe in what I do. See you next year. Let's make it the best one yet!