Category Archive for
Mexico + Central America
Hi. How are you doing in these bizarre pandemic times? It's hard to fathom that most of us have been in lockdown for over a month now.
I'm in "pajamas mode" almost all the time, but I dressed up to take a walk outside and enjoy the cherry blossoms. (The city lets people spend times outdoors, if you avoid crowded areas and always maintain a safe social distance.)
This year, there shall be no "hanami," or gathering with friends to admire the pink blossoms. Instead, it's sakura meets survival mode!
(Reason #666 it's good to be Goth: you already have a closet full of apocalyptic clothing. I'm wearing a fuzzy Mongolian lamb coat by Skandinavik, Very Metal dress by Gladnews Japan, Moat House wood sunglasses, and Sylvain Le Hen HairDesign Access barrettes.)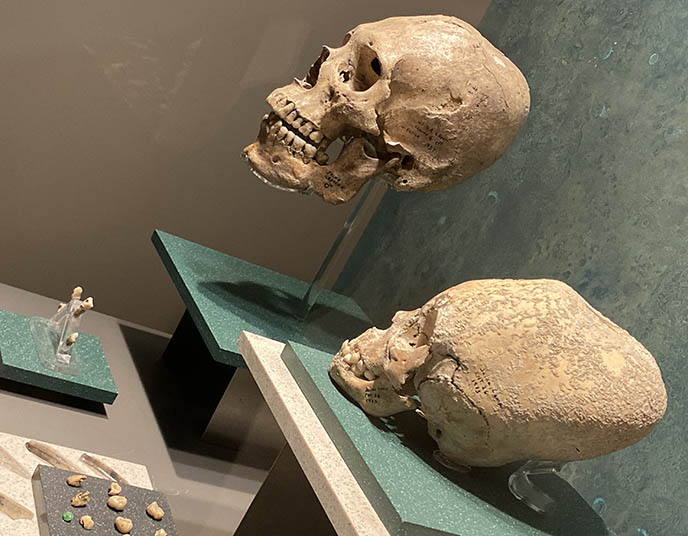 These days, much is uncertain. All my travels are cancelled for the foreseeable future. But I'm here to connect, and help however I can as we go through this strange era together.
For now, I'll keep sharing Gothic outfits, and stories from my recent trips. I hope you enjoy this deep dive into Mexico City's skull-loving ancient civilizations. I went to several fascinating museums, where I learned about Mayan conehead skulls and Aztec sacrificial remains…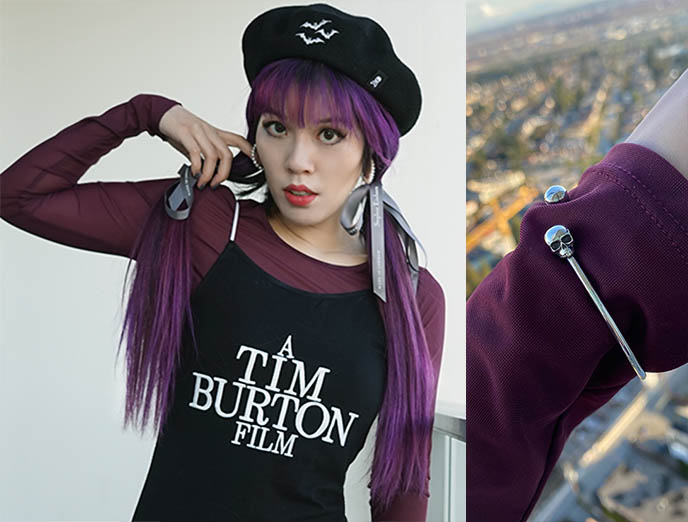 Until we flatten the curve, I'll be staying in and shooting outfit photos on my balcony with a remote. (That's the way we fashion bloggers did things in 2007… are we back to the future?)
(OOTD: Skull bracelet and ribbons Stephen Einhorn, Goth dress Forest Ink, burgundy top StellasStyle, beret Sourpuss.)
These days, I find myself reaching for activewear that is edgy and stylish.
I was delighted to discover StellasStyle, an indie shop that curates luxurious fitness fashion. Their site brings together select designs from forward-thinking, sustainable labels (I'm wearing a golden jacket and purple-red mesh top from their collection).
StellasStyle's Lanston Aiden sheer runched long sleeve shirt can be worn for barre, ballet or yoga classes (layered with a sports bra). Or slip it under a bodycon dress with spaghetti straps, for a 1990s vibe. The breathable material is perfect for layering, especially when I travel in different climates.
(I styled it with a bat beret by Sourpuss, Tim Burton dress by Forest Ink, and Stephen Einhorn pearl earrings and skull bangle.)
You know I love space-age metallics… so I went for this "Going For Gold" brass jacket by L'urv (from StellasStyle). I've never seen such a fabulous puffer.
Love the futuristic gold fabric and hardware, which elevate the design to the next century. The waterproof bomber has a hood, diamond-quilted insulation, and plenty of pockets. Browse more eye-catching active fashion (including my coat and top) on StellasStyle.com.
Nowadays, I'm appreciating the small things such as a walk outside. Have you been able to see and enjoy the cherry blossoms?
I dressed up to match the pink flowers. Wearing a Tita mini dress by French designer Valfre, red floppy hat by Tenth Street Hats, and Mexique platform boots by Jeffrey Campbell. Find more below from this alt shoe designer:

Finally, my new sunglasses are by Pugnale Eyewear, an Italian designer whose motto is "The metal side of art." These Spalla pink frames have a pretty butterfly shape, and silk gathered fabric at the edges! Pugnale's sunglasses are handmade in northeast Italy, and the metallic frames are beautifully crafted.
Voodoo heart cardigan by Sourpuss Clothing, and black felt hat by Tenth Street Hats.
Now, let's flash back to my travels last fall, in Mexico City. CDMX has been on my bucket list for years — as a lover of ancient civilizations, I've longed to visit the famous Museum of Anthropology.
The Museo Nacional de Antropología focuses on pre-Columbian Mexican history, and contains around 600,000 artifacts from all over the country. Visitors can gape at everything from prehistoric skeletons to tribal jewelry, to the enormous Temple of the Feathered Serpent in Teotihuacan.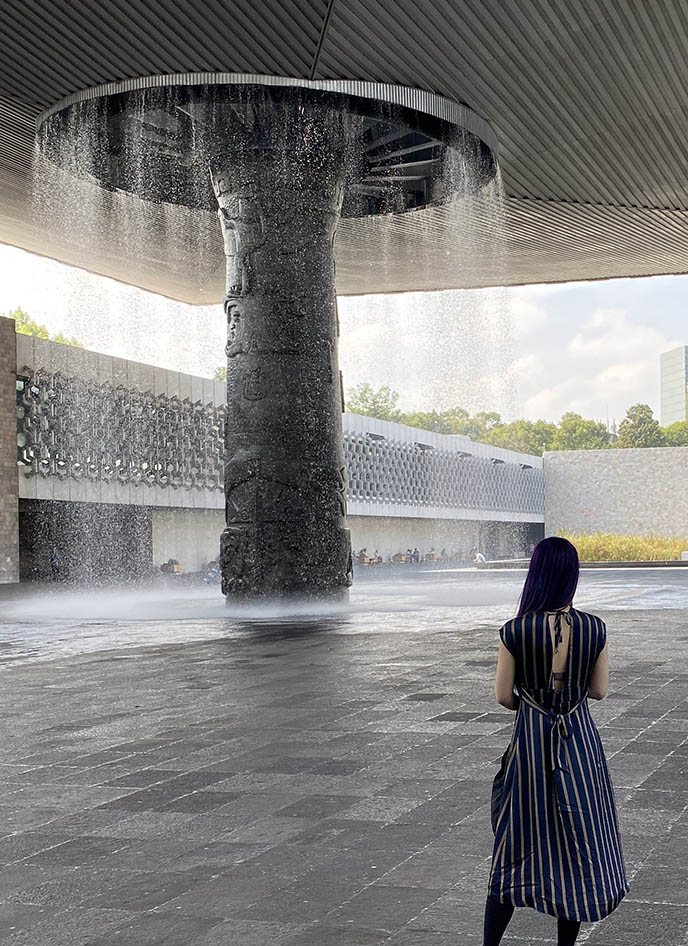 The Anthropology Museum is immense, and you can easily spend an entire day (or at least several hours). How space-y is the concrete courtyard, held up by a dramatic "umbrella" fountain?
You'll find dozens of exhibition rooms around the main courtyard, as well as outdoor gardens with centuries-old temples. (Wearing a striped silk dress by Chaser.)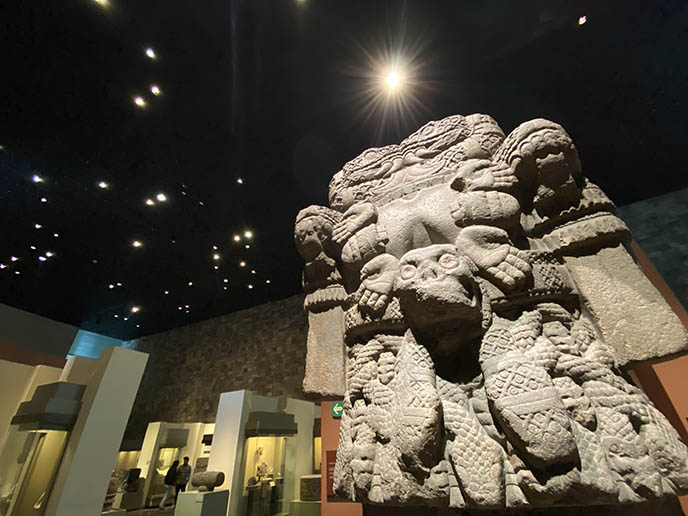 The museum is full of intriguing archaeological finds — but since this is a Gothic travel blog, I'll highlight the darkest and spookiest relics! My favorite rooms were 4) Teotihuacan, 6) Mexica, and 9) Maya.
I nearly turned to stone when I stared in the eyes of Coatlicue, goddess of fire and fertility. Carved in the 1400s, the Aztec statue shows the deadly goddess in a skirt of snakes. She has a necklace made from human hands and hearts, and wears a skull on her belt… So heavy metal.
I learned that the people of Mexico have always loved skulls. Behold the Disc of Mictlantecuhtli, one of the Aztec gods of death. Worshippers sometimes engaged in ritual human cannibalism, to appease his morbid nature.
Death rites have long been important to locals (who continue to honor ancestors with Day of the Dead, as I witnessed in Merida). The Pre-Hispanic people believed in Mictlan, an underworld ruled by the Lord and Lady of the dead. This duo was represented as fearsome skeletons with bulging eyes.
When a family member died, their kin performed intricate rites to ensure their soul reached the land of the dead.
Some of the Aztec rituals involved human sacrifice and flesh-eating. The Anthropology Museum discovered these skeletal remains of victims, usually slaves or prisoners of wars. The captives were slayed en masse to appease the bloodthirsty deities (especially sun god Huitzilopochtli), and display the brutal power of the empire.
Go to the lower level of the Maya room, and say hello to the alien-like King Pakal. In the 7th century, he was the ruler of Palenque, located in the south of Mexico. His funerary mask is this glowing jade masterpiece, which makes him look like a little green Martian man!
The museum also displays K'inich Janaab' Pakal's sarcophagus, which is decorated with the sun, moon and stars. The carvings show the king seated on a structure… which looks remarkably like a spaceship. He also appears to be wearing a breathing apparatus and holding controls with his hands.
It makes you wonder… Did the ancient Maya have knowledge of space travel and extraterrestrials? 
I enjoyed seeing pre-Columbian fashion and jewelry, like flamboyant feathered headdresses. Some statues had intricate body mods, such as nose and ear piercings… How punk is this lady's look.
Mexico City's anthropology museum has several elongated Mayan skulls… they look eerily like HR Giger's xenomorphs in the Alien films! Were these coneheads the remains of extraterrestrial visitors?
The truth is not so out there. The Maya performed cranial deformation as a body modification. Parents pressed a board to their baby's still-soft skull, creating a long flat forehead that was considered a sign of beauty. The art of adornment even went so far as to inserting precious stones into the teeth.
Archaeologists have uncovered intriguing burial sites in Mexico, like this one. The couple is surrounded by practical and fine objects, arranged in intricate patterns.
Here's how a Mayan child was interred.
Mexico City's Museo Nacional de Antropología is fascinating on so many levels… I've only shown you a small sliver of their collection. If you only go to one museum in the city, make it this one.
I wasn't kidding when I said CDMX was full of skulls and human sacrifice. You can see the remains of both at Templo Mayor, located in the Zocalo historic center. In the 1300s, the city was known as Tenochtitlan, and this was the main temple of the Mexica people.
I'm sitting next to a cute jaguar, or Ocelotl-Cuauhxicalli. Don't let the smiling feline fool you… this stone vessel was used to hold human hearts, which were ripped out of sacrificial victims!   
In 1521, Spain's Hernán Cortés arrived in Tenochtitlán and described the bloody Aztec ceremonies that took place at Templo Mayor. Like in the Apocalypto movie, the priests used a knife to slice open the person's chest, and lift up their heart to the gods. Then, they tossed their bodies down the steep steps.
The decapitated heads of the victims were mounted on a towering wooden rack, called a tzompantli. Some of these skull-racks held over a thousand heads, lined up in rows!
Historians thought that the Spanish conquistadors were exaggerating… until they found proof of the tzompantli and large-scale human sacrifices in 2015 and 2018. I guess Mel Gibson's brutal movie had it right after all.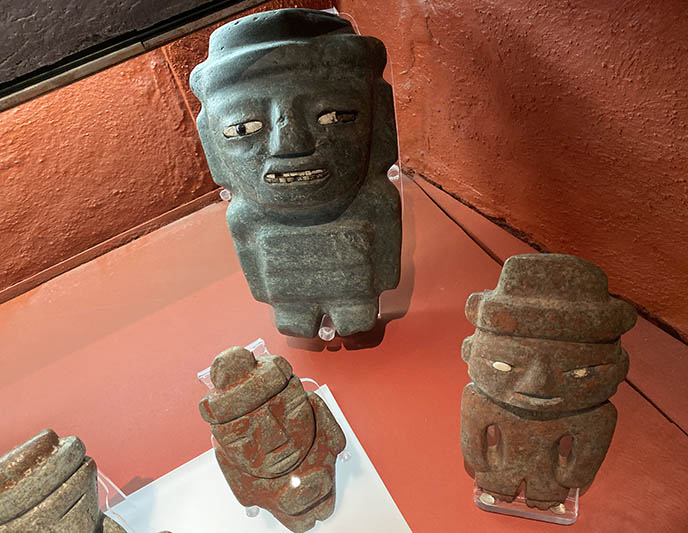 After you walk around the exterior ruins of Templo Mayor, you can go inside to see displays of artifacts from this excavation. Once again, there were loads of interesting objects, but let's focus on the Goth-est ones.
These "skull masks" were created as offerings to the gods. The shell and pyrite eye decorations give them a googly-eyed look. Note the perforations on top; these probably held curly hair.
I saw more burial arrangements, featuring grinning skulls and gems.
The bodies of human sacrifice victims weren't as well-treated after death. They were often given to high-ranking community members, who cooked their body parts in large pots and ate them. Ritual cannibalism was considered an honor, and a way of communing with the gods.
Inside Templo Mayor's museum, you can get up close with a reproduction of the "huey tzompanti." The skulls of decapitated victims were covered in stucco, and used to build a wall. (This would look right at home in a Goth club, or heavy metal bar.)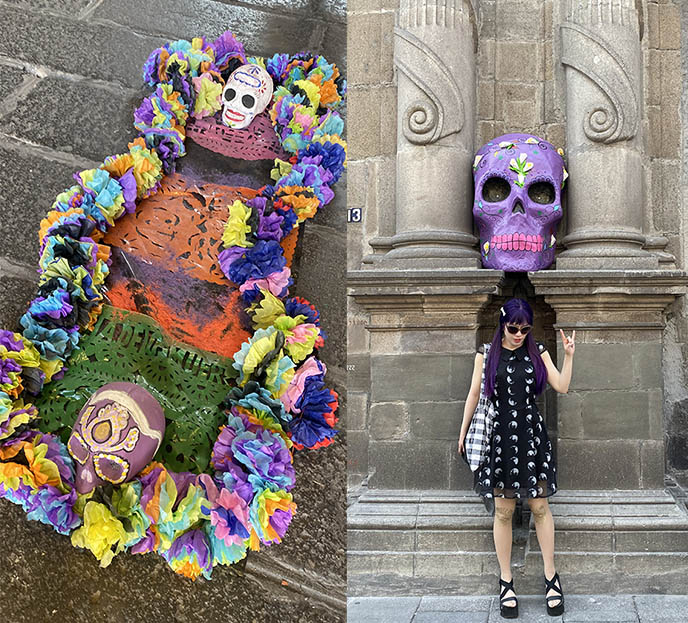 Today, the people of Mexico City still put skulls everywhere… but now, they're colorful calaveras that don't require the loss of life!
(See Part 1 of my CDMX Day of the Dead report, for sugar skulls galore.)
Around Day of the Dead, you can see plenty of skulls at Museo Nacional de las Culturas del Mundo. Located in Zocalo, this free museum lets you learn about both Mexican and global cultures. (My star platform shoes are Rocketdog Footwear).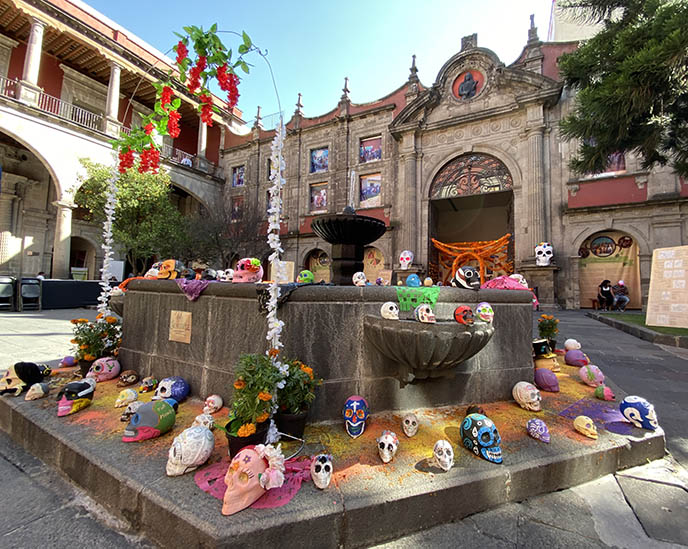 The culture museum is located in an elegant colonial-era building. In the 1700s, this was the site of a mint.
I had fun seeing the creative ways that artists painted sugar skulls. Neon colors and floral motifs were popular.
This cheerful, rainbow arrangement expresses the joy of Day of the Dead. Rather than being a scary holiday like Halloween, this is an occasion to honor those who have left us, and celebrate their personalities.
Mexicans put up altars for those who have left us. This one is laden with fruit, marigold flowers, and skeleton dolls.
I also popped into the free Museo de la Medicina Mexicana. Housed in an 18th century palacio, the Museum of Mexican Medicine covers Mexican medical practices over the centuries. You can find all sorts of oddities like preserved fetal brains…
… and tubes of babies in various stage of development before birth. This scene looks straight out of a sci-fi film.
The medical museum also has wax figures depicting ailments, and plenty of rare skulls and bones.
And that's only a small glimpse of the cultural wonders in Mexico City… This skull-filled destination is ideal for Goths, as you can see!
If you're hungry for more skulls, check out the rest of my Mexico Day of the Dead journey here.
Grateful I had the chance to see these artifacts and rituals in-person. Travel may not be possible right now, but I'm certain you can look forward to exploring Mexico City — or anywhere that fascinates you — soon. 
Check back on the blog soon, as I have a backlog of stories still to share! You can also keep in touch via my social networks: Add @lacarmina on Instagram – Twitter – Youtube – Facebook – Pinterest.
It's hard to feel "grave" in this Mexican graveyard… Even my skull shirt is smiling!
Let's welcome 2020 with more Day of the Dead stories from Mexico.
Last November, I joined a trip led by Borderline Projects x Morbid Anatomy (you can already get on the email list for next year's tour). We traveled through the Yucatan, and learned how this joyful ritual celebrates departed friends and family.
On the first evening, I celebrated Dia de los Muertos with a Lost Souls parade in a Merida cemetery (see this story).
On day 2, Borderline Projects took us to colorful graveyards in Hoctun and Izamal, where we witnessed families cleaning the rainbow tombs and making loving offerings.
Even though it was November 1st, the Yucatan was still very hot and humid. (Hello, global warming…)
I'm wearing oversized designer sunglasses by Balenciaga, and a sugar skull screenprinted t-shirt by Chaser Brand.
I'm hiding from UV rays under four types of mineral sunscreen, a Goth skull umbrella by Raven Goods, and a wide-brimmed hat by Lack of Color. More from these designers below:
Borderline's "Death in Mexico" tour arranged all our hotels and transportation for four days. Our group of about 40 people drove 45 km east from Mérida, and soon arrived in Hoctun — one of over 100 municipalities in the Yucatan.
While many Mexican burial grounds are colorful, Cemetario Hoctun stands out as one of the most eccentric and vivid. Talented artists in the community painted flowers and religious images on the house-like tombs.
Day of the Dead actually spreads out over several days, and each region of Mexico has its own cultural twist on the tradition.
In the Yucatan, November 1st is "U Hanal Nucuch Uinicoob," or dedicated to the adults who have left this world. They are remembered with offerings of food, alcohol, cigarettes and other favorites placed on their graves, and/or in altars set up in homes.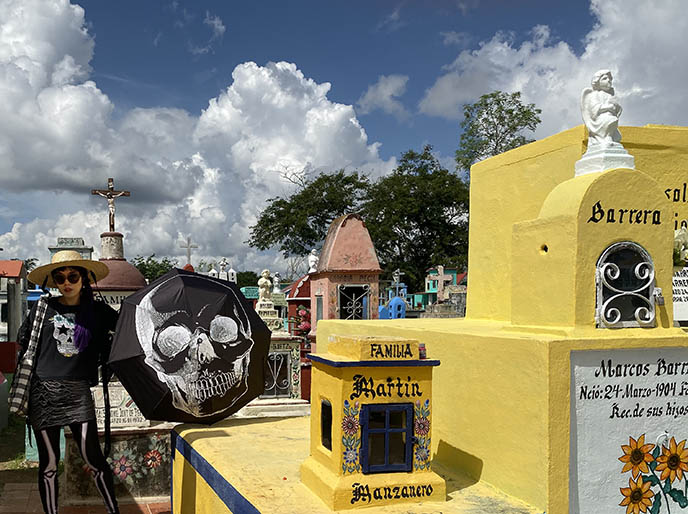 I loved strolling through Hoctun Cemetery, and seeing the wide, creative variety of tombs. Families painted these resting places with the favorite color of the deceased, and added artistic or sculptural flourishes that represented them.
We tend to think of graveyards as "spooky, gloomy, haunted" places — but that's not the case in Mexico. I can't imagine a zombie or vampire living in one of these pastel rainbow tombs!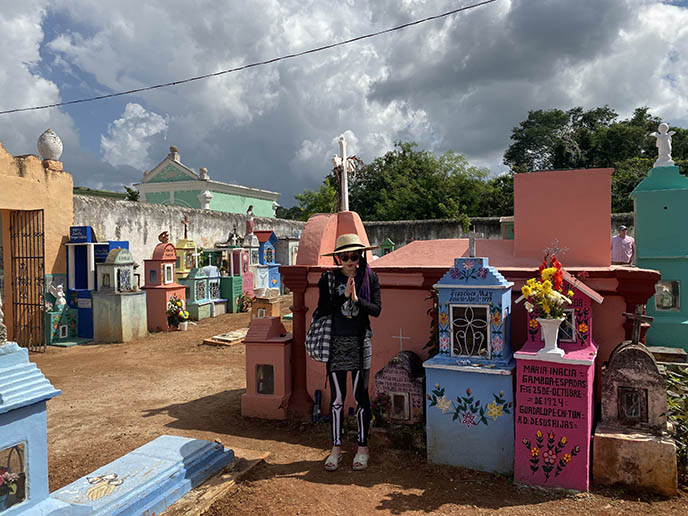 The brightly colored mausoleums convey the Day of the Dead attitude to the end of life. There's no real separation between the living and dead, and we should celebrate them with glee.
Hoctun's graves are well-tended and decorated. Family members keep the colors vivid with fresh coats of paint, especially around this time of year.
Most bear the typical markers of Christianity (crosses, angels) — but others are unique expressions of Mayan culture.
Some of the graves look like traditional houses, with circular forms.  Others are painted with marigold flowers, or huipil embroidered clothing patterns. On my right, you can see a roof shaped like an ancient Maya pyramid!
In addition to Dia de Muertos-related activities, Borderline Projects' tour lets you dig deep into the local culture, architecture, crafts and food. 
Our bus continued to Izamal, and stopped at the foot of Kinich Kakmó. This partly-restored Mayan pyramid is the third largest in the Yucatán, rising 34 meter high. 
(I'm wearing a Gothic parasol by Raven Goods, a skeleton shirt by Chaser, and a sun hat by Lack of Color.)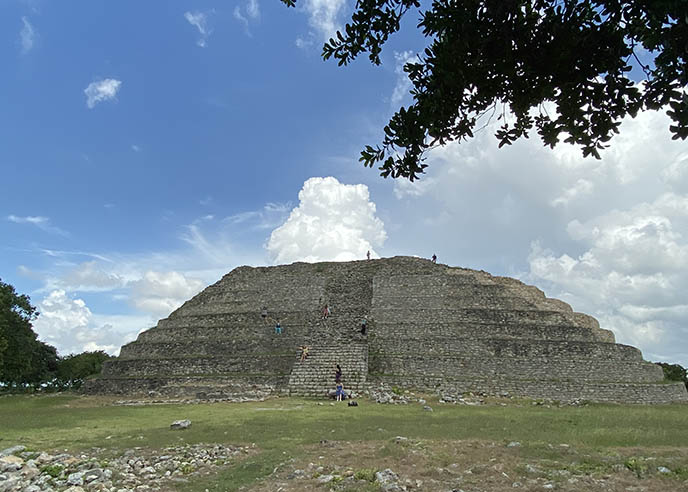 Made out of limestone, this Mayan pyramid is dedicated to the deity Kinich Kakmó, or "the fire macaw with the sun face." Fittingly for this sunny region, he is a solar god.
First, you have to climb up these stone steps to reach the grassy plain where the pyramid stands. From there, you can choose to scramble up the steep incline.
Mayan civilization was remarkably advanced, and full of mysteries that we've yet to understand.
Why is there a ring near the foot of Kinich Kakmo? A crop circle of the apocalypse… or a portal into an alternate universe? 
In ancient times, people would present sacrificial offerings to Kinich Kakmó under the scorching sun that he represented. Some say the deity would take on the form of a fiery macaw, and fly down to grab the sacrifices. 
The pyramid dates back to the Mayan classic era, or 400-600 ACE. The immensity of the stones reminded me of the pyramids of Giza, Egypt.
The Yucatan and Riviera Maya have plenty of famous pyramids, such as Coba and Chichen Itza (see my guide to these ruins).
Personally, I prefer exploring the lesser-known but just-as-impressive structures like this one. Entry is free, and you can avoid seeing tourists everywhere.
Borderline's Mexico cultural tour included plenty of free time, which is great for travellers (especially seasoned ones) who prefer a less structured experience.
Photographer Julie Hunter and I wandered around the small town of Izamal, which is as multicolored as the graveyard. These men are hanging out by a Paleteria for popsicles and frozen ice cream treats.
This churros almost had my name on it! (I skipped the street food, just to be careful. Read on to see where I feasted.)
At home with the kitsch of a Mexican carnival. The merry-go-round had a Roadrunner and Pikachu, in addition to horses.
I had never heard of Izamal before this tour. Most tourists stick to Mexican resorts, so I'm glad I got to see off-the-beaten-path places like this.
Known as the "yellow city," Izamal is one of Mexico's "17 Magical Towns" (Pueblos Mágicos) thanks to its charming architecture, and mystical background.
Izamal was once a Mayan spiritual center with multiple pyramids. After the Spanish came, locals were forced to tear down the main pyramid and build this monastery and church on top. The conquistadors believed this would dissuade residents from "devil worship."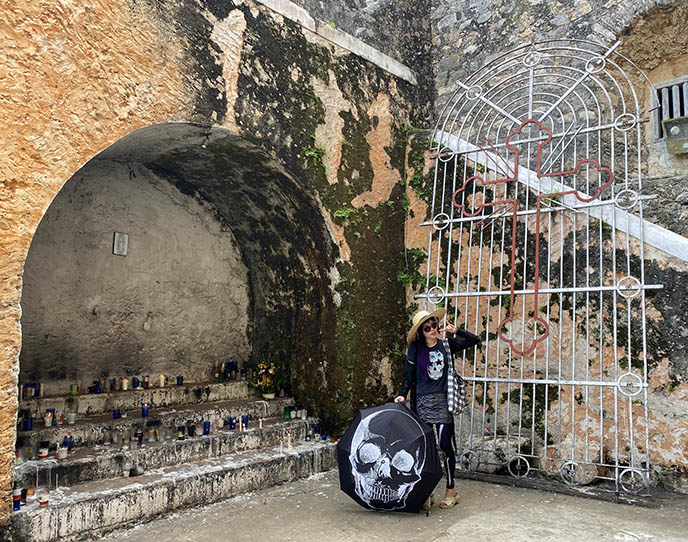 However, miracles of healing began to occur. The Mayans had previously dedicated their pyramid to Itzam Na, a god of healing… perhaps the "devil" prevailed after all? (Even though this red crucifix isn't upside-down!)
One of my goals in visiting the Yucatán was to try as many local dishes as possible. Here, Day of the Dead is known as Hanal Pixan, or Food of the Souls.
This restaurant shows the type of altar that people set up in the homes. Photos of deceased ancestors are lovingly displayed next to marigold flowers, fruits, drinks, and food offerings.
Our group had lunch at Kinich, known as the best restaurant in Izamal.
I discovered my new favorite drink — chaya. It's a refreshing vegetable juice made from tree spinach, a shrub native to the Yucatan. Full of nutrients, this green drink is especially tasty as a margarita with tequila and a salted rim. (I simply had to offer this Mayan big-head a sip!)
Julie and I shared a sampling at Kinich. These are handmade tortillas in different styles (salbutes and panuchos), with roast chicken and avocado, cochinita pibil (marinated pulled pork shoulder), and relleno negro (more on that below).
On another day, I tried mucbil pollo, or "chicken that has been buried" — it's the special dish eaten for Day of the Dead in the Yucatan. Mucbipollo is similar to a tamale, but larger and crunchier. Usually filled with chicken and pork, it's wrapped in banana leaves and slow-cooked underground. Hearty and multi-faceted — we loved it.
In Kinich's restaurant garden, you can smell and touch some of the regional ingredients used in the dishes. Our guide Claudia is showing us achiote, an orange-red tree seed that adds a nutty, peppery flavor.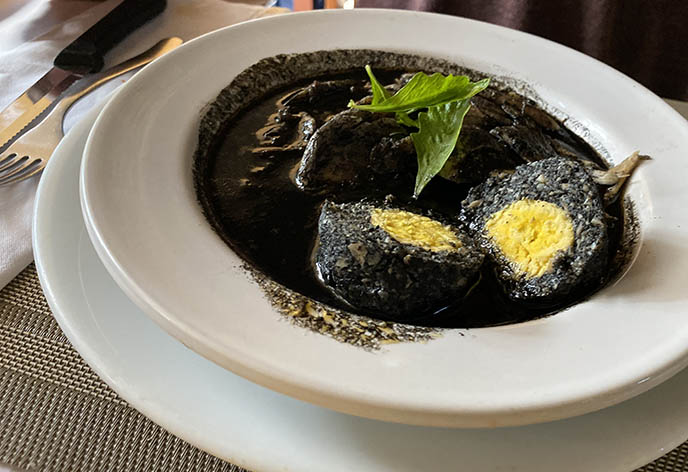 Achiote is one of the many ingredients in relleno negro, a Yucatecan dish with a rather Gothic look! It consists of chicken and a hard boiled egg in a savory black sauce: the dark result of mixing various chili peppers and seasonings.
Before leaving Izamal, we popped into the Centro Cultural y Artesanal. This small art and cultural center holds an inspiring collection of Mexican folk art, made from all types of media.
Entrance costs 25 pesos (just over $1 US), and it's worth it to see the many happy skeletons inside. A tall La Catrina towers over one room, with a snake draped around her neck. (Is she signing opera? And how fabulous are her nails?)
Special delivery from a devil, skeleton and angel… Bread of the Dead, carried on the head! (Did you notice they are biking on top of colored skulls?)
On the right, these cute skeletons are dancing the Mexican maypole / ribbon dance, El Baile de las Cintas.
On the left, the fight between good and evil never ends… (Will the devil flip over the angel, and turn the cross upside down?)
I enjoyed discovering Mexican artists like Gabriel Pérez Rajón. The jaguar is an important symbol for the Mayans, and he gives the fierce felines a modern, cute interpretation.
My eyes were drawn to this ceramic funeral procession by Alfonso Soteno. Lots of sugar skulls, jaguars and warriors joined the happy parade.
Izamal's artisan museum lets you see lively works from communities all around the country. You can also purchase home goods or fashion items to support these rural creators (I was tempted by an embroidered skull tote bag.)
As the sun was setting, our tour arrived at Izamal municipal cemetery. Just like in Hoctun, this Cementerio Municipal is a colorful resting ground filled with personality.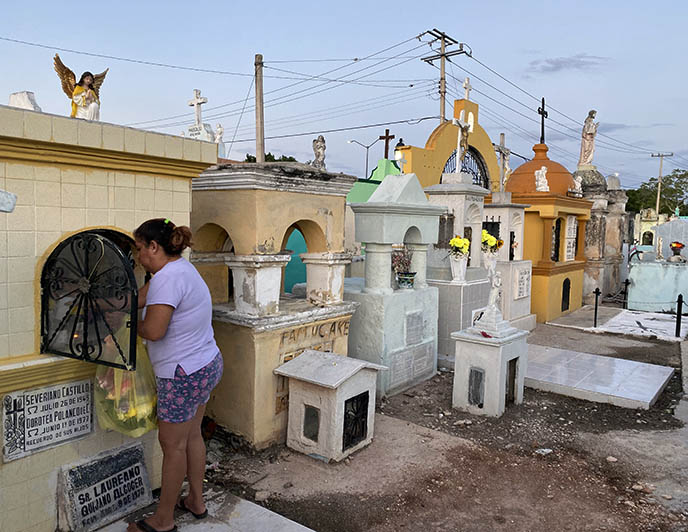 How wonderful to see people bringing food and flowers for their loved ones to enjoy.
Hanal Pixan's rituals keeps the connection strong between the living and the dead.
Many families come here together to place ofrenda, and remember the dead through stories.
Izamal's cemetery is arranged a tad haphazardly, but that adds to the quirky, individual feeling of the grave markers.
Many of the "houses" had a vivid fresh coat of paint. This lady is opening up the door to put flowers inside.
This photo made me think of a quote: "From my rotting body, flowers shall grow, and I am in them, and that is eternity." — Edvard Munch
It was a joy to explore Yucatan's cemeteries, with a group of intelligent and darkly-inclined travellers.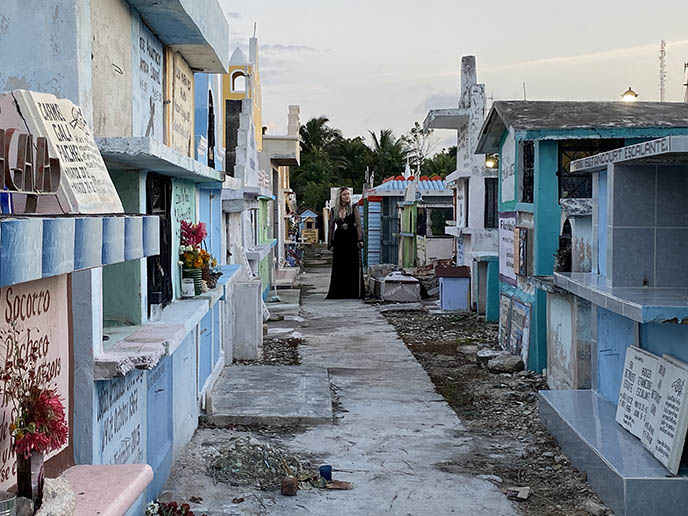 A Gothic gown is perfect for walking through the aisles of the dead.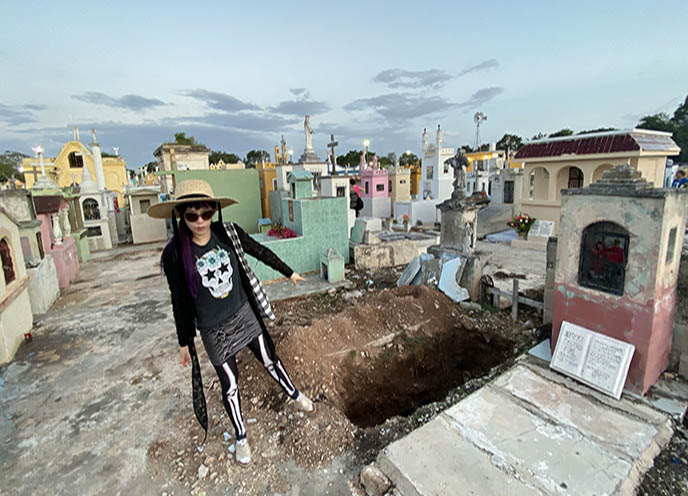 Never forget, we all have one foot in the grave… Might as well have fun while we're still on this Earth.
Coming up, I'll show you the ossuaries and poignant "brushing of the bones" ritual that we witnessed on Day 3.
Isn't it remarkable how much we did in a single day? And the night's not over yet…. Borderline Projects suggested that we visit Cathedral of Mérida at night, for a special sporting event.
I was thrilled to see a demonstration of Pok-A-Tok, the ancient Mayan ball game! I took this photo of the fierce drummer and dancer, who look like living skeletons.
The musicians and dancers set the stage with a performance inspired by Mayan legends. A man dressed as an owl leapt and flapped his wings, referencing the owls that invited brothers Hun-Hunahpú and Vucub Hunahpú to play the deadly ball game.
The ball players, with their faces and bodies painted like skeletons, paced and genuflected in unison. An elder in a headdress held up a smoking goblet to their outstretched arms… it was like a scene from the Apocalypto movie. 
Let the games begin. To play Pok Ta Pok, the two teams try to pass the ball through a small ring in the center, without using their hands, feet or heads.
Some records indicate that in ancient times, the victorious team was honored… by being sacrificed. Or, perhaps only the winning captain was decapitated. (We didn't stick around for the full match to find out!)
Merida's boutiques were open late, so we did a bit of browsing and souvenir shopping. Skulls and bones, everywhere… even a cat skeleton.
Merida is known for its elaborate silver filigree jewelry, and embroidered garments (huipils). I couldn't resist getting one of these squiggly-mouthed skeletons as a memento.
I came across a group of Nuestra Señora de la Santa Muerte, or the Lady of Death.  
But I took home this Boo~ t-shirt… How could I resist the bizarre cracked-egg ghost design? (It reminds me of the shy Nintendo character as well.)
Time to wrap up with a drink at Malahat, a hidden speakeasy bar. I'm not exaggerating when I say hidden… the entrance was extremely well concealed. It took us quite a few tries before figuring out how to get inside. (Hint, look for a secret entrance in an alley-like area in the back, by the parking lot).
Loved the craft cocktails and hip atmosphere at Malahat. The bar carries a wide variety of liquors from Mexico and abroad. I highly recommend the "Mayahuel" cocktail, which contained green chartreuse and a spring of burning rosemary.
We enjoyed the live electronic sounds of a DJ, and admire the winning pumpkins from that evening's Jack-o-lantern carving contest.
(For more Merida travel tips, see my first story about the Paranormal Museum, elegant mansions, and Day of the Dead cemetery parade).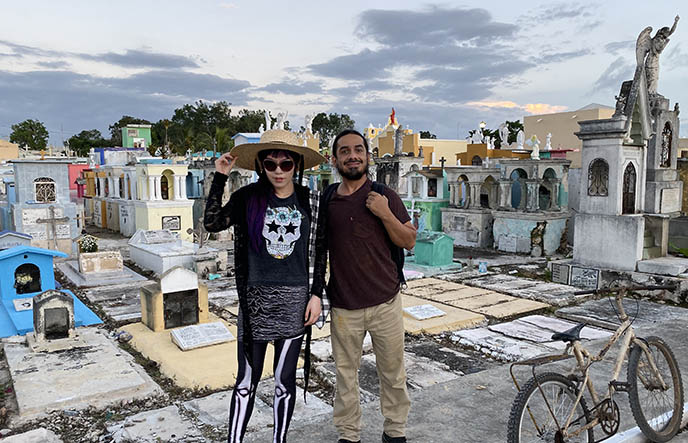 Thank you to Salvador Olguin and everyone at Borderline Projects / Morbid Anatomy for inviting me on this eye-opening journey.
Wouldn't you like to join Borderline Projects' 2020 Mexico tour? Each year, the dates coincide with Day of the Dead but feature a different region, so it's never exactly the same.
You can find out more on Borderline's website, and sign up for their newsletter. This way, you'll be the first to know next year's trip details and registration.
Perhaps I'll be back as well… so we can travel together, and experience Day of the Dead in Mexico!