Category Archive for
Middle East Travel
It's almost the end of 2014! So much has happened this year, especially behind-the-scenes. New friends, wild times, and a renewed focus on the type of work that (I feel) truly matters.
In 2015, I'm committed to keep focusing on this bigger picture. So you'll keep on seeing first-hand stories about alternative beauty, innovators pushing boundaries, underground travel and subcultures all around the globe. I think my work makes the biggest difference when it encourages people to challenge preconceptions (about topics like body modifications or drag queens), and express themselves as they wish to be — without fear.
In terms of meeting these goals, 2014 was a Very Metal Year indeed. Let's get retrospective, and highlight some of my favorite destinations and stories from the first six months.  I also have some bonus material from Jordan, which I never got around to posting until now. (Above, I'm with Tel Aviv fashion blogger Korin Avraham.)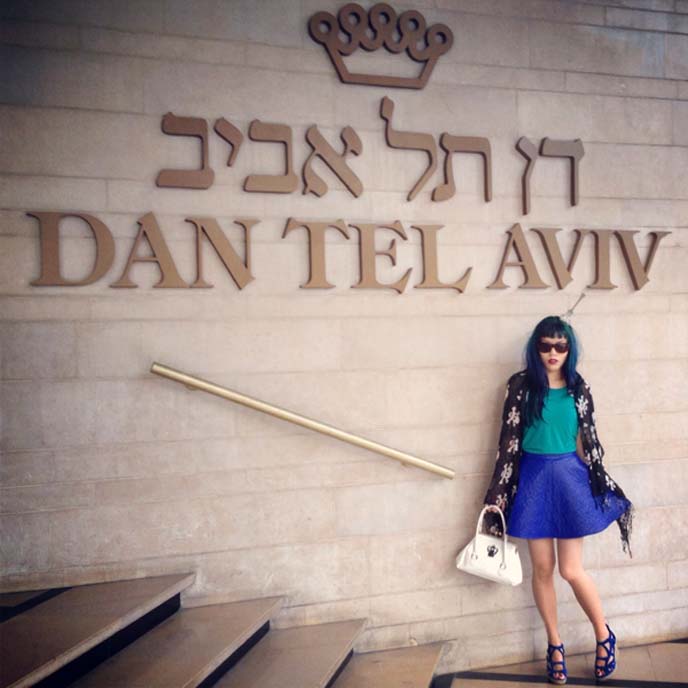 At the start of the year, my travel filmmakers and I went to Israel, by invitation of the tourism board. We've been eager to come here for a long time. I'm fascinated by ancient destinations that have a surprisingly modern and creative culture.
Talk about reversing expectations: I imagined a Moses-like landscape of sand dunes. But from my hotel room at the Dan Tel Aviv, I had a perfect view of the beach. I sat by the window and watched the waves glowing at sunset.
One of the highlights was going on a Tel Aviv style tour (see all the photos in part 1 and part 2). Galit (right) took us to meet designers whose work perfectly matched my interests, such as upcycled vintage and unicorn wedding dresses. It felt like going shopping with a friend, and I still stay in touch with all the designers she introduced.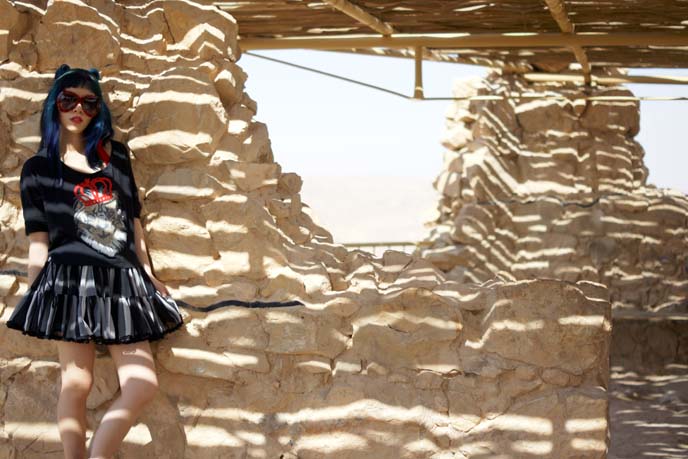 I was blown away by Israel's edgy nightlife and fusion cuisine. To get a deeper look at the history, we took a cable car to Masada fortress, and dipped into the salty Dead Sea.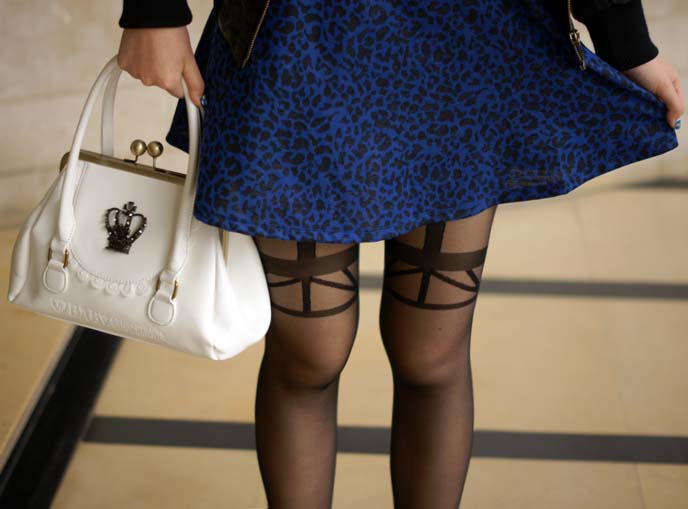 Since some of you requested a summary of outfits from 2014, here are a few more photos of what I wore in Israel. (Details of what I'm wearing here).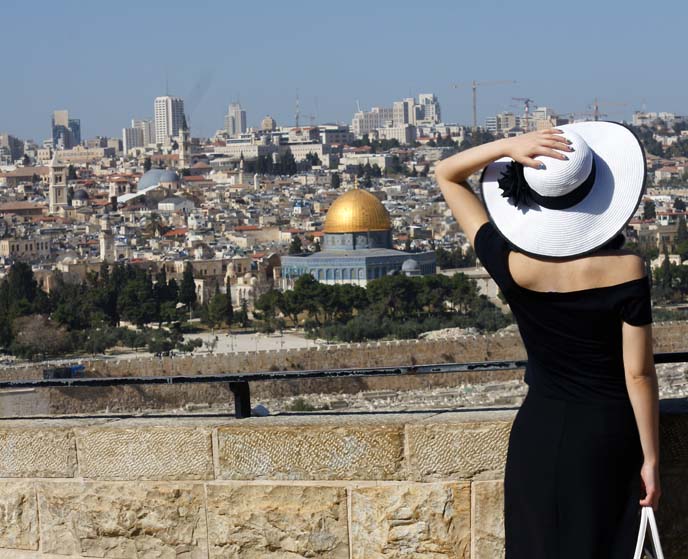 One of my favorite days of all of 2014 was exploring Jerusalem. I did a very special photo diary about our day in the Holy City, and why I feel travel is so important.
Perhaps you're wondering… whatever happened to our Israel video? Around the time we completed it, the country was unfortunately experiencing conflict. My editors felt it would be most respectful to wait until later to run this upbeat travel episode. Hopefully, we can share it with you soon — stay tuned.
I take thousands of photos in each trip, and not all the stories make it onto this site. It seems wrong to deprive you of Miffy-ness, so here's an outfit photo from our Jordan journey with Ya'lla Tours.
Our private driver took us to Pella, one of the country's most impressive archaeological sites. These ancient ruins date back 8000 years, and were part of the Decapolis (the 10 centers of Greco-Roman civilization in this region).
One of the benefits of traveling with Ya'lla: we had our own driver and guide, who told us about the history as we journeyed. In Jordan, there wouldn't have been any easy way to get around on our own, especially with the ruin sites located far apart.
On this 3-day road trip, we crossed through Amman. Through the window, I saw Roman columns, sunsets, children running towards us from Bedouin villages… and a whole lot of rocks.
The tour included unique experiences, like a cooking class at Petra Kitchen in Wadi Musa. The friendly chefs came by each table, shook their heads in mock-frustration, and demonstrated how the vegetables were supposed to be cut (ours were too big, or misshaped)…
We learned how to prepare a number of Jordanian dishes, including baba ghanoush and fattoush. At the end, all the Petra Kitchen students sat together and shared the meal. I love activities like this, which let you put your hands into the local food culture, and would come back again.
The next day was a dream come true: visiting the lost city of Petra. << All the photos here.
Here's the Treasury of Petra, which you may recognize as the site of the Holy Grail in Indiana Jones and the Last Crusade. I never expected I'd be able to visit places like this.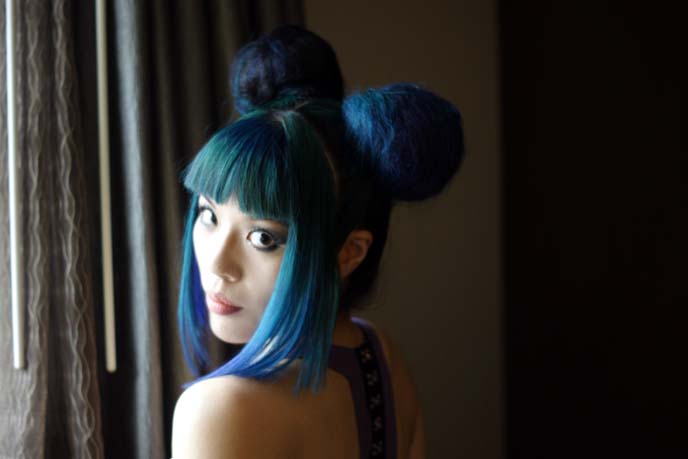 The next months were also spent traveling, but on more familiar terrain. I stopped by LA to attend Oscars parties. My Mickey Mouse two-buns hairstyle got quite a bit of attention.
Then I went to Toronto for meetings, and caught up with friends in the Goth alternative scene. I finally got to see Amy's Arms perform at Lee's Palace, where Scott Pilgrim had an epic battle or two.
The girls and I did a photoshoot wearing Gloomth, the Gothic Lolita Victorian label by my friend Taeden. (All photos from this shoot here).
Growing up, I was fascinated with 1960s hippie culture and took university classes about Buddhism. It was a joy to stay at the San Francisco Zen Center, especially after hearing so much about it. I particularly loved the courtyard with a fountain and hidden Buddha statues.
My friends and I had a reunion in San Francisco, and held a performance event at Wicked Grounds. Thanks to everyone who came out to meet us! If you're visiting the city soon, you might enjoy my San Francisco Goth clubbing and bar guide. 
Off to another much-loved US destination: New York City. Even though I lived here for years (while in school), I discover new places each time. This time, I did a shoot at the Paper Factory Hotel. I couldn't help but smile as I gazed at the Manhattan skyline, from the graffiti-marked rooftop.
I was in NYC for a secret filming project, which will all make sense soon (fingers crossed that I can spill the beans in early 2015!)
For one lively scene, I judged a cosplay competition at Maid Cafe NY << Check out the impressive handmade costumes, and see who won the contest.
I also hosted an alternative club night with King Vulcanus Levi and NYC friends. He crowned me with one of his feathered creations. << Peek into the madness.
That's already a lot for one post, so I'll end this here. Next, I'll summarize the second half of the year, where I went all around Asia and to Africa for the first time…
How do you feel when you look back upon 2014? What are you aiming to achieve in 2015?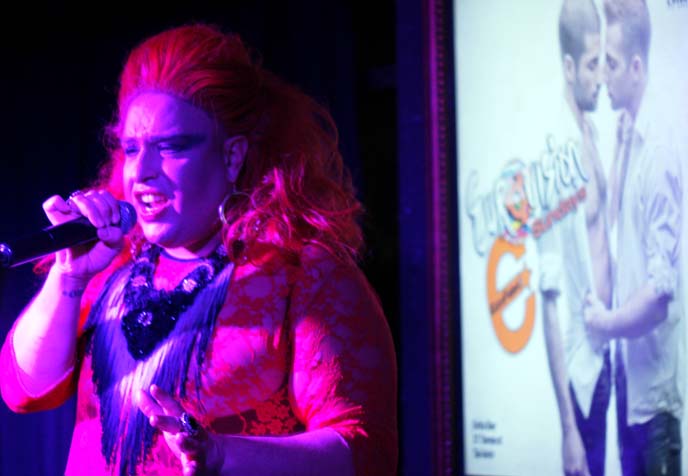 Are there drag queens in the Middle East? There certainly are — in Tel Aviv, at least!
I'm endlessly intrigued by how subcultures exist (and even thrive) worldwide, especially in regions where being LGBT is grounds for persecution. In the conservative Middle East, Israel is an anomaly: the ancient land is home to a progressive nightlife. And as you will see, it's fabulous.
On our itinerary, the Israel Tourism Board set aside time for us to explore gay clubs (yes, they are that awesome). The parties don't start pumping until after midnight, and run until dawn or whenever the crowd decides to go home. My favorite was Evita (Yavne St 31, Tel Aviv), the city's oldest gay bar. On Friday nights, entrance is free and there is a drag queen performance.
Everyone was so friendly at Evita; people chatted us up and got us dancing. The drag queens came to greet the regulars and goof around for photos.
The club has a mixed crowd — gay, straight, lesbian, etc — giving the party a wonderfully inclusive feeling. In fact, this was one of best alternative nights I've ever been to, living up to Tokyo, Berlin, LA, NYC, London and more.
DJ Shlomi Levi has the best name ever. He only broke his stone-faced expression once, to stick out his tongue.
The music was pure fun. Easy, fabulous dance tracks, with some hits and classics thrown in. The club brings in international DJs, like Hansel and Hansel from Switzerland…
… and who can resist a taste of Italia?
I loved watching Osh-Ree work the stage. He's been a nightlife figure for years, and you can't help but smile when he sings.
Between the songs, he and K-Long bantered in Hebrew. But the message is clear: "ohohohoh" and "Funtastico" are universal words in the drag queen lexicon!
Osh-Ree told us the gay scene has come a long way in Israel, ever since it was legalized in 1988. Now, Tel Aviv is one of the world's top LGBT travel destinations, with dozens of parties and a big annual Pride Parade. With no curfew, Israelis party hard and long. Osh-Ree also said, "In this part of the world, you never know when it might be your last night to dance."
So you might as well enjoy the male stripper and his tiny red undies while you can.
He brought both men and women onstage, and did racy, "acrobatic maneuvers" with them.
Drag queens in cities like San Francisco might stun you with their elaborate sets and dance routines. But I had just as much fun at Evita, where it's all about having a raucous good time.
The duo sings and dances — no need for lip synching or gimmicks.
My filmmakers are cutting together the travel video now, but here's a preview of the drag queen show on VideofyMe. (Photography by me, Melissa Rundle and Eric Bergemann.)
We checked out several other fabulous places in Tel Aviv. The Brown Hotel is a new, LGBT-friendly boutique hotel with a lobby decorated in retro-kitsch. So much fun, sipping cocktails at the bar and exploring the rooftop .
My team and I also went to a massive club, Ha'oman 17 (Abarbanel 88, Tel Aviv-Yafo), which has hosted international DJS like Paul Van Dyk and Tiësto. It's also the site of Shirazi's FFF gay parties…
… and as you can see, they're extremely popular! I've never seen so many men crammed into two floors, moving to the throb of electronic music.
If you're in the mood for bar-hopping, I suggest wandering around Rothschild Boulevard. This wide, tree-lined street is a center of Tel Aviv nightlife.
I'm a fan of Nanushka (Lilenblum 30, Tel Aviv), a nearby bar and restaurant that serves Georgian food.
I saw lots of groups of friends eating and laughing. On the walls, there were mannequin heads in military caps.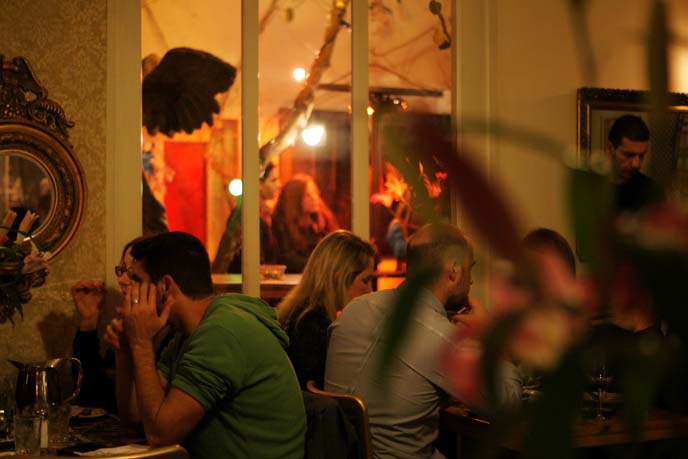 Nanushka has several funky rooms, including an outdoor space strung with Christmas lights.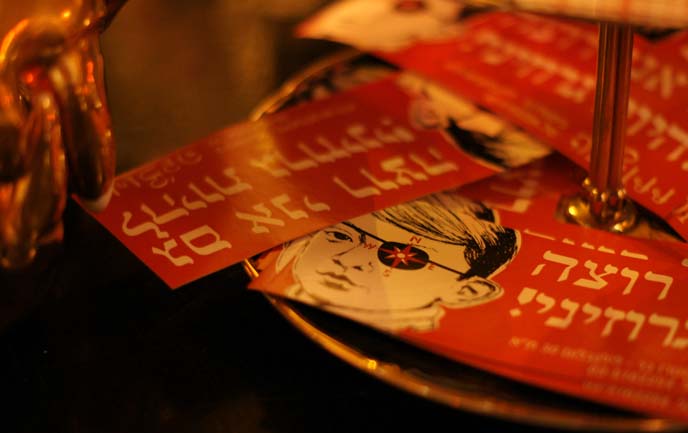 I didn't get a chance to try the Georgian food here (we were already eating so well in Israel!), but it's a good excuse to come back.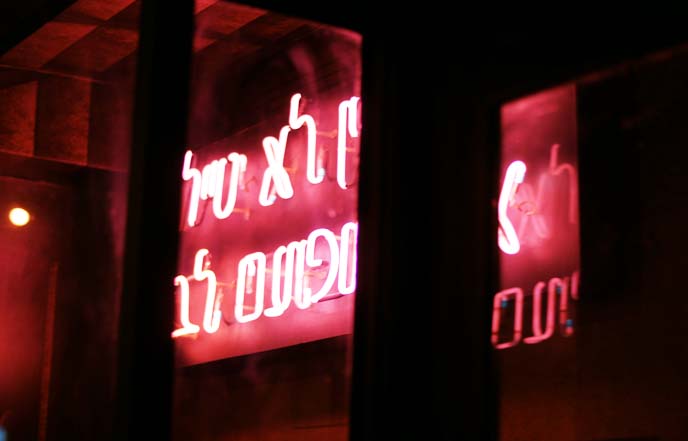 Did you know Tel Aviv has such a colorful gay scene? Are you surprised by the nightlife here?
Coming up — I'll show you what the drag queen acts are like in Cape Town, South Africa!