Category Archive for
Morocco
Morocco was one of my dream destinations for years. My team and I finally went this summer, and the trip turned out to be as rejuvenating as I had hoped.
This year, I've tried to put a greater focus on projects with meaning. I love sharing stories about travel, underground culture, and locals (especially women) who are forging unique paths.
When I spoke to Plan-It Fez Tours — a female-run independent business in Fez — I knew that their goals were exactly in line with ours.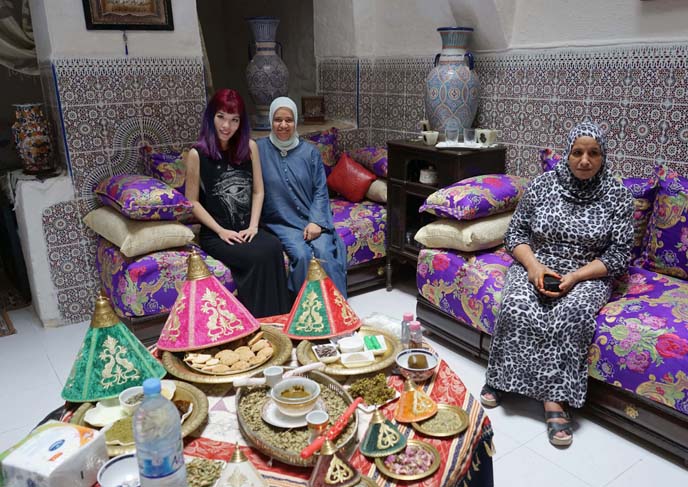 Plan-It Fez collaborates with Moroccan women, and offers immersive activities that support their livelihood. It's a win-win that lets travelers get a more intimate tour experience. 
On the first day, we did a drum-making activity. This time, I'll show you how we did a beauty workshop with women inside the Fez medina! 
The ladies taught me Moroccan beauty secrets, and I got henna for the first time (a temporary skin art, using dye that comes from a flowering plant).
Then, we drove to a Berber village, where I made (and ate) the best couscous of my entire life. Be sure to read to the end, so that you don't miss this adventure.
(Henna dyes have been used since Ancient Egyptian times, so it's appropriate that I'm wearing an "Eye of Horus" dress from Pretty Attitude Clothing.)
The Fez medina is a sprawling market filled with the smell of spices, calls from vendors, and mysterious twisting corridors. Our guide led us to a low door, and we had to duck to go through the tiny pathway. Like in a dream, it opened up into a gorgeous circular space decorated with curtains, ottomans and tiles. 
At the center was a table topped with herbs, argan oil, and flowers. These ingredients form the basis of beauty mixtures, which have been passed down throughout the centuries.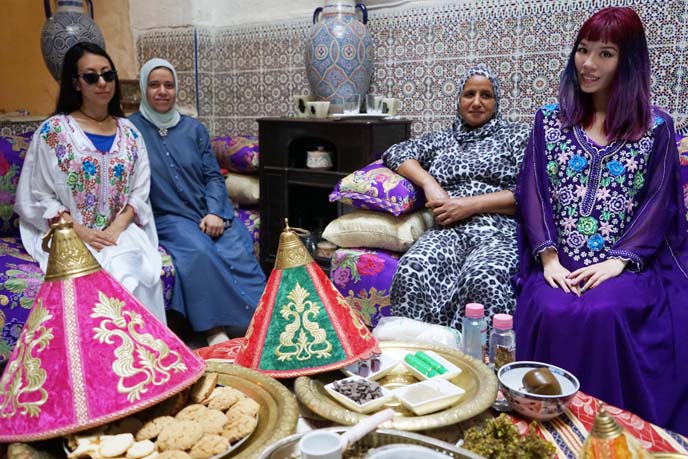 Our Plan-It Fez guide, Siham, introduced us to these local ladies. She translated for us, since they only speak Arabic.
"They are asking if you'd like to wear a traditional robe," she said. Of course, filmmaker Melissa and I said yes. The women brought out a silky purple one for me, fronted with intricate beading, since it matched my hair color.
In Moroccan culture, the women care for their skin with natural products, usually mixed at home. The ladies let us participate the process from the start, with a base of dried henna leaves.
We learned about a "magic" lipstick that looks bright green — but when you put this henna tint on your lips, it turns red!
The family atmosphere and Moroccan decor made us feel as if we were transported back in time.
We looked up, and saw the matriarch waving at us!
The beauty workshop is run by three generations of women. The youngest showed us how to blend and then hand-mix a herbal paste that softens the skin. It had a light, earthy scent and felt soothing on the back of my hands.
Then, it was time for my first henna experience. This temporary body art / hair dye has been used for centuries in North Africa, the Middle East and India (where it's also called mehndi).
Today, the mixture is still made in the same way, with crushed and liquefied henna. However, Moroccan women tend to use a modern syringe to apply the designs for ease.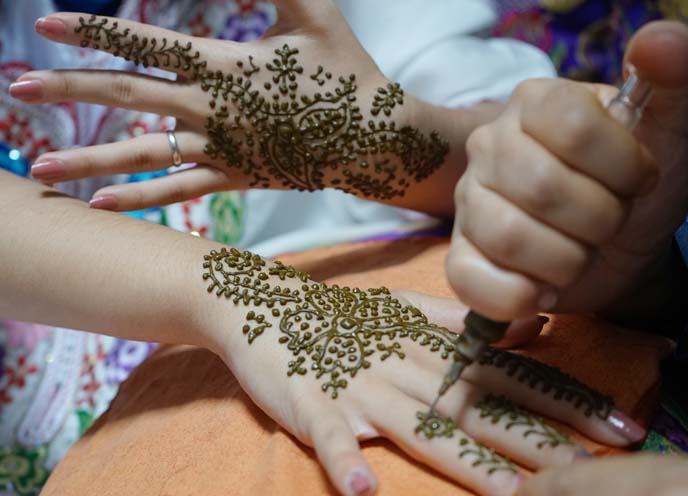 The designs tend to have floral, natural, swirling motifs (above is a modern style, on Melissa's hands). The women are experts and work quickly, completing a hand in as little as 10-15 minutes. They told us that they don't plan out their drawings — they simply go with the flow.
Henna is traditionally used for special occasions like birthdays and weddings. However, it can be worn at any time, and women often bond by applying henna for each other.
We loved seeing how these women worked, and how the designs organically took shape.
Here are my finished hands, done in the traditional henna style. I was in awe at the amount of detail and variation.
Melissa also got "I'm allergic to nuts and white fish" written on her forearms, in Arabic!
It took about 30 minutes for the paste to dry, and then I left it on for most of the day before flaking it off.
The finished henna is a rust-orange color. If you're careful, these designs last 1-3 weeks.
A big hug for Siham, our guide at Plan-It Fez, for taking us to this Moroccan beauty workshop. 
Shout-out to Eric Bergemann of Borderless Media for running around and doing all the photography and filming, while we got our henna on!
Our cultural tour continued with a visit to yet another women-run business: a bakery and couscous shop called Fatima Zahrae (فاطمة الزهراء). It's located in a Berber village about an hour's drive from Fez.
We would never have gotten an authentic, participatory experience like this without Plan It Fez.
The little shop looked like something from a storybook. Inside, about ten women worked at different tasks.
It was wonderful to see how the bakery operated. The collective business lets them earn their own independent living, work alongside other women, and share the profits fairly. 
I took off my shoes, and sat on the couscous-making carpet with this Berber lady (notice the henna dye on the soles of her feet). She taught me how to "roll" couscous, starting with moistened semolina flour.
Using these traditional tools, we rubbed the larger pieces in a circular motion, until they broke down to the right size and texture.
We shook the basket to bring the bigger pieces into the middle for further rolling. Of course, I caused a bit of a spill!
When the couscous was ready, the women steam-cooked it to the perfect fluffiness.
We continued the cooking lesson by seeing how the women prepared bread. They kneaded, shaped and "poked" the round flatbreads at an incredible speed.
Cooking classes are always a fun way to make memories and learn about the local culture — even if all you do for the "cooking" part is put the loaf into the oven!
The experience included lunch… and my jaw dropped when this Berber woman brought out a towering plate of couscous, topped with vegetables and chicken! (Note her pretty light-colored eyes).
Before coming to Morocco, I admit I wasn't fond of couscous. It always came out of a box, and had a dry cardboard taste and texture. But let me tell you… the couscous at Fatima Bakery is a whole other species. Fluffy, nuanced, fresh. We ate together from the large plate, and I couldn't stop taking more spoonfuls of the couscous!
When we ate our fill… the women surprised us with a second dish of chicken and olives! I could have dipped the warm oven-baked bread into the sauce all day long.
Finally, a fruit plate with local melons, grapes, and peaches. I've had a lot of memorable meals worldwide, but without doubt, this couscous cooking class ranks in the top ten.
Time to walk off our meal, with a stroll around the neighborhood. We saw women and children shopping and socializing.
How funny — in this tiny Berber village, we came across street art from the Japanese anime, Dragonball Z! 
We ducked into the marketplace, which has a funny dolphin cartoon on the wall.
I try to do market visits wherever I go. It's a great way to get a sense of the local daily life. 
You might come across sights and smells that you find more difficult, such as this hanging rack of meat. I encourage you to keep an open mind, even if you may not be comfortable with everything you see. In my opinion, stepping out of your usual zone is one of the best aspects of travel. 
Morocco can be a more challenging place to visit, and we're so glad we did this journey with Plan-It Fez Tours. Thanks to our guides, we were able to directly meet local women who run creative businesses, and experience beauty and food through their eyes.
Have you tried henna tattooing before? What was your experience like?
Those majestic doors can be found nowhere else… We made it to Morocco!
I have to admit: I felt a bit of trepidation before arriving in Fez. I'd heard quite a few stories from travelers who felt uncomfortable in the markets, especially if they were women traveling solo.
It turned out that my experience was the exact opposite. I felt relaxed walking through the souks: nobody bothered my filmmakers and me, or called out comments harsher than "Nice hair!"
I now realize how lucky we were to have Plan-It Fez Tours with us. Thanks to our Arabic-speaking guide, we were able to meet artisans and discover the rich culture of the medina — without ever feeling lost, or at the mercy of touts.
In this photo diary, I'll expand more on what we did and saw in the Fes medina. And I'll take you inside Palais Faraj, the most palatial hotel in the city.
This view of the Old City gives you a sense of what it's like to be in this labyrinthine market: it's an Aladdin or 1001 Nights fantasy come to life.
Fez (or Fes) was the medieval capital of Morocco, and feels preserved in time. Spice markets, twisting narrow alleys surrounded by high walls, hidden prayer halls, and ornamental doorways add to the mysterious atmosphere.
It's easy to get lost in the sprawling pathways, so use the Blue Gate (Bab Boujloud) as a landmark. The blue color on one side symbolizes Fez, and the green represents Islam. This area is surrounded by street food stalls and restaurants.
From the Blue Gate, you can explore the many winding side streets — and maybe take a magic carpet for a ride. 
Let's go back to the safety question for a moment. I've spoken to travellers who had unpleasant experiences in Morocco: scammers would aggressively approach them, try to lead them to dead ends, and even yell or spit at them. My friends Cohica Travel wrote about the difficulties they encountered on their trip (which took place one month after ours).
I was surprised to hear this, since we felt entirely at ease in Fez's medina. We were able to browse shops at leisure, and not a single tout came up to us or pressured us into following him.
(If someone comes up to you and offers something, or wants to take you somewhere, just say no immediately and be firm.)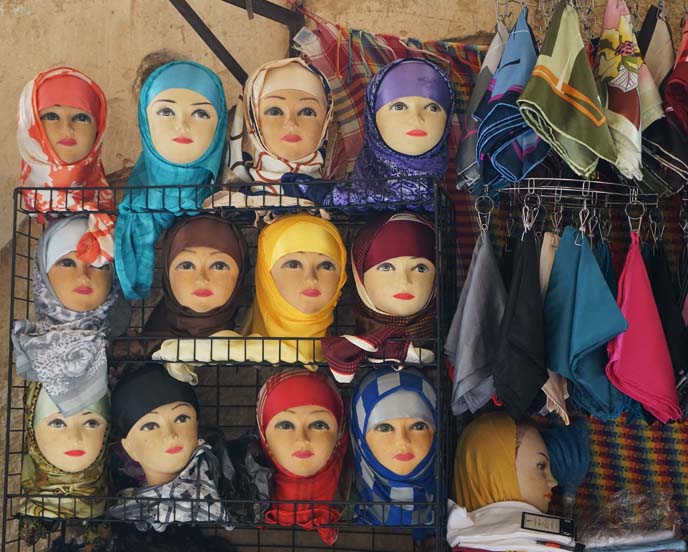 Upon reflection, I realize what a difference it made to travel with Plan-It Fez Tours. The business is run by two women, and they specialize in private, custom trips that immerse you into Moroccan food, art and culture. 
Since we had our local guide with us, we never drifted into sketchy areas and the "unsavory characters" left us alone.
Plan-It Fez took away the stress of watching our backs at all times, meaning we could relax and learn about the rich heritage of the Medina. Their tours are customized for every client, so we got to explore at our own pace, and focus on the topics that interested us the most.
Having a driver and car also meant we didn't need to worry about Moroccan public transportation, which travelers can find challenging (I've heard unpleasant tales of bus and train rides).
A note on dress code: Morocco is a Muslim country, and the local women generally wear headscarves and cover their arms and legs. Out of respect, I'd suggest wearing something that at least covers your limbs (I brought a light scarf for my shoulders). At the same time, don't stress too much about wardrobe, since tourists in revealing outfits are a common sight here.
The weather is almost alway hot, so I recommend wearing a long maxi dress made of lightweight cotton fabric. My outfit is from Pretty Attitude, who also sent me the pentagram swimsuit that I wore in Iceland's Blue Lagoon!
● Shop my favorite"Rock the Casbah" dresses below:

Some people assume that a tour takes away from a local experience. That's not at all the case, with Plan-It Fez. Through their private workshops, we got to meet Moroccan artists, bakers, beauty experts and more — and communicate with them, through our bilingual guide.
If we had explored the Medina on our own, we would have never wandered into this workshop — let alone sit down, speak to the artisans, and join in their work!
Our guide took us to try a unique activity: a drum-making workshop. We learned how to make traditional Moroccan drums from start to finish, beginning with painting the ceramic jugs in the Berber style…
… then scraping the hides and adding the leather "skin" on top, which is bound in place with needle and thread.
Filmmaker Melissa and I are not the most "handy" people when it comes to tasks like these…. We had a lot of laughs while we attempted to paint the drum! 
What an incredible feeling, to be crafting a musical instrument in the traditional method, right in this UNESCO heritage site.
We learned how to draw blue decorative lines around the jar, using a manual pottery wheel and brush. 
Then, I used a brush to draw X shapes, circles, and other Berber designs. Don't laugh! It's harder than it looks to create an even thickness.
(My gold temporary tattoo is from Tattoo You. More designs found below, including a pack of 15 tattoos.)

A child peeked around the corner and watched me work. (Photos by Borderless Media.)
I looked up, and saw more children waving at me. They live in apartments that overlook the Medina.
My drum is a little shaky, but finished! Our guide suggested that we paint half of it in the traditional way, and half in our own style — so I added a certain Scottish Fold cat.
Filmmaker Melissa completed the other drum, and the two were bound together with camel skin and leather ties. You also have the option of putting goat or fish skin over the drum, which creates different sounds. And of course, you get to take the instrument home with you.
We ended this happy day by playing drums with the musicians. One of them was a percussion marvel — we'll soon release a video that shows off his skills!
So happy that we were able to experience music and life in the Medina, thanks to our guides Plan-It Fez. I now realize how easy they made it for us to meet artisans and explore the marketplace.
Time to take a break from the hot weather, and relax back at our glorious Palais Faraj hotel.
I adore Moroccan art and architecture, and staying here felt like being in an enchanted Arabian palace. The front entrance alone is a work of art, with royal horseshoe arches and thousands of colored tiles. 
My Egyptian eye and pyramid dress, from Pretty Attitude Clothing, adds to the magic and mystery.
You can shop for more spooky long dresses by clicking below: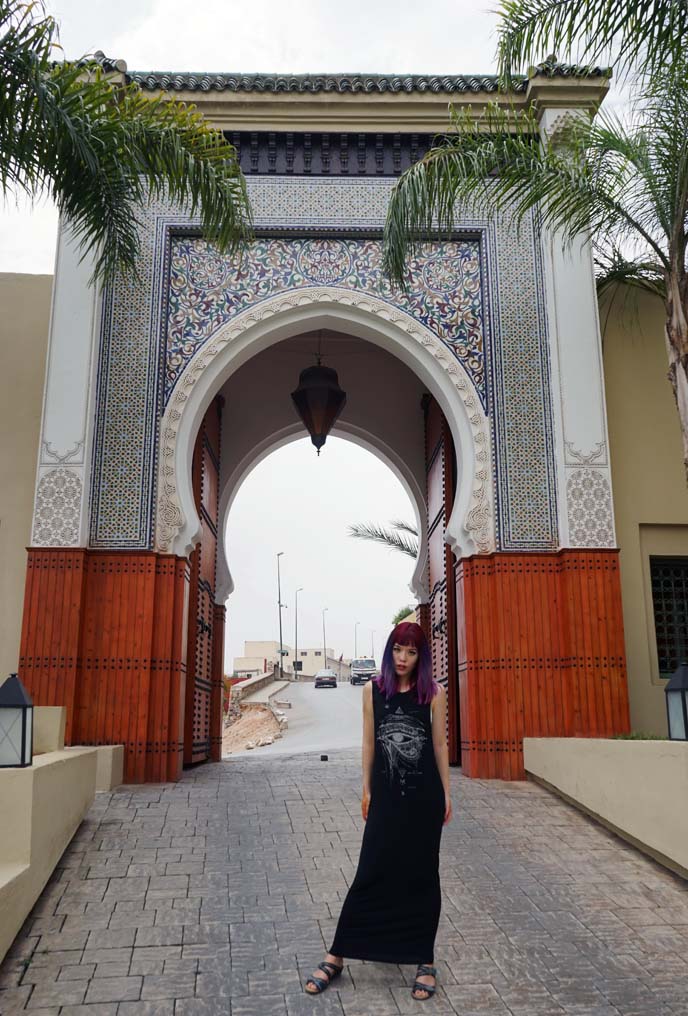 Palais Faraj is designed by Jean-Baptiste Barian, a famous architect and interior designer known for his Andalusian Arabic style.
The orange henna on my hands matches the giant double doors. I got henna for the first time in a beauty workshop organized by Plan-It Fez (I'll show you the entire process, in an upcoming story).
Every room at Palais Faraj is decadent, but nothing beats the Suite Royale, where the Rockefellers stayed. High ceilings, stucco lace, heavy drapes, and even a private terrace that overlooks the Medina.
The floors and walls are brilliant examples of Moroccan zellige, or terra cotta tiles that are painstakingly set in plaster to form mosaic patterns. 
Everything in the hotel reflects the culture and history of Fez. At the same time, the amenities are ultra-modern and WiFi is free.
Every evening, we looked forward to dinner at L'Amandier Restaurant. As the sun set over the hilltops, we watched the old city light up while we dined on Fassi cuisine (the local flavors of Fez).
My new favorite appetizer: Moroccan salads. The waiter brought out this rainbow spread of vegetarian dishes, including eggplant and carrots in the highest quality honey. We loved this assortment so much that we immediately ordered it the next day.
L'Amandier is one of the top-rated restaurants in the city, and for good reason. The menu included Moroccan favorites such as couscous, tagines and pigeon pastillas, paired with local wines. Even if you aren't staying at the hotel, it's well worth coming here for dinner with a view.
Palais Faraj treated us to traditional massages and hammans (a steam and scrub, similar to a Turkish bath), which left me smiling.
One of my favorite moments: reflecting on life's possibilities while relaxing at the Sky Bar. There are no words to describe drinking a cocktail made from fresh peaches, while taking in this 360 view of old Fez, and listening to Berber music… Perhaps the St Augustine quote puts it best. "The world is a book, and those who do not travel read only a page."
Thank you to Palais Faraj Hotel and Plan-It Fez tours for opening up a new chapter in our lives!
Have you been to Morocco, or heard stories from travellers? How did your experiences compare with ours? 
PS: I couldn't resist letting you know about Shopbop's crazy annual sale. From now to Friday, you get 25% off everything with the code INTHEFAM25! Mosey over to Shopbop's site to start shopping.
I picked out some of my favorite Gothic fall fashion for you. I'm all about dark lace dresses for holiday parties, and chunky black shoes.  Remember, it's all on sale!
1) Off the shoulder lace dress with scalloped edges
2) Cameo Gothic dress with embroidered lace and transparent panels
3) For Love and Lemons dress with zig zag mesh panel
4) Rock star buckle boots
5) Black buckle creeper shoes